The funny thing about falling in love is how the feeling creeps up on you until the point when it cannot be denied any longer. It is not like infatuation which is usually instant and mostly based upon pre-existing criteria that is met to an extreme. The key difference is the time it takes, and the longer it builds, the deeper it can be.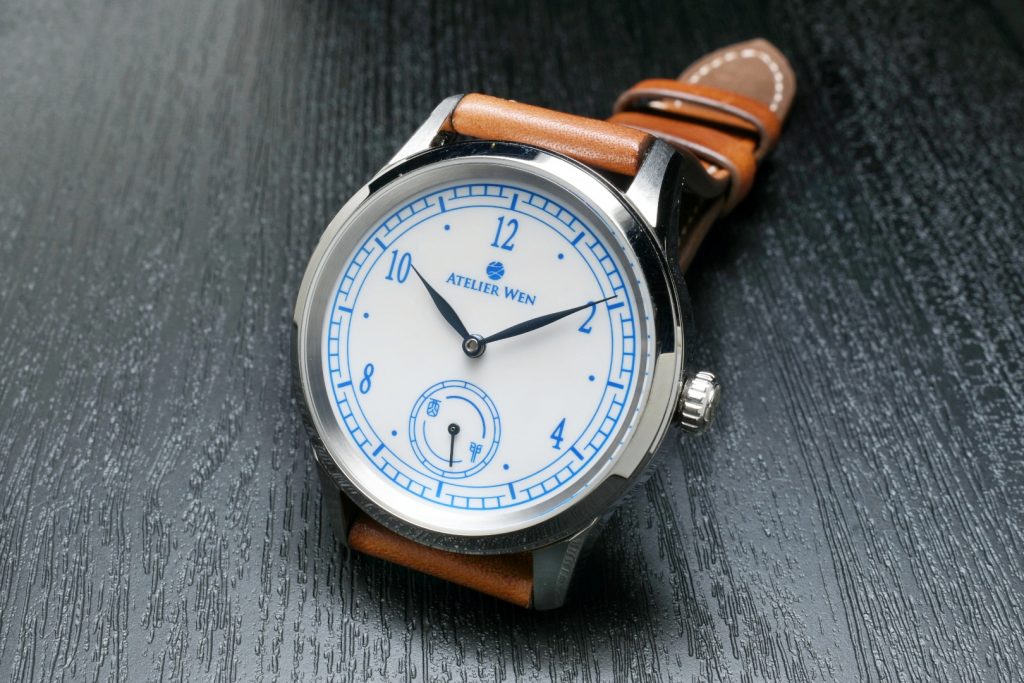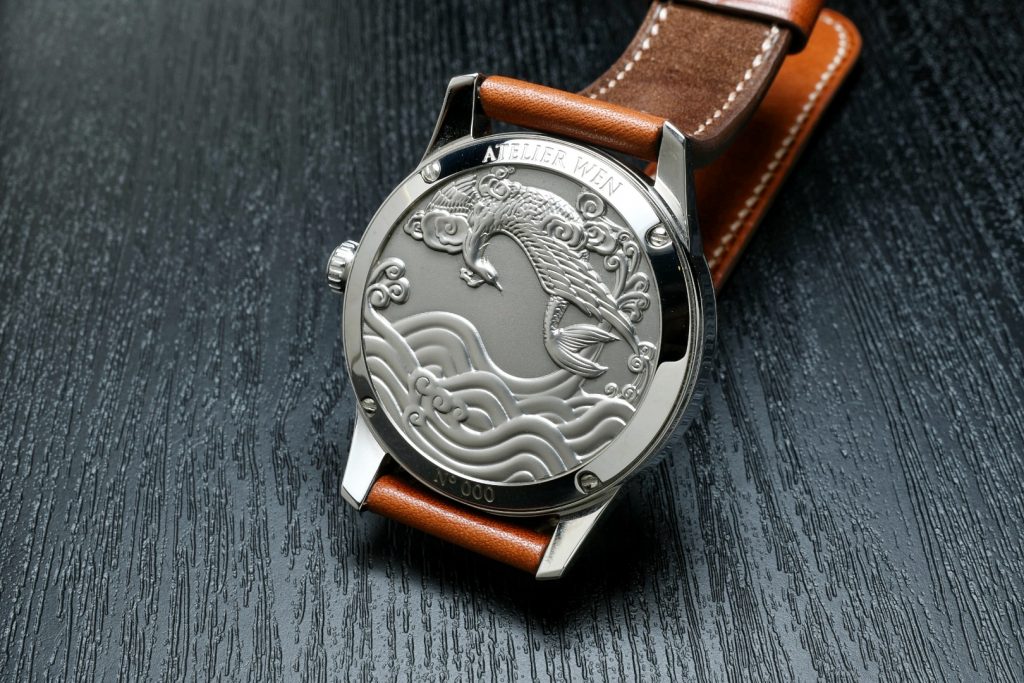 So this watch from Atelier Wen, a micro-brand from China had been at the Watch Wonderland store for some time already. It was, unlike the other watches that were in the display cases just mostly left alone, mounted on a C stand under a bell jar, and placed out in the open on the bespoke strap counter.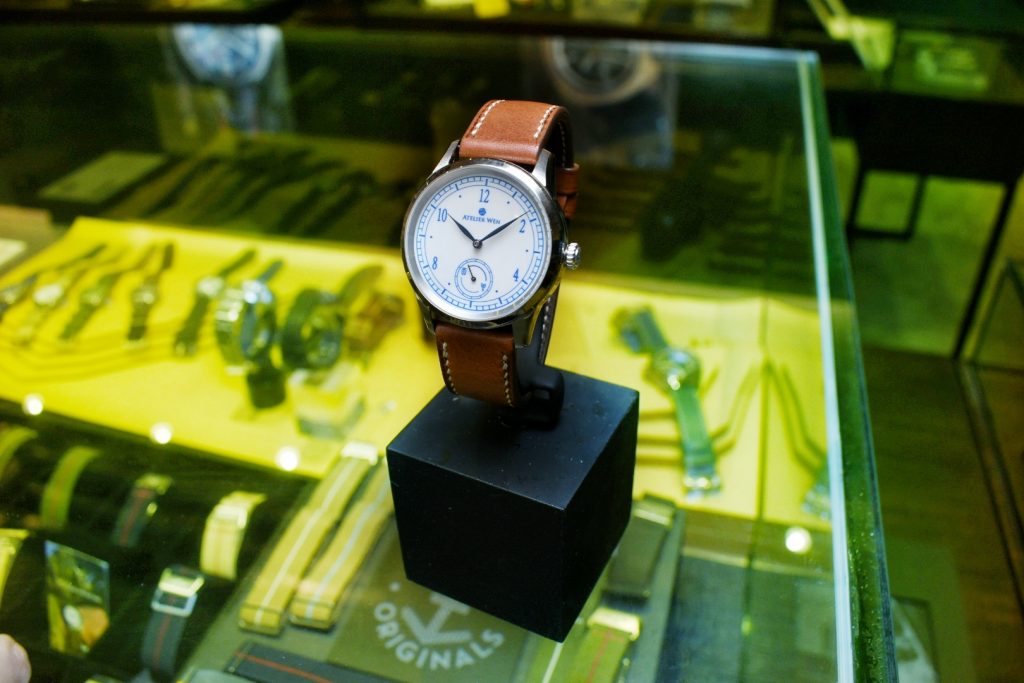 I had seen it many times already, over a number of months. Apparently it was a sample from the brand, and it was there under consideration for potential retail by the store. I had always thought to myself that it looked very nice, but never had occasion to examine it more closely until today.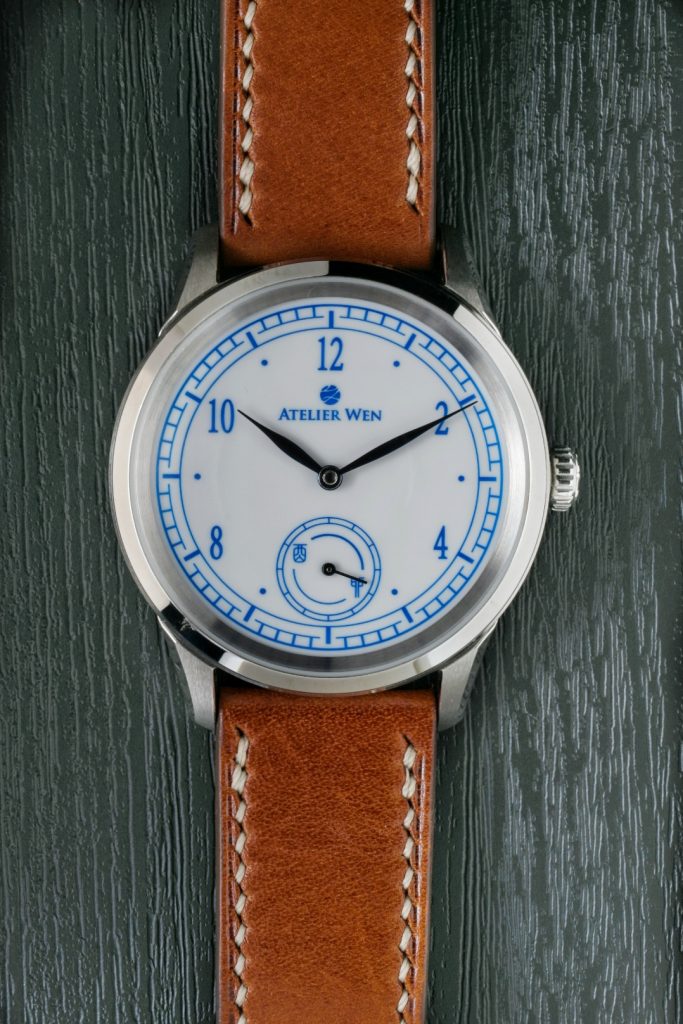 There are watches which sometimes have an indefinable personality that seizes you, even if it has traits that you might not like or are indifferent to. Sometimes such watches just have an "it" factor, stemming from a combination of ingredients in its conception and production that just feels right.
I'm not usually one who likes a small simple watch with a white porcelain dial. Yet after today I might have to reconsider my statement.
Just what then is the Porcelain Odyssey Hao watch from Atelier Wen?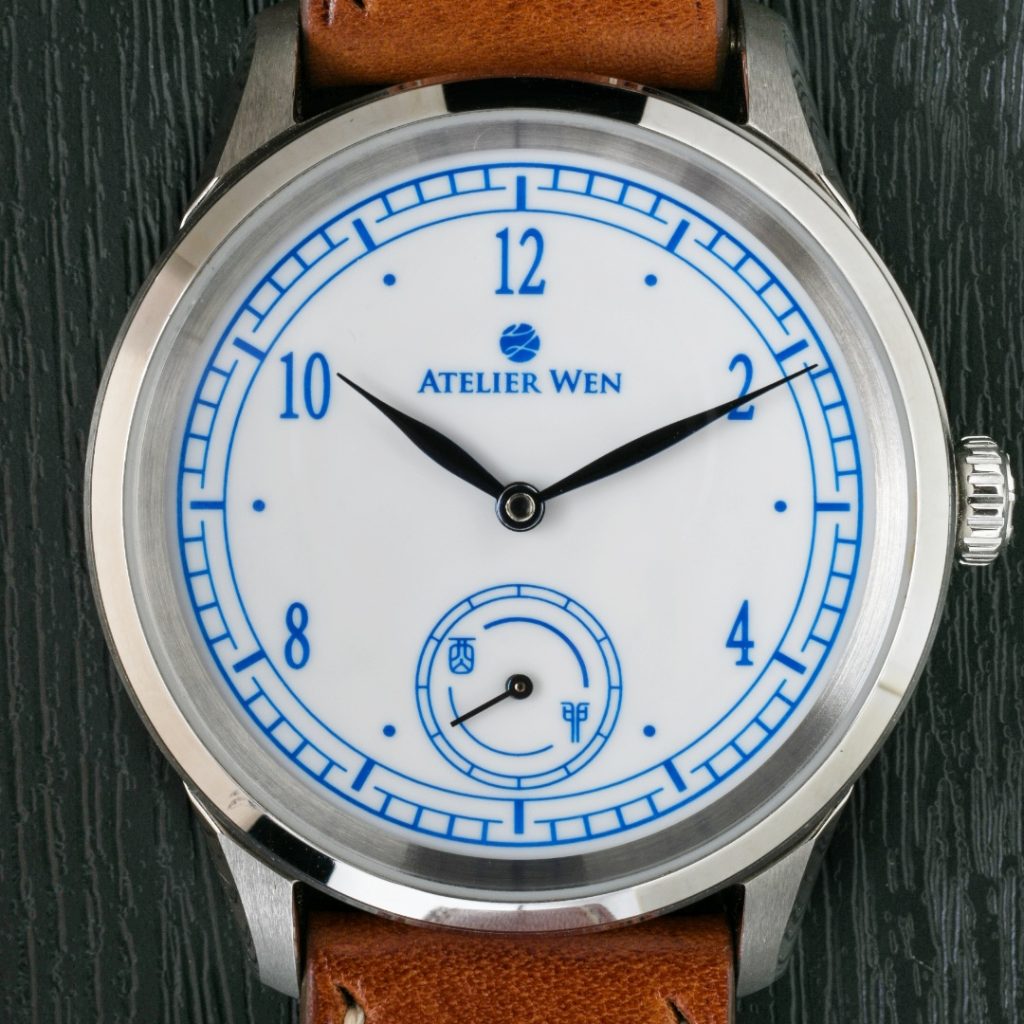 It comes in a 39mm case, with a white porcelain dial with blue painted elements that serve as a homage to traditional Chinese Qinghua ceramics (青花瓷). Designed after vintage chronometer dials from the 1940s and 1950s, there is a small seconds sub-dial at 6 o'clock with the words "You" (酉), and bottom right, "Mao" (卯), that according to the brand's website "represent the hours from 5PM to 7PM and 5AM to 7AM respectively." and that "serve as a reference to an ancient time-measurement system called the "12 Earthly Branches" within which each branch represents a two-hour segment."
Following the tone of the blue elements, the watch also comes with leaf shaped hour and minute hands that are heat-blued, with these and the other dial elements all covered over with a double domed sapphire crystal.
So these were the aspects of the watch that I was able to see. But due to a combination of curiosity and free time, I decided to remove the lid of the bell jar today and handle the watch for myself.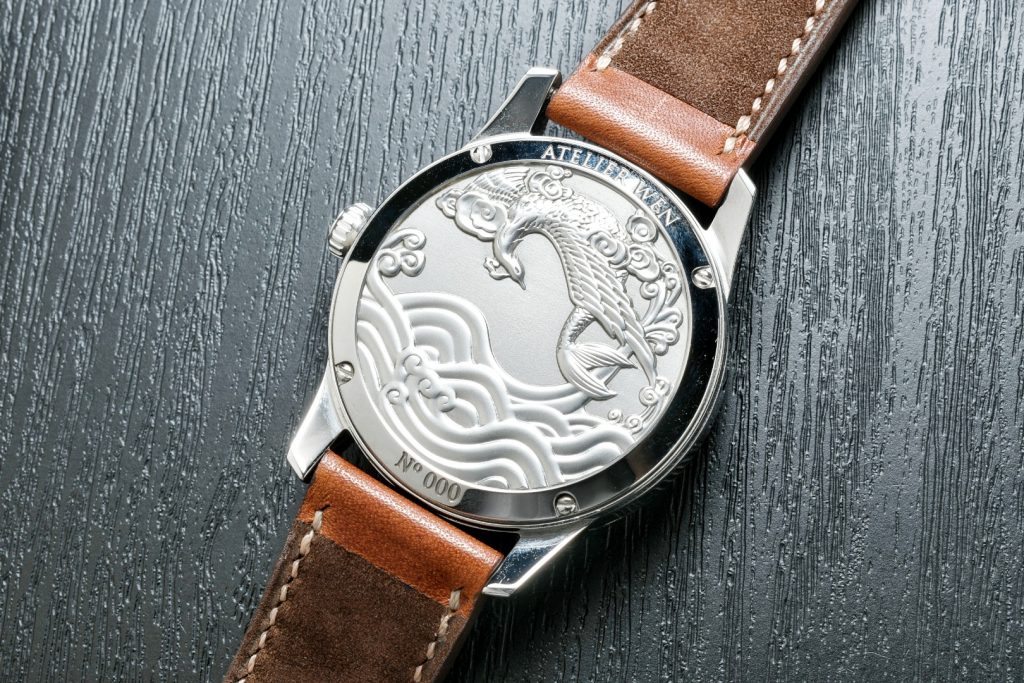 The first thing I noticed was the caseback, which was a huge surprise. On it was an embossed figure of an animal which I at first thought was a phoenix. Turns out that it is a "Kunpeng" – a colossal bird (Peng) of Chinese legend that has the ability to turn into an aquatic being (Kun).
While there is much to read and learn about this mythical creature, in the brand's view it is used as an allegory of the concept of Yin Yang with Kun and Peng being just two sides of the same element. And so it goes with the purpose of the brand itself – "to break down false dichotomies and combine the experiences of East and West into a greater whole."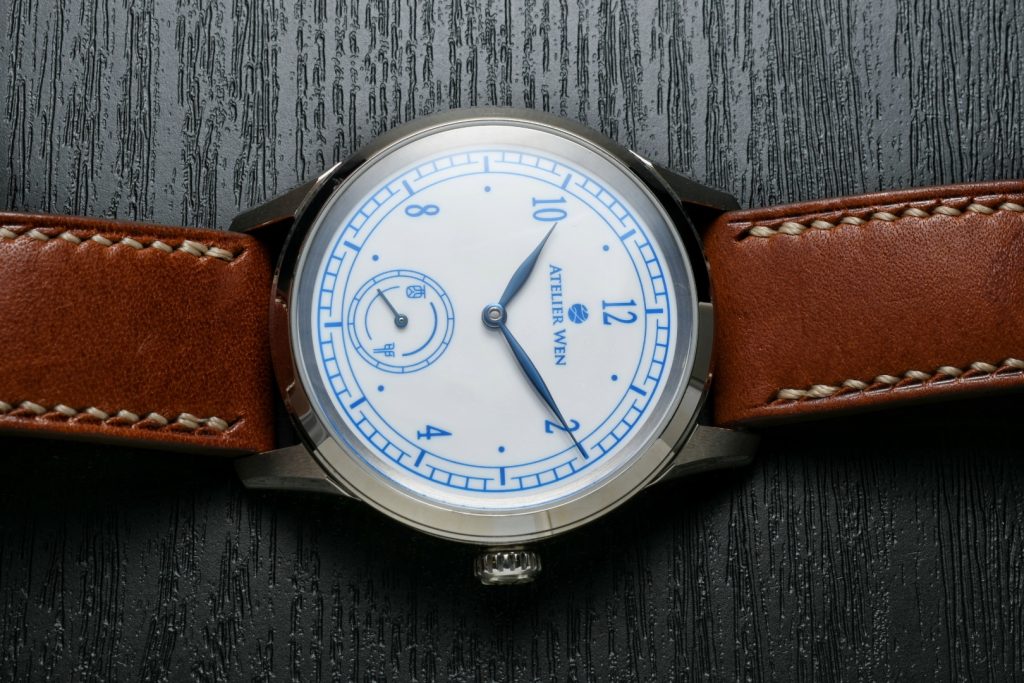 I can see how this idea works given that the design of the dial, and of the entire watch as a concept is a combination of east and west. Even the founders of the brand, as I was able to find out, are made up of a team of French and Chinese designers.
For me, I don't really mind either way, because that lavish embossed animal is just so cool.
The final thing about the watch, according the the specification is the movement, which according to the brand comes from China, and has a very nice specification, which according to the brand, " is a custom-made SL-3006 automatic mechanical movement with bi-directional winding, no phantom click (i.e. the entire date mechanism has been removed) and +/- 10 s/d accuracy – on par with its Swiss counterparts."
Sounds good, and even though it is not visible due to the closed case-back, these facts are interesting enough for me to want to have a closer examination of what the movement is about.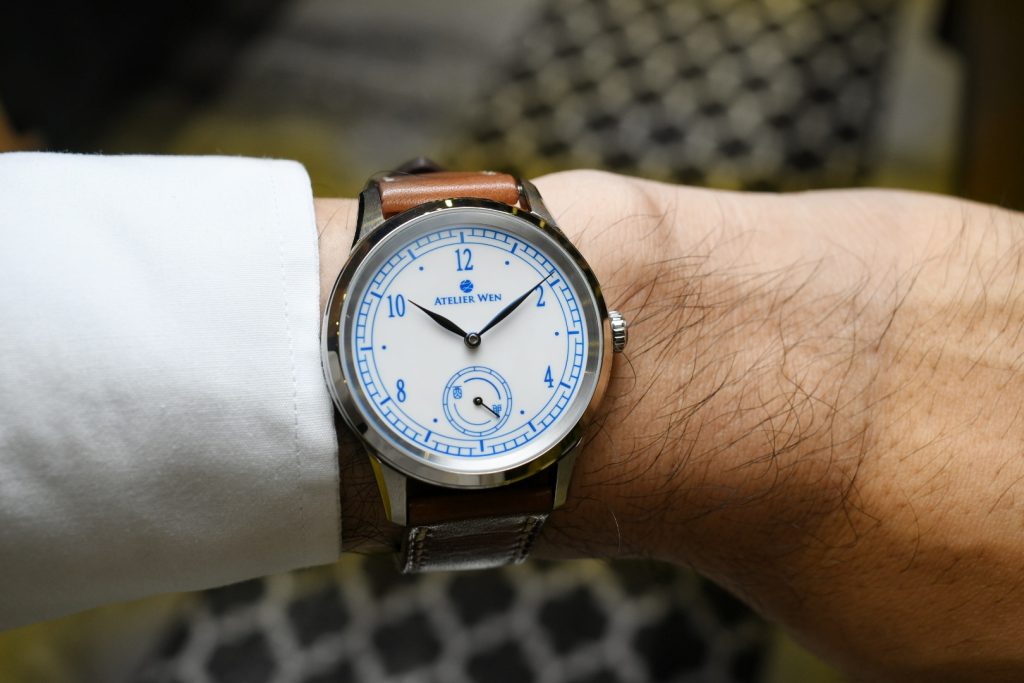 On the wrist, I was surprised at how well it sat on account of its 39mm case in combination with a case thickness of 11.7mm that feels just substantial enough. Looks good enough that I won't mind looking down at the time with the pure white porcelain dial every now and then.
The Atelier Wen Porcelain Odyssey Hao is a limited edition of 250 pieces and is priced at an astoundingly reasonable USD$720. This is a watch that I will revisit again when I am able to interview the founders of the brand. Maybe Watch Wonderland will let me borrow it for a while in the meantime to see if this love affair has legs.
[ninja_tables id="4970″]