DOXA is one of those brands that might not be top of mind when it comes to diving watches, but dig a little deeper and one finds that its place in diving lore and history is memorable and very much secure. Fans of the genre will of course know about the iconic SUB300T from 1969, a watch that was the result of the brand wanting to diversify away from dress watches towards the newly emerging diving watch category at the time.
Certainly, while the template of a diving watch had already been established and propagated by various other brands, DOXA decided to add two of their own special ingredients – the first, a rotating bezel that had the dive time in combination with the official US Navy air dive table for no-decompression dives engraved onto its surface, the second, a bright orange dial that internal tests had indicated was more visible in murky water.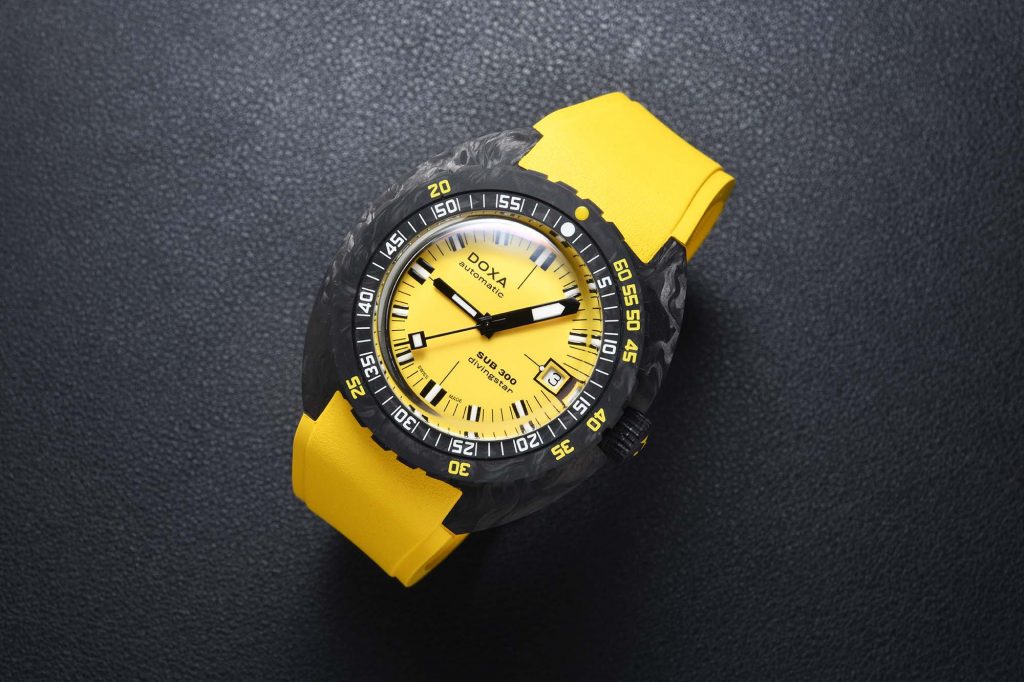 These two features, along with the distinctive 70's style lines of the SUB300T case are features that any DOXA fan will recognize, and it is great that they have been left essentially unchanged in this new modern incarnation of an iconic watch, in the form of the Sub 300 Carbon COSC that is under review today.
The headline feature of this watch is in the name, as it comes with a forged carbon case. It is an interesting melding of a classic form with a modern material, and compared to a stainless steel DOXA this Sub 300 Carbon COSC essentially weighs close to nothing. On my scale, with the rubber strap cut to my size with the clasp, the watch comes in at 96.4 grams. The watch head alone, measured, comes in at 45.5 grams (compared to a typical 40mm one at about 80 grams).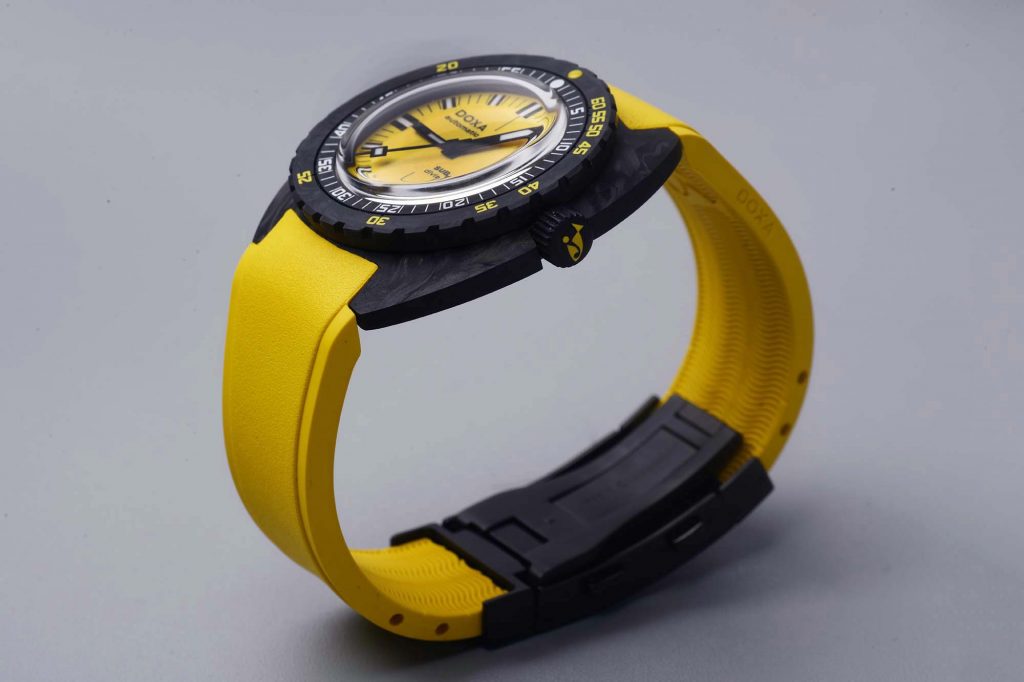 It's a material that will ensure strength and longevity to the watch, and if you have any doubt on how tough carbon fibre is, have a look at this enjoyable video comparing carbon fibre and other materials under a hydraulic press.
The forged carbon case is combined with an inner titanium container to ensure water resistance, since you need metal on metal to have a screw down crown. Both materials of course help to keep the watch very light indeed, which is the correct thing to do, since any other (heavier) material would take away from the lightness that the forged carbon already brings to the table.
Now having the SUB 300T in forged carbon is interesting because it is an unfamiliar material with a familiar case shape. This melding of the new and the old does play some tricks on your mind because, while you recognize the distinctive lines of the 70's era DOXA case, the fact that it is in forged carbon doesn't at all make you recall the original inspiration, unless you deliberately try to.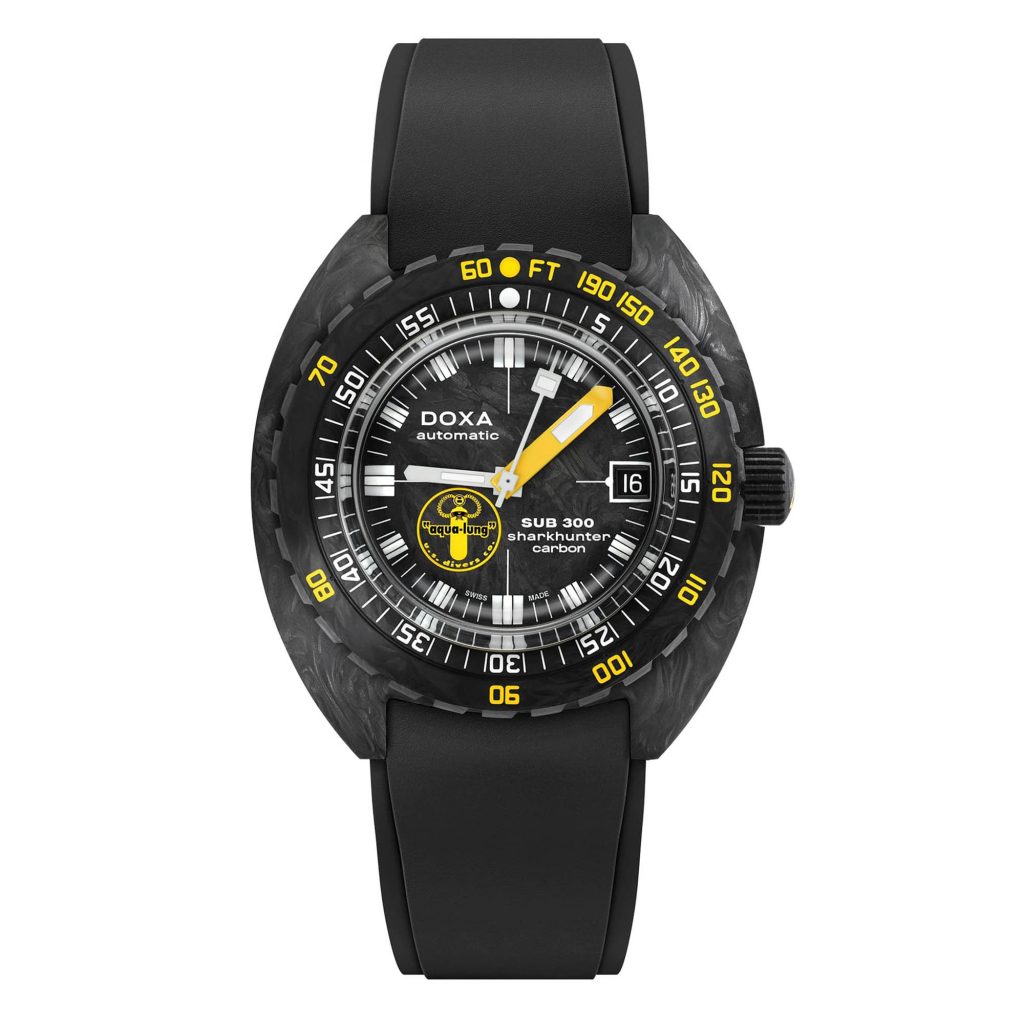 This does have the advantage of drawing both fans of the old, who recognise the case, and new fans to this watch, who can see this as something fresh together. This is probably why DOXA's first carbon watch, the SUB 300 Carbon Aqua Lung US Divers, a limited edition series of 300 pieces sold out so quickly when it was launched.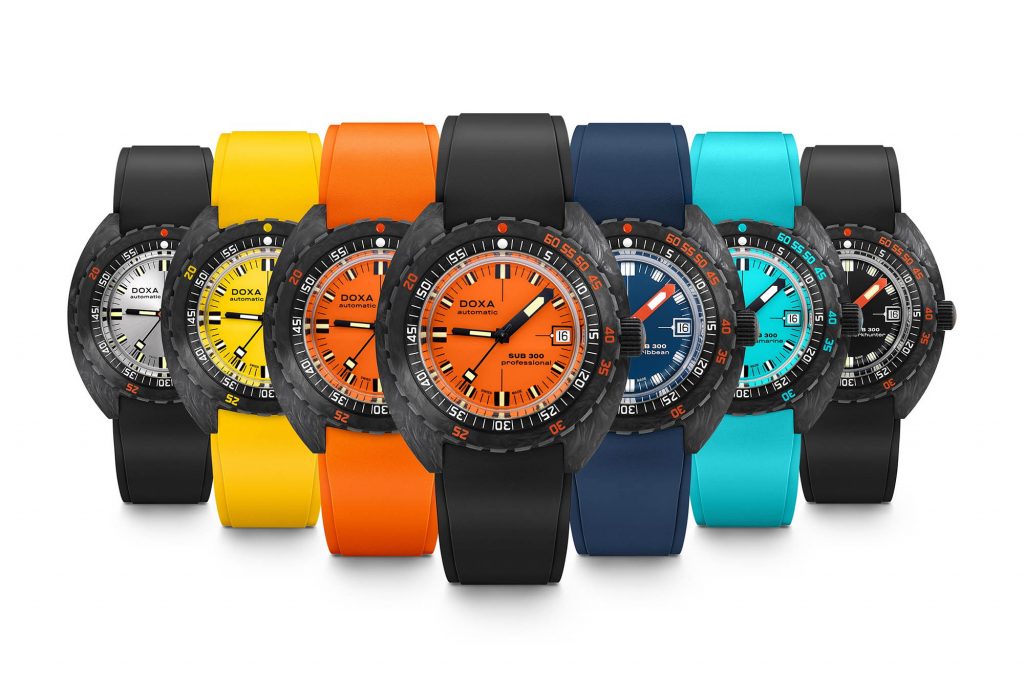 On the back of that successful offering, this new series of watches, now rendered in a bunch of different colours and names including the Orange Professional, Silver Searambler, Black Sharkhunter, Navy Caribbean, Yellow Divingstar and Turquoise Aquamarine.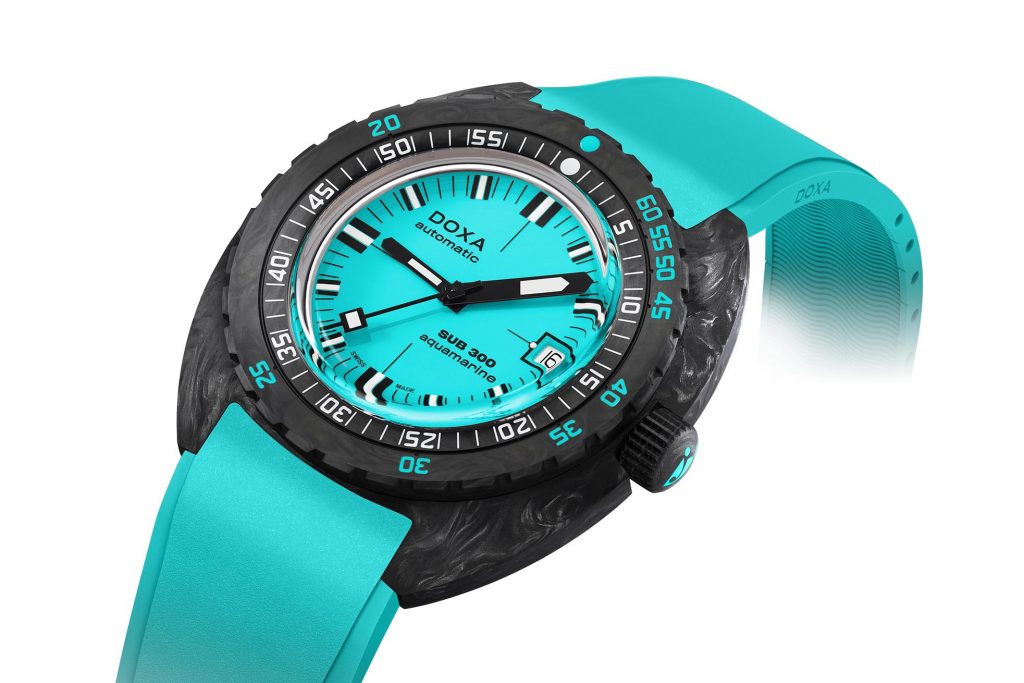 This version featured here, is the Yellow Divingstar, which charmingly has its name written on the dial, is my favourite, right behind the iconic Orange Professional, though the Turquoise Aquamarine is very pretty as well.
It's nice to see all the signature aesthetics of DOXA present and correct in this watch, as you'd expect like the handset, the crosshairs on the dial, the off-centred logo and the dual scale unidirectional bezel, with the outer being the no-compression scale and inner being the standard count-up scale.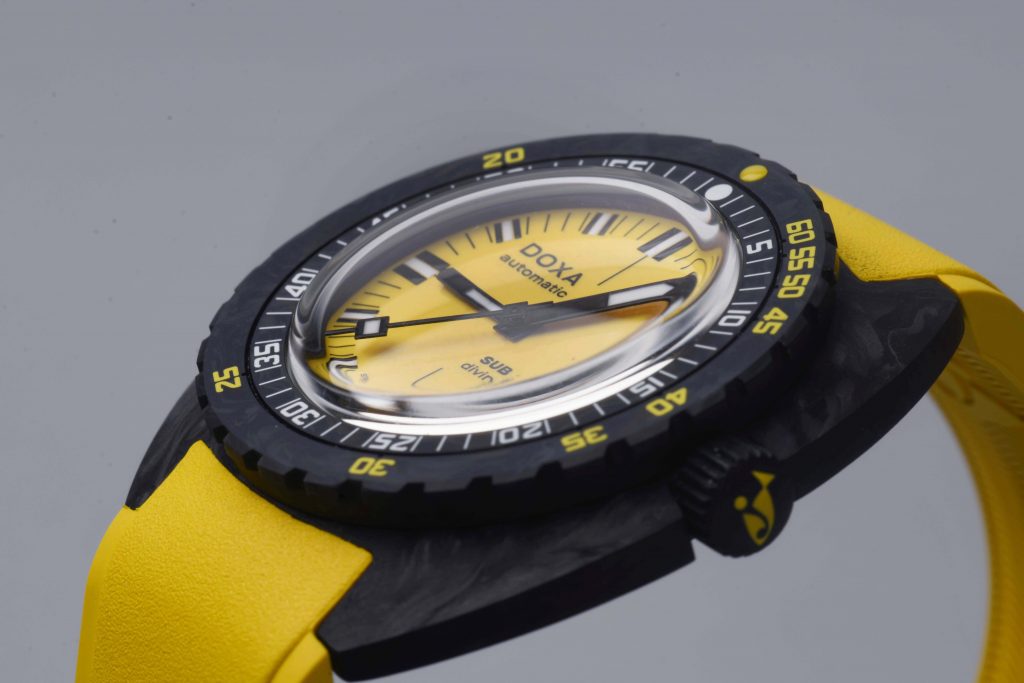 Like the non-carbon DOXA SUB 300, the watch seems bulky but actually wears very well due to its lugless design. As measured the lug to lug distance of the watch at 45.3mm makes the 42.5mm width
diameter feel smaller than it looks (for reference, the lug to lug measurement of a Rolex Submariner is 47mm). With the carbon version being essentially the same dimensions as the non-carbon one, the watch will also feel even smaller because it is so much lighter.
The SUB 300 Carbon as part of the new wave of Doxa watches that are bringing the brand to the forefront of people's minds again and the relatively furious pace of their releases in recent years is very much welcome. Some have suggested that the price that this watch is being offered at – US$3890 is a little high, and I suppose there is some merit to this feeling, given how DOXA has not been especially active in the past.
Yet I think that it's relatively early days for the brand in recent times to re-establish itself again, and for what you're getting – a forged carbon case, a COSC certified movement, an iconic design, as well as the heritage and legitimacy of the brand, a case can be made that the price is more than fair.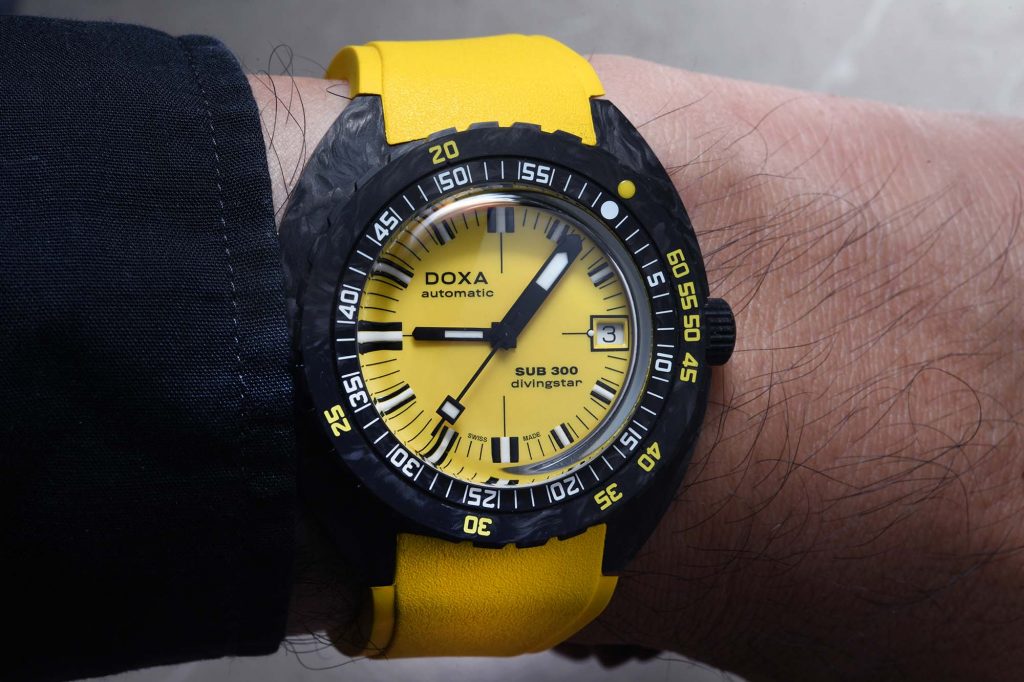 Having worn this watch for a time, what I can say is that it is extremely enjoyable because it's a competent 300m diver in every respect that is very light, and it's always a pleasure to look at the patterns of the forged carbon case every now and then. Would I buy it? Yes, since there are not too many options for a forged carbon cased watch at this price, and those that are much cheaper are of a clearly inferior quality. Though for my preference, I would like to have the option of a black rubber strap in the box as well. The yellow is nice but sometimes it can be a little too much, even for me.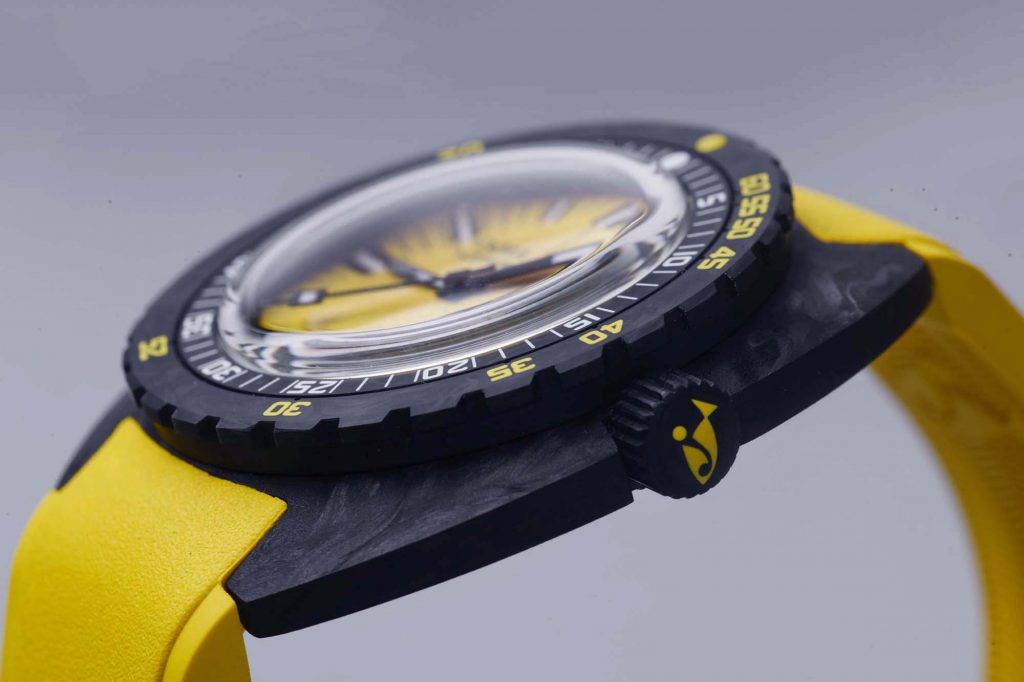 If you would like to wear this watch on an aftermarket strap, do know that the lug width is 19.7mm lug width, which means a thin 20mm fabric strap or NATO might work.
Lastly, I'd like to add that the DOXA team has been very responsive and helpful in answering my queries and that is a good sign. This review unit for example, came to me in double quick time, and with minimum fuss, which is very much appreciated.
I'm certainly keen to see DOXA continue on their current trajectory, with interesting releases such as this. Given the heritage that they have, it's nice to know that an icon can continue to evolve and grow decades after it first came out.
Find out more or purchase directly from the DOXA website at: https://ch.doxawatches.com/
TECHNICAL SPECIFICATIONS:
MOVEMENT: Swiss mechanical automatic, self-winding, COSC certified Chronometer Power reserve: 38 hours Frequency: 28'800 vph (4.0 Hz) 25 jewels Decorated by DOXA
CASE: Forged carbon Diameter: 42.50 mm x 45.00 mm Thickness: 13.40 mm Glass box sapphire Unidirectional rotating bezel Chamber and screw-in case back in titanium Screw-down crown Water resistance: 300 meters, equivalent to 984 feet
INDICATIONS: Hours, minutes, seconds, Date
FEATURES: Sapphire box glass Unidirectional rotating bezel
BRACELET/STRAP: FKM rubber strap, folding clasp, black PVD coating, with ratcheting dive suit extension, exclusive DOXA fish logo Lug width: 20 mm