Every time I look at a piece from MB&F, I have to think hard about how it tells the time, and why it is shaped the way it is. Normally, for most watch brands, if any more cerebral capacity is devoted to understanding its function, it might usually cause a collector's eyes to glaze over, and limit its appeal – however, this is very much not the case with the creations from MB&F. Time and again, Maximilian Busser and his very like-minded friends put out creations that make you think, and transport you to times when you were a child discovering the world again. As Max himself says, they create Horological Machines – objects that take the essence of watchmaking and create kinetic sculptures that give time. In 2023, MB&F unveils the HM8 Mark II, a reinterpretation of the speedometer-inspired watch in a new guise that captures the zeitgeist of modern supercars.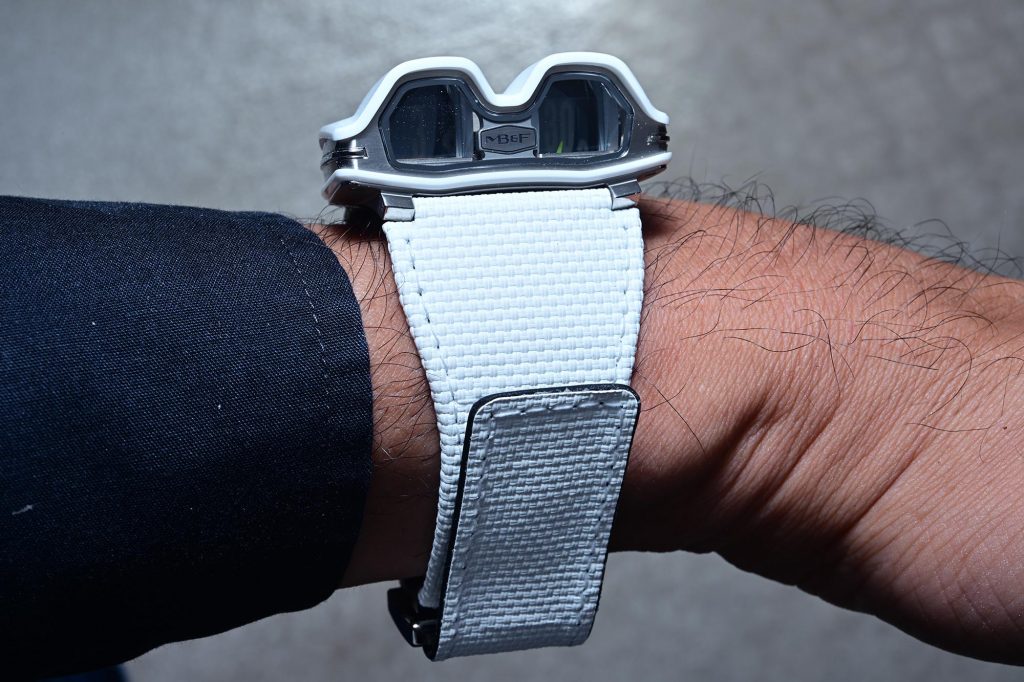 In the world of MB&F, the Horological Machines are meant to represent timepieces that capture the desires that we had as children – supercars, military aircraft and space ships are a common theme amongst the Horological Machines. The HM8 Mark II can trace its lineage to 2012, with the release of the HM5, the first automotive inspired Horological Machine. The HM5 introduced a double-case construction, with an outer case inspired by the Lamborghini Miura (amongst others) and the Amida Digitrend (a watch that was a victim of the quartz crisis), and an inner case that would serve as the hermetically sealed, water resistant case. This would be followed by the HM8, a Can-Am race car inspired watch, that also combined signature elements of MB&F, including the battle axe winding rotor on the top-side of the watch.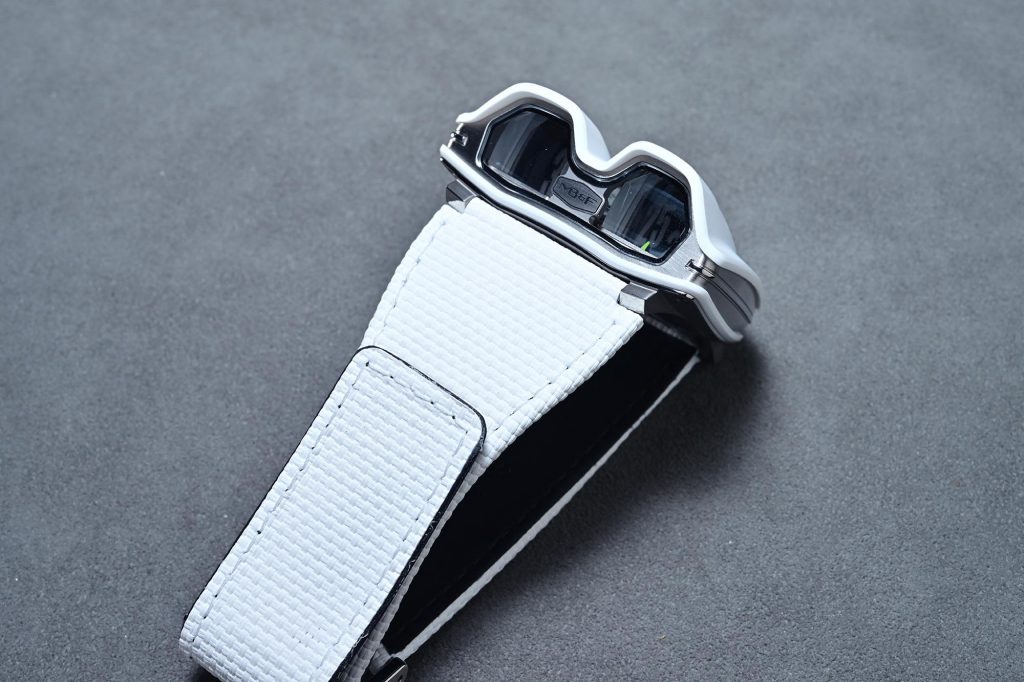 The birth of the HM8 Mark II is a continuation of Maximilian Busser's adoration for all things automotive, with its distinctive flowing lines echoing that of a Porsche 918 and the Zagato double bubble. Further playing with the inspiration from the Amida Digitrend, the watch continues the use of its speedometer-like appearance, with discs that indicate the hours and minutes. These time display discs appear vertical, however, they are actually mounted in the same plane as the movement – that is, horizontally. The numerals printed on the discs are also applied in reverse, and this is where the genius application of an optical-grade sapphire crystal prism with an integrated magnifier is what enables the display to show time vertically, without complex gearing, as well as being visible on the wrist when one has their hand on the steering wheel.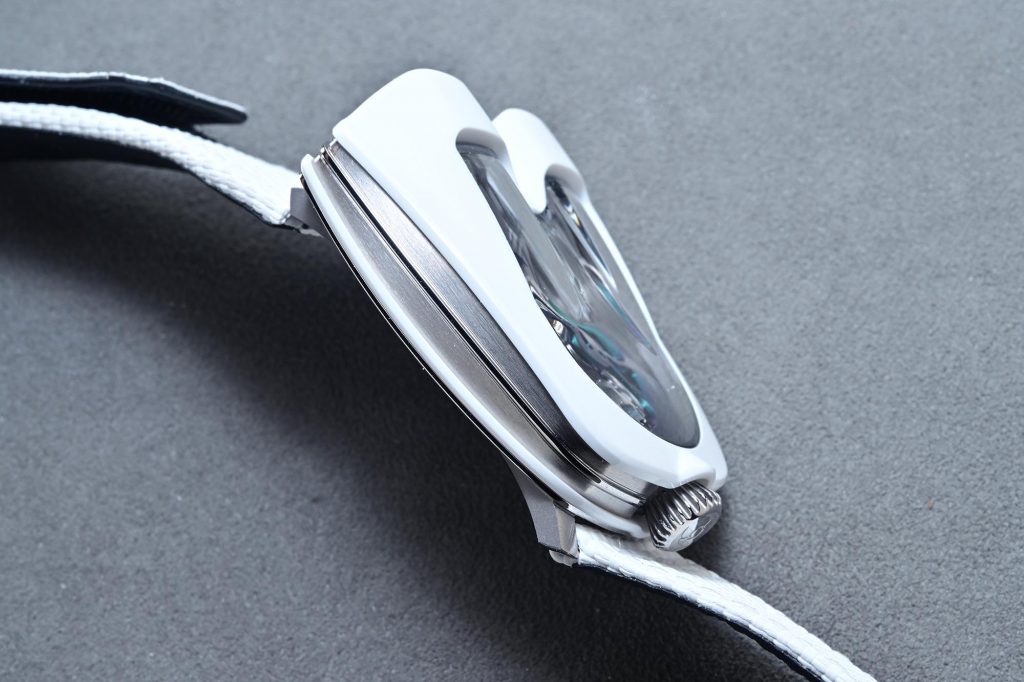 The HM8 Mark II also features a case design that was inspired by the chassis of the car. Its aforementioned predecessor, the HM5, had a hermetically sealed inner case, to which the "body panels" of the watch were added. This principle of construction is continued in the HM8 Mark II, but this time, with the movement more visible through a double-curved sapphire crystal, reminiscent of a supercar's engine bay. This type of manufacturing with sapphire crystal always proves to be difficult – being 30-40 times more expensive than a normal domed sapphire crystal used in many other watches, and the incredibly high risk of breakage when forming its complex shape. Only one of MB&F's 'friends' was game enough to take on the challenge (Novocristal) , and succeeded in creating its sensuous curves, whilst remaining just as durable as a sapphire crystal found on any sports watch.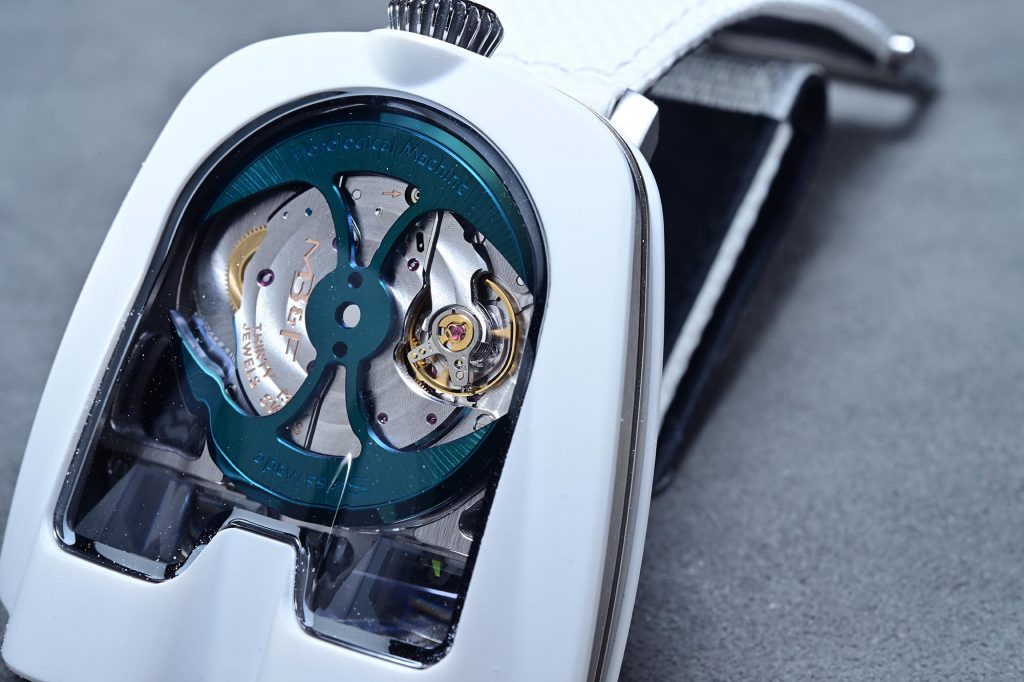 An unusual material makes another appearance in an MB&F watch – CarbonMacrolon. A composite material composed of a polymer with carbon nanotubes injected into its matrix, offering a much higher tensile strength than traditional carbon fibre reinforcement. This particular blend of CarbonMacrolon for MB&F is able to be coloured and finished in accordance to their exacting standards. Furthermore, the CarbonMacrolon bodywork in this watch is milled from a single block – posing a challenge in terms of three-dimensional machining.
Powering the watch is what MB&F call a "three-dimensional horological engine", featuring jumping hours, and trailing minutes as seen in the discs – a module developed by MB&F, and is powered by a Girard-Perregaux base movement that has proven its mettle for nearly three decades (on a cursory glance, it appears that the movement is a Calibre 3000-series movement). The power reserve is the industry standard 42 hours, beating at 4Hz, and is automatically wound through the battle axe rotor mounted on ceramic ball bearings.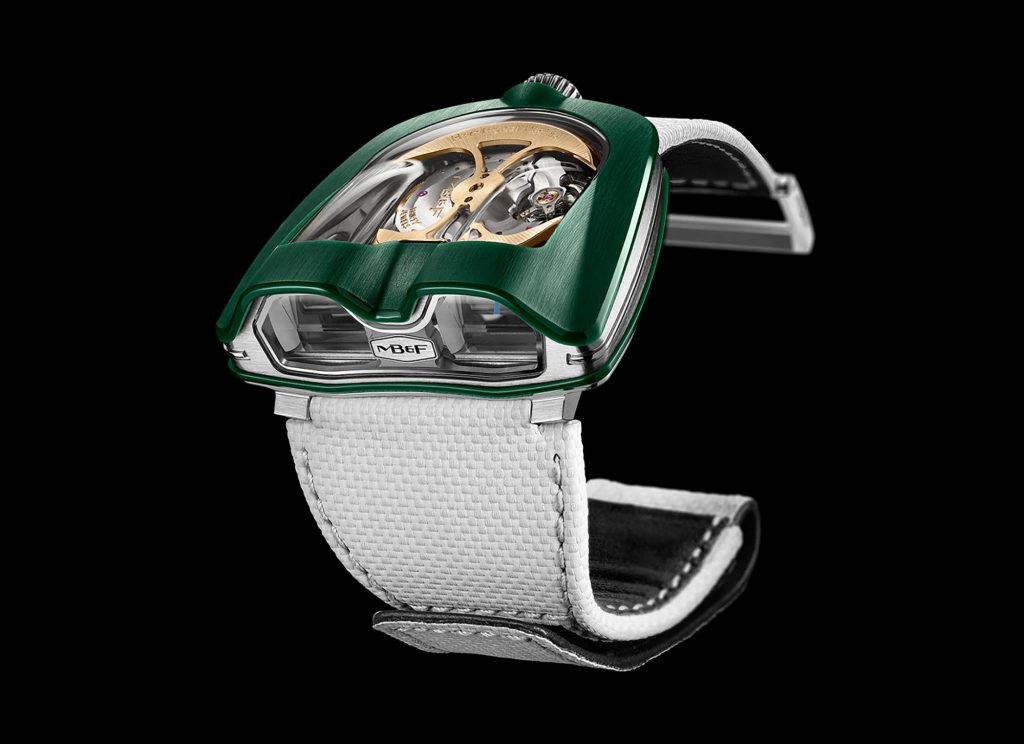 The watch is delivered on a textured calfskin strap – white for the British racing green model, and green for the white model. Both come with a titanium tang buckle.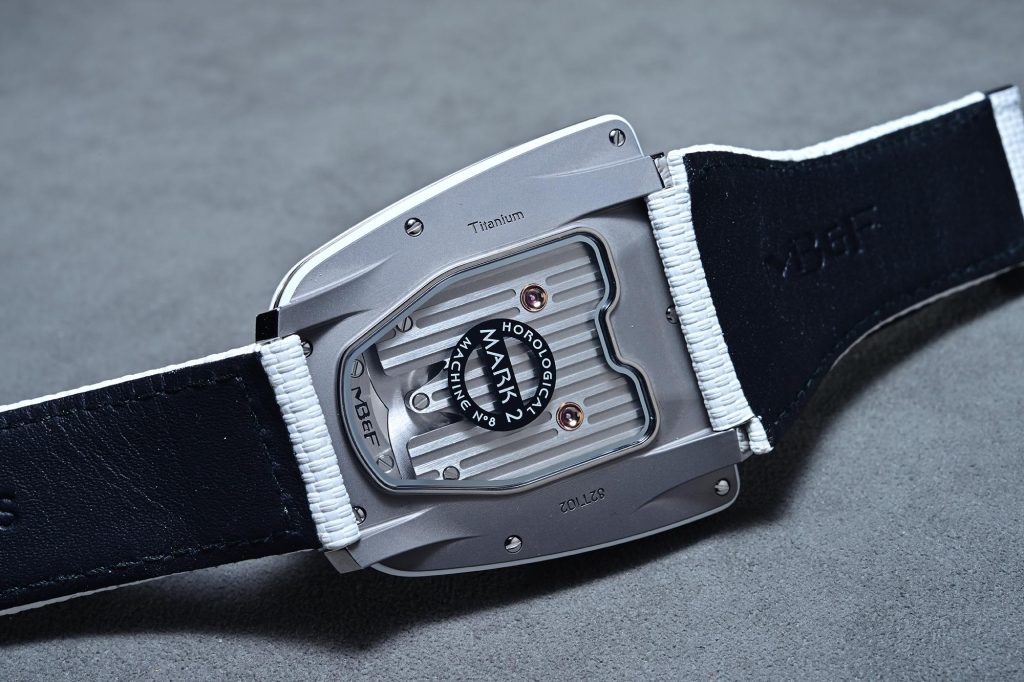 Maximilian Busser once said: "A creative adult is a child who survived" – a fitting sentiment in an industry that focuses heavily on provenance and heritage. The use of watchmaking principles to create imaginative machines is what set Max free from his mental prison, and the HM8 Mark II is another way for him to express his love for all things mechanical. Although this machine does not have wheels, in more ways than one, it is still very much a machine that lives and breathes just like an automobile. Watch enthusiasts always look forward to a new MB&F watch, as it brings them back to the time they were children – endlessly curious, and an imagination that runs wild.
Technical Specifcations
HM8 Mark 2 is available:
– in titanium and green CarbonMacrolon® body panel limited to 33 pieces;
– in titanium and white CarbonMacrolon® body panel.
Engine
Three-dimensional horological engine, composed of a jumping hour and trailing minutes module developed in-house by MB&F, powered by a Girard-Perregaux base movement.
Mechanical movement, automatic winding
22K gold automatic winding rotor
Power reserve: 42 hours
Balance frequency: 28,800bph/4Hz.
Number of components: 247 components
Number of jewels: 30 jewels
Functions/indications
Bi-directional jumping hours and trailing minutes, displayed by dual reflective sapphire crystal prisms with integrated magnifying lens.
Case
Grade 5 titanium with green or white CarbonMacrolon®
Dimensions: 47 x 41.5 x 19 mm
Number of components: 42
Water resistance: 30m / 90' / 3atm
Sapphire crystals
Sapphire crystals on top, front and display back treated with anti-reflective coating on both faces.
Dual reflective sapphire crystal prisms with integrated magnifying lens.
Strap & Buckle
Calfskin strap – white for the British green model and green for the white model with a titanium tang buckle.