On the occasion of the launch of Norqain's first boutique outside of Switzerland and second in the world, Gerald Chew shared a conversation with CEO and Founder of the brand, Ben Küffer, on a ski lift, perched prominently in the middle of the Zermatt Ski lodge style of the Singapore boutique.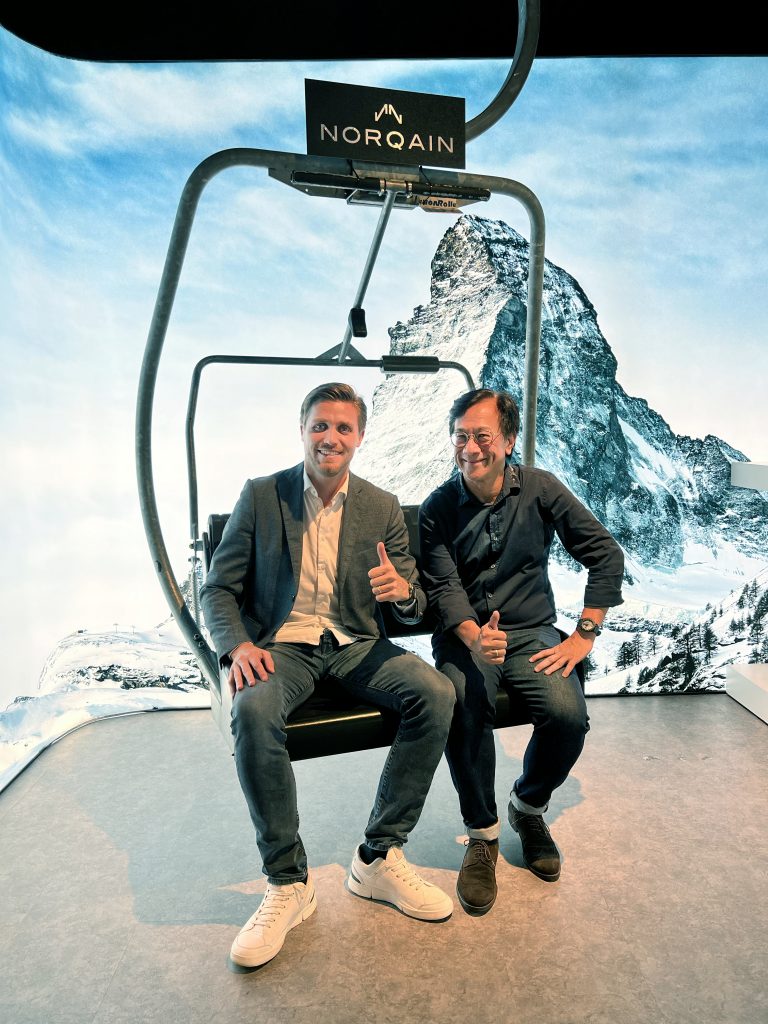 Welcome to Singapore, Ben, and congratulations on the opening of the first brand boutique in Asia. Tell us about the beginnings of Norqain – how you conceived it and what motivated you to start your own independent brand?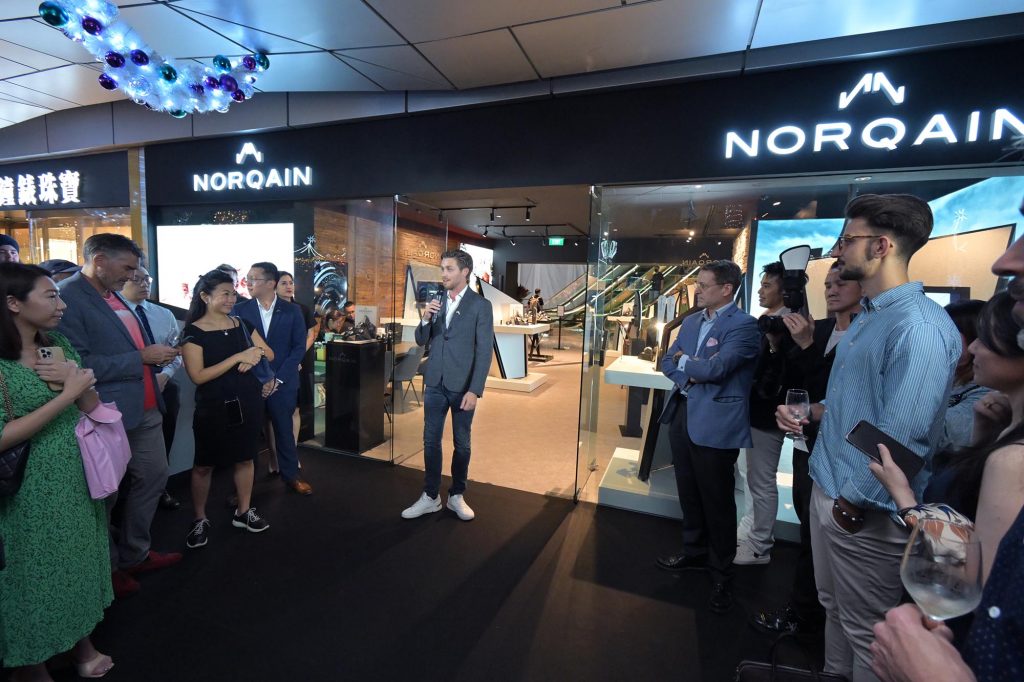 We observed that there were no more independent brands below CHF10,000 in price. We were not sure if it was for a good reason, but we noticed it. I knew there was a trend towards independent brands in the high price range, but I felt that was because they were transmitting passion – they were talking about their story and how they produce watches; and those watches are part of the spirit and the culture in Switzerland.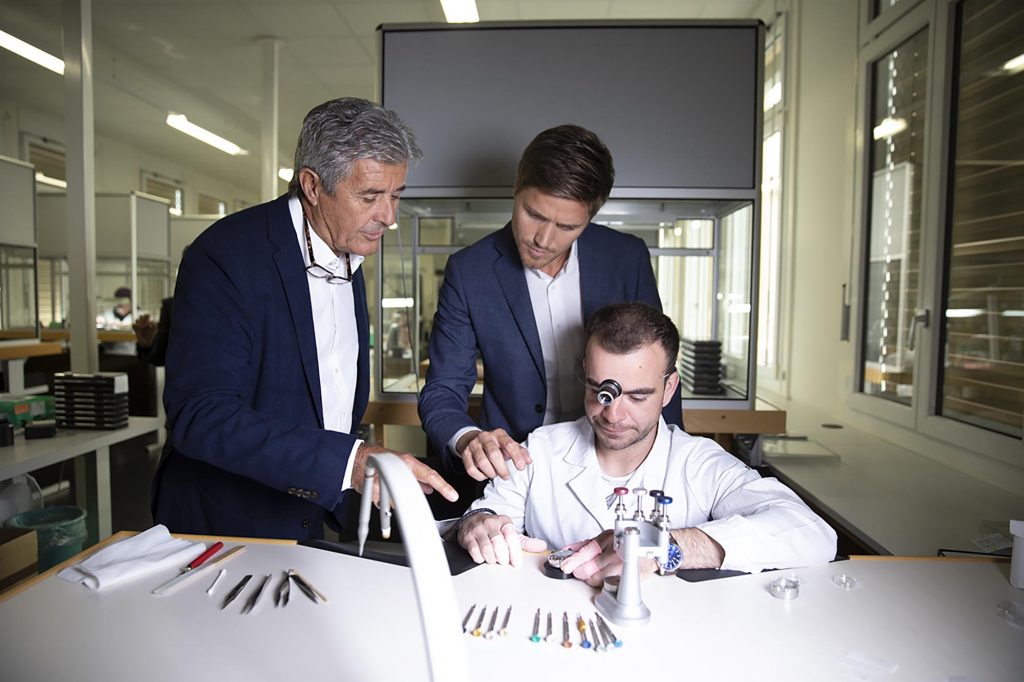 So I feel that's where I'm coming from. I love watches. My father has been a great role model for the family – producing watches (Küffer Senior, Marc, founded the private label watchmaking firm Roventa-Henex and spent 25 years on the board of the Swiss Watch Industry Association, and is currently Chairman of the Board). I felt that (heritage and family tradition) is something that should come into the market. I started to talk to retailers. Obviously, everybody like me knew how difficult it would be, but it was really that mission to bring in an independent brand, retailing watches below 10,000 Swiss francs. A family owned brand with a long term vision, with no pressure from shareholders to really innovate, do new materials, produce X number of products etc. That was my motivation at the start.
Was this something you already had in mind, this direction that you wanted to move in; and how you wanted to play a part in the watch industry?
Yeah, but to be honest the circumstances were not ideal. Rolf Schnyder, he was the godfather of my sister, unexpectedly passed away in 2011. I've been lucky when I was young to witness Ulysse Nardin close up because of him; and later I was fortunate enough to work with Teddy Schneider at Breitling.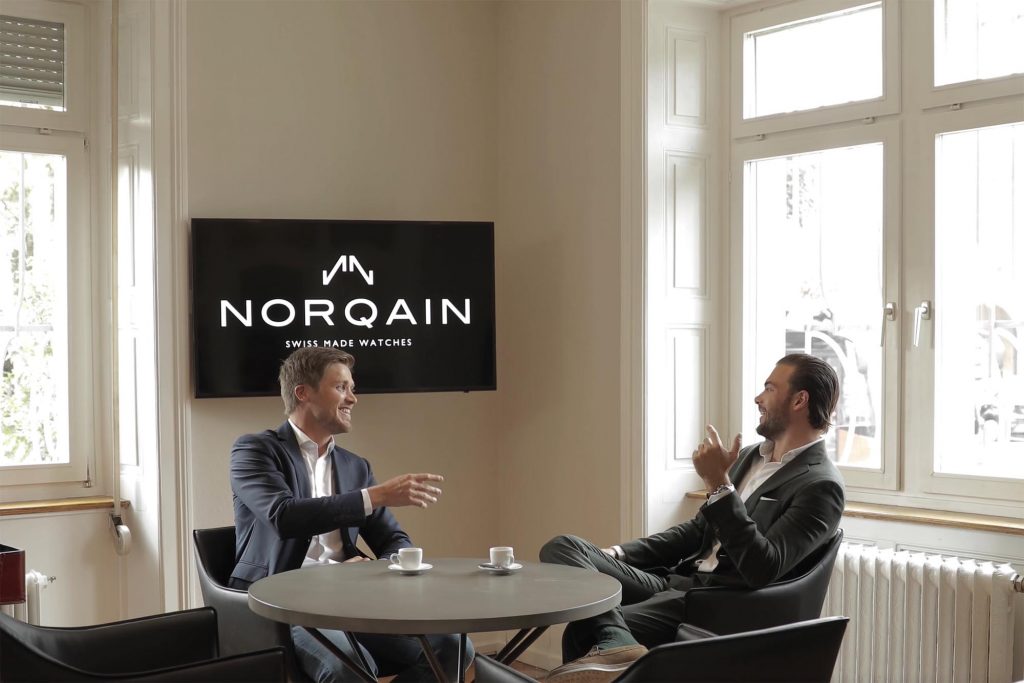 And those are two huge family owned brands that have been sold in the last year. So I looked at that as being a bit like sad. The groups (watch conglomerates like Swatch, Kering and LVMH etc) are always getting bigger and fewer independent brands stay or last. I was one of the guys talking about this; and a few people really were like, oh, yeah, you're absolutely right. So I felt like it could be a mission of mine – as it bothered me so much that I actually wanted to change something. But soon after this realisation, came the real eureka moment, actually with Norqain. The biggest, and for me, the best decision we took was in 2018, at the very start when we decided not to buy a brand. As in not to just buy a story and add some Küffer genes to it. Our story is that we are a 35 year old team from Switzerland that believes in watch culture so much that we want to pass it on to the next generation and we want to really show our passion for this endeavour.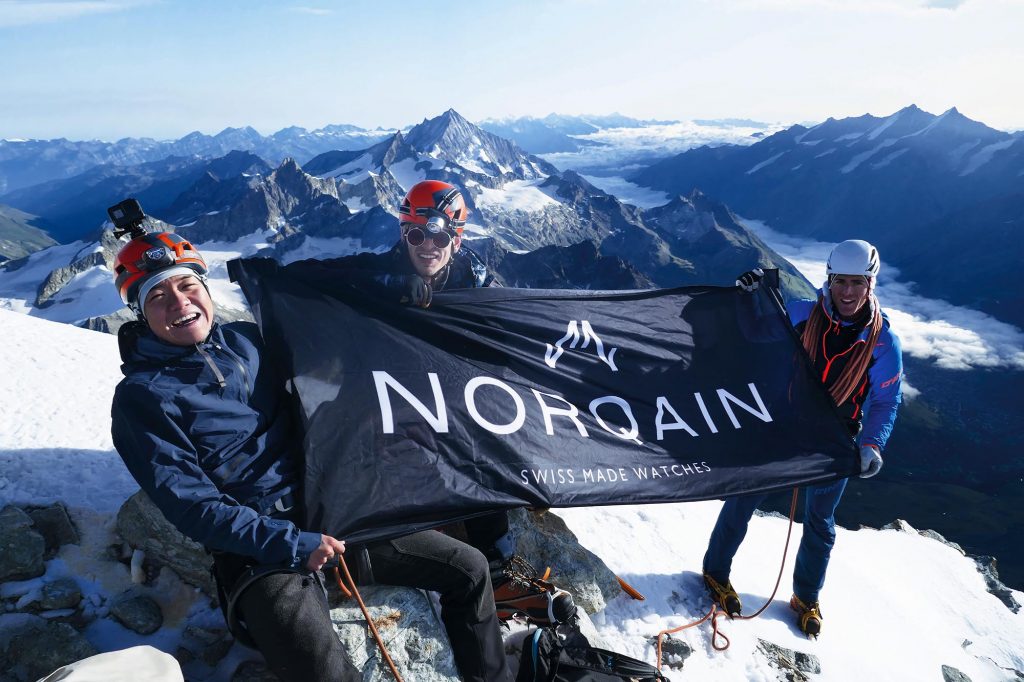 And I think that helped us tremendously, that our story was believed by many people. They could see that it was authentic, it was real. I think that today, Norqain, has, in the space of four years, is very clearly positioned because of that. When people can say, "oh yeah, they're independent….they're very much about Switzerland and the mountains". So I think we got across that very clear image because we created our own brand; and told our own stories.
You obviously brought in this 'independent' brand contrary to the trend where they tend to be high end and exclusive etc. So how did you arrive at this position – both with the products and in the market? I know it's a market differentiation position, how and why is that?
It's a very good question. Here's how and why. Suppliers in Switzerland, of course they work with the big brands. As a smaller brand, there is no access to these leading suppliers. But I knew from the past, that our family still had very close ties to all of them; and also the Schneider family. So we really talked to them and said, "Listen, we think it's really important to continue to also have independent players and not just the groups." So this was really the moment when the suppliers agreed to work with us, (who normally are closed to young or independent brands without a track record).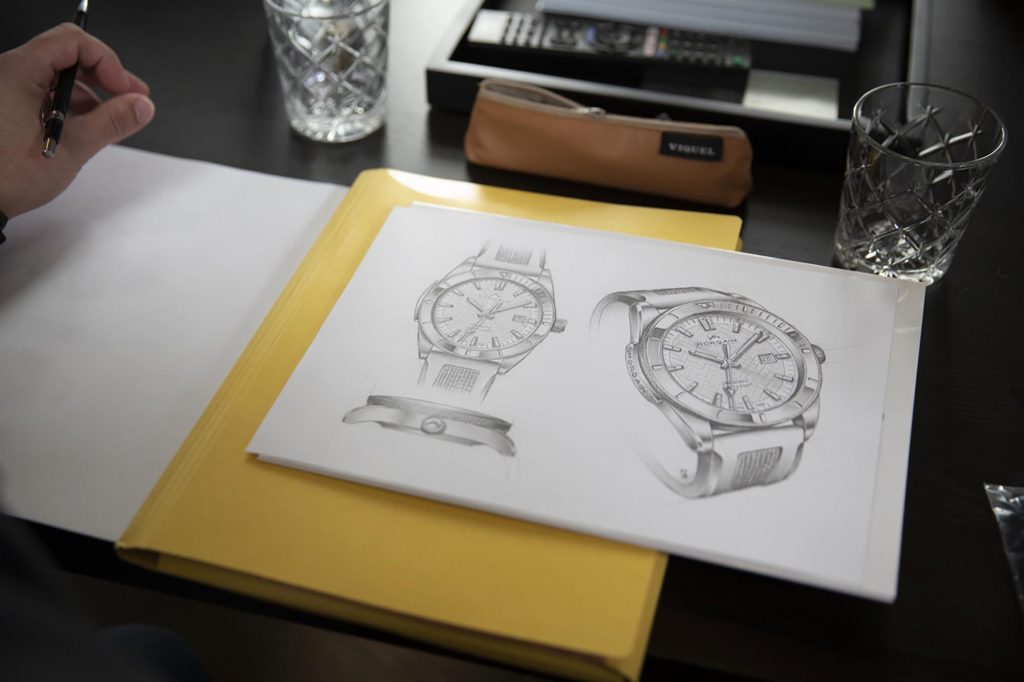 When they agreed to produce Norqain watches together with us, I knew that we could offer to market, in terms of quality, something unique – and that the watches were definitely going to be at a price starting at CHF 2000. I wanted to go back to the price segment that had been left by many brands as what used to be the entry level price for a piece at CHF 3000 is now CHF 6000, today, for many brands. I also knew that Norqain would not be measured by turnover, but by people actually wearing and enjoying the watches on the wrist. This suits my character more than doing expensive watches that most of the people I know can't relate to.
This arrives at the product itself. We know it's centered on sport watches as a base. What influenced that decision?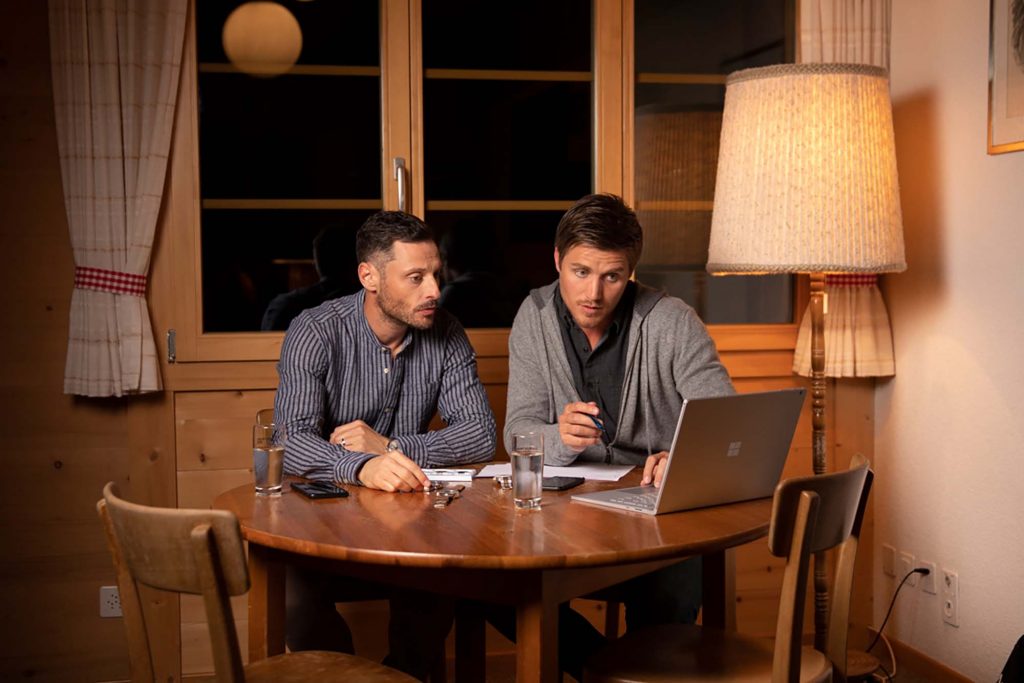 In order to be authentic, I knew that it would be good to create a brand that was really around what we do as people. Two of my co-founders, Mark Streit included, are both professional hockey players. Ted Schneider also has a very sporty and a big crazy lifestyle when it comes to doing extreme sports. So I just felt it would be very natural for us to make a very sports oriented watch brand. I feel that a lot of brands have a sports line, in addition to many other different lines.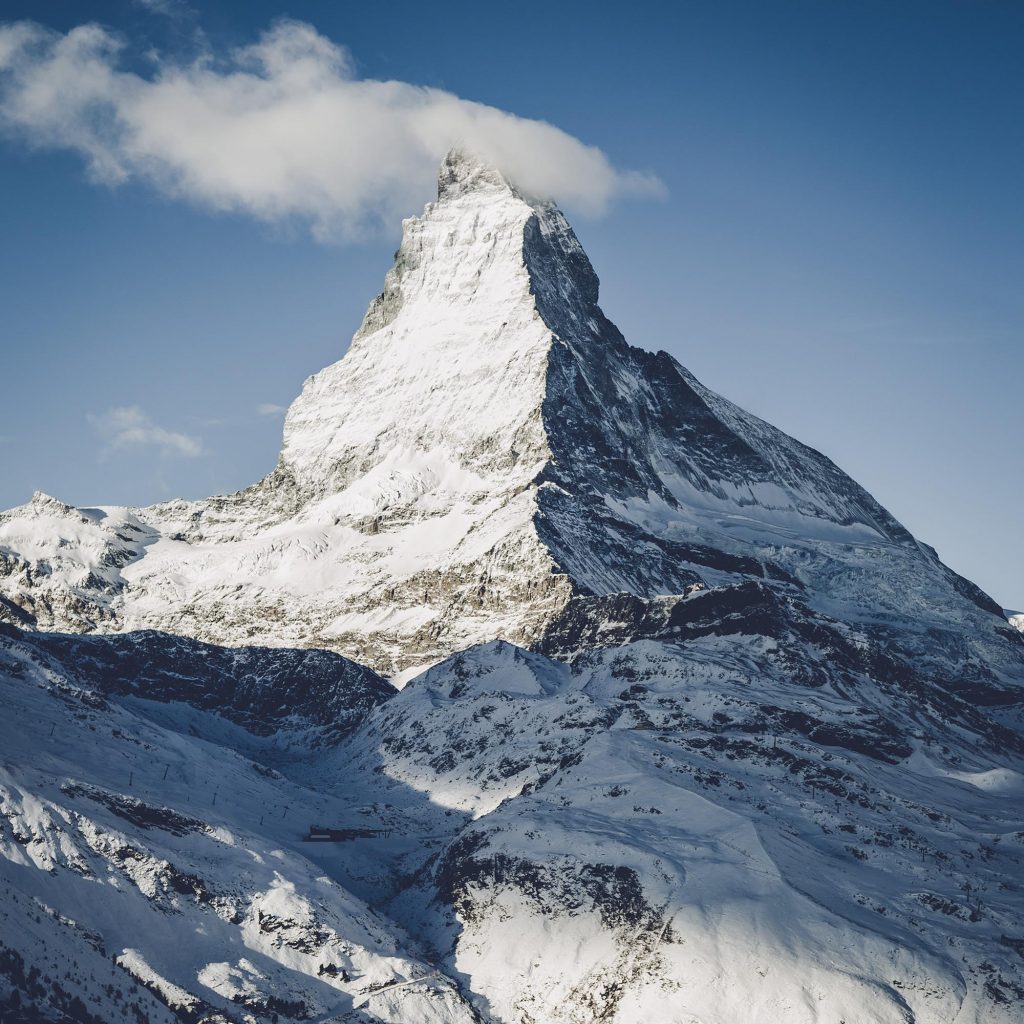 My focus with Norqain is to just be honest to our core: that is Switzerland – outdoors, adventure, sports. Even in a market like Singapore, where there are no mountains, there is a big community engaged in sporting activity, like running. Sports is about emotions, and I think that's something that really goes well with Norqain. That's also why we talked to the New York Marathon to be a sponsor. I really believe this is where we belong as a brand.
These collaborations that you work with also seem to add to the Norqain story. How do you decide who you work with?
It's really a good question. Some things are purely emotional, like the Butterfly Help Project, "Neverest"(when we never rest). The name came from COVID. I felt that we needed a positive name and "Neverest" sounded so right coming out of the COVID crisis. Like, never rest, be positive, always continue. And so that was the Butterfly Help Project, where we support education for kids whose families have been affected by COVID, in Nepal. So those kind of things I can say are purely emotional.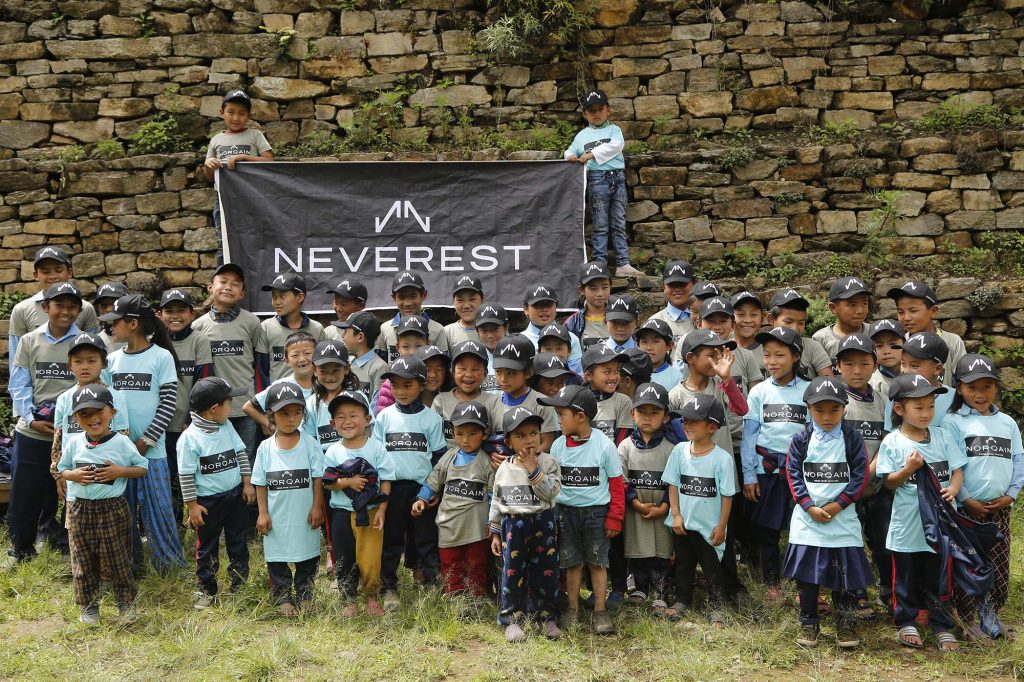 When we look at how can we get the awareness level of the Norqain brand up, I think it's really about finding partnerships that suit your brand. So Dean Schneider, for example, is a perfect "My Life, My Way" Norqain ambassador because his life and lifestyle, work and personality really suits our character – to be different and to go your own way in life. The New York marathon, of course, was the first, global major partnership we signed, and that's also great. Now we have Jean Claude Biver on board. I discussed big decisions with him to get his opinion, and we both just agreed that with the Wild One line, it would be the perfect moment to go into the NY marathon.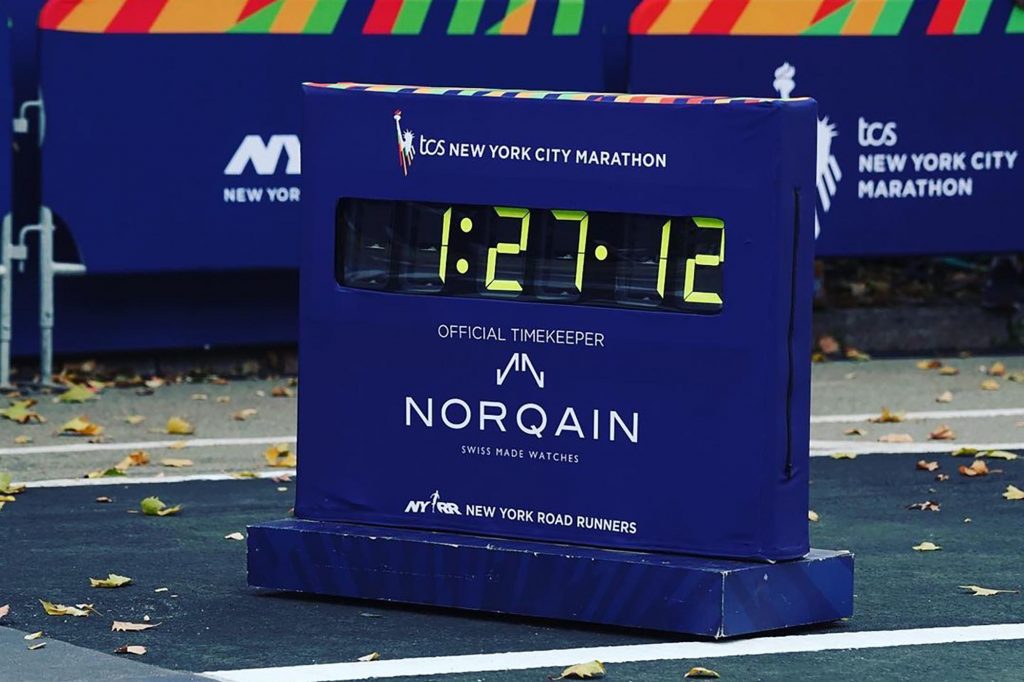 My Life, My Way. Is this your tagline? Did you invent it?
100%. It's so funny because we talked about that in Zermatt at the launch event. There are quotes and slogans, but this slogan, for the rest of my life, will always remind me of the moments at the beginning, when it was super difficult, I always said we have to find some slogan, like "be positive". Then one day I just said, "my life, my way."! It resonated with everybody – "My life, my way…. in your world".
What does it mean, for you?
I just feel that it means to dream and to follow your dreams. I feel that it's one of the big reasons why Norqain has managed to build this quickly, into a community ( of Norqainers). I think people can relate when I say "My Life, My Way", Let's face it: nobody needed a new watch brand. Nobody. I knew that, I never said it's going to be easy, but "My Life, My Way" is a symbol of pushing through all that. So"My Life, My Way", is strongly associated with the brand. It is really nice to see that people who are part of the community hashtag #My Life, my Way, and they use it on Instagram a lot.
I think the Nike tagline "Just Do It" is probably the best slogan in the history of marketing. With "My Life, My Way" at Norqain, it underscores that we are doing something right. Many people at the time said such a brand could not be done. I said, "Yeah, I know, but I have to do it. It's my life, my way".
It really is a unique and evocative tagline.
In the beginning, I thought, maybe it would be just me posting it on social media – because it means a lot to me. Then I noticed that all the guys who are brand ambassadors wrote 'My life, My Way'. They know it's really a tagline, not a brand name, but they still use it: "Norqainer- My Life, My Way". I don't want to be sound arrogant, but I think it is the only slogan I know that works like that. I think it's a huge compliment that people use that slogan because it that they can actually identify themselves with our values. It's a good sign for our brand.
Like you say, it's kind of translated to so many people's lives, and you can adapt it.
It speaks to and about many people from all walks of life. I think people who know me well, know that I don't like to exclude people. I don't feel better than anybody. I just feel like we're one planet and we have to all enjoy our time here. Everybody has a different passion. So that's something that I'm happy about.
I'm sure it helped over the Covid (2019-2022) period very much. We have to talk about Jean Claude Biver coming on board as Advisor. How did this come about?
This is a cool story. I'm at home. It's during the second week of lockdown. Third week of lockdown, at Easter. Out of nowhere I get an email from Jean Claude. We had not met each other. I knew him, of course, but he had only read about Norqain and didn't know me. But he reached out and said, "Hey, I heard a lot of good things. You are the young team, I would like to come visit you, if you would like ''. "Of course" I said. We were super happy, and he came to visit us the first day after Easter!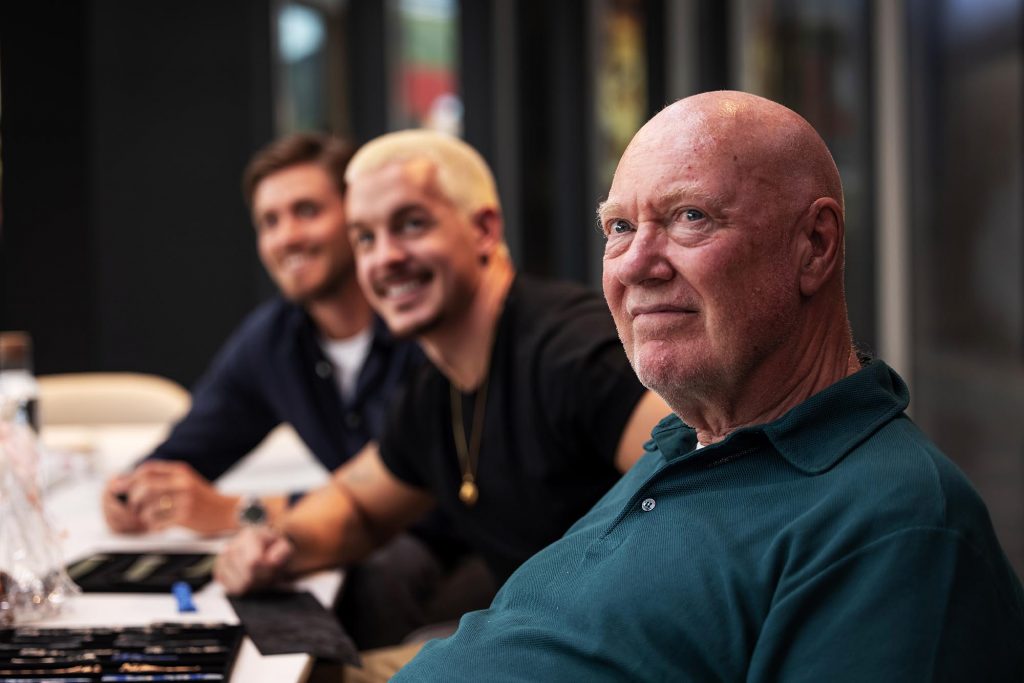 He was eager to get going?
Yes!! We showed him our young team, we showed him the office. Eventually he asked me, "how is business?". I told him how we had done in the first year. He was really impressed. Then he said to me, "the brand is good. There's something about Norqain, the way it sounds, the logo, I see big potential in this brand. Why are people buying your brand today?"
I explained to him, "I think they like that we are a challenger brand, that we are the new kids on the block, and that we offer good quality". Then he said, "Okay, but now it's time to challenge through innovation. You challenged through a modern and cool image and price to quality ratio. But now, the next step, we're going to challenge through innovation. Call me if you're ready." I called him the next day and said, "Jean Claude. I thought about it. I would love to do that, but would you help me just to get some contacts?" He said, "Yeah, sure."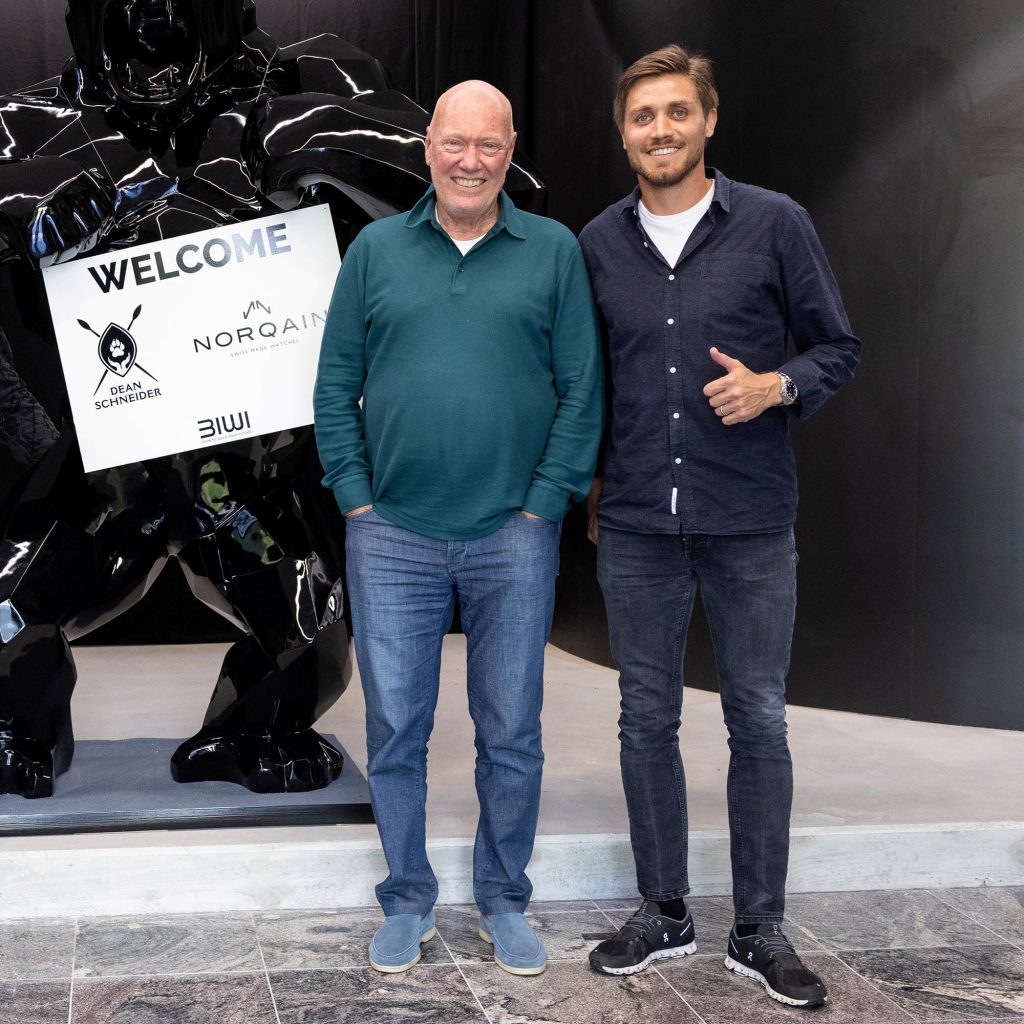 Two weeks later we were at suppliers - visiting them, exploring - without having any defined ideas. The title we gave this project was always the one that's on all our campaigns, the "Ultimate High Performance Sports Watch". That was always what we said when we went to see every supplier: we are producing the Ultimate High Performance Sports Watch. Of course they asked: "what does that mean?" We did not know at the time…. But we knew it was a good name. Making it happen was the challenge. That's when the project really started with Jean Claude Biver.
And the suppliers obviously were also energised by this.
They felt challenged. I remember our meeting with Pascal Bourquard from BIWI, (@biwi_sa) who developed Norteq with us. He asked me, "what do you want to do?" Jean Claude said, "It has to be ultra light, it has to be ultra robust, it has to be the ultimate sports watch. That's why smartwatches are so cool and today, people wear them. So we want to do the same in mechanical watches, and we want to make it at a low price".
Pascal said, "That's impossible. I thought you were doing a product for CHF10,000?".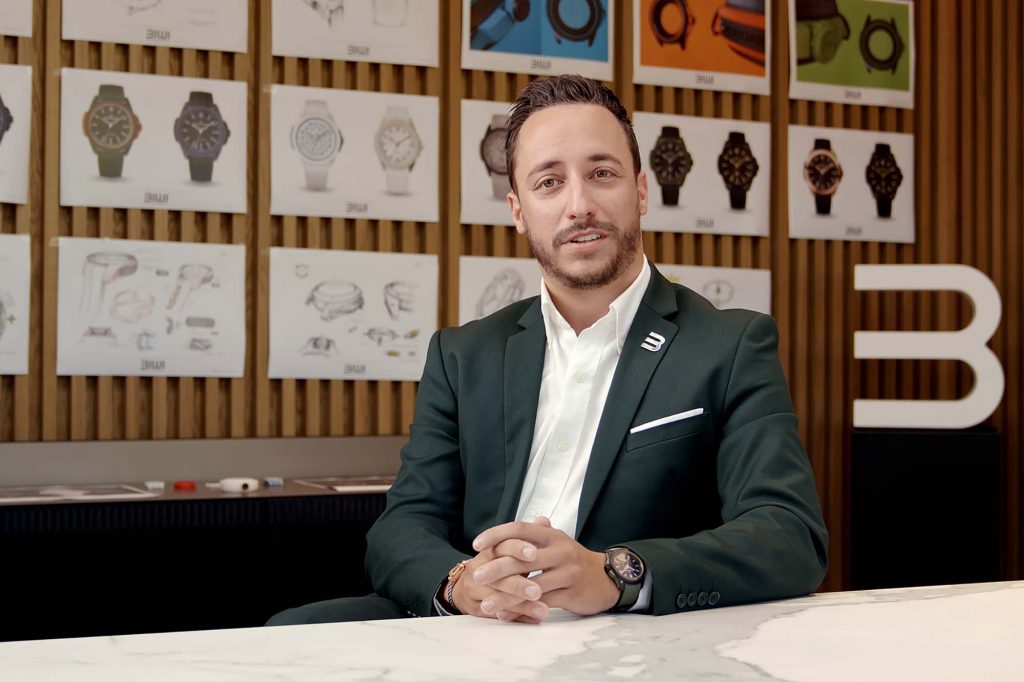 (Of course, he had some experience in production at the very high end. He works with the Richard Mille collection for example.) So I said to him, "We're going to make it possible!". In the end, we managed. He's very proud to have contributed to this product.
I saw this interview where Jean Claude Biver said, "you have to be innovators, and therefore you are first, unique and different."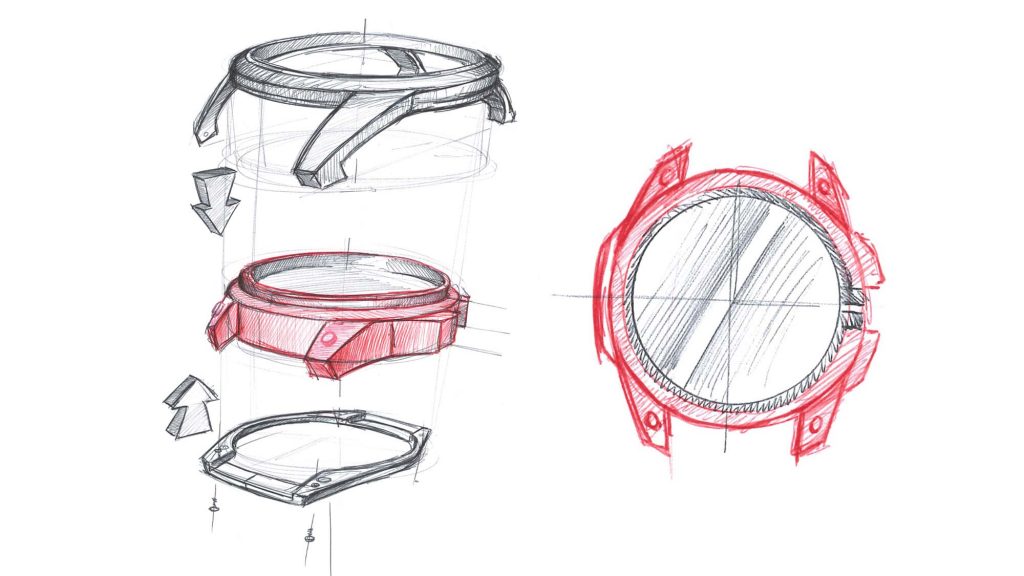 What impresses me, (and there are a lot of things with Jean Claude that impress me), is the amount of passion he has, at 74, for this industry. It's incredible. Then there is the fact that he is so humble. He has been probably the most successful guy in the industry of the past few decades. Yet he treats everybody with respect. And the last point that I really respect is the level of challenge he brings to the table. Unbelievable. Every meeting we go in is to find something that's never been done and finding the next level. What started the Wild One for me is the moment we received the first versions of the Norteq material. When you see the material, you start to visualize a watch. I realised that we were not going to stamp a watch. We're going to build a watch. We were going to do it completely differently. And that's when the 1.3 millimeter thick Norteq cage was developed, because we wanted to do something different.
So tell us about this new material Norteq.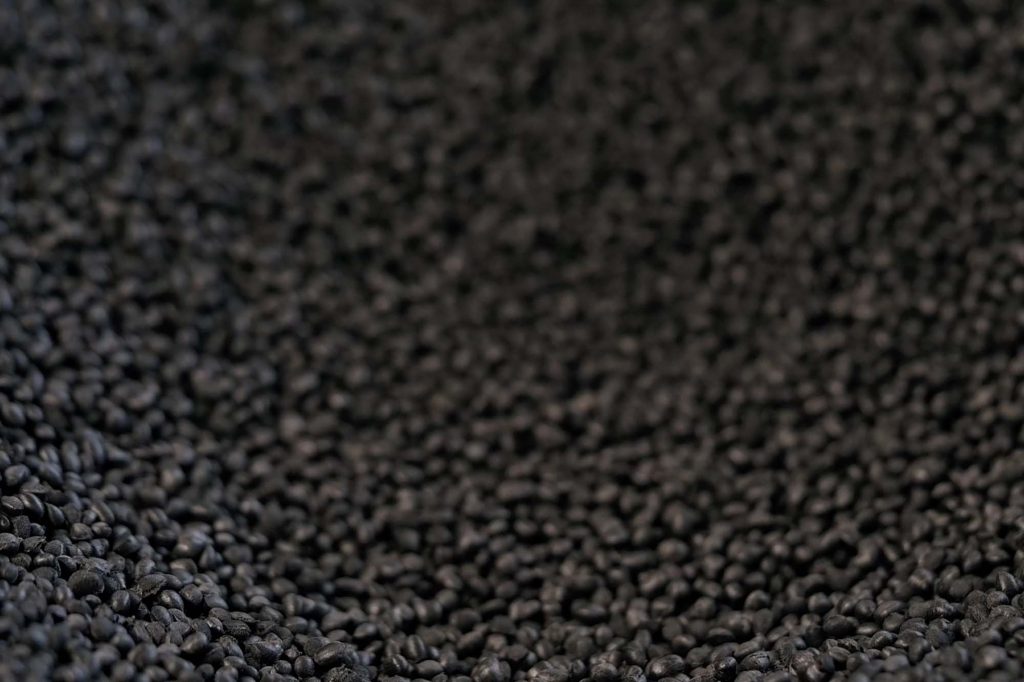 Please put the watch on the wrist. It's really important to wear it so you can feel the comfort. You have the Norteq cage on the top layer and lower layer connected with four custom made screws that we made to measure to be perfectly integrated into the case. There is the rubber shock absorbing part in the middle, which automatically gives the watch an inner bezel to the design of the watch on both sides.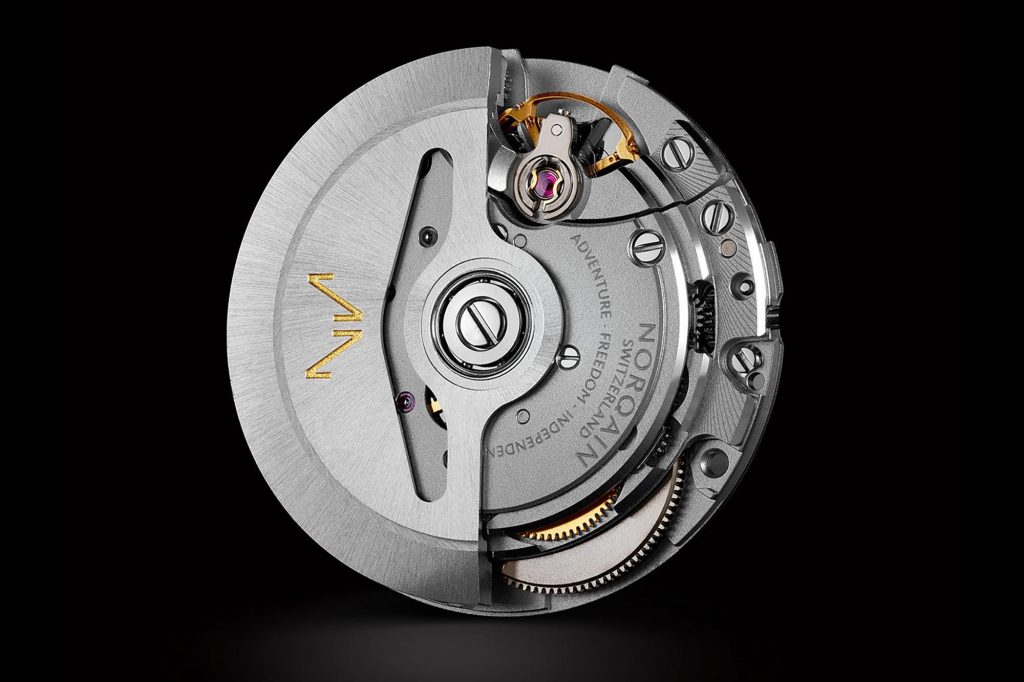 Also on the back case, you have that rubber part also surrounding the container housing the Kenissi chronometer certified movement, with 70 hours power reserve. It's 200 meters water resistant. We managed to pack a lot of features into this watch!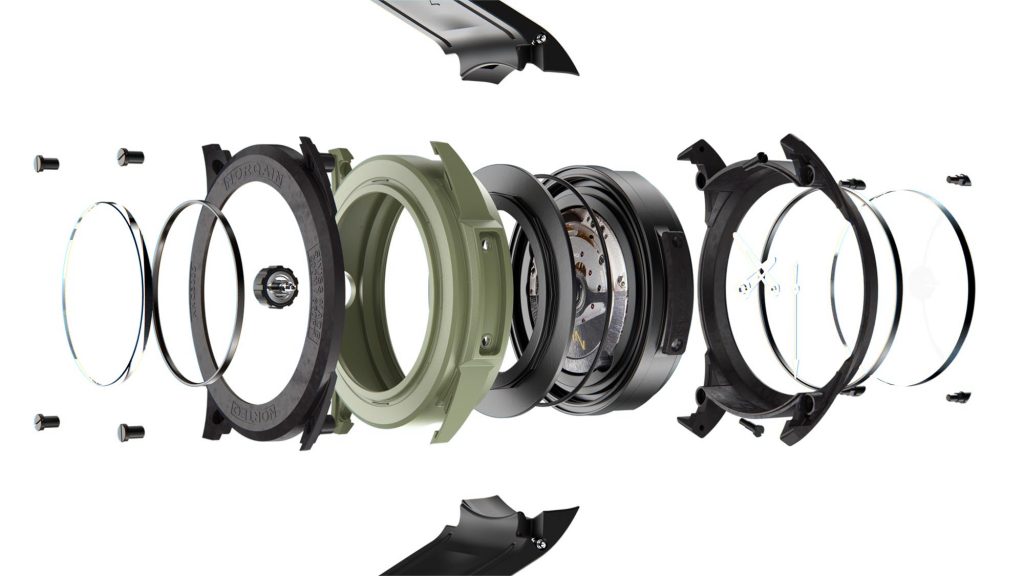 The Norteq material has a warm tactile feeling, yet it is hardy. It has a density of 128. (It is six times lighter than steel and 3.5 times lighter than titanium). My buckle has been worn for two months. No scratches. It is super resistant to scratches. The rubber shock absorber that you see here has small tolerances. So you actually have a small resistance when it is subjected to shock.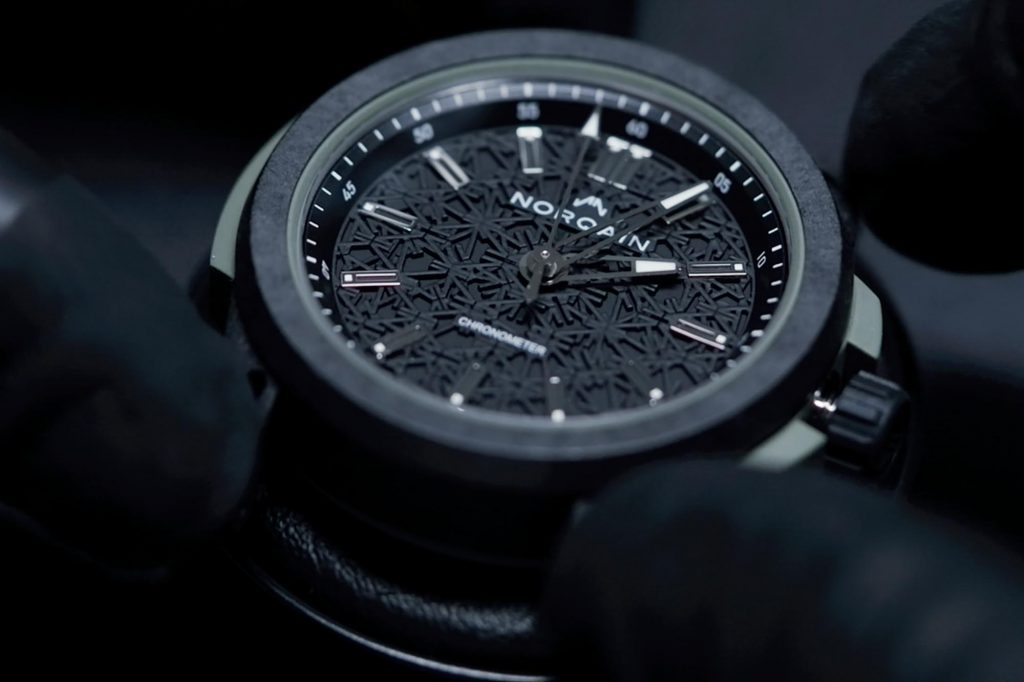 Last but not least, the dial. The watch is called the Wild One, so we needed a wild dial! It's a three layer dial, brass plates. They laser cut it for 1 hour 20 minutes and they make three different levels, ) 6/100th mm on each level. So it's a beautiful and it's the features the Norqain pattern in three directions. There is almost a Mandala style to it. There is the black and khaki version and an electric blue version which is very popular.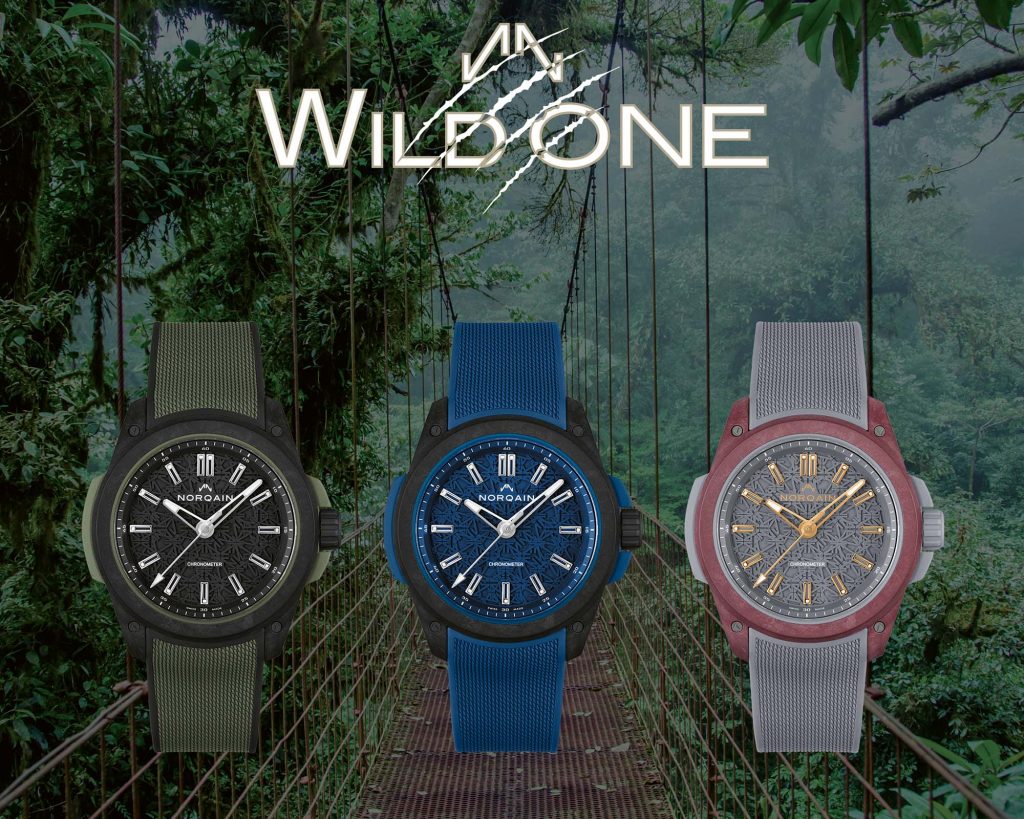 Yeah. This is definitely for the modern lifestyle and yet it's still a Swiss mechanical watch.
What we wanted to do was to have a fun, different mechanical watch that you're wearing to do everything in life with. The case shape was really made to adapt perfectly to the wrist. Something that I'm really happy about hearing from customers is that the comfort on the wrist of the Wild One is very high.
We did everything to really give it that ultimate performance watch feel and utility. I'll just finish with the third laser cut version. Something completely different. This is a world premiere, the Wild One in that burgundy colour. There is carbon fibre in the material combined with bio-sourced material (castor oil). The problem is with carbon sheets, it breaks when you cut them at the end, at the edges. We coloured the carbon fibres before injecting it into the case mold. The end result is a case with an even colour without sacrificing any robustness.
This grey and burgundy version is in an edition of 200 and is already sold out.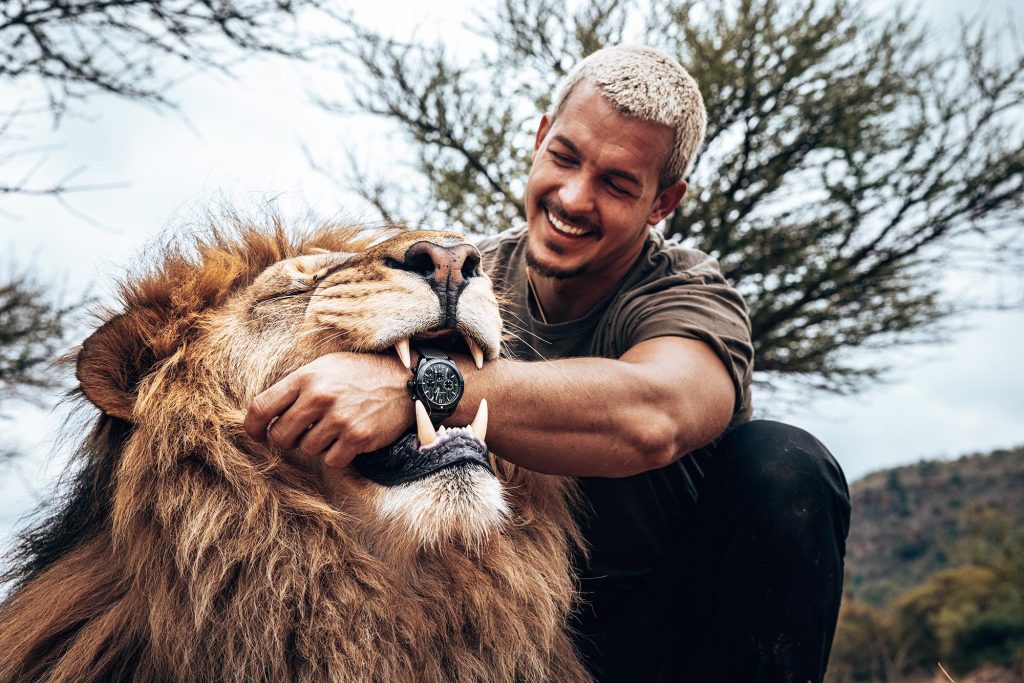 Last but not least, the Hakuna Mipaka. That was one of the big highlights. We produced it together with Dean Schneider. So there is a lion fur pattern on the dial and on the strap. And in the rubber we have sand from South Africa. So we actually incorporated the sand into the rubber piece. You get a special box with it and we produced only 500 pieces which sold out directly after from the Zermatt boutique.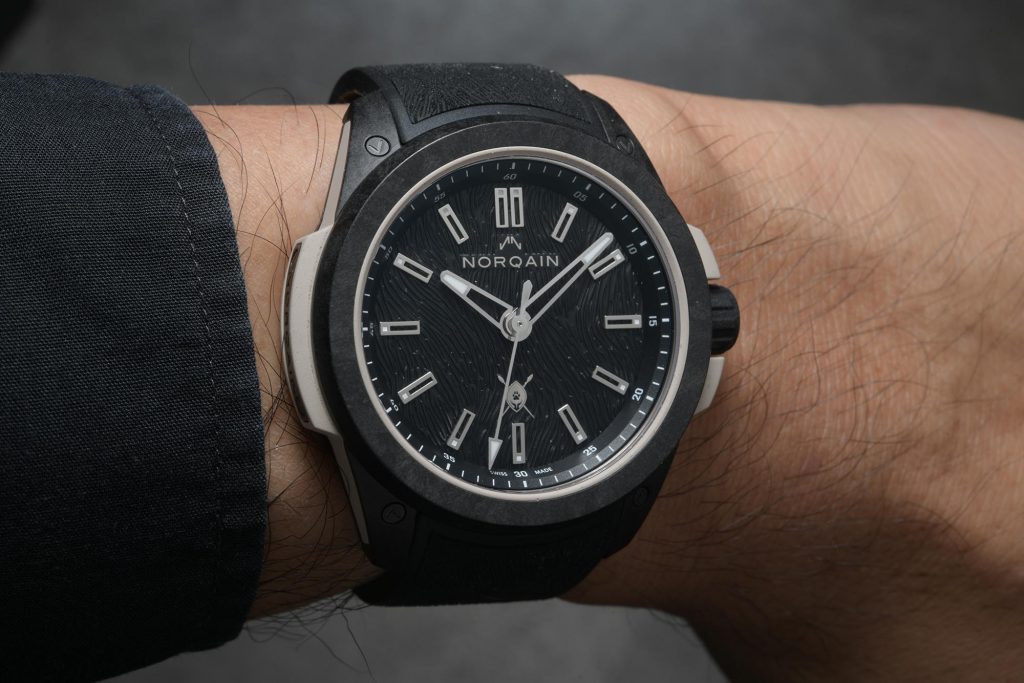 The Singapore boutique - how did you identify this as the place to be at?
This has to be the place. First of all, I love Singapore. I was in charge of Singapore with Breitling! I have an emotional attachment here. The first trip I took with my son was to Singapore, with my wife. So we love Singapore. And then when COVID started, it just felt so right to say, hey, we're a family. We think long term, Singapore will always be a special home for us. That's where our boutique should be in Asia. So it is the first Norqain boutique in Asia, and I'm very proud of that.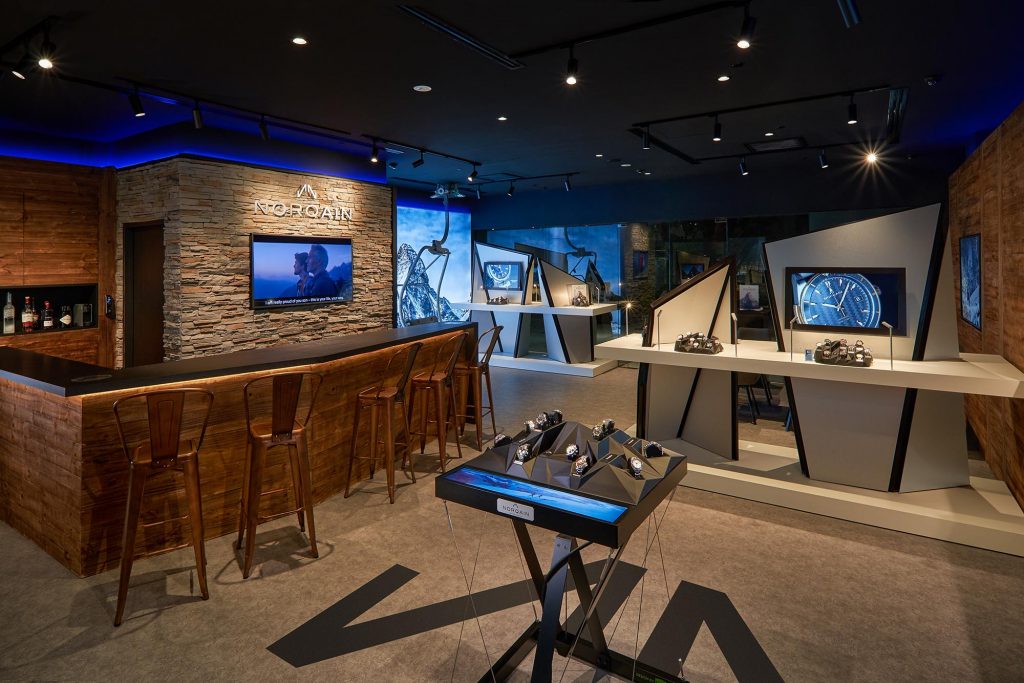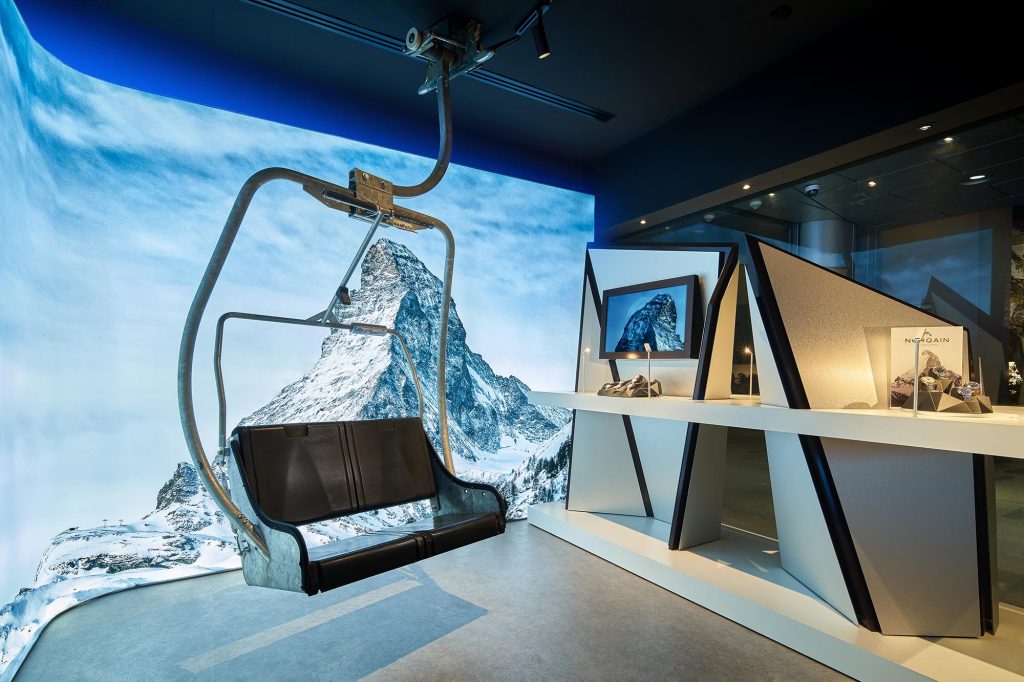 Plus this beautiful location on Orchard Road, we feel lucky to find this space. We love it. And I hope you like the concept. We really brought the same concept from Zermatt, Switzerland here. And I'm really happy to see it in person. I feel the same spirit. It's warm, it's a nice place to be. And I wanted people to just feel comfortable coming in here. Sales are good, so it's a very good start.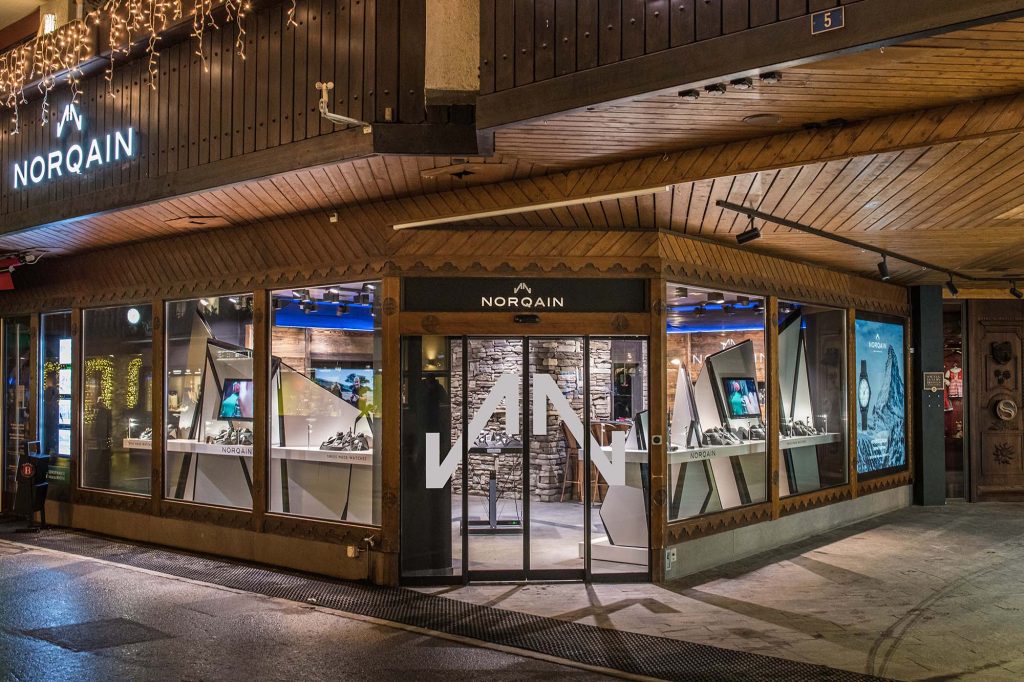 Norqain has only been in Singapore for somewhat over a year now, and we already have people trusting us coming to the boutique. And I think it's really good.
It feels like a ski lodge.
Yeah, exactly. But that's what we want. And just to enjoy some time with friends, to have a drink. That's what I felt like, that they should feel comfortable. I'm sure you noticed we have a unique concept where we have the watches visible (not behind glass cases) because we want people to try them. We want people to enjoy them for real, without feeling you have to ask to see the watches. We want to remove all discomfort and improve the closeness and friendliness of the watch buying experience.
Where else after this? What would you plan for Asia?
I just came back from Japan. There will definitely be a boutique opening in Japan very soon and we are looking to open in South Korea as well. China is obviously a bit complicated at the moment to start, but for Southeast Asia, we have good plans and we're looking to start in Vietnam and Laos, then Cambodia.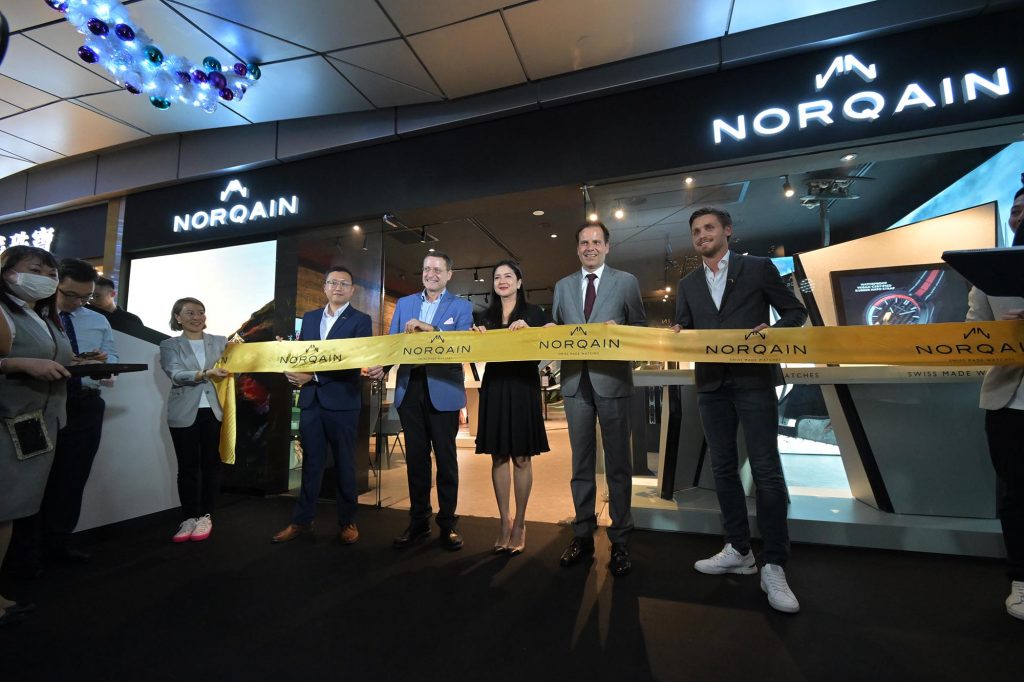 This year was a huge jump for the brand. You could feel it everywhere. It feels like a different brand but with the same core. Awareness, I would say, and also appreciation has made the difference. The Wild One definitely helped to cement our role in the industry. So it's been a big step for us. I'm looking forward to the year. It's a big challenge now too because of the speedy growth. The most important thing is to keep our values, and that's what I'm really looking after now. We're hiring a lot of people around the world, so I'm trying to travel to meet these people, to tell them why we're successful. If one guy is arrogant, to remind him that he's not at the right company. What makes us unique is that we are a humble team and family - who is working with partners well and having fun. That's who we are. At the Zermatt opening I was so happy and proud because there was an atmosphere I could only dream of - where everybody was smiling! Everybody was positive. Everybody asked, what is this story? You could feel the vibes. That's really something for me - it is a dream come true - because when you see everybody smiling, full of energy, then you know, okay, we're on a good track.
Find out more about Norqain watches here: https://www.norqain.com.sg