I'll start by saying that I love Tudor's three main releases for Watches and Wonders this year. The first comes as a nice response to customer feedback, and the next two, not just for defying expectations when it comes to materials generally, but for defying expectations in materials from what we expect from a brand like Tudor. What do I mean?  
Well, let's take it one at a time shall we?
A Thinner Black Bay Chrono
The headline feature of the new Black Bay Chrono comes in the form of its thinner case which at 14.4mm shaves a little from its profile versus the first version that came in at 14.9mm. This is a good development for the Black Bay Chrono, for as much as the rest of the watch was essentially perfect, the 14.9mm thickness did prompt a lot of feedback from users who wanted it to be thinner.  
This was also my experience in my review of the watch (linked above). Tudor explains that they worked with all the elements of the case and crystal, even moving around components in the movement to achieve this saving, and even though it might not be much, every little bit does make a difference.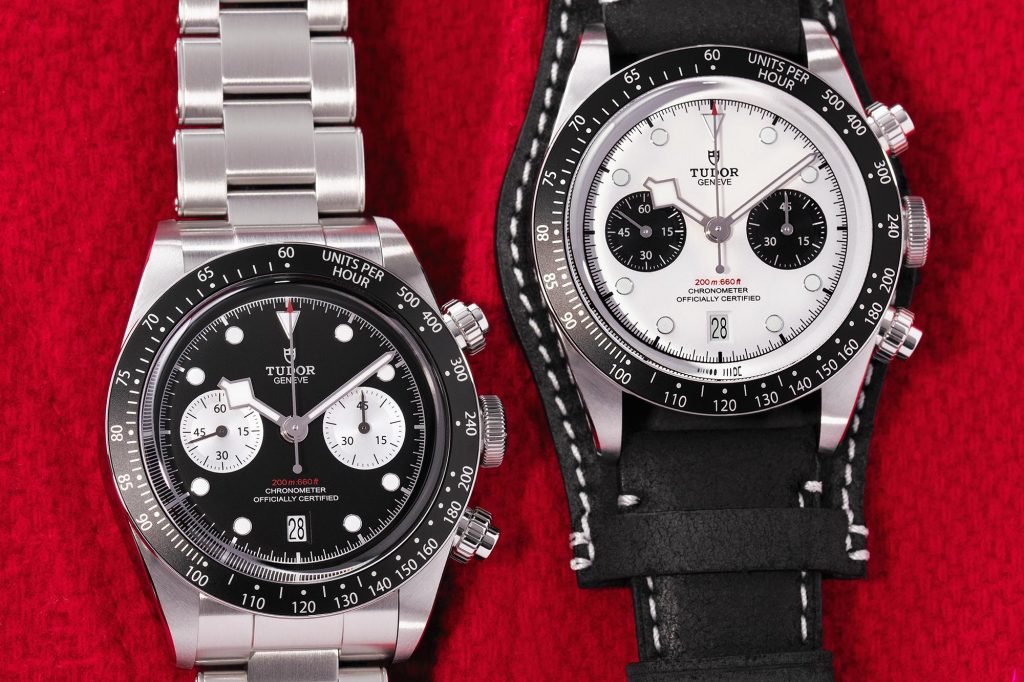 The new watches also offer an interesting aesthetic difference from the typical Black bay chrono, with the two versions offered coming in black and white dials with corresponding negative sub-dials – basically panda and reverse panda configurations. On top of that, both watches also ditch the stainless steel bezel from the first Black Bay Chrono and now comes with a black aluminum bezel.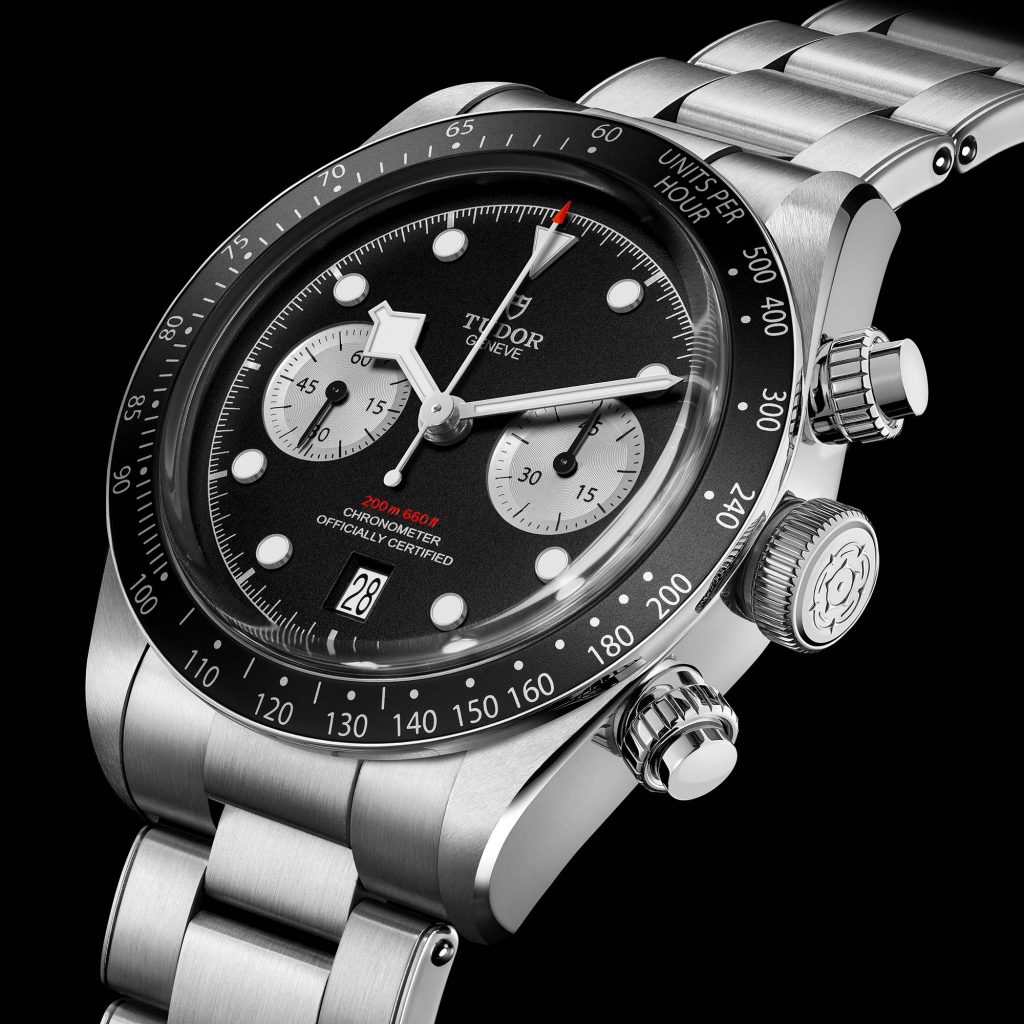 The result is a pair of watches that have a much stronger vintage vibe going. This added with the rest of the familiar ingredients – the known quantity of the chronometer certified Calibre MT5813 offering 70 hours of power reserve, a 41mm case with with screw down crown and chronograph pushers, might push people over the edge to get one, if they were enamoured of the watch previously but had a hangup on its thickness .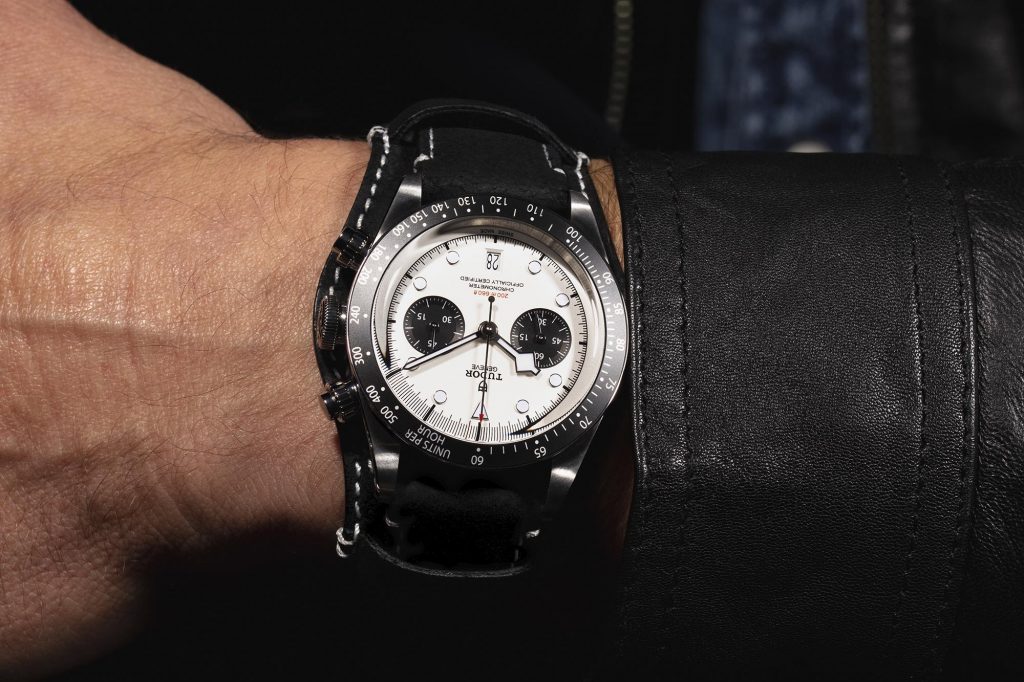 I for one will be looking forward to getting it on the wrist, to see if the work that Tudor has done to make the case thinner can be felt. Look forward to that!
Pricing in Singapore Dollars (SGD)
Black Bay Chrono: Bracelet – S$7,128/ Leather – S$6,696 / Fabric – S$6,696
A Sterling Silver Black Bay 925
The 925 in the name stands for the percentage (92.5%) of sterling silver that composes the case in this new watch, the first use of this material by Tudor. Now this is a big surprise. Silver is a material that I have never really seen in modern watchmaking. In fact the only brand I can think, off the top of my head that offers a watch in silver is Ochs und Junior. (Update: @collectibe_watches on IG just reminded me that Zenith also makes a Silver Pilot's watch)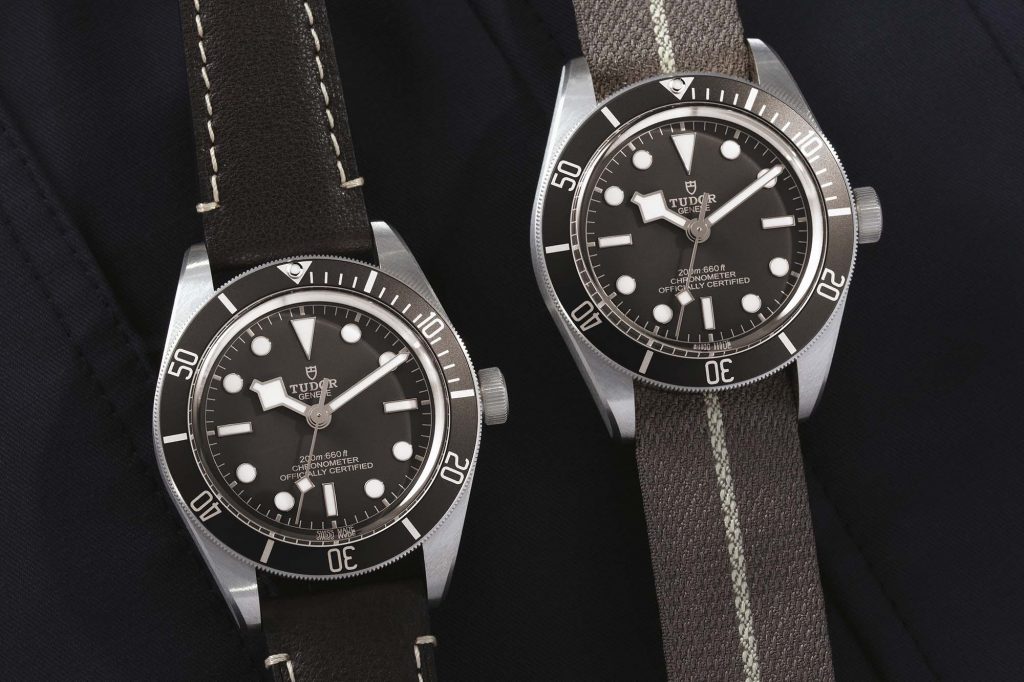 The silver in this watch is unique as well, since it is mixed with some other materials in a secret formula, (perhaps platinum and gold) in order to form a stable alloy. This means that the appearance of the watch as you receive it is stable, and will not like normal silver, oxidise and tarnish and require constant polishing.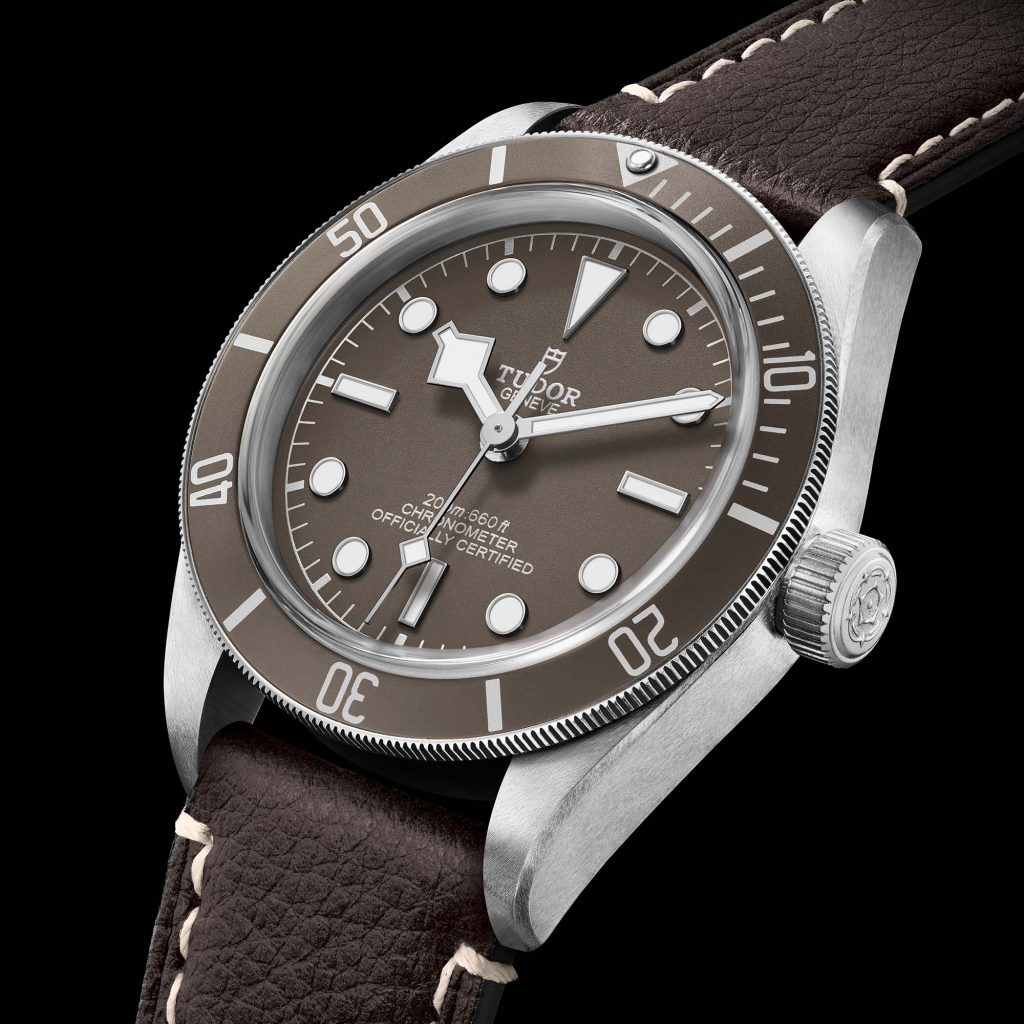 Helping to emphasise the unique tone of silver is the brushed finishing of the case, which also applies to the bezel, crown and pin buckle. All these silver parts when combined with the taupe (warm grey) dial and bezel, make this into a monochromatic masterpiece. 
Tudor still very much emphasises that this is still a serious diving watch, and encourages owners to take it out there and beat the hell out of it.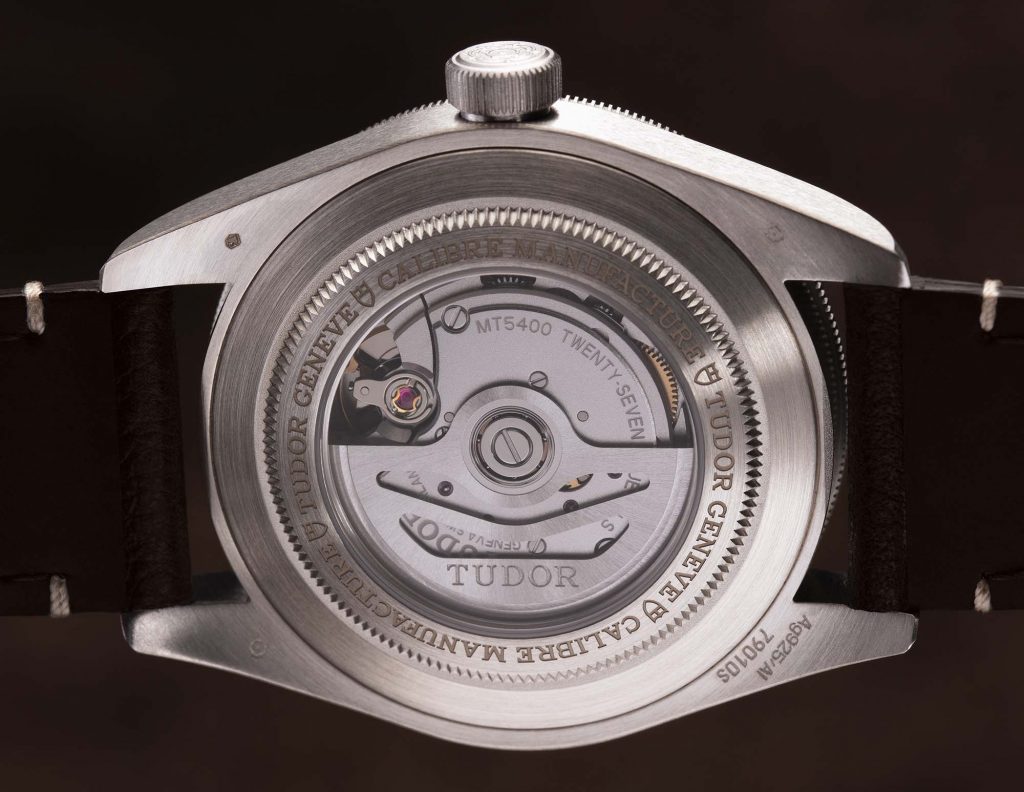 With the open case backed Calibre MT5400 and 300m water resistance, this 39mm wide gem is suitable for wrists of all sizes.
Now, being not overly familiar with silver and how it looks, I will be very keen to see this watch in person. I'm also very much glad to see Tudor striking out with this "new" material, which might be the start of a new trend in the watch industry.
Pricing in Singapore Dollars (SGD)
Black Bay Fifty-Eight 925: Leather – S$ 5,904/ Fabric- S$ 5,904 
Going upmarket in Gold – the Black Bay 58 18K
With Tudor being positioned as the affordable side of the Rolex Group of watch brands, the appearance of the Black Bay 58 18K, whose name suggests the favourite metal of King Midas, might seem a little disingenuous.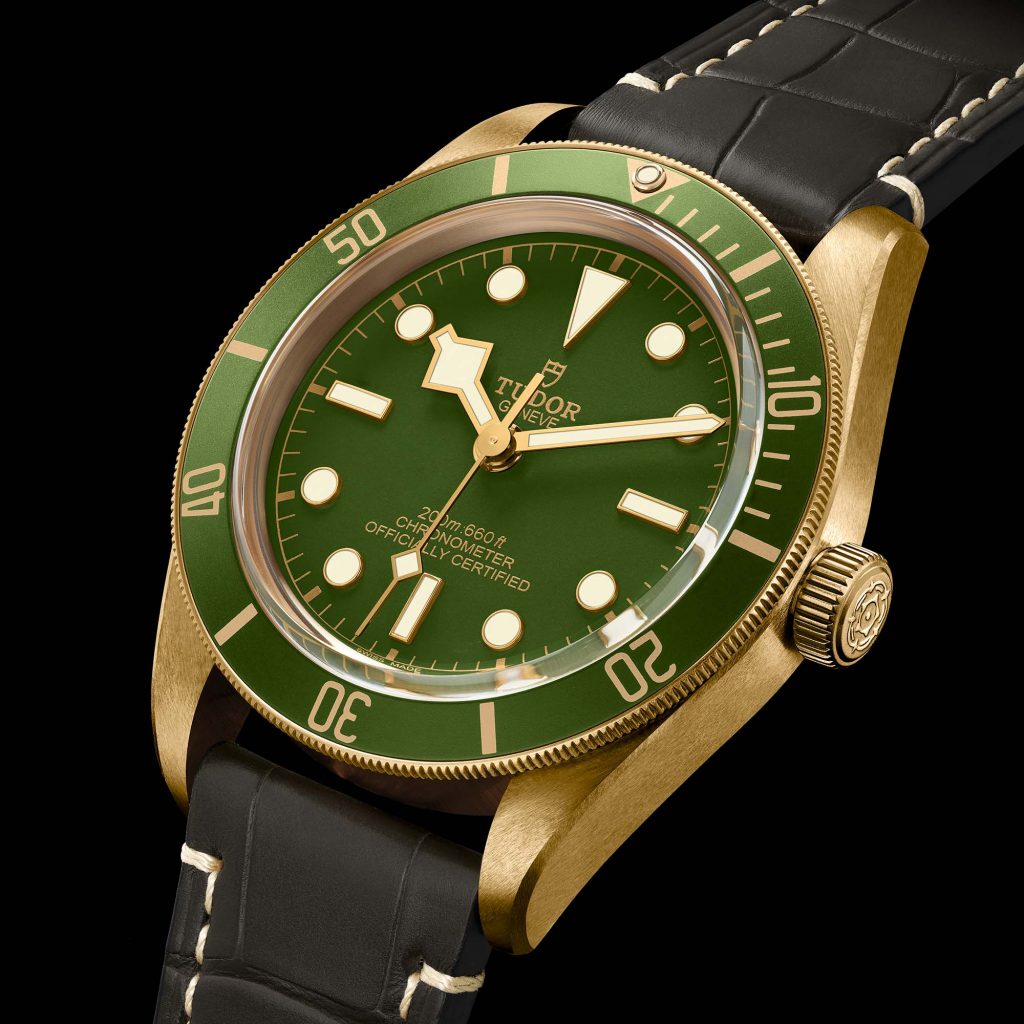 Coming in at a princely sum of SGD$23,040 with a Brown Alligator Leather and Fabric strap, it is also the most expensive Tudor to be offered.
Does the Black Bay Fifty-Eight 18K make sense then?
Well, strictly speaking it does not, but the watch itself has lots of charm. We all know that buying a Tudor is essentially the same thing as buying a Rolex. So seen in that manner, it doesn't feel as weird as it should. The Tudor name does offer a discount against a Yellow Gold sports Rolex on a strap so in that sense there is certainly value (by comparison) on offer with this watch.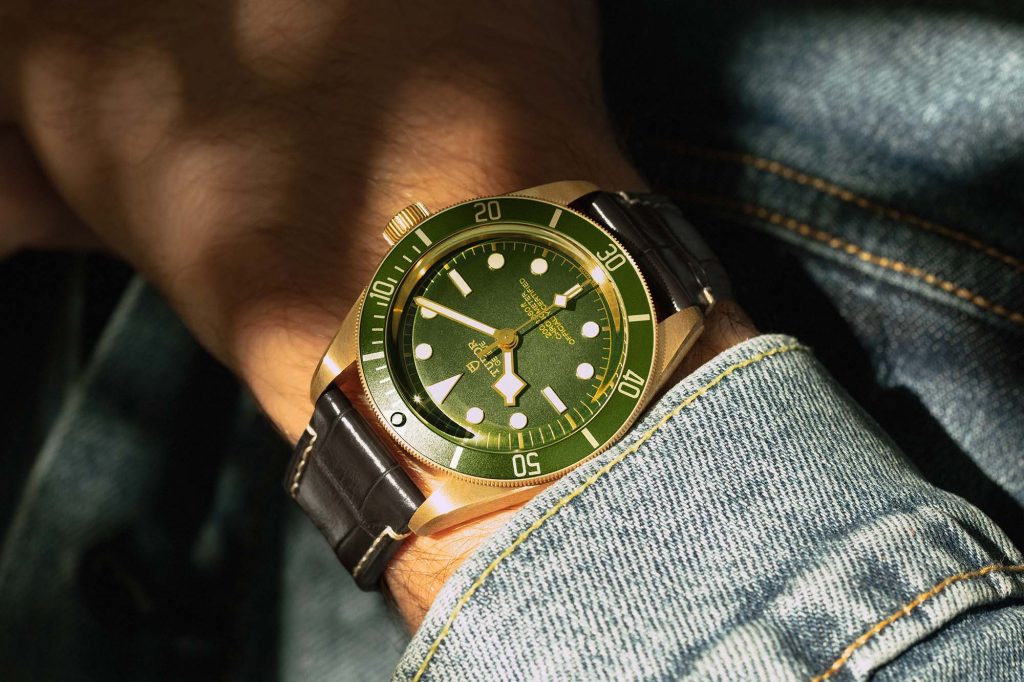 Taking the luxury overtones of gold out of the picture, the watch itself is very charming, with the colour combination of the green dial and aluminium bezel against a yellow gold case reminding me very much of the Anniversary Rolex GMT Master 2 in Yellow Gold (reference 116718LN) with green dial. 
It's not an exact match though considering that the Tudor does not come on a gold bracelet, and that the case is completely brushed with nary a polished surface in sight.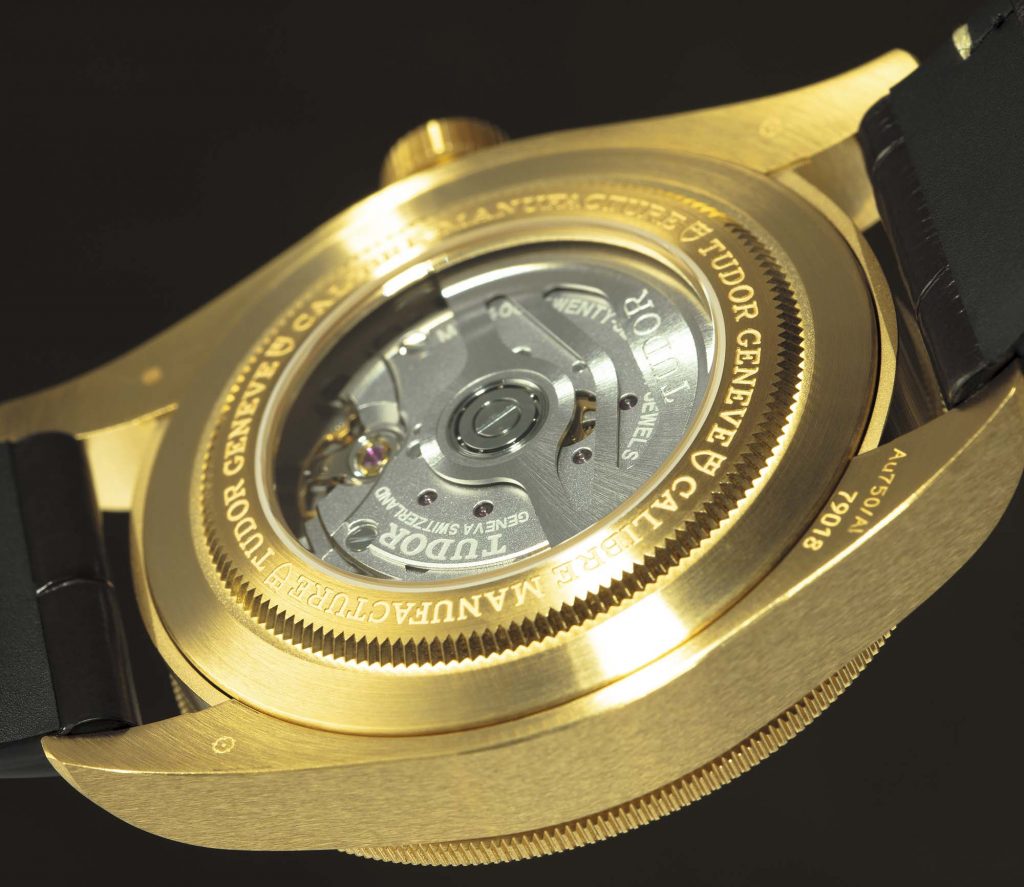 If you haven't been shocked senseless by the now real existence of a gold Tudor, then prepare to when you find out that the watch is being offered with a sapphire caseback, just like the Silver model. The cynical among us may consider this as a stealthy cost cutting exercise, but you could also look at it as signalling Tudor's intention to move away from boring closed casebacks.
The rest of the watch is familiar  with the Calibre MT5400 residing in the 39m wide case that Tudor encourages us to use as you would any of their diving watches.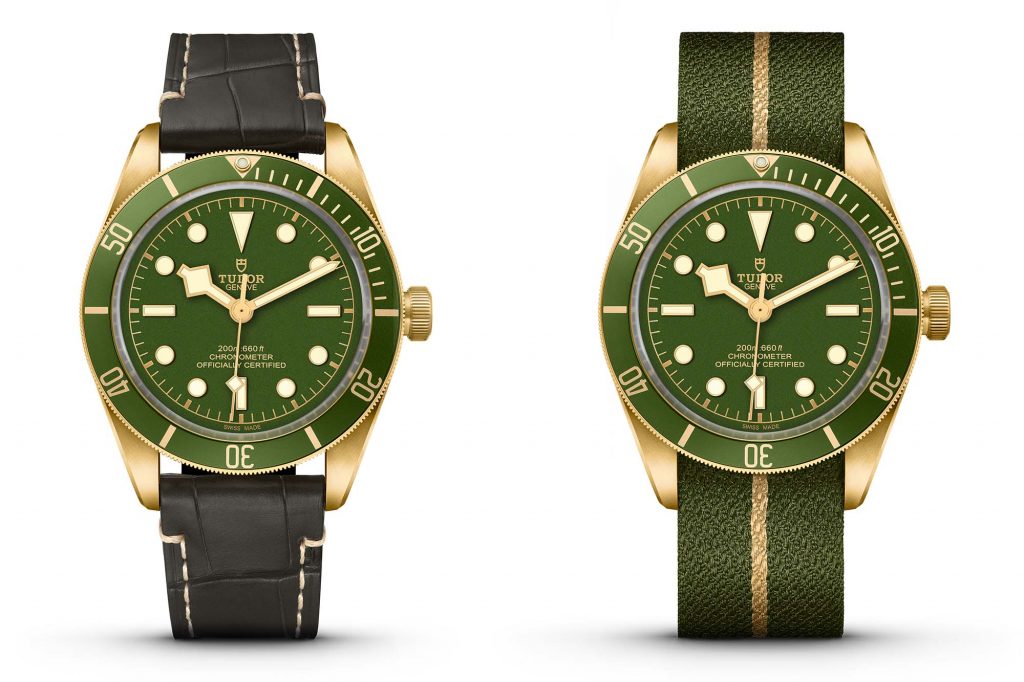 My conclusion? Yes, it may be expensive but it's a tempting idea if it's a gold sports (Rolex) that will be easier to get. Although we won't really know how these things will go given how significant this gold watch is for Tudor.
Pricing in Singapore Dollars (SGD)
Black Bay Fifty-Eight 18K with Leather & Fabric – S$23,040
All watches now come with a 5 year transferable warranty, without registration or mandatory maintenance checks.