I didn't realize that this 500 piece limited edition version of the Sinn U50 with black mother of pearl dial that was launched last year, was a watch that I was supposed to like. I even remarked in an article I wrote that it might be a watch suitable for a female James Bond needing a competent diver with a hint of sparkle for the inevitable high class soirée that she would have to attend while conducting a mission. 
Well, I have to say, after seeing it in person a few times, this mother of pearl dialed diving watch will certainly be captivating to a male James Bond as well. Indeed I have come across this variant of the Sinn U50 three times already in the last few months on the wrists of two men and one woman. Clearly its appeal crosses gender boundaries as it is a beautiful watch in its own right. Hell, I've even told myself, after being mesmerized by a mother of pearl dial before in another watch, that this was a dial material that I had to explore for myself.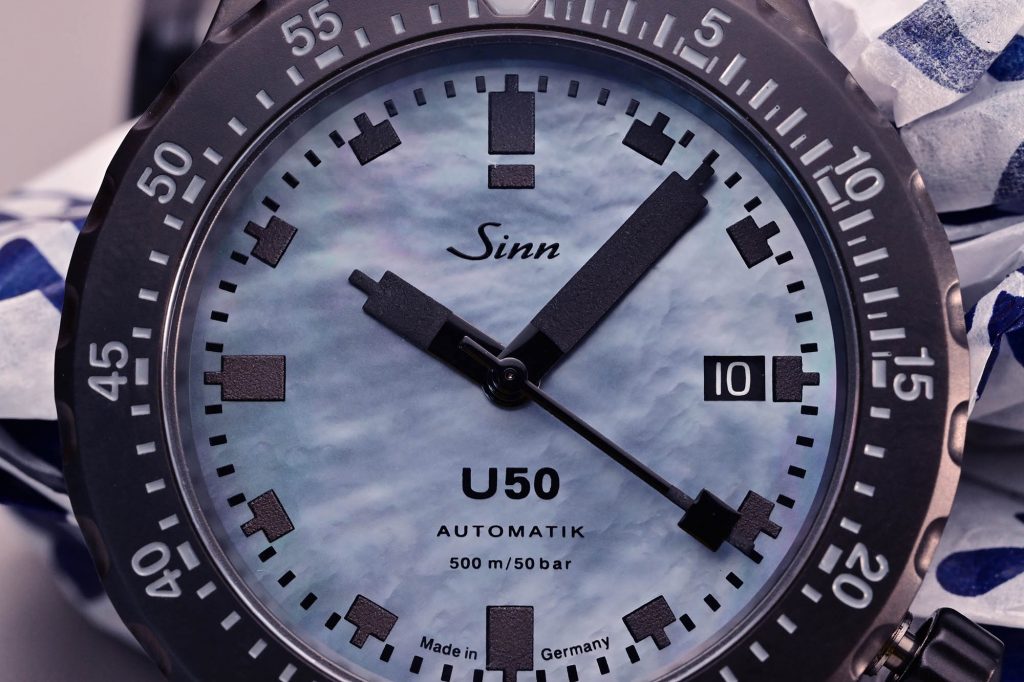 Would the Sinn U50 S Mother of Pearl be that watch I would have to own? Clearly, I was thinking about it too much for my heart to ignore the possibility.
There's no denying that the Sinn U50 is one of the brand's best launches in recent times. It takes the best ingredients of their iconic U1 and downsizes it to a more manageable 41mm size and 11.5mm thickness for most wrists. It's a winner and its popularity is evidenced by the fact that it is more expensive than the bigger and heavier 44mm U1 and that it is more difficult to get hold of at dealers worldwide.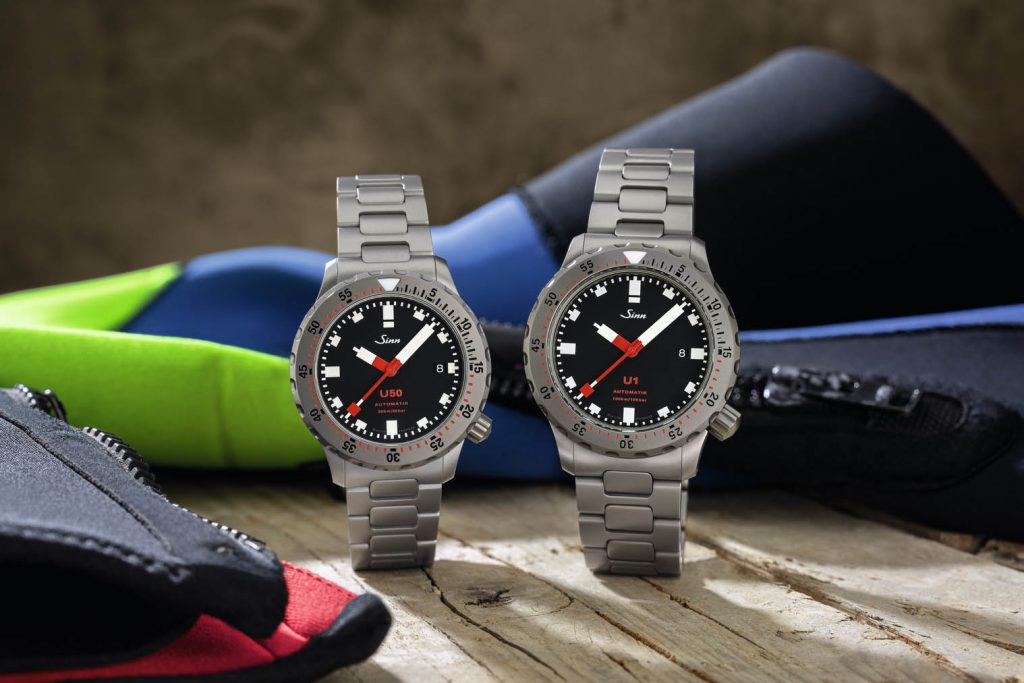 Using this model as a foundation for a variant with a mother of pearl dial then strikes me as a genius move. Sinn, of course, is no stranger to using this material – they currently have the 556 model in their catalog in two versions, either with a black or white mother of pearl dial as well as several ladies models. Those were more straightforward in their implementation however, with more of a dressy feel overall with traditional looking cases. The Sinn U50 S Mother of Pearl however is a study in unexpected contrasts since it's not so common for such a delicate and romantic material, to be paired with a high performance 500m water resistant diving watch. 
The question I had then – would this watch be a winner for my wrist? Further, would I abandon my trusty and regular Sinn U50 for this special mother of pearl variant? I had to find out.
Watch in hand
Before I begin, I'll make this clear. The U50 S Mother of Pearl was only released last year (2021) as a limited edition of 500 pieces. As such there are only a handful of pieces around the world at dealers that you can still buy new. This will most likely get harder to do as each day goes by. Online response to this watch has been exceedingly positive, and the remaining pieces will get snapped up pretty quickly. Your best option therefore if you miss out is to buy used, but again you'll have to be ready to jump on it if you see it for sale, as you will find, as I did myself, others competing with you to buy the same watch.
Now with the main appeal of this watch being all about the dial, there's really no need to spend too much time on the characteristics of the U50 family of watches. I covered my thoughts on the models in a previous article you can read linked below. This mother of pearl version though, unlike the tegimented variant that I wrote about, comes with an additional layer of black hard coating (PVD) over tegimented steel, which effectively raises the surface hardness rating of the watch to a staggering 2000 Vickers, which make it as scratch resistant as ceramic.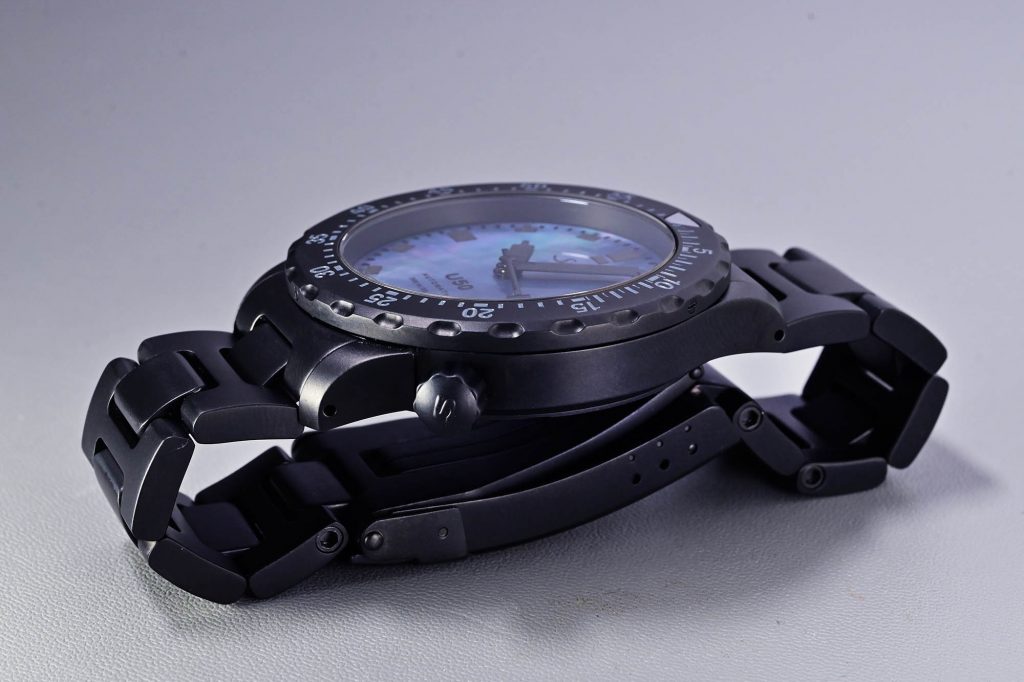 While I haven't had enough personal experience with Sinn's PVD coated watches, I can say that my tegimented Sinn U50 has not picked up any marks in the time I have had it, so I have no reason to doubt Sinn's claims.
The dial – What can I say? It's so beautiful, you feel like you're staring into the ocean. It is the kind of dial that you can just stare into and forget about checking the time. In bright sunlight, the dial explodes with colors akin to the aurora borealis. With light coming from various angles, you are treated to a shimmering explosion of blue and purple hues. The experience is simply amazing.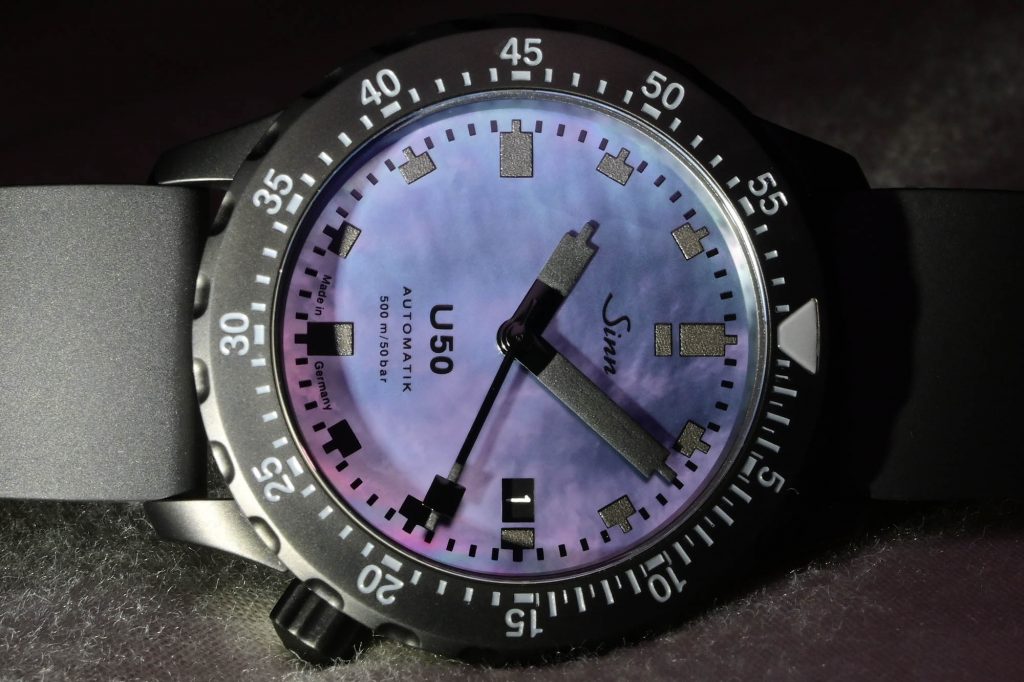 Why this happens is because the individual aragonite plates that make up the "nacre" (an old name for mother of pearl) are small enough such that they break up the visible spectrum of light into shorter and longer wavelengths, making it change colour depending on the angle you look at it.
You'll know how magical this effect can be if you're an aficionado of mother of pearl, and can probably remember the moment you became one – when a dial you once saw a long time ago captivated you.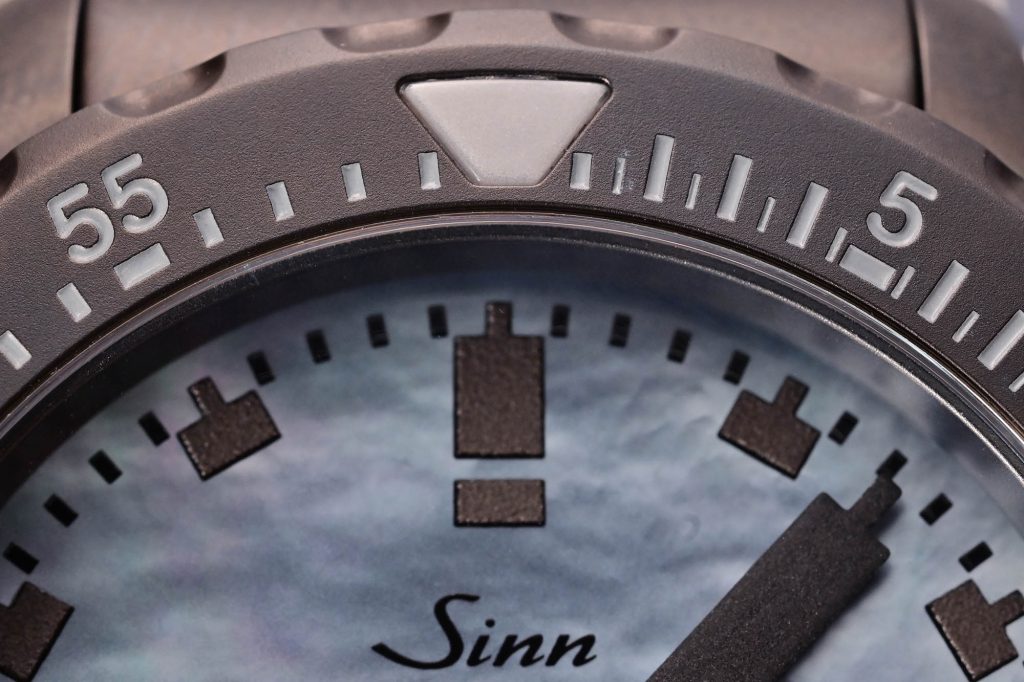 Accentuating the mother of pearl dial there is also the black case and black bezel with its engraved markings filled with a matching bluish/ purple paint. 
The fact that mother of pearl is a natural material is also what makes every dial unique, (as is your number among the 500 piece limited edition). This is a good thing because you learn over time to recognize the intricate details of your own watch.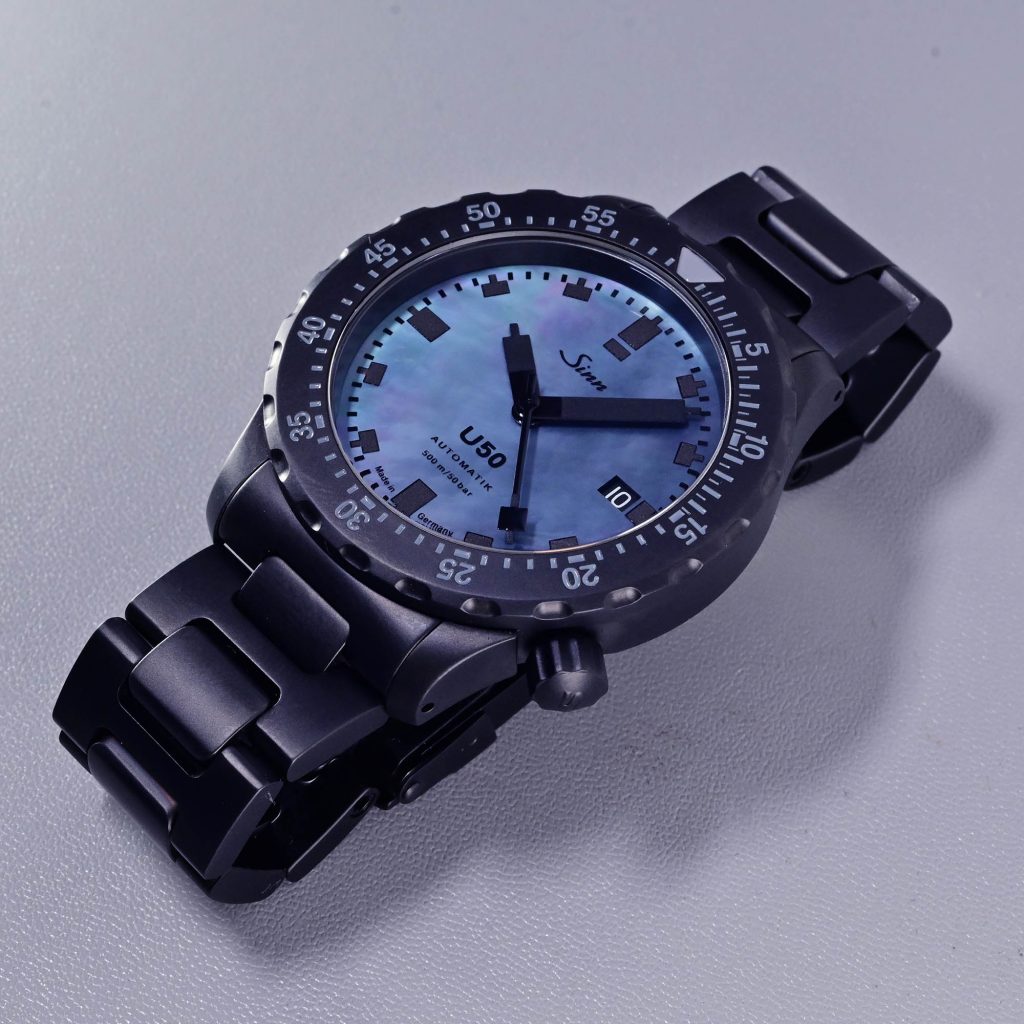 But this can be a double edged sword. While five of the examples I've come across are attractive, I've actually seen one that wasn't so nice as it had a wart-like protrusion near the date window. I had to reject that piece for consideration as it was just too ugly. Regarding mother of pearl dials then, Its best to be able to see the watch in person before you buy, or if not, to request pictures of the specific watch from sale from the seller. This is important so that you can determine if the look of the dial makes you happy, and more importantly, if it disturbs you if it is ugly since you have to look at it every time when the watch is on your wrist.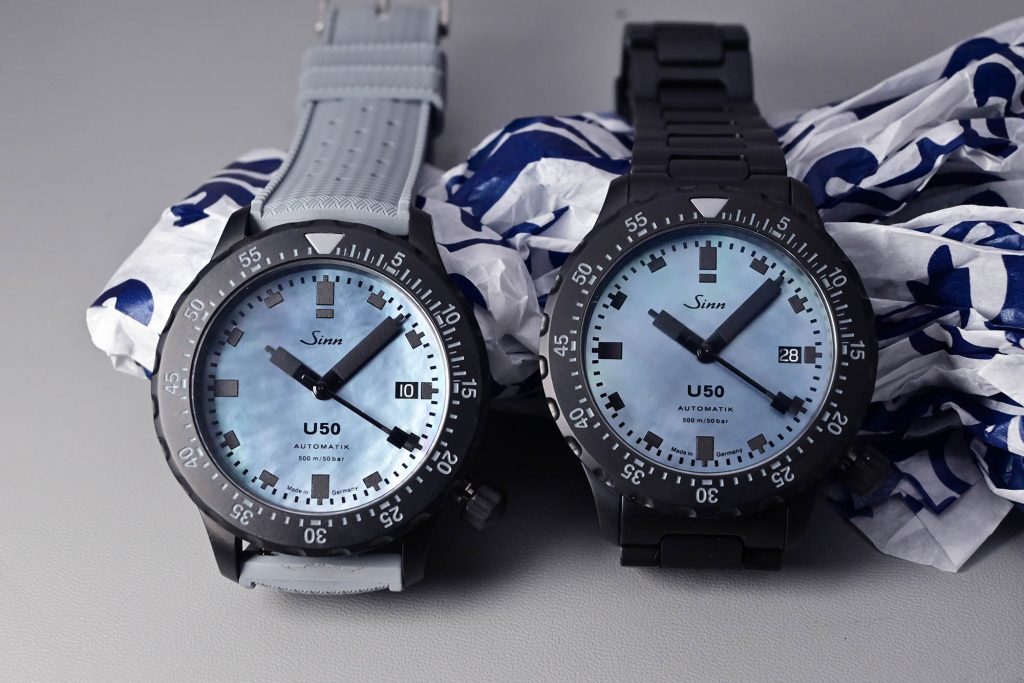 So, having acquired this particular example of the Sinn U50 S Mother of Pearl, why did I start to have mixed feelings about it?
A tool watch for tools?
Let me start by first saying this – I don't understand why black lume was invented. The main reason probably is for aesthetics – you want to have black hands and hour markers on the dial in normal light, yet still be able to read the time at night even though it performs so poorly that the black lume might as well not be there – but better than nothing I suppose.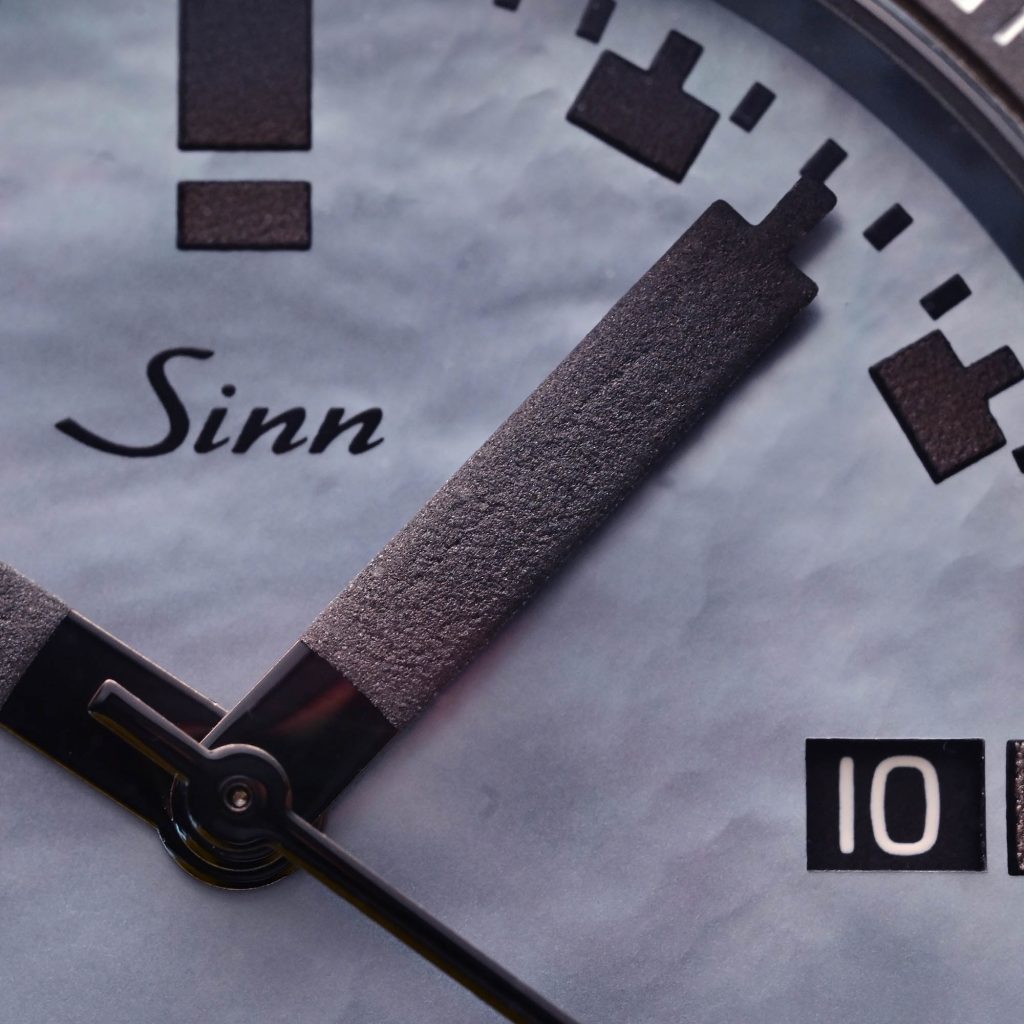 You'll note that the hour, minute and seconds hands, as well as the hour markers, of the Sinn U50 S Mother of Pearl are all black. It is said that they are coated with black lume, which it clearly is since they glow when exposed to UV light. Yet it does this so poorly that I wonder why they even bothered with it.
Obviously, as it is a diving watch there has to be some provision for visibility at night, which is in my opinion a flimsy justification to use the black lume. Just look at this picture here, I did a comparison of the longevity and brightness of the black lume compared to that on the standard U50. It's disappointing. It's not even close.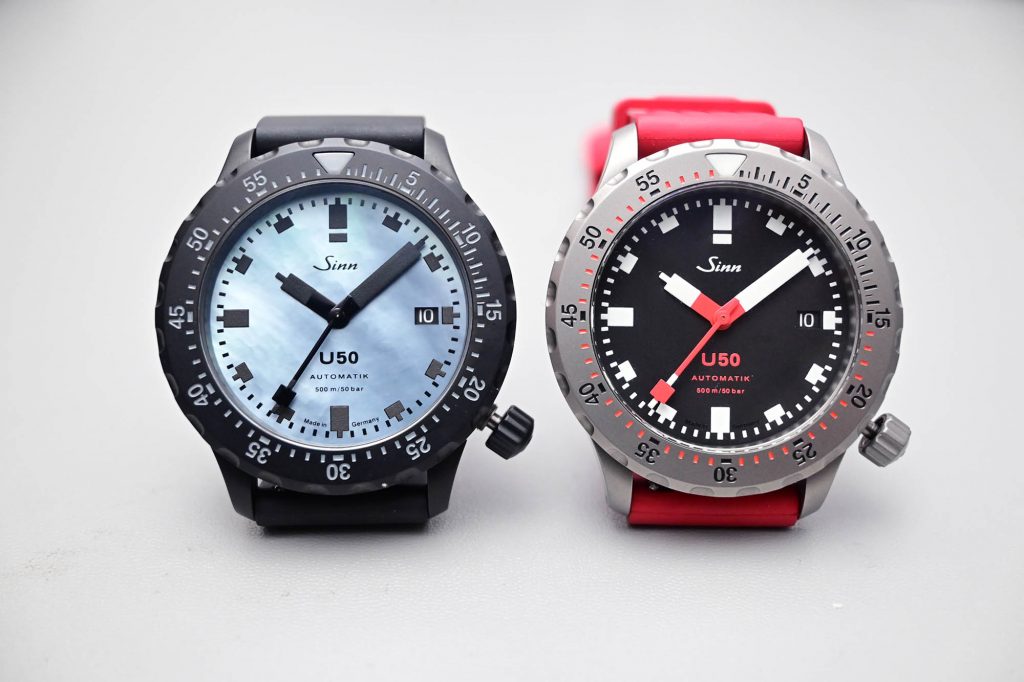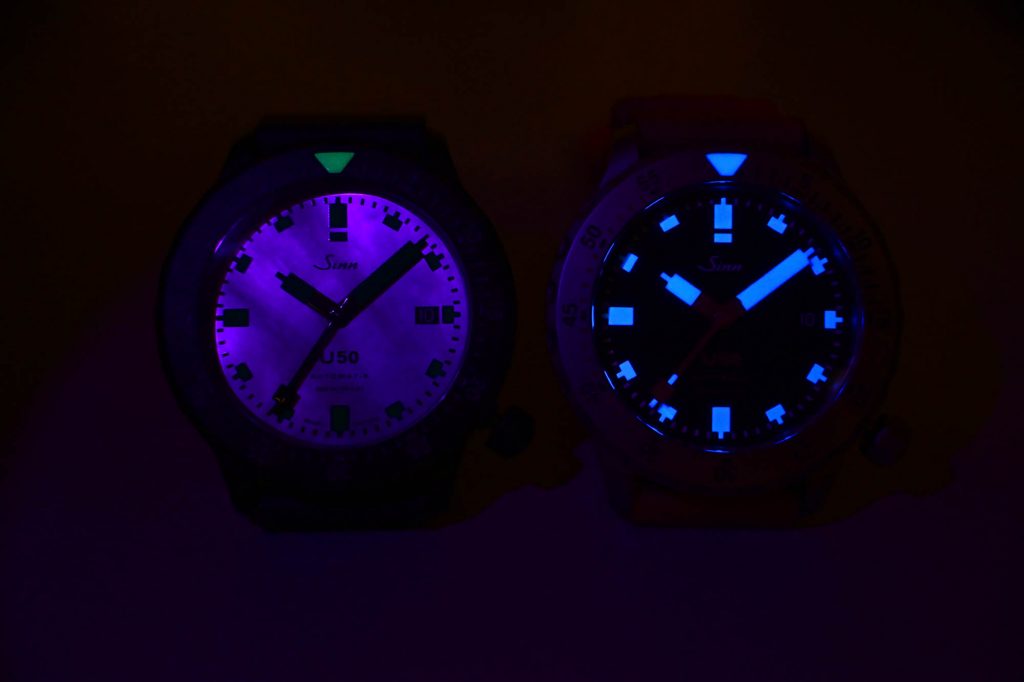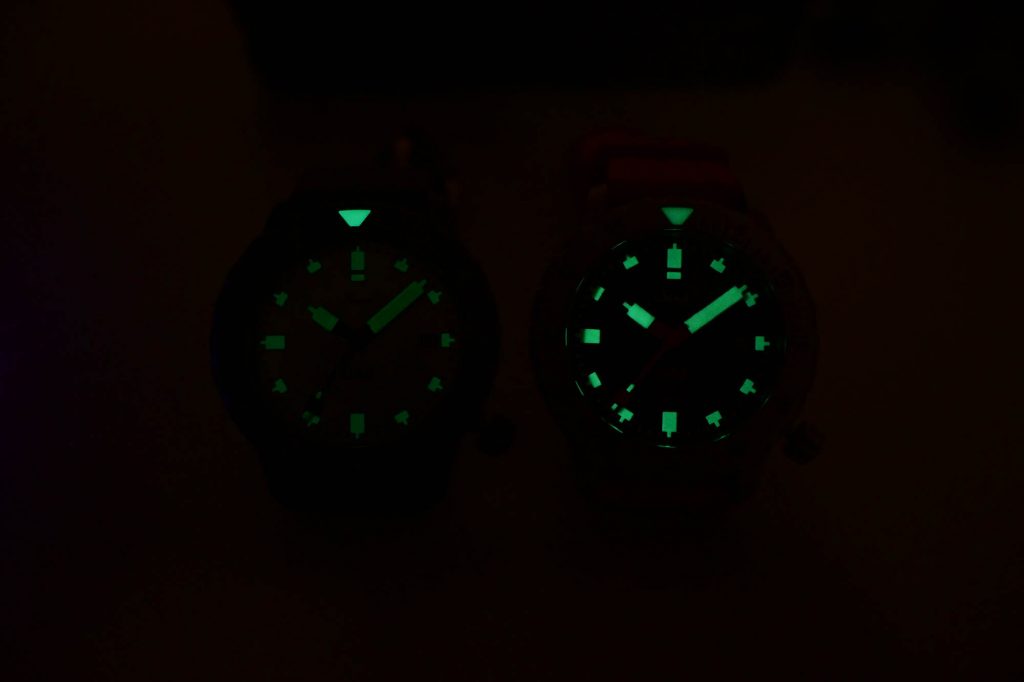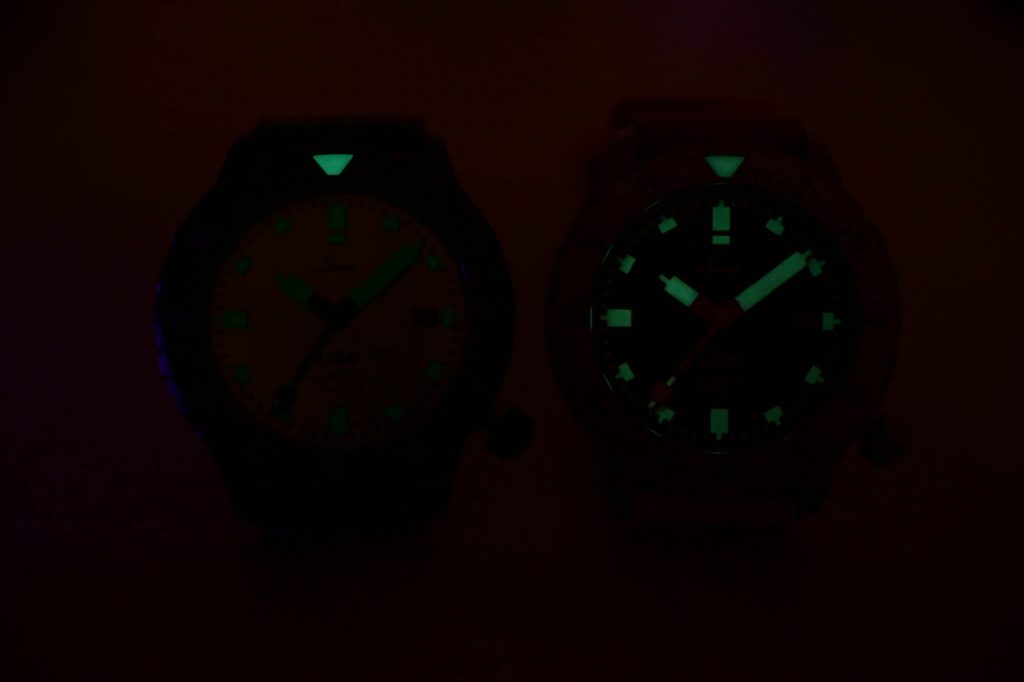 The thing is, we all know that Sinn makes tool watches. In fact, they make the finest tool watches I have ever experienced. To this end, I wear my regular Sinn U50 when I have to do things that might put my normal watches in harm's way. In all the time I have used the watch while underwater, at night, or during intense physical activity, legibility has never been a problem.
Those thick hour and minute hands, with their funky Lego block design that might divide people's opinions on their attractiveness, were designed that way for a reason. They are the reason why I can read the time all the time, and I can even give someone the time, who is standing three metres away in the dark, by telling them to look at my watch.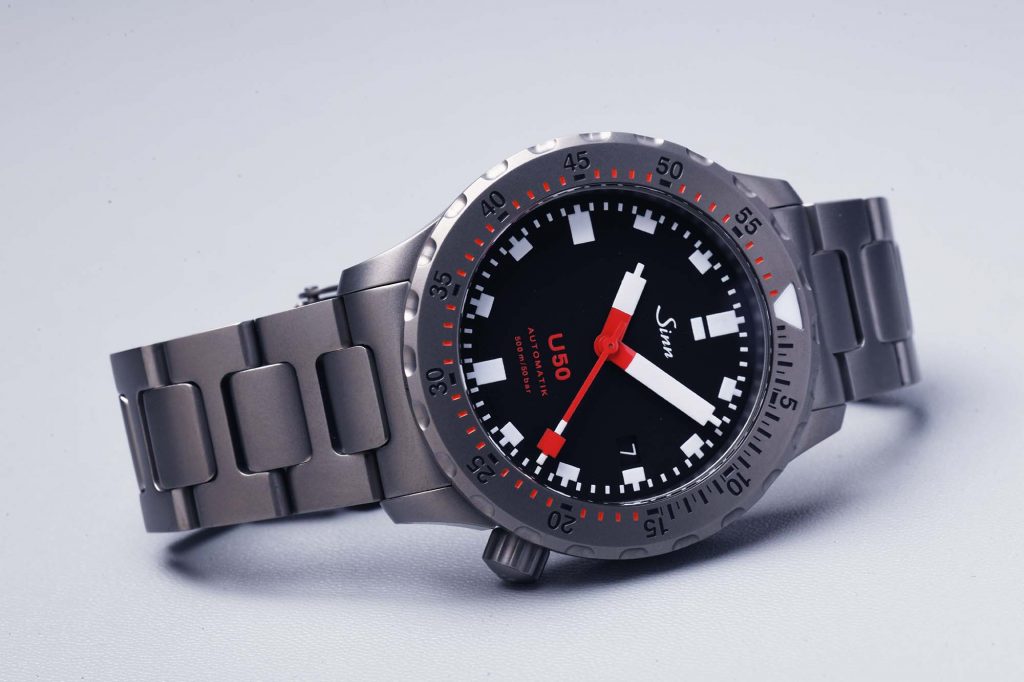 Clearly I have been spoiled by the standard U50, the most legible watch I've ever owned bar none.
The Sinn U50 S Mother of Pearl when compared to the normal Sinn U50 – well they're not even in the same league.
With black hands and black hour markers coated in barely glowing black lume against a dial that is as reflective as a mirror, you'll be able to read it in situations when there is adequate light around. When the evening comes though, and the ambient lighting levels start to go down, you can have a bit of a problem. Even if you use a UV torch to charge the lume, or walk into a dark place from bright sunlight, it'll only be a short time before the watch becomes barely readable again. 
Well, wasn't this watch supposed to be a functional tool? While the dial certainly makes it special, I cannot help but wonder why, in the context of the Sinn brand and the U50, this watch was created.
Was I experiencing an existential crisis?
Making peace with beauty
Given that it is time that a watch measures, it is fitting as well that it is through time that we form a better understanding of our situation, no matter what it is. Having been provoked by these thoughts on why a watch like this could be allowed to exist, I put it away, and decided not to think about it too much.
Again and again though, I would retrieve it from its case, put it on, and find myself smiling as I enjoyed the intricate details of the mother of pearl dial.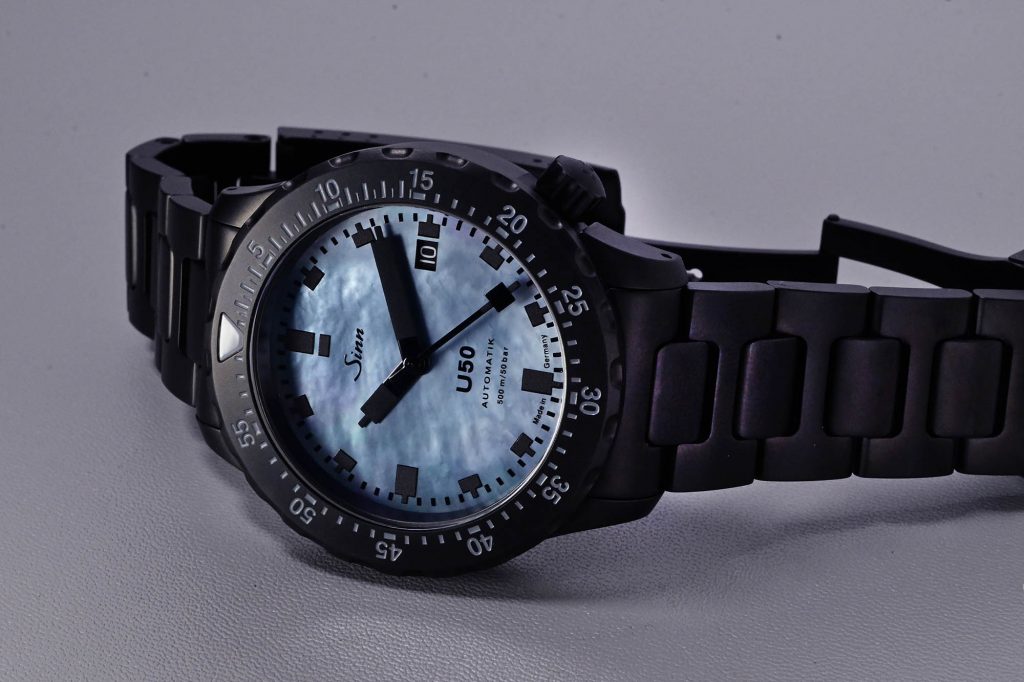 Somehow this was a watch that I could not let go.
As my thoughts on it started to coalesce and I began to calm down, I started to form a new idea about what this was all about. I think that one should consider this watch to be a piece of art rather than as a functional tool. It was made after all around a beautiful idea.
Just think about it. When I look at this watch I see the beautiful imperfections of nature standing in stark contrast to the utilitarian purpose of its foundation. What does this combination allow one to do? Well, to bring the mother of pearl into the environment it originally came from – the deep blue sea.
Try doing that with most watches with mother of pearl dials that are more dress oriented.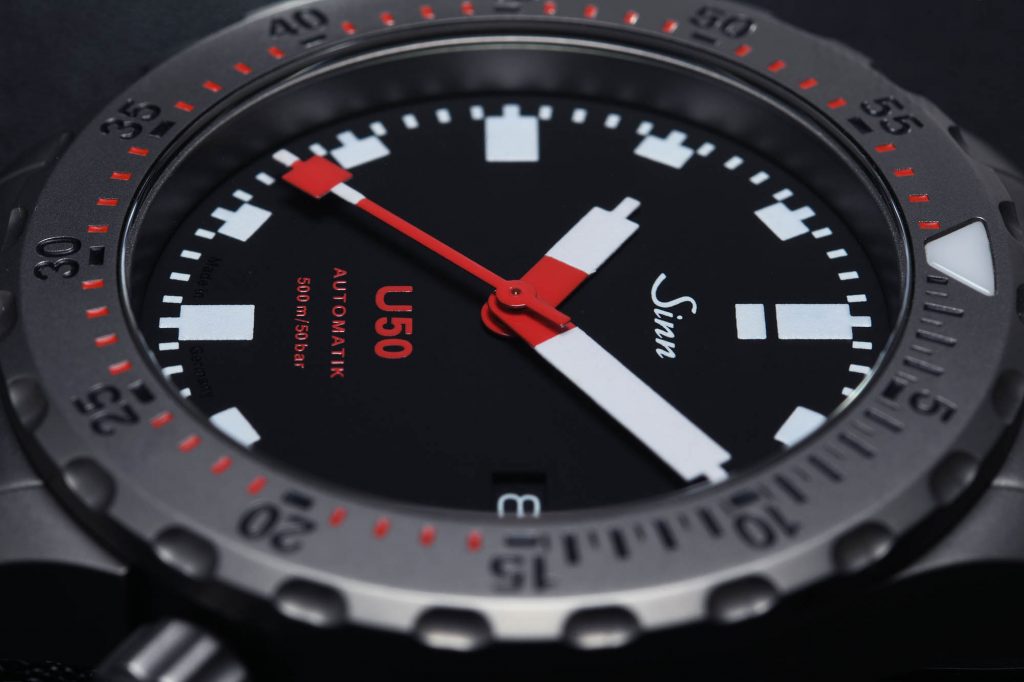 The best thing to do then is to have both for different situations. Sometimes, I have to admit, I have found the standard U50 a bit too stark, too severe and too purposeful. Those lego block hands that impart a playful albeit functional touch do give it some personality, but given that it's a baby U1, the toolish nature of the watch is still evident.
Not so with the U50 S Mother of Pearl. Sometimes you want to have some romance and beauty in your life. Sometimes you want that artistic statement that can come from the contrast between the utilitarian U50 and that beautiful mother of pearl dial. The art comes from it being a combination that doesn't make sense, and that is somehow irresistible.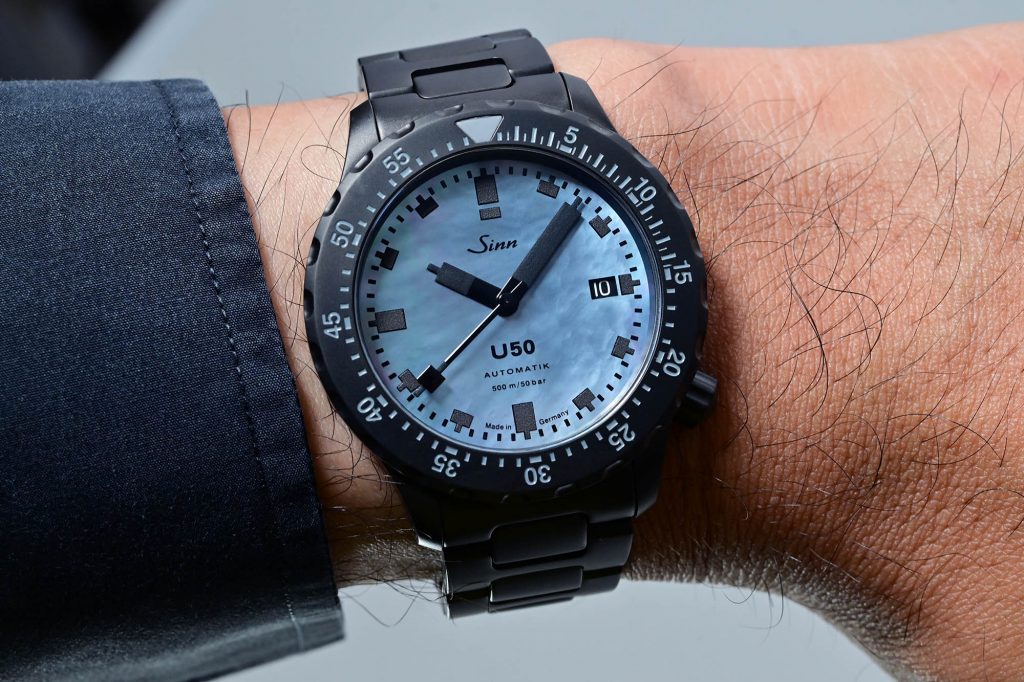 My conclusion therefore is that this is the ideal watch to wear when the stakes are not high. For example, as a vacation watch it is something beautiful to look at, yet functional enough that you can go into the sea with it and do what you need to do, having great adventures while it accompanies you, and not being left on the surface where it could get stolen. In a pinch, just bring a torchlight, which you should already have with you when diving, and throw some light on the dial to read the time if you really need to.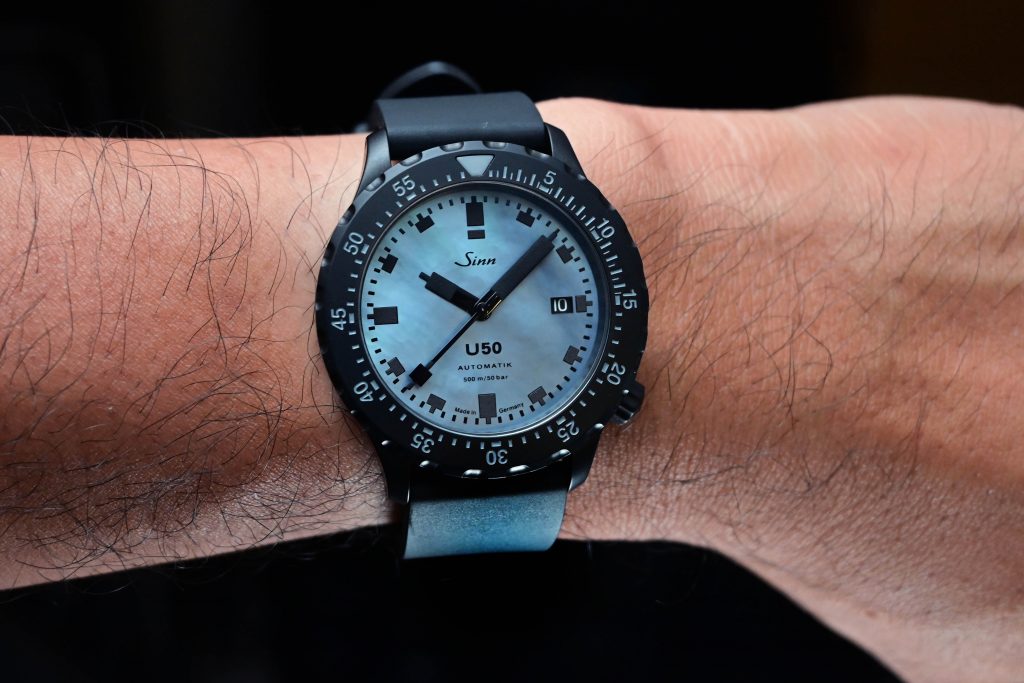 But I will say this – if the stakes are high, and I won't know what the conditions will be like where I will take my watch, or if I'm James Bond on a mission and need to survive, I would most probably take the normal Sinn U50.
PS: my friend Tim helped compose this short poem about the watch:
Great on a date /But not too late /Bring it to bed/ It can't be read
Technical Specifications:
Mechanical Movement
SW300-1
Self-winding mechanism
25 bearing jewels
28,800 semi-oscillations per hour
Seconds stop function
Anti-magnetic as per DIN 8309
Case
Case made of German Submarine Steel
Sapphire crystal glass in front, anti-reflective on both sides
Case back screw-fastened
Crown screwable
Meet the technical requirements for waterproofness, as set out in standard DIN 8310
Waterproof and pressure-resistant to 500 m diving depth (= 50 bar), certified by DNV
According to the technical demands for the diving norm DIN 8306
Tested based on European diving equipment standards EN 250 / EN14143, certified by DNV
Low pressure resistant
Functions
Hours, minutes, seconds
Date display
Diver's bezel with minute ratcheting and luminous key mark
SINN Technologies
Black Hard Coating on a TEGIMENT Technology basis
Captive bezel
Dimensions and Weight
Case diameter: 41 mm
Band lug width: 20 mm
Case thickness: 11.15 mm
Weight without strap: 74 gramme
Dial and Hands
Shimmering black mother-of-pearl dial
Indices coated with luminescent colour
Hour, minute and second hand coated with luminescent colour
Limited to 500 pieces