Why does an expensive Oris with cloisonné enamel exist? 
The Oris Sun Wukong Artist Edition is a watch that was released in the early part of January 2022 but that I missed out on seeing in person due to the extremely limited number of pieces that have been made.
However, given that Oris was part of Watches and Wonders in Geneva this year, I was able to get a hands on look at this very interesting and rare example of the brand doing something a little special.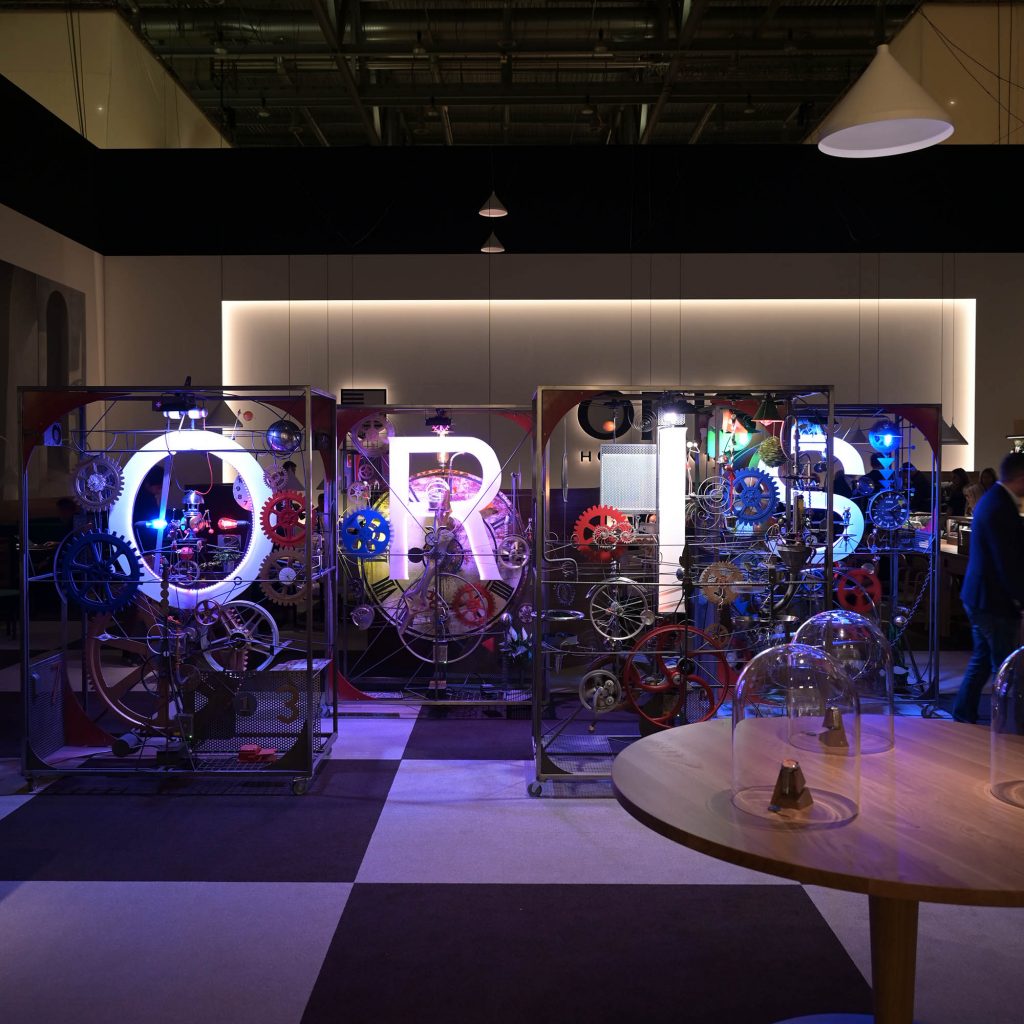 Following on to the Sun Wukong watch that Oris released last year, that was very interesting in its implementation, this new Artist Edition version steps things up to the high end, by utilizing a rare decorative technique in watchmaking – cloisonné enamel.   
This new watch marks the second time that Oris have explored the same subject matter, the famous story of the Monkey King, in a watch. What's nice as well is like the first version, the Monkey King doesn't appear, like most character watches, as an image slapped on the dial. Instead, Oris has gone for a more interpretive presentation on the dial, with an image of the underwater palace of the Dragon King – a scene from the movie – where Sun Wukong acquires his magical staff.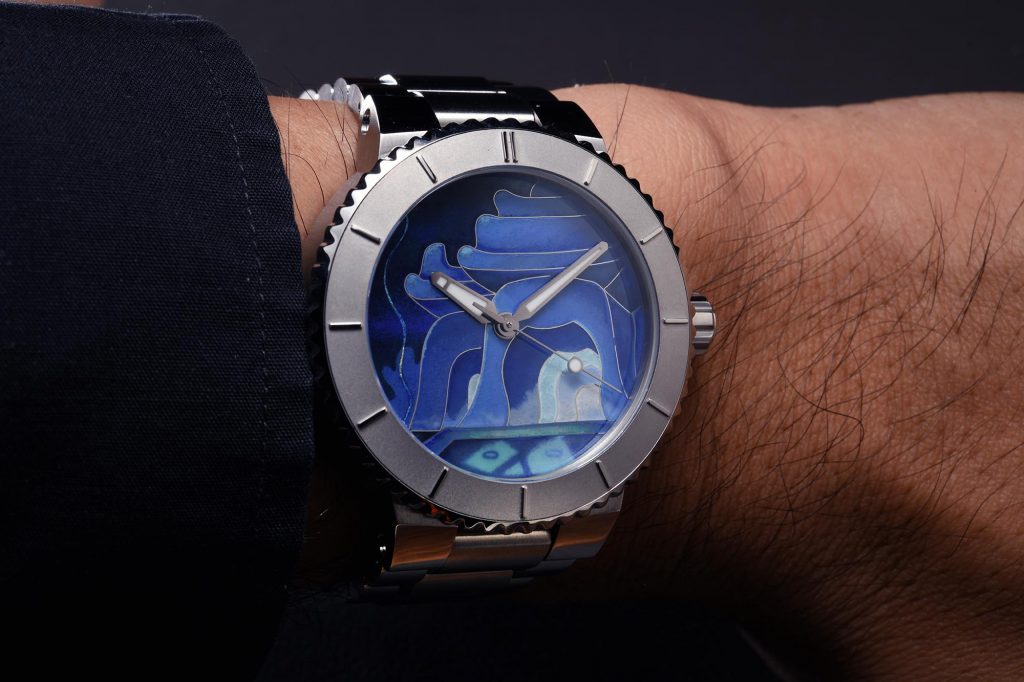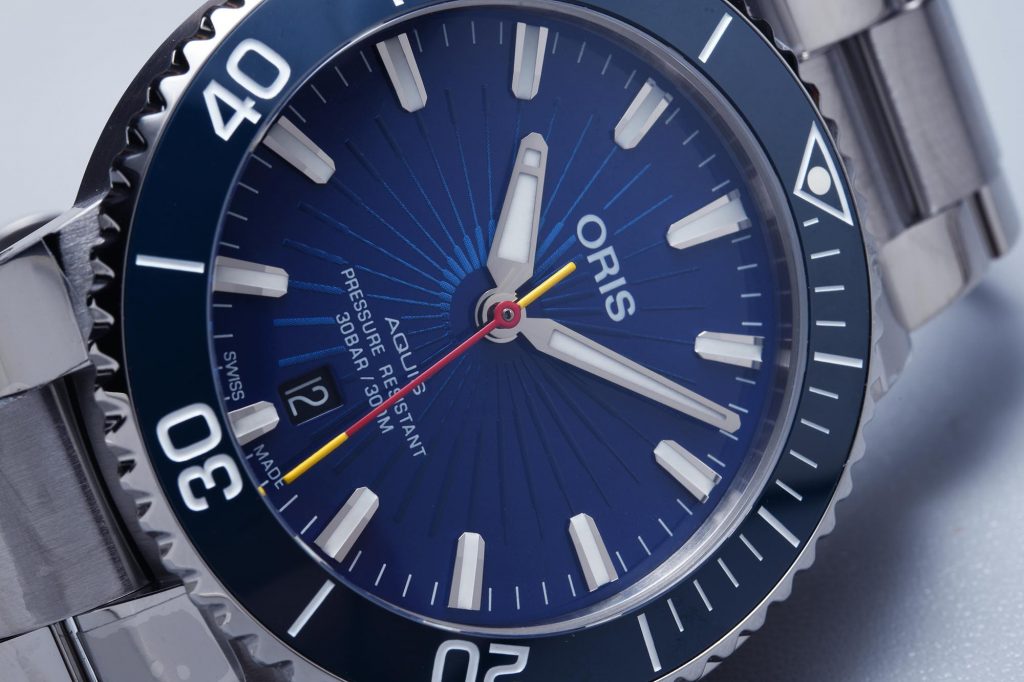 Round the case back of the watch, there is an engraving of that very scene. The rod that the Monkey King is holding on to is his magical staff or "金箍棒" (Jingu Bang) or "Golden-Hooped Rod", that was initially a useless iron pillar that was gifted to him by the Dragon King. As the rod is able to comply with Sun Wukong's wishes, it is able to shrink down to a staff when used as a weapon, and then also further, to the size of a needle and when not in use and stored in his ear.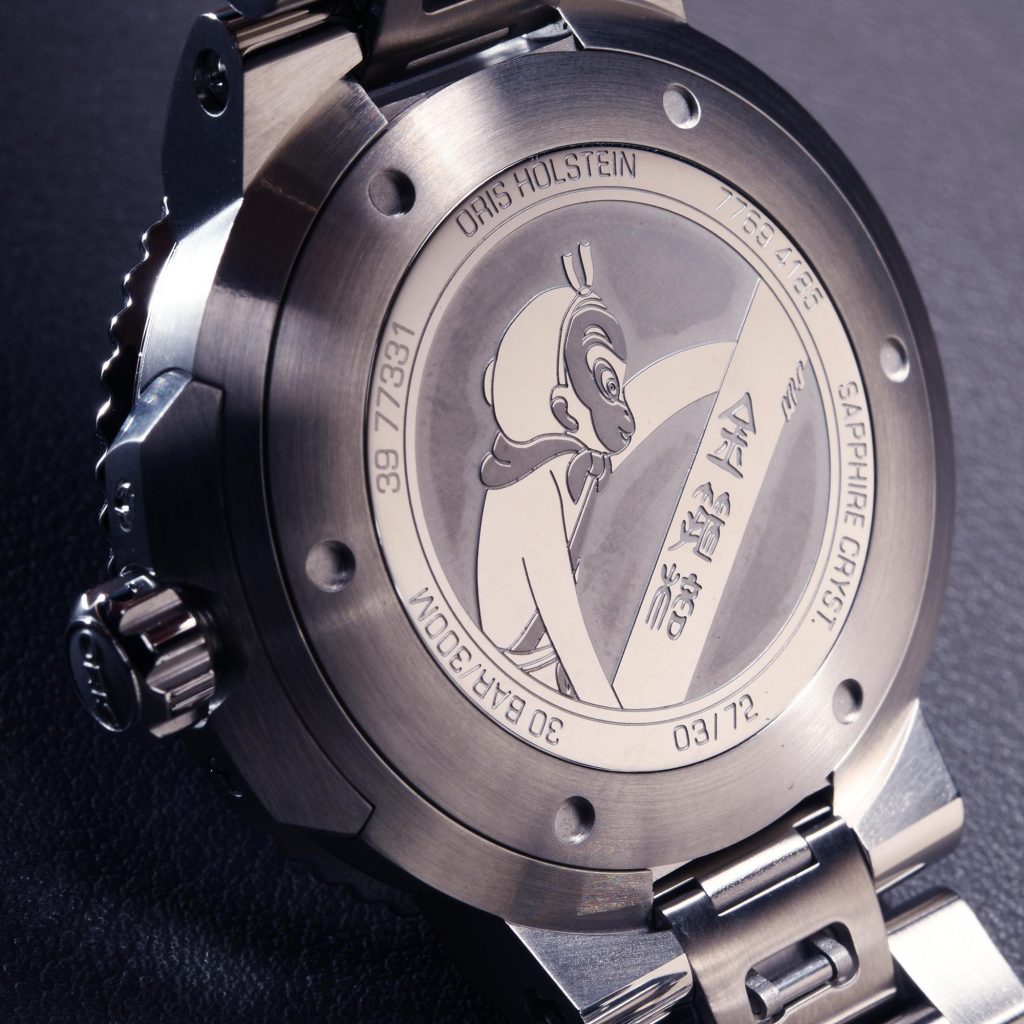 Incidentally, this magical staff was represented by the main seconds hand on the first Sun Wukong watch by Oris, and it's nice that this new facet of the story is being represented by this second watch.  
Because the scene takes place underwater, it does mean that the choice of the watch being an Aquis does make sense. Furthermore, given its exclusive nature, a normal Selitta powering the watch just would not do. Instead it carries the relatively new calibre 400 automatic movement, with 10-year warranty, five-day power reserve (120 hours) and anti-magnetic resistance.
Being an Aquis with a 41.5mm case and 300 metres of water resistance, it is going to be extremely capable underwater of course. However, given that there is no luminous pip on the bezel and no lumed hour markers on the dial, I'm guessing that it is probably not fully ISO6425 compliant, although this fact probably wouldn't matter to those buying this watch.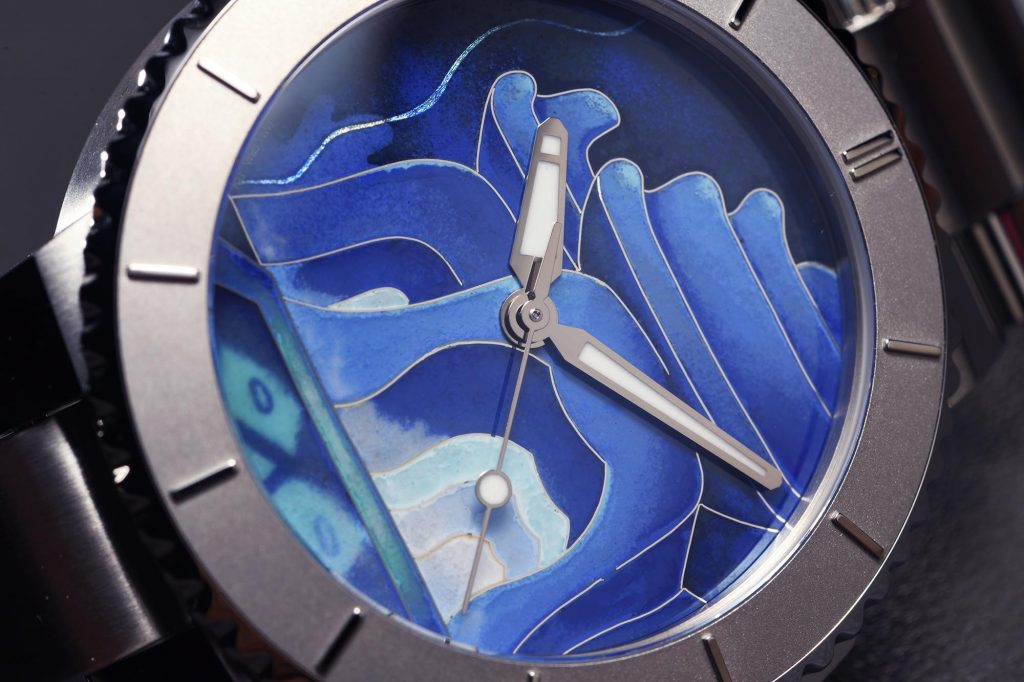 The design that greets one on the dial is made of cloisonné enamel as mentioned earlier, a traditional decorative art in watchmaking that is created by gold wires in the shape of the intended composition on the dial, after which the zones created are filled in by enamel paint and then fired in a kiln to fix the colours. "Cloisonné", literally means "partitioned" in French, and it can only be done by hand by the most experienced of artists.
The dial itself is also interesting, because it is devoid of Oris branding which makes it all the better for the design to take centrestage. Because of this, it is very discreet in terms of the recognizability factor. If you know what an Aquis case looks like you might give pause, but overall, there is no way to tell who made the watch. Also, if you are unfamiliar with what is being depicted on the dial, it can look like an abstract painting, which is good, since like the first watch, it can appeal to both those who are aware of the Monkey King story and those who are not, purely on an aesthetic basis.
Of course, being a limited edition of 72 pieces only and having a cloisonné enamel dial, this is a watch that will necessarily be priced at a way higher level than you would expect of a typical Oris. At US$27,500, it's only going to be considered by those with deep enough pockets first of all, and thereafter by various vectors of interest that come from this watch being so multifaceted in its appeal. 
I remember how I was quite surprised two years ago when Oris launched an 18K gold Aquis and wondered if the brand had lost the plot. I have a different opinion now on this occasion with their second high priced offering. I have seen that Oris has started to mature somewhat as a brand, to the point of knowing how to keep their core customer happy, yet looking to try different things now and then to surprise and that can only be a good thing. 
Find out more at the Oris website:  https://www.oris.ch/5E/watch/sun-wukong-artist-edition/01-400-7769-4185-set