Blancpain has been experiencing a heightened resurgence of interest in its Fifty Fathoms collections, that arguably, can be traced back to when the Tribute to Fifty Fathoms MIL-SPEC was introduced in 2017. For 2021, Blancpain once again revisits a fan favourite model of the past, and releases the Tribute to Fifty Fathoms No Rad – a model that is sure to spark curiosity and a race to boutiques and Authorised Retailers for lovers of a vintage aesthetic as well as Fine Watchmaking.
In 1953, the first Fifty Fathoms model was released, born of then-CEO Jean-Jacques Fichter's passion for diving, as well as stringent requirements set out by two French Marine Nationale (French Navy) officers, Robert Maloubier and Claude Riffaud. Effectively designing the modern dive watch, the Fifty Fathoms would go on to be issued to specialist units worldwide, as well as being prominent in the civilian world of diving.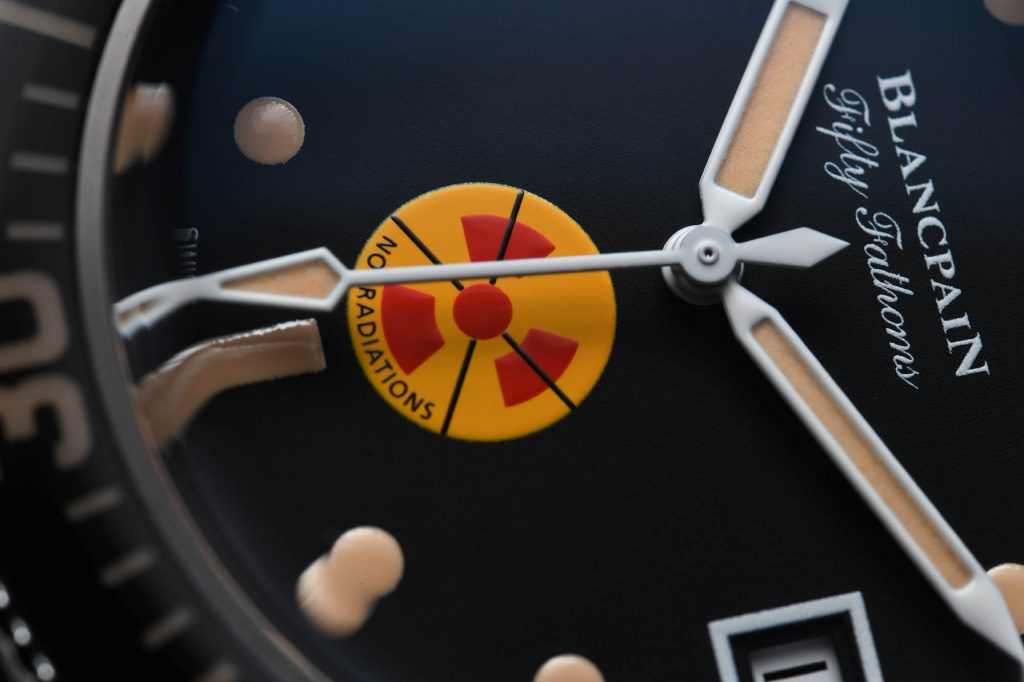 However, in the 1960s, the threat of the Cold War amplified the public's concern for radioactive materials in everyday life, and at the time, watches were a cause for concern. Watch dials would often be painted with Radium for a luminescent glow in low-light conditions, however, the material remains radioactive for a long period of time – Radium-226, for example will lose half of its radioactivity over a period of 1600 years. It is for this reason that Blancpain wanted to reassure their customers that their watches did not contain any harmful radium, and it is why they released a model with the distinctive "trefoil" logo with "No Radiations" printed at 6 o'clock, making the message clear and easy to understand.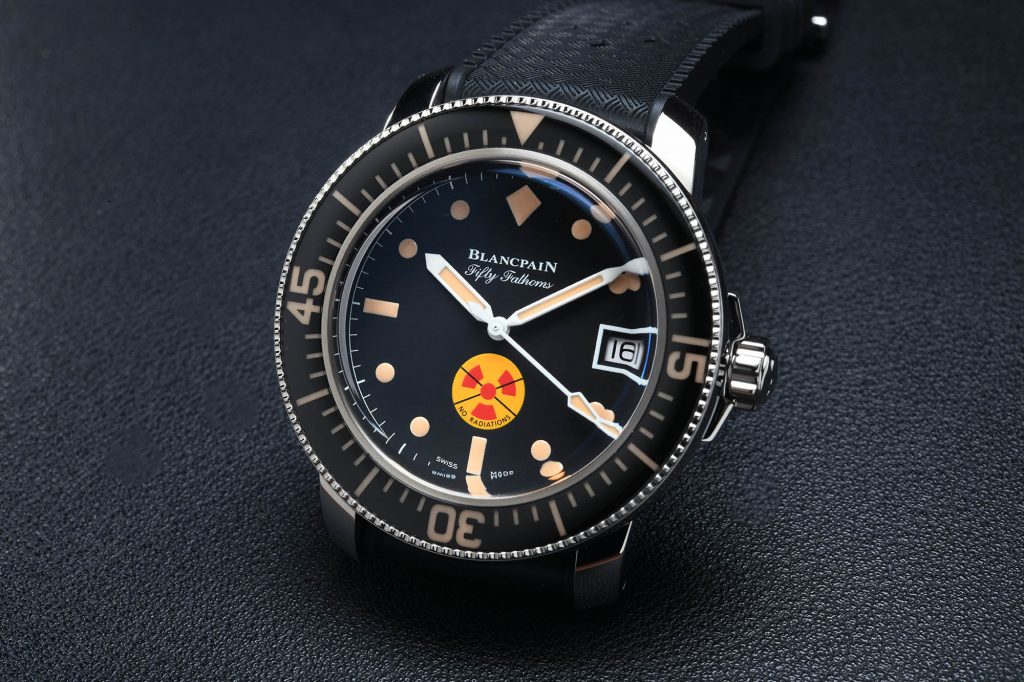 The Tribute to Fifty Fathoms No Rad, pays its respects to the model of the mid-1960s with an accurate reproduction of the "No Rads" logo at 6 o'clock – yellow background with the trefoil logo in red, a black cross over the trefoil with the words "No Radiations" at its bottom. The dial is also faithful to original models, with its distinctive diamond-shaped 12 o'clock marker, date indicator at 3 o'clock outlined in white, and the rectangular bars at 6 and 9 o'clock. The markers and the markings on the bezel are also coloured in beige to give the effect of patina, which, for a model meant to evoke the past, is an appropriate touch.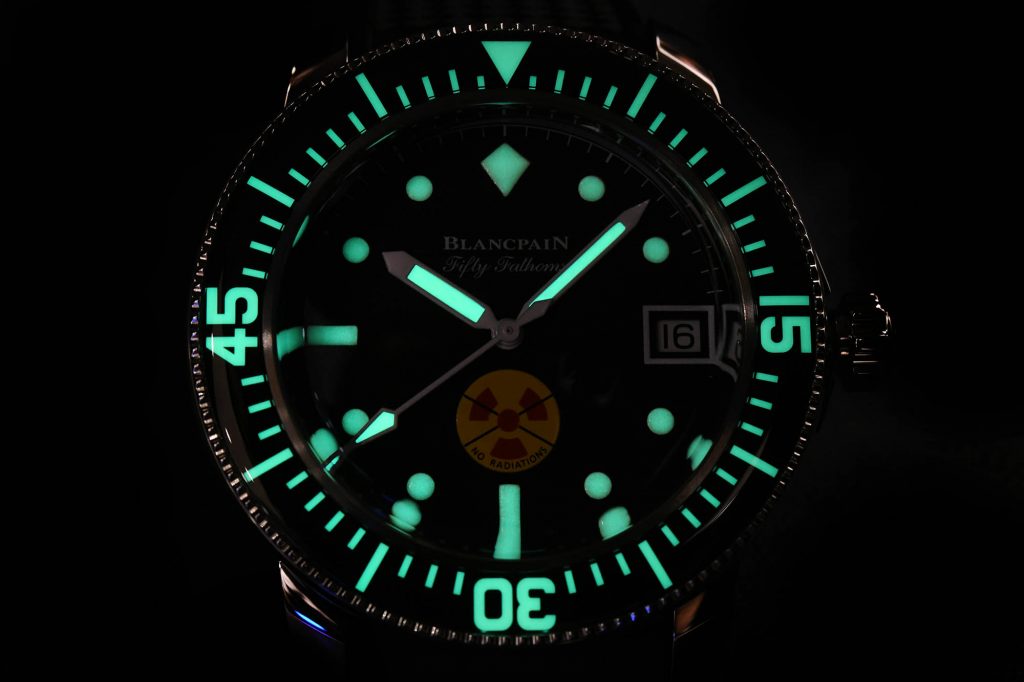 Speaking of the bezel, this echoes past Fifty Fathoms models, with its construction – luminescent material underneath a transparent upper material, in this case, sapphire crystal. This gives the bezel its glow, and in low-light conditions, the whole dial and bezel glow brilliantly. The 40.3mm stainless steel case that is used in this model is reserved exclusively for the special edition Fifty Fathoms models, and it bears a mirror-polished finish, with the Blancpain logo engraved on the side opposite the crown. This size has been especially lauded by enthusiasts, as a return-to-form for the collection and more accurately paying tribute to vintage Fifty Fathoms models of yore. The watch comes mounted on a "tropic" style, perforated rubber strap that was commonly seen on seafaring models of the past.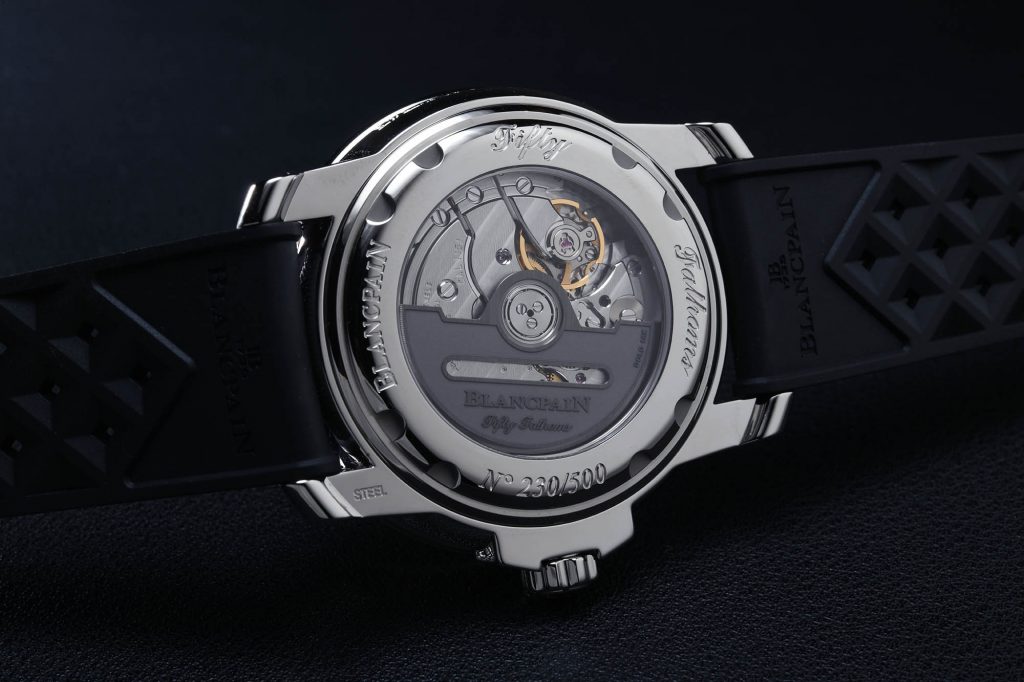 Housed within the Tribute to Fifty Fathoms No Rad is the in-house Blancpain Calibre 1151 – equipped with a silicon balance spring for anti-magnetic protection, and boasting a 4 day power reserve. It is exhibited through a sapphire crystal caseback, that shows off the fine finishing that has been lavished on what is meant to be a utilitarian instrument. In addition, the winding rotor in 18k Gold has an oval-shaped cut out just below the fastening screws, echoing the way that vintage models had a cut out in the rotor to improve shock resistance.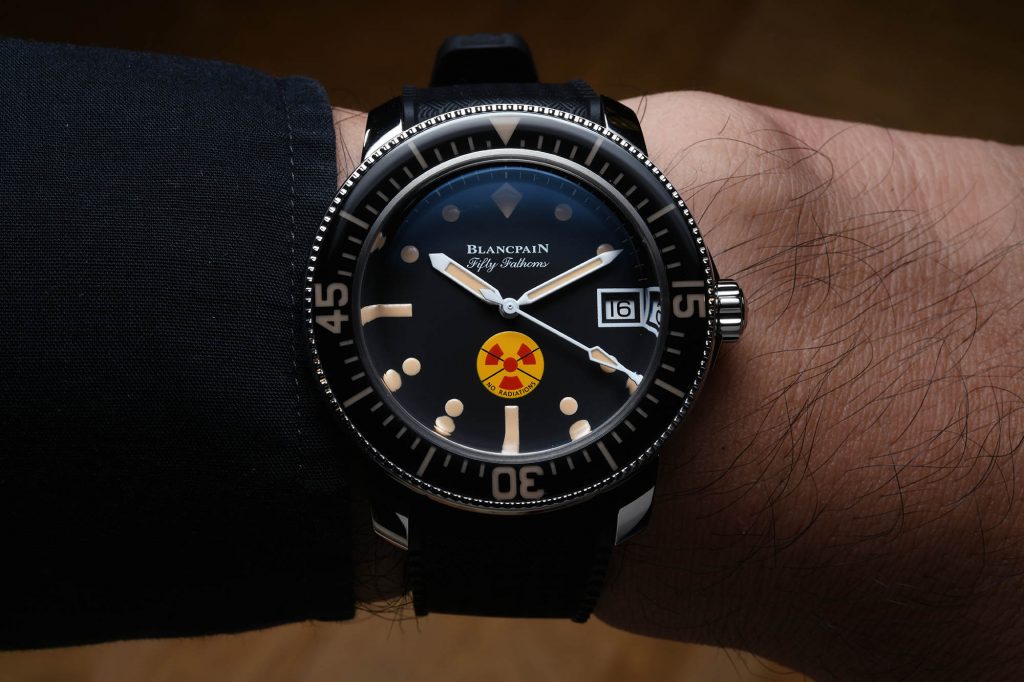 The Blancpain Tribute to Fifty Fathoms No Rad is therefore an apt reminder of why tool watches are so beloved in the first place. The story that this watch tells is that of a compelling period of history, when much of the world was still unknown to us, and we needed these instruments to accompany us on our adventures. Now more than ever, the desire for escape and wanderlust may be more prominent than ever, and this watch gives us a story that lets us fantasise about our next escape. The watch is limited to 500 pieces worldwide, and has already experienced overwhelming demand at Authorised Retailers and Boutiques – making it proof that a modern luxury watch with a compelling story can be beloved by enthusiasts, as well as being a commercial success.