The Heritage collection from Longines has always been a reliable source of cool vintage-inspired pieces and we're lucky that this storied brand with a deep historical archive presents these modern incarnations at reasonable prices.
2021 sees a number of nice releases that go along this theme, that while not totally brand new, offer something for everyone. Most notably, all the pieces mentioned in this article, now come upgraded with silicon hairsprings, as well as a 5 year warranty (up from 2 years previously), with both practices only beginning in 2020.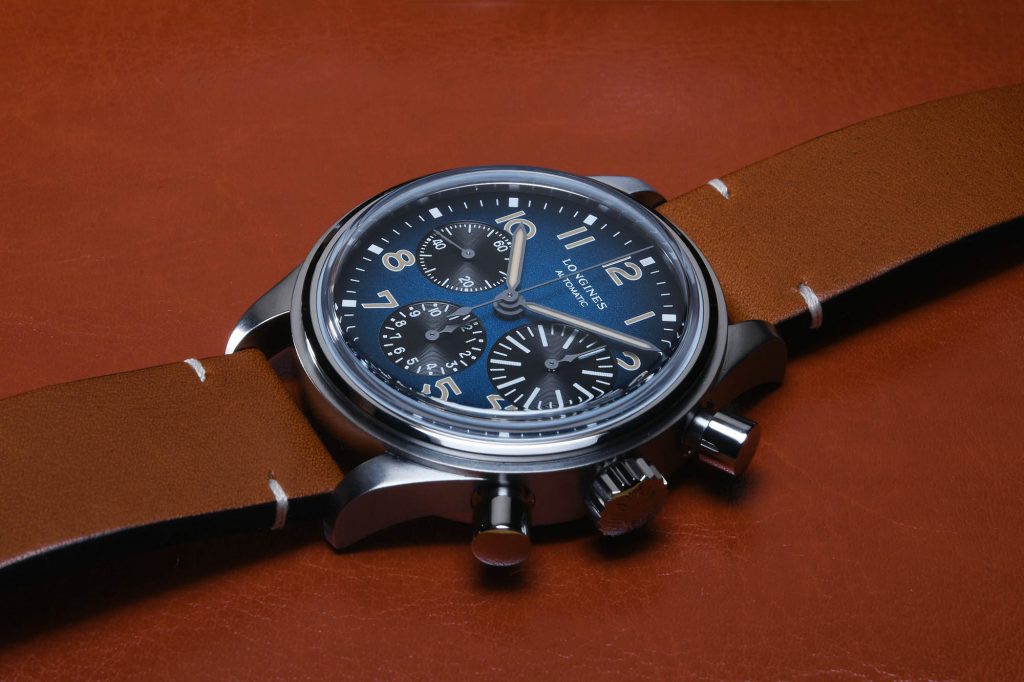 The first is a new Avigation Big Eye now coming in a titanium case and with a shaded blue textured dial. The first version of this watch was launched in 2017 and featured a larger than normal 30 minute chronograph counter, making it easier to read the elapsed minutes.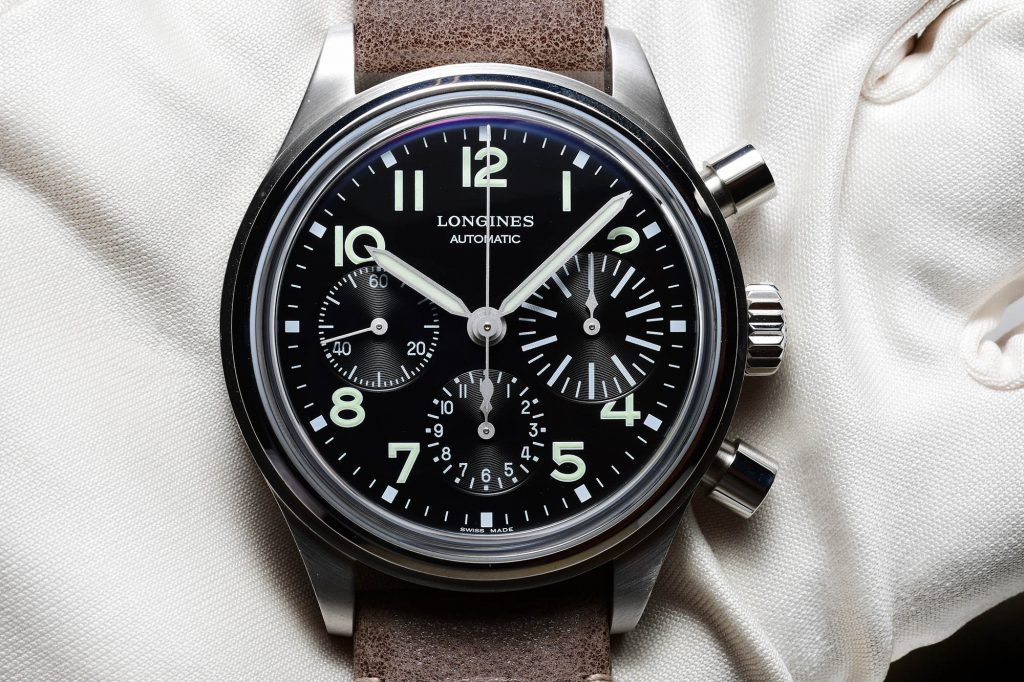 That watch has gone on to become a favourite among enthusiasts, and the reason is clear when you look at it – it's a handsome watch with a nice vintage flavour after-all.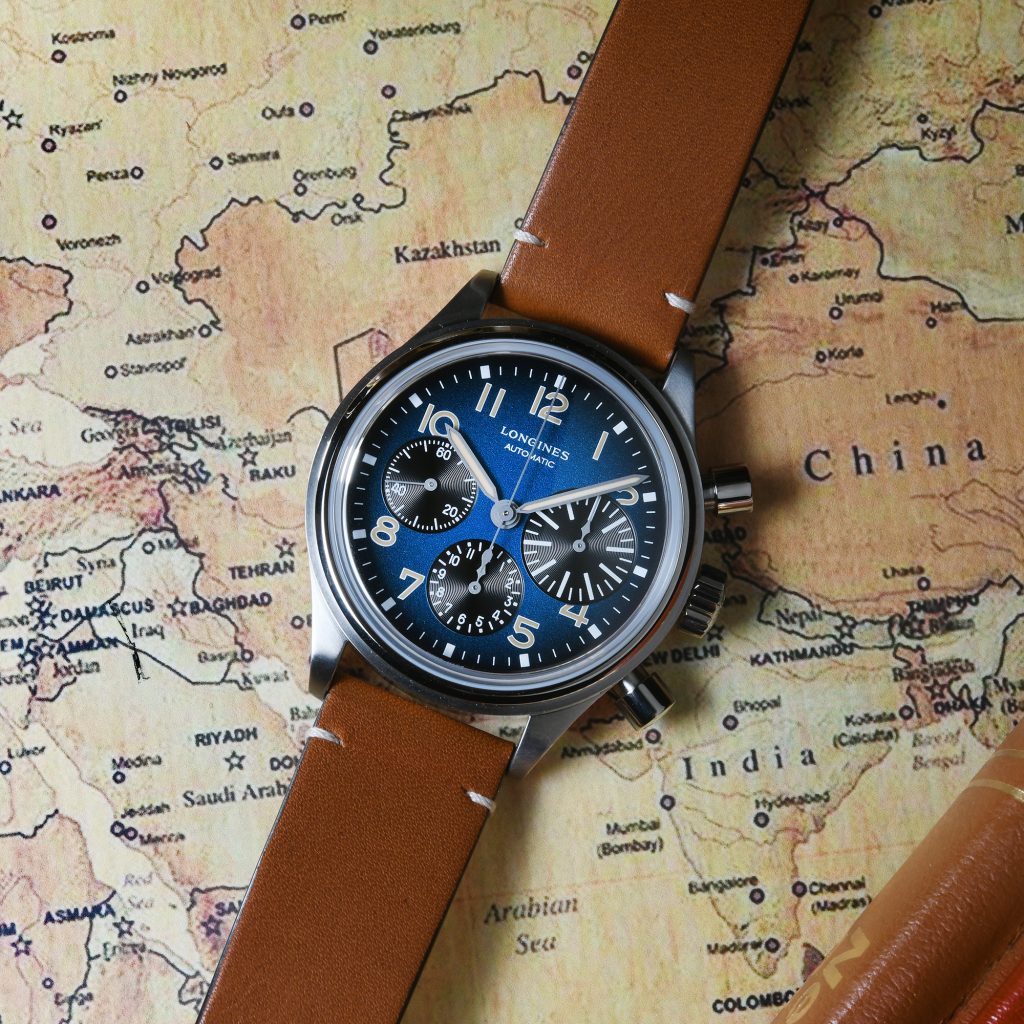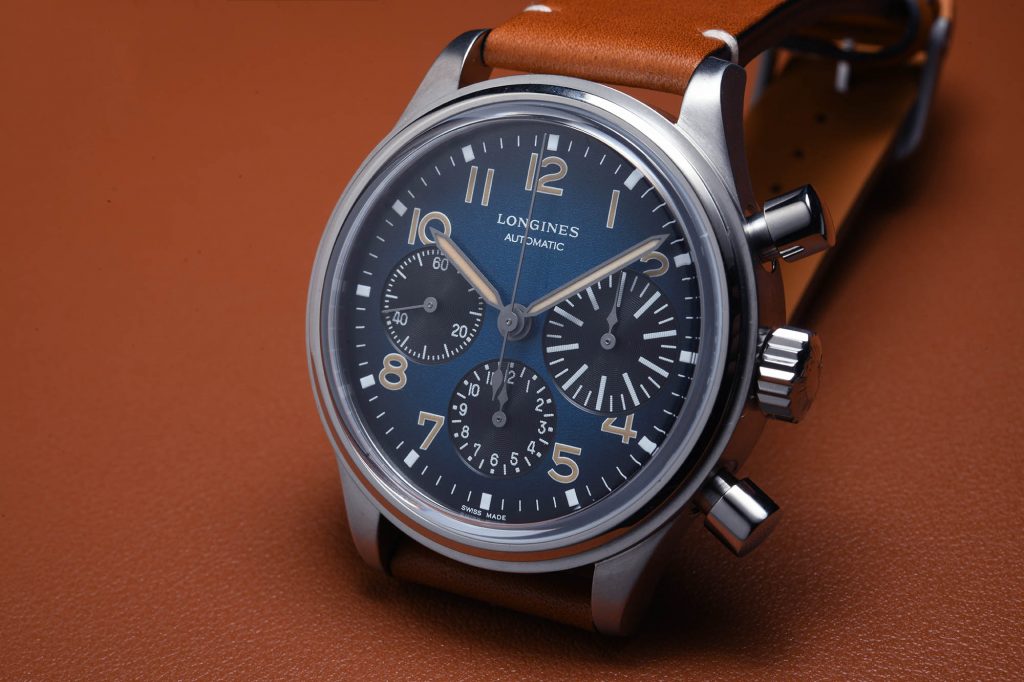 The new variant from 2021 departs from the stainless steel case of the first version and uses titanium instead and at the same case size of 41mm. This helps to make things lighter and accords with the aviation theme as well. Another big difference is inside the watch, with the same L688 column wheel chronograph with 54 hour power reserve now being equipped with a silicon balance spring, which helps the watch be more anti-magnetic than the previous version.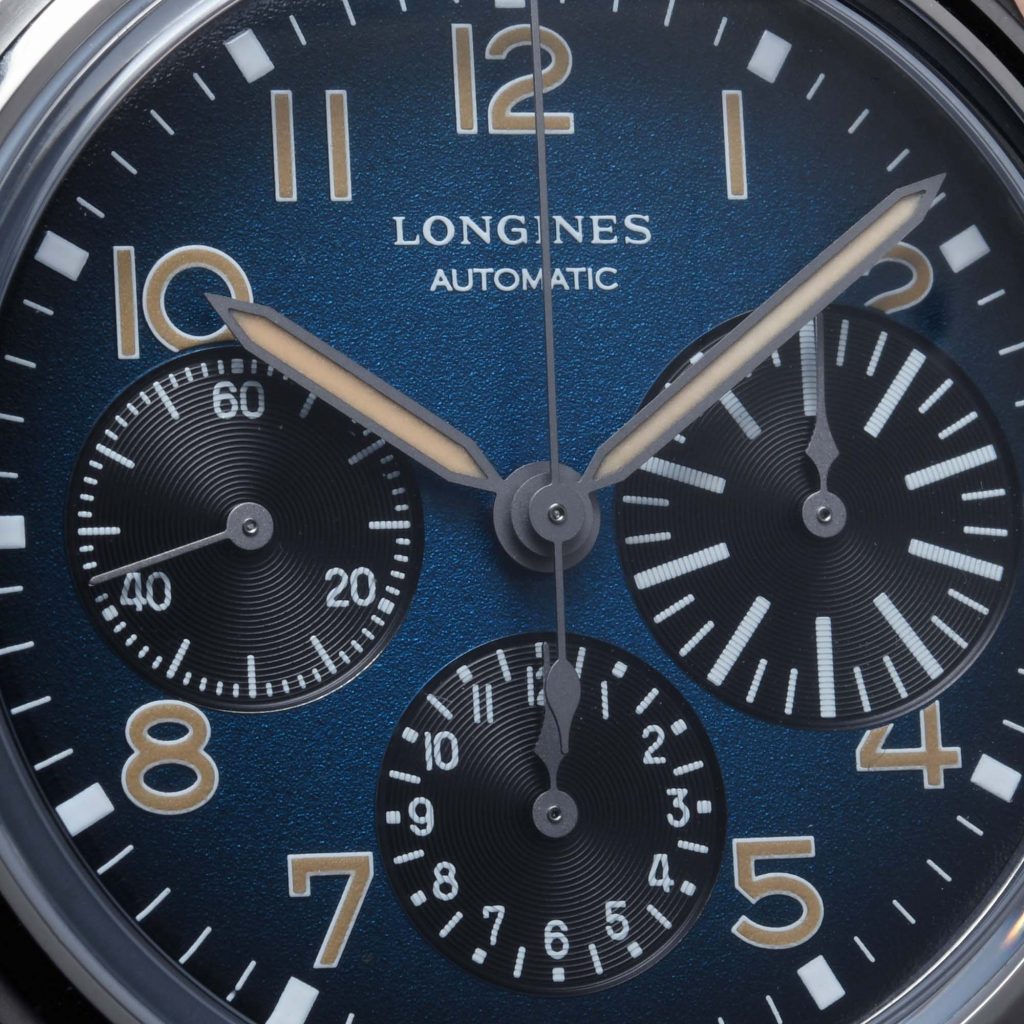 Will these are more invisible upgrades, what is most obvious are the aesthetics of the dial. Instead of the sober white on black of the previous version, this new one comes with Arabic numerals in "fauxtina" coloured Superluminova and a shaded petrol blue and textured dial.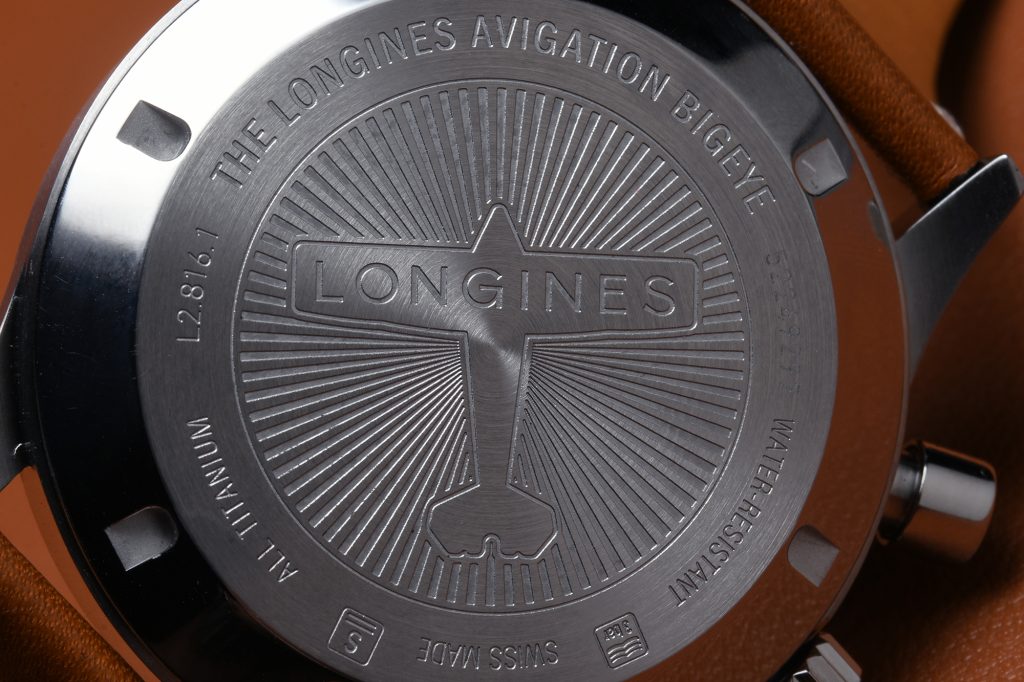 I'm not sure if the colour chosen is historically viable, (I suspect not) but it is an attractive combination nonetheless. The texture on the dial also gives some amount of visual interest
The watch comes with a natural brown leather strap that adds a nice rustic charm to the overall presentation as well.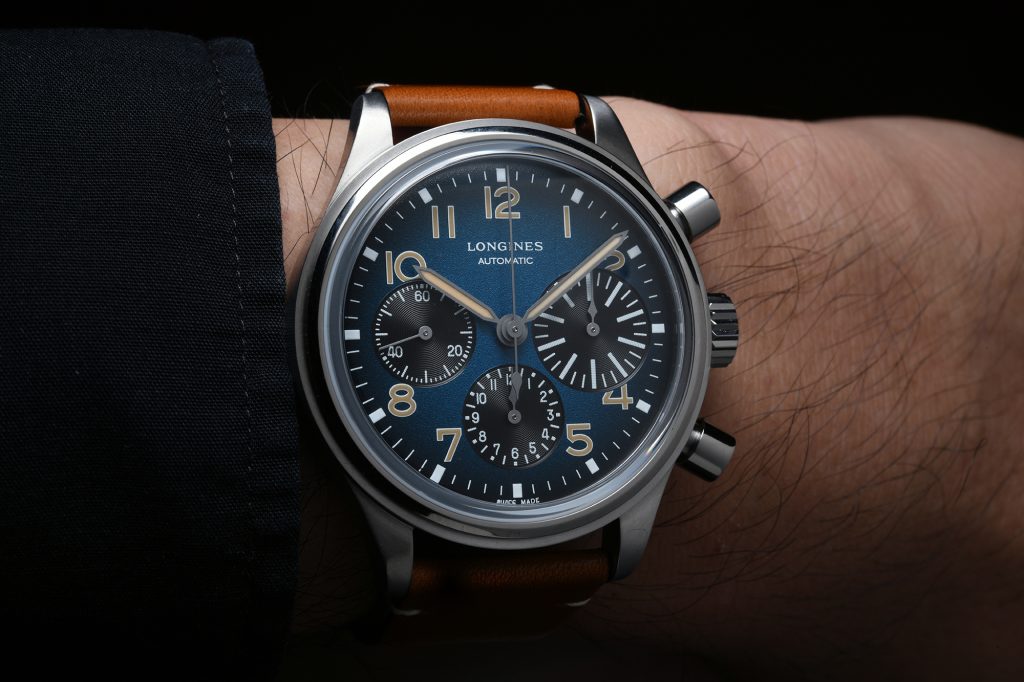 Next is the Legend Diver, a long standing member of the collection that was launched in 2007 and that recalls the super compressor diving watch from Longines that first came out in 1959.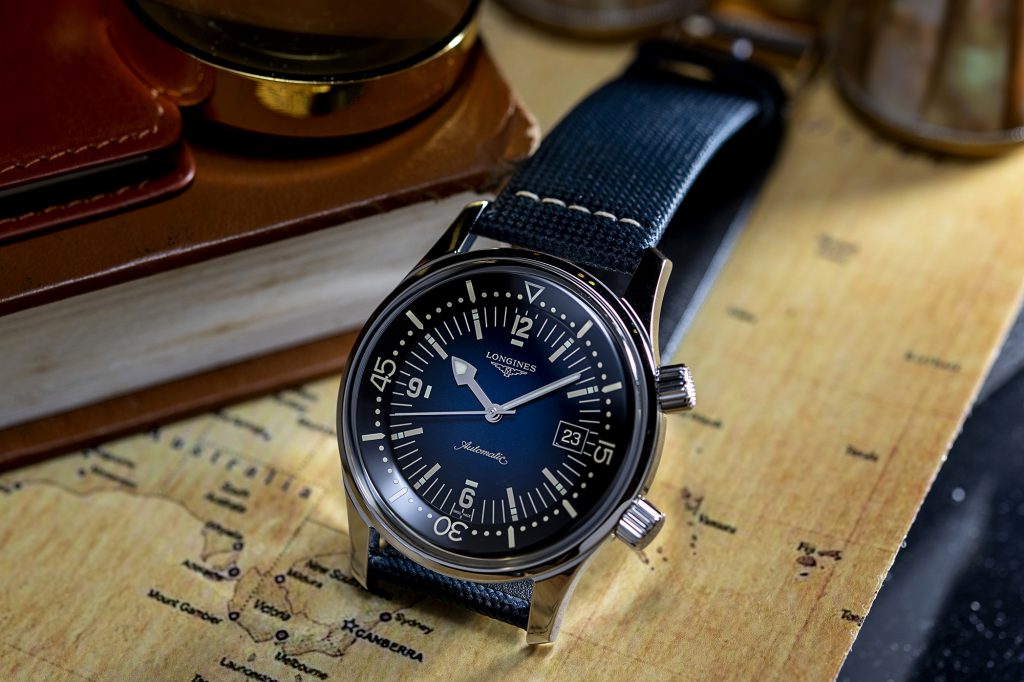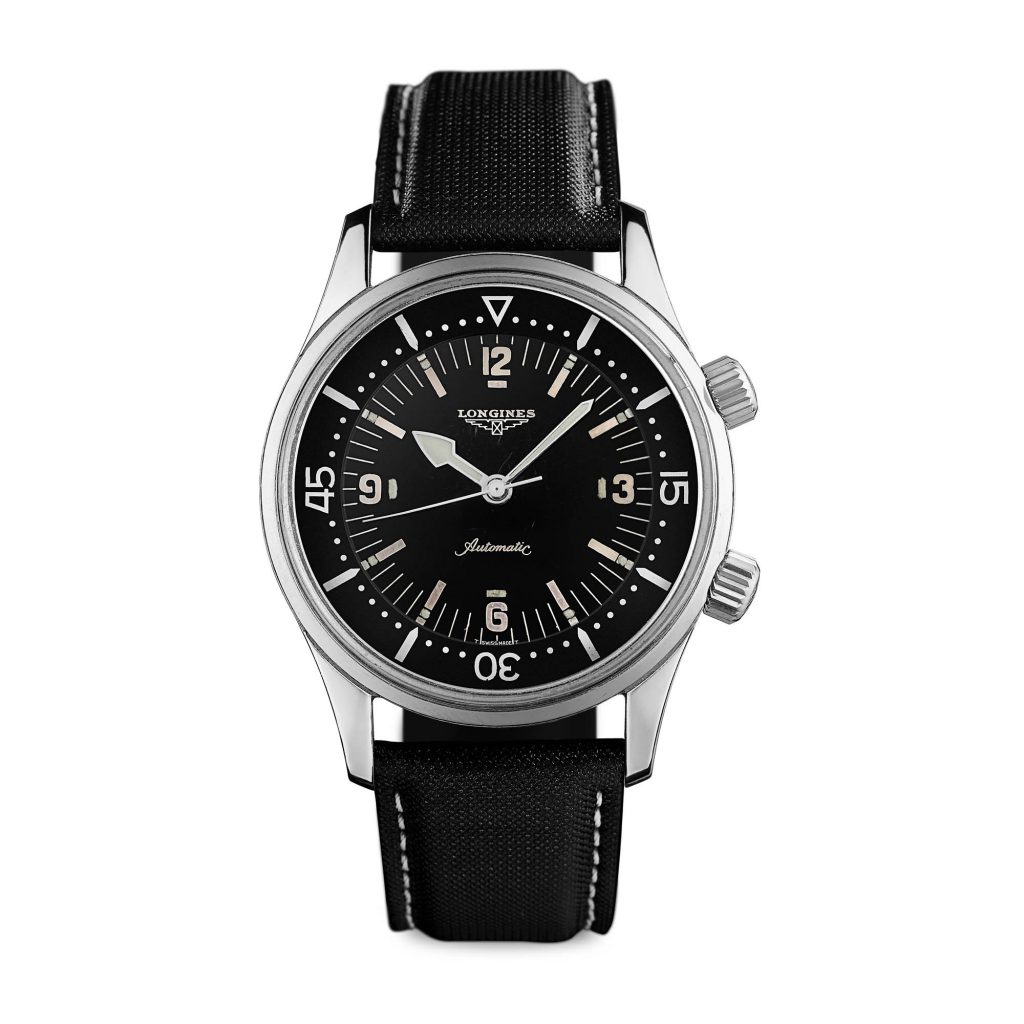 Instead of an external bezel, the more common way of doing things with most diving watches, it's an interval one instead, and is controlled by the upper crown to align the 60 minute marker to the minute hand, just as you would do any diving watch.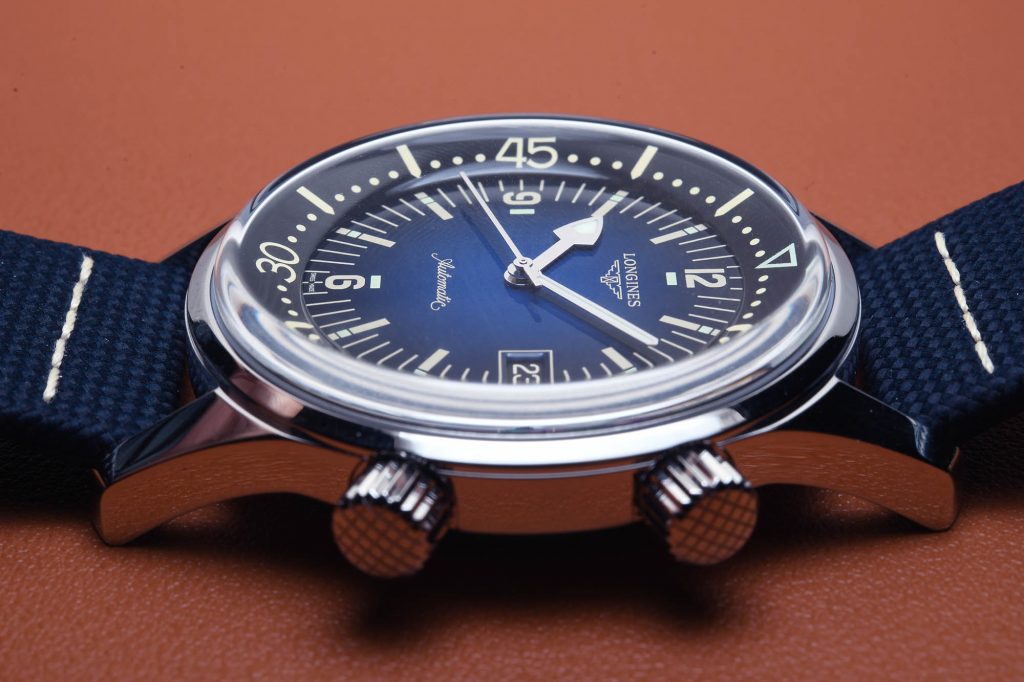 I'm not sure if this style of diving watch is easier to use, but you have the advantage of not having an external bezel get bumped and is entirely viable given its 300 metre water resistance, a modern upgrade to the 200 metres on the vintage ones.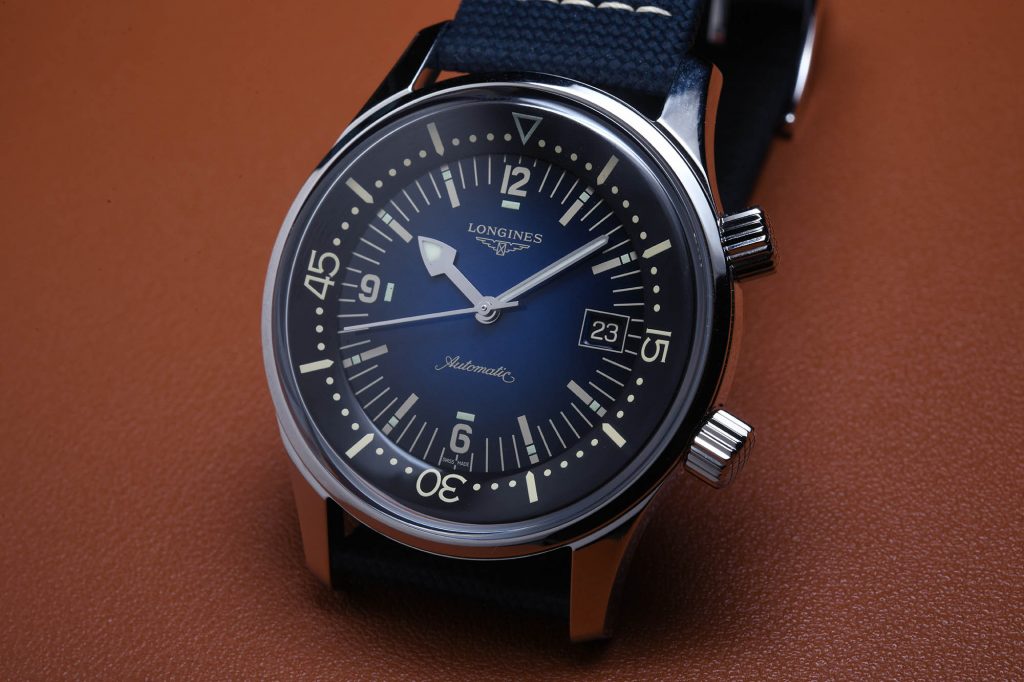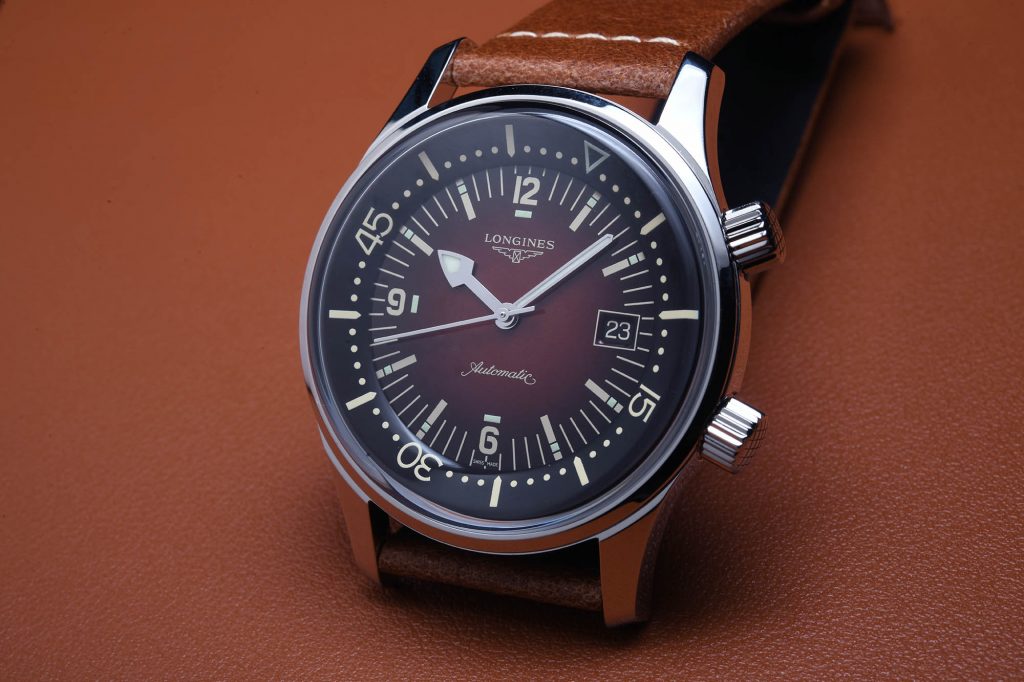 The new Legend Divers come in two new colours, with shades lacquered dials in blue and brown, with matching coloured straps in blue structured leather and brown leather.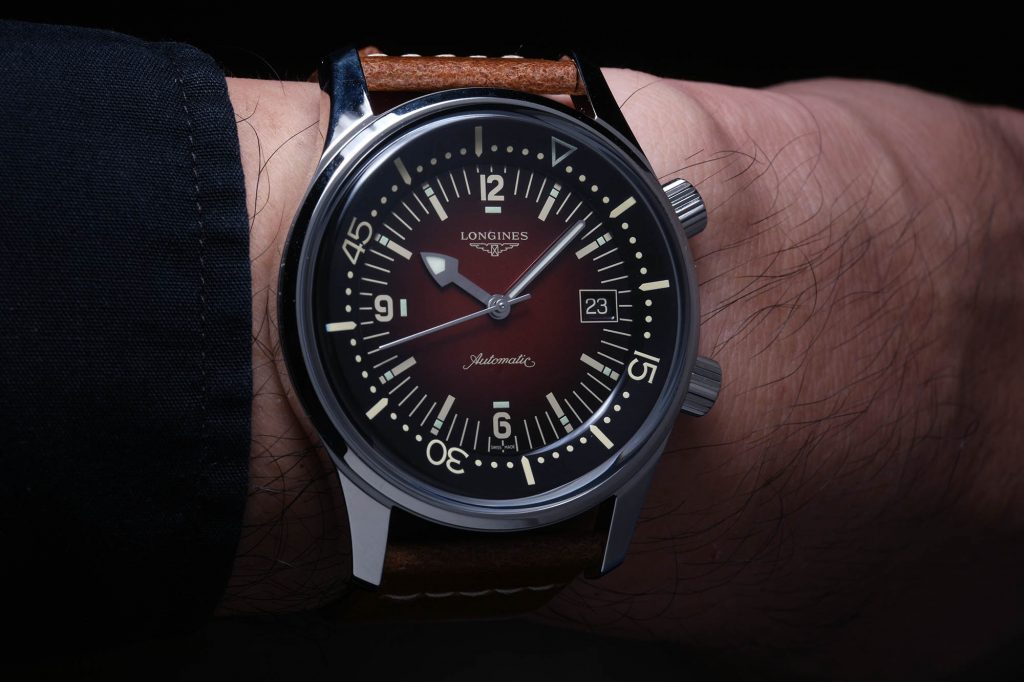 The choice here for me is the brown one since it has a dial that under certain lighting conditions looks like it is rusted, which increases the vintage inspired quotient that much more.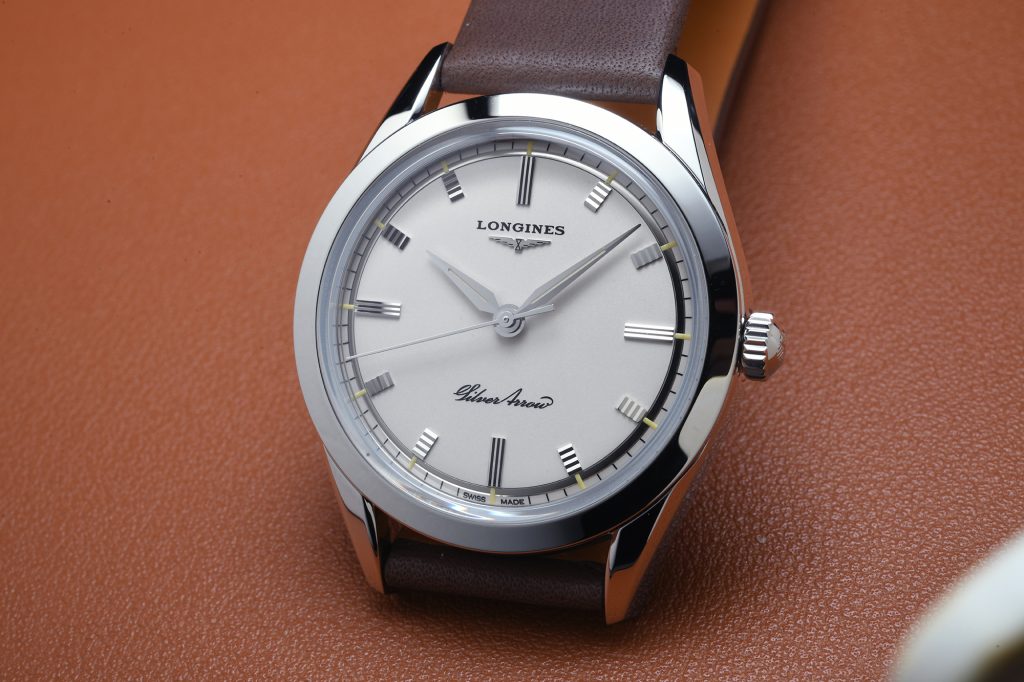 The last offering for Longines under the Heritage collection is the Silver Arrow.
This is a watch that has been remade to look like the original which came out in the 1950's. This is a bit of a strange one, since there is no specific inspiration being it's creation, although one might think of the Mercedes Benz racing team, whose cars are also known as Silver Arrows.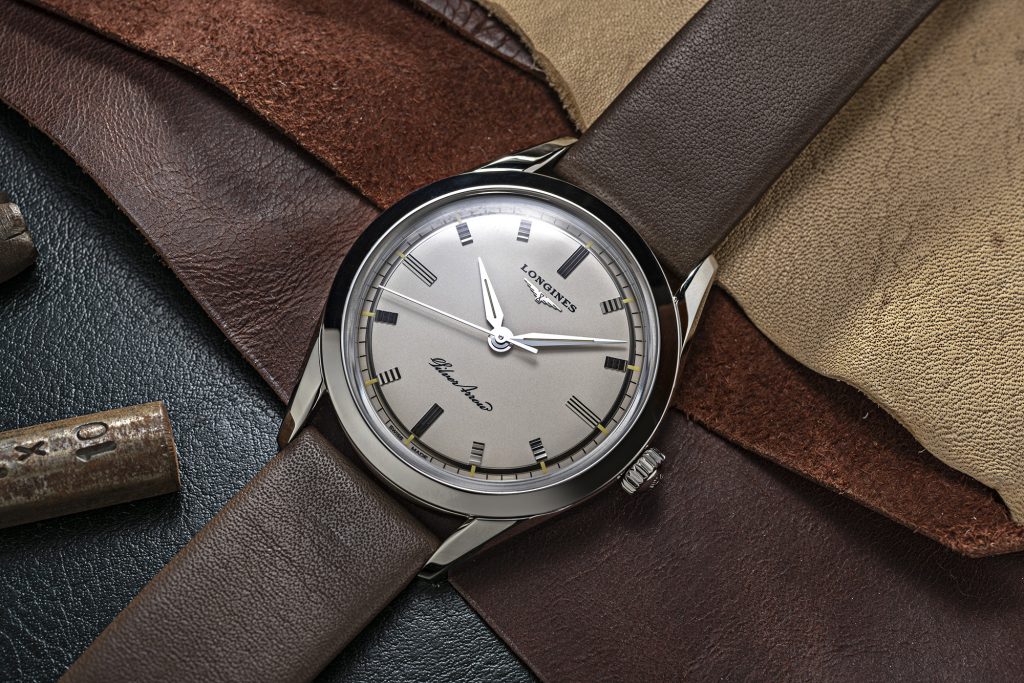 Instead this watch was released at a time when futurism was taking hold of people's imaginations. With the nuclear age having already begun in the 1940s and with the Gemini space program just starting, it was an era when a new world of technology was starting to become possible.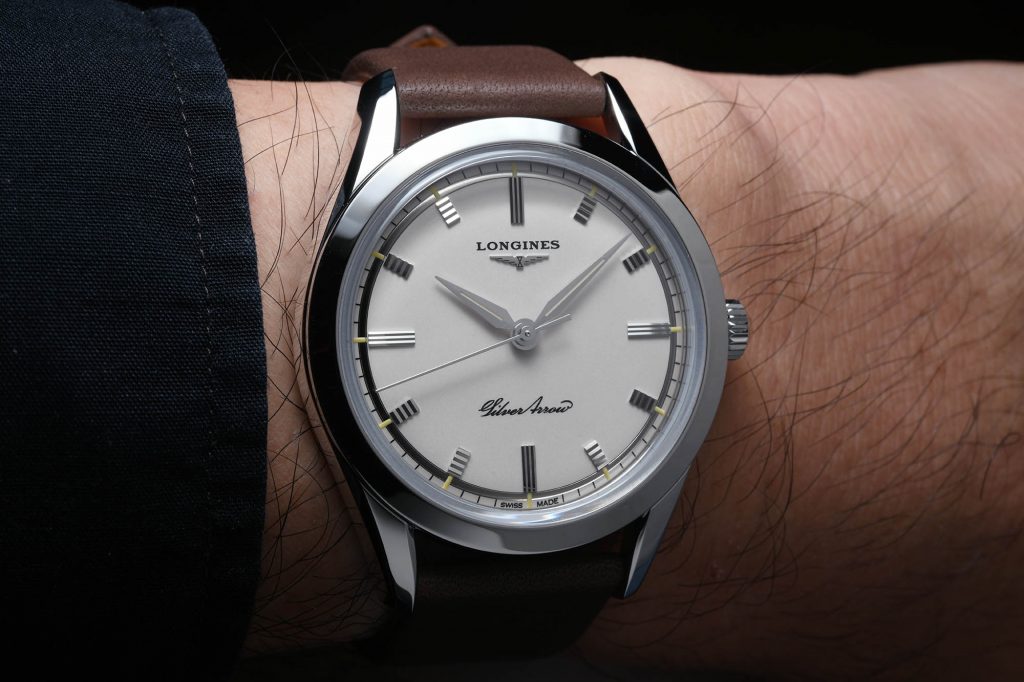 The original Silver Arrow then was launched against this backdrop and was a watch meant to recall the fastest race cars and supersonic planes of the time.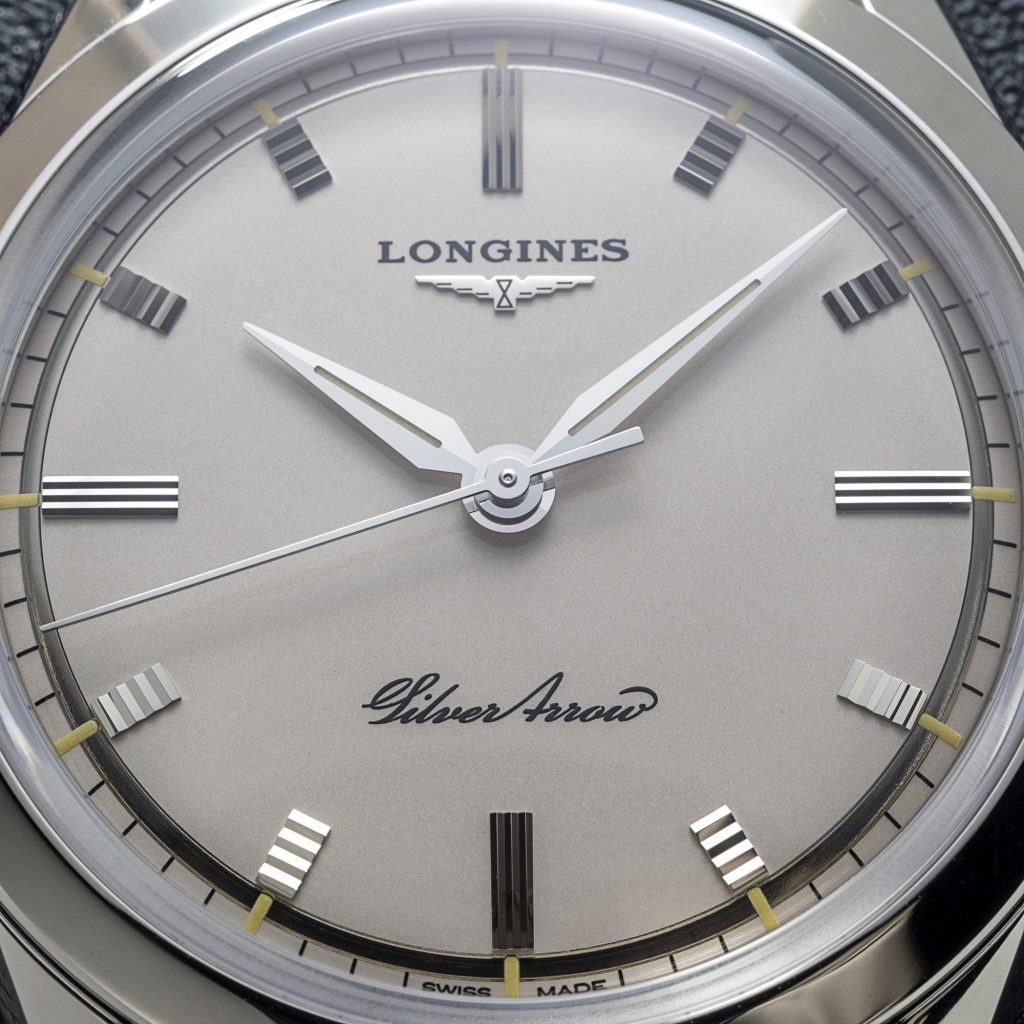 By modern standards, it doesn't scream "futuristic" as much as the name would imply, but the subtle and minimalist attitude of the watch is shown by the unique striated indices and sword hands against the silver opaline dial.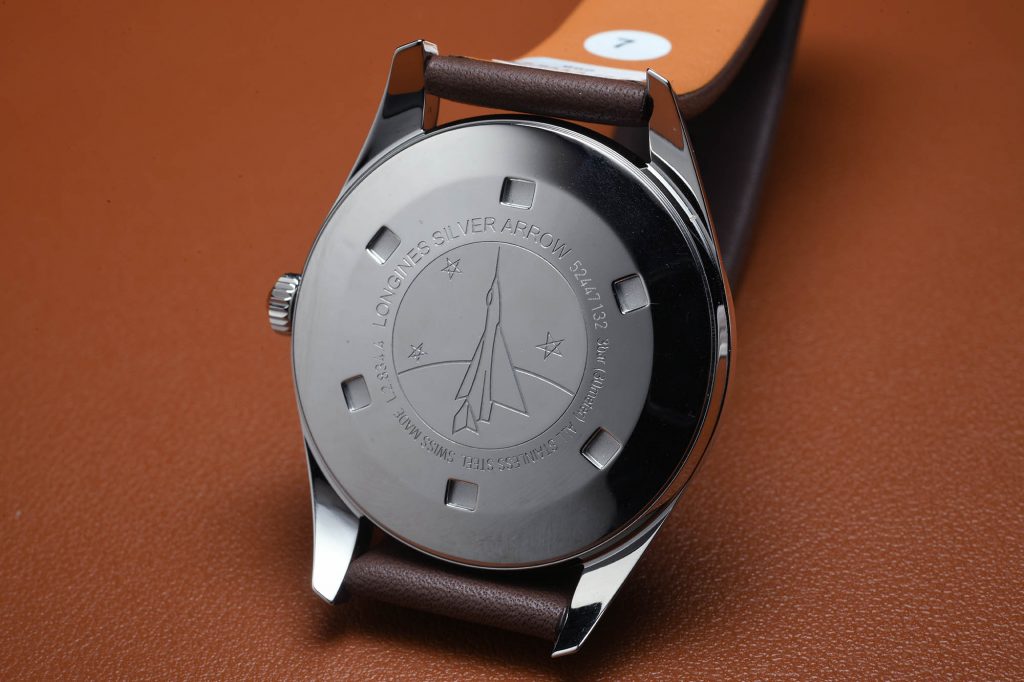 To complete the theme, there is an engraving on the caseback of a Supersonic plane just like the original.
It's a nice watch overall, with a comfortable size at 38.5mm and an automatic movement with a silicon hairspring. I think however, that Longines could have gone a little bit further with this one, and introduce this watch on a bracelet just like the original instead.