Watch collectors would want to think that a watch as iconic as the Royal Oak Jumbo 15202 would live in perpetuity – a watch virtually untouched by the ravages of time. Alas, in 2021 we received word that it would be the last year for the reference, culminating in the famous Only Watch reference in titanium and bulk metallic glass. Not only was it the discontinuation of a reference, but also a farewell to the famous Calibre 2121 powering it (based on a Jaeger-LeCoultre ebauche). For 2022, however, the Royal Oak "Jumbo" Extra Thin is revised with a new reference, new metal variations and a new movement – a fitting tribute to a watch celebrating its 50th Anniversary.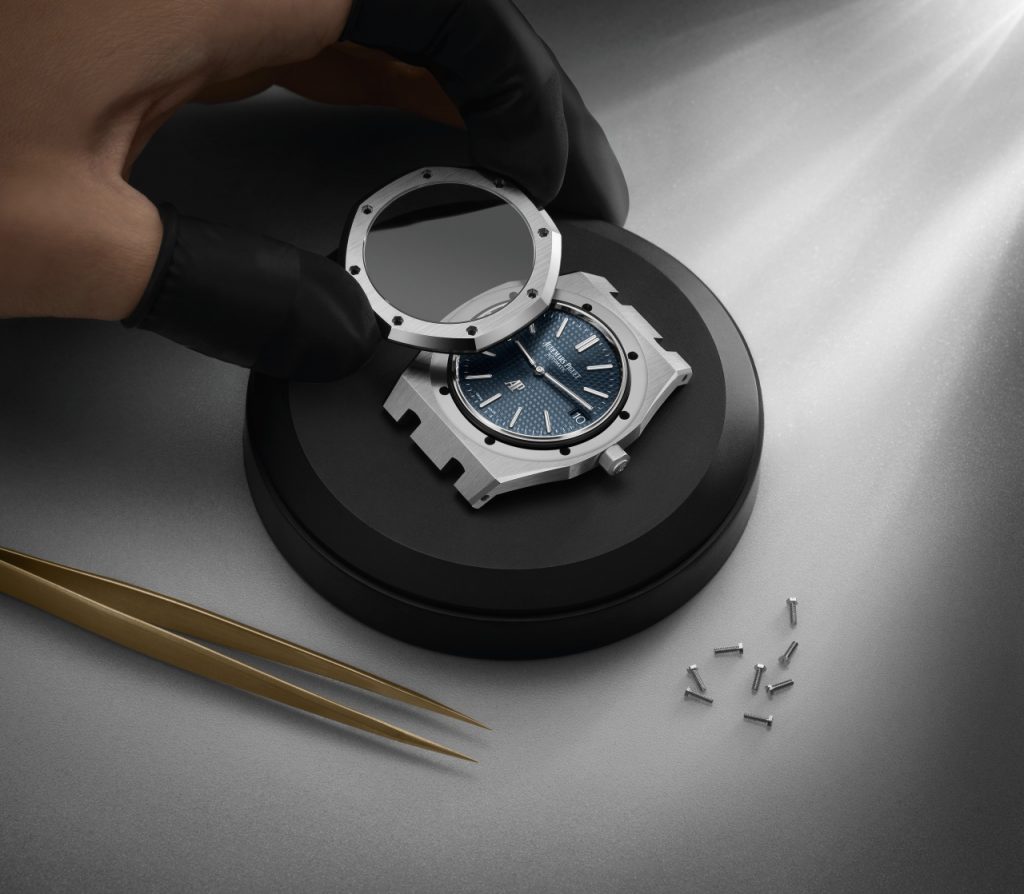 The Royal Oak would arguably be Gerald Genta's most famous design, being inspired by a diver's helmet with its 8 screws surrounding its viewing window. Legend has it that the man designed this watch in one night, and as they say, the rest is history.
Launched in 1972, it would be a watch that defined its category – a luxury sports watch that treated stainless steel like a precious metal was something that had not been done before. The process to machine and finish the watch was so labour intensive that the first prototypes were made of white gold, as the precious metal is much easier to finish.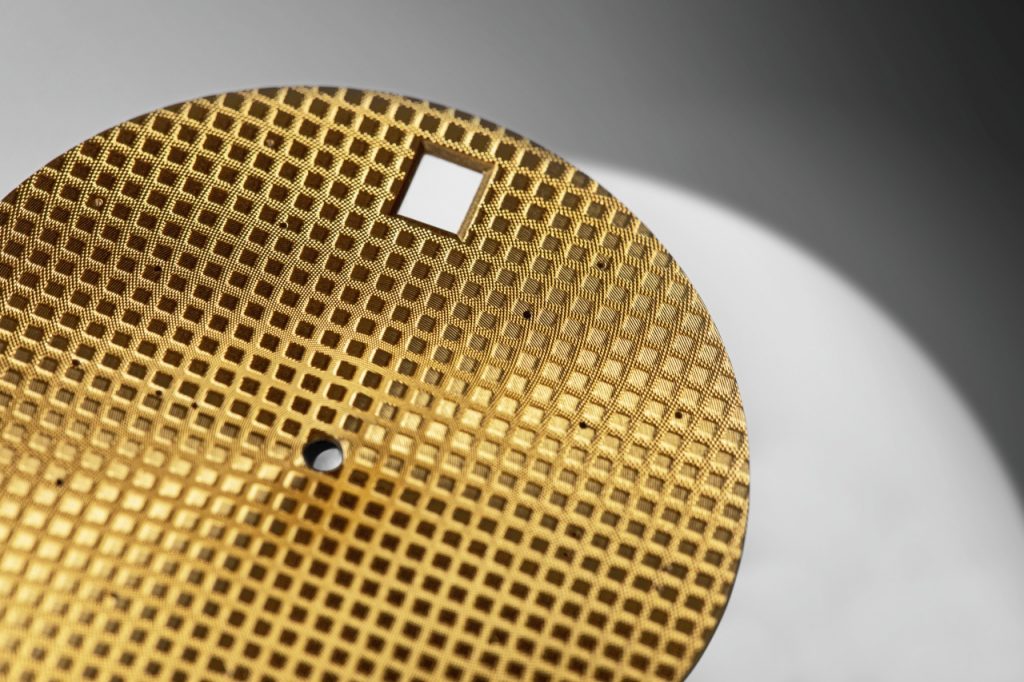 The dial would also prove to be something that blurred the lines between engineering and art. Manufactured by Stern Freres, the "petite tapisserie" pattern is engraved onto the brass blank with a pantograph machine and a burin – a form of savoir faire that has almost been lost to the ages. The distinctive blue colour of the dial, called "Bleu Nuit, Nuage 50" was also an intriguing process. The dials are immersed in a galvanic bath that has been specially formulated to give this colour, and they must be removed at precisely the right time. They are then coated with a protective varnish with a few drops of black colourant to lock in the finishing of the dial.
Powering this watch would be the Calibre 2121 that was the thinnest full rotor automatic movement with date, originally designed by Jaeger-LeCoultre for its most esteemed clients, and easily distinguished by its rail running along the periphery of the movement. Audemars Piguet would continue to have exclusive rights over the movement for a number of decades since, and discontinuing its use in the Royal Oak in 2021.
Over the years the Royal Oak (and its variants) has been picked up by classical style icons like Gianni Agnelli, Alain Delon and Karl Lagerfeld (wearing a custom A-Series coated in black), and modern tastemakers like John Mayer, Will Smith and Serena Williams.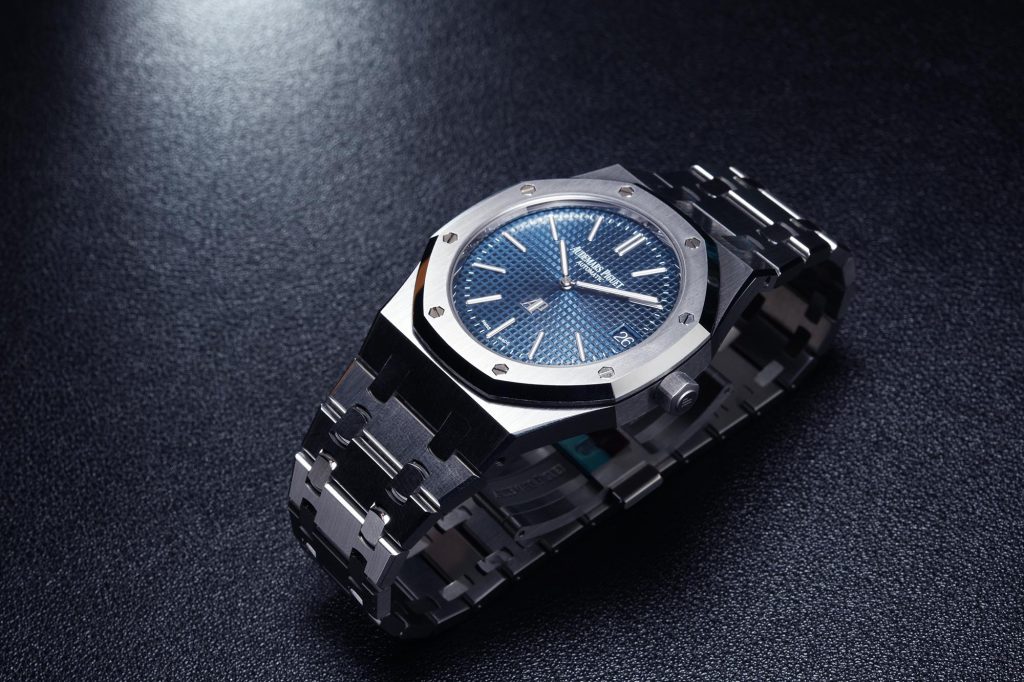 The 2022 revision of the Royal Oak "Jumbo" Extra Thin ref. 16202 does not revolutionise the watch world like it did in the early 70s, but it modernises a classic on the inside, whilst staying true to its aesthetic codes that made it so successful with fashionistas and watch cognoscenti around the globe. Measuring in at 39mm, the size of the original Royal Oak, the watch also retains its Extra Thin moniker at 8.1mm in height. The dial design is reminiscent of the original Royal Oak – minimal text at 12 o'clock, and the applied AP logo at 6 o'clock. To further balance the dial, the words "Swiss" and "Made" are positioned on either side of the 6 o'clock marker. A colour matching date wheel enhances the sophistication of the watch, and the signature baignoire (French for bathtub) shaped hour markers and hands are crafted from gold, and soften the angles of the watch.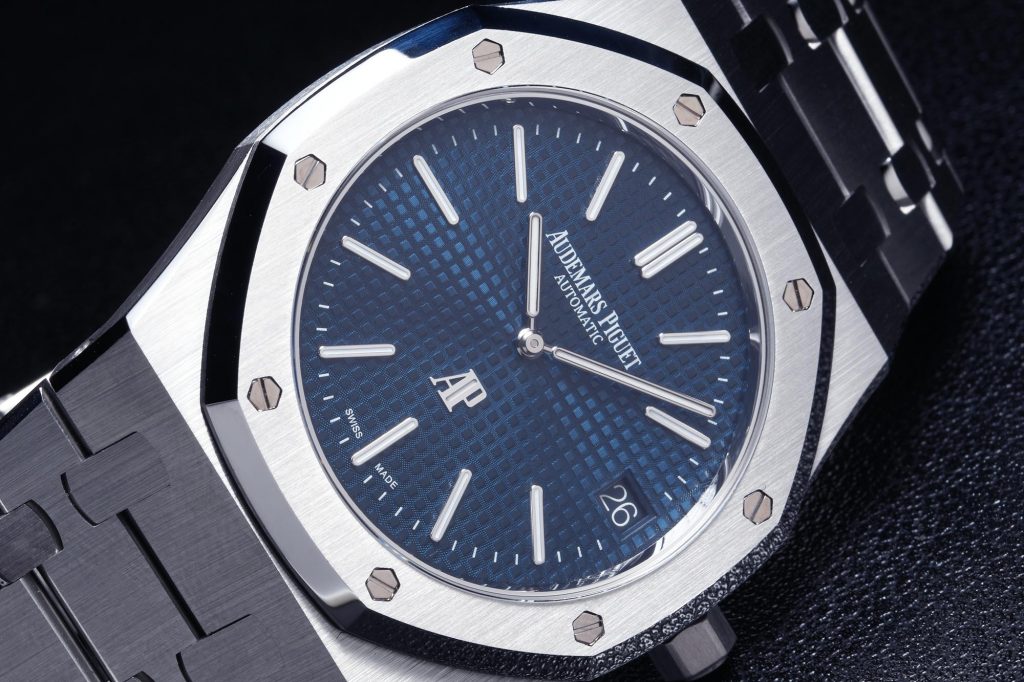 The famed steel model retains its distinctive "Bleu Nuit, Nuage 50" coloured dial, however, to ensure consistency across production, the colour is now achieved through Physical Vapour Deposition – a process that also ensures its longevity.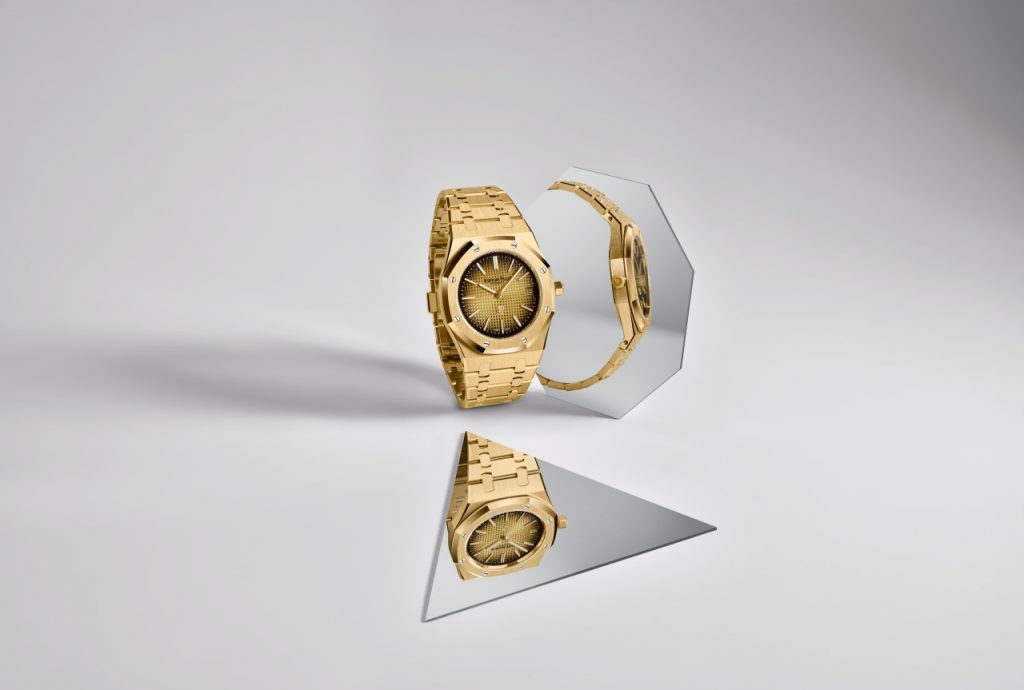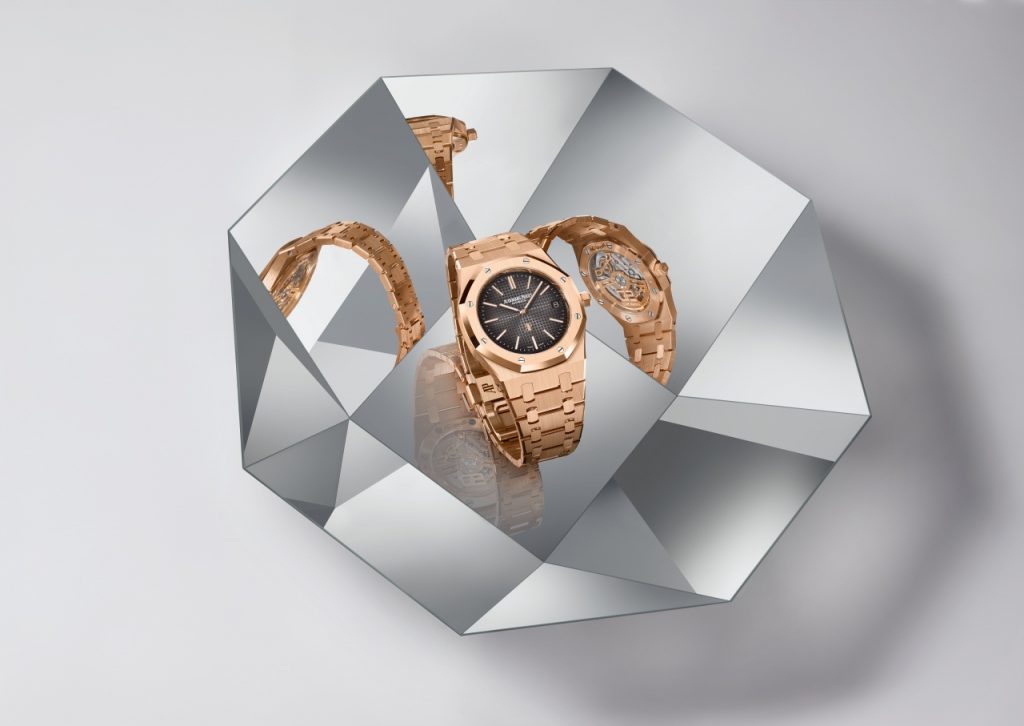 Two gold models are available as part of this new reference – one in 18k pink gold, and another in 18k yellow gold. Both of these models feature fumé-effect dials, with their colours achieved through galvanic baths, and a subsequent spraying of coloured varnish on their periphery. The pink gold model sports a petite tapisserie dial with grey tones, and the yellow gold model features yellow gold tones with the same distinctive patterning.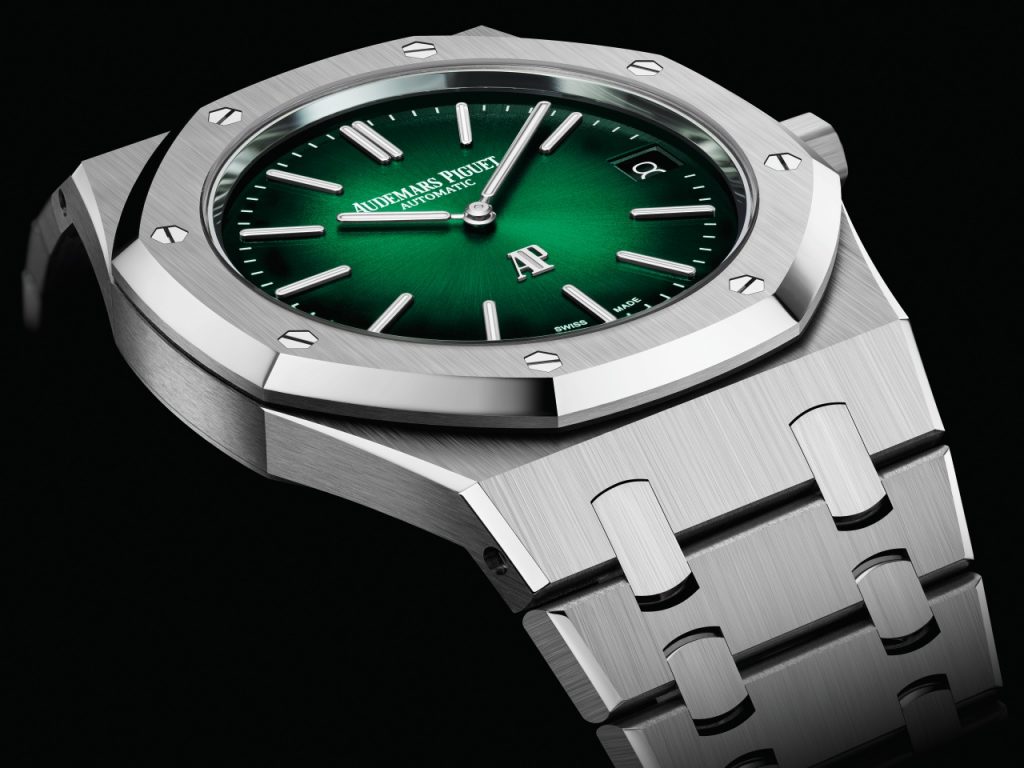 An even more luxurious model is made exclusive to AP Houses around the world – a model executed entirely in 950 platinum. Boasting an incredible heft, the 950 platinum model is distinguished from its steel brother with a sunburst smoked green dial.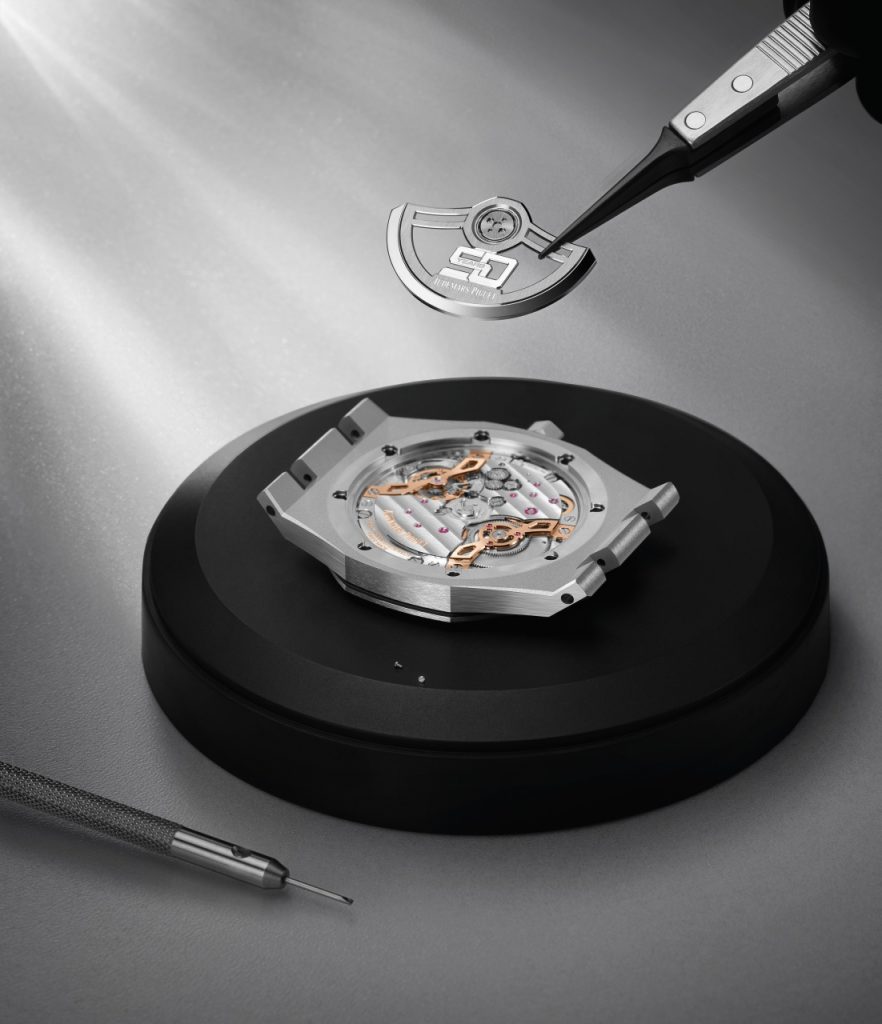 Powering these new models is the latest movement from Audemars Piguet – the Calibre 7121. Replacing the venerable Calibre 2121, the new movement is modernised to include bi-directional winding, an enlarged barrel to aid in isochronism, as well as an extended power reserve of 55 hours. The date is now made quick-set, making it more convenient to set.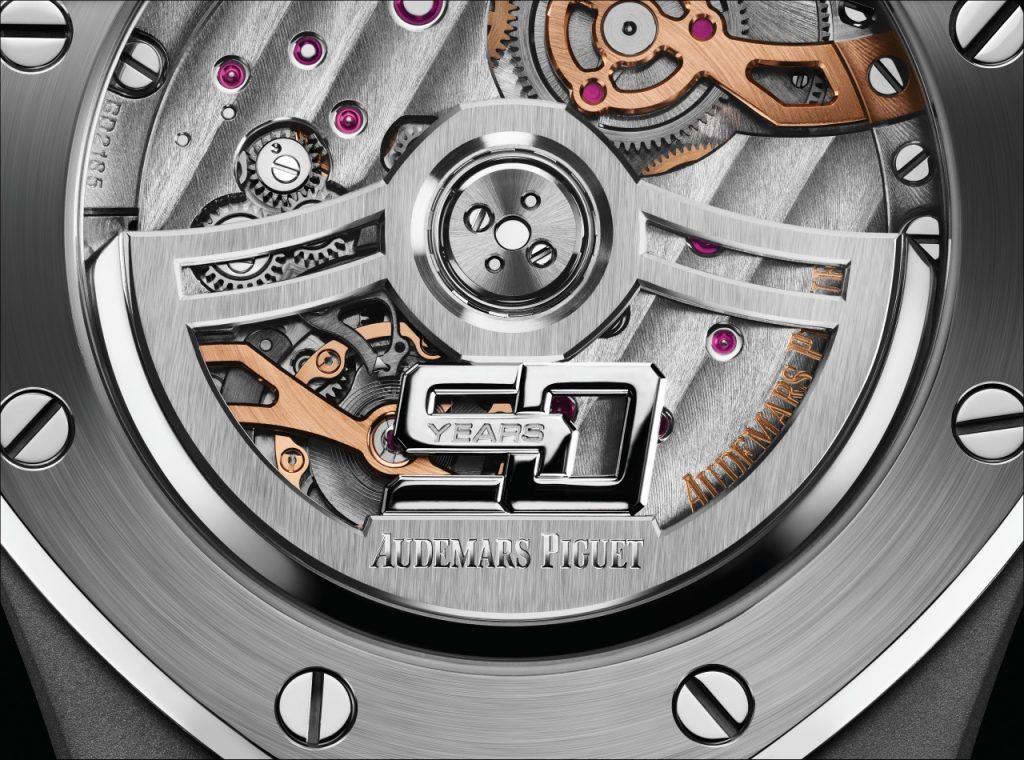 All of this in a package that is 3.2mm thick – barely thicker than its predecessor, enabling the Royal Oak "Jumbo" Extra Thin to retain its precious proportions. The rotor is made from 22 carat gold, and for 2022, the rotors will be of an exclusive 50th anniversary design, and colour matched to the case material – something that is usually reserved for complicated timepieces.
Audemars Piguet has stated that approximately 1000 pieces of the Royal Oak "Jumbo" Extra Thin will be made available in 2022, with around 120 of those made available to Singapore. This relatively high number in comparison with other regions is to encourage new clients to Audemars Piguet, in order to discover the world of Haute Horlogerie with the brand. If this is proven to be true, this should prove to be popular with budding collectors, eager to add the popular sports watch to their stables.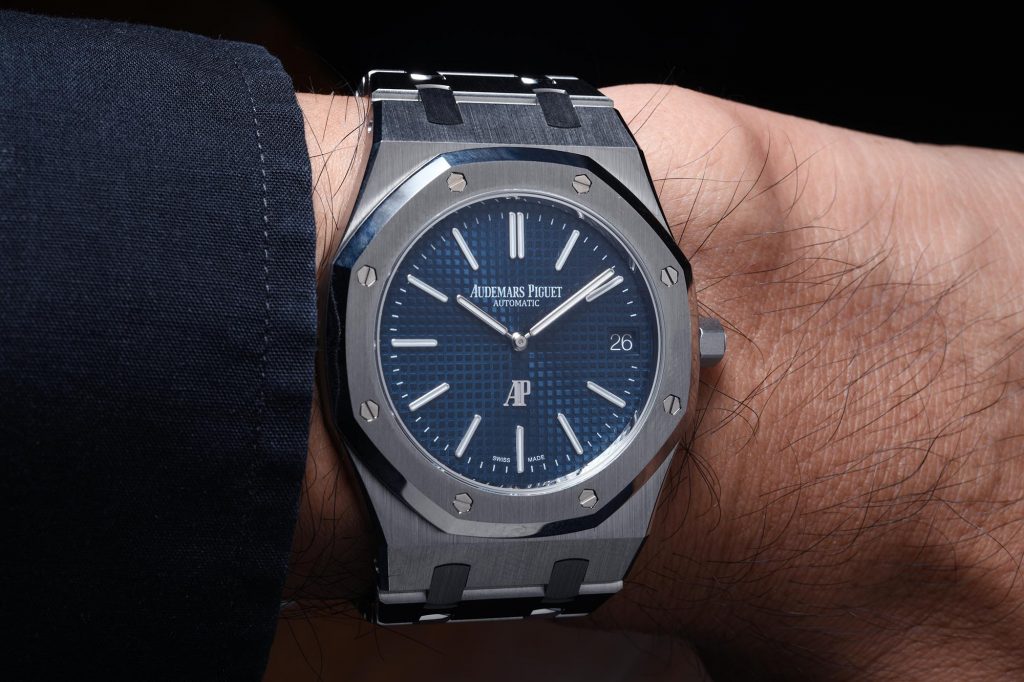 As we said earlier, this watch does not revolutionise the watch world like it did in 1972 – the Royal Oak "Jumbo" Extra Thin now has the more important job of continuing the storied history of the brand, providing a crucial link between past and present. Its exterior carries its signature Gerald Genta design, exhibiting the craftsmanship of the artisans behind its walls in Le Brassus. However, the dial and movement is where the techniques of the modern age show their mettle – where Audemars Piguet fuses techniques past and present. This juxtaposition and display of ancient and modern savoir faire, above all else, is why this watch is, and remains such a desirable objet d'art.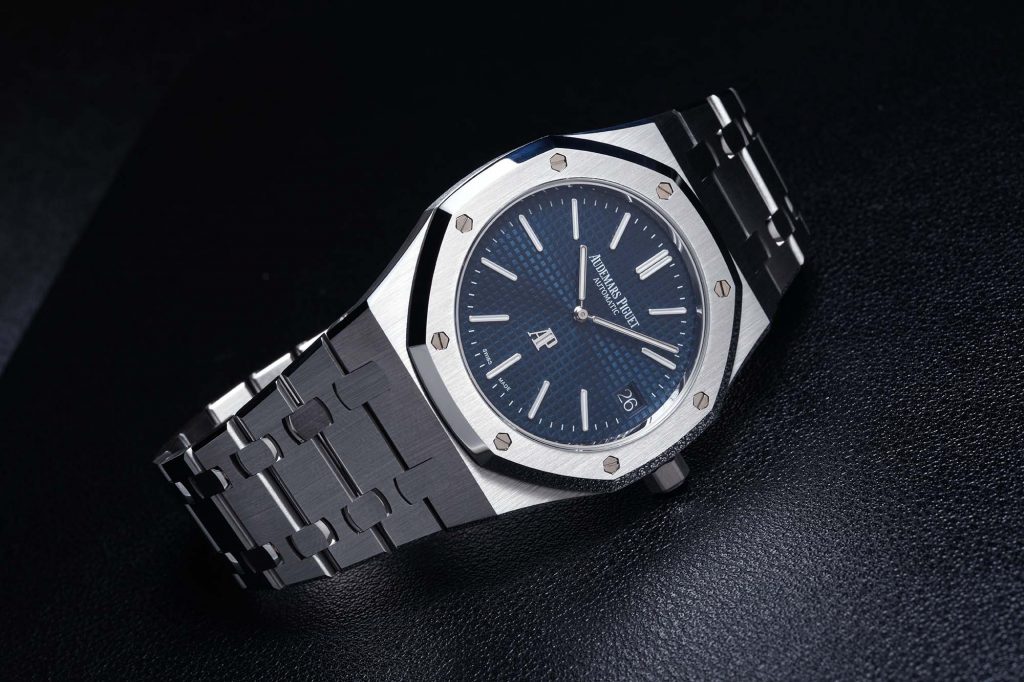 Technical Specifications
Royal Oak "Jumbo" Extra-Thin / 39 mm 
Steel: 16202ST.OO.1240ST.01
18k Pink Gold: 16202OR.OO.1240OR.01
18k Yellow Gold: 16202BA.OO.1240BA.01
950 Platinum: 16202PT.OO.1240PT.01
FUNCTIONS
Hours, minutes and date.
CASE
Stainless steel, 18k Pink Gold, 18k Yellow Gold, 950 Platinum case, glareproofed sapphire crystal and caseback, water-resistant to 50 m.
Case thickness: 8.1 mm
DIAL
"Bleu Nuit, Nuage 50", Smoked grey, Smoked yellow-gold toned dial with "Petite Tapisserie" pattern (Steel, pink gold and yellow gold respectively), Smoked green with sunburst base (platinum only) gold applied hour-markers and Royal Oak hands with luminescent coating
BRACELET
Stainless steel, 18k Pink Gold, 18k Yellow Gold, 950 Platinum bracelet with AP folding clasp.
MOVEMENT SPECIFICATION
Selfwinding Calibre 7121
Total diameter: 29.6mm (12 ¾ lignes)
Total thickness: 3.2mm
Number of jewels: 33
Number of parts: 268
Minimum power reserve guaranteed: 55h
Frequency of balance wheel: 4Hz (28,800 vibrations/hour)