A look at the double digit date complication of the K1 movement.
When I look at new watches as they are released, I consider them through the prism of their suitability for everyday use. Almost every brand has some version of a watch following this idea, where the specifications invariably include having an easy to wear case size, a date complication and perhaps good water resistance in case things get rough.
The vast majority of watches that meet this criteria that you see available, even many of the entry level offerings from big brands however, have an Achilles heel, and that is an off-the-shelf movement usually made by ETA or Selitta if Swiss, or Miyota and Seiko if Japanese. Now, I'm not knocking the watches that run these movements, I have a few myself. However, respect for a watch company must be given when they take on the difficult task of making an in-house movement, because that really is what "watchmaking" is.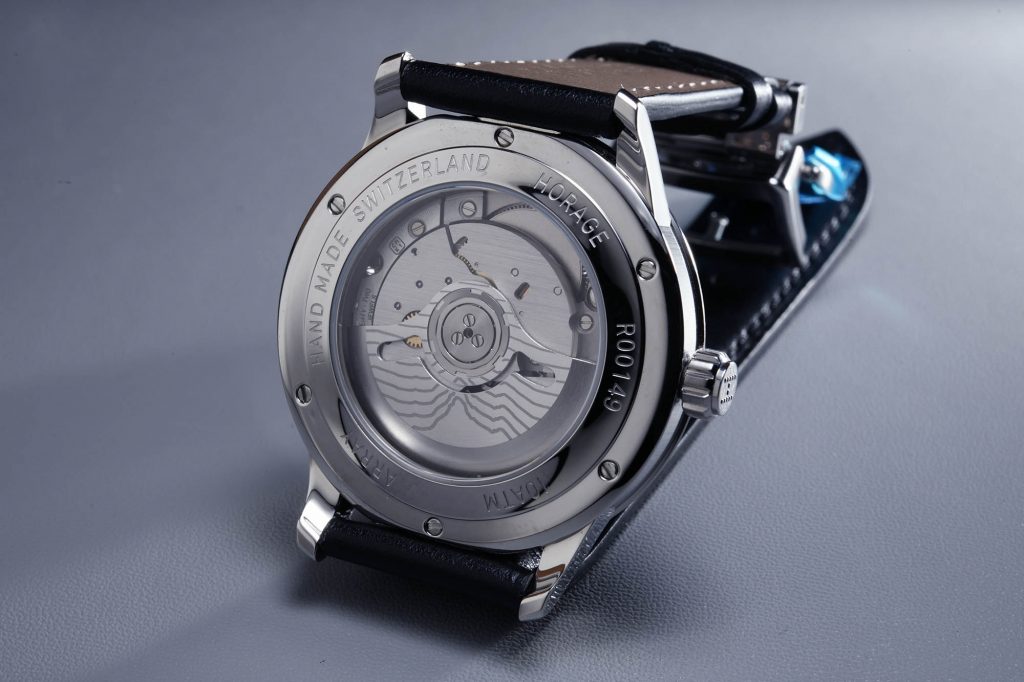 Well, how about an everyday watch with a Swiss made in-house movement that showcases a unique aspect of its abilities through design?
Enter the Array.
One of the more uncommon features that isn't really really talked about is the double digit big date complication seen on the Horage in-house K1 movement that the Array has.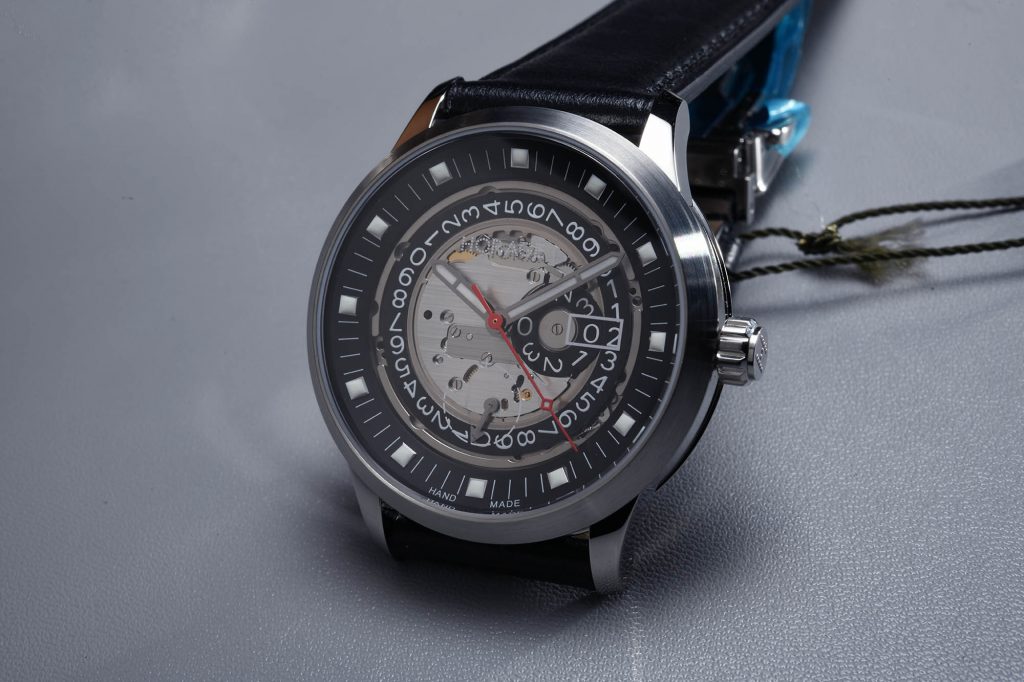 That is, in my opinion, a pity since it isn't immediately obvious when looking at a Horage watch that the date complication is actually pretty unique. Whereas most watches with date complications have all their date numerals arranged in a ring from 1 to 31, the Array, courtesy of the K1 movement, makes up the current date with two wheels. A small one at the 3 o'clock position for 10's digits (0,1 and 2 and 3) and another larger one for the 1's (0 to 9), reproduced three times consecutively in a circle. It is because of this arrangement that the date as it appears can be bigger and easier to read than the more common way, which necessarily has to make the all the numerals smaller in order to fit into the circle of the case.
Think of the Outsized date in a Lange 1 for example, which uses a similar principle with their big date. That uses a 1's wheel that is reproduced once only, which means the Big Date can be bigger than the one on the Array.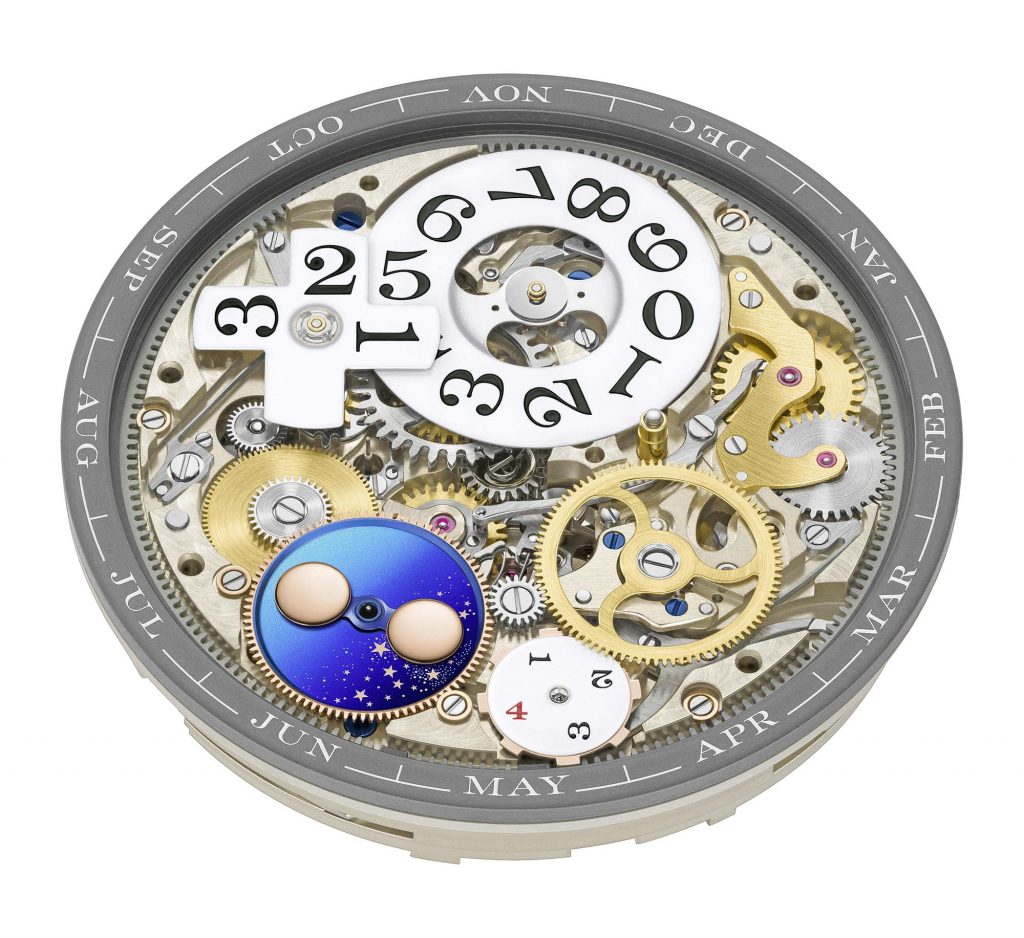 This comparison of course does not diminish the Array in any way, since its arrangement is also very rare itself, and the best thing about this particular watch in the Horage collection is how it uses design to showcase it. The Array shows off this aspect of the K1 movement then by not having a dial at all to showcase the date works in all its glory.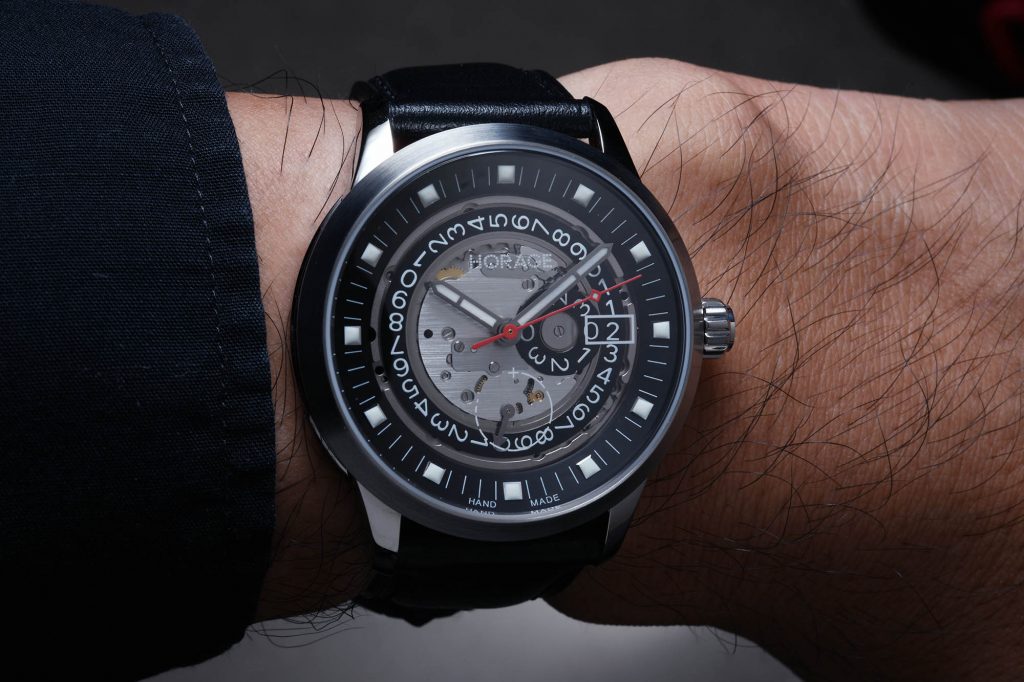 The result is a watch that has a playful feel with all the numerals of the date complication visible, giving it a quasi instrument look that seems exaggerated in some way by outsized elements such as the square lume plots that mark the hours in the chapter ring. It's also a nice nod to the Horage logo as well, since the square is an element in its composition.
How do you know what date it is then? Well you look at the little rectangular box drawn under the sapphire crystal which is the point where the two wheels connect at the 3 o'clock position. Nice.
It's here that you get to see something interesting that happens at midnight, and that is the date wheels jumping instantaneously – all the better to make accurate determinations of what you will be doing in the morning more convenient. (See video below)
The Array comes in a range of monochromatic colour options – black, grey and white themed with each having a bold contrasting seconds hand – (correspondingly) red, yellow and blue, and different strap types to choose from. The case size is an agreeable 39mm with a svelte 10.5mm thickness, which makes the Array the kind of watch that you can slip on and forget until you need the time, which is probably the best kind of everyday watch.
Add to the fact that it is priced at an unexpectedly reasonable 2,300 CHF (shipping and duties included) and you'd be forgiven for not wondering how any of this could be real, especially when it has an in-house movement, with an interesting date complication to boot as well.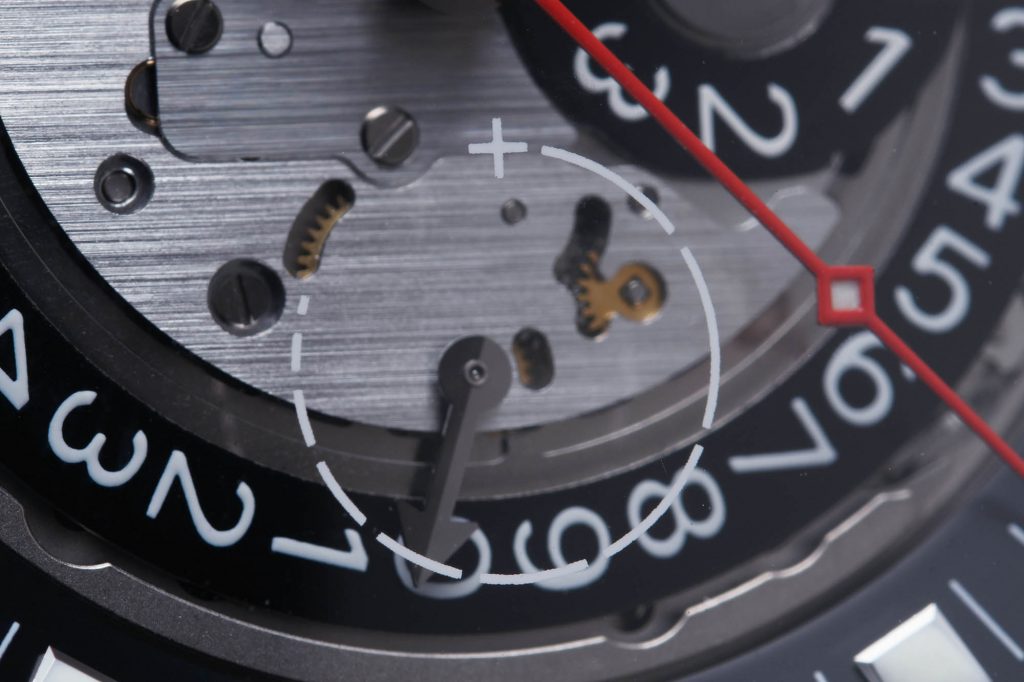 I haven't even got to the other, almost hidden complication on the dial – a power reserve indicator at 6 o'clock that uses a drawn circle on the underside of the sapphire crystal to denote its area of influence. You forget that it's there most of the time since it blends into the movement behind it, but when you need it you know where to look for it.
So really, it bears repeating since it will take some time for most people to get it – Horage is one of the few brands in the vast sea of brands of the watch industry that can proudly claim to have produced, to date, three in-house movements. Not many people know that and my intention for this article is to highlight this important fact for my fellow watch enthusiasts. More than that though, I also want you, the reader, to realise that Horage is a brand that makes in-house movements yes, but with a touch more intelligence and depth than you might initially expect. There is no better evidence of this than the Array, or the many other watches in the Horage portfolio.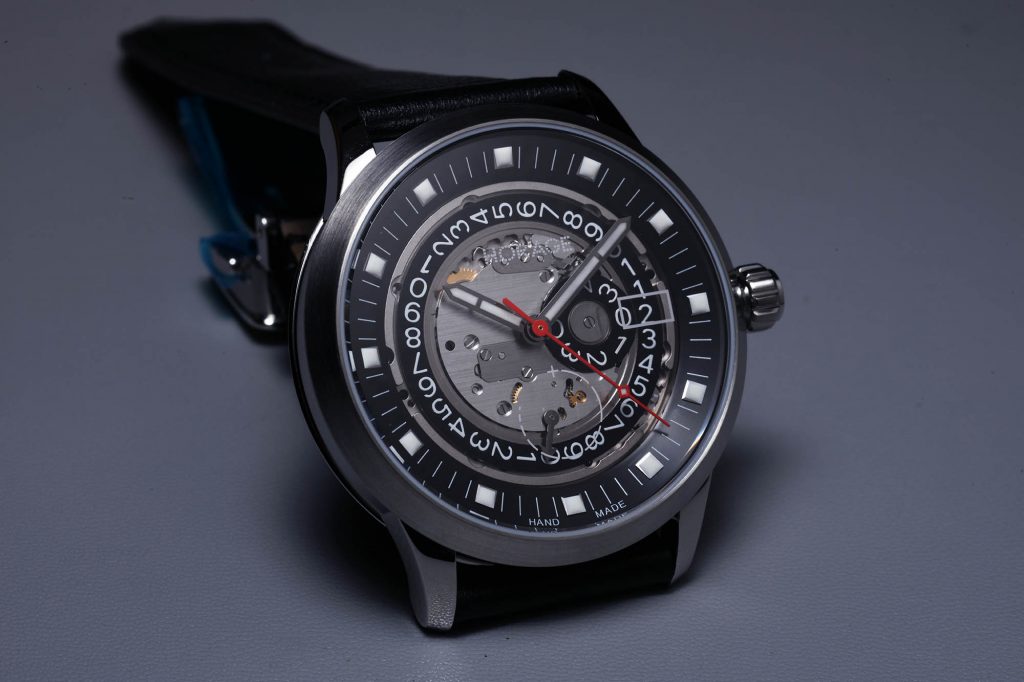 So. Aren't you sick and tired of your ETA and Sellita based powered watches already? Don't you already have too many of them? Time to give the Array (Link Here), and perhaps the other watches in the Horage collection a try, you owe it to yourself to check them out.
Technical Specifications:
Case: 316L Stainless Steel
Dimensions: Case 39mm, Lug to lug 46.1mm, Lug width 20mm
Functions: Centre three hands, big date, 65 hour power reserve indicator
Dial: Semi-Skeletonized Grey, Applied indexes, Swiss Super LumiNova®
Hands: Diamond Cut and filled with Swiss Super LumiNova®
Crystal: Sapphire with 5 layer anti-reflection
Case Back: Sapphire crystal
Crown: Stainless steel
Water resistance: 100m
Movement: K1 automatic, 65h power reserve, silicon escapement
Rotor: Matterhorn laser etched on tungsten
Strap: Grey calf leather and Yellow/black NATO strap
Buckle: Single fold , Stainless steel deployant buckle