From one of the top five chronometer watch producing brands in the world, Mido introduces the Multifort Chronometer One, featuring the brand new Caliber 80 Si, a COSC-certified automatic calibre that also features an 80-hour power reserve and a silicon balance spring.
A Silicon Equipped Mido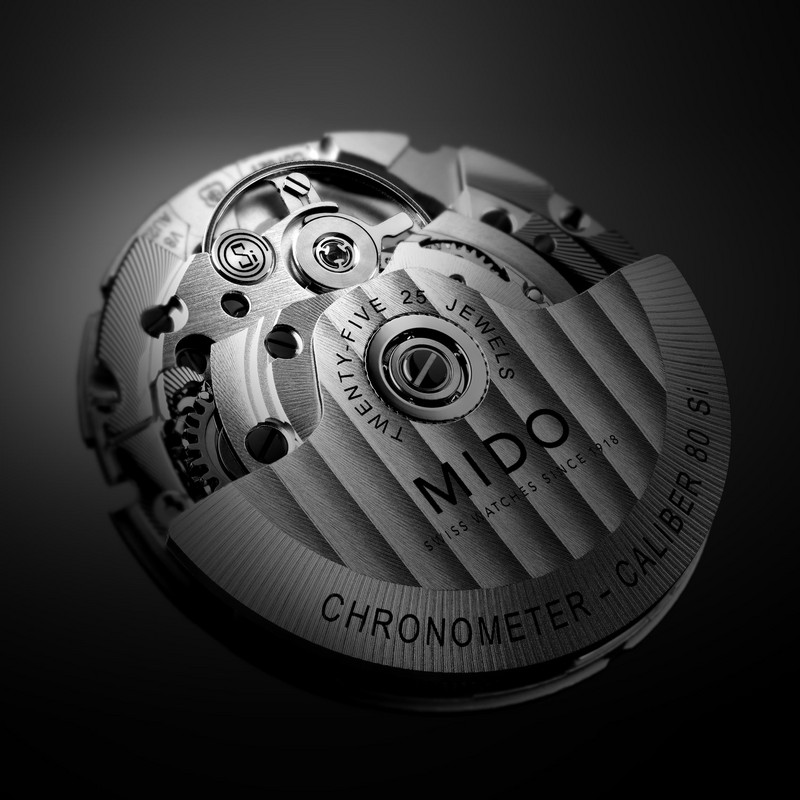 The Multifort Chronometer One continues the tradition of Mido and the brand's penchant for making Chronometer watches (more on that later), but adds something new, in that it is the first Mido watch to use the new Caliber 80 Si. Based on the brand's Caliber 80 (see video below for an interesting look at the movement manufacturing process), whose headline feature was its industry defying 80 hour power reserve, this new calibre adds an important element whose clue is in the name. "Si" is the chemical symbol for silicon, and it is a material that the balance spring of this new caliber is made.
What are the advantages of silicon? For one, it is extremely smooth and hard, requiring no lubrication. This helps in so many ways since friction is the bane of watches. With a material such as silicon that is able to resist friction effectively, there is less wear and tear on the movement, allowing it to become more efficient overall in its operation. Also, silicon possess another important property that is useful in our modern world as it is anti-magnetic. This means that it is unaffected by the increasingly common and pervasive magnetic fields from the electronics that surround us in our daily lives, allowing accuracy of timekeeping to be preserved.
Lastly from a manufacturing perspective, a silicon balance spring can be made very precisely, using a high-tech process known as DRIE (Deep Reactive Ion Etching). This ensures that it can be made perfectly within specification, and it works with repeatable consistent results.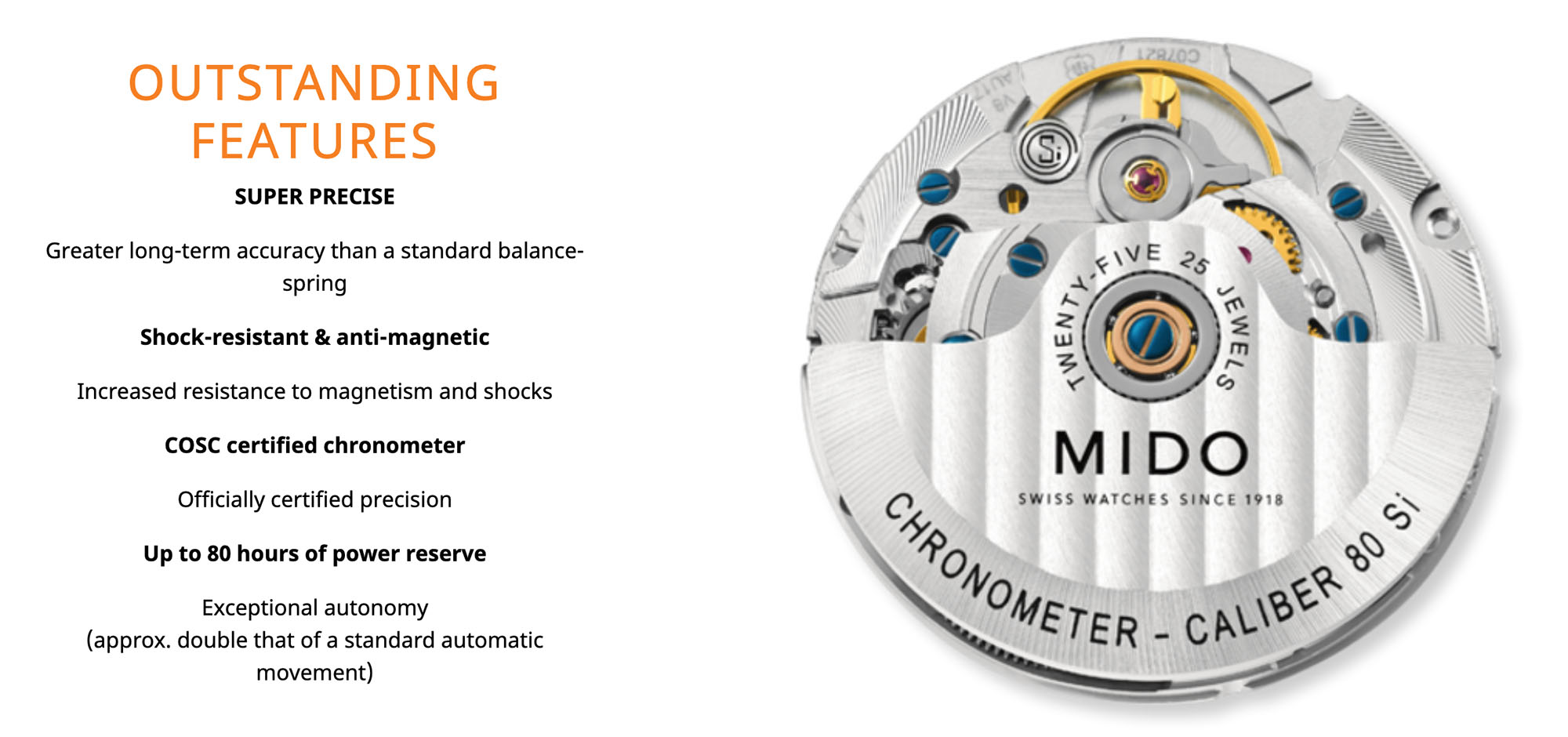 What results overall in the use of this new movement are real advantages to the performance of the watch that cannot be denied. With improved timekeeping, shock resistance, and imperviousness to magnetism coming to the more affordable segment of watches of which Mido is a part, it stands to reason that these benefits will accrue to more people. Certainly these watches stand apart from others with "regular" non-silicon balance spring equipped movements, and might be the differentiating factor for those who are looking to buy a watch with such advantages.
Multifaceted Multifort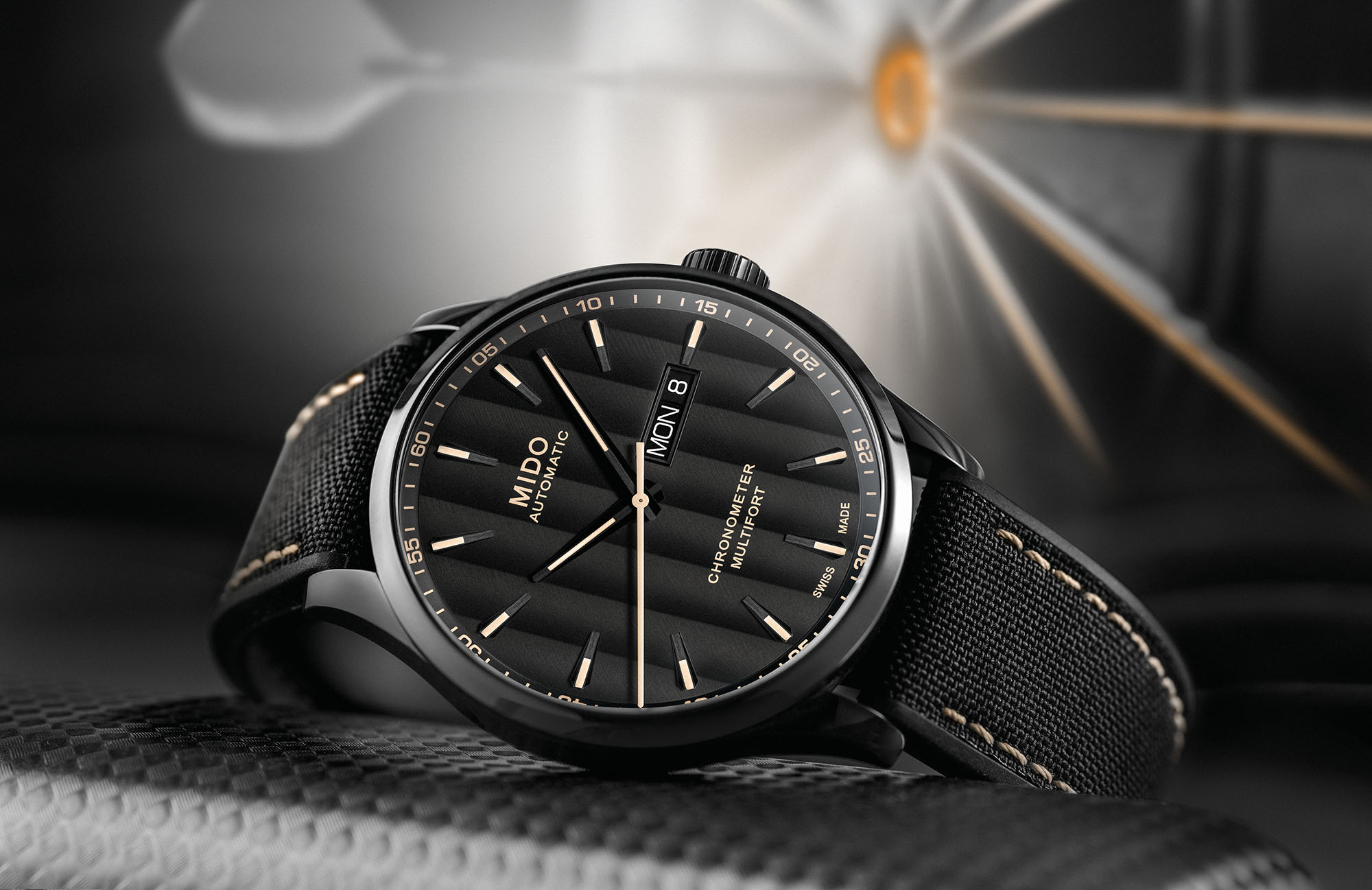 In terms of the dial design of the Chronometer One, all of them have what the brand calls as "Geneva Stripes" that run vertically down the dial. As far as I can tell, this naming scheme is accurate, as the stripes do shimmer as the watch is seen from different angles, just like they do when you see Geneva stripes on movements.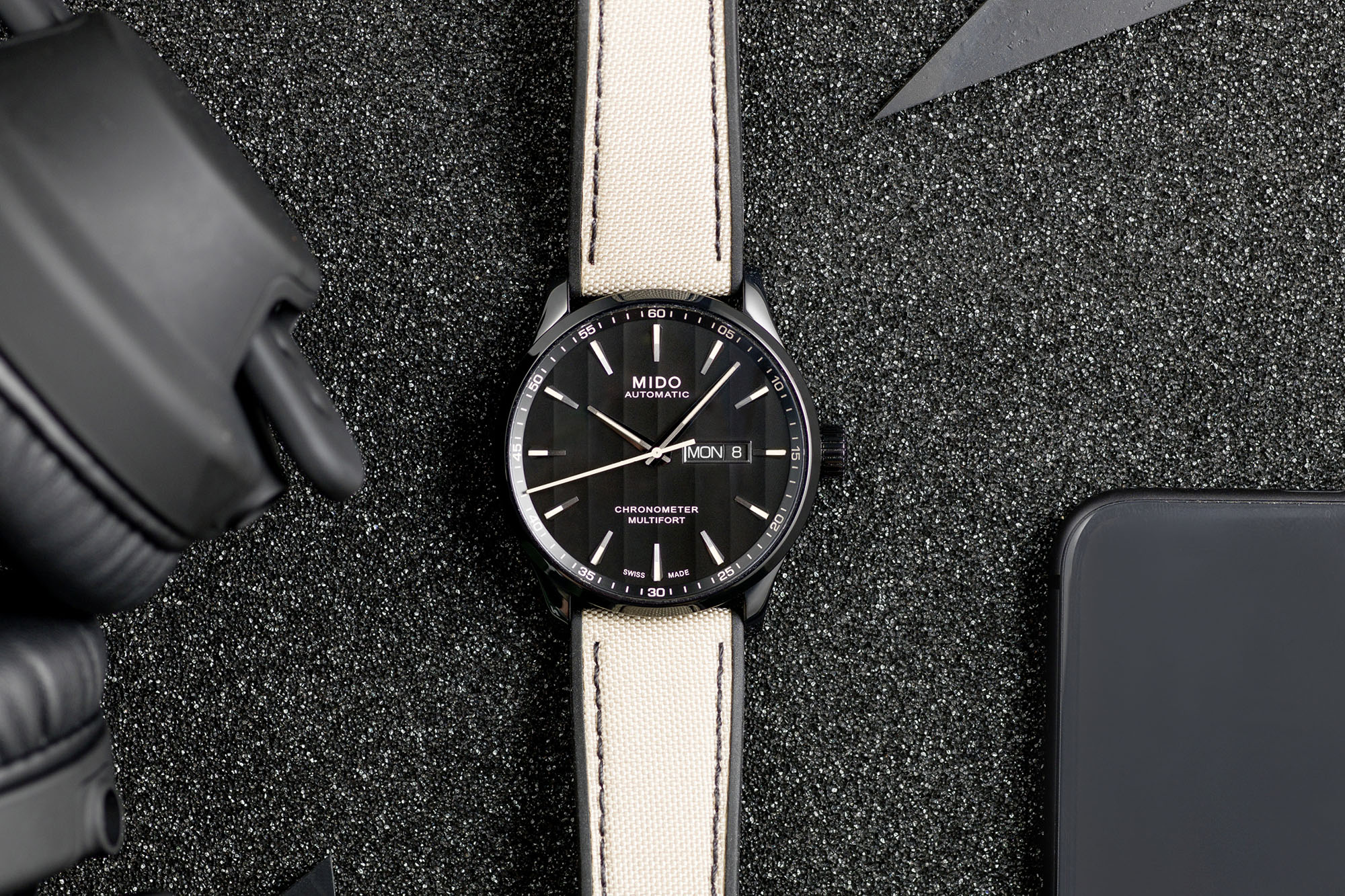 The Chronometer One also thankfully comes in a couple of variations that allow for a different tastes to be catered for, all the better to have these good base ingredients dressed in a manner that is suitable for your life.  The prettiest version of the watch has to be the one with a case in black PVD which comes in two variations of rubber strap, with the insert being either black with beige stitching or beige with black stitching. Matching this colour scheme are the beige Super-LumiNova® hands that allow easy reading of the time in the dark.
While these are the sportiest variations, there are others that are more conservative and austere, such as this one with a white dial and a black leather strap (shown below), and its slightly warmer toned twin, with a white dial, rose gold PVD case and brown leather strap.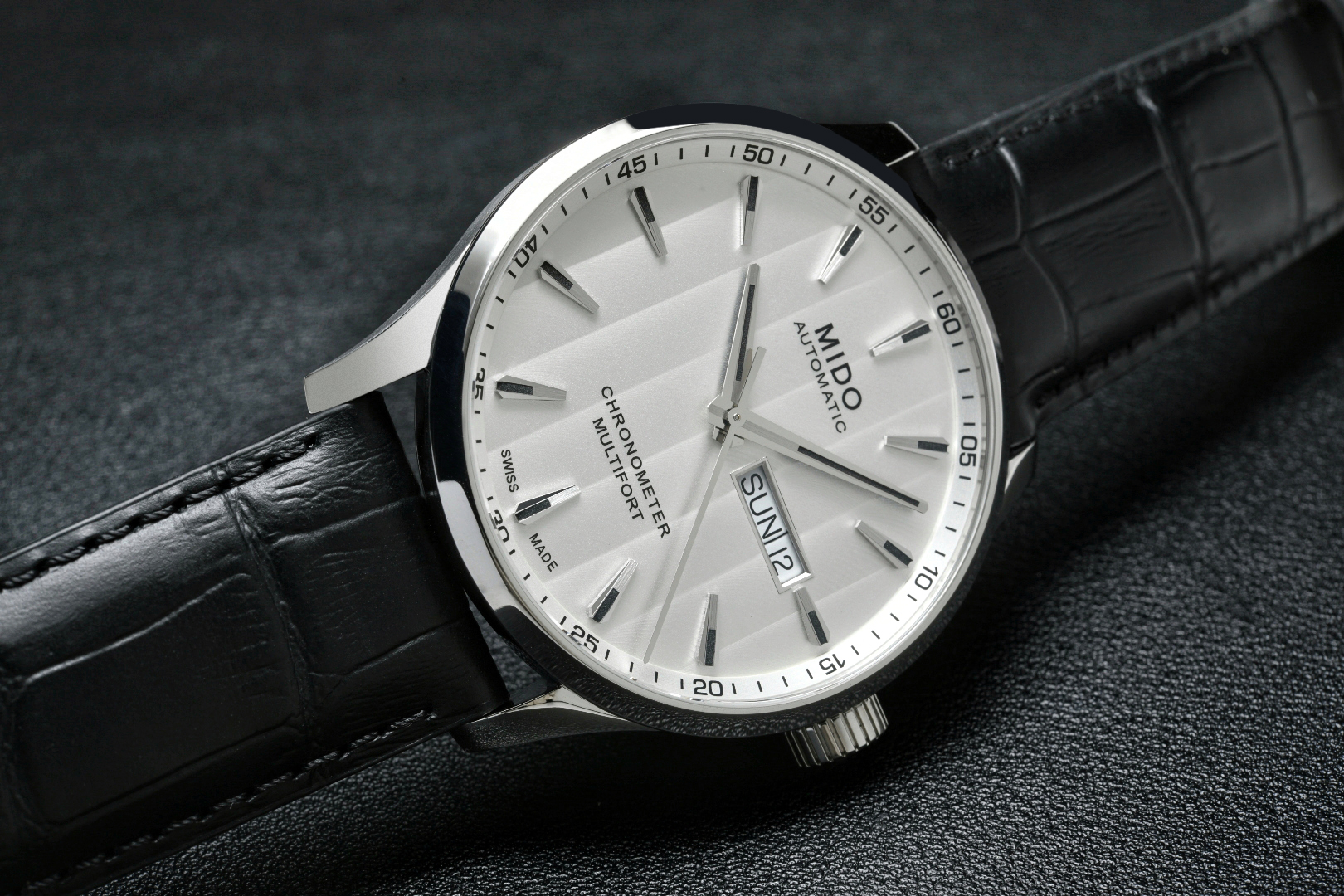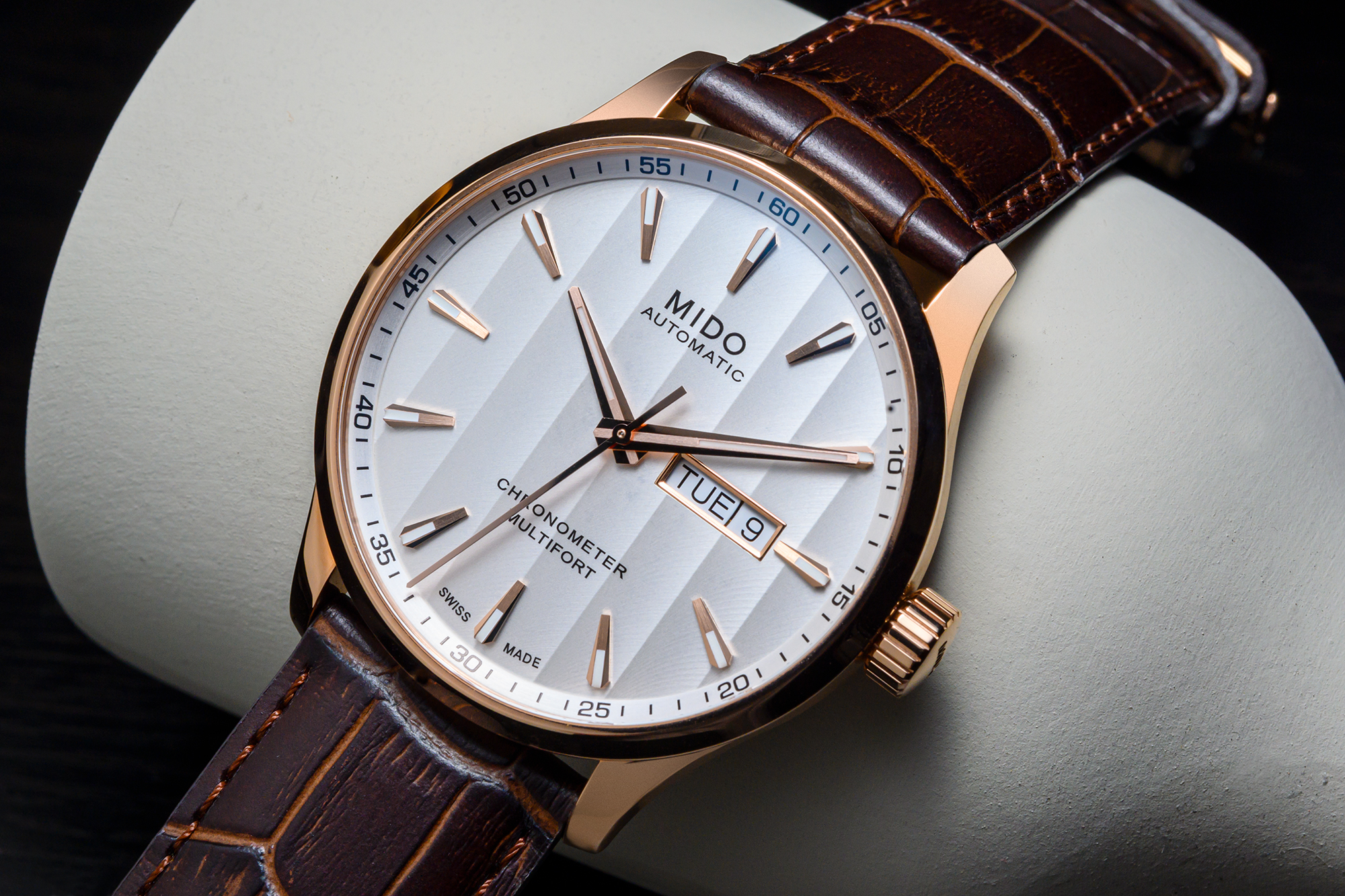 Then there are three variations on bracelet, one with a black dial and another in white, and lastly, one more in two toned retro glory (stainless steel and rose gold PVD) with white dial as shown below. These have oyster-style bracelets that match with the Multifort aesthetic.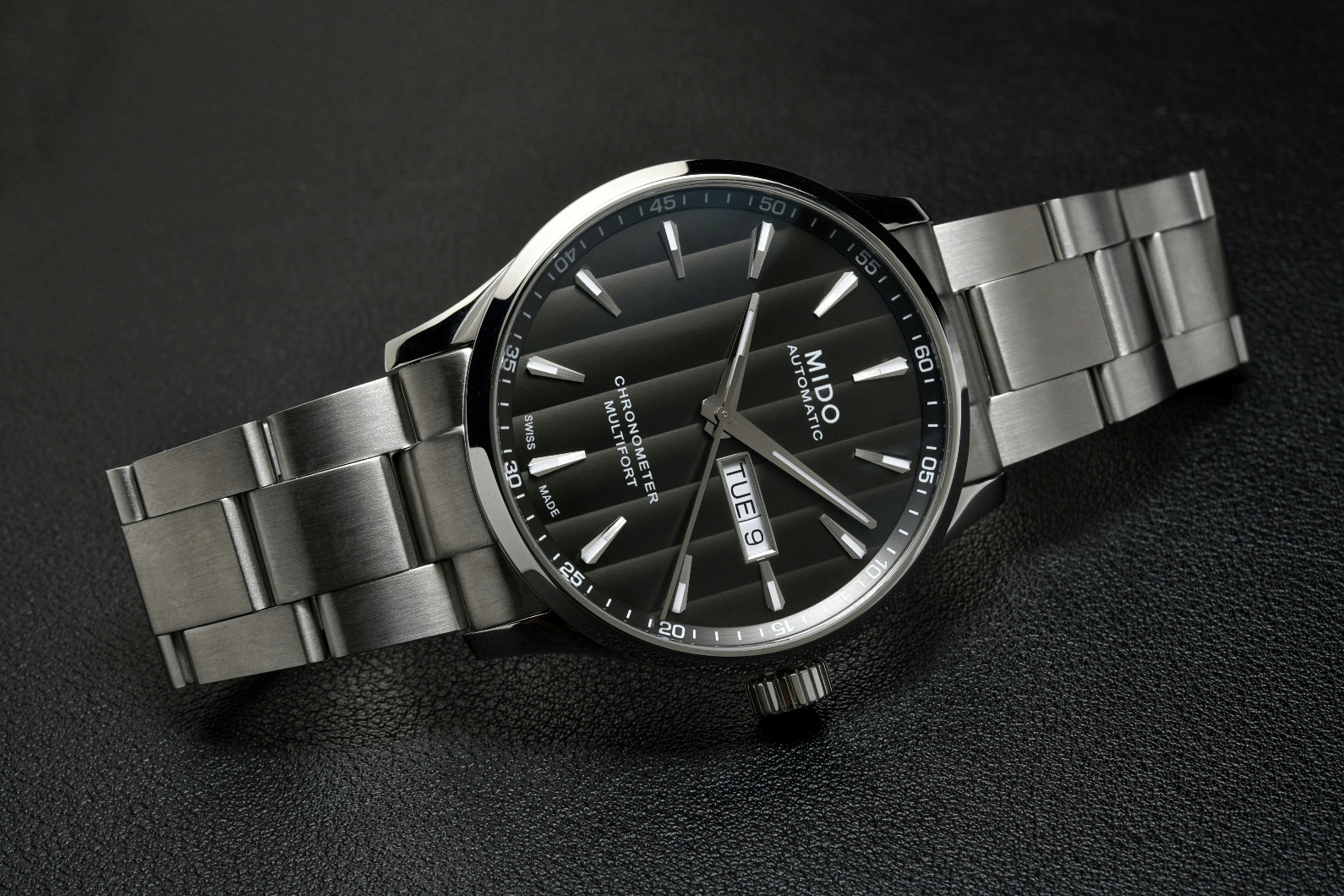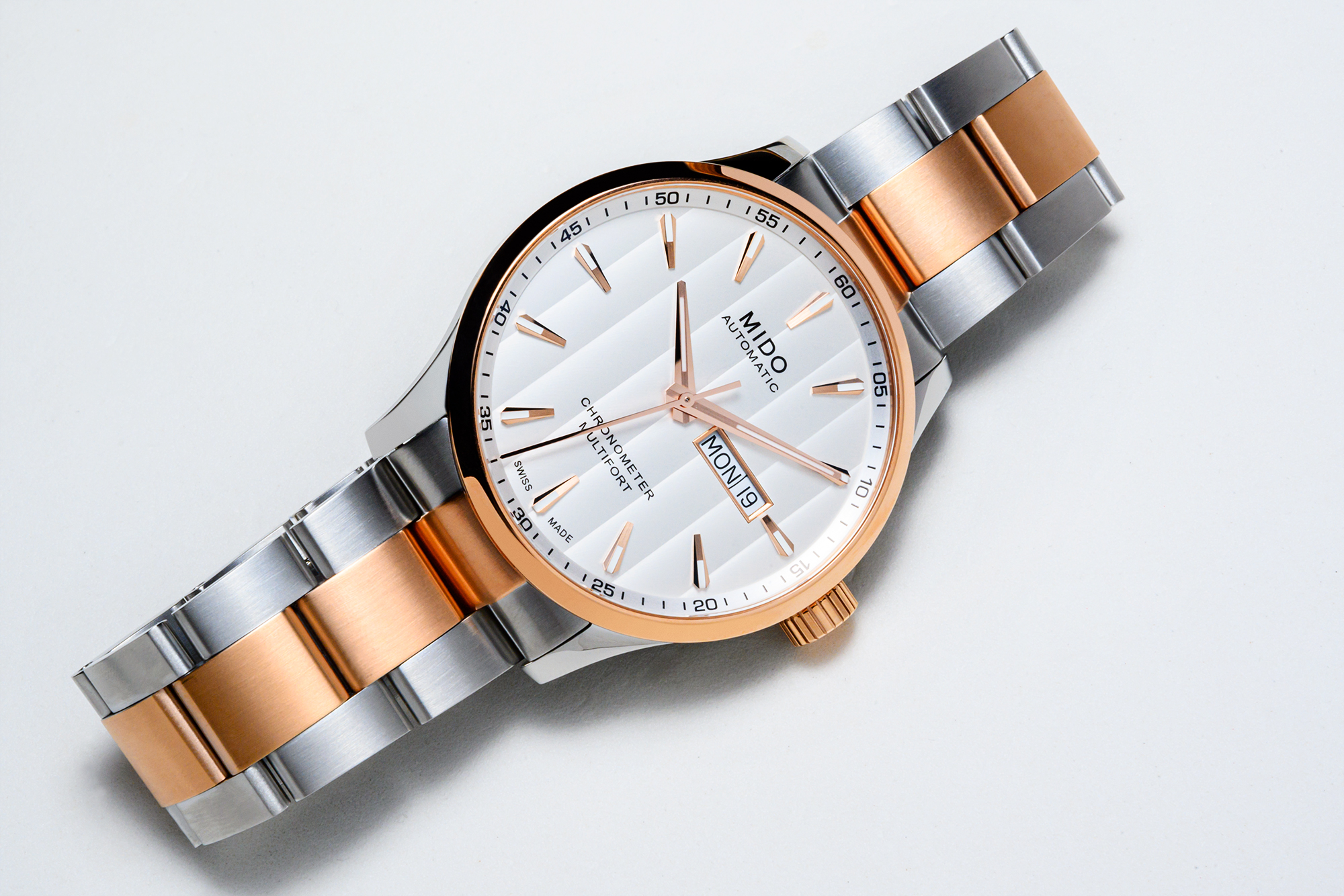 On the wrist, the 42mm wide case of the Chronometer One has a good presence, with the thin bezel making the dial look expansive thus enabling easy reading of the time. That along with a relatively thin case makes for a watch that easily fits under a shirt cuff, yet be large enough to look good with casual attire.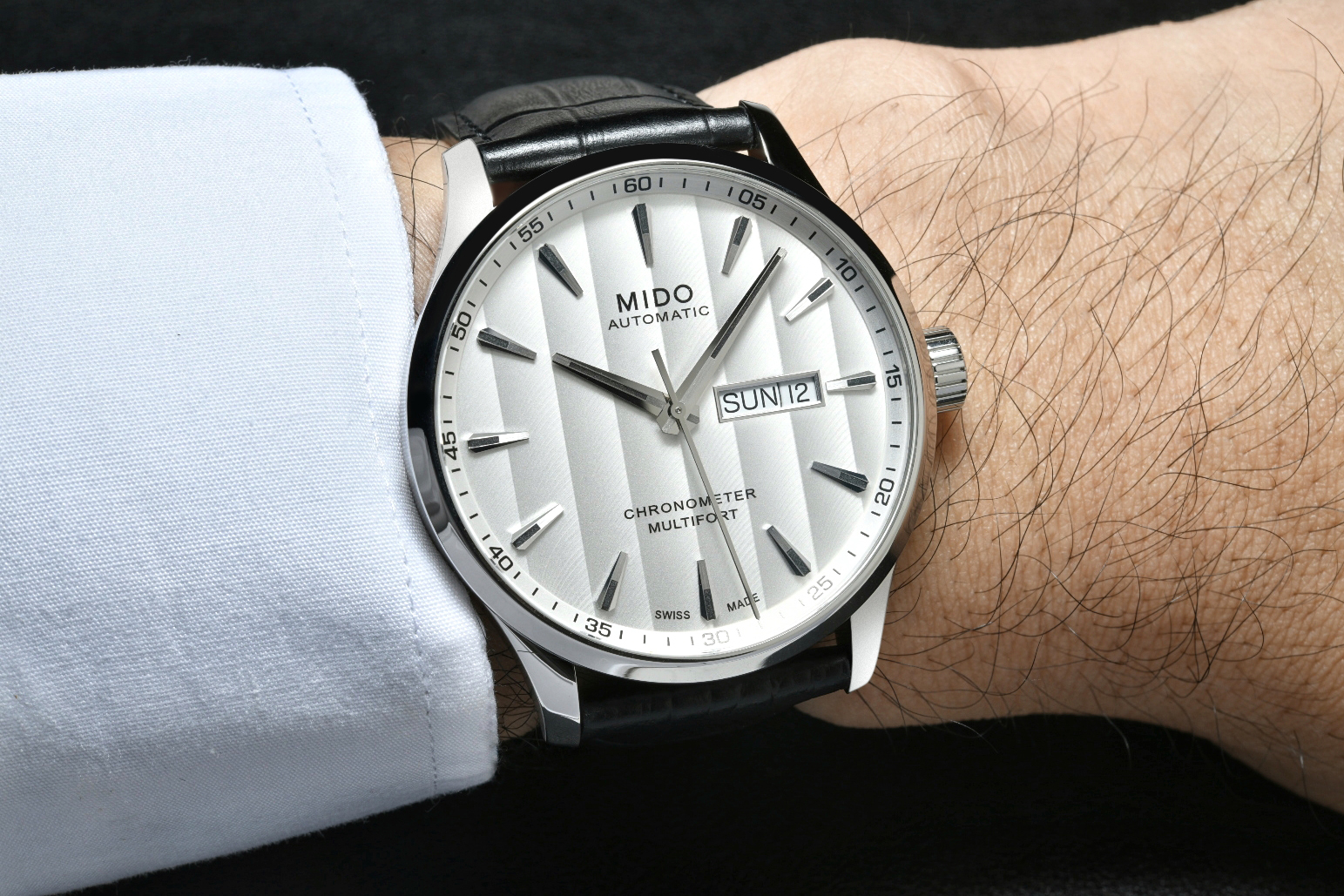 The versatility of the Chronometer One is extended further, with a set of features that combine to make it perfect as an everyday watch. Courtesy of the Caliber 80 Si movement, we have an 80 hour power reserve, a feature that is only useful once you experience the joy of being able to put down and pick up your watch at will (within the 80 hour or 3 and a third day limit) and have it continue to run without needing to adjust the time. It's important to mention how liberating this is, as even one seasoned watch writer I knew (although not a very good one) was unable to see this as a benefit without having it explained to him properly at length.
That movement of course, comes with the aforementioned advantages of silicon plus a day and date complication, ever useful and demanded by non-purists of watches because it just so so practical to have this information always available on the wrist.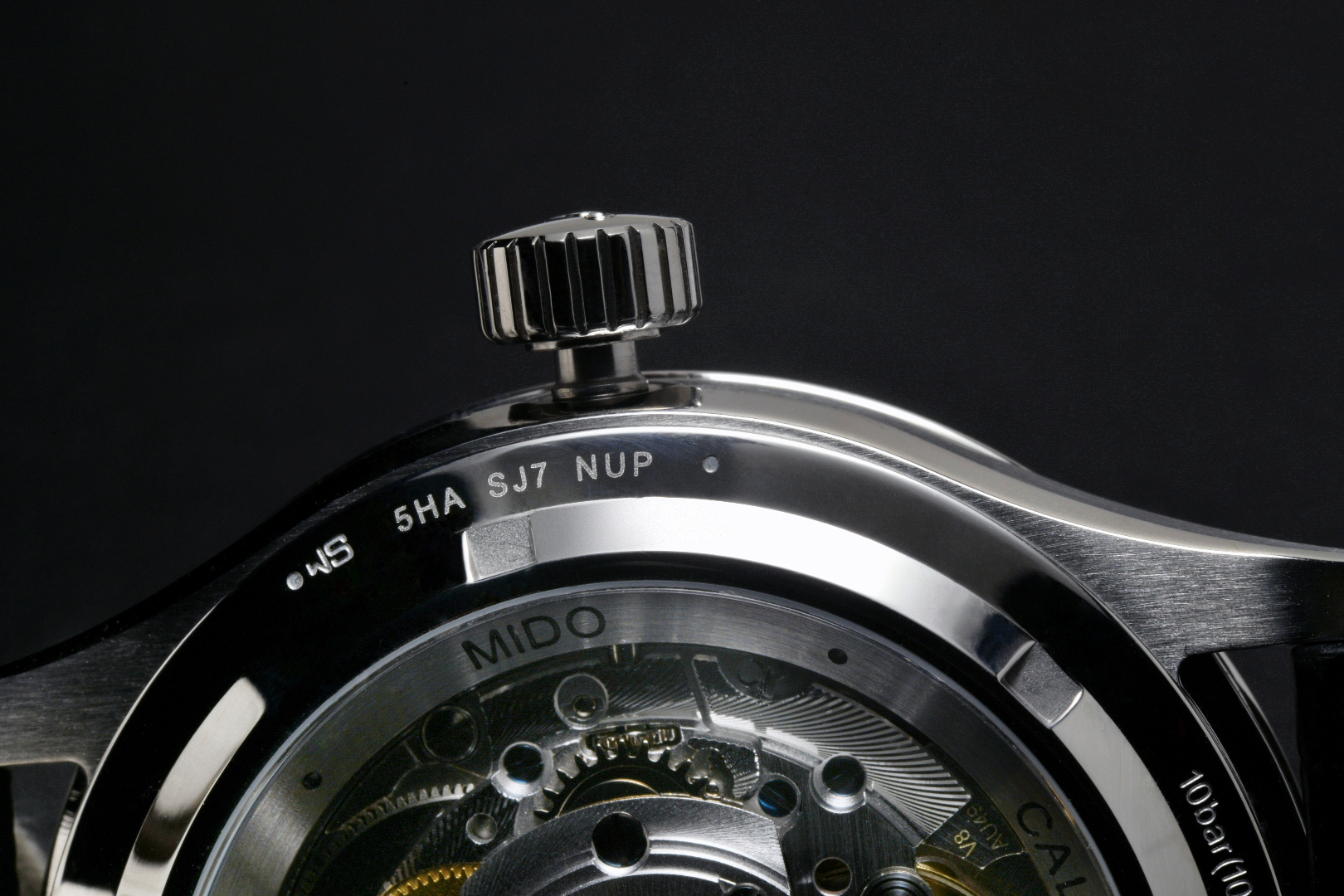 Rounding up the features of the Chronometer One – the presence of a screw down crown and 100 metre water resistance. While not matching up to the diving oriented Ocean Star collection that have screw down crowns and an appropriate water resistance level of at least 200 metres, it does match up to some models in the All Dial collection. However, the Chronometer One, which is part of the Multifort collection, and inspired by the Sydney Harbour Bridge, betters almost all the watches in the rest of Mido's lineup, including the Baronocelli, Commander and Belluna collections. This is understandable since they are more dress oriented, having not more than 50 metres of water resistance and non screw down crowns.
What this means is that the Multifort Chronometer One occupies that ideal middle ground, being an everyday watch that can take a little bit of rough handling in its stride, with the occasional shower or dunking underwater, while being able to be somewhat dressy if the occasion demands it. How perfect is that?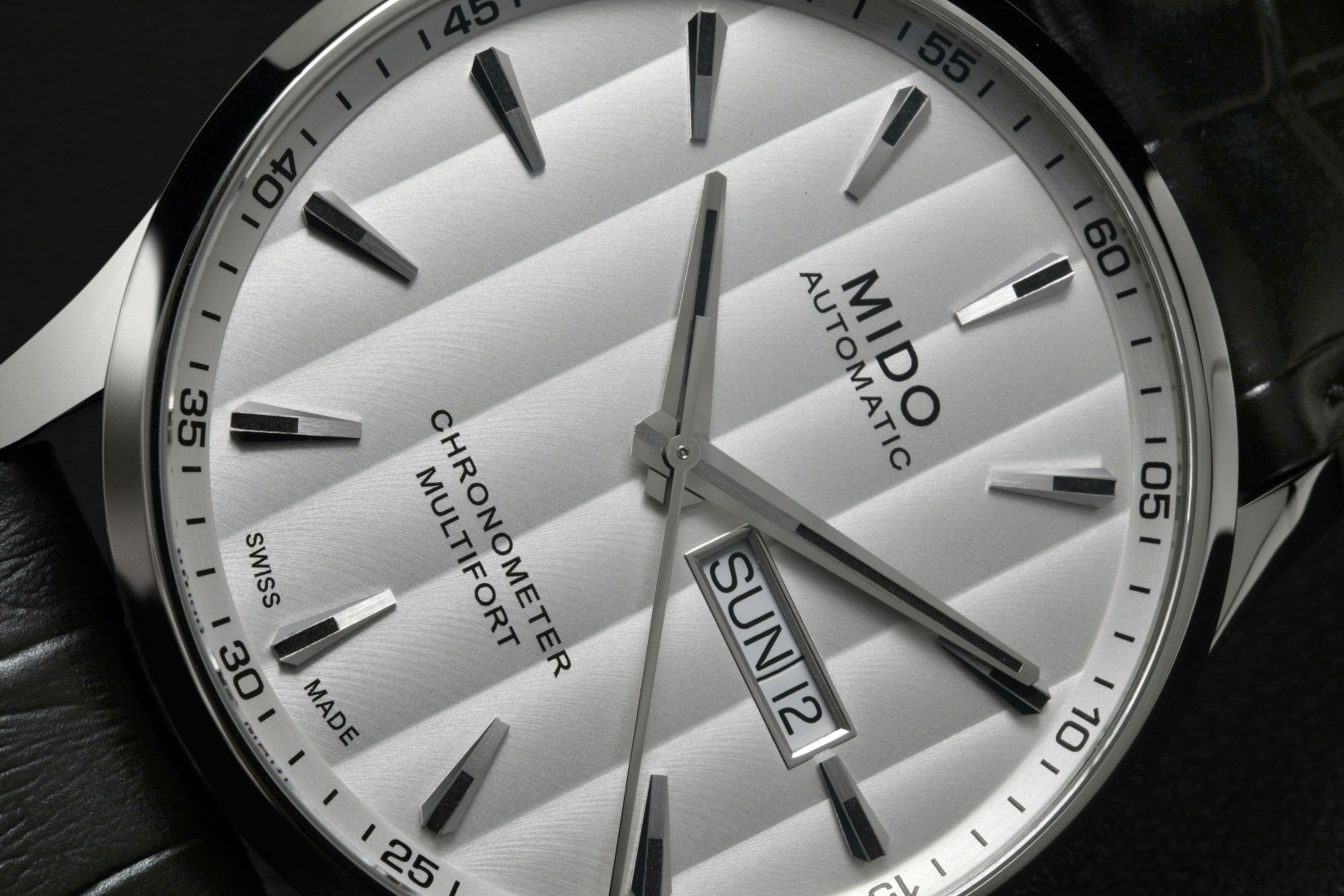 What else? Well I like the long seconds hand that reaches to the edge of the dial, as it practically asks you to test its chronometer rated accuracy. Combine that with a view of the movement through the sapphire case-back, and you get something that you can basically wear and want for nothing more, all for a price of under $2000 USD. That being said, one minor criticism I have is that it is not really possible to see the silicon balance spring as it is quite small compared to the non-silicon one in the Caliber 80. However, this is understandable, since silicon is a harder material and doesn't need to be as big to do its job properly.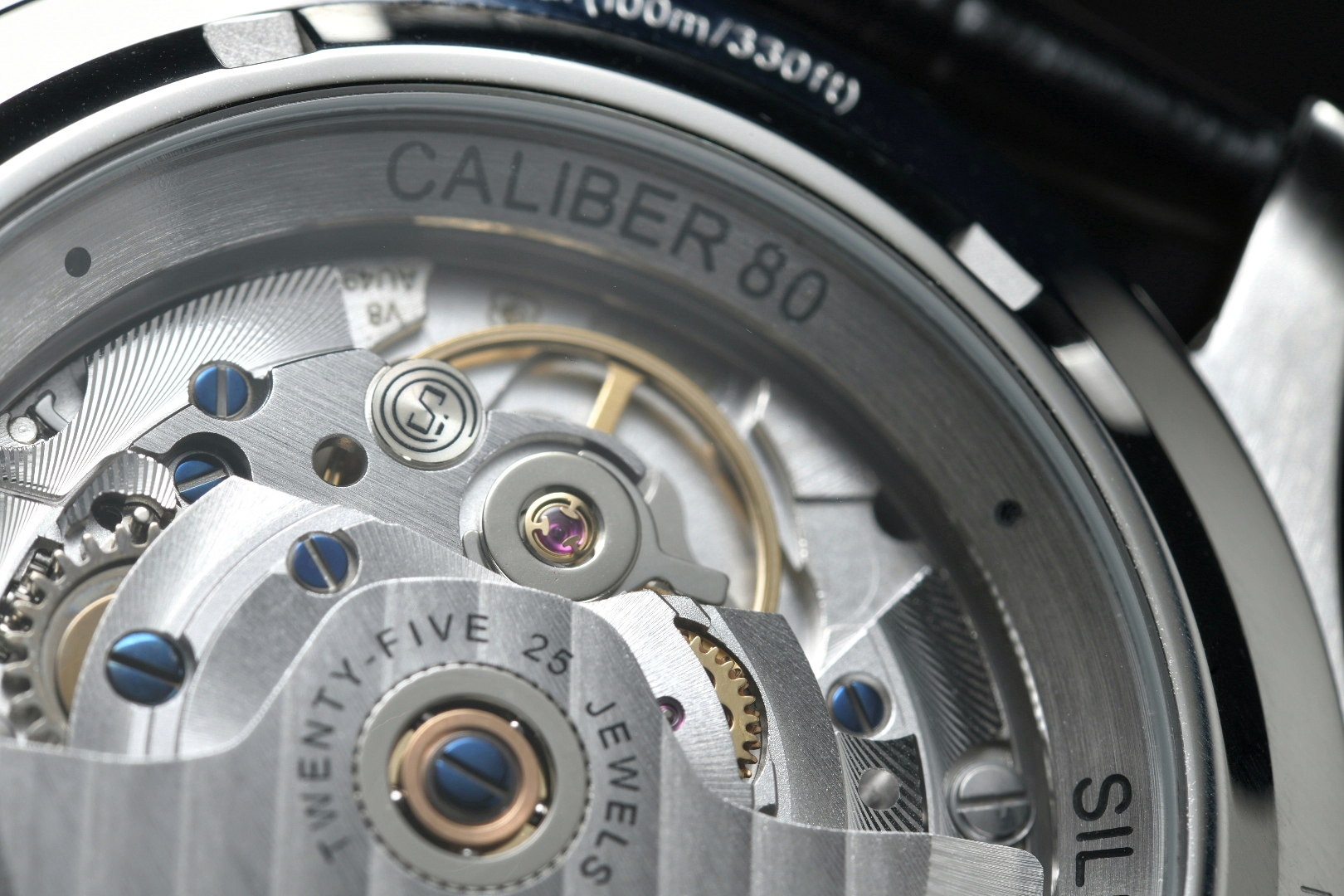 In the realm of the affordable segment then, the Chronometer One does offer a lot of value, and aside from some of Mido's sister brands in the Swatch Group, it's going to be difficult to get a still relatively uncommon, silicon balance spring in your watch for such a low price. Add the fact that it is a chronometer, which even today does mean something in the realm of mechanical watches, and it is a complete package without peer.
Did you know?
Perhaps the most significant and lesser known fact about Mido as a brand is that it is one of the top chronometer watch producers in the world. According to statistics published by the COSC (Contrôle Officiel Suisse des Chronomètres), the Official Swiss Chronometer Testing Institute responsible for certifying the accuracy and precision of wristwatches in Switzerland, Mido held the position of fourth in 2012 and 2013, and fifth in 2014 and 2015 for most chronometers certified.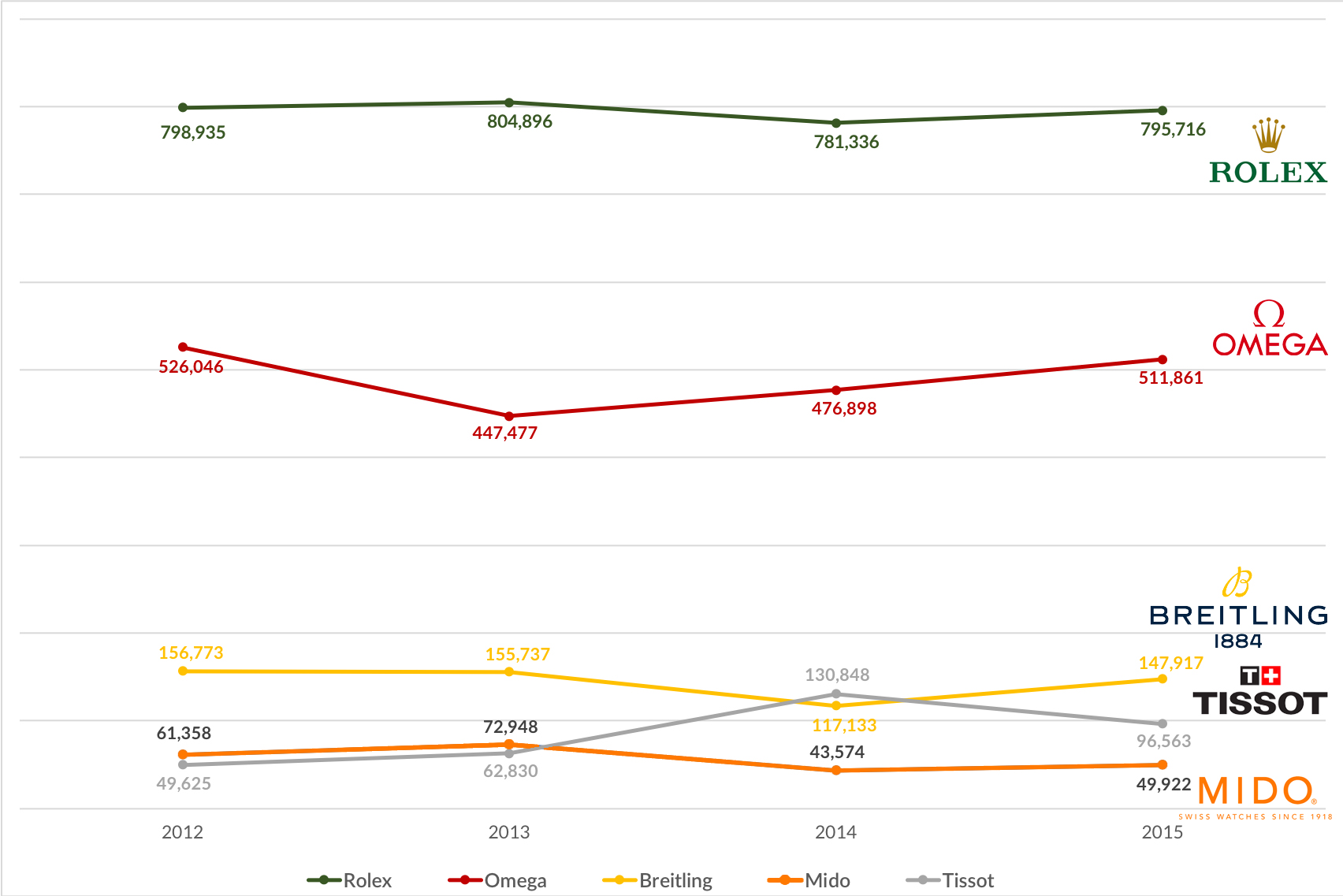 This table above, compiled from the annual reports of COSC, shows the position of Mido relative to the other well-known names on the list of top chronometer producers including Rolex, Omega, Breitling and Tissot between 2012 and 2015.
2015 was the last year in which such official statistics have been made public, and even though that is quite a few years ago, there is no reason to think when looking at the Mido catalogue nowadays stuffed full of chronometer certified watches, that it remains true to this day.
Find out more at midowatches.com.
[ninja_tables id="1897″]