I have a thing for worldtime and dual time-zone watches. I don't know why I am afflicted in this way. Perhaps it comes from some sense that I see myself as a traveller of the world? Or perhaps more realistically, that I would like to see myself that way.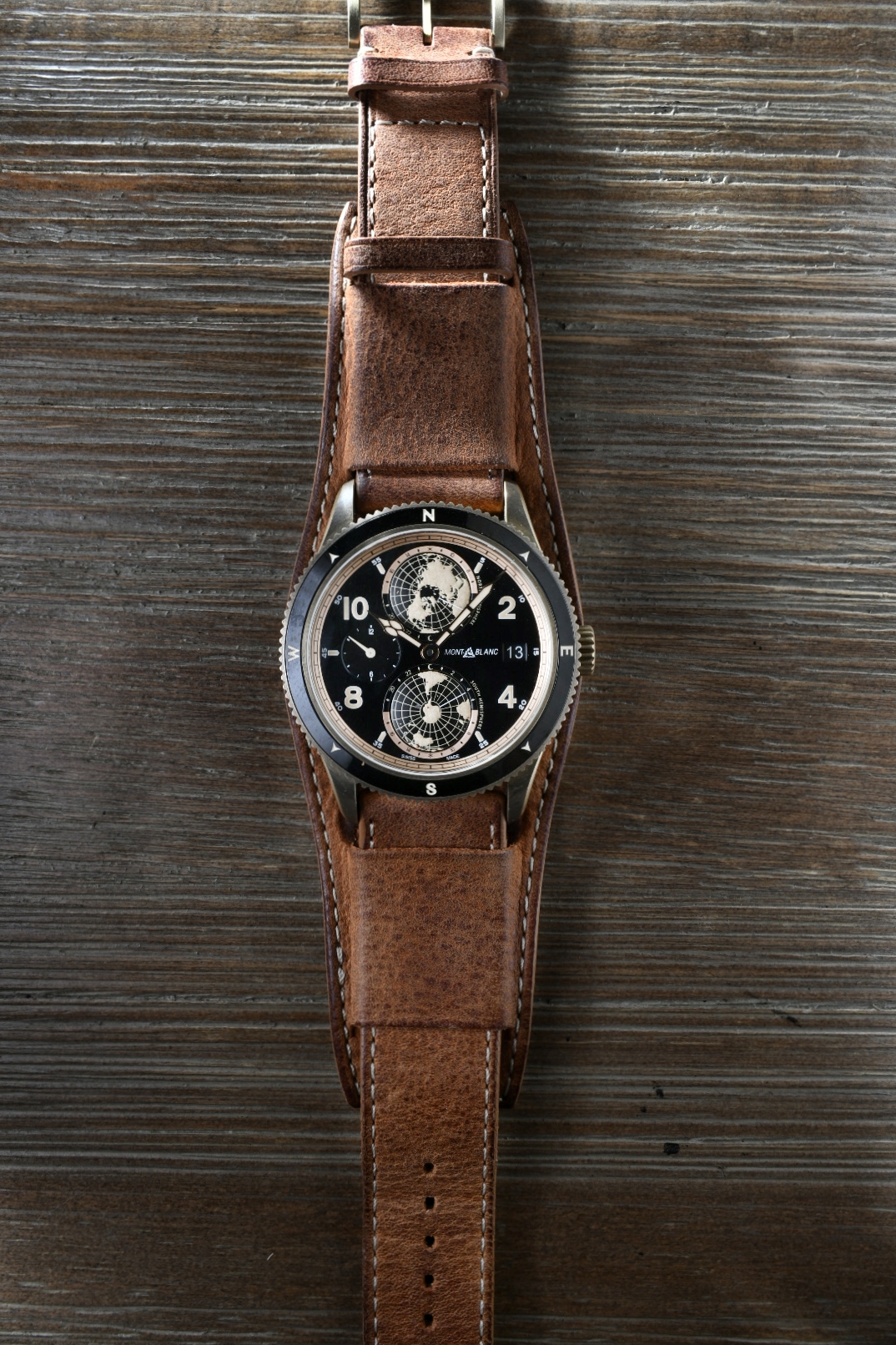 In any case, I am particularly sensitive to a good example from this genre, and the Geosphere from Montblanc, a watch that was launched only this year at SIHH, is special enough to make the grade, and for me to characterise it as a "complete" watch, a statement I would only make after spending a decent amount of time with it on my wrist.
Why do I say this? Because it has all the important complications that horology has to offer that are useful on a daily basis, and is basically the kind of watch that you can buy, strap on, and really just wear for the rest of your life because you'll want for nothing by way of what is can do for you, and how useful it can be in most situations.
After all it comes with a bunch of complications that I would deem the most practically useful – in order of importance – it has the time, date, and dual time function – something that has become more necessary in our present time when everyone is travelling all over the place. But wait – it goes a step further – it even has a worldtime function that as we shall see later on, is different from most others and is in my opinion, is that final sweet touch to round off a very nice list of goodies.
What makes the Geosphere particularly enticing as well is its price, which let's face it, it's much lower than what one would think of paying for a watch with complications like this. Furthermore, if one were interested in a slightly different implementation of a relatively common complication – such as the dual timezone, one finds it in the Geosphere.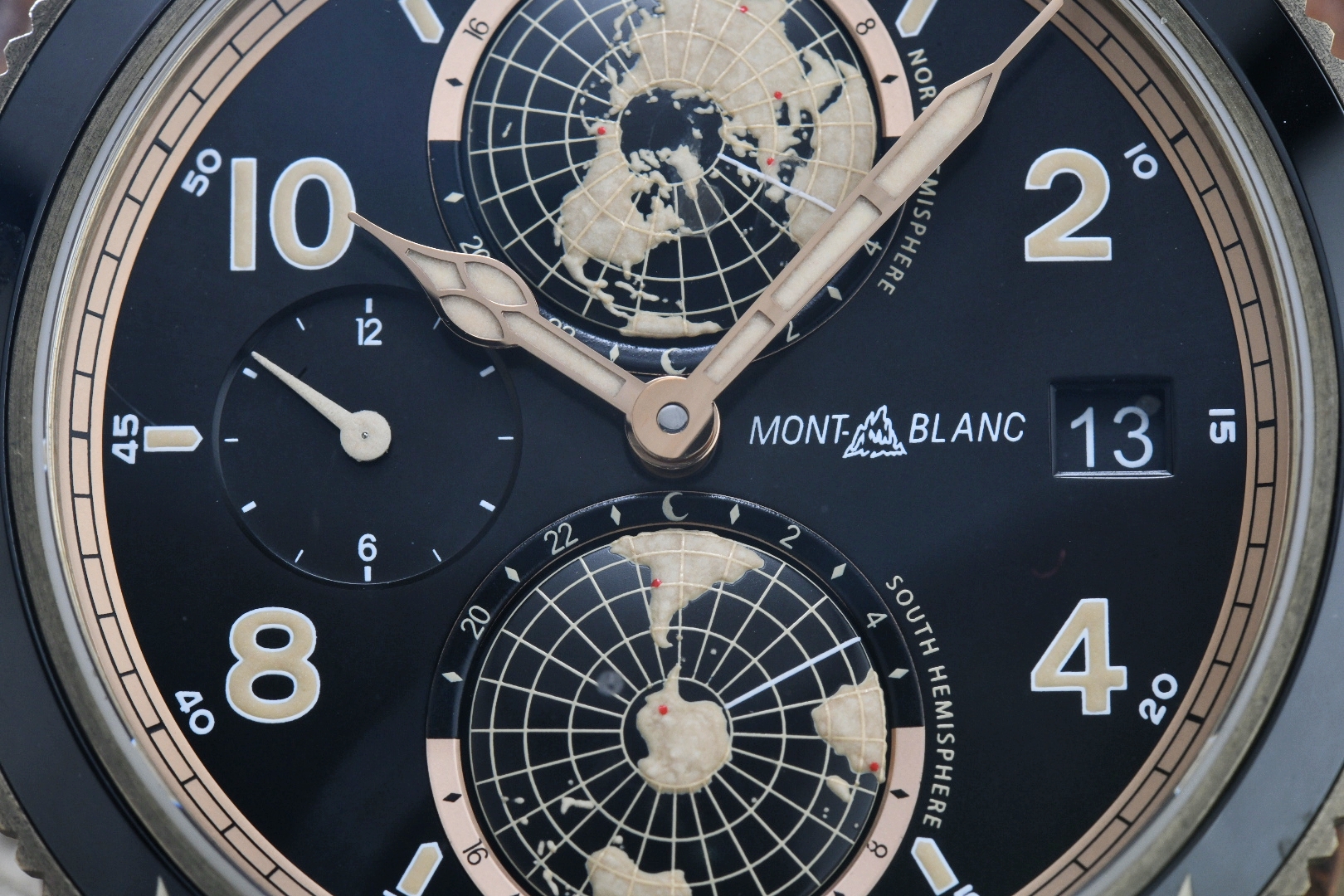 Most dual timezone watches of course rely on a centrally mounted 24-hour hand to display the second timezone, the Geosphere relies instead on the 9 o'clock sub-dial to tell home time on a 12-hour basis, after you have moved the hour hand to your new local time (when travelling) by adjusting it with the crown in one hour jumps (or the correct and true GMT way). Then how do you tell whether it is day or night at home? Simple, move your eyes to the middle two sub-dials, one under the 12 o'clock position and the other above the 6 o'clock position. These two sub-dials by the way are for world time.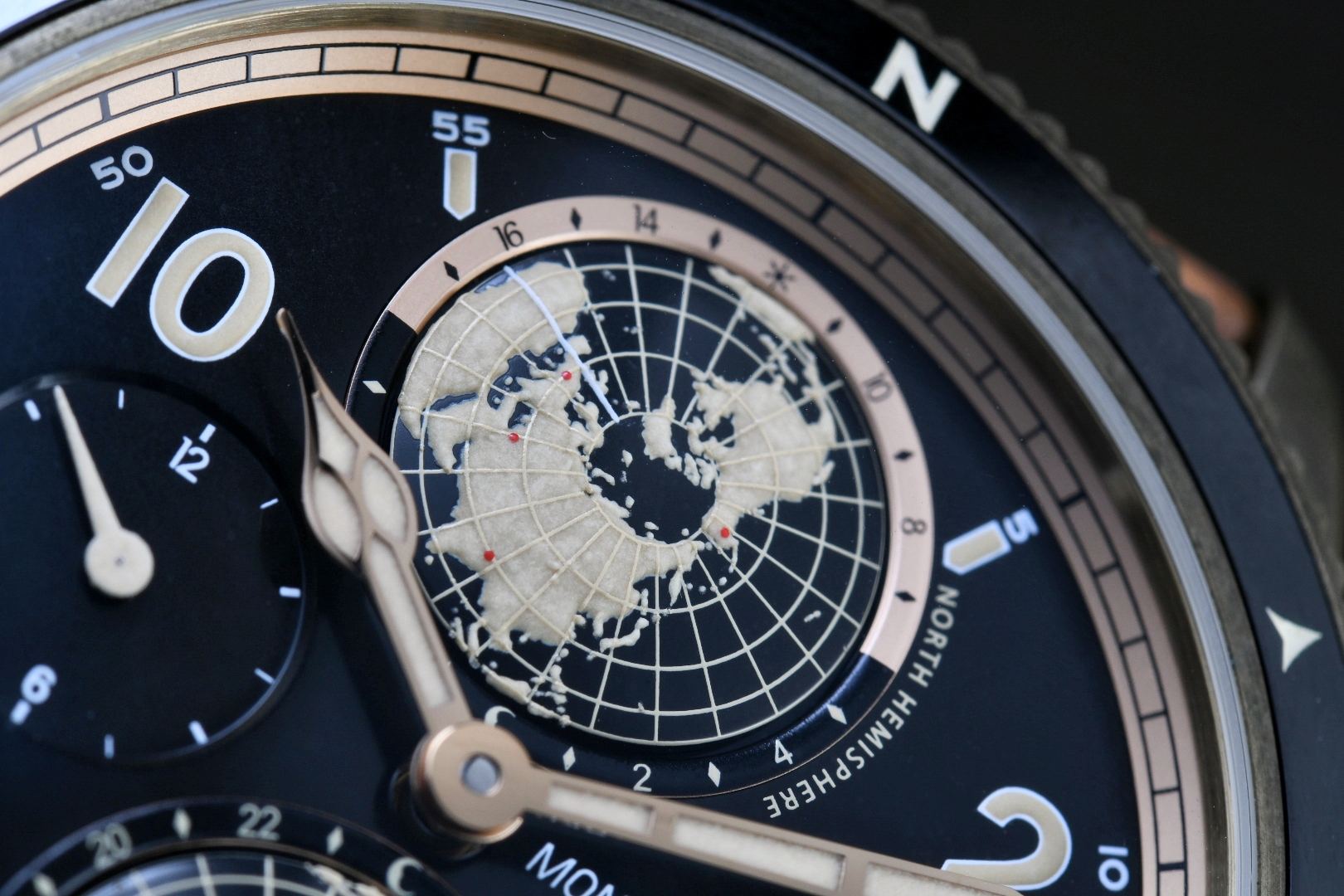 Now bear with me, as some explanation is required. The top sub-dial or the one under the 12 o'clock position is for worldtime and displays a view we all know of the world from the northern hemisphere. From here, most of the countries and land masses are recognisable, and one can sort of eyeball the position of where "home" is, and use the black or white sections of the 24-hour ring to infer whether it is day or night there. Now I know that the map is small, and quite difficult to see, but after some practice, it works well, and it looks really nice. What then of the other sub-dial above 6 o'clock?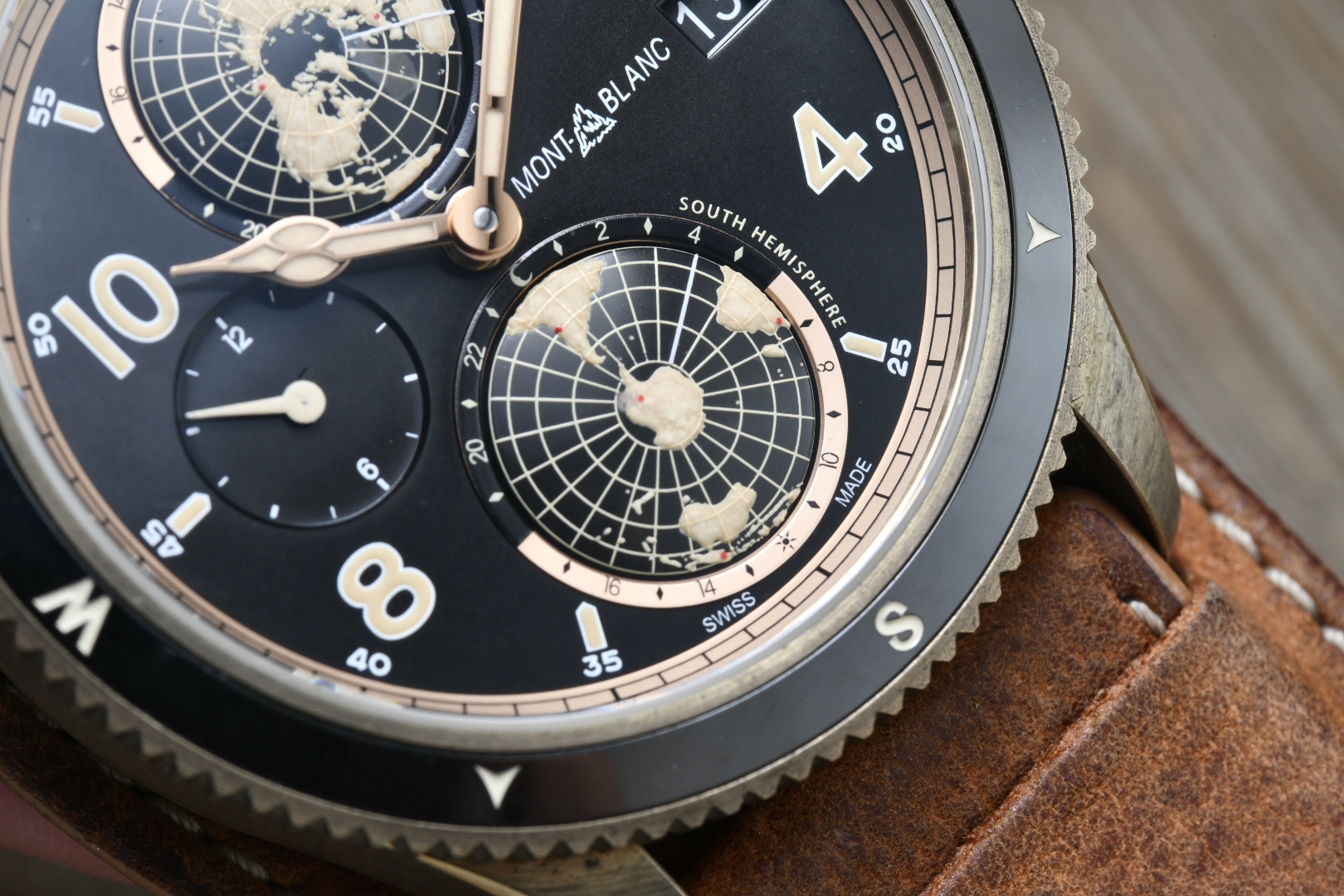 Funny story – I got a Montblanc Time Walker Hemisphere's Southern Hemisphere watch to review way back in 2013, and I had a hell of a time trying to figure out how it worked. I managed to solve it in the end when I realised, on account of the name of the watch, that the dial of the watch showed a view that is basically that of the world from the bottom of the planet or the Southern Hemisphere. That view is exactly what you see here in the Geosphere's 6 o'clock sub-dial, and just to confirm, look for the recognisable shape of Australia in the picture above.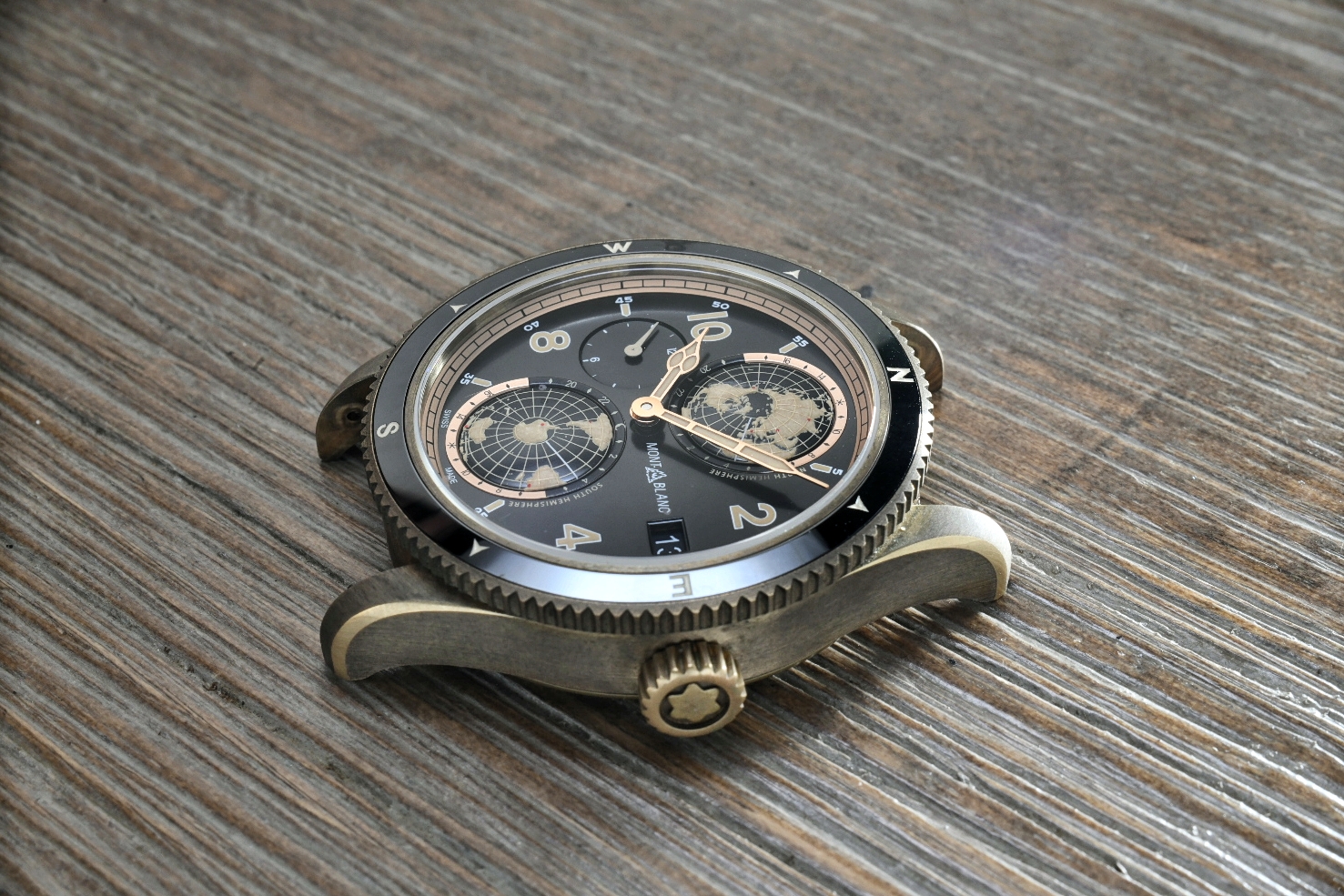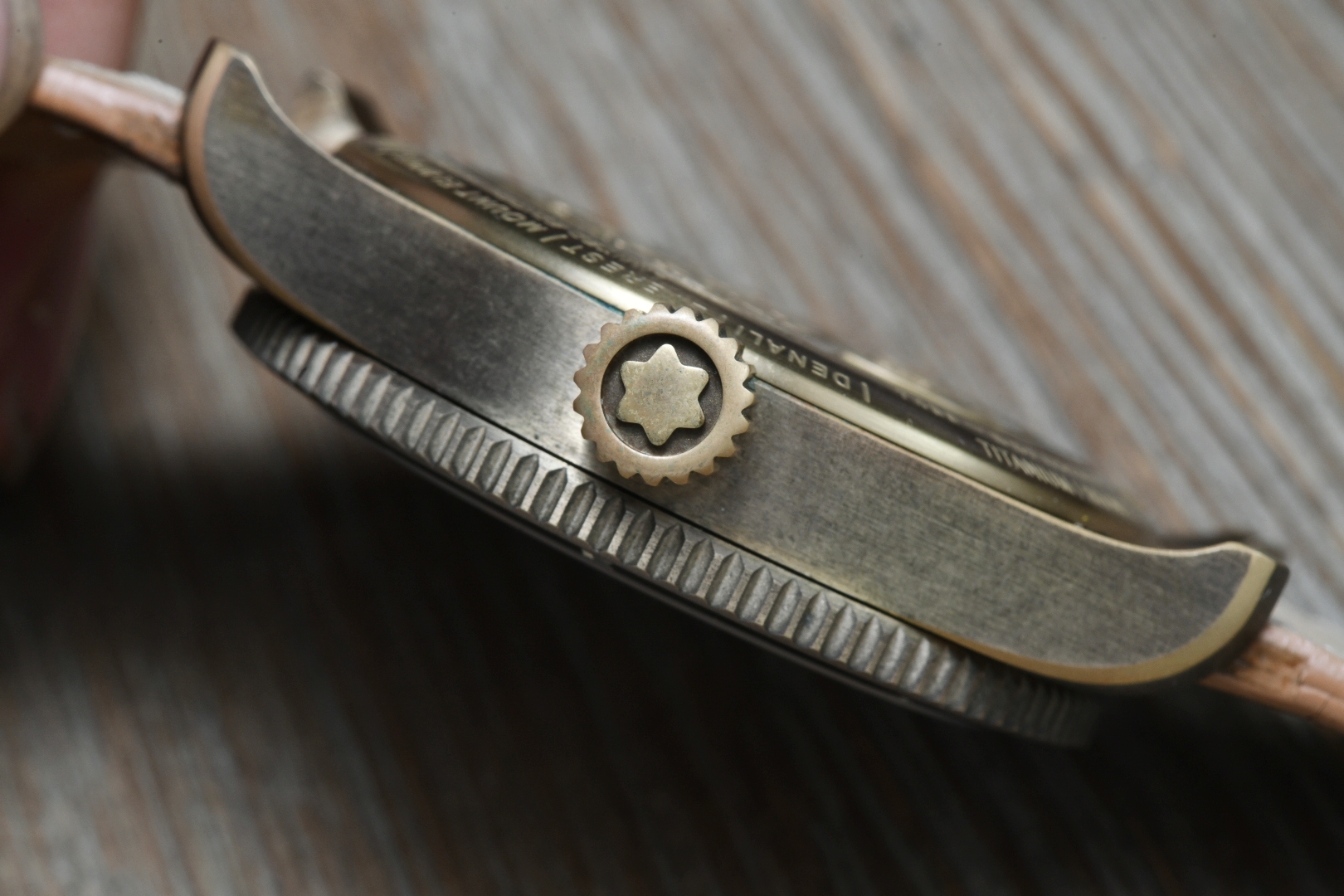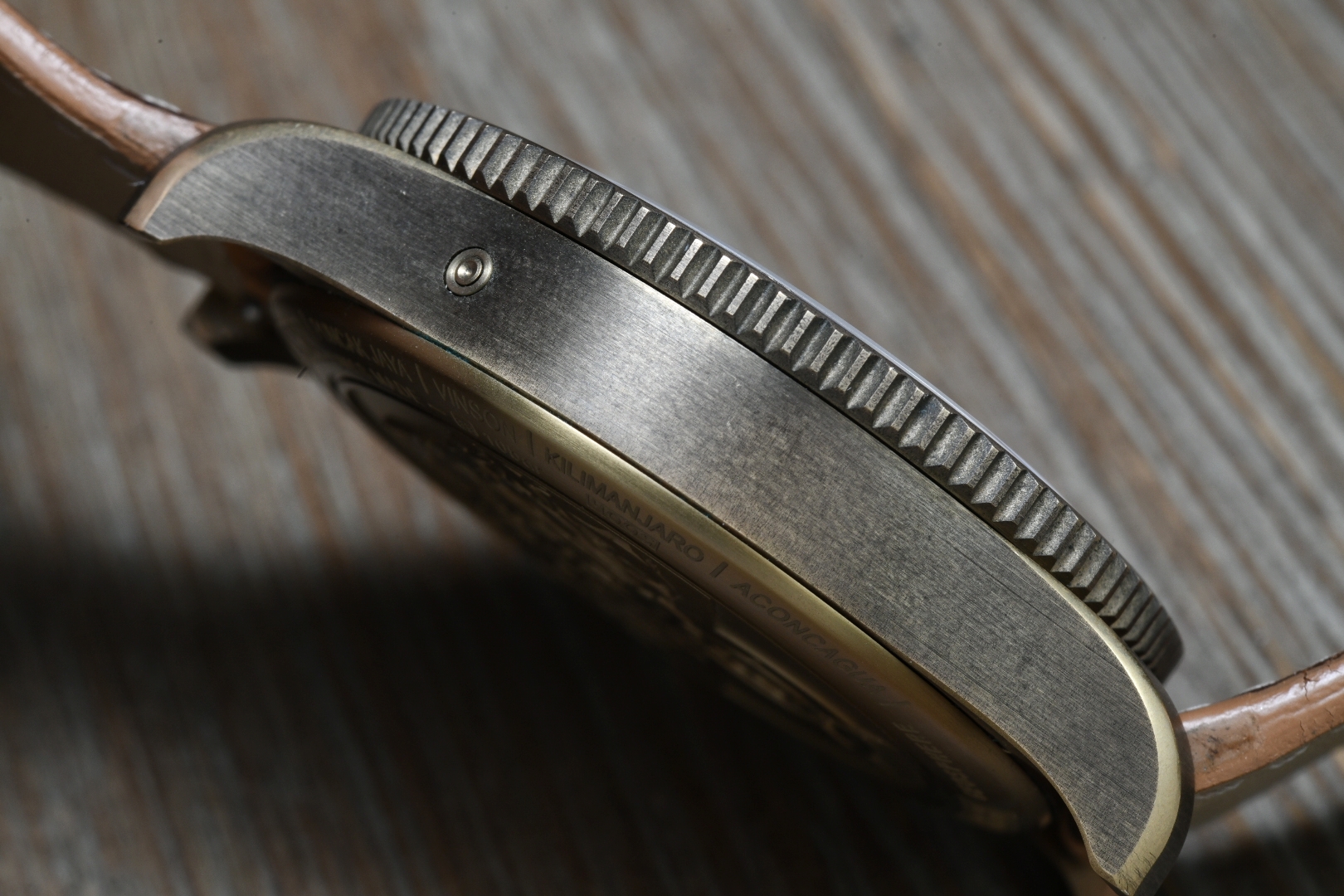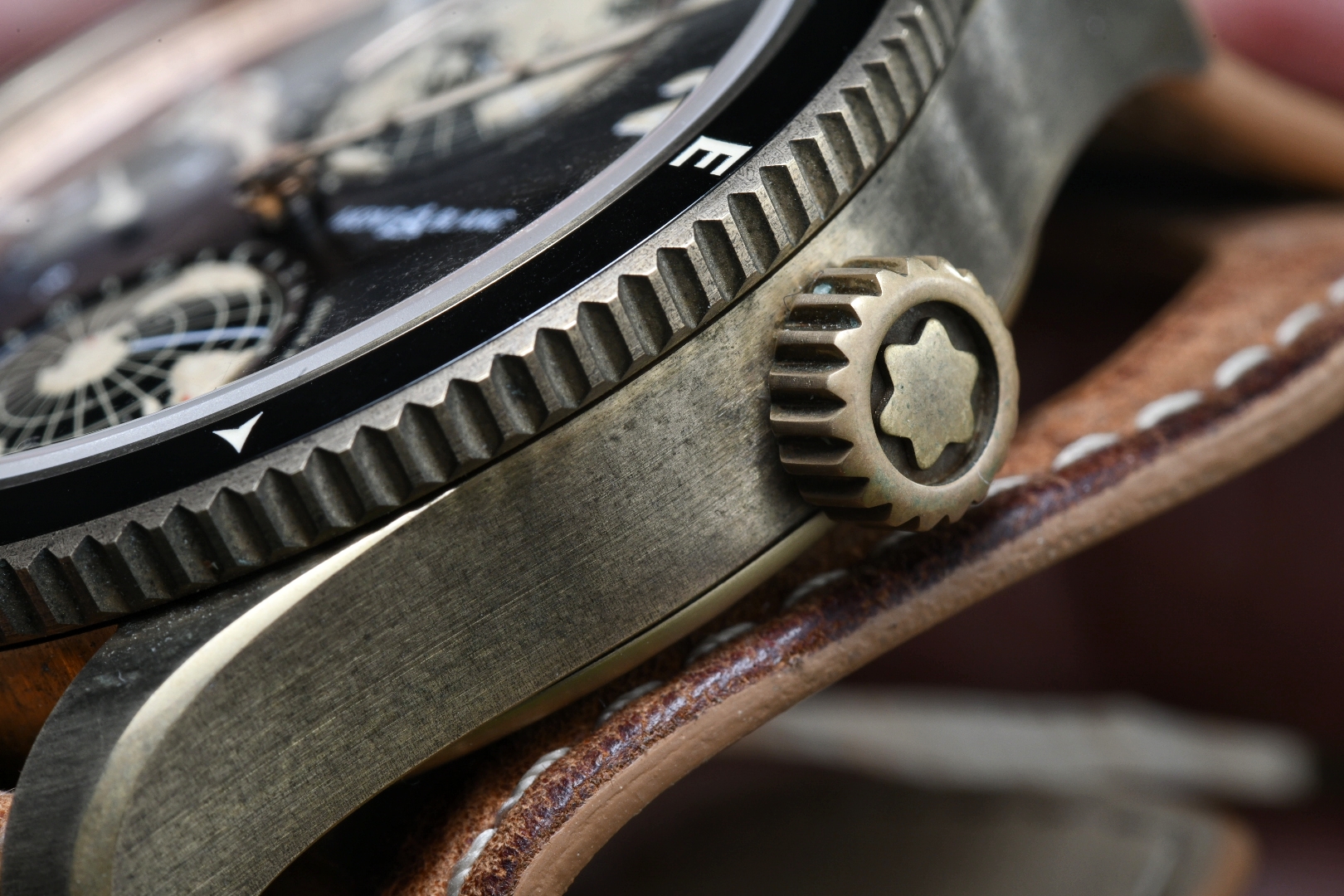 In terms of the case shape, there is nothing too out of the ordinary. It is simple, tough and bold at 42mm wide. Additionally, the ability of the watch to make the hour hand jump to adjust timezones is what makes the difference between this and most of the other me-too GMT watches on the market that are basically run off a module on a base ETA movement, and have the 24-hour hand jump instead. Why is this important? I'll explain this in another article, but suffice it to say, this feature alone makes the Geosphere's dual time function, the correct and proper way, and useful to real travellers. Make no mistake. This is a big deal.
Of course the fact that this watch can do this means that there is no independent date adjustment, which is fine in practice, because other watches of the same ilk, proper GMT watches like the Rolex GMT Master 2, also change the date in the same way, by advancing the hour hand to run the date. It can be done relatively quickly, since two complete revolutions of the hour hand make one day and there is no need to advance the time through the entire 24 hours to advance the date.
Of course I would have liked to have the watch have running seconds, in order to tell at a glance if it was running, but realistically, there is no space on the dial for that, ditto for a screw down crown which the Geosphere lacks. Lastly, the Southern Hemisphere sub-dial does take up some precious real estate from the dial, but it completes the concept of the watch and does imbue sense of romance. Also it is possibly useful to SOME people, particularly those from Australia or New Zealand.
Aesthetically, the details on the watch are fetching and while some might not like the simulated aged lume seen in the Arabic hour numerals and the hands, I find it fitting with the overall look of the watch. The simulated aged look does make the world maps look very good, with the view getting better in the dark since they glow as well. As for the red dots representing the highest peaks on each continent, I'm quite indifferent to it either way, but it is a nice reminder of the various mountains that exist around the world. In that way, the red dots don't ever let you forget about them, which makes sense for a "mountaineering" watch such as this.
Rounding off an already well put together package, we find on the case-back, a beautifully engraved case-back image, which is – and what else could it be – an image of Montblanc, as in, the mountain.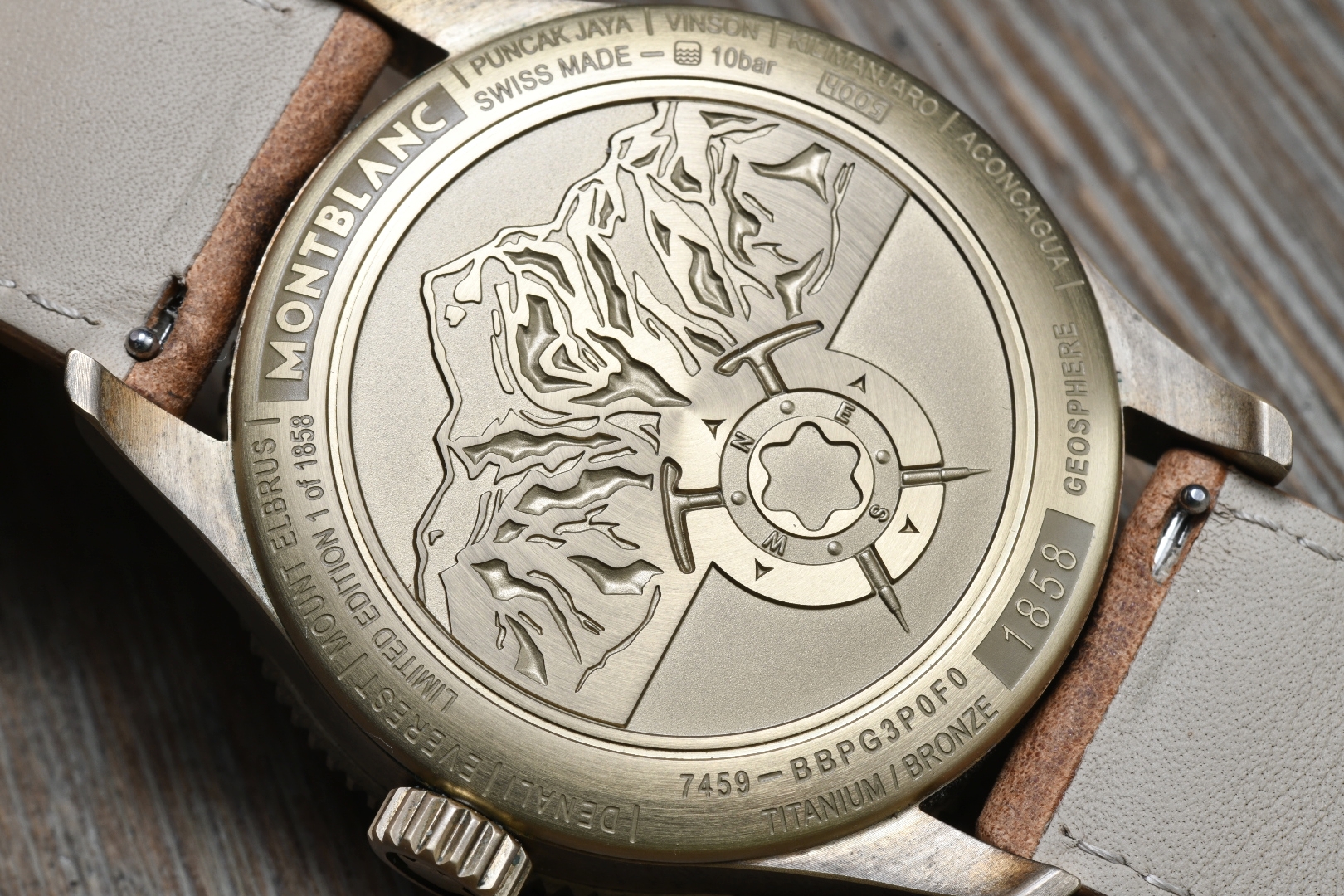 How does one make all these features even better? Well, make the watch in bronze. Thankfully Montblanc was able to anticipate and realise  this beforehand, and while the stainless steel version is nice, the bronze one does kick things up a notch, looking right at home in the rugged wilderness.
My favourite by far? This one you see here, bronze and full of patina and looking very nice on the brown sfumato calf leather Bund-style strap.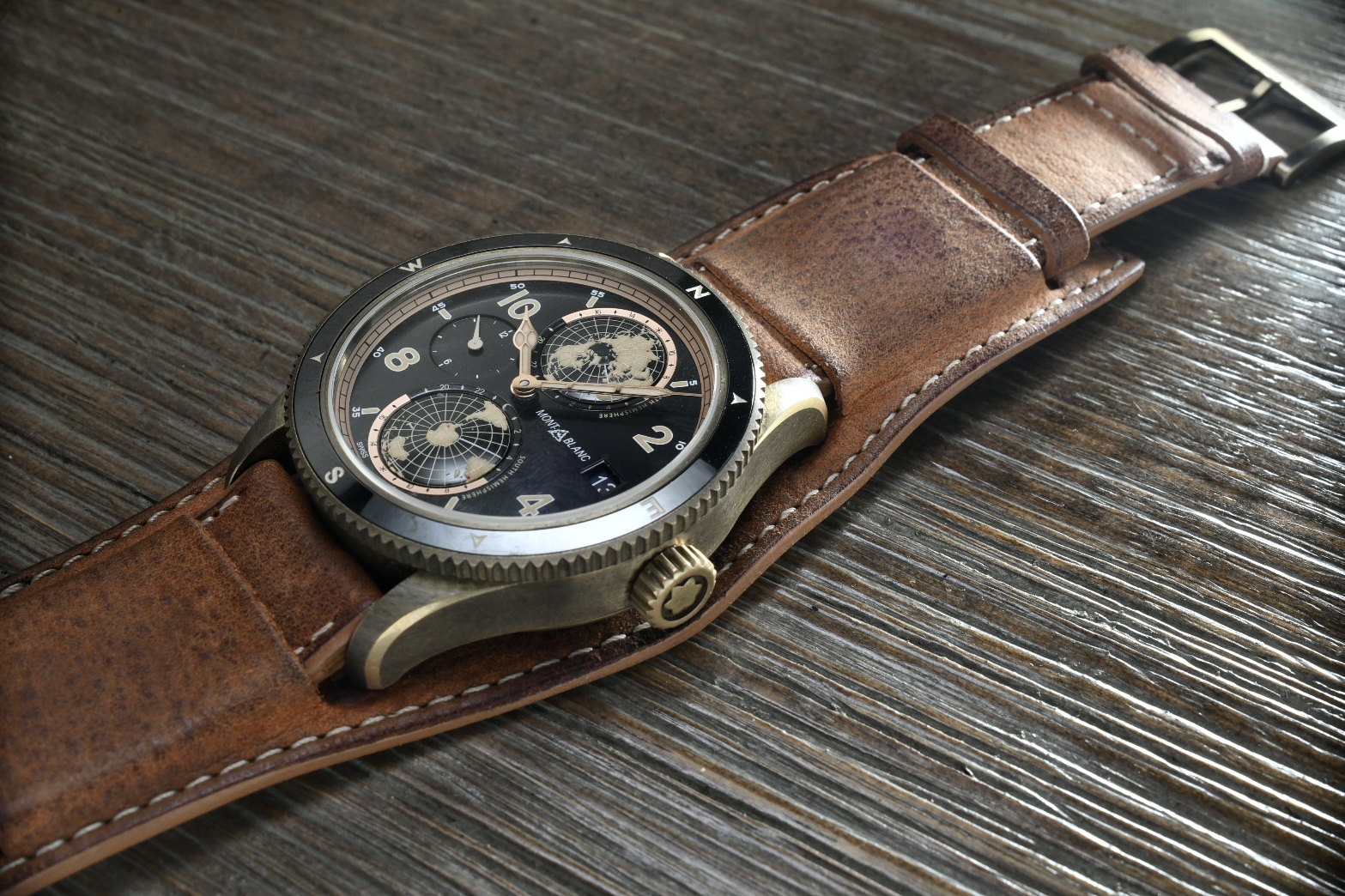 Incidentally that bund strap combination you see here makes the watch feel extremely secure and comfortable on the wrist, leading me to forget at times that I even had it on. There was a day when I had worn the watch and only realised before I was going to bed that I still had it on. This was a strange thing as I normally do take off my watches at home. Well, what can I say about that? I think perhaps, and I am not qualified to make such an assessment, that this is a useful feature when you're out and about in nature and you're doing important things like ensuring your survival. Having a watch that is always there when you need it, and receding into the background when you don't, should be quite useful there, and in daily life.
In the end, it was difficult for me to return it to Montblanc as one of the realisations I quickly made with it was how easy it was to live with, and how interesting horologically it was. It has definitely been placed on my list of watches to buy given the compelling feature set and the price and who knows, I might pick one up in the near future.
[ninja_tables id="1228″]