Panerai has begun to tackle sustainability in its watch manufacturing ever since the unveiling of the Mike Horn Limited Edition of 2019 crafted from Eco-Titanium, mounted on recycled PET plastic straps. For 2021, Panerai rolls out a limited edition that takes this philosophy very seriously – right down to the movement. In addition, the brand unveils three variants of the Luminor Marina that also include elements of upcycled materials in an effort to promote more environmentally sustainable manufacturing.
Panerai Submersible eLab-ID, PAM01225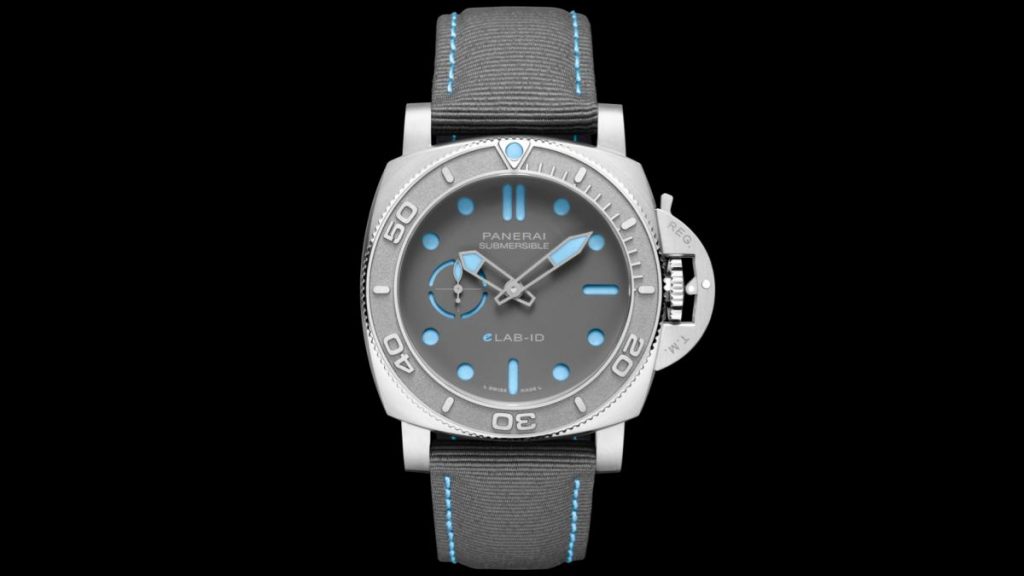 The new Panerai Submersible eLab-ID is a new concept watch that contains the highest percentage of recycled materials to be featured in a luxury timepiece. Through this model, Panerai is suggesting that there is a way to introduce what they have termed "circular manufacturing" into watch production, where as much of the materials are recycled and recovered. This new watch features the highest percentage-by-weight of recycled materials, with around 98.6% of its weight in recycled materials. By producing this concept watch, Panerai had to create an entirely new supply chain for this to be feasible – collaborating with existing and new suppliers across not only watchmaking, but also aerospace and automotive industries.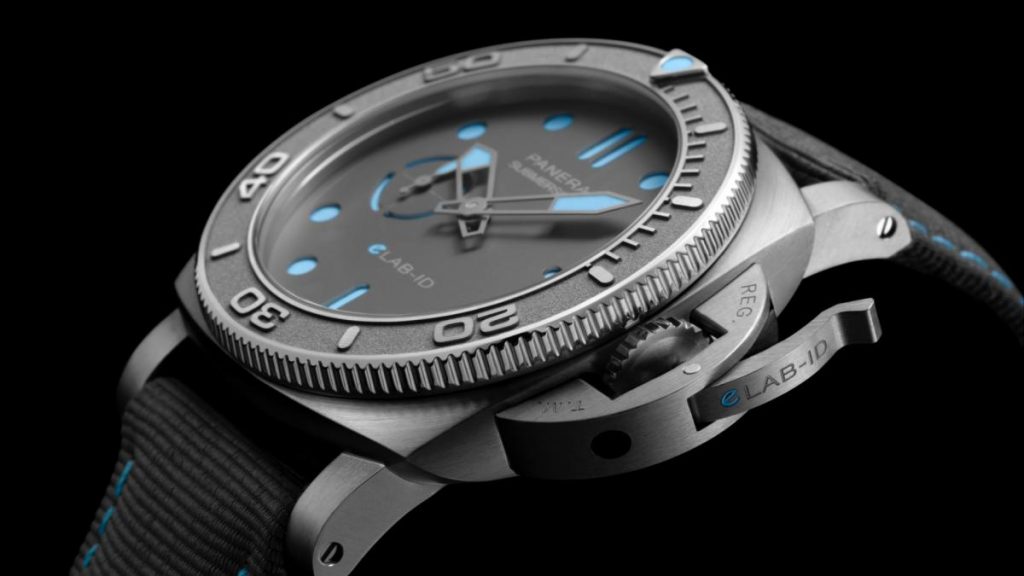 As such, this new watch features a case (including bezel and caseback), trademark sandwich dial and movement bridges made of Eco-Titanium, that is 80% pure recycled content. This is also the first watch to feature 100% recycled SuperLuminova for the luminescent material on the dial, as well as 100% recycled silicon for the escape wheel and pallet fork/anchor. Even the sapphire crystal and gold hands feature recycled materials in their production.
The Panerai Submersible eLab-ID measures 44mm in diameter, and includes its trademark crown protection device. Its Eco-Titanium dial features light blue recycled SuperLuminova, and is mounted on a "Grigio Roccia" coloured strap that is made from recycled plastic with light blue stitching. Housed within its sustainably sourced case is the calibre P.900e, with 3 days of power reserve.
This is a limited edition of 30 pieces worldwide, and is sure to create new ways of watch manufacturing that incorporate sustainable methods and materials in the future. What's more, Panerai have indicated their willingness to share the methods that they have learnt with any other brand in order that the watch industry as a whole can become a powerful force for good to save the environment, and in so doing, lead the way towards a new collaborative attitude for real change.
Panerai Luminor Marina eSteel, PAM01157, PAM01356 and PAM01358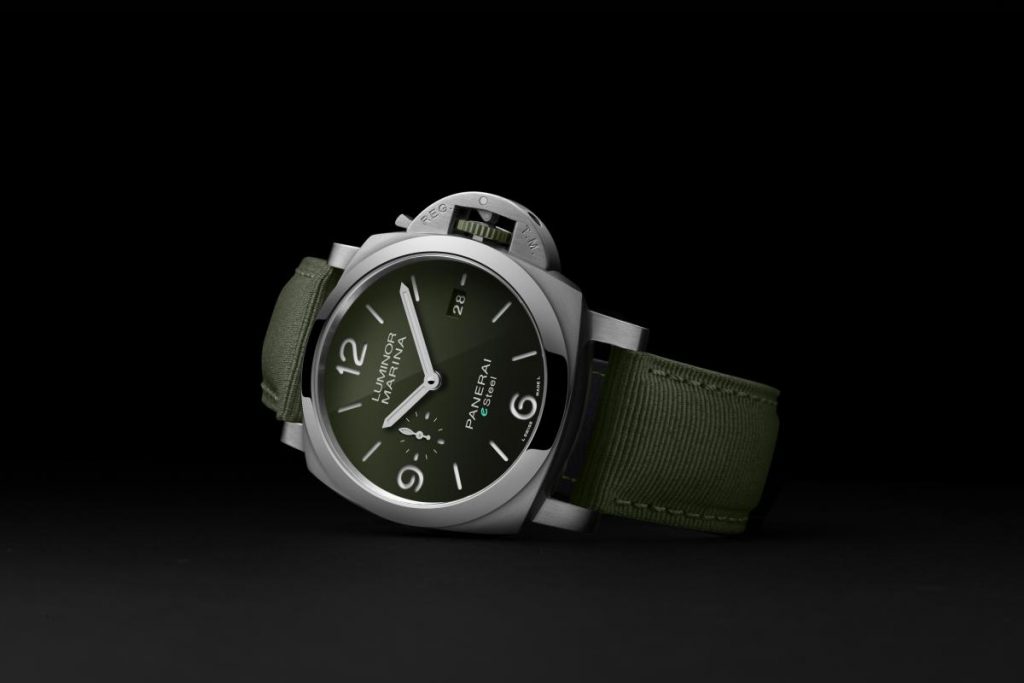 Continuing the theme of sustainability, Panerai also introduces the Luminor Marina eSteel series of watches that contain 58.4% by weight of recycled materials, amounting to 89 grams in each watch. In addition, this new eSteel alloy exhibits the same chemical properties, physical structure and corrosion resistance as "virgin" steel used in many watches today. Both the case and dial are made of this material, including the trademark crown protection device.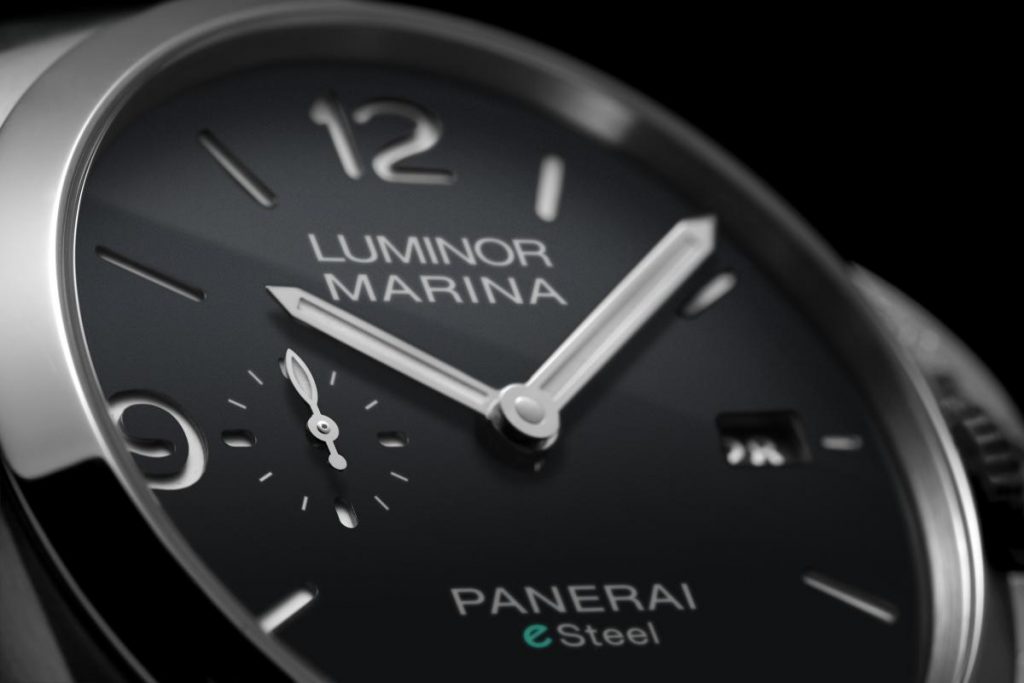 This new Luminor Marina eSteel watch is available in three colours: Blu Profondo, Grigio Roccia and Verde Smeraldo, of which the latter is a Panerai Boutique and eCommerce exclusive piece. All of the dials feature a polished finishing with gradient colouring going from top to bottom, light to dark. The crowns are rubber-coated to match the dial colour, and are mounted on a recycled textile strap that match each dial colour, with an additional rubber strap included in a storage box that is made of recycled materials.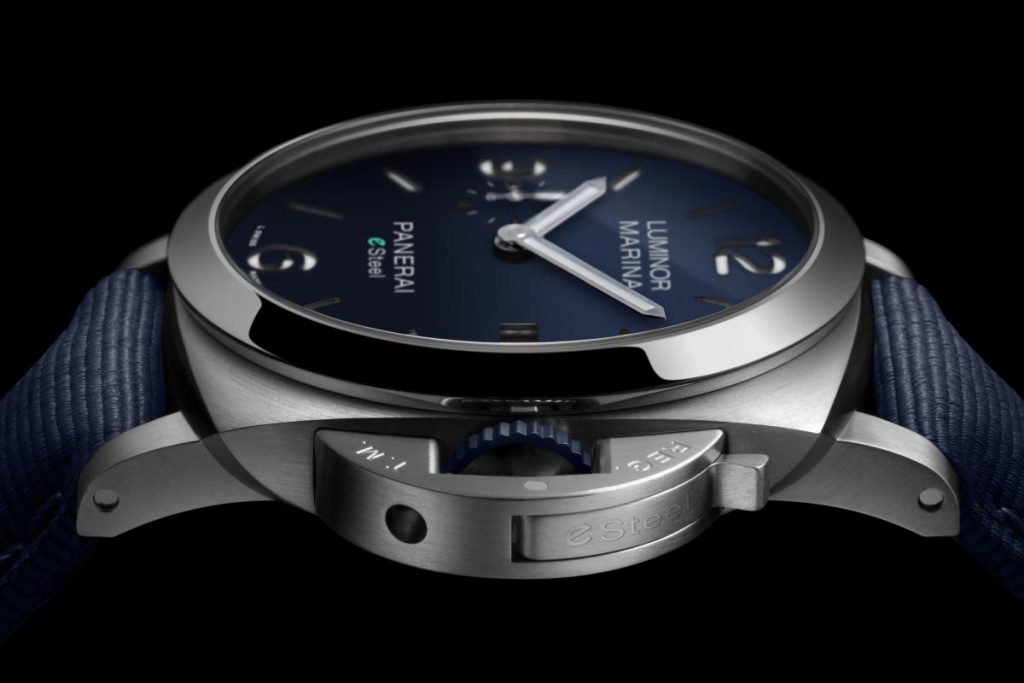 Housed within the sustainable case is the in-house P.9010 movement with 3 days of power reserve, and is 300m water resistant – perfect for water sports.
This direction that Panerai is taking for 2021 is great for many reasons, but mainly for the fact that they are holding a conversation that is not often had in the watch industry – namely, how can the watch industry do better in terms of being more environmentally friendly. Through the eLab-ID concept watch and the new series of eSteel watches, Panerai have shown that it is entirely possible to make watches in a sustainable fashion, and that they are able to lead the way for the watch industry to join the circular economy.
Let's hope that their efforts are not too late, or we'll be in a world of trouble.