In a world of increasing uniformity and convergence, the Oris Holstein Edition 2022 stands out as a unique and arguably refreshing take on a travel time watch that recalls a storied watch in Oris' history.
The thing about watch sizes is that what is considered 'normal' is intrinsically linked to prevailing taste and fashion. Which makes it a surprise when putting this watch on, because it is 36.5mm in terms of case diameter – sort of anachronistic for a new release in our modern era.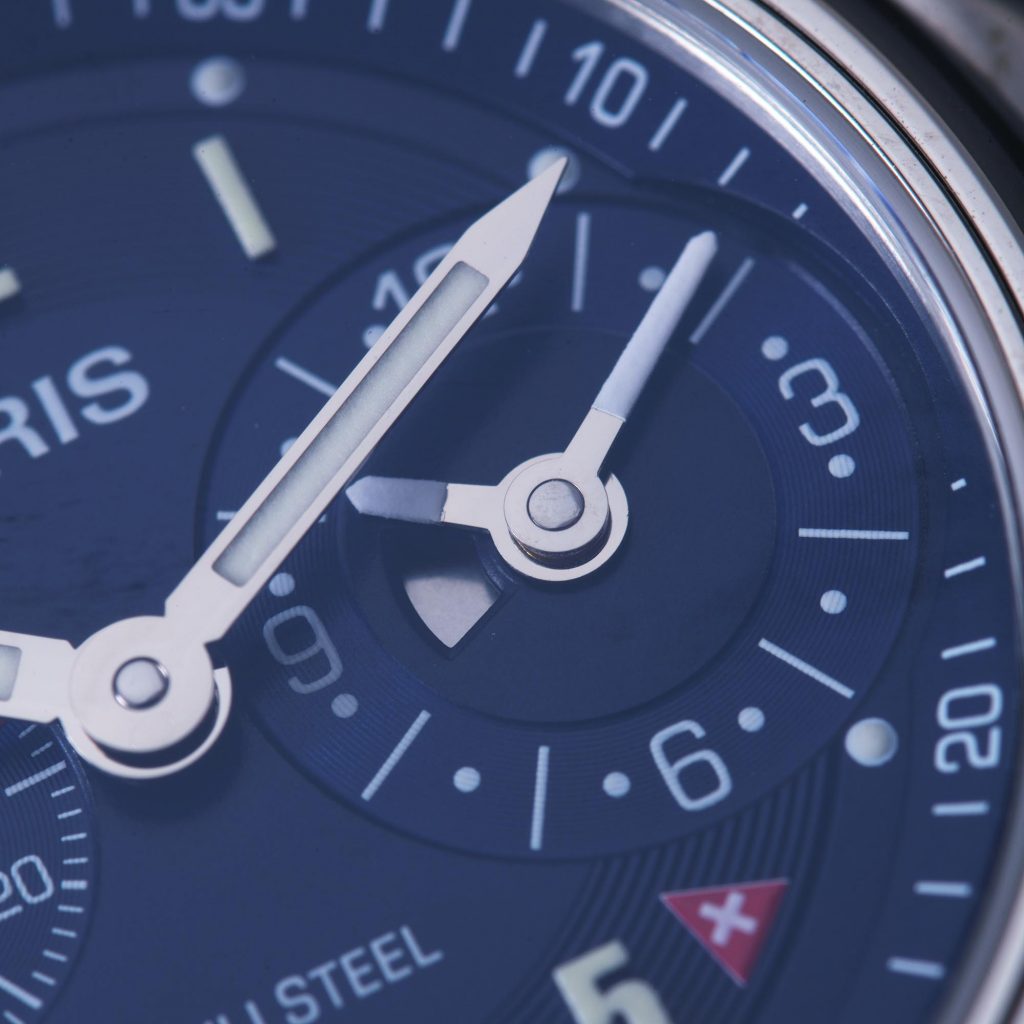 Yes there is a conscious downsizing in current fashion from the bloated styles of the late 90s and 2000s – but if the average watch buyer were to be really honest, they prefer something around 40-42mm to wear. Oris though, in its very conscious, deliberate reference to this historical model in its archive stuck to its guns when releasing this edition. Taking a closer look reveals why this is such a compelling release that checks the boxes in terms of updating a legacy; as well as reminding (those of us who were around the 90s) how this size of watch wears so comfortably on the wrist; has aesthetic and haptic appeal; and is entirely practical in its function.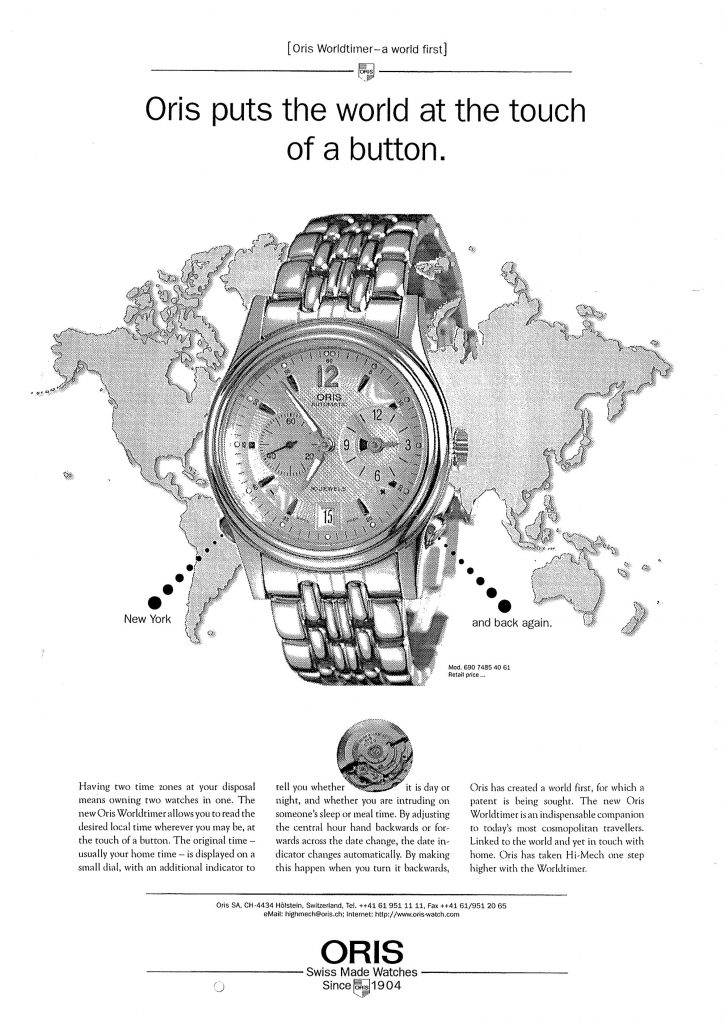 The Oris Holstein Edition 2022 Full Steel (250 pieces) embodies a design that harks back to the period which is popularly referred to as 'neo-vintage', ie the 90s. The design references one of the brand's well known historical watches – the Oris Worldtimer of 1998 – with its Oris Calibre 690, a world first in offering a groundbreaking dual time and linked date change/day and night indicator functions. It was a landmark launch not just for Oris but for Swiss watchmaking, which was just emerging out of the Quartz 'crisis'. The Holstein Edition 2022 is a faithful revival of this pioneering watch, with fresh dial blue colour, leaving the famous red plus and minus symbols intact, using the exact same Calibre of the original.
Due to its palatable 36.5mm sizing, full polished steel construction and 50m water resistant case on a (similarly polished) bracelet that flows seamlessly from the curved case via steeply downturned lugs to hug the wrist snugly and comfortably, it is comfortable to wear.
It offers dual time functionality in an interesting way. This is enabled by the Oris Caliber 690, an adapted ETA 2836-2 automatic ticking at 4Hz, with 38 hours of power reserve. Showing up on the dial side is the main time display which tracks local time and a sub dial at the three pm position which tracks home time. A small seconds display features at nine with a date display at six o'clock. The two time zone dials synch up at starting location (presumably home time).
Once another location is reached, setting the local time is done without removing the watch: two pushers at eight and four o'clock allow the main hour hand to be set forwards or backwards according to local time. The date function is linked to this hand so this is one less element to deal with when crossing timezones at midnight. Another almost imperceptible feature is the day and night indicator tucked away at the nine o'clock position on the home time sub-dial so you are always informed of whether it is day or night at home.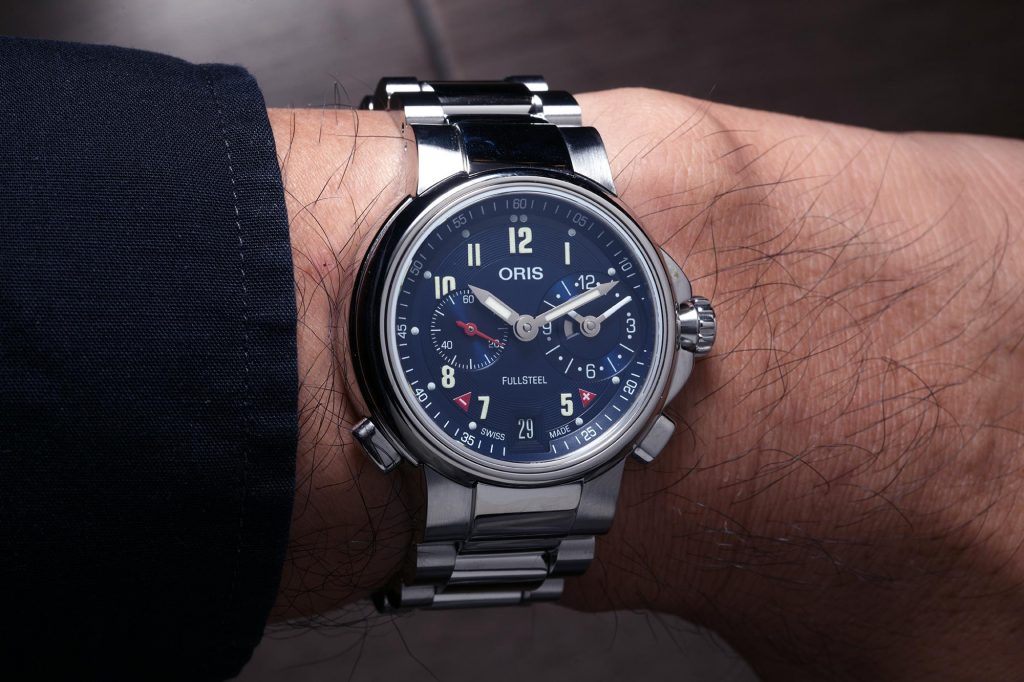 The case is 36.5mm wide across; 12mm thick; 43mm lug to lug and the whole watch with attached bracelet weighs 143 grams. There is noticeable heft in the fully polished stainless steel case which seems to have surprising curves in all the right places.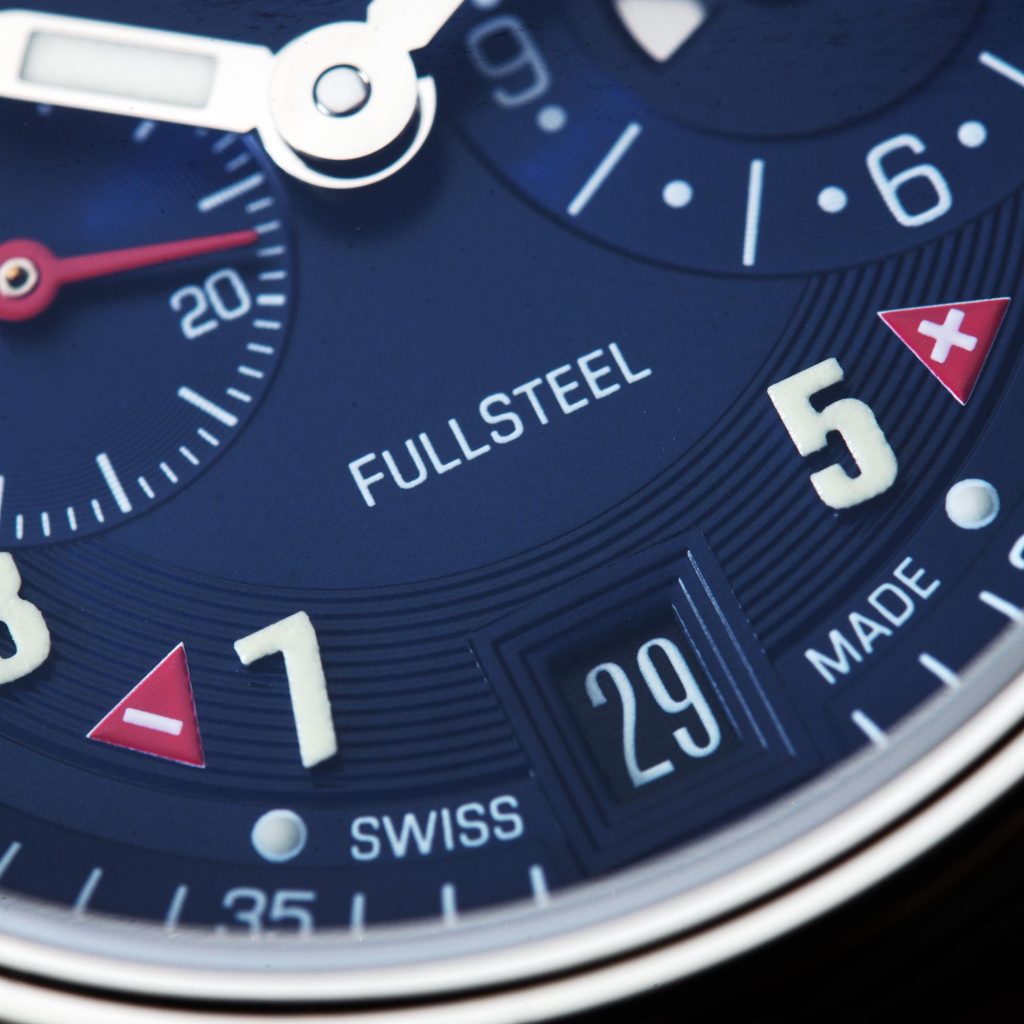 The dial itself is surprisingly complex – with layers of graining and contrasting iridescent sub-dials set in just the right shade of dark blue. The full lumed Arabic numerals have just the right amount of 'pop' when illumination is low and there are contrasting red triangles with marked "+" and "-" on the corners of the dial, to indicate which corresponding pushers for the main hour hands move them forwards and backwards. The seconds hand on the left sub-dial is also in a contrasting red, for legibility.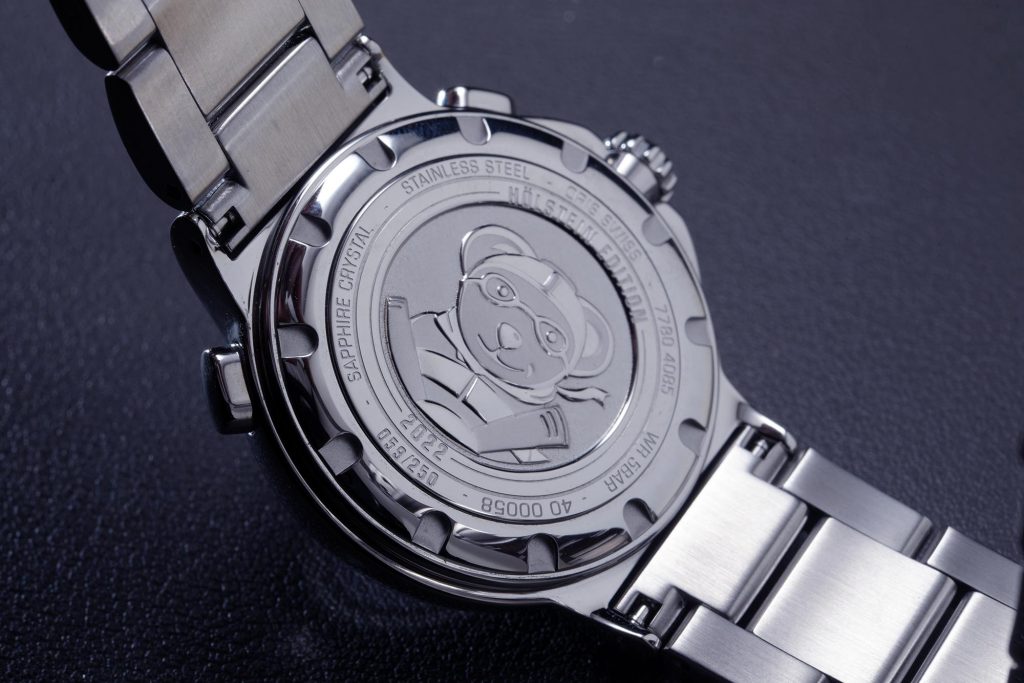 This is a watch that should appeal to those who appreciate the unconventional, laced with historical legacy, with a warm and unique character that also offers strong functionality.