It's no surprise why the metal 5000 series of G-Shock watches became as popular as they did when they first came out. Not only did they spark a feeling of nostalgia with a well known design that many watch lovers would already have been familiar with. But they also gave it a sense of being upgraded all round with a metal case and bracelet. I'd hazard that some part of the feeling might have been due to the popularity of the integrated bracelet trend that has swept the watch industry in recent years.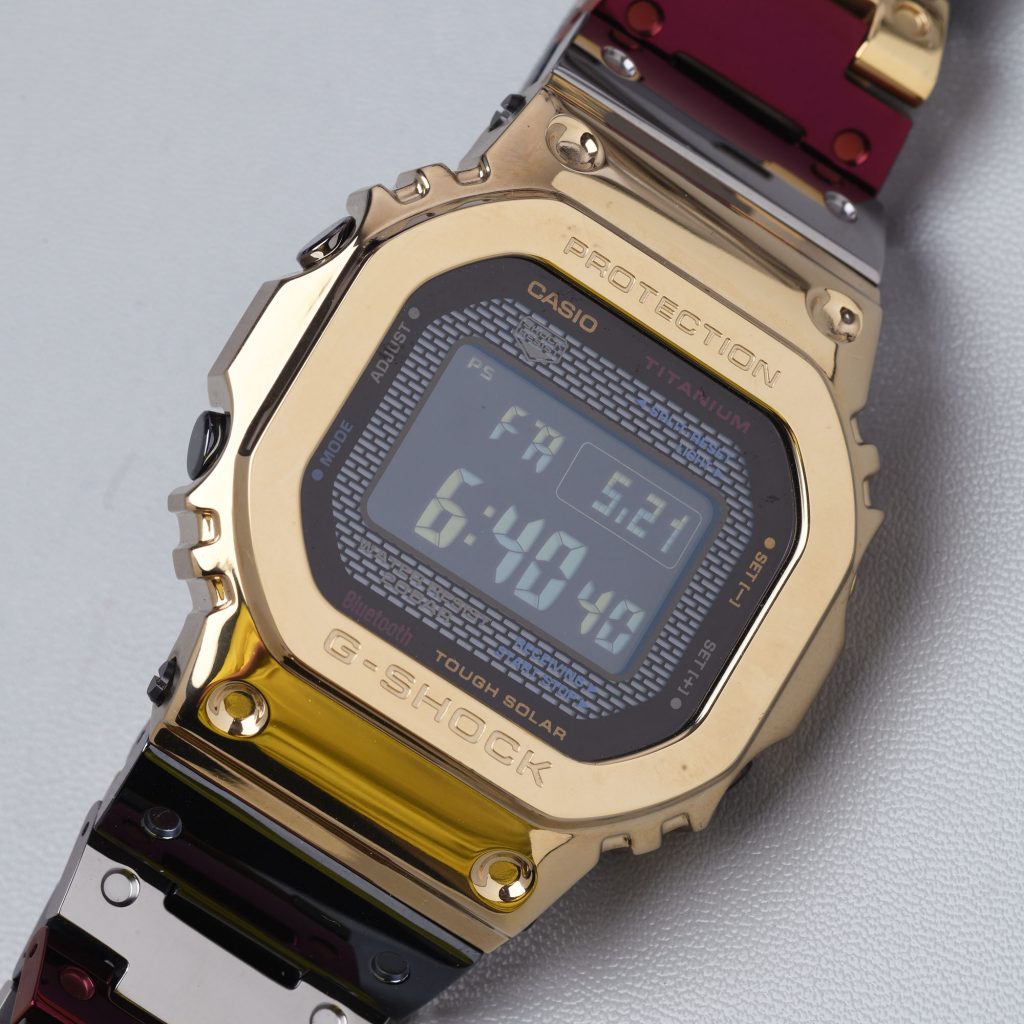 Whatever the reason, I soon saw many of my fellow watch enthusiasts eagerly sporting variations of the metal 5000 series on their wrists, displacing their normal mechanical watches every now and then, or maybe when they needed a G-Shock to handle a tough environment.
Of course this was easy to understand, as even though these watches were expensive when benchmarked against the basic 5000 series G-Shock, they were still relatively affordable when compared to mid-range mechanical watches.
Well, I was one of those people who was enamoured by the look but never really took the leap to buy one, which is what makes this new variation so interesting.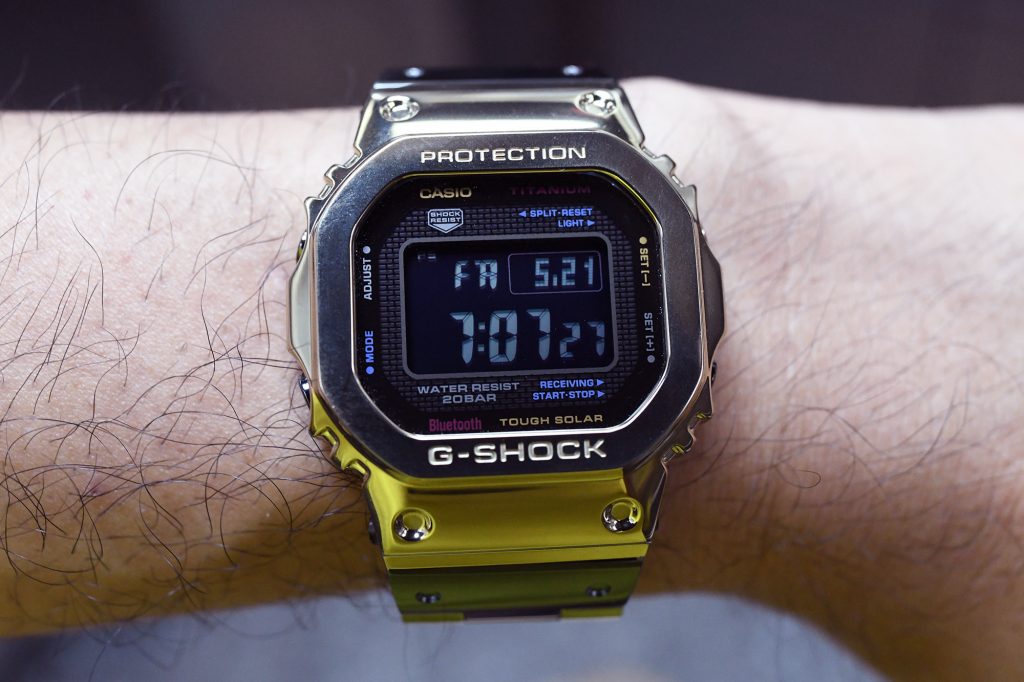 When I saw the press release I was so excited that I eagerly contacted Casio to provide a review unit and here it is.
So the new GMW-B5000TR is the latest variation of the square full metal series of G-Shock watches, and its claim to fame is a new titanium alloy developed specifically for Casio by titanium specialist TranTixxii™, a subsidiary company of Nippon Steel Corporation. So that basically means that the watch is very light. In fact holding it might give you that initial weird feeling when you're first confronted with any titanium watch – that what you have in your hand is so light that it might just be a toy.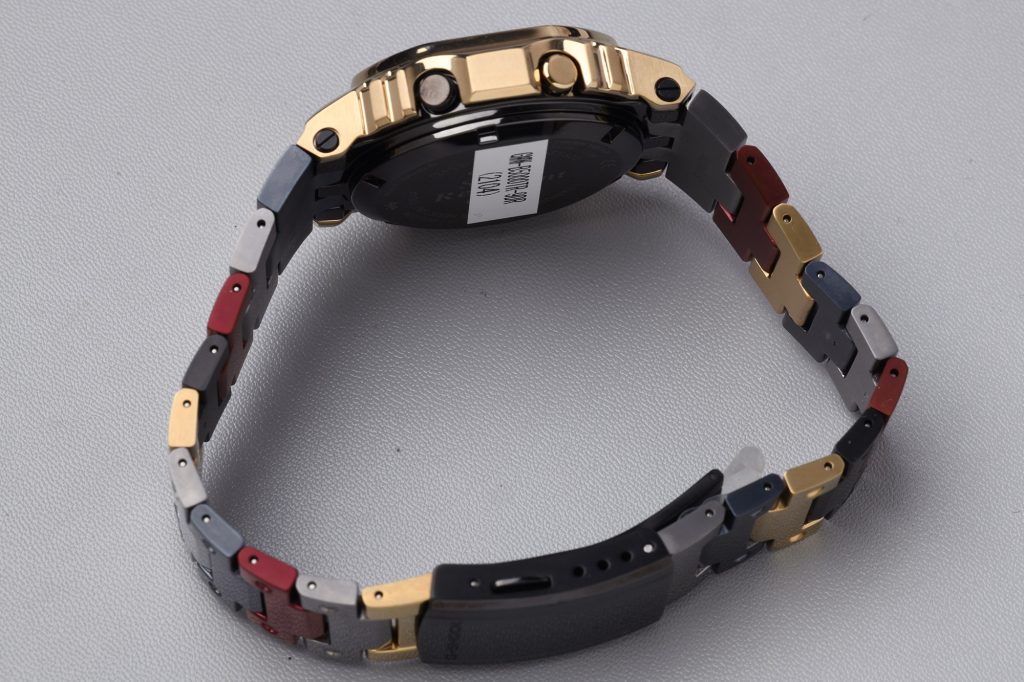 Yet it's a feeling that goes away soon after it's on the wrist, when the benefit of not being able to feel that your watch is there is actually a positive when doing certain sporty activities. It'll take some getting used to if you're not familiar with titanium, but if you are, then you'll know what to expect.
Then there is another benefit that this new alloy brings, and that it delivers roughly twice the hardness of pure titanium, which essentially means that it is more scratch resistant than normal. 
How much more then? Well, Casio was a little coy in giving me specific answers to this question, but given how pure titanium is about 200 to 250 Hv, their assertion that this new alloy is twice as hard would put the Vickers rating at about 500 Hv. If that is the case, then it should be plenty hard enough. After all, 316L stainless steel stands at about 220Hv, and Damasko, a brand that has its cases undergo their own proprietary process called ice-hardening that results in a roughly 700 Hv rating, is famous for being extremely scratch resistant, with some owners reporting zero to minor scratches even after owning them for years.
It's a pity that Casio declined my request to allow me to scratch a bracelet link on camera to test this, but I'm sure that the owners of this new Casio will readily share their findings, as most are wont to do, via social media, if it fails to live up to the claim.
I'm more inclined to believe them than not, and one of the ways I know how is why Casio has decided to go with a mirrored finish decorating for the front facing part of the case and the bracelet. It seems like a confident move that just begs the owners of the watch to try and scratch it.
On the aesthetics, well, I'm personally not too keen on the gold toned case, as well as the polychromatic colours that make up the bracelet. The colours chosen seem rather familiar, and remind me of Iron Man's suit. Maybe that's an ideal nickname for this watch – the "Iron Man".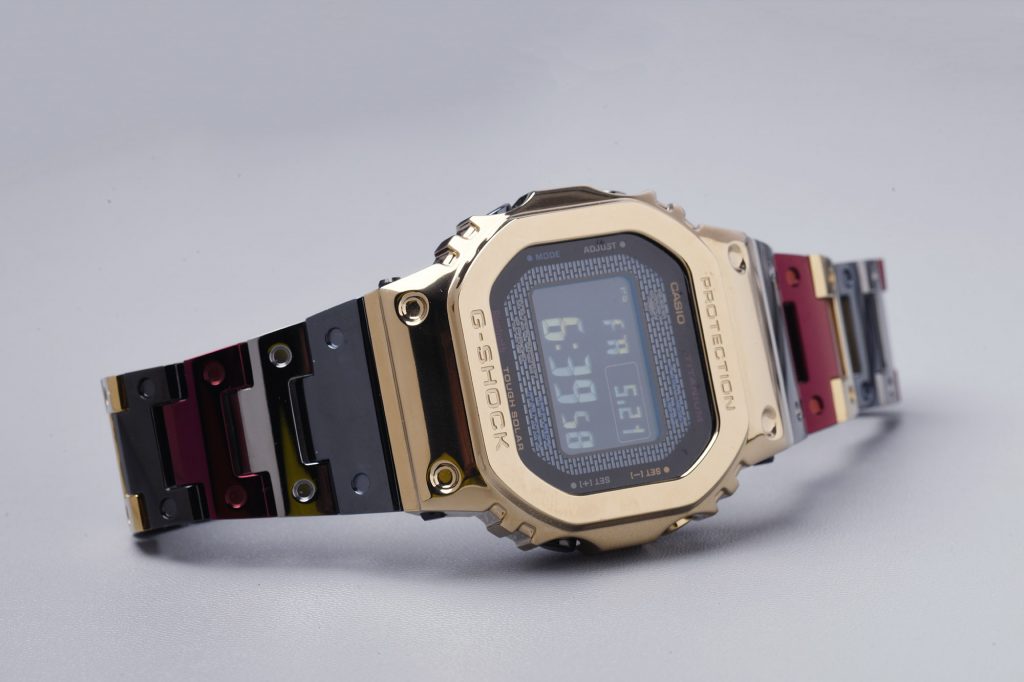 In any case, they are there to showcase the possibilities of colour that future watches can be made in. Ion plating was used to achieve this effect, which I'm assuming goes over the titanium alloy to provide additional scratch resistance. The colours of the bracelet alternate from red, dark grey, gold and blue, and it's an interesting look certainly, but I'll be more interested in a single colour tone version in the future. Any of these colours would suit me just fine. In fact, I would like a polished full red version case and bracelet – that would be very nice.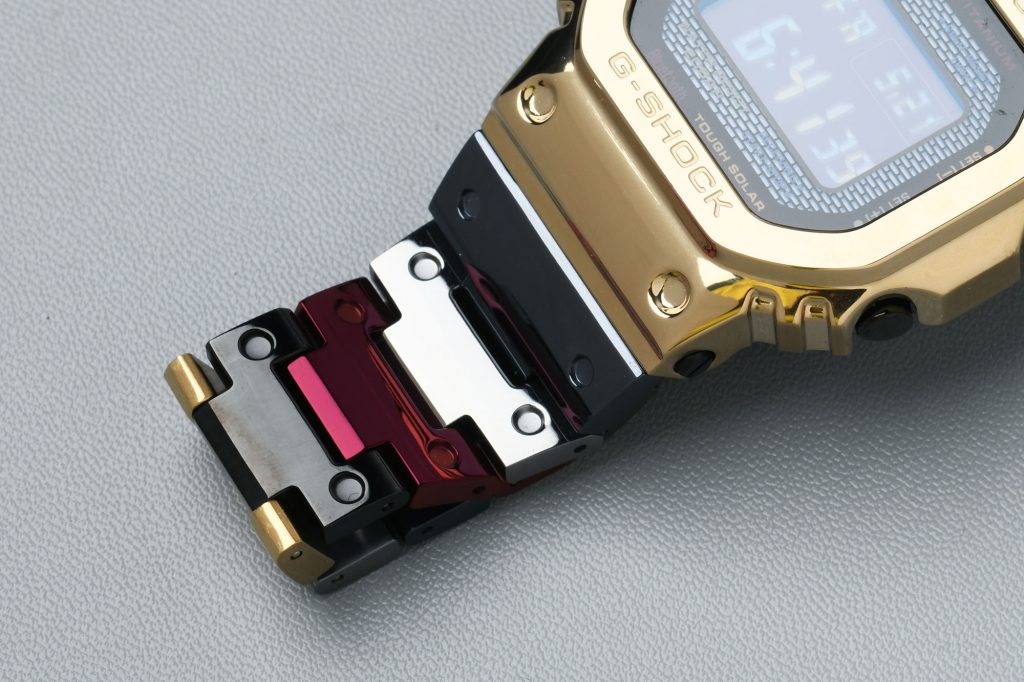 As befits a modern Casio, the GMW-B5000TR is equipped with Smartphone Link functionality for automatic time adjustment, world time, and many more functions. Then there is the Tough Solar power system, meaning no battery changes, and a Multiband 6 radio wave reception for accurate timing mostly in first world geographical locations.
What do I think of this watch? Well, it's a 5000 series G-Shock that I would seriously consider, as I'm more inclined towards fancy materials with space-age characteristics. It does seem a bit spendy though at SGD$2,199, but this price is more or less in line with other similarly scratch resistant watches from the other Japanese brands so I think it's OK.
I mean, if you really need a watch to withstand harsh conditions you can get a basic 5000 series G-Shock for roughly $100. But if you can afford it, and would like a watch that can do the same, but with a few technical upgrades and a little bit of a shiny look, this new GMW-B5000TR should be right up your alley.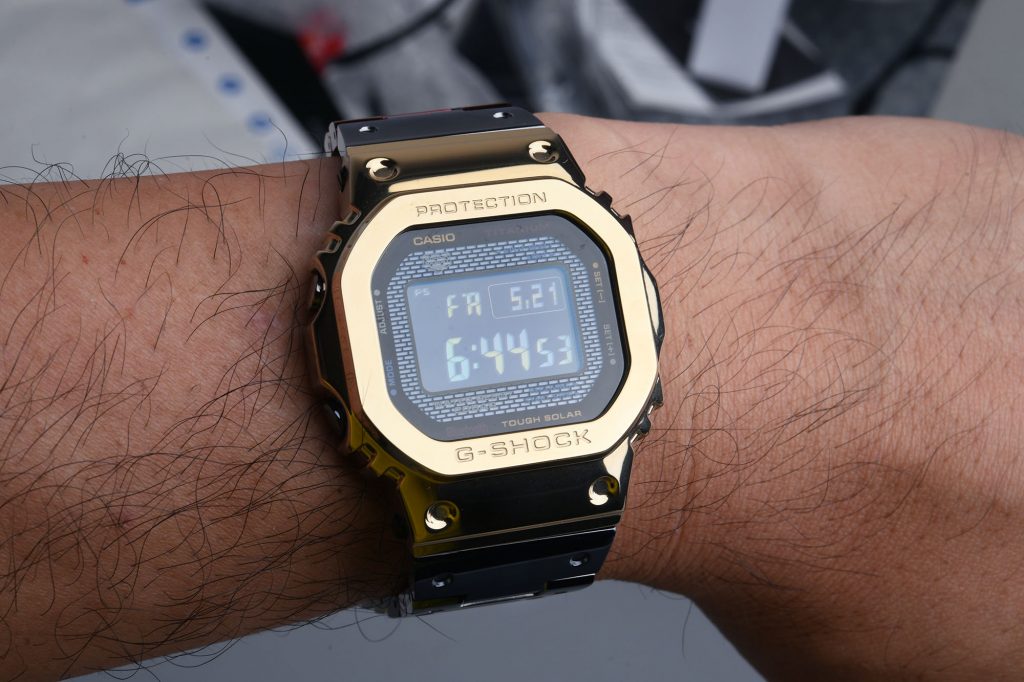 Me? I'll wait for a single colour tone version in the future because I'm sold on the titanium alloy of this watch already.