In the past few years, Roger Dubuis has kept their customer firmly in their sights, to produce mechanical wonders that continue to surprise and delight. Even for casual observers of the brand, it cannot be denied that Roger Dubuis have been audacious in their approach to watchmaking. ISOCHRONO sat down with Mr Nicola Andreatta during the course of Watches and Wonders 2021 to discuss the brand and how it continues to remain relevant in the eyes of watch lovers around the world.
(This interview has been edited for clarity and coherence)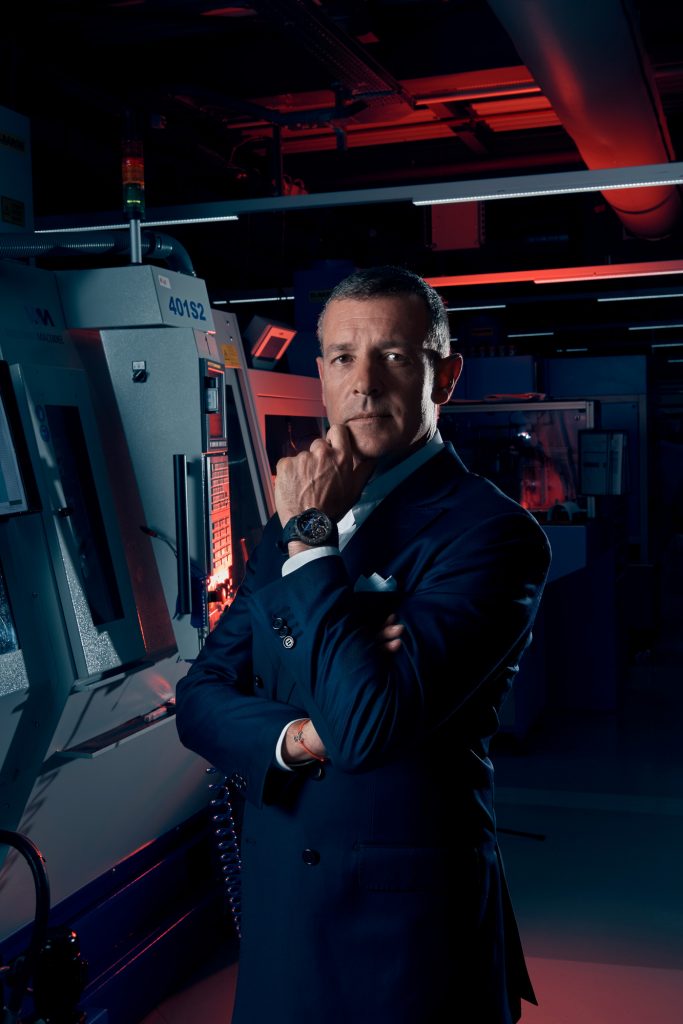 Adi Soon (AS): We've known each other since 2016 since your time at Tiffany & Co where you were heading up the Watch Division there – how long has it been since you joined Roger Dubuis?
Nicola Andreatta (NA): I joined the brand around December 2018, so its almost been two and a half years now – time has gone quite quickly since then!
AS: How have you been settling into the culture of the brand, and what was left behind by your predecessor, Jean-Marc Pontroue (now CEO of Officine Panerai)?
NA: It's been a fantastic journey, and I believe there is no doubt that there is no better way to crown a career in watchmaking than by joining one of the best players in the Haute Horlogerie arena. I definitely made it no secret that I liked the way that Roger Dubuis was managed, as well as the strategies and initiatives that were started by Mr Pontroue – which is why I continued on the same path as he did. But even when there is a clear direction, there are many paths that you can take to get there, and many more friends can join you along the way. This is a way for the brand to evolve, and this evolution certainly plays a part in our strategy going forward – from our communications, our product collections and even our boutique architecture. All of these aspects and more, have been refined in the last few years to create a brand that is even more contemporary and expressive than before.
2020 has certainly raised many questions about the way we do business, and it was important for me to have a rethink of the brand, and to prepare for the future. I would say that everyone agrees that the world of today is much different to the world 2 years ago – not only because of the digital revolution we are experiencing today, but also the way we experience luxury now compared to the past. At Roger Dubuis, we wanted to make sure we were prepared for these drastic changes, and we spent a lot of time refining our concepts as well as our execution of these concepts.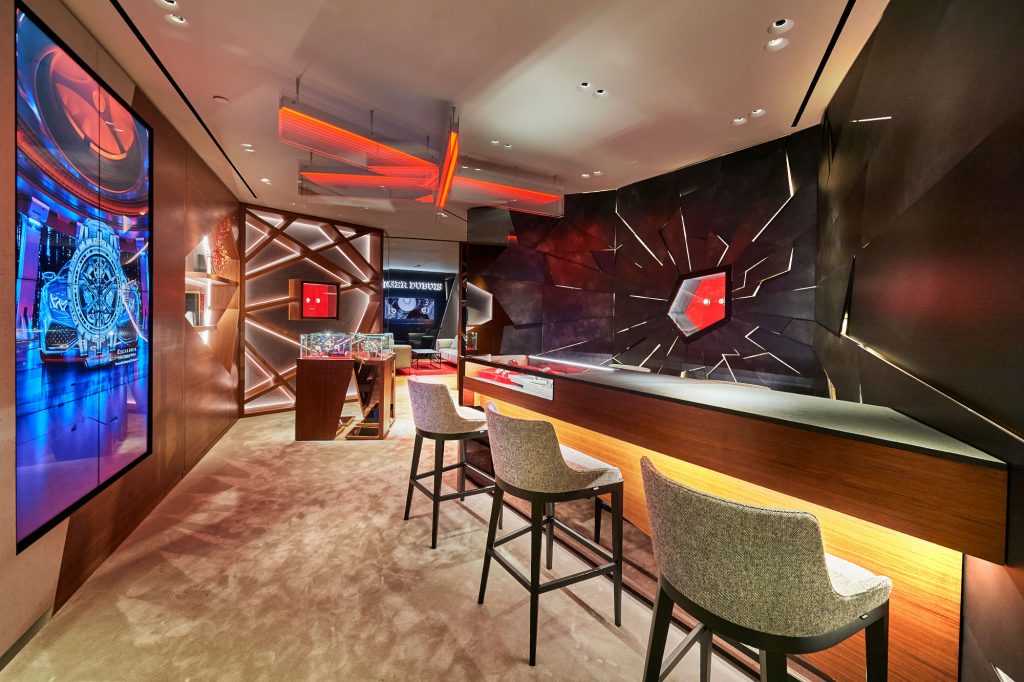 AS: Can you elaborate on how Roger Dubuis is changing the way you do business in the world we live in currently?
NA: We cannot stand still. We have this boundless creativity, that needs to be channelled to continue our journey of exploring the future of watchmaking. It was a real challenge to look at this from all angles, and we started from what the brand stands for – we told ourselves that if the values of Roger Dubuis can be summed up in one word, that it would be "excess". While that word can have a negative connotation, and it can be easy to slip into the "dark side of the force", the originally etymology of the word is from Latin – Excedo – to go beyond. At Roger Dubuis, it is all about going beyond. We went one step further to define this, where we define three elements that complement this excess: Pleasure, Madness and Freedom, and we believe that everything that one does is in pursuit of one of these three elements. Pleasure – because want to be there when our clients enjoy life, Madness – at Roger Dubuis, we are a little bit crazier than our stablemates and this provides an outlet for that spontaneity. Lastly, Freedom – it drives almost everything we do at Roger Dubuis – the freedom to create, and to invent, to take inspiration from the past, but to deliver something that has not existed until today.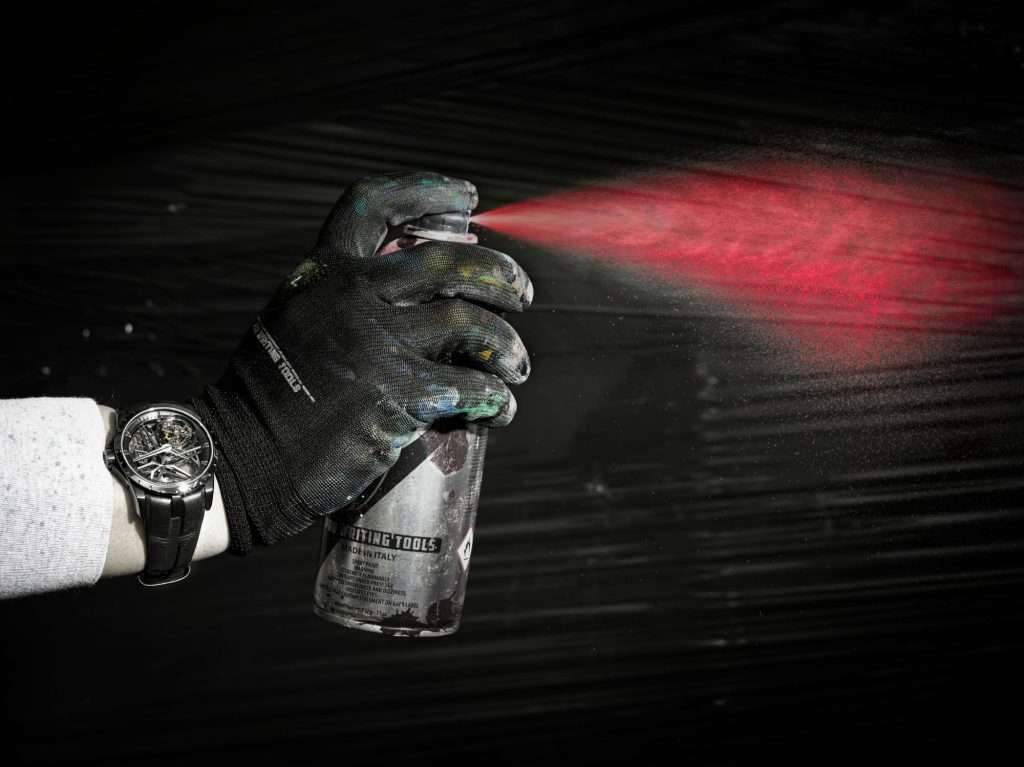 We also refined our two areas of expression – on one hand we have the Adrenaline Factor that ties in very well with our motorsport friends at Lamborghini and Pirelli, and on the other side, we have what we call Expressive Singularity. There is the idea to express yourself to set yourself apart from the herd, to have that touch of extravagance in everything you do – this connects to art, and the different perspectives that it can bring on reality goes hand in hand with this expression. This is why we have partnered with contemporary artists of today, the French artist Gully and Dr Woo, one of the most celebrated tattoo artists in the world – connecting with their way of seeing the world to potentially open up new universes to express their viewpoints through Roger Dubuis.
This notion of Expressive Singularity led to the reimagining of our icons, including the Excalibur. It has been a mainstay of our collection since 2005, and as it has been working so well for us, it was hard to improve on it. However, I think we managed to do it, with a redesign of the case and movement – especially the single tourbillon movement.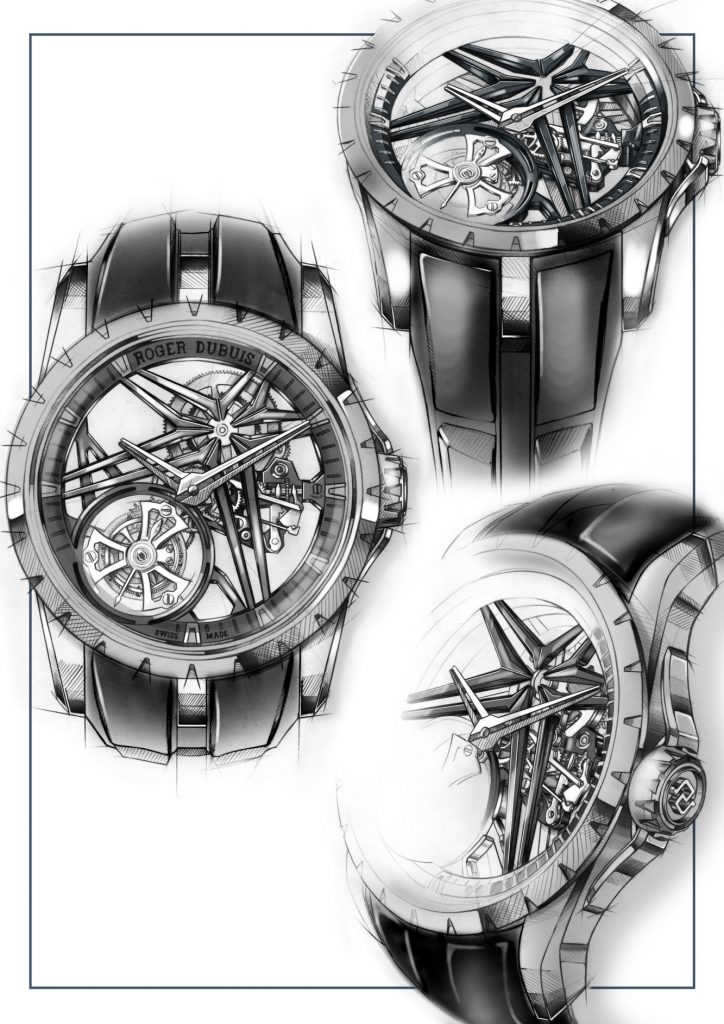 Martin Goh (MG): Could you elaborate on the purpose of the Excalibur redesign, and what the key points are on the new models?
NA: It has to do with who we are at the end of the day – evolving watchmaking, and bringing haute horlogerie to the next level. With many of the brands around us, they are very classical and conservative, however, the taste, design and technologies are all changing around us, and so we wanted to ensure that we had an icon that was always up to date. Its like when we talk about the car world, where designs stem from the 60s and 70s, and yet they remain recognisable today – it is the same here, we take these elements to keep the recognisability of our icons. It is always difficult to balance these design preferences, but we believe by evolving our iconic models, it doesn't mean we have to completely revolutionise the product. For the Excalibur, the elements such as the three lugs and the notches of the bezel will always be a part of our history that will remain, however, we have added the parallel lines onto the star motif, and on the hands, to modernise it. Even our cases have undergone a slight evolution, featuring more tense cut lines – a more industrial look that eliminates all of the curves of the cases of previous generations. In comparison, the new models are less baroque, and much more contemporary in the final design. The volumes are actually exactly the same as before – same size, same thickness, same case diameter as the original Excalibur, but the new design gives more of a refined feeling, as we reworked the proportions of the case middle and the case back. This is also accentuated by the play with finishings on the case. The polished facet on the lugs when surrounded by the brushed facets on either side highlight the shape of the case even more.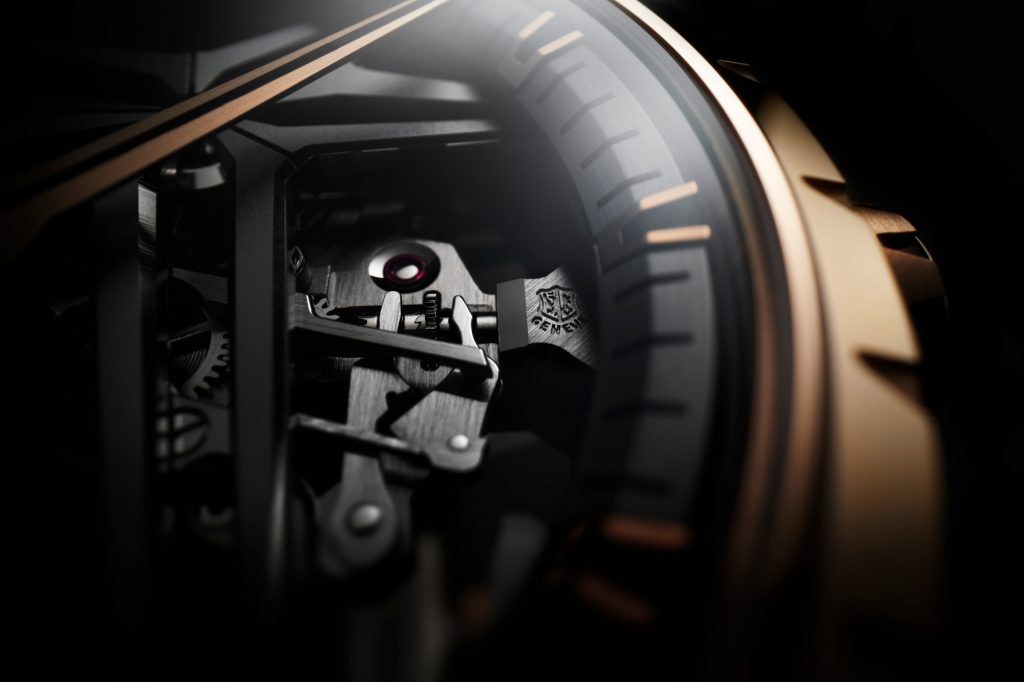 Going to the movement, we pretty much applied the same design principles. At Roger Dubuis, the technical elements are at the service of the aesthetics, so we started from the functional approach, making sure that we have something that would please our clients – we increased the performance and increased the power reserve of the watch. We accomplished this by looking at different materials, and optimising the shape of each of the wheels in the gear train.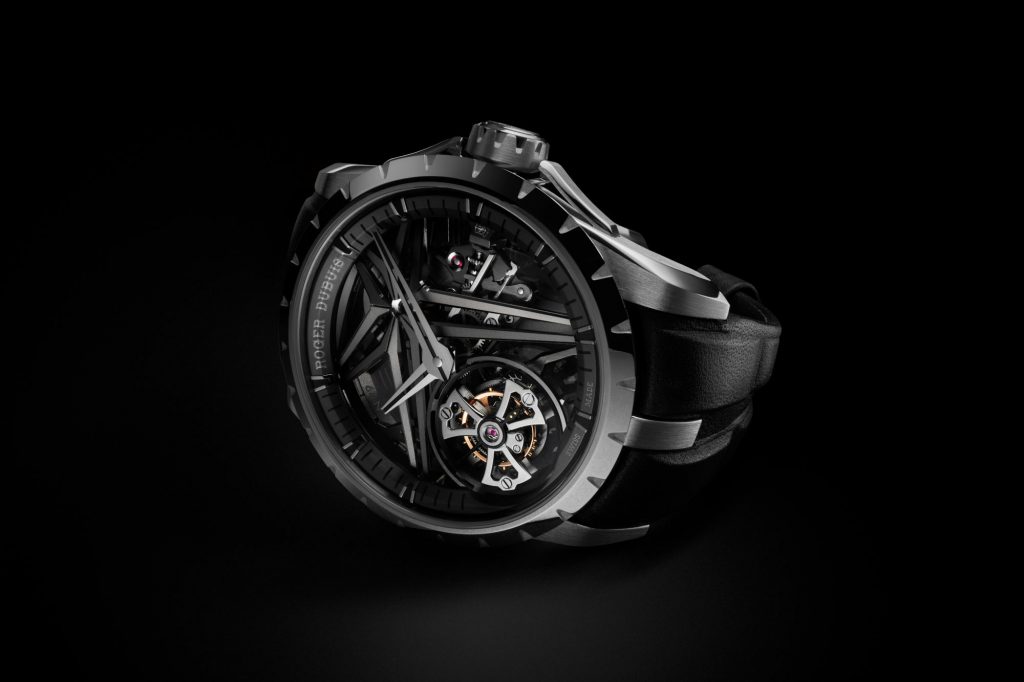 We also wanted to keep the structural integrity of the movement, but now the stars have been made a decorative element above the barrel, rather than a structural one. This enabled us to play more with the finishings of the movement to further enhance the aesthetics. I think the balance of the calibre as a whole is rather amazing, especially with the single flying tourbillon, we could play with all that space to give the most coherent appearance. The star itself plays with sandblasting, brushed surfaces and clean lines that are polished, enabling us to show off the techniques available at our manufacture.
MG: We understand that Roger Dubuis has introduced EON Gold to your stable of materials. Can you shed some light onto the development of this unique alloy, and some of the differences it has from normal Rose Gold?
NA: This new material forms an important part of the 'why' we do things the way we do at Roger Dubuis. We don't play with materials for the sake of making novelties – either we use materials from an aesthetic or an appearance perspective, or to please our clients by giving them something different, and potentially something better. We know that Rose Gold tends to tarnish, becoming more yellowish over time due to its chemical composition. So in order to stabilise the composition of Rose Gold, we tested and explored different possibilities, and we ended up adding Palladium and Tin. These two materials help to maintain the colour of the Rose Gold. We did something even more extreme in the Double Flying Tourbillon model, and used our EON Plus Gold, which is 45% harder than normal types of gold. So this is all in the service of the aesthetic, in that they will be uncompromised over time.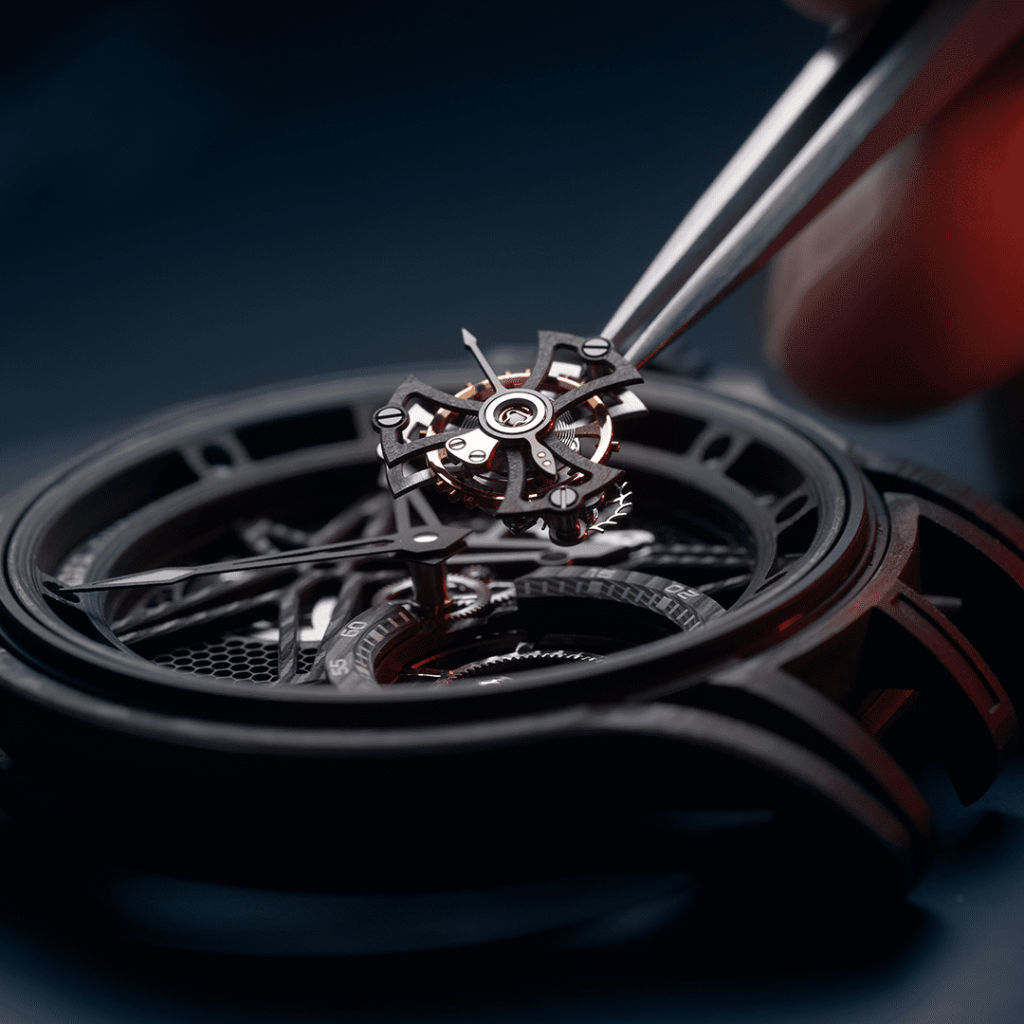 MG: Every year, we see a lot of extreme forms of Haute Horlogerie from Roger Dubuis, how does the brand continue to maintain its position in respecting the tenets of Fine Watchmaking, whilst appealing to today's modern customer?
NA: We always like to be inspired by tradition, but we like to evolve these traditions to offer something different, and probably the best way to demonstrate this is through the work we do with the organisation (Timelab) that regulates the Poincon de Geneve (Geneva Seal). It is something that was first established in 1886, and the twelve rules remain largely the same today.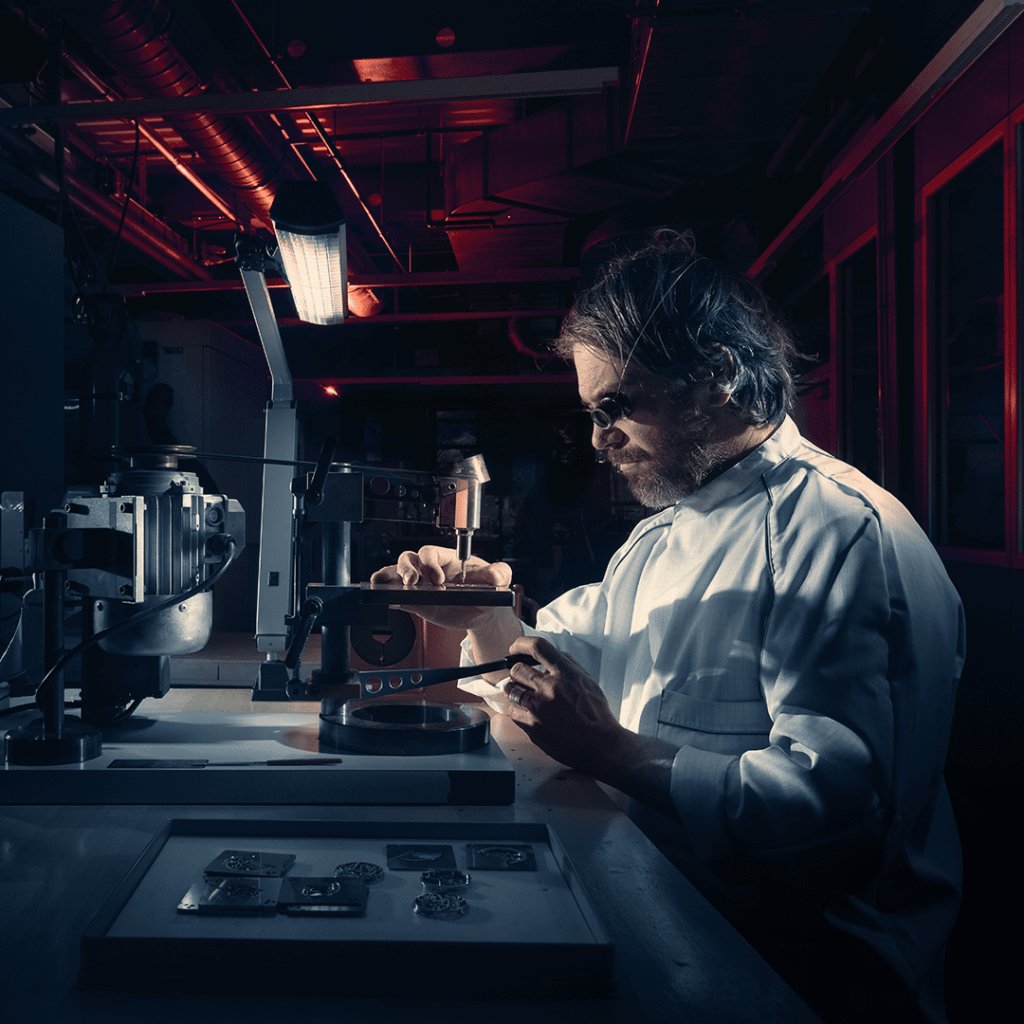 In parallel, the watchmaking world has changed with the introduction of new technologies and materials coming into play. So the question for us is: how can we still respect the Poincon de Geneve, whilst bringing modern techniques and materials to evolve our offering? The way we go about this is through constant dialogue between us and those involved in the Poincon de Geneve. Our product team constantly challenge the rules, and through this constant dialogue with Timelab, we can ensure that our pieces can still be stamped with the Poincon de Geneve, whilst introducing new ideas.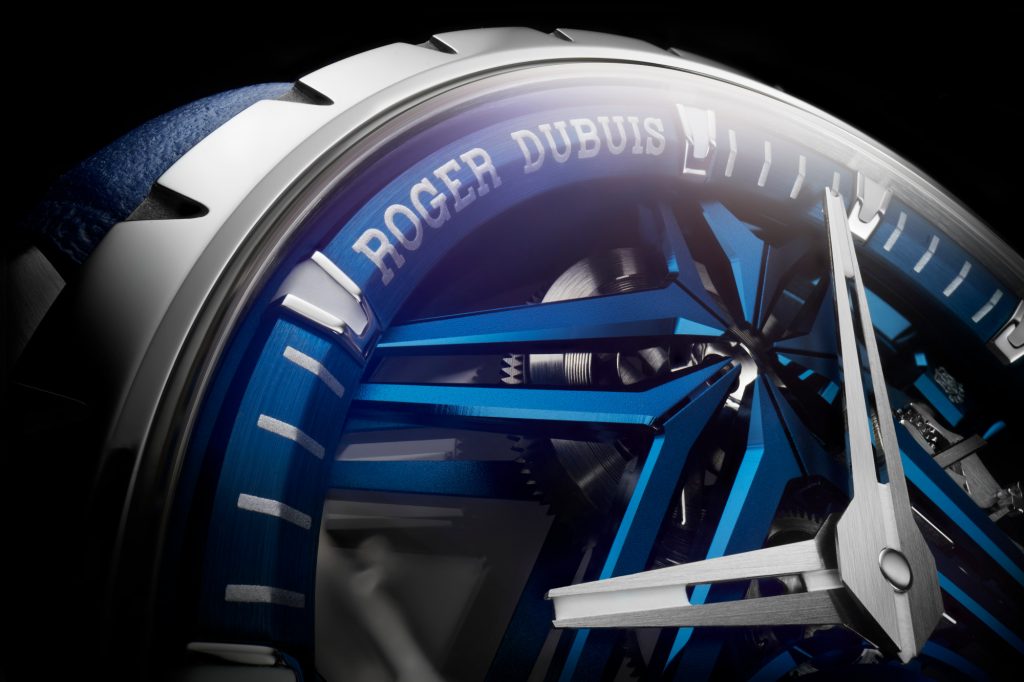 One example of this is the perlage on some of the metallic surfaces of the movement. While it is a very beautiful traditional decoration, we challenged this by instead using a contrasting satin brushed finish for the surfaces and polished angles – the organisation determined that due to the difficulty in achieving this finishing, it is still in the spirit of the Poincon de Geneve. At the end of the day, it is all about evolution. When Roger Dubuis himself was a part of the brand 25 years ago, he had the same ideas of being expressive, creative and contemporary in his approach to watchmaking, whilst still having tradition in mind. I believe that we are still adhering to his vision, and have been for a number of years now.
MG: In the past few years, there has been a lot of renewed interest in Roger Dubuis models of the past – in particular the Hommage series and their line of Lemania-powered chronographs and dress watches of the mid-late 90s – early 00s. How does your brand continue to honour your eponymous founder, and are there any plans to make new models inspired by the past?
NA: We certainly cherish our past, and the history of the brand is certainly something we cannot delete – there were definitely some amazing things we did in the past. But for us, it is crucial that we keep looking forward, and I sometimes say that "Our Heritage is the Future" – it can be oxymoronic, but it paints a picture of what we want to do at the brand. The "Lemania Period" of our brand was great for us in the beginning, however, we are now a fully-integrated manufacture. If and when we decide to go back to chronographs, we will do so on our terms, with our own ideas and with our own evolution on the complication that will be fully manufactured at Roger Dubuis – and we certainly have the knowledge to be able to accomplish this. I think it is great that our past models are still enjoyed by watch lovers around the world, but my vision is that people come back to us to see what we are doing for the future. I don't see a need to revamp models from the past at this stage, and we certainly have not run out of creativity at the manufacture!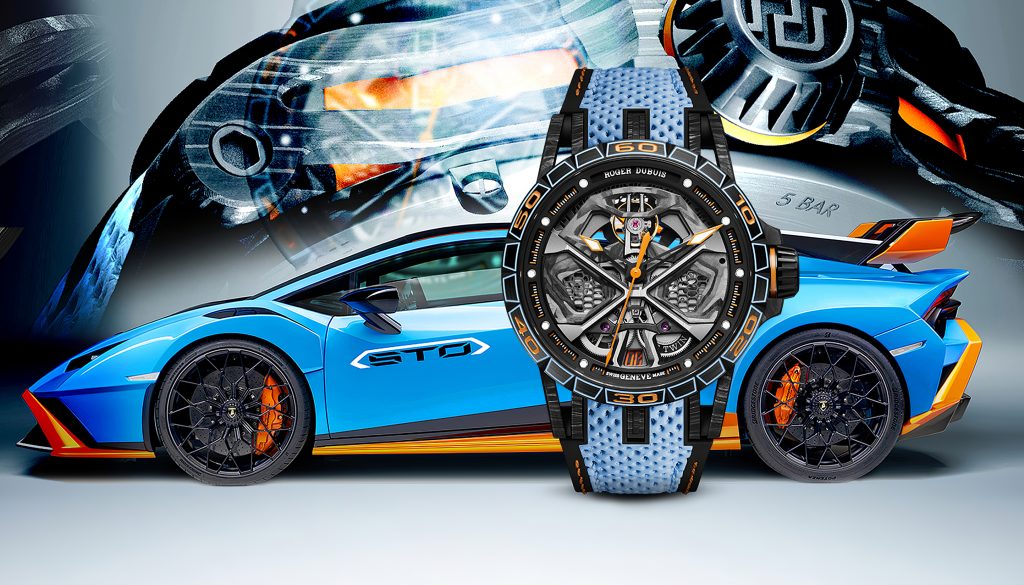 MG: Over the last few years, Roger Dubuis has been very active in the automotive arena with your partnerships with Lamborghini – what is the thought behind these partnerships and why are they so important to Roger Dubuis?
NA: We've seen a lot of watch and car partnerships over the years – some good and some questionable, and it all has to do with the affinity of the two worlds and the communion of values between the two brands. It cannot just be a marketing effort, the entire brand must put its weight behind the partnership to create substance. The easiest comparison between watches and cars is that they both have a "chassis" (body) and an "engine" – but there can be so many more possibilities in the way you do a car or a watch. The question now becomes "do your partners share your philosophies in creating your products?". Lamborghini and Roger Dubuis do not make cars for everyone – we are both very happy to be polarising brands that are true to their visions, and it may not be universally liked. Both Lamborghini and Roger Dubuis are brands that play on our customer's emotions – strong emotions are part of who we are and what we do. We both represent excellence, and pushing things to the extremes. So we have a lot in common with Lamborghini as our partners, and it really is a pleasure to continue this partnership – a true partnership at that. We regularly meet with their design teams to discuss the evolution of their designs, their technical teams to see if there are any linkages between the latest developments and our calibres or our materials. There are also regular chances for our clients to share experiences, whether they be with Lamborghini or with Roger Dubuis. So we have created a tribe that share the same emotions, which facilitates this relationship between us.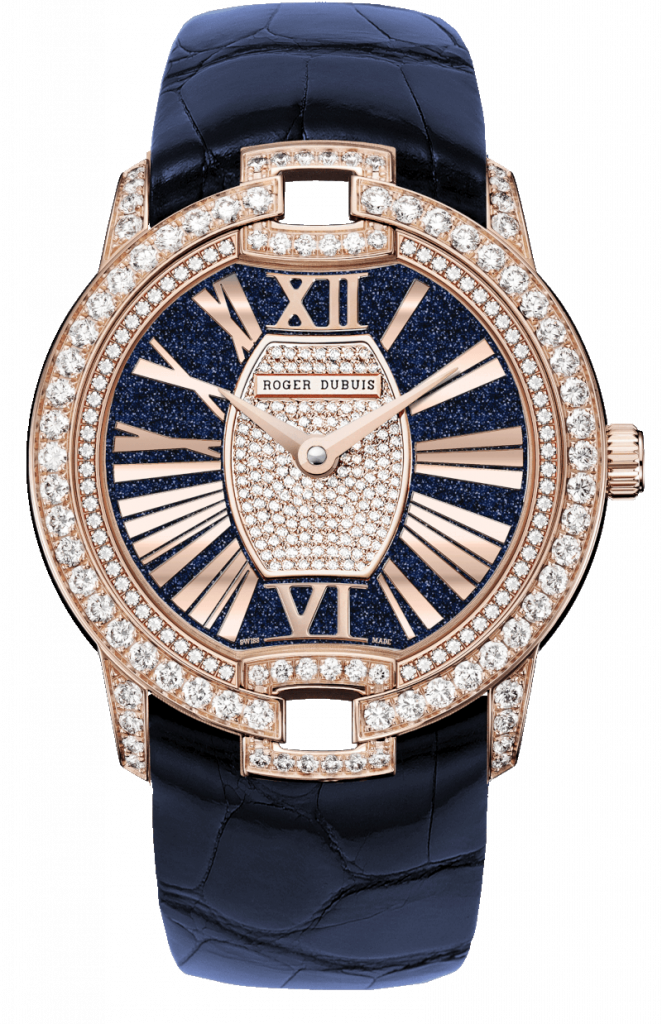 MG: The other emblematic pillar of Roger Dubuis is the Velvet collection – what are the future plans for this collection, will this become a platform for creative arts, or is there room for more complications in this collection?
NA: Velvet has always been a strong part of our collection for a number of years now, and it will continue to be a part of our collection. However, what will be an evolutive step for us will be that we will approach our designs from a genderless perspective – I don't like the idea of segmenting or pigeon-holeing ourselves. The moment you say something is "for men" or "for ladies", it is already assumed it is directed at a particular client. We want them to choose and decide for themselves what they want to wear, and I see ladies liking complications and larger pieces as a whole. On the opposite side of the spectrum, there are some men out there that do not like a 47mm watch – they might like a piece like our Excalibur 39mm Single Flying Tourbillon that we launched a few months ago. This lets us set our creativity free, and lets our clients choose what is best for them – matching their lifestyles, their wrist size, without us dictating what they should wear.
MG: Can you give us an insight into what Roger Dubuis has in store for us in the future?
NA: Without saying too much, I can definitely say to expect the unexpected. We will continue to go down the path we have forged with the facelift of the Excalibur this year, beginning with our Double Flying Tourbillon in January 2021 and our Single Flying Tourbillon (unveiled at W&W 2021). We also have a few amazing complications that will be an addition to our lineup later this year, and we are continuing our exploration of new materials. Our R&D and Design teams are hard at work, and we will have much more to share with you over the coming months.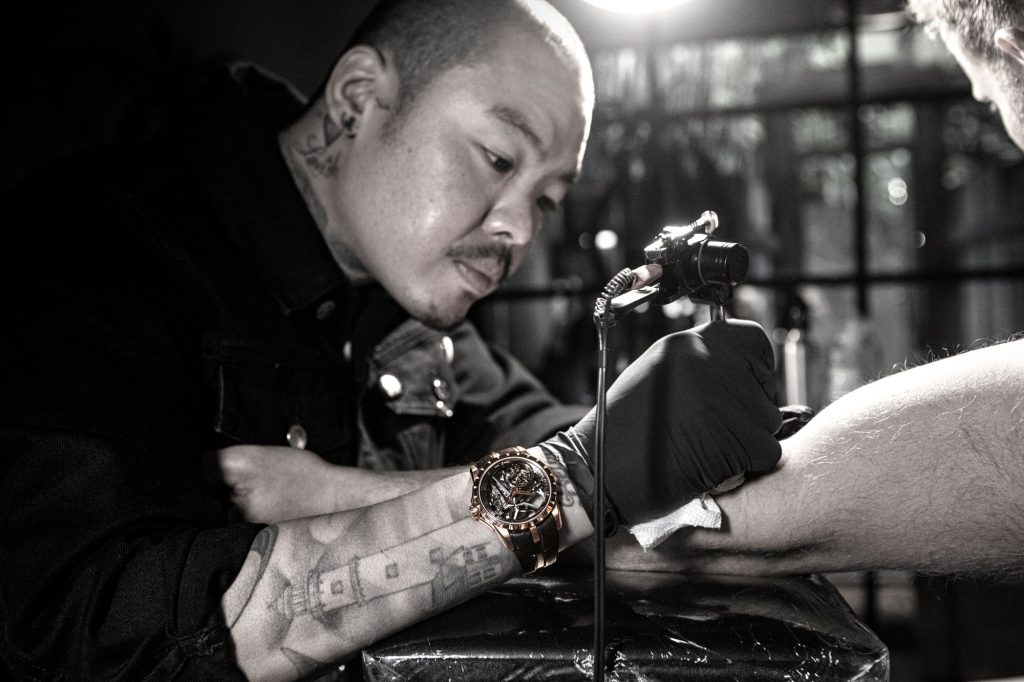 AS: We noticed your collaborations with the artist Gully and tattoo artist Dr Woo. Are there any watches planned in partnership with them?
NA: We plan on a long standing partnership with them, seeing as our values align so closely. The real question remains – how does the art of watchmaking collide with their worlds of art.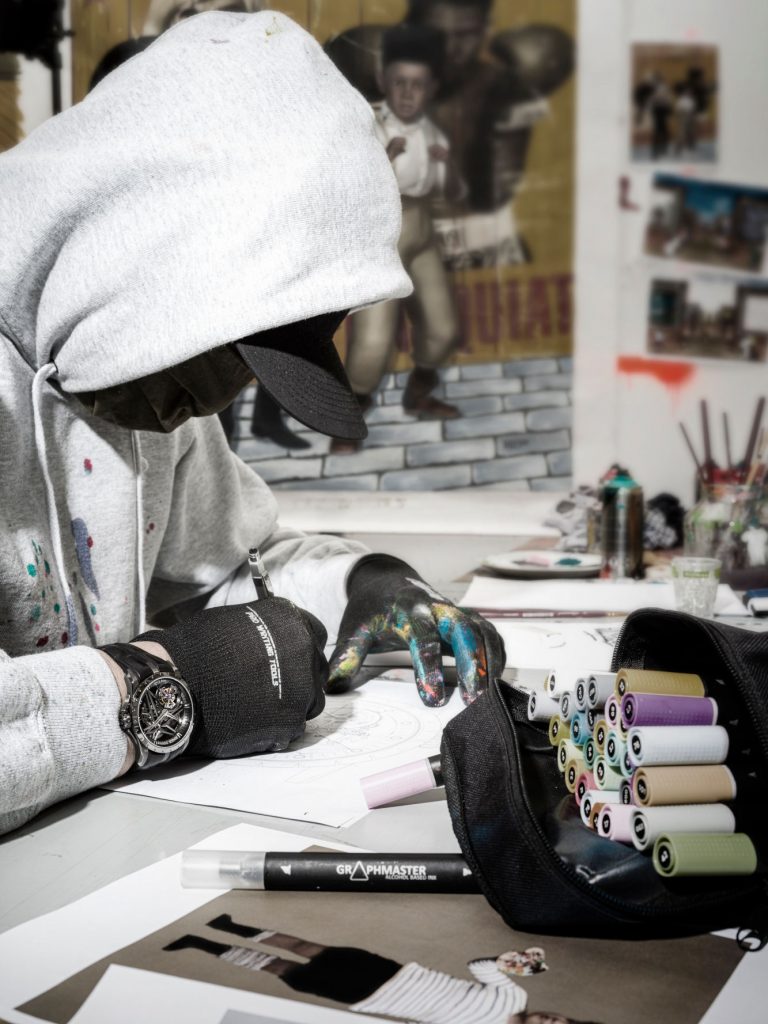 We certainly want to bring their philosophies to our watches soon, and we are exploring these areas as we speak.
We thank Roger Dubuis for making this interview happen.