The Tudor Pelagos FXD was a watch that had been teased for some time, and now after a top secret two year development period with the combat divers of the French Marine Nationale, it's finally here.
On the surface, it might look like a typical diving watch from Tudor, but look slightly closer and you'll find a plethora of details that mark this release as quite different and very special.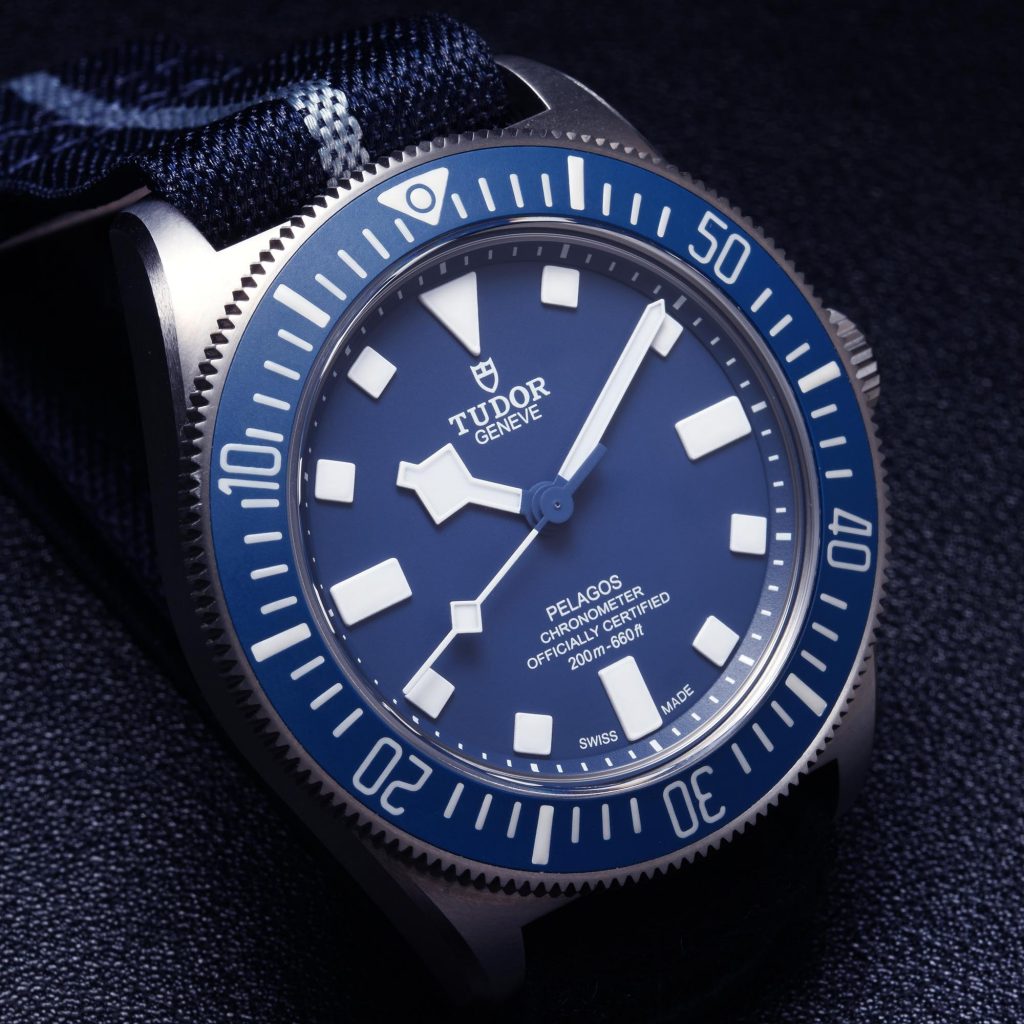 The first thing to note is that if you happen to be shopping for a new dive watch and are considering this new Pelagos FXD from Tudor, then know that it is not an ISO-certified dive watch. Certainly, while it has an adequate 200 metres of water resistance and a running seconds hand to indicate that it is running, the main stumbling block to it being a proper diver is that it doesn't have a unidirectional rotating bezel as you'd expect. Instead it has a bi-directional countdown bezel, something more commonly seen on pilot type watches instead.
Why this rather strange and uncommon feature?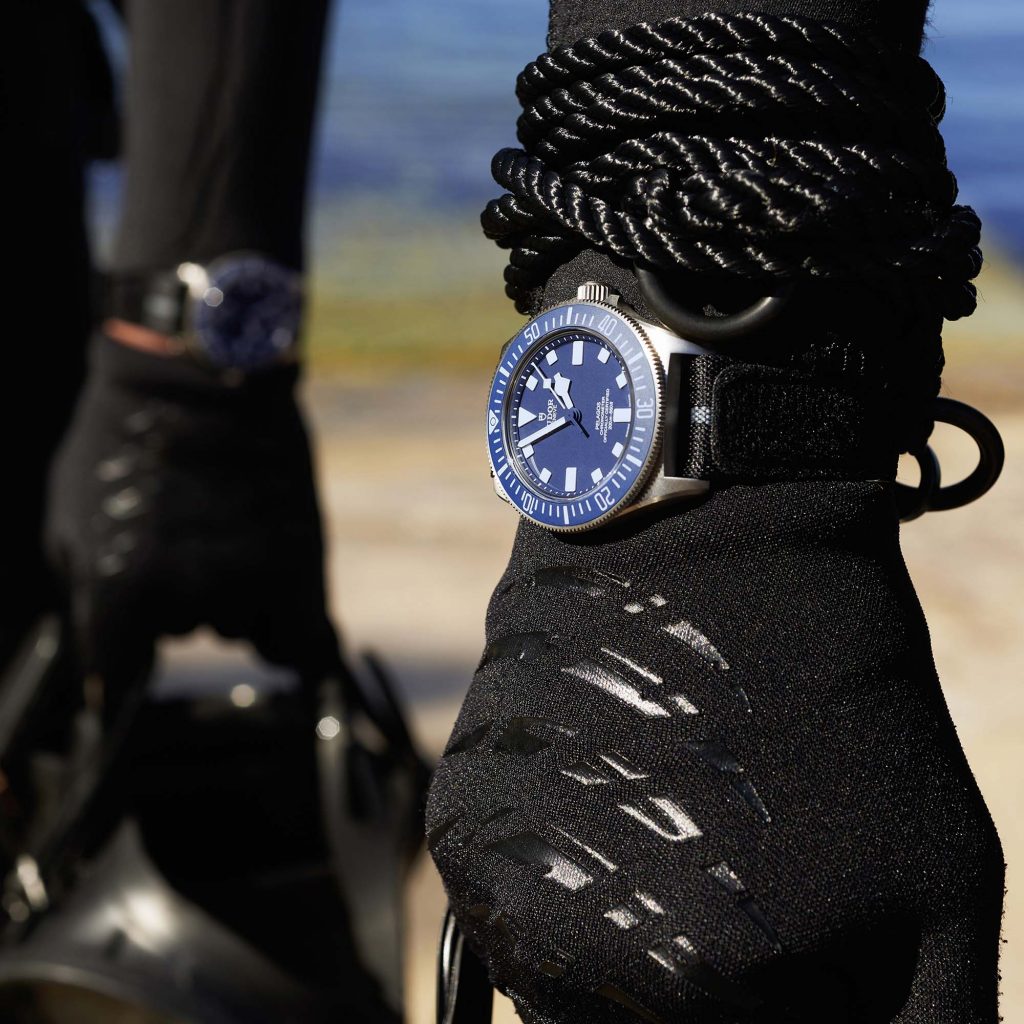 Well, the key is in it's intended usage. It was made in collaboration with the Marine Nationale or French Navy, and specifically for the combat swimmers who typically are not required to descend to great depths like a scuba diver. Instead, what they typically do is surface swimming – moving just under the water at up to 6 metres below the surface.
If you're imagining it, then it'll be easy to understand why they do this, since by moving just beneath the water, they can move undetected into enemy territory, which allows them to do a number of things – reconnaissance, sabotage (strapping bombs onto enemy ships) or straight up unleash all manner of hurt on the enemy.
With this in mind then, we start to understand the intended purpose of the Pelagos FXD, with the bi-directional countdown bezel being an essential tool for navigation timing between a series of predetermined waypoints. It's necessary to do it this way, on account of the sometimes complex path required to navigate a coastline for example, requiring precise turns at precise points, all done underwater because the divers can't surface or risk giving away their presence.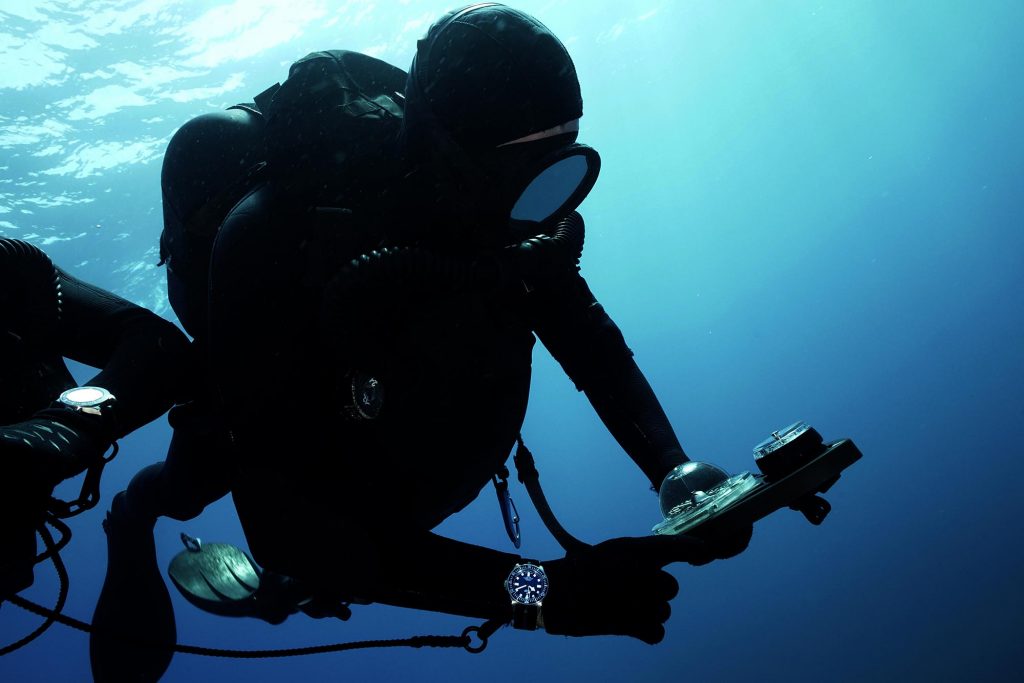 To do this, a pair of divers swim together at a constant speed with one determining the direction to a way-point, while the other determining the corresponding required elapsed time. In this scenario, it's easy to see how the bezel will work. Being bidirectional, it's quick to set it to any marker with the required minutes for counting down and with up to 30 seconds of precision based on a 120 click bezel. It helps that the ceramic bezel insert markers are fully lumed as well to aid in this. Check out this video below for a more visual explanation of this.
It's a very specific watch for a very specific task and is similar to another well known watch made for this type of surface swimming – early Panerai watches from World War 2 used by Italian combat swimmers.
The specialised design might put off someone who wants to use it for normal scuba diving, and in that case, you can get the standard Pelagos, which is one of the best all round dive watches on the market today. The FXD though is good for someone who doesn't need this specific requirement, but wants an everyday tool watch that can handle deep water and everything else, along with the ability to imagine oneself as a military badass when wearing one.
If you are that person, this watch is for you. It's what the real combat divers wear after-all, and you can save yourself the worry of ruining that precious vintage Tudor Submariner.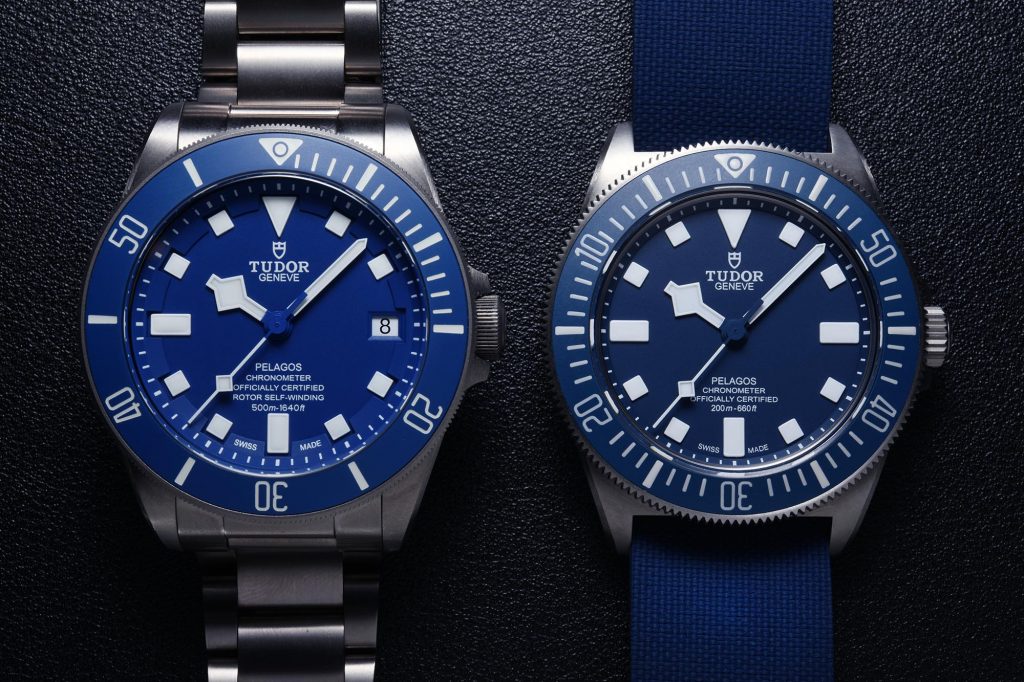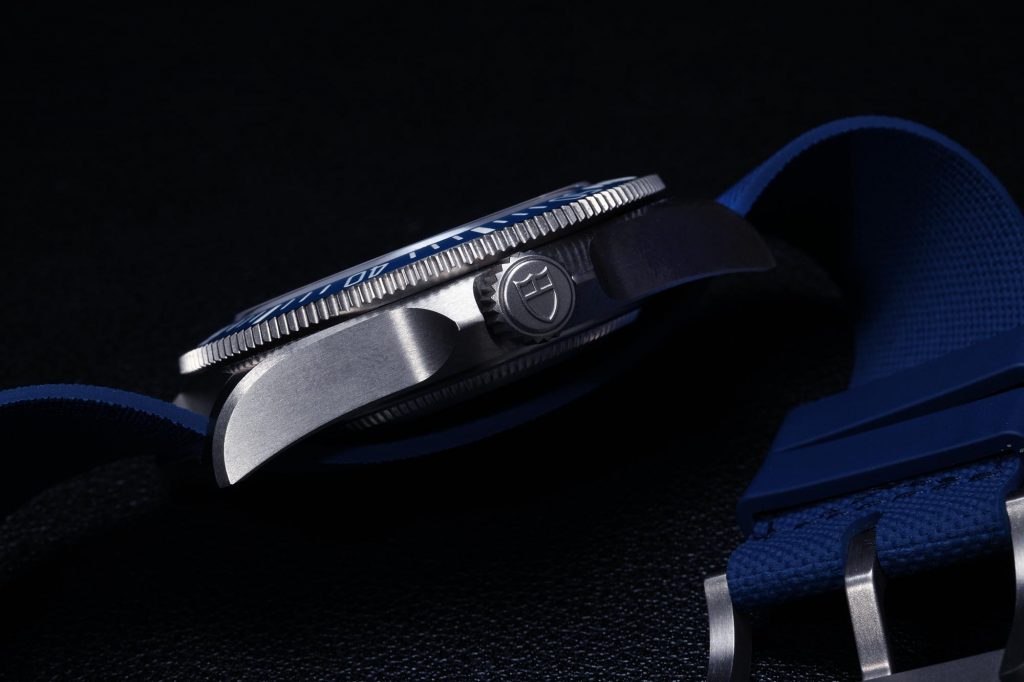 The watch itself, being a member of the Pelagos collection, utilizes the same lightweight titanium for its case, albeit with some changes. Dimensionally, the case is 12.75mm, versus the 14.3mm of the standard Pelagos and with a lug to lug distance of 52mm. The bezel overhangs the case slightly as well to aid with grip under wet conditions, and lastly the watch can only be worn on a continuous strap?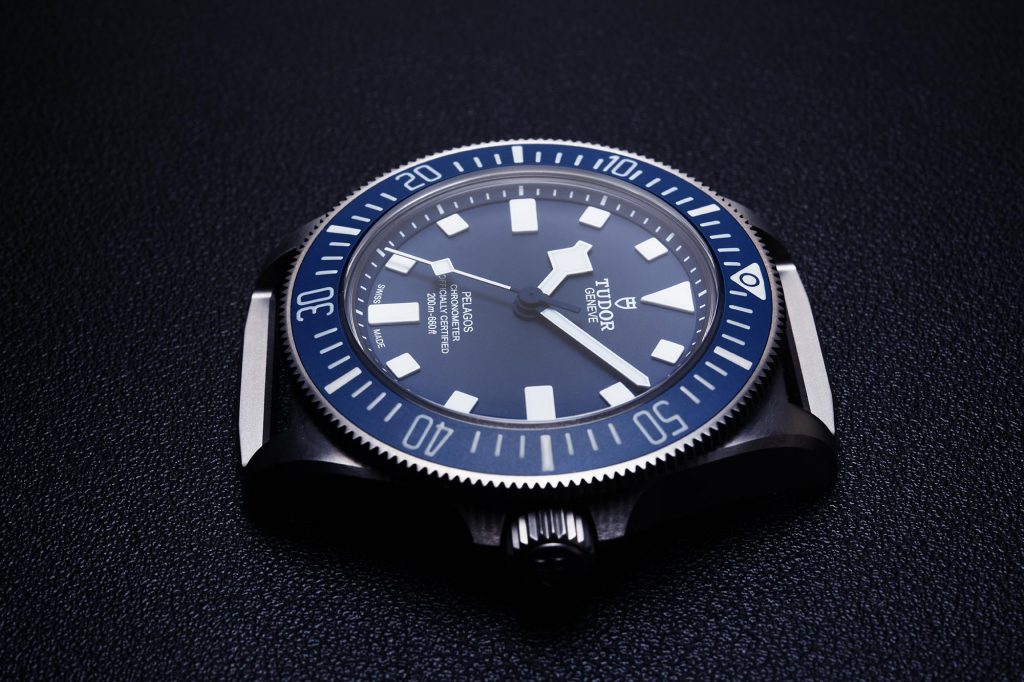 Why? The key is in the name. "FXD" stands for fixed, and here you find that the strap bars are fixed, with these and the entire case, machined out of a single block of titanium. They are beefy and look very strong, and also have rounded inner edges to protect any strap that is threaded through them.
On this point, you can see the value of making the case thinner than the standard Pelagos. Since it can only be worn with the new polyethylene woven ribbon or rubber strap that comes with the watch, the thinner profile helps to keep the height of the case from being unmanageable. Also helping it along is the thin profile of both these straps.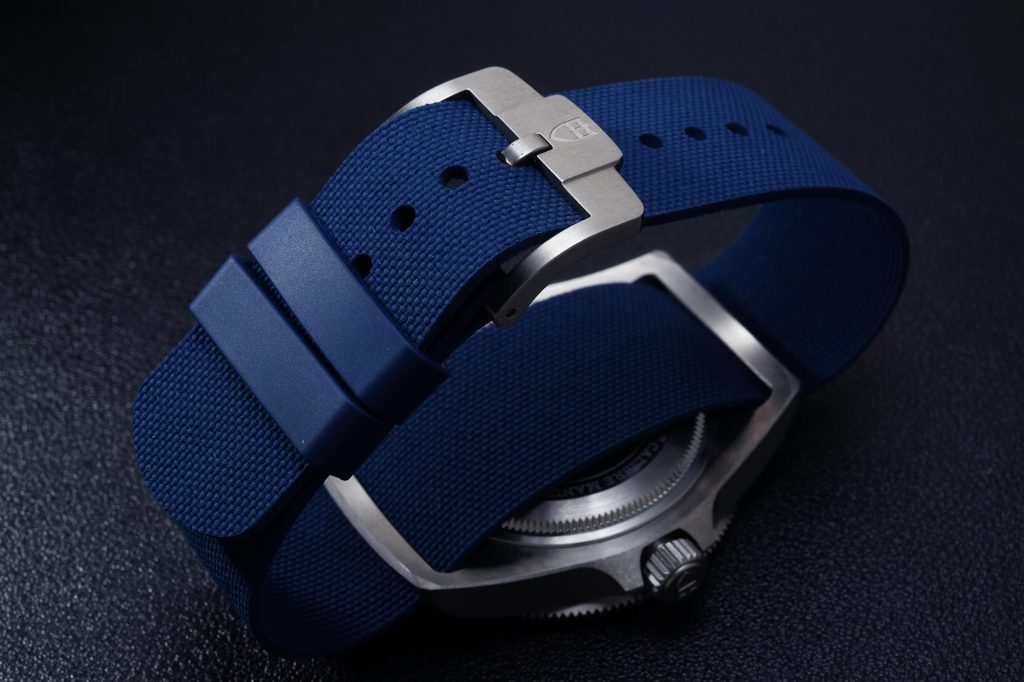 The rubber strap for example, with an embossed motif, and an included bead blasted titanium buckle, is thin, soft, yet very strong, and keeps the watch planted on the wrist. For more "formal" occasions, such as when you are receiving your medal for bravery, you can wear the watch on the polyethylene woven ribbon strap secured by velcro and a bead blasted titanium buckle, since it has a nice silver central line.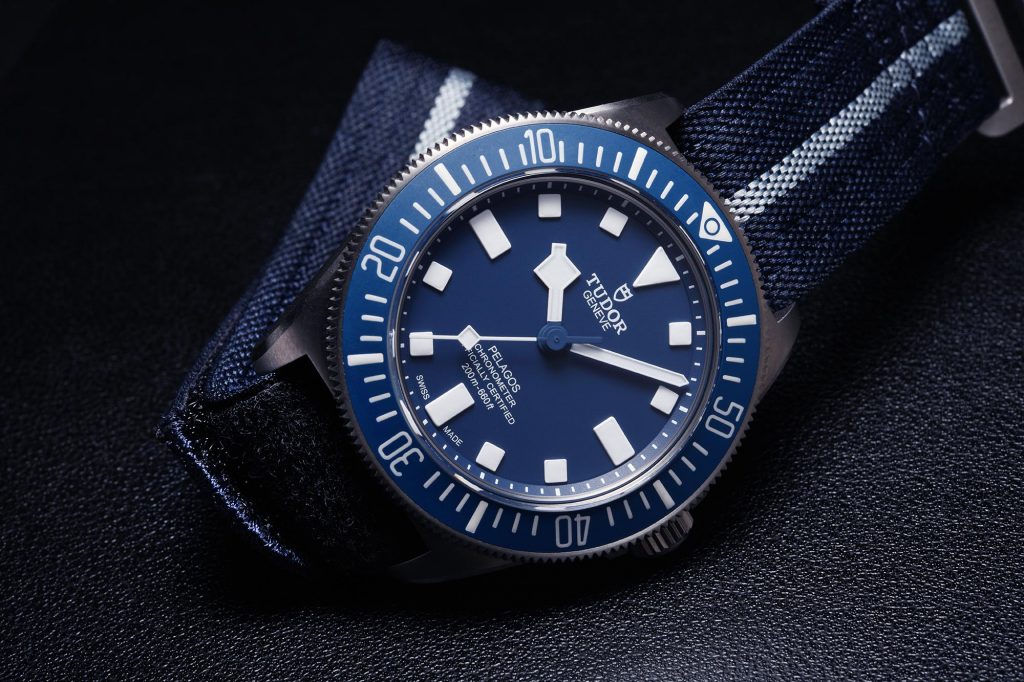 The back case also comes with the engraving M.N. 21 and the reason why is interesting. It follows from the historical Tudors that were supplied to the Marine Nationale from 1969, which also were engraved "M.N", then followed with the year that the watch was delivered. So following this logic, any watches made this year will come with an engraving M.N. 21, and then M.N. 22 for 2022 and so on.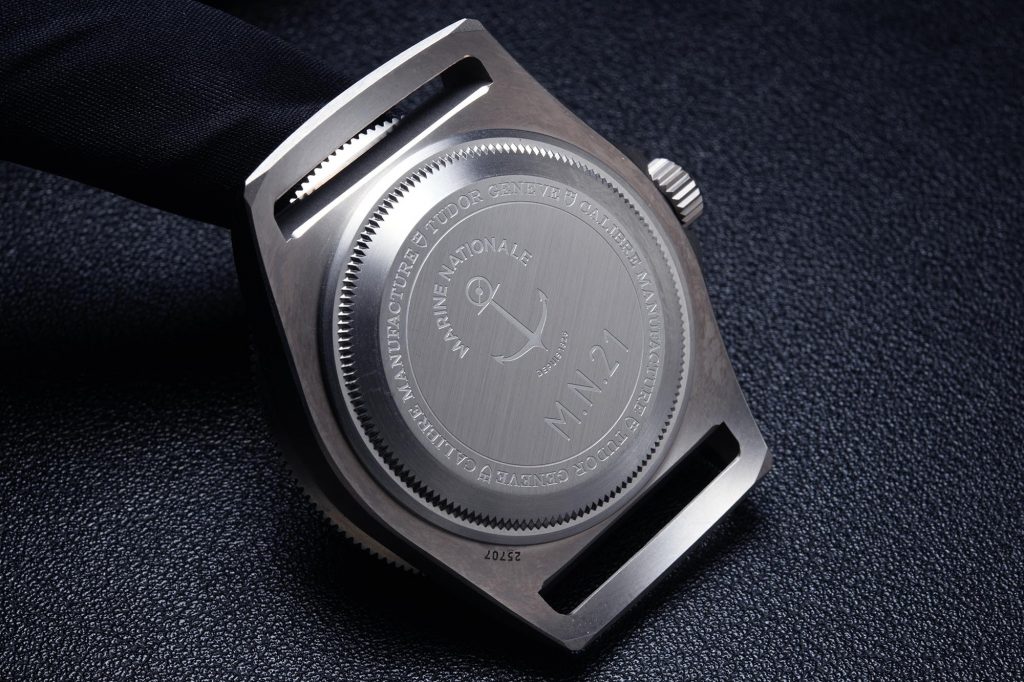 Rounding off the specification is the movement, and by this time, we already know what to expect, its an in-house calibre MT5602 with silicon hairspring and a 70 hour power reserve. No surprises there.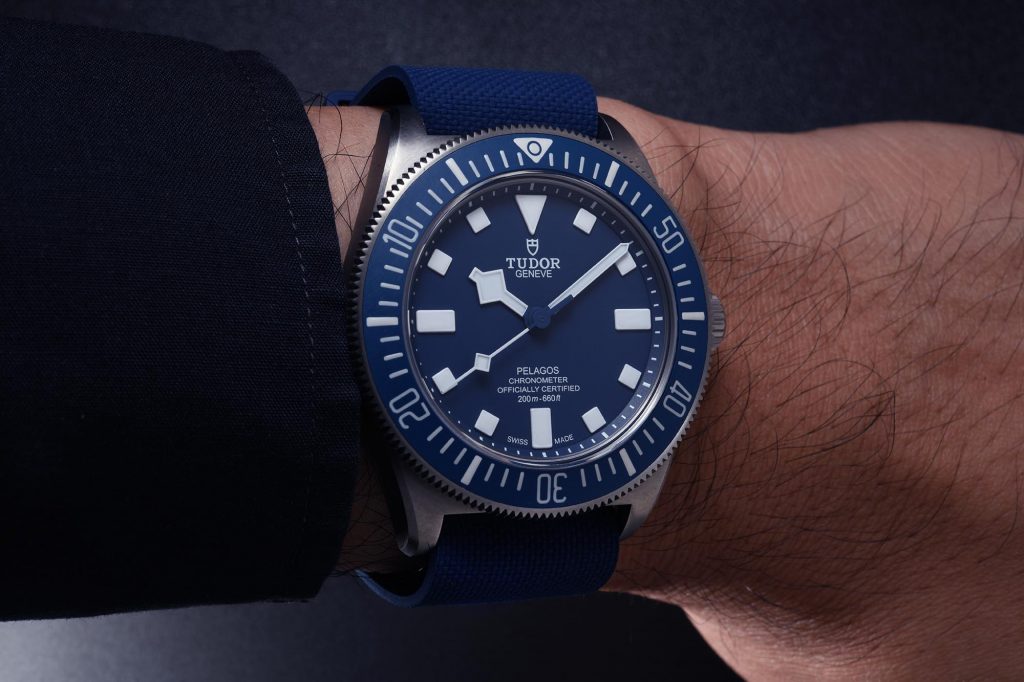 I think that the release of the Pelagos FXD demonstrates that Tudor is a brand that knows what it is doing, and is willing to experiment with its releases. It's an odd-ball piece, much like the Black Bay P01 that was based on a prototype that was produced for the US Navy. Unlike the Black Bay P01 however, it has more conventional looks and will probably find a wider appeal than the former.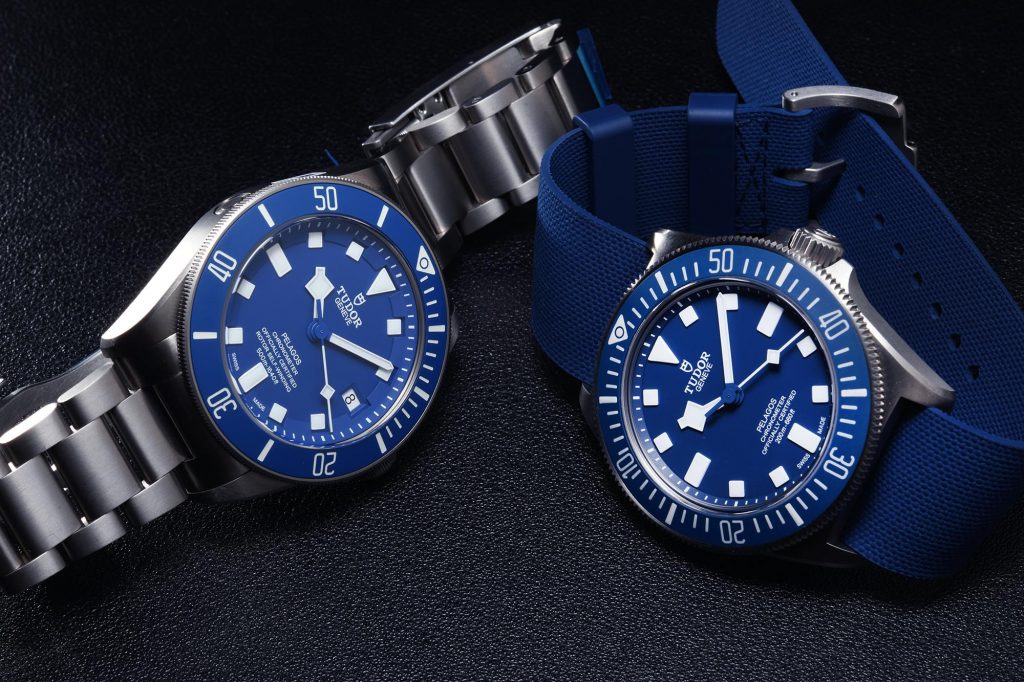 It's also great that Tudor have taken advantage of their long-standing relationship with the Marine Nationale, making a watch that highlights this heritage and history, and given the modern watch buyer something interesting to consider. It's probably also a perk to be issued such a nice watch if you're an actual combat diver with the Marine Nationale.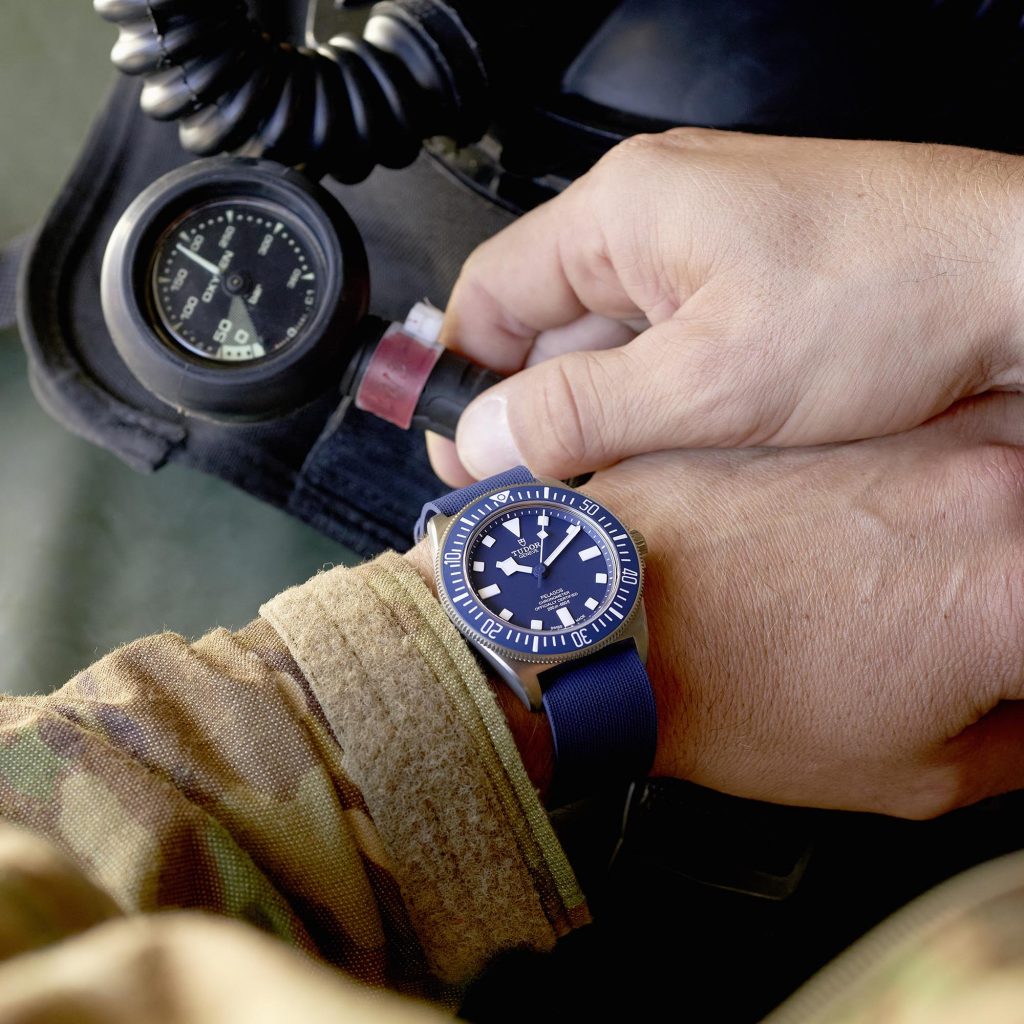 Lastly, with the Pelagoes FXD, Tudor becomes the only brand I can think of that offers diver oriented watches with three different kinds of bezels. The first, the standard unidirectional diver's bezel we are all familiar with, then the one indicating on a 12 hour basis and with a locking mechanism on the Black Bay P01, and now the bi-directional 60 minute countdown one on the Pelagos FXD.
I think that's enough evidence to show that Tudor is willing to step outside the norm more often than not, and that can only be a great thing for the avid watch lover.
Technical Specifications
Five year Guarantee: Five-year transferable guarantee with no registration or periodic maintenance checks required
Case: Titanium, 42 mm in diameter, 12.75 mm thick, 52 mm from lug to lug, satin-brushed finish, Fixed bracelet bars, Steel case back
Movement: Manufacture Calibre MT5602 (COSC), Self-winding mechanical movement with bidirectional rotor system
Power reserve: approximately 70 hours
Waterproofness: Waterproof to 200 m (660 ft)
Bezel: Bidirectional rotating bezel in titanium with ceramic disc, 60-minute retrograde graduation for navigation by successive stages
Dial: Navy blue
Crystal: Sapphire
Bracelet: Fabric strap with self-gripping fastening system, navy blue with grey central thread. Additional navy blue rubber strap with woven motif and titanium buckle, included in the box
Retail Price in Singapore: SGD$5370