Vulcain might not be a much talked about brand in recent times, yet it is one of the few Swiss watch brands that has carved out a place in the minds of watch lovers.
I am referring specifically of course to their famous Cricket mechanical alarm watch, which was a complication upon which the brand made its name. Only one other brand can stand toe to toe with Vulcain in a very short list of brands that comes to mind when one thinks of the mechanical alarm, and that is Jaeger-LeCoultre.
Today however, I will not be talking about the alarm watches of Vulcain. Instead I will be introducing you to a remarkable watch that I myself only just found out about recently, while I was poking around in the windows displays of watch dealers, as is my usual custom.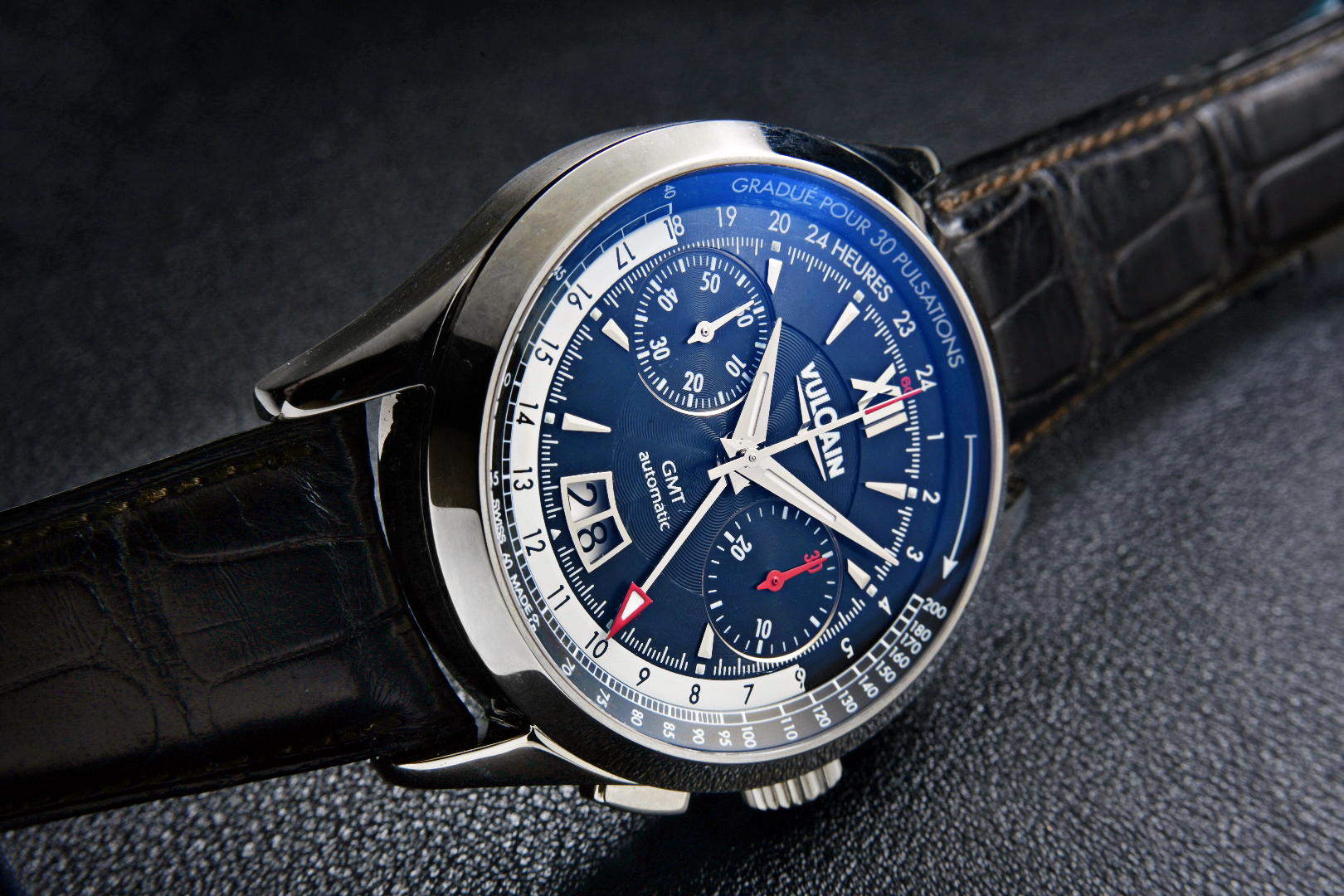 This is the watch that I saw – the Vulcanographe by Vulcain, and it was sitting there, wrapped in plastic, seemingly unloved for quite some time. What attracted me to the watch was the fact that it looked rather handsome, and it seemed to be stuffed with complications, with a chronograph, GMT, and my favourite, a big date, visible from the dial.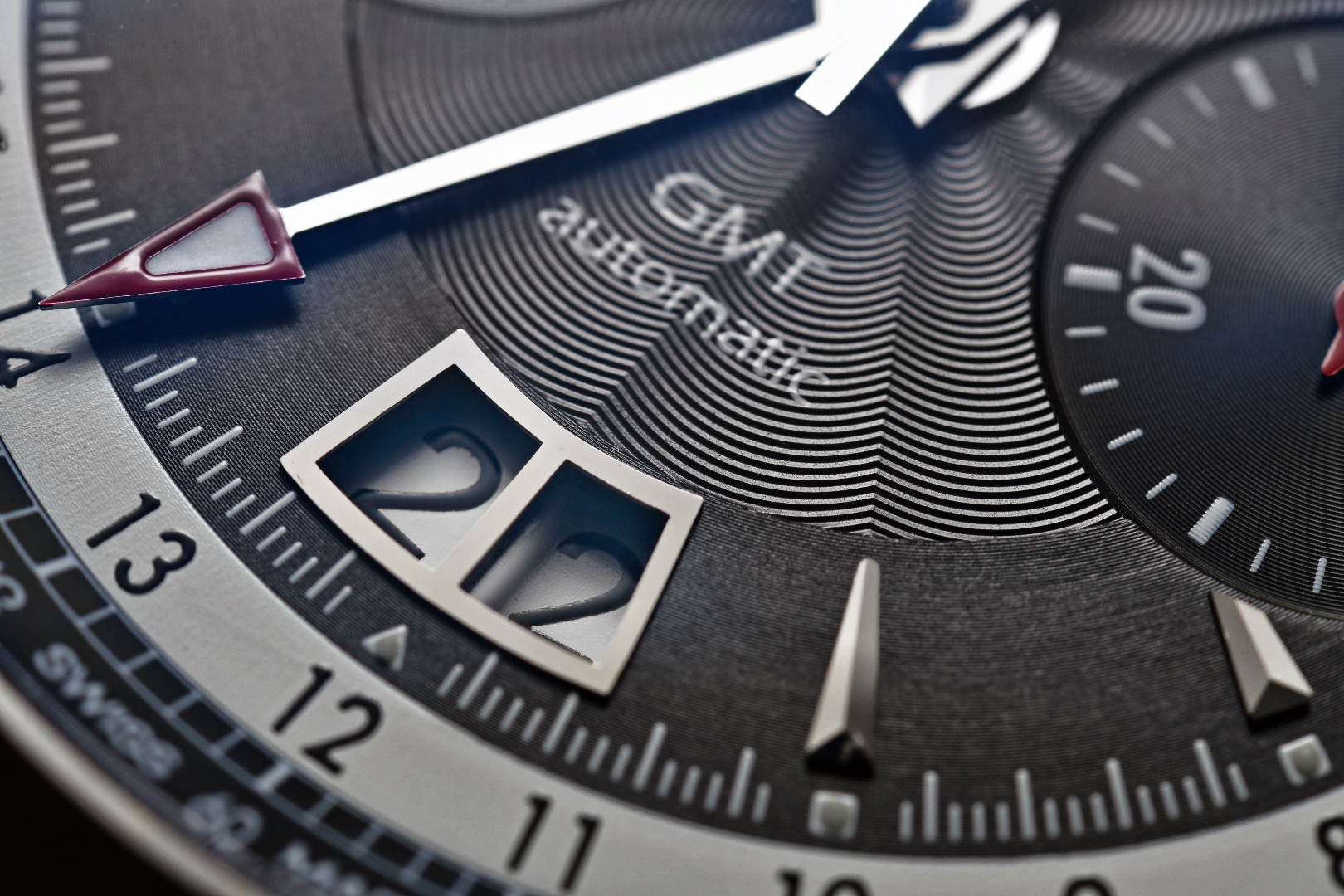 Little was I to know that after I asked to have a closer look, that I would find out how unique this watch really was.
The Vulcanographe was introduced by Vulcain at Baselworld in 2007, and it has, plainly visible on the dial, a bicompax layout chronograph with running seconds at 9 o'clock, a 30 minute chronograph counter at 3 o'clock, a central seconds chronograph hand, a GMT hand on a 24-hour basis pointing to the bi-coloured 24-hour ring on the outer edge of the dial, a pulsemeter scale, and lastly a big date.

Sounds quite impressive on the surface, but yet, what if I were to tell you that what the movement is from the Valjoux 7750 family?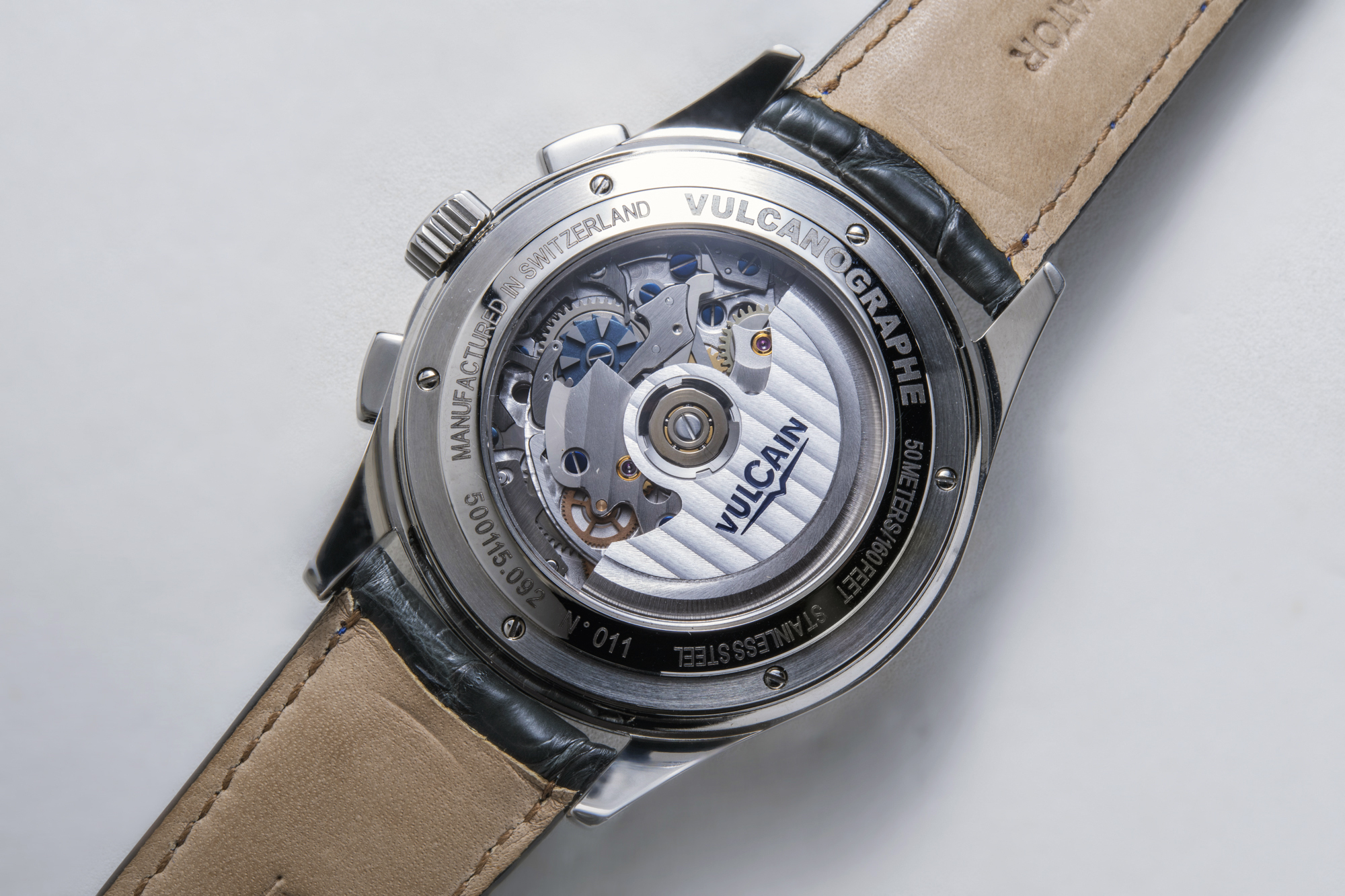 Ok, but let's go further – what if I were to tell you that the movement also comes fitted with a column wheel instead of a cam and lever system for controlling the chronograph functions?
Sounds intriguing? Well that was what I thought.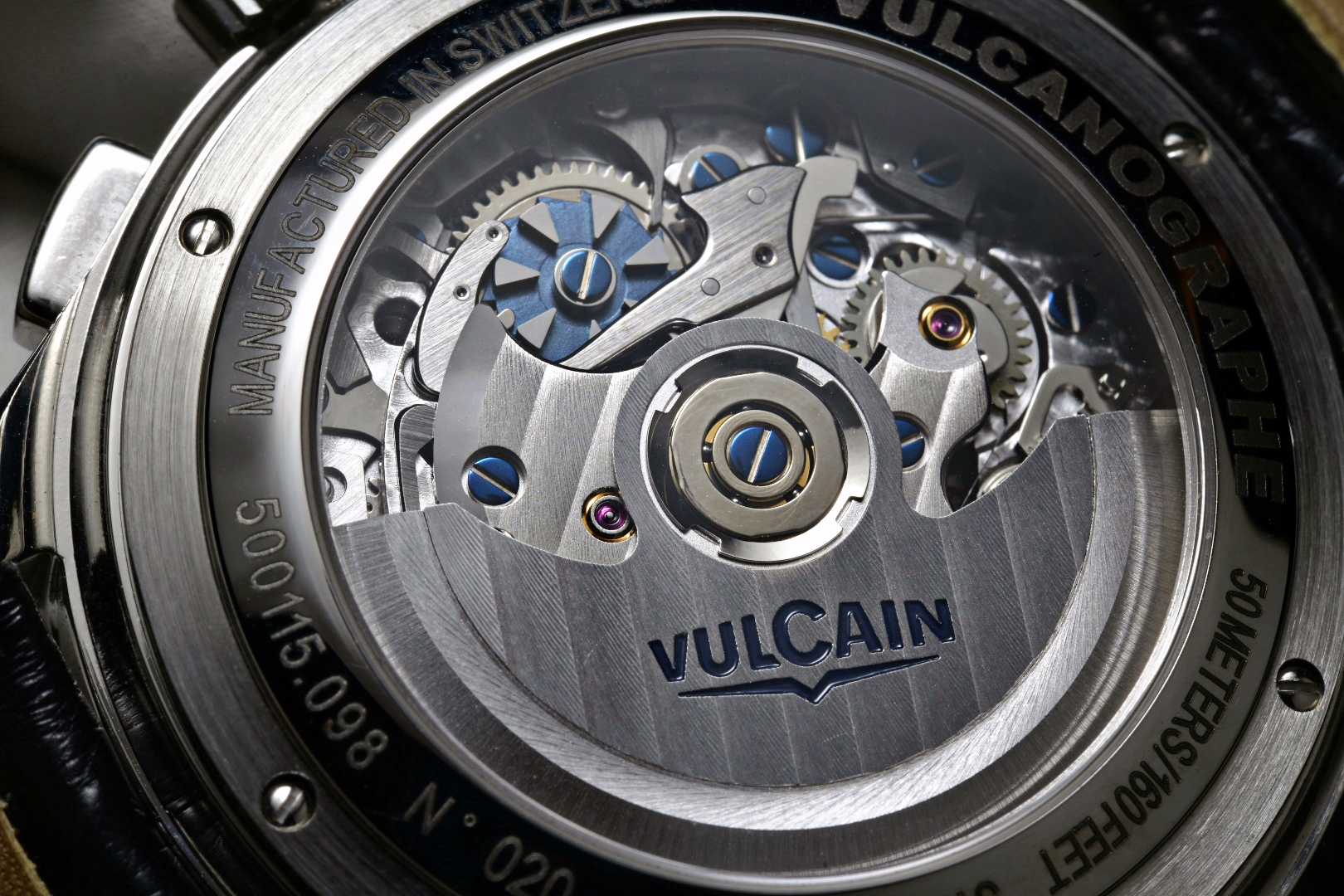 So the Vulcanographe comes with the Calibre V50, which I am guessing is a modified Valjoux 7753 (based on the dial layout) by famed movement maker, La Joux-Perret, and has not been used in any other watch by Vulcain since the Vulcanographe or indeed by any other watch brand.
Now of course, the idea of modifying a Valjoux 7750 based-movement to have a column wheel is a strange one, since they were designed originally to be cheaper and easily mass-produced. The cam and lever system was the solution to achieve the functions of a chronograph, with parts that were easily made and assembled, as opposed to a column wheel, that had to be precisely manufactured, and also adjusted properly by good watchmakers.
Presently, we all know that the column wheel chronograph is considered a cut above the cam and lever system, and is thus used in chronograph watches that are more high-end and expensive. So there is that motivation.
Coupled to that perception, and the fact that making a column wheel chronograph movement from scratch is a prohibitively expensive undertaking for all but the biggest of brands, it makes sense to use a movement from the Valjoux 7750 family as a starting point to achieve one.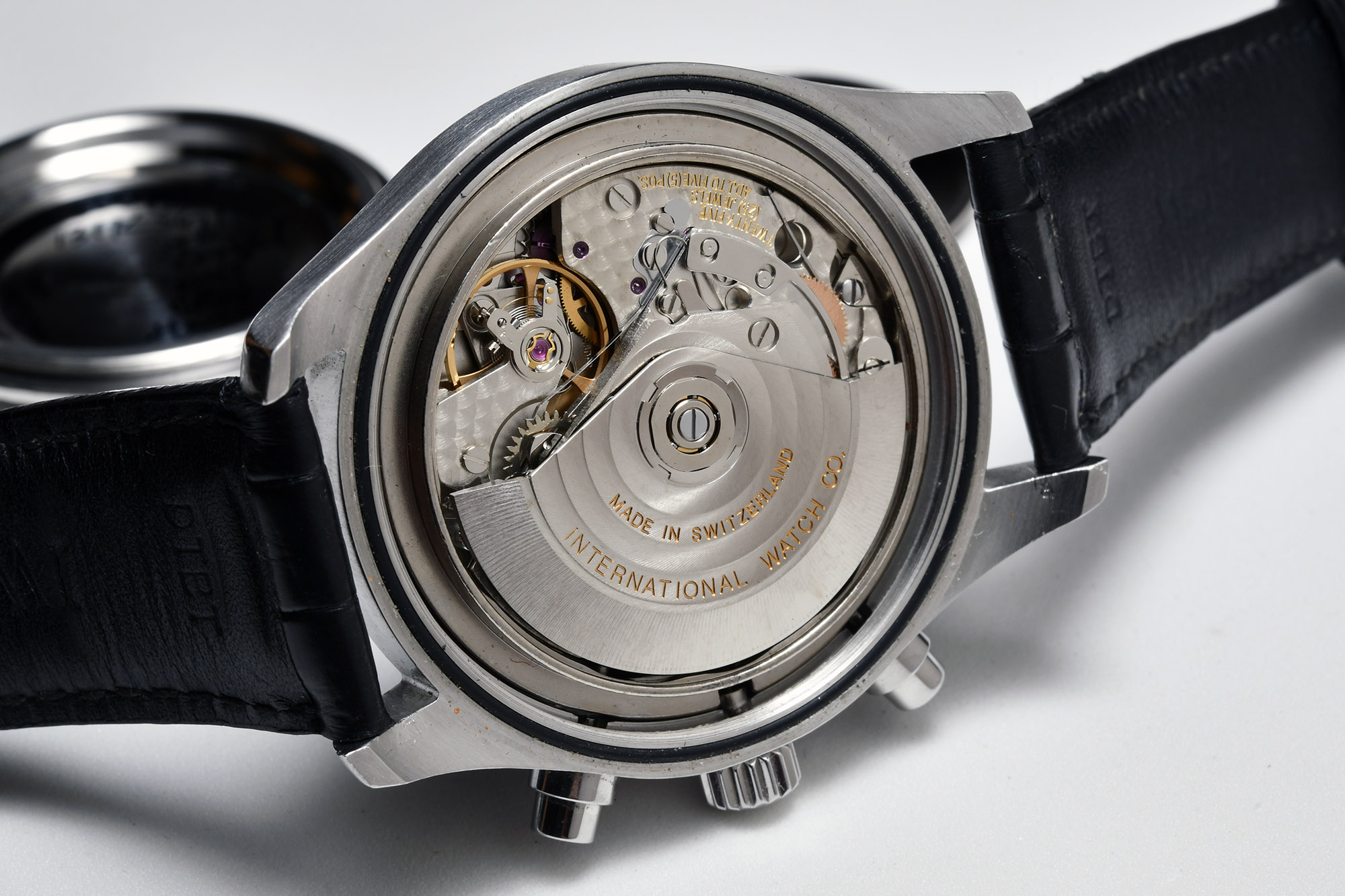 No better candidate on the market exists now than the Valjoux 7750 family for this, as well if one considers reliability an important criteria in a chronograph. Indeed, we all know that the Valjoux has been favoured by brands like Breitling and IWC who have used it extensively in their collections over the years. Even watchmaking legend, Kurt Klaus of IWC, liked it so much, that he used it as the basis for his career defining Da Vinci Perpetual Calendar (ref:3705) from 1985, and IWC's first Grande Complication, Il Destriero Scafusia from 1993.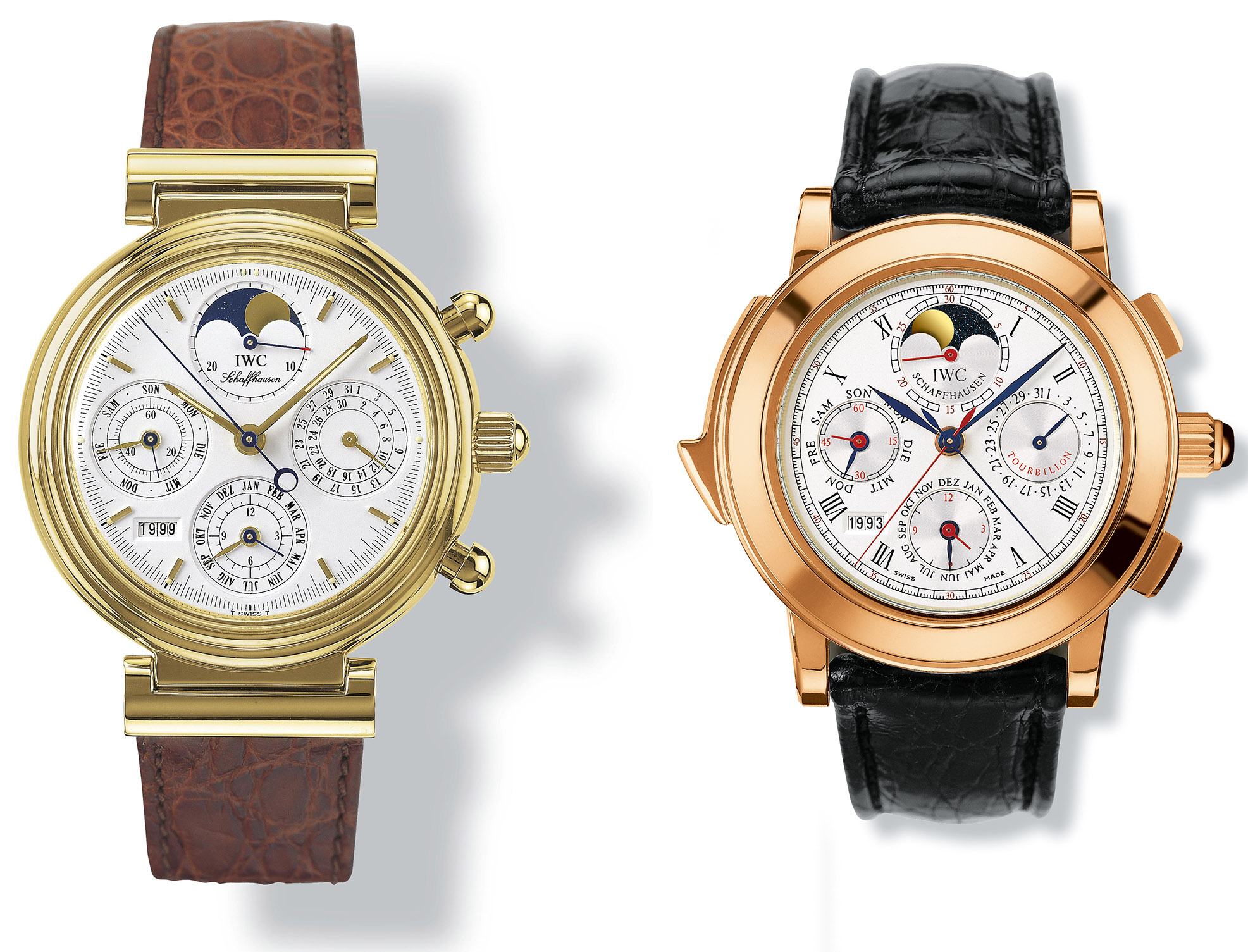 Of course, modifying a Valjoux movement to have a column wheel is not a common thing, with only a few brands so far that have done so. La Joux-Perret, the creator of the Calibre V50 in the Vulcanograph was actually the first, having placed two column wheels in a Valjoux 7753 to enable a rattrapante function in 2005, with the movement finding its way into quite a few references from Panerai as their OP XVIII. A similar movement was also made for Graham, for their calibre G1742. Two years later, it was Vulcain's Calibre V50 that would be their third attempt.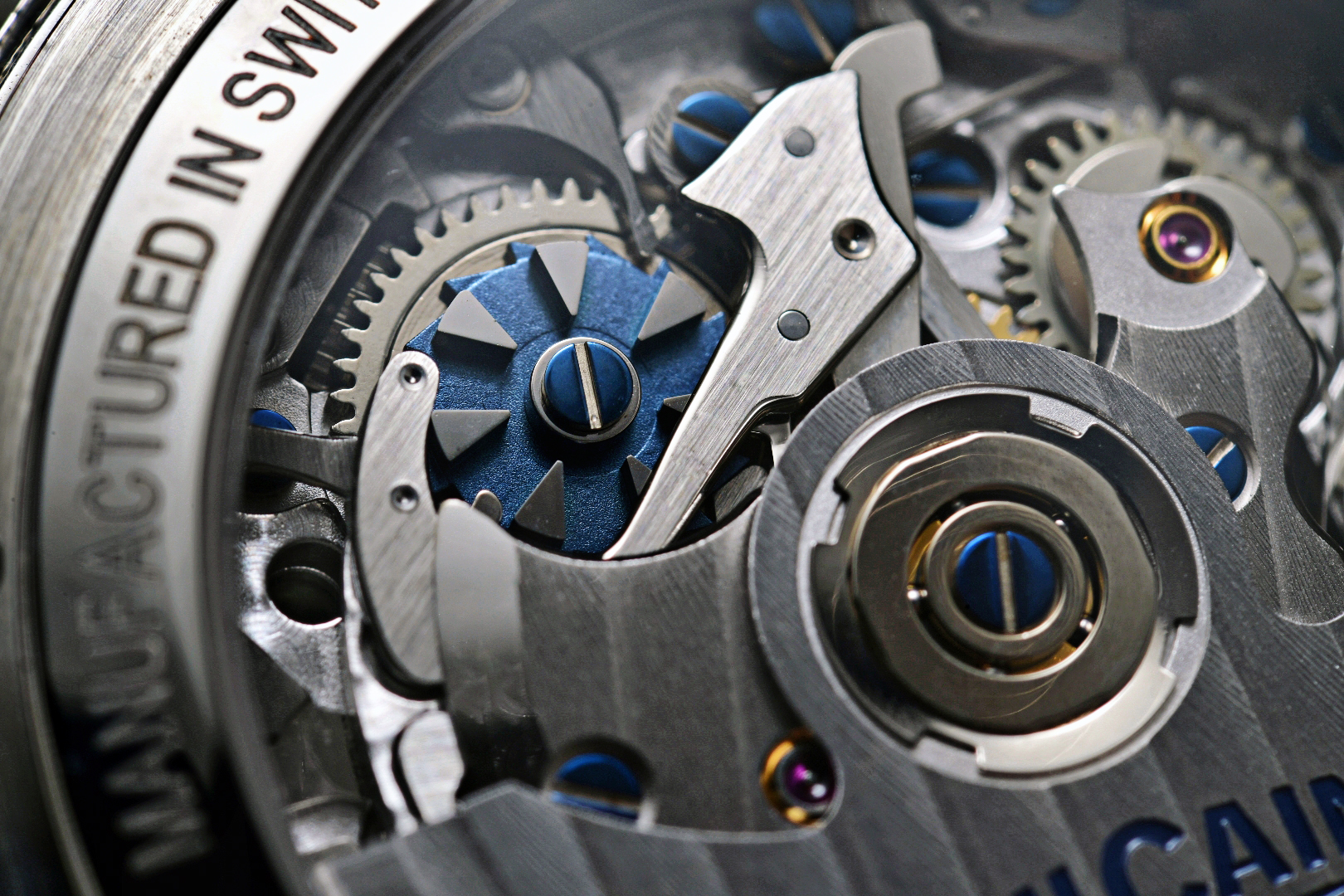 Visible from the rear behind a sapphire caseback, we find the column wheel in the same position where a cam and lever system would normally be, that is decorated in blue, to mark it out from the rest of the movement, and let you know the special thing about the watch that you bought.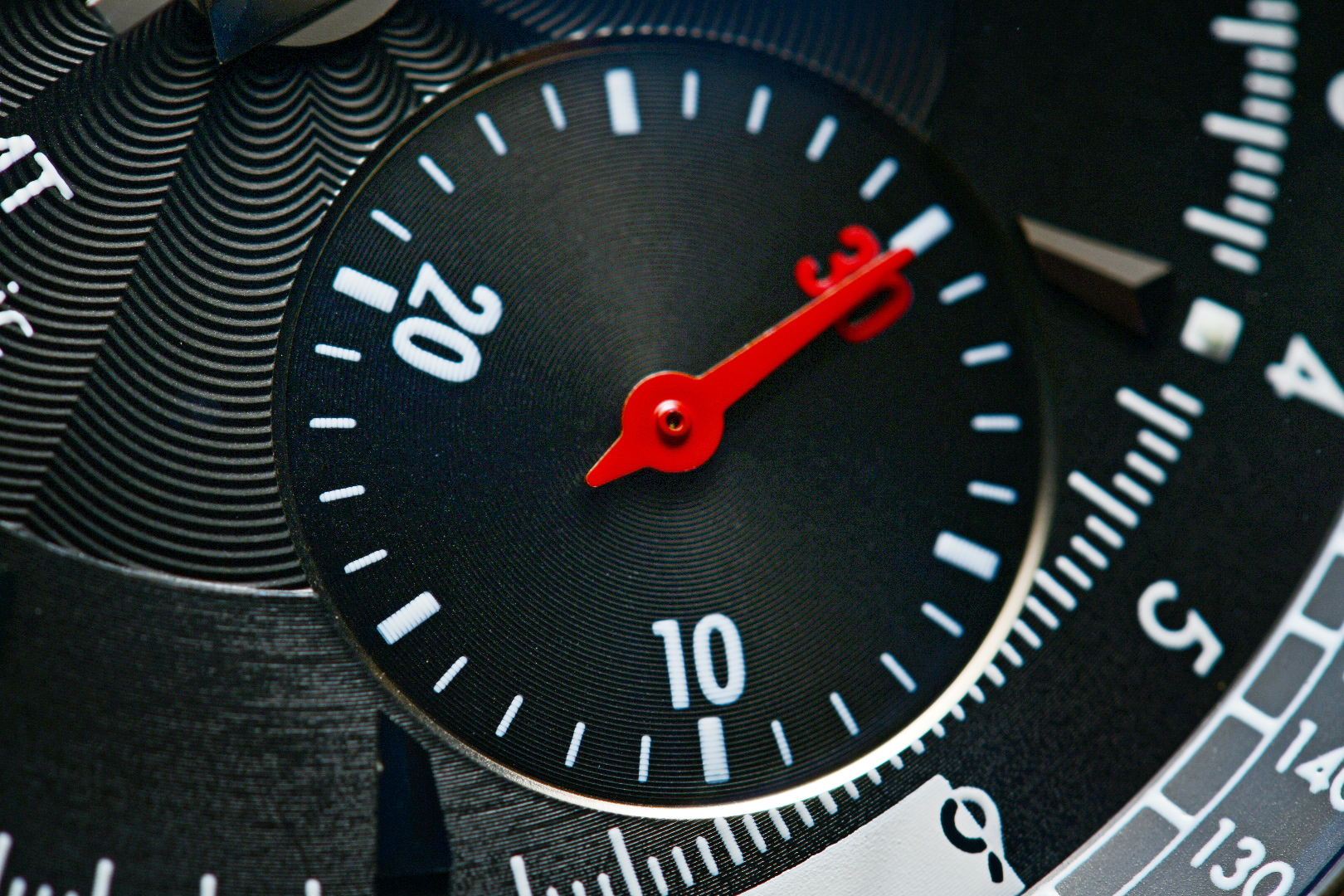 Playing with the chronograph is a pure delight, since the action is buttery smooth, and it has the soft and firm click that feels similar, in my opinion, to the Calibre 4130 of a Rolex Daytona. Of course, while the chronograph measures only up to short 30 minutes in duration, I think that it is forgivable given that the space where the hour counter would be, was required for the big date, and since the GMT and date are more commonly used on a daily basis.
The chronograph can be used for measuring short periods therefore, or for entertainment every now and then to get that sensation of a column wheel induced action on the pusher, or if you are a doctor, to determine your patient's heart rate with the handy pulsometer scale on the dial.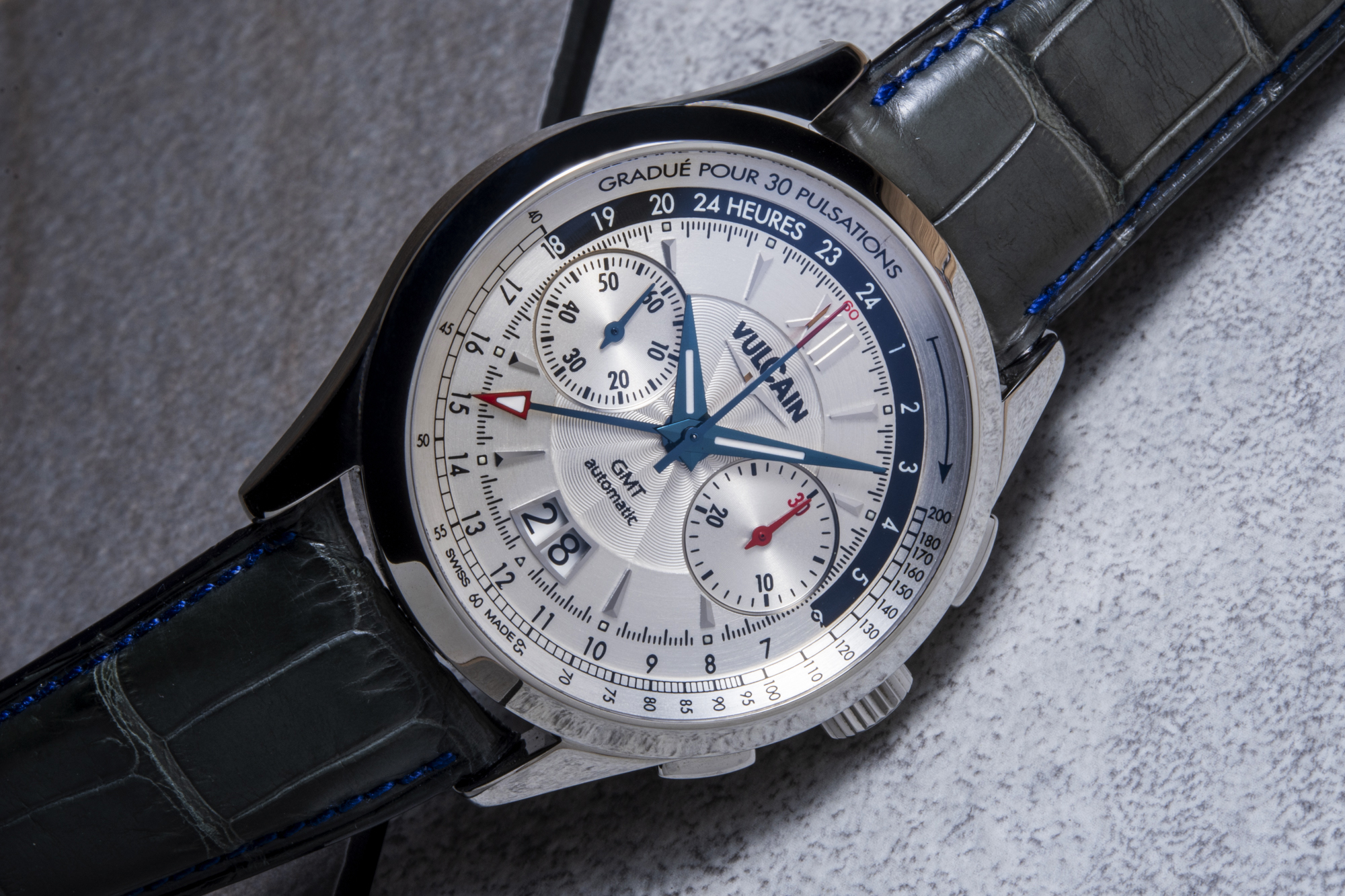 Who could buy this watch? Perhaps doctors who travel, since it has a pulsograph and a GMT function. Although I'll also say this that is a watch that will appeal to any watch nerd who appreciates having a bunch of useful complications in one watch, from an old Swiss brand with real heritage, that also contains a rare technical feature that is at once amazing, as it is slightly idiosyncratic.
At 42mm in width and 16 mm high in typical Valjoux fashion, it wears well for presence and for comfort due to the short lugs. The best thing about this watch though is that it is relatively affordable, being discontinued, and deeply discounted from its initial price.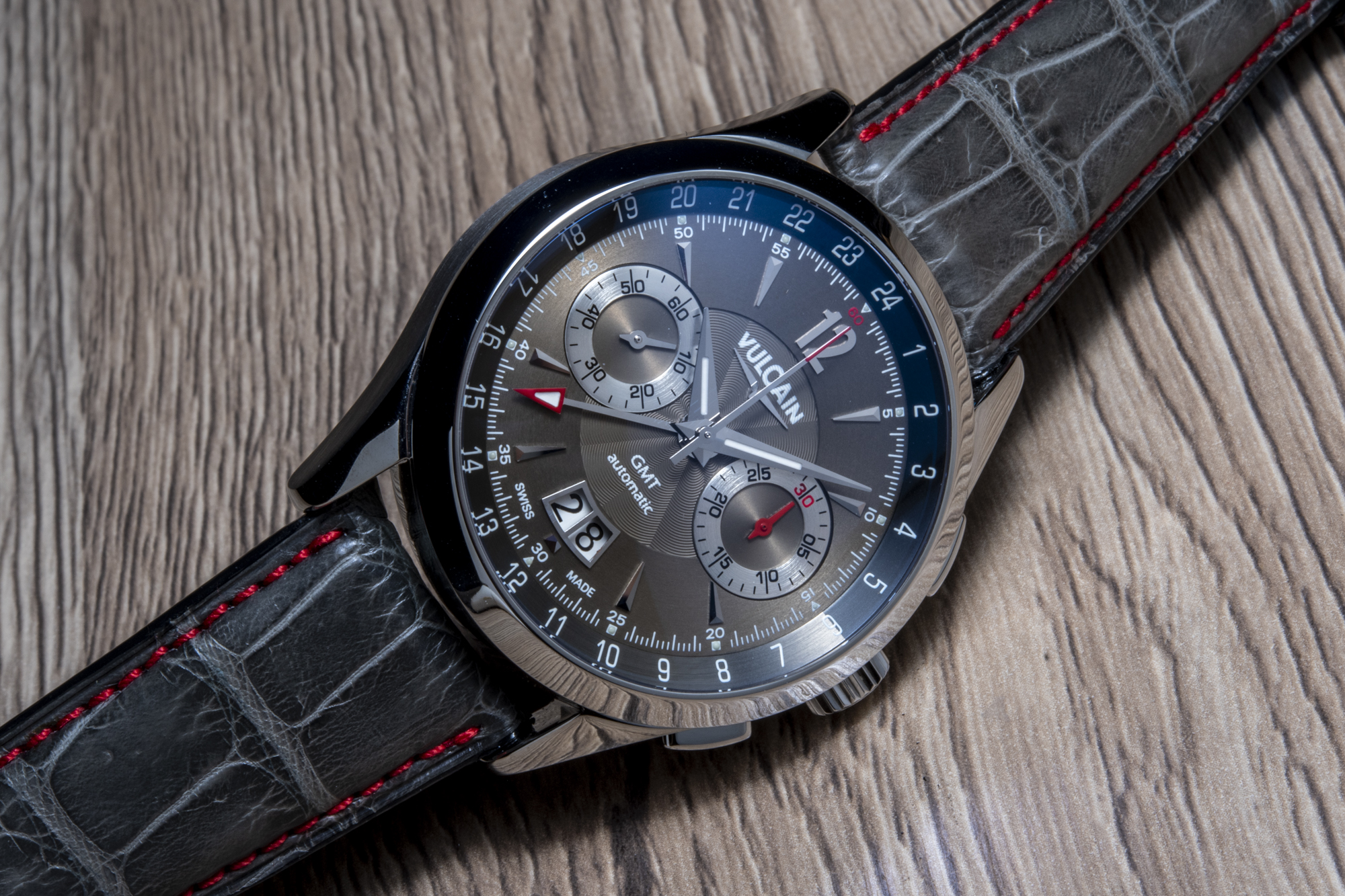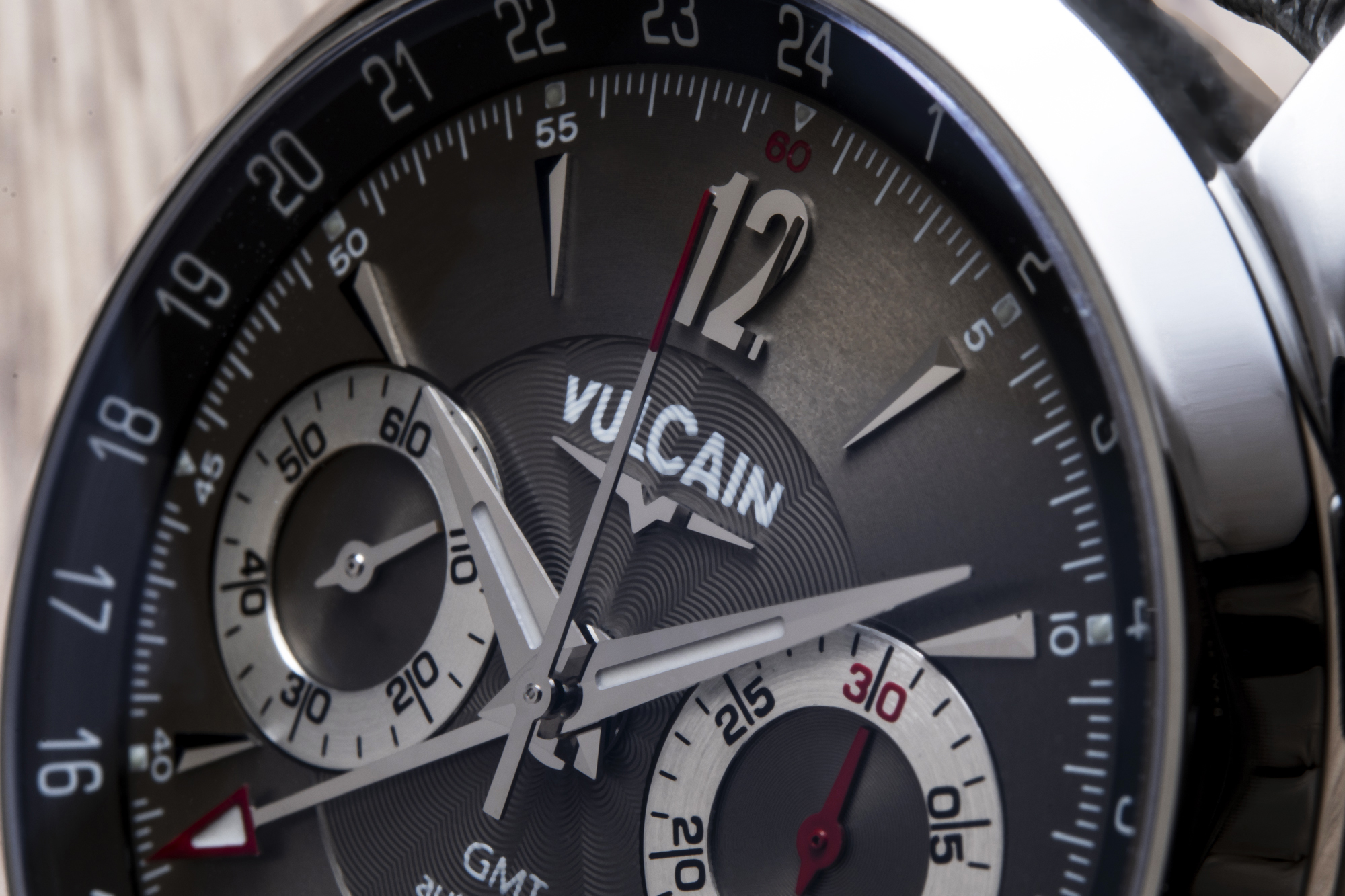 Turns out that the dealer has quite a few pieces in stock, a dangerous if tempting proposition for the watch nerd writing this article. Well, that's what you get for being a watch addict I suppose.
[ninja_tables id="2498″]