Let's be real
Dive watches are a very popular genre and it's easy to understand why. By necessity, there are made robust and legible and so can handle day-to-day use very well. Not to mention how they tap into that feeling of adventure latent in their tough, masculine styling, which just looks so cool under many situations.
Because of their popularity, dive watches can run the gamut in price from affordable all the way to the unattainable. But let's be real, unless you are made of money, wearing an expensive dive watch for diving can oftentimes be inadvisable.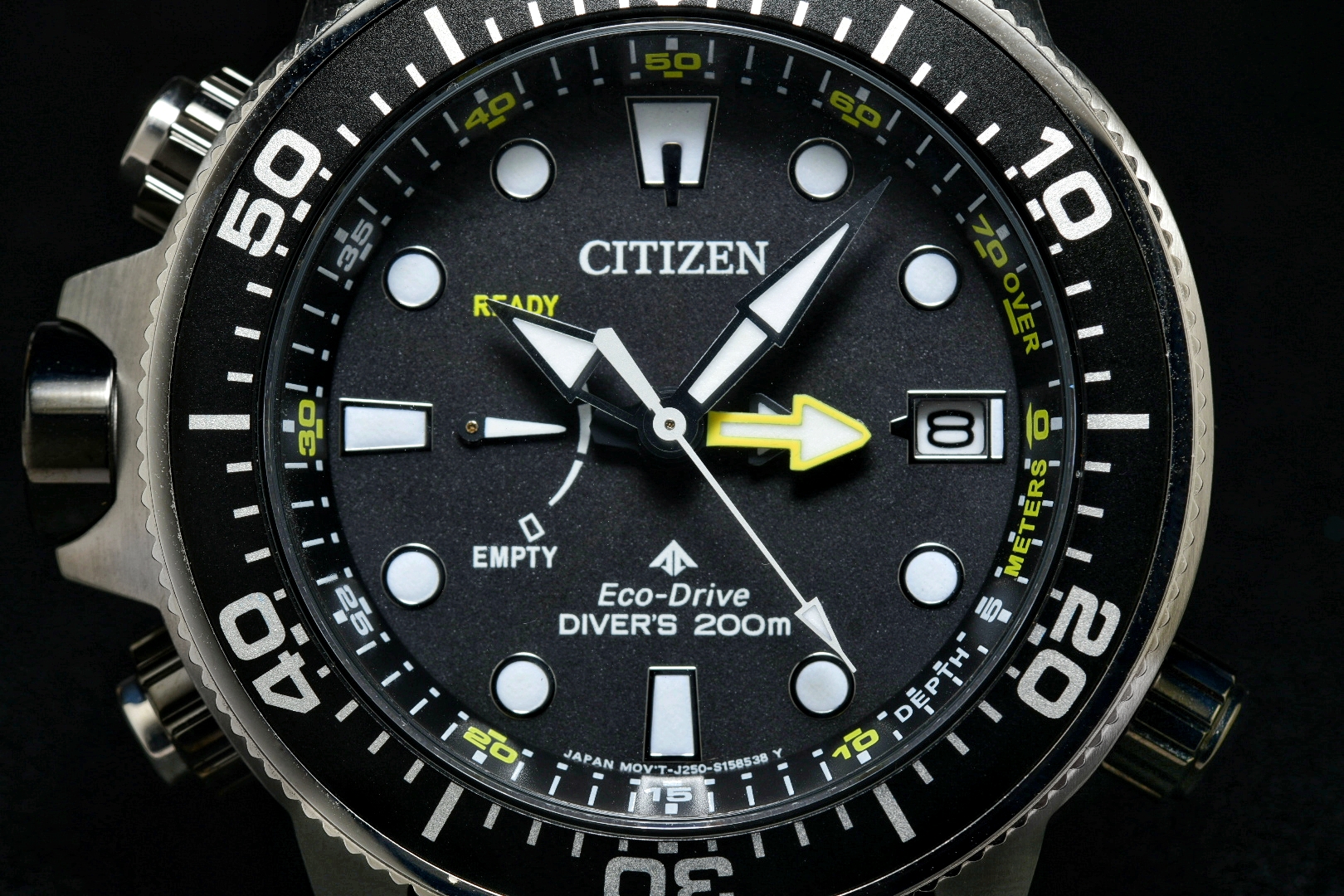 Let's preface this discussion, since what is expensive for some might not be for others. If you're reading this website and are thinking of taking up diving, you'll probably be looking at a luxury level diving watch to take with you on your adventures.
Yet, if you've considered this before and have gone through the training to get your diving license, it would quickly be apparent that this might not be such a good idea.
First of all, most of the good diving sites are in remote places where security is lax or non-existent and where wearing a recognisable expensive watch might open one to robbery or theft. More importantly, when you're diving, you need to manage many pieces of equipment other than your watch that are usually more critical to your survival, meaning to say that if you're concerned about your watch too much, you could die.
Really then the way that you should be thinking about your watch is that it is a tool, which means that it should be something you can afford to lose or can afford to give a few knocks to without anxiety.
If these issues are of no concern to you then wear your luxury diver as you please. For most of us however, we're better off with something cheaper and easily replaceable. Yet the replacement value is only one issue. The other is functionality, so here's a watch that in my opinion fits the bill better, as something to use for real diving.
A history of professional use
The new Citizen PROMASTER Eco-Drive Aqualand (BN2036-14E) comes in at a relatively affordable price of between $400 to $600 USD depending on where you look. There is a slightly more expensive 30th Anniversary edition (BN-2037-03E) – that comes with a pink-gold tone ion plated bezel as well.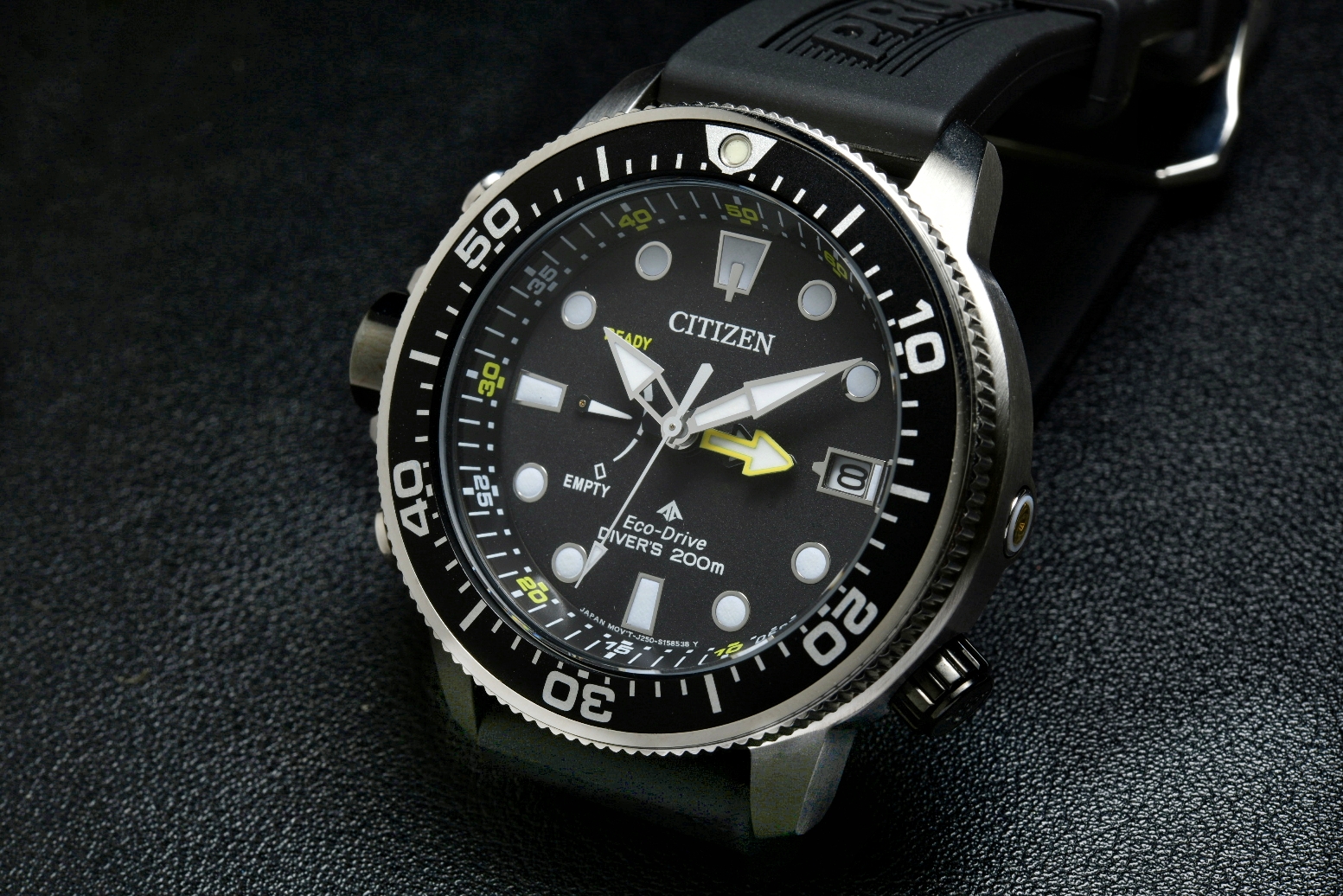 Citizen has been making diving watches for many years, and is the only brand that has offered a string of affordable dive watches with a very unique feature, a depth gauge, for a long time. In fact it was the JP2000 (Aqualand 200m Depth Meter) from 1985 – that was the brand's first quartz watch with depth meter that started everything, with this model showing the depth via a digital display in combination with analogue hands for the time.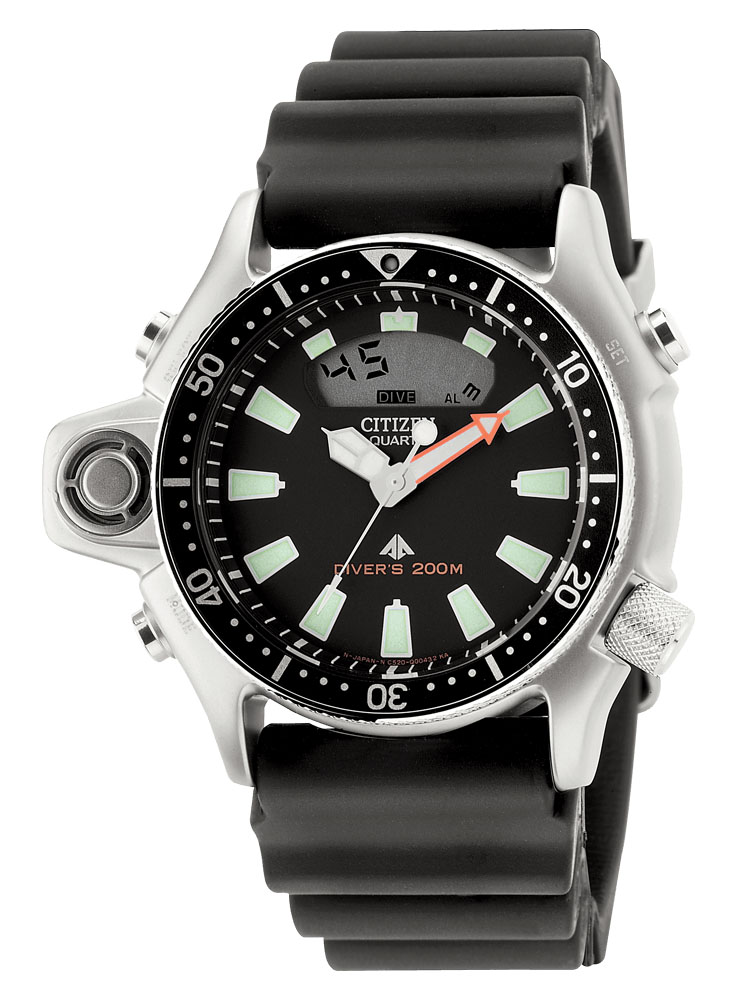 Later models, like the one under discussion, have moved away from the Ana-digi (Analogue and digital) format, and have started utilising hands to display both the time and the depth.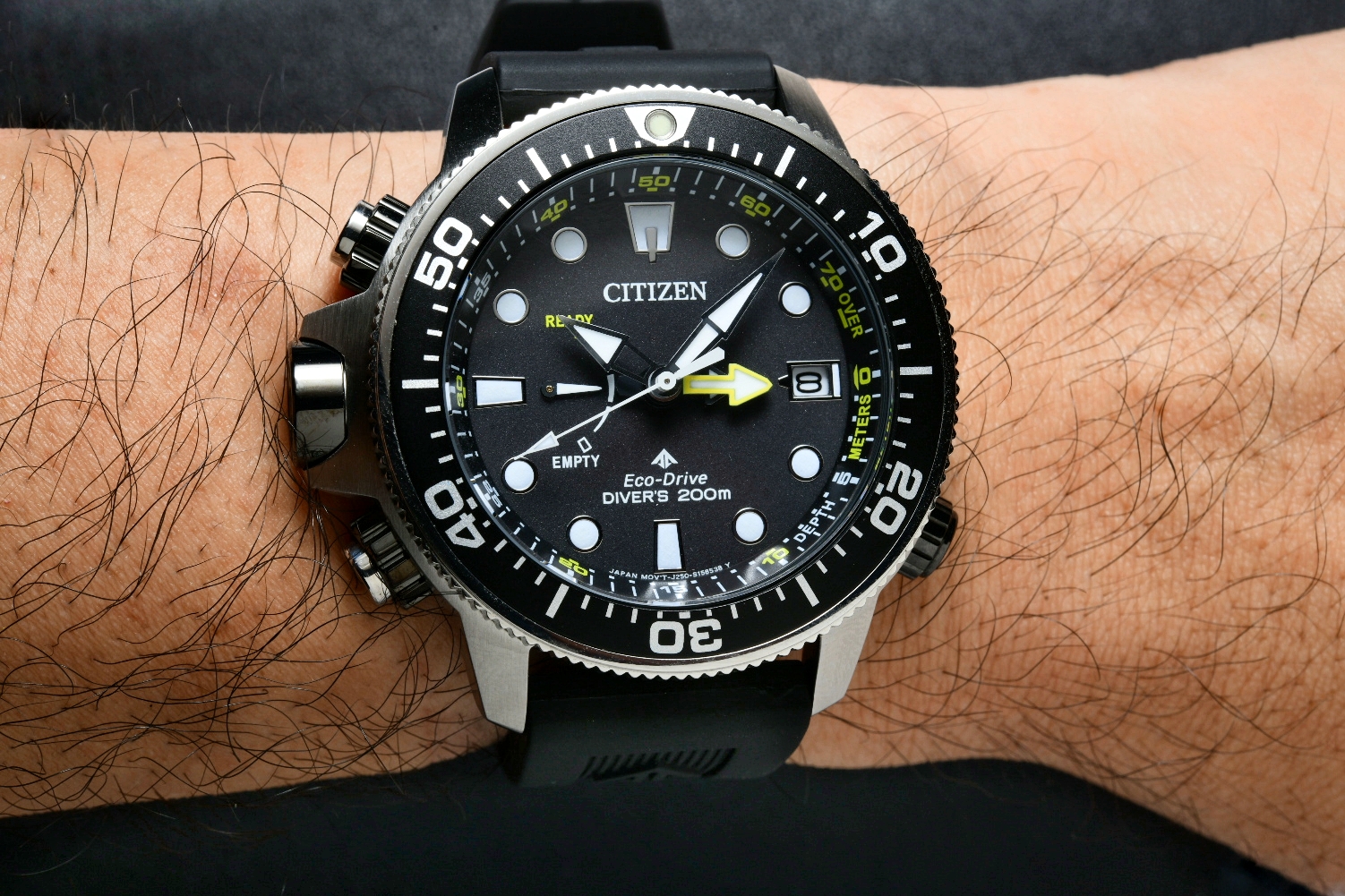 In fact, it comes with the typical ingredients you'd expect in a dive watch: a large 46mm sized case, with a rotating, unidirectional, 120-click bezel, lumed hands and markers for low light legibility, screw down crowns and 200m water resistance. But it goes one better in typical Citizen fashion by sporting a depth gauge.
Yes it is true that it's not a mechanical watch, which some of you reading this might find unacceptable. However, there are advantages to this functionally that I will explore later. Also while mechanical watches with depth gauges do exist, the full featured ones that display both current and maximum depth are relatively rare and priced accordingly. Even the cheaper ones that can tell only current depth (and not maximum depth) are still above the threshold of price that many would willingly want to abuse or lose.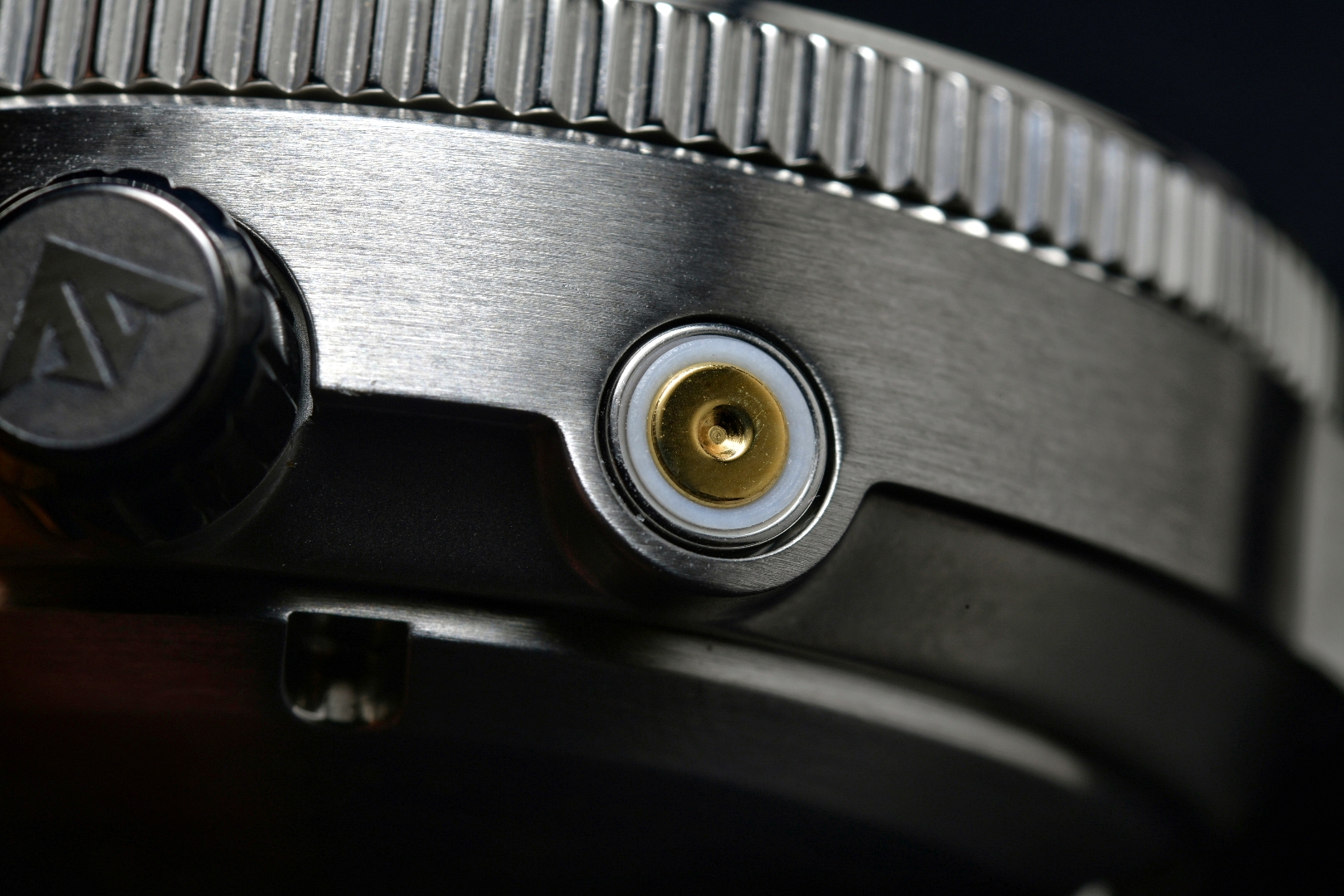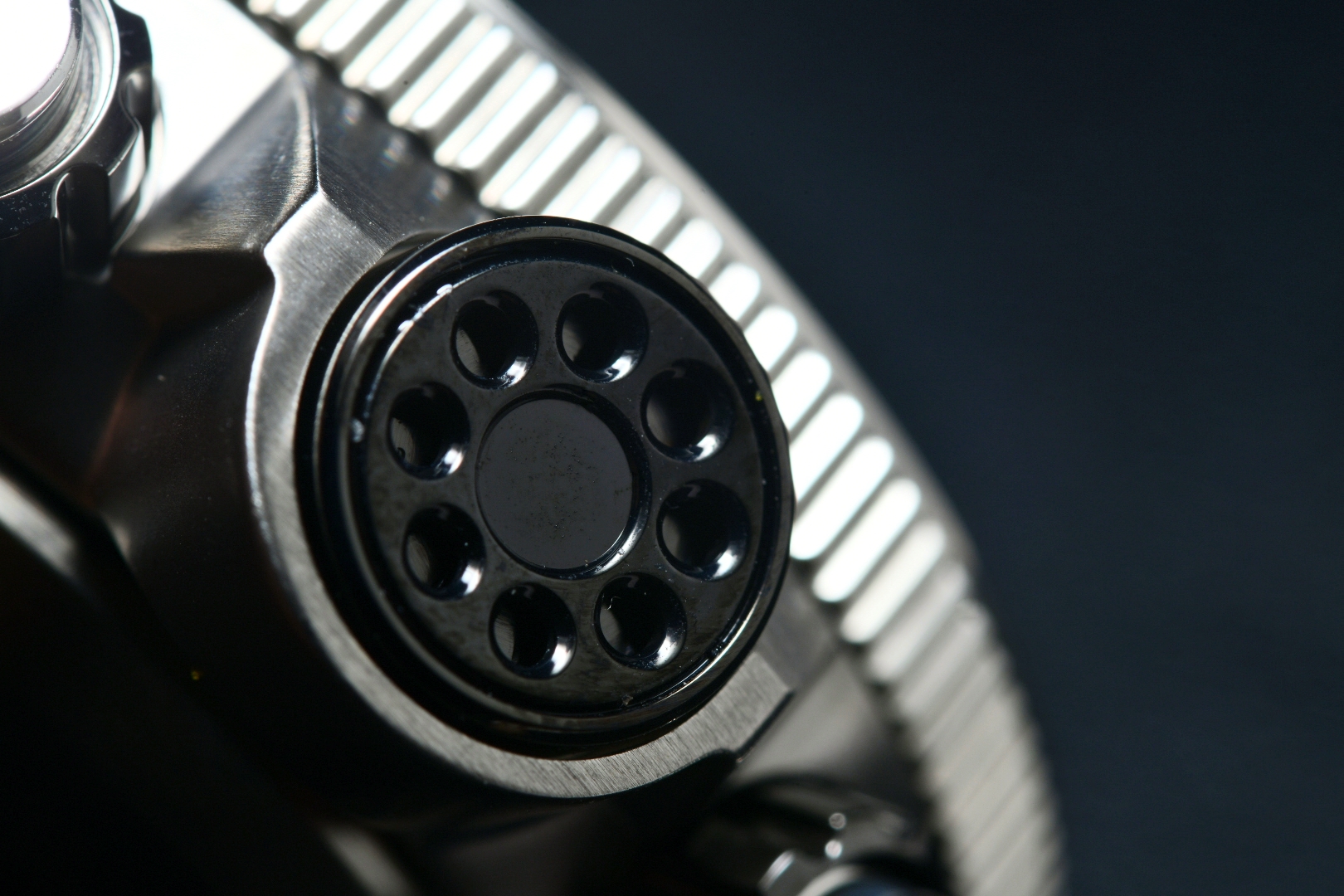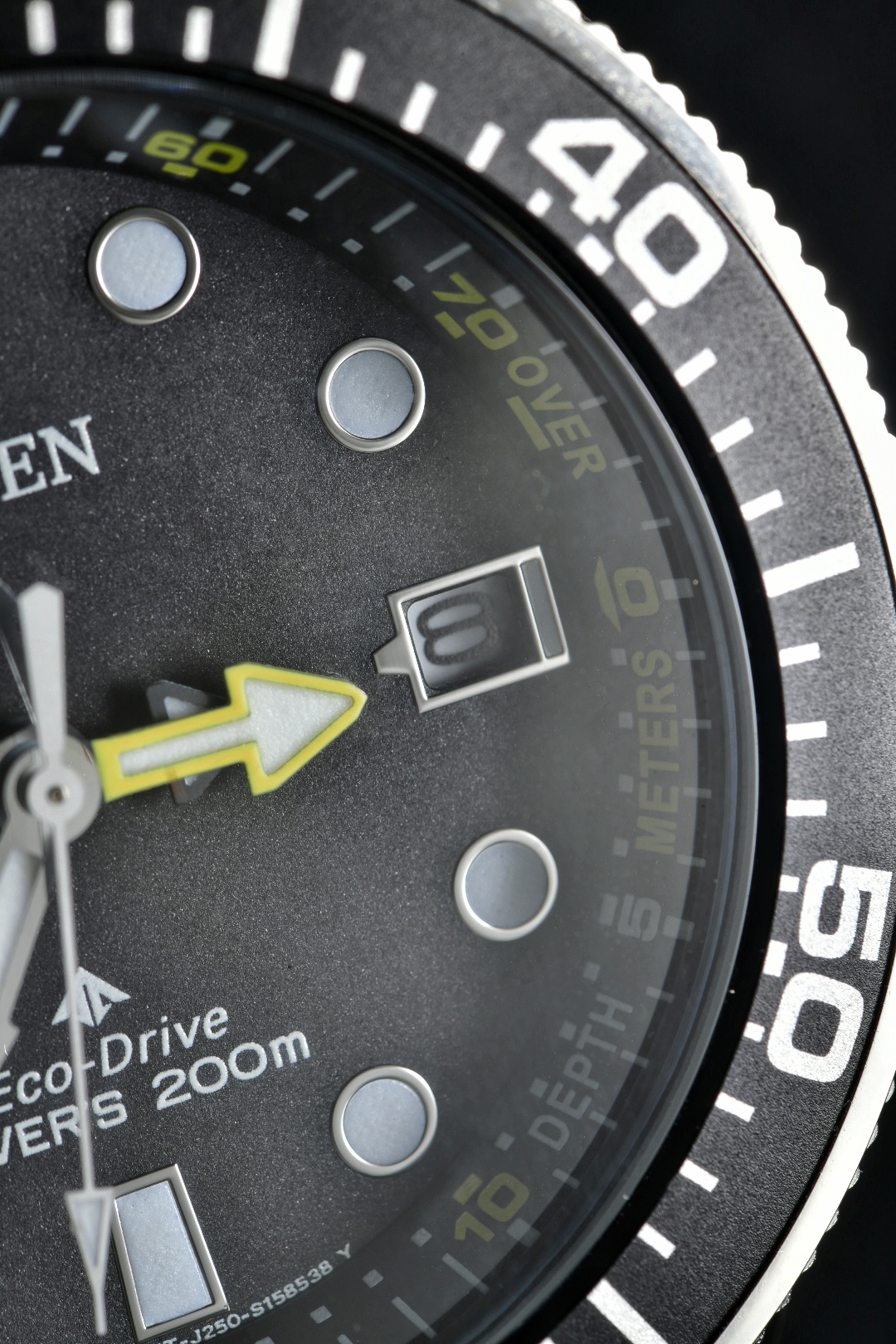 The best thing about the depth gauge though is how it works automatically. As long as the sensor on the side of the case detects water, the depth gauge starts working. There are no buttons to press and no need to inform the watch in any way that you are about to dive. All you need to do is to rotate the bezel to align with the minute hand, as you would normally do with any diving watch, and descend.
What happens now? Well there are two hands that move together as you descend, pointing to the depth scale starting at 3 o'clock (0 metres), and going clockwise around the dial to 2 o'clock (max depth of 70m). At the deepest point of your dive, as you start to ascend, one hand stays behind, while the other larger one continues to follow your current depth. Have a look at this video of another Citizen PROMASTER model that works the same way for a visual explanation.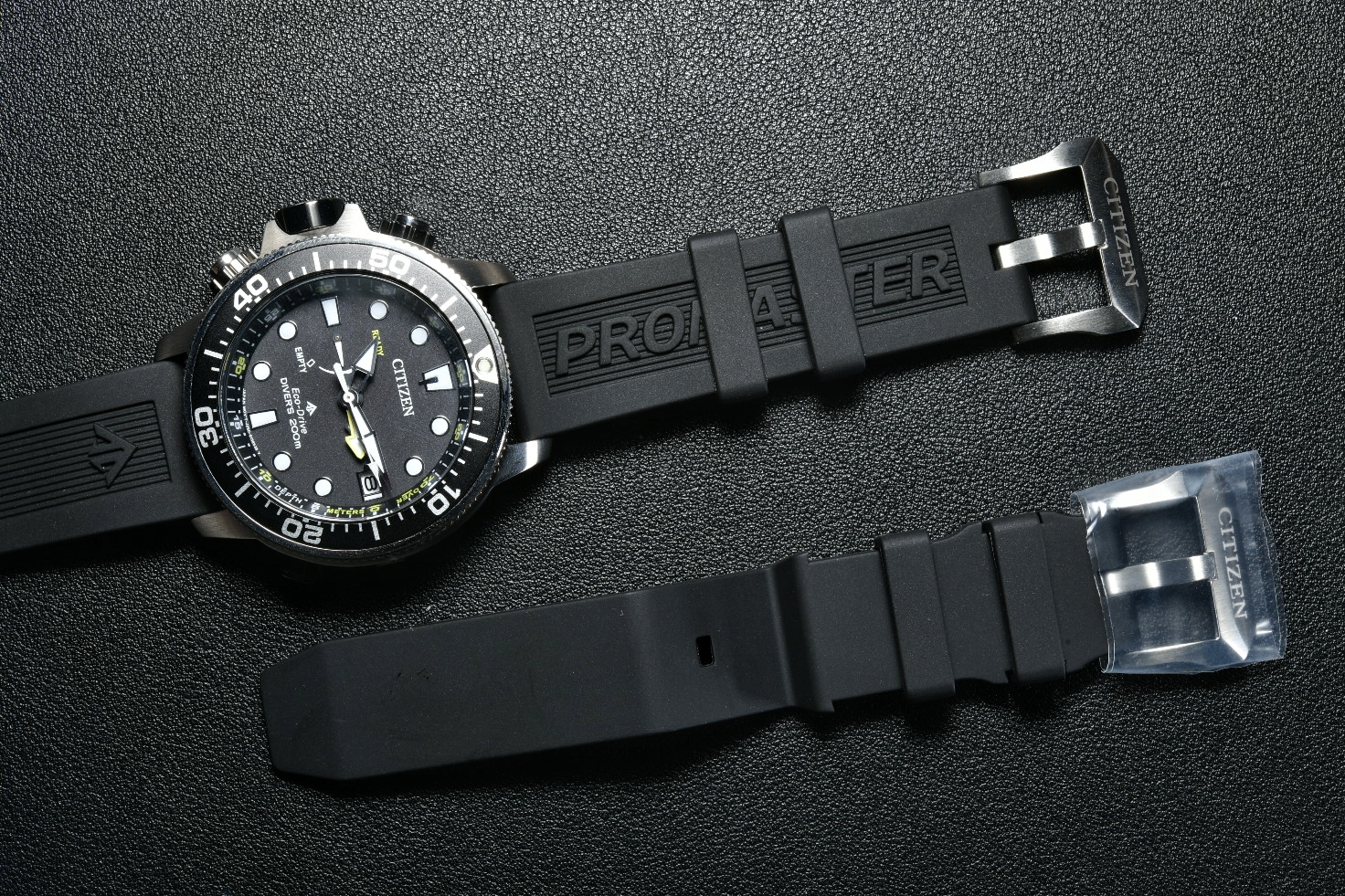 Since it is an Eco-drive watch, meaning that it is charged by light, you don't have to worry about power, and all that you need to do is to check the power reserve indicator at the 9 o'clock position before you dive. This basically works the same way that a running seconds would on a mechanical watch, to tell you that the watch is functioning. Also included in the features list is an alarm that will sound if you are ascending too fast.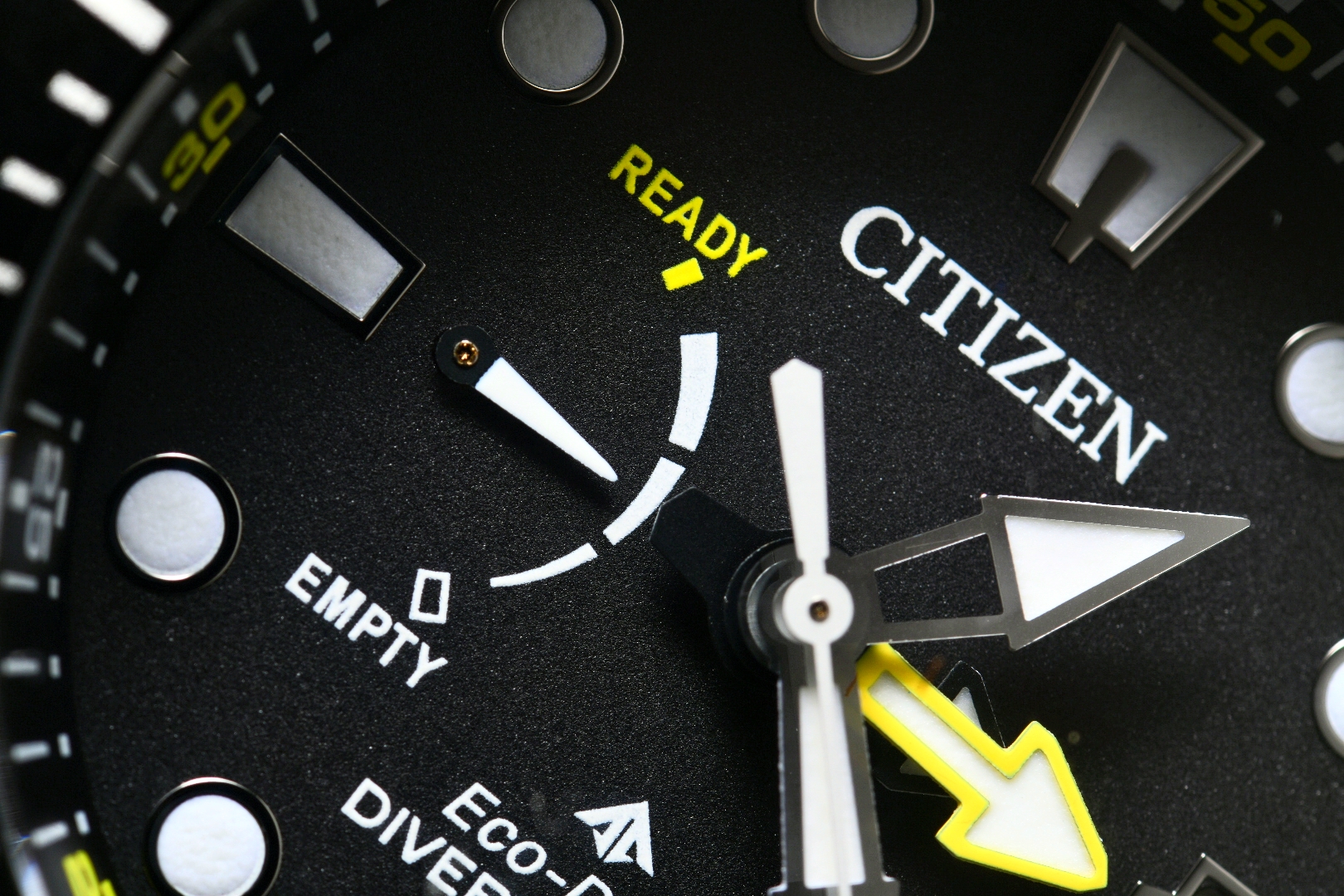 Real world reasons
One of the reasons why I wrote this article is because I encountered a diving instructor with over 20 years of diving experience who wears a Citizen PROMASTER Diver (the BN 2029-01E which is functionally the same as the one under discussion), who told me that in the early part of his career, he wore an expensive diving watch (let's just say it was an iconic one and leave it at). He turned to the Citizen PROMASTER diver in the end, after realising some of the issues I've mentioned, and after a long journey to find the ideal diving watch which included several diving computers.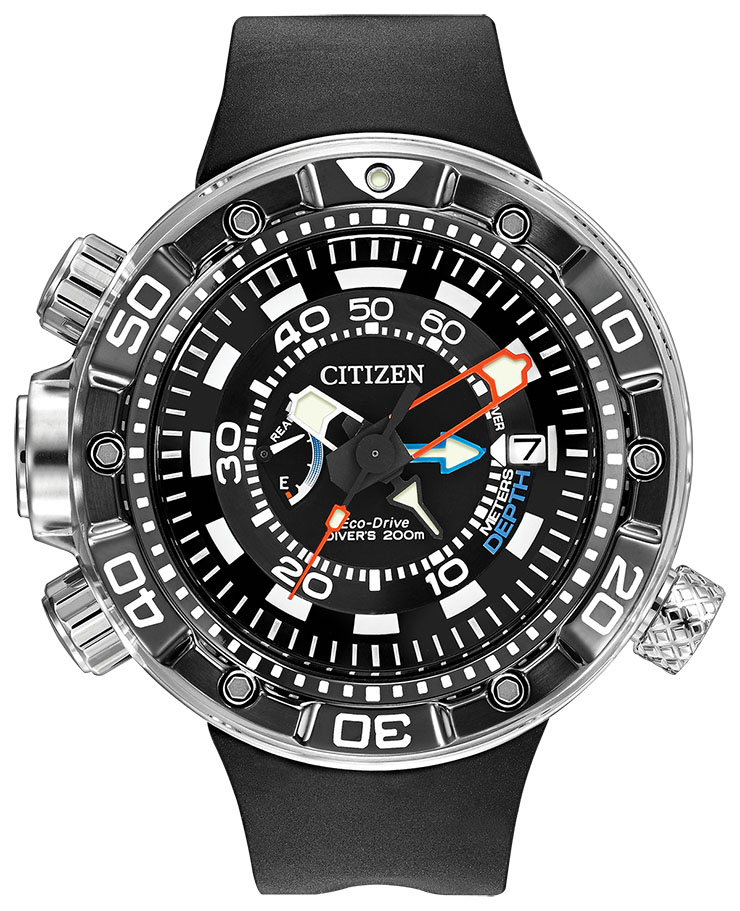 I'll explore what he explained to me in more detail in the future, but suffice to say, why he dives with the PROMASTER diver is simple, the easy readability (compared to the digital displays of most diving computers), the depth gauge (that is effortless to use), and the fact that is is maintenance free, (not needing charging of the battery and so exposing the gaskets to potential failure). In fact the only thing stopping the watch from being perfect is a lack of a chronograph that can be used underwater for timing decompression stops. (Maybe he can look into the TAG Heuer Aquagraph that I wrote about here that can do that.)
Turns out you can win one of these watches every month till the end of 2019 in the Citizen "Save the Beyond" campaign in celebration of the 30th Anniversary of the PROMASTER line, which you can enter via this website link below.
There are other variations of this watch available as you can see here, the 30th Anniversary model on the extreme left, a red bezel one on bracelet or even a bi-coloured bezel with blue dial model.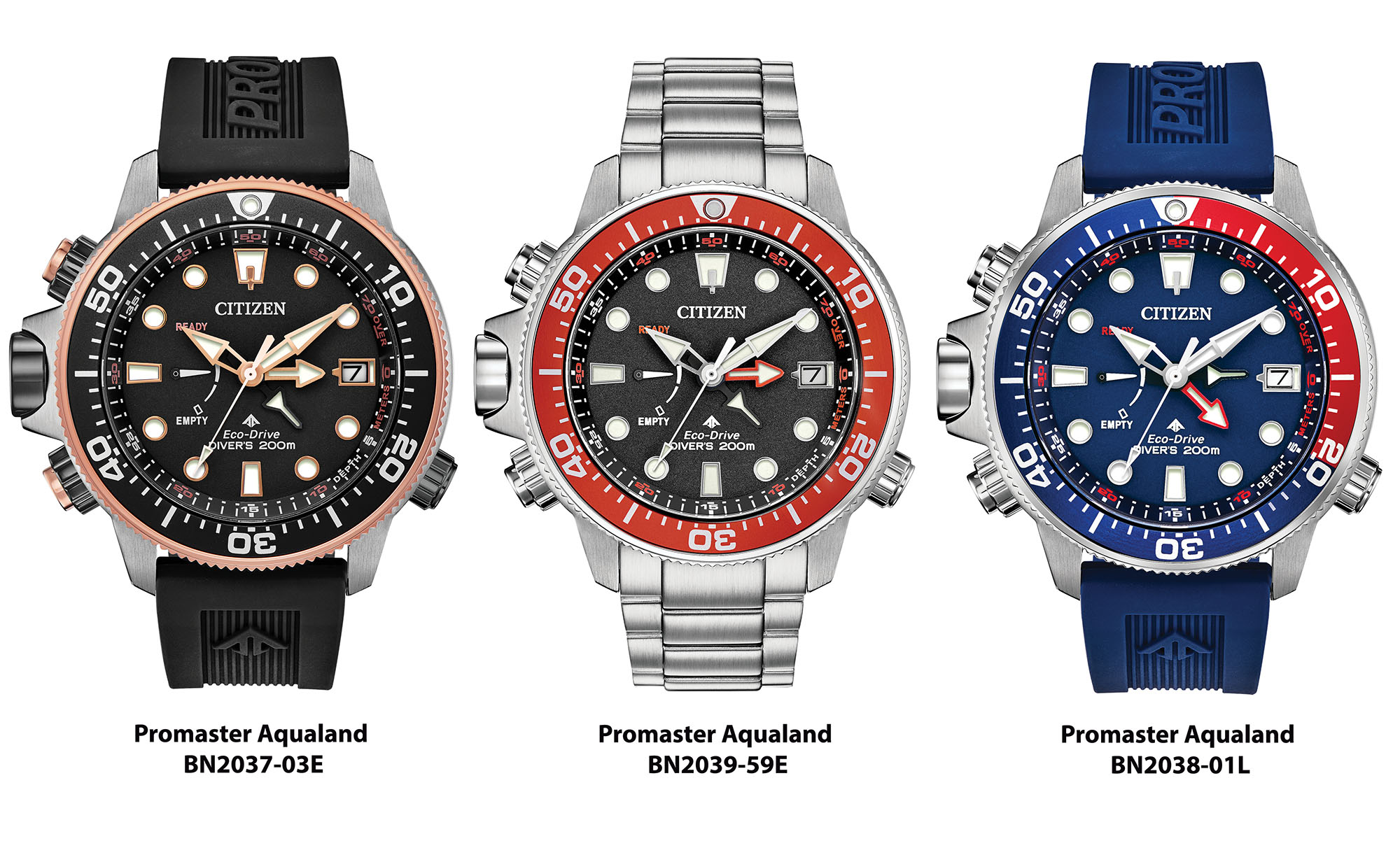 Ultimately then, it's your choice. Get a watch that gives you more functions when you dive, or spend most of your time underwater worrying about losing or scratching up your luxury diver. Me, I'd rather focus on my surroundings to stay alive and enjoy the scenery. Enjoy the following views of the Citizen PROMASTER Aqualand.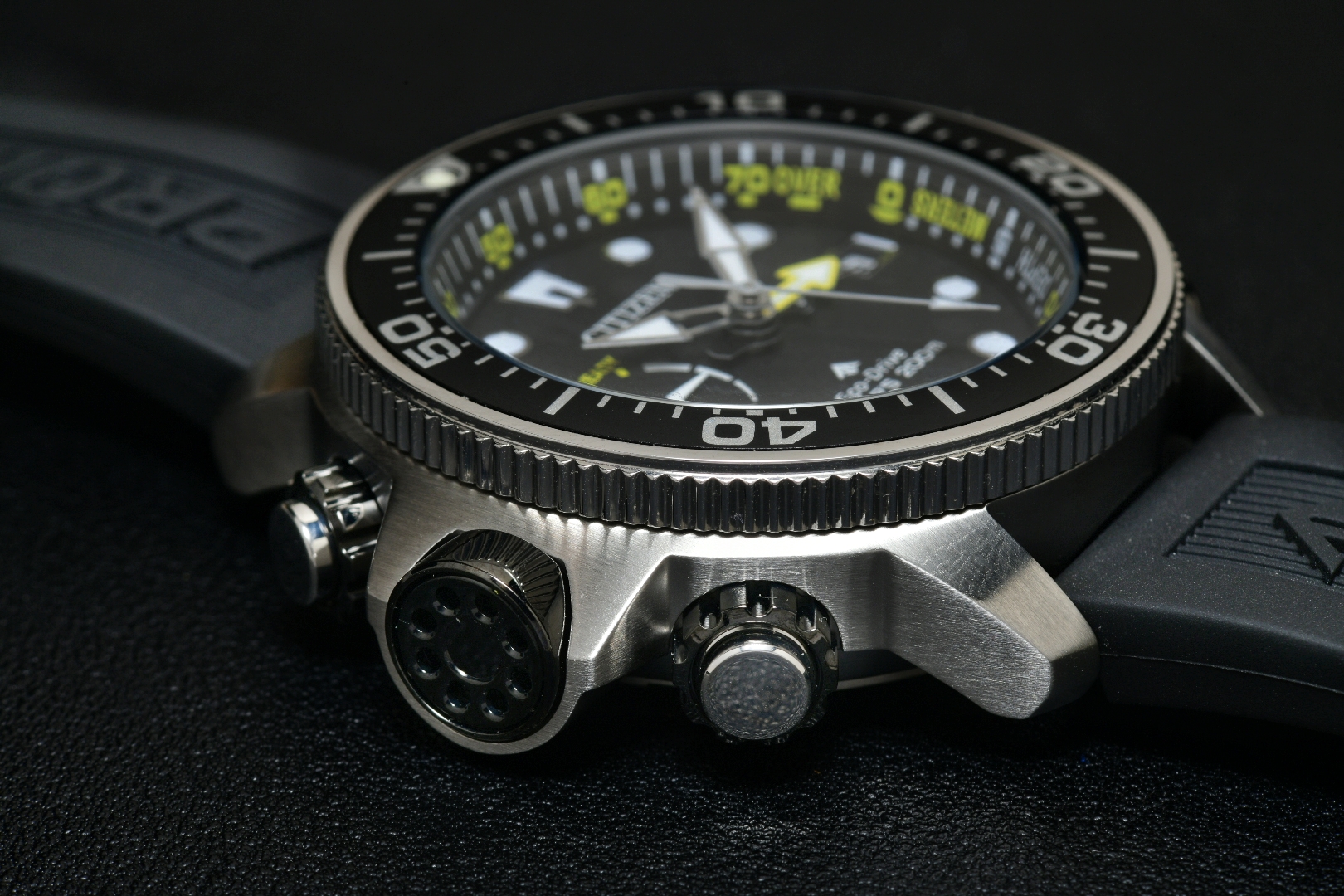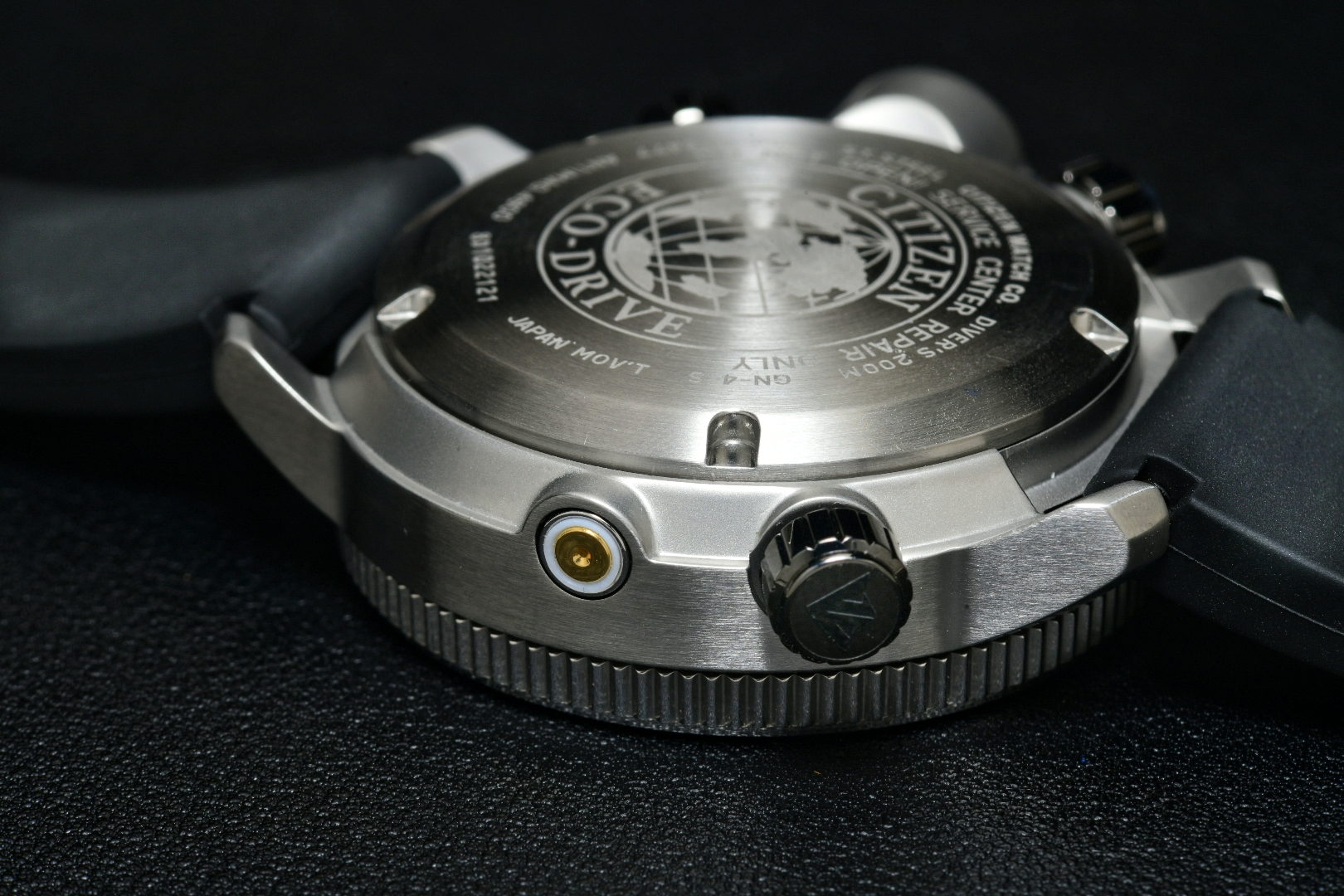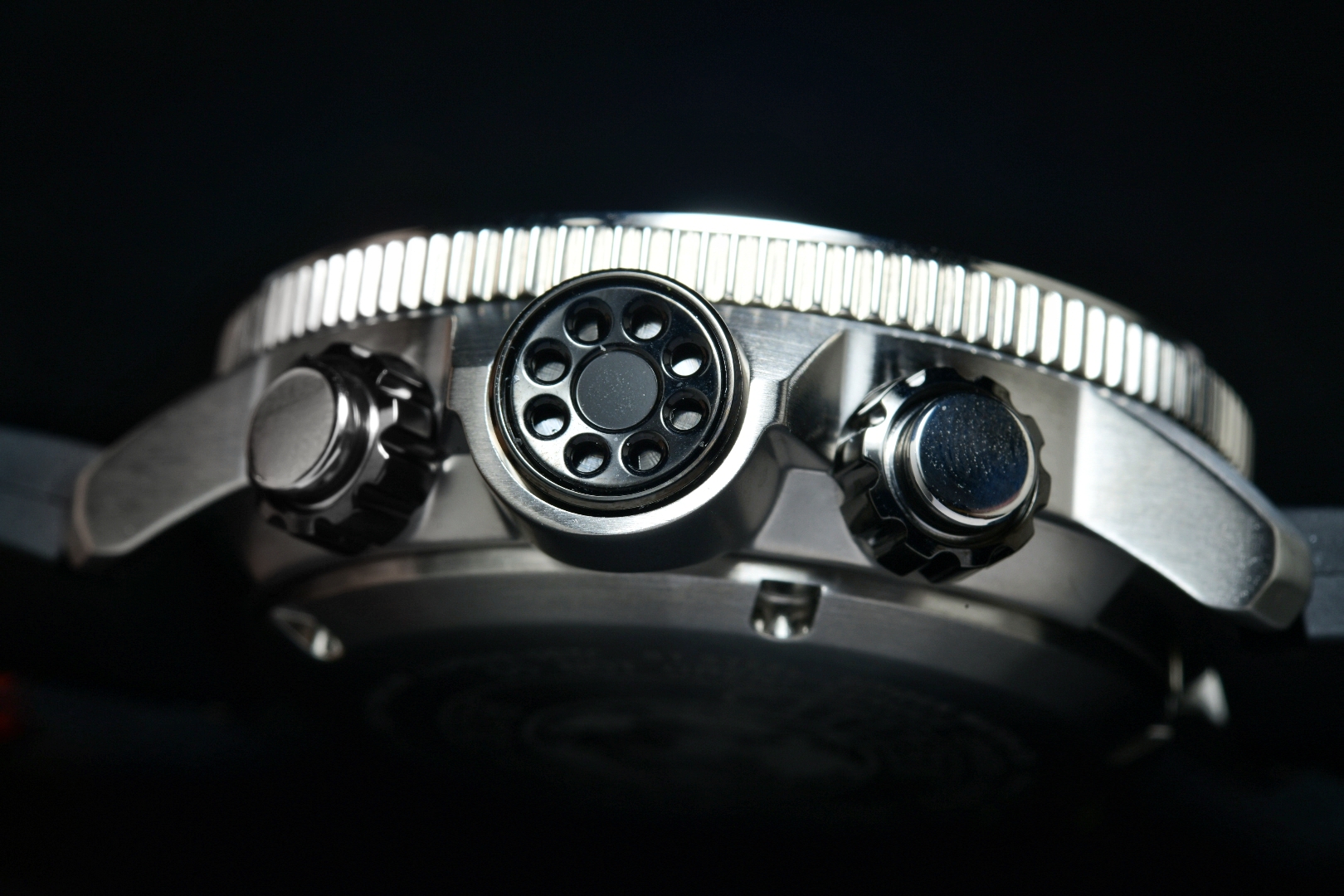 [ninja_tables id="2326″]