Rolex Explorer 2
So we already knew yesterday that the Explorer line would be the focus of this year's releases. So let's cut to the chase now that all the new models have been announced: the new Explorer 2 will not feature a ceramic bezel as expected by online punters. Instead the essential technical upgrade for this model line comes in the form of the Calibre 3285, a movement that was released in 2018 with modern technical specs as well as a new generation Chromalight display for longer and better nighttime visibility.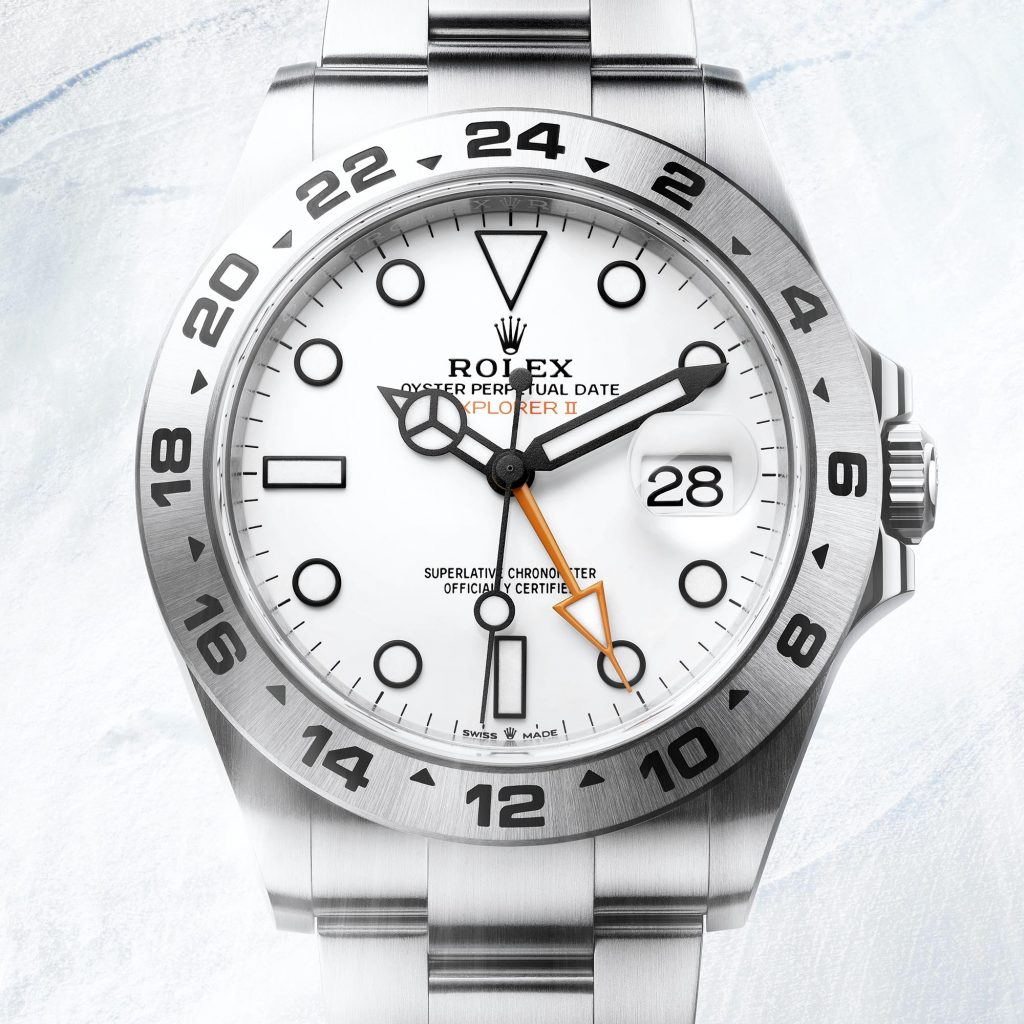 Apparently the case and bracelet have been redesigned, but the effect is so slight visually that you would probably only notice the difference if you were an owner of a previous generation 42mm Explorer 2. The watch will come in the same black and white lacquer dial options we're already familiar with, with the same orange 24 hour GMT hand.
One thing I can say about this watch though is that I'm glad that Rolex did not put a ceramic bezel on it. It might make sense on a Daytona or a GMT Master 2, but in the environment where the Explorer 2 is designed for, I'm gonna be afraid of a ceramic bezel breaking when climbing or in rough terrain when rubbing the watch against rock. You might say the same thing for the ceramic bezel of the Submariner, but then at least when you're diving you have a sense of when you can return to the surface, which is not that long compared to a mountaineer or explorer. In the latter case you might be lost for longer than you might think, and so a stainless steel bezel makes more sense.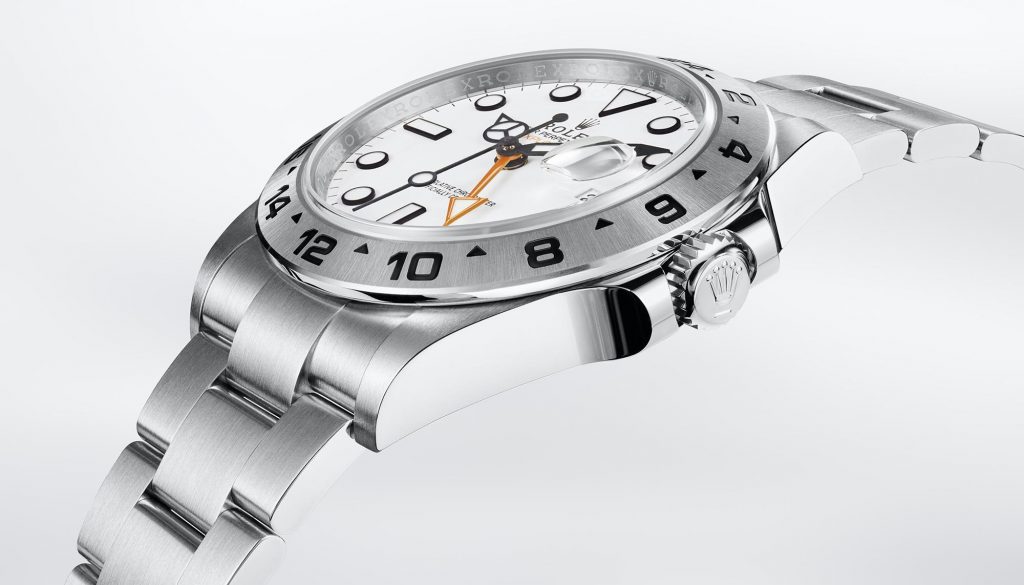 Remaining with stainless steel also preserves an essential characteristic of what makes an Explorer 2 an Explorer 2 and that is fine by me. A ceramic bezel in my opinion would just be a step too far.
Rolex Explorer 36mm
The more interesting release from Rolex though is the new 36mm Explorer in two variations. It's interesting for basically two reasons.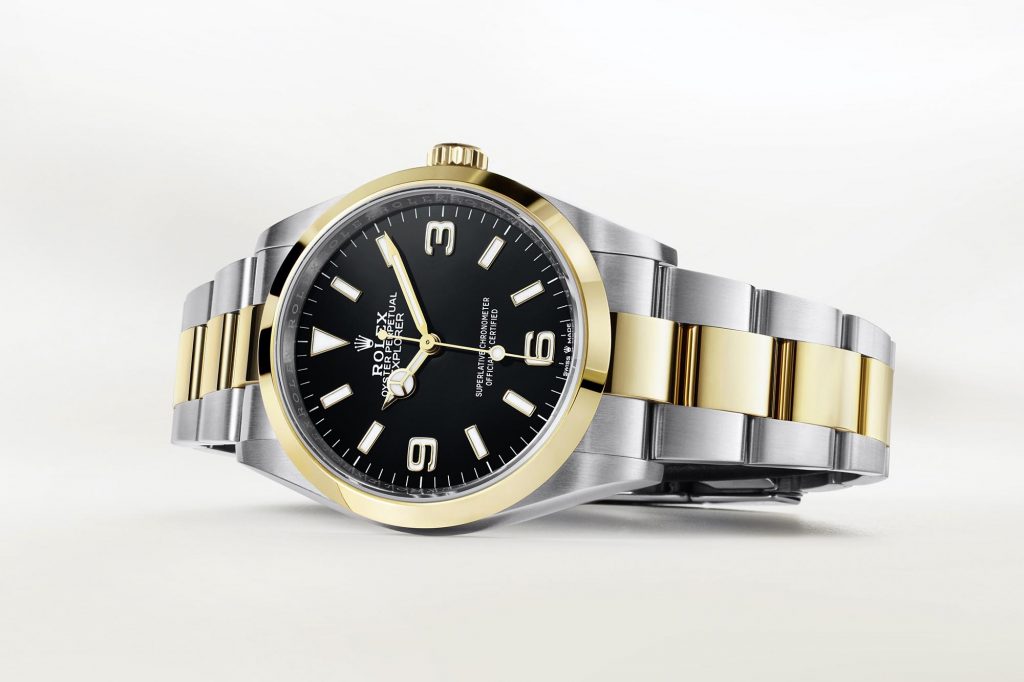 The first is that the 36mm Explorer was discontinued some 10 years ago by the 39mm reference 114270, with 39mm being the de facto Explorer size even as it was upgraded midway with full luminous numerals. So this new Explorer means that the classic 36mm size is back, which should cheer those who prefer a smaller watch or a modern performing version of a known icon.
The second reason is going to be more polarizing, and sees Rolex stepping out in doing something new with the Explorer line. It's well known that no watch in the Explorer line has ever been offered with any precious metal. Until recently, the Sea Dweller was similar in this respect, being a line that was offered exclusively in steel, but the rules were broken when a two-tone version came out in 2019.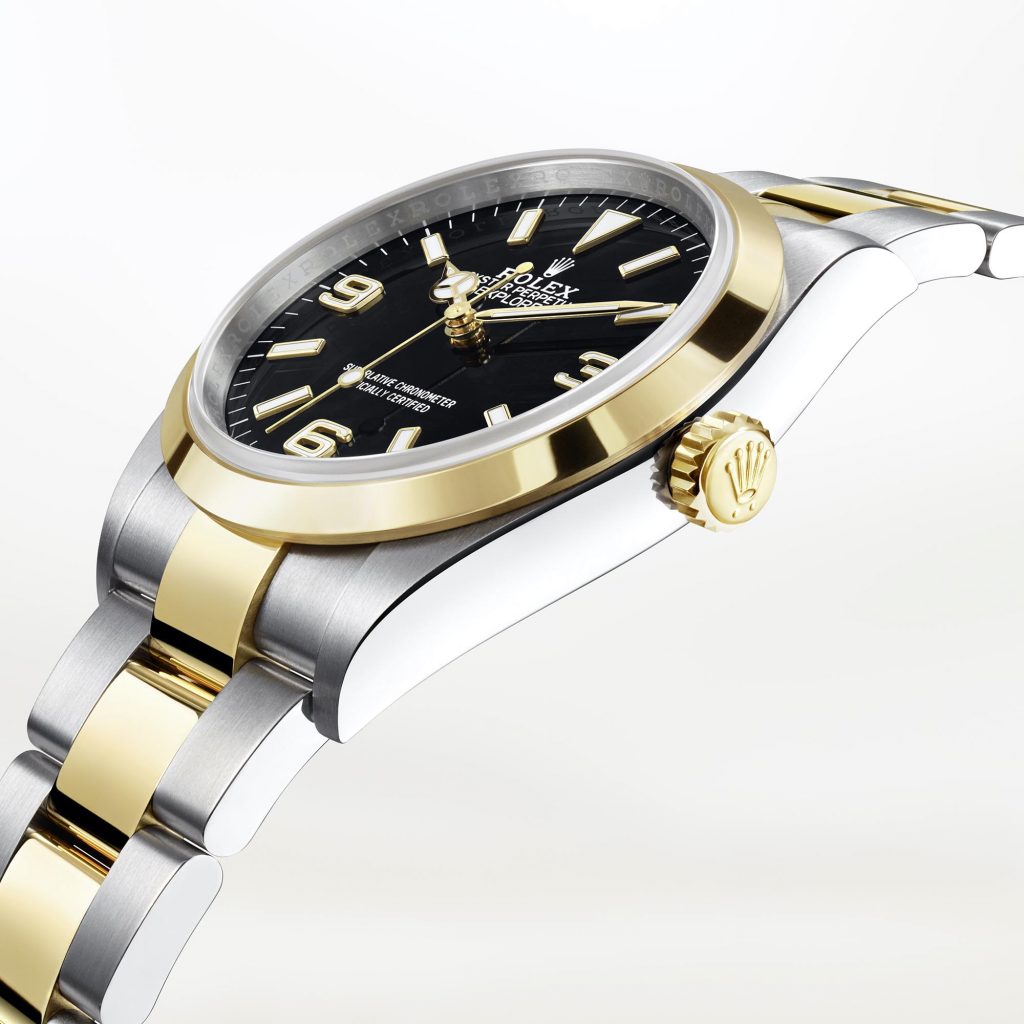 It's the same story here with this new 36mm Explorer which also comes in a two-tone Rolesor which technically speaking is a combination of Oystersteel and 18k gold as well as a normal full Oystersteel one.
So I'm not sure what to make of this new Rolesor Explorer. It doesn't seem to fit into the spirit of the Explorer line, unless you can trade that bit of gold on the watch with jungle natives for some food and shelter. Or maybe Rolex has too many highly specified and modern Oyster case watches and they see the Rolesor Explorer as a new dressy option for customers? Perhaps like the two tone Sea Dweller, most of these Explorers won't be used in the environment they were designed for (even though technically they could) and so a buyer who requires a sporty and dressy watch at the same time could get away with getting the Rolesor as their one watch.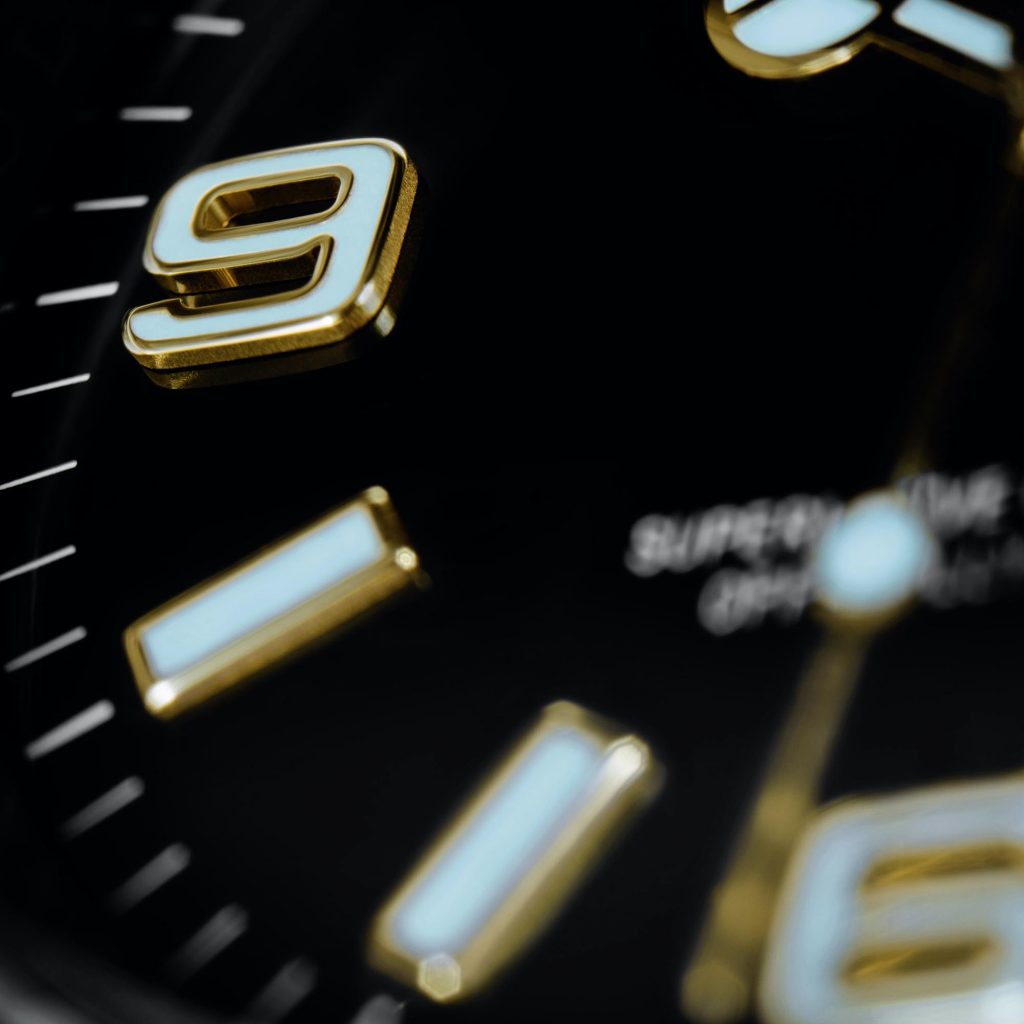 The new-generation Explorer also comes equipped with the new Calibre 3230 with Rolex's patented Chronergy escapement as well as the same type of bright and long lasting Chromalight display as the aforementioned Explorer 2's.
Will it be a fan favourite? I can't tell and will probably need to take some time to get used to it.
Meteorite Daytona in Gold
With prices for the steel ceramic Daytona continuing to climb in the secondary market, and with no end in sight to the shortage of stock versus demand, it's safe to say that Rolex has no need to offer new versions.
So this time round, Rolex has decided to introduce three precious metal variations of the Daytona with meteorite dials.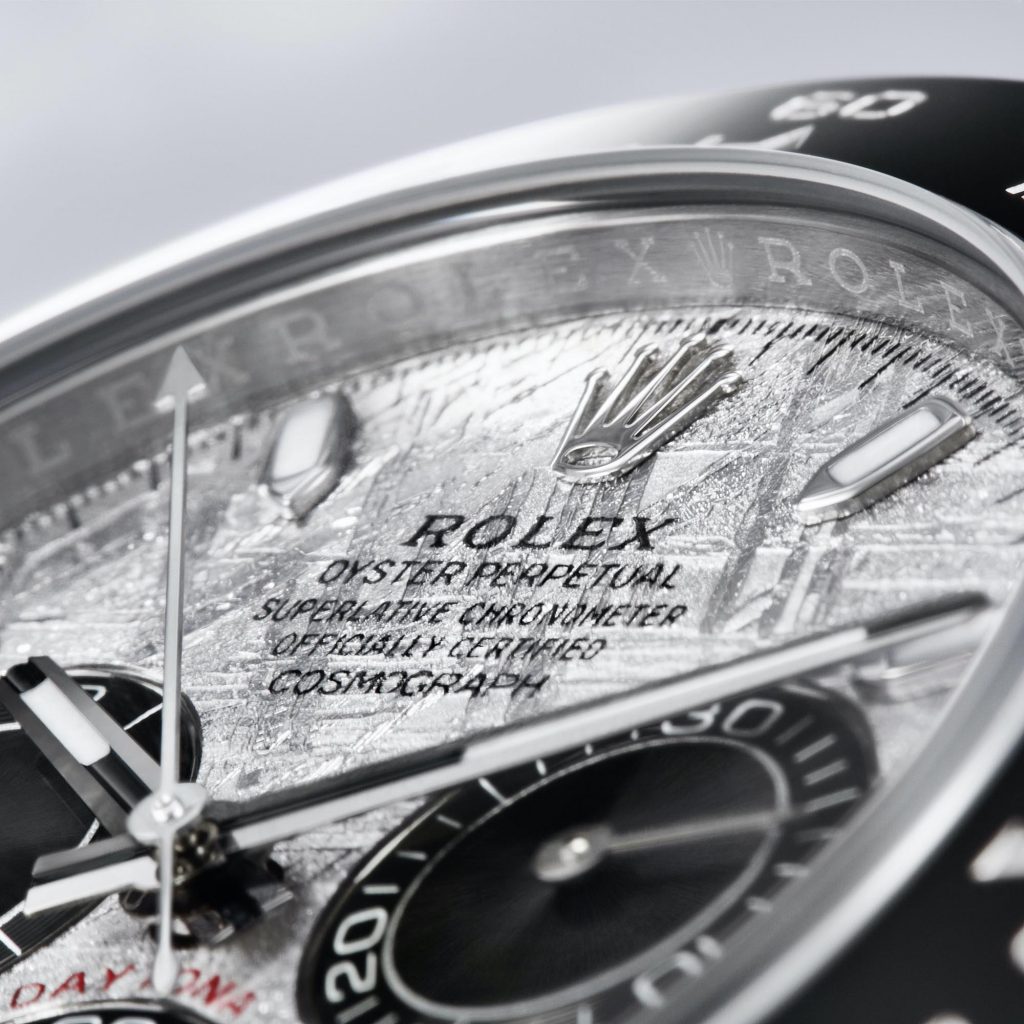 We all love meteorite dials when they are done in the right way. There's something cool about having the oldest material that existed before the earth was created on a dial of a watch, and also that each dial will necessarily be different due to the unpredictable nature of the Widmanstätten patterns.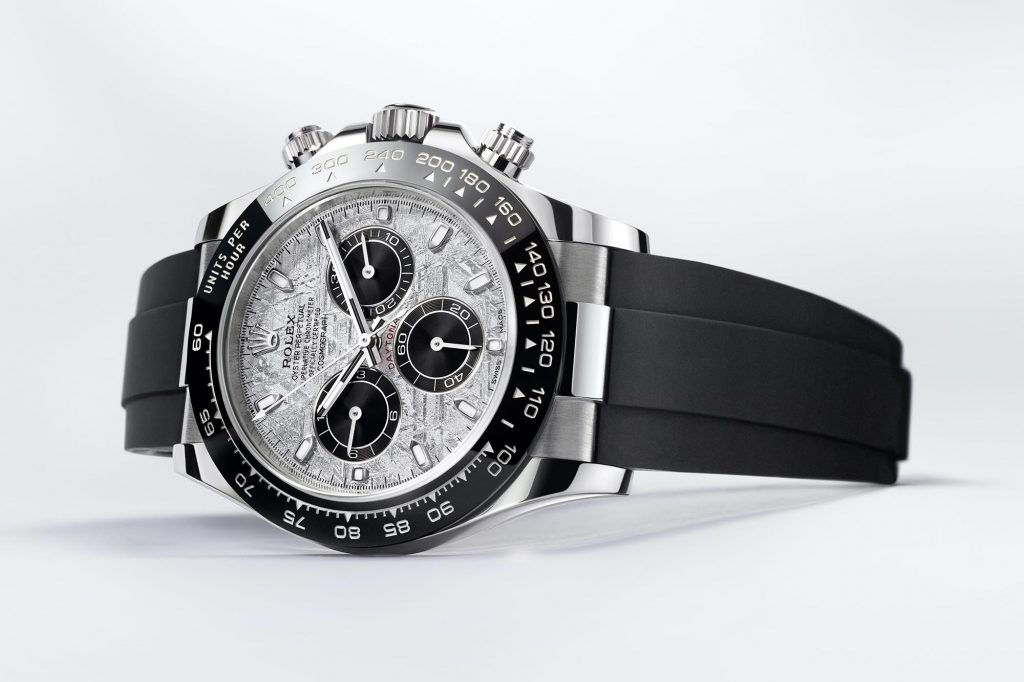 This is a move that I am very much happy with. The three variations of Daytona come as follows: Yellow Gold on matching bracelet, White Gold with Ceramic Bezel on Oyster flex and an Everose Gold on matching bracelet.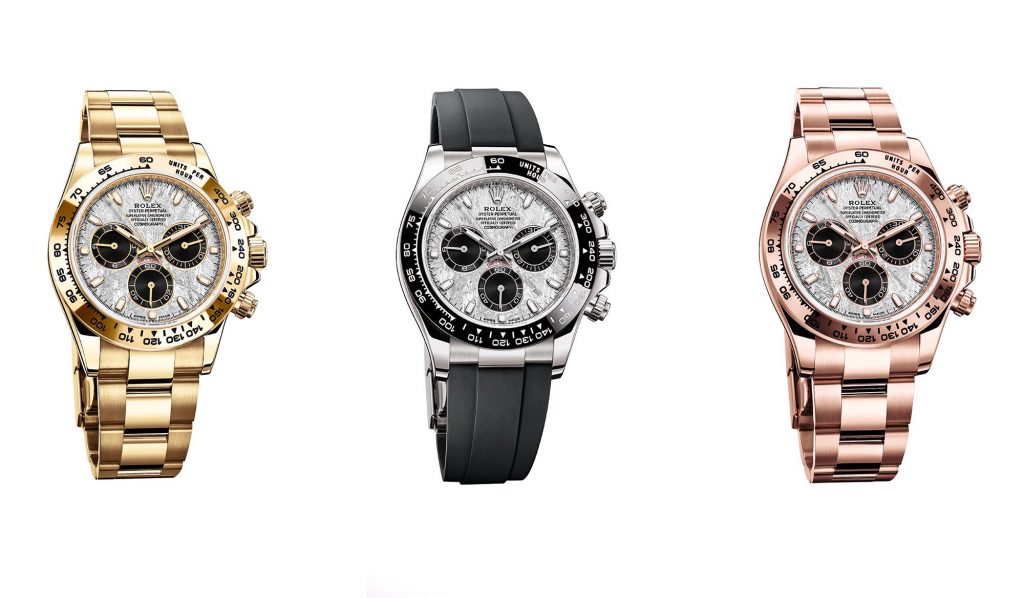 GMT Master 2 – Something hidden in the configurator
Love the GMT Master 2 but always wanted it in a configuration that wasn't set by Rolex – for example with Pepsi bezel on an Oyster or even on a Jubilee bracelet. Well, go to the configurator on the GMT Master 2 page (link here), and you configure the version of the watch that you want.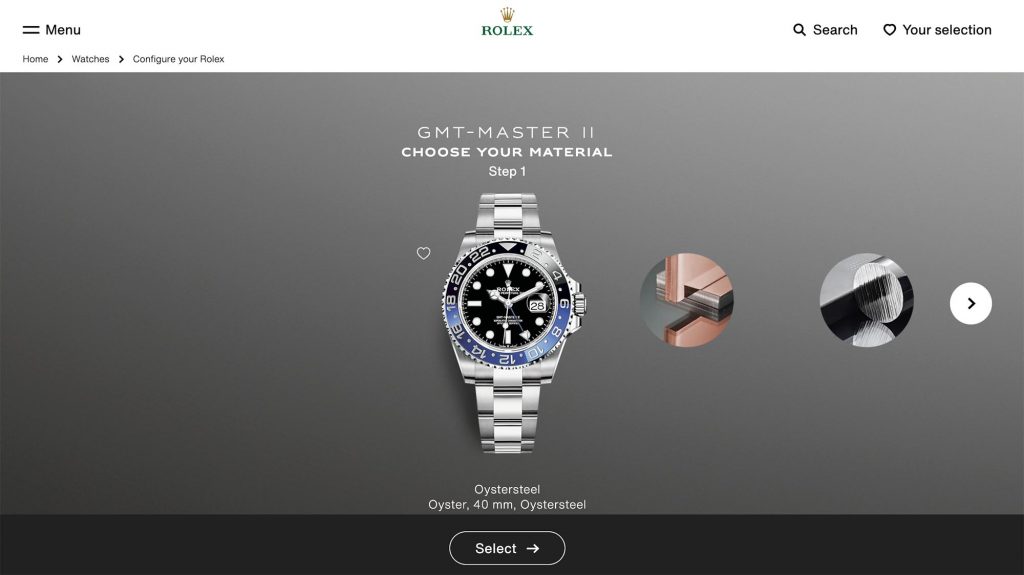 In stainless steel, the GMT Master 2 can come with a two tone black and blue (Batman), or blue and red (Pepsi) style bezel, on either a Jubilee or an Oyster bracelet – it's your choice.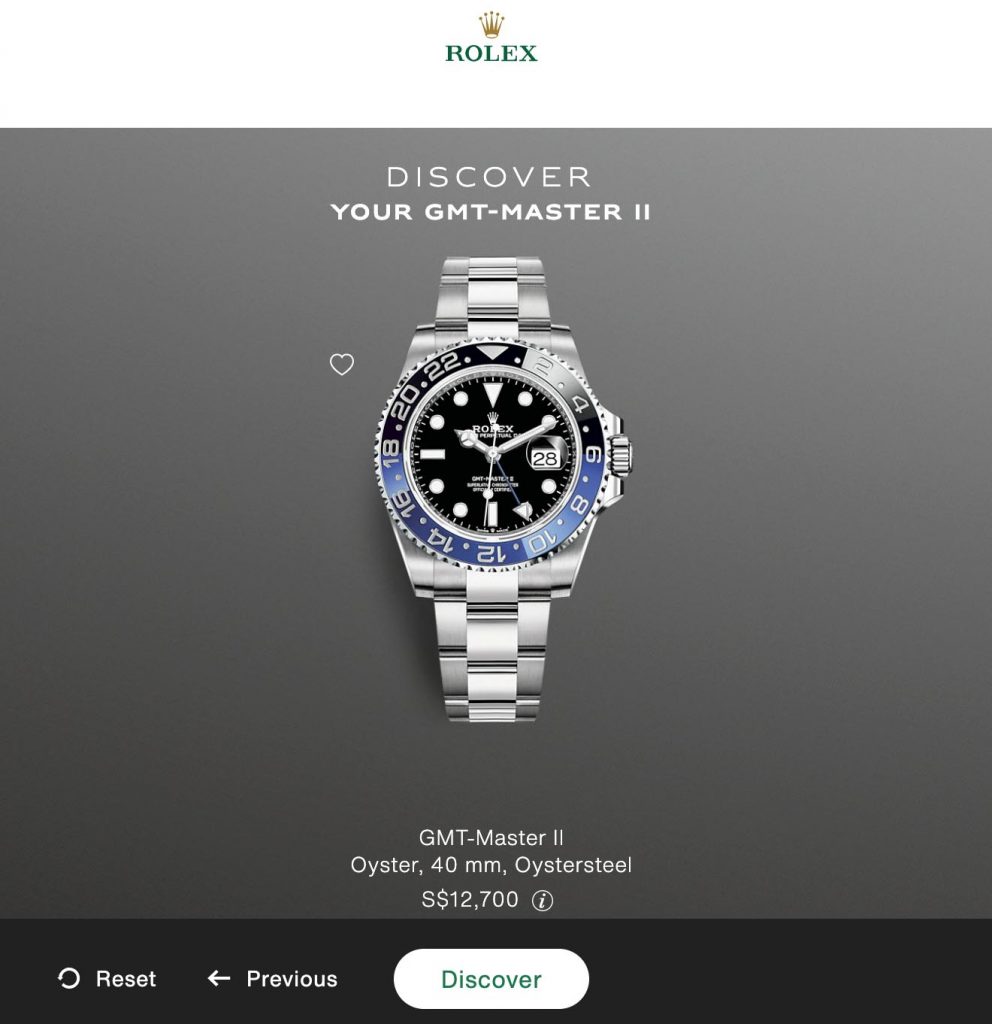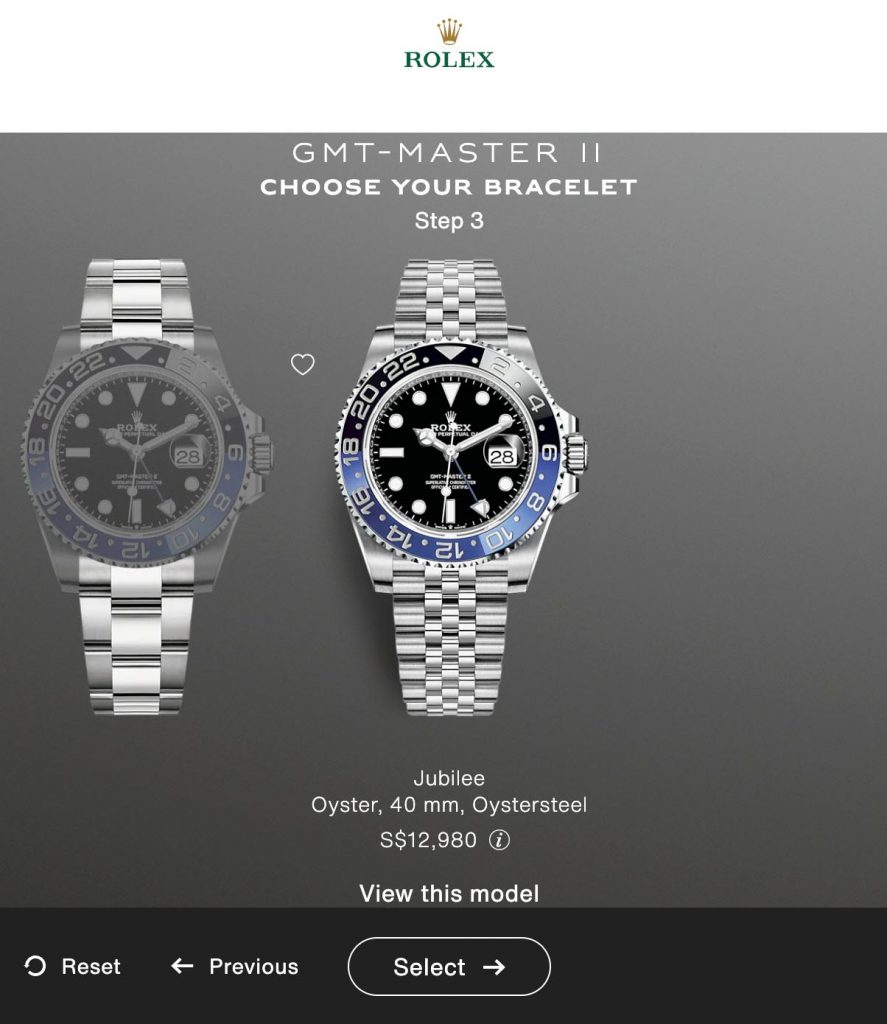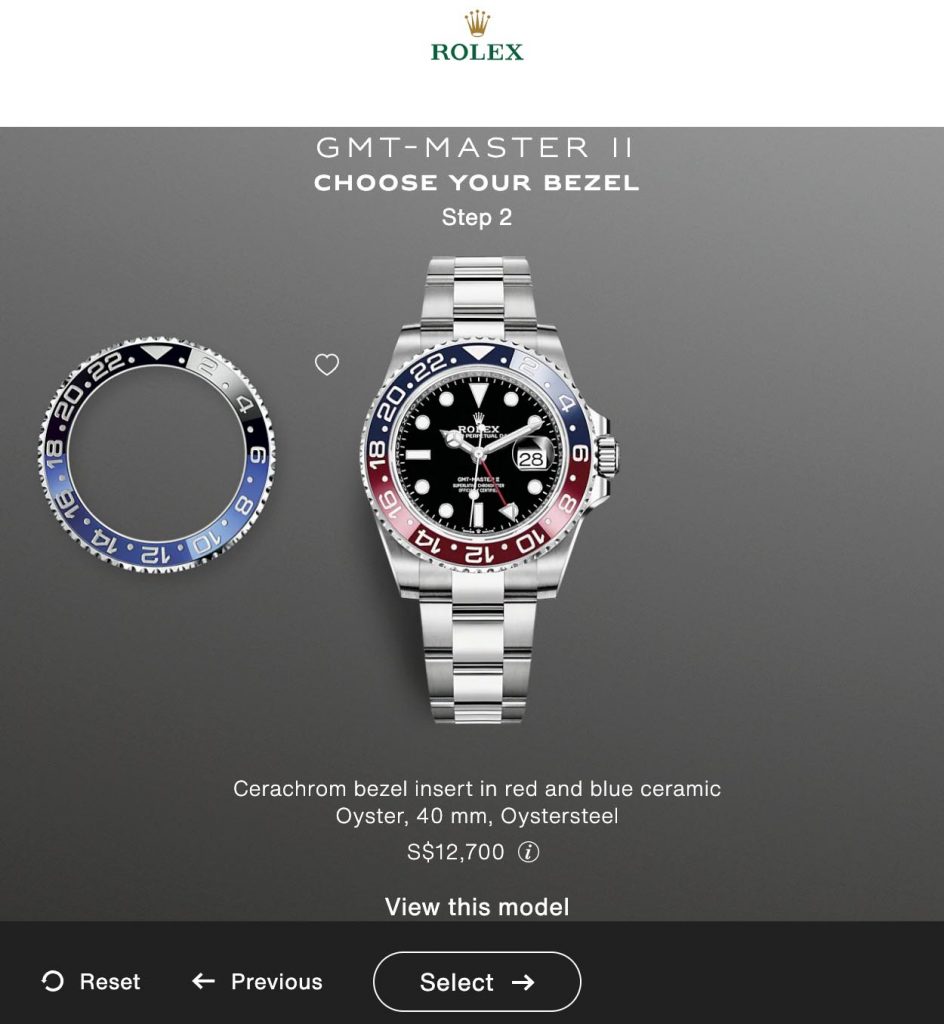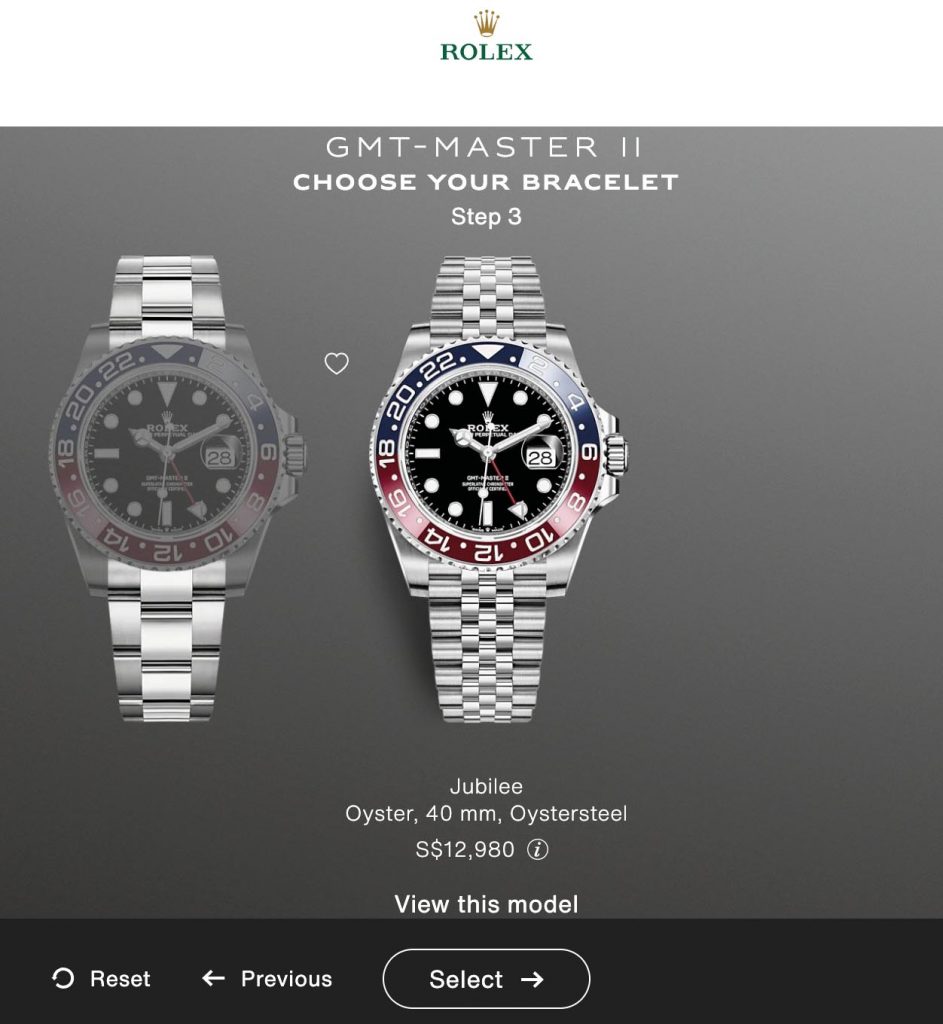 Though the website doesn't say what happens when you press select. I'm sure that demand for the watch will remain high enough that you will probably just take whatever you are offered. Though the chance of getting your GMT Master 2 on an Oyster is better than before.
It does beg the question though on how this move will affect the secondary values of some Rolex GMT Masters, since it removes the exclusivity factor of the Pepsi bezel version in white gold which came on an Oyster bracelet, and the differentiation factor of the "Batman" which came on an Oyster and had the older movement, vs the "Batgirl" on the Jubilee with the newer, better movement.
I don't really care about this either way, since my thoughts on making money with Rolex are clear enough – (linked below).
A note on this, you don't really have the same scope of bracelet and bezel options with the two tone or precious metal versions, but the fact that this configurator exists suggests that these might be possible in the future. Let's hope that a more customisable buying process will become a reality for Rolex customers.