I have to come clean. This is not a watch that I would have looked at or considered a few years ago as a relative newcomer to the watch world.
I mean, it may have only been a few years since I started but since I started I felt like I'd done it all. 
My journey began with a string of inevitable watches from the usual suspects – IWC, Panerai, and almost every significant sports Rolex. Then, having sampled the obvious, I ventured outside the main thoroughfare, and into the side alleys to find those that were off the beaten path, mainly vintage pieces like the Breguet Type 20, an orange hand Heuer Autavia, or even a panda dialled Enicar; all tinged with the seductive allure of stories from the past, told via their aged lume plots, patinated black dials and acrylic domed crystals.
Somewhere in this complicated yearning and yielding, curating and articulating, buying and selling and traversing the myriad possibilities of complications such as chronographs and calendars (all flavours including annual, perpetual or 'complet'); moving between the "haute" of horology (Patek Philippe, Audemars Piguet, Vacheron Constantin), to the creative flair of the Independents, with jibes and jabs, feints and ducks, all in the zigzag of a journey towards some imagined nirvana which, try as I might, I could not, for the life of me, attain.
I felt the feeling I would come to feel suddenly. Like a ton of bricks, it was quick, it was painful, it was a weariness I could not shake.
What did I want? It became clear. I yearned for simplicity. Something that did not pretend nor was pretentious, an oasis of quiet in the midst of chatter. A resting place of calm and confident assuredness, a stark counterpoint to the bright colours, big brand baggage, and the feature stuffed tendency of too many complications.
And so I found it, and myself probably, in the most unexpected way when I came across the Habing2 Felix.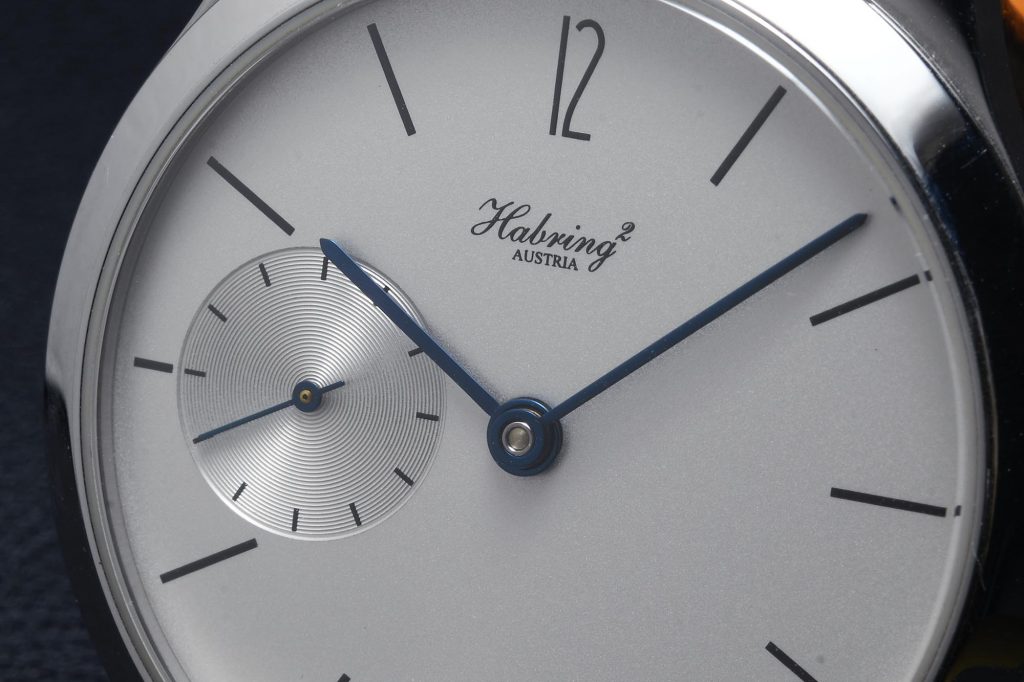 It has three hands. Two you notice at first, telling the hours and the minutes. The seconds hand breaks up the placid consistency of a fine grained, silver-white granulated metal dial, nestled within its own small circle of engraved concentric circles at the nine o'clock position. Round the back, a sapphire glass conspires to showcase the in-house movement of the watch, and this all contained elegantly within a modern sized 38.5 mm stainless steel case only 7mm thick.
It has an almost ascetic aesthetic – with discreet printed hour indices topped with either a Roman or Arabic "12" and 'Habring2, Austria', the only text on the dial, finely written in two lines and placed under the 12 o'clock position. Then there is the fine, threadlike polished and almost blue black oxidised steel hour and minute hands that complete the harmony of the watch, completing the front view, somehow managing to make it feel both contemporary and classical at the same time.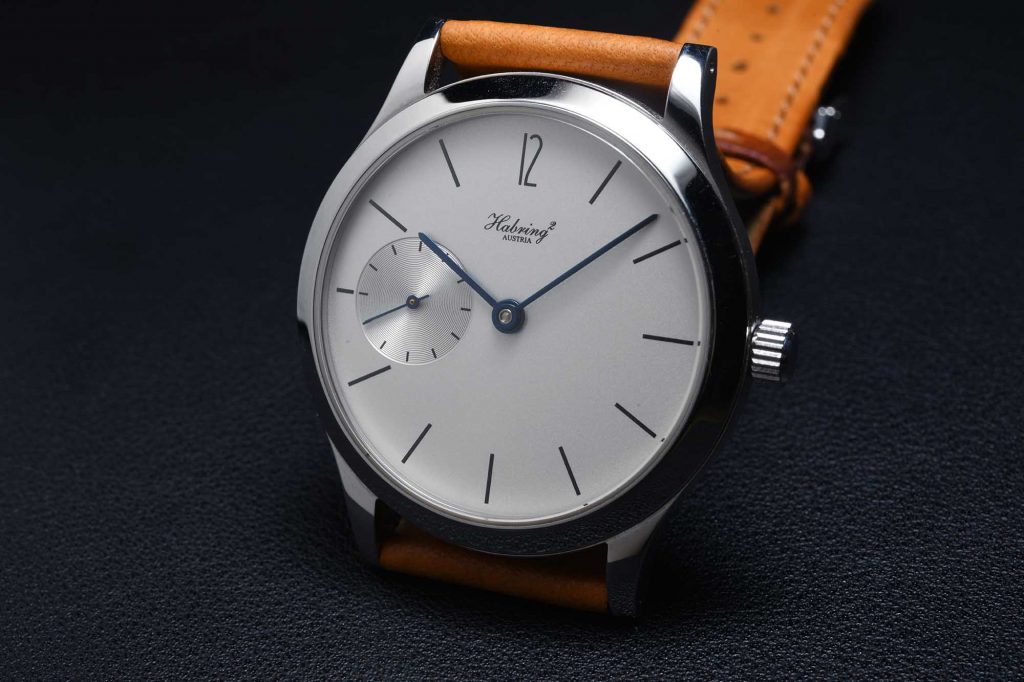 Did I mention that the case is described as water proofed (not water resistant) to 30m? There is a double sealed crown to emphasise this. Between the lugs of the case, is an engraved consecutive serial number, ensuring the owner that it is a handmade individual watch, rather than an industrially produced copy.
Research throws up the fact that the steel for this case is produced from the mountains of Carinthia, smelted at the Bohler smeltery in Kapfenberg, Austria.
It is when you flip the watch over that the complete story of the Habring2 Felix comes together. Through the sapphire caseback, is a view of the in-house manufactured A11B movement. Completely designed from the ground up by Richard and Maria Habring, husband and wife team and founders of the brand, the movement earned the company the coveted title of 'manufacture', marking the first watch offered to step away from the Valjoux powered watches previously.
To underscore this achievement the Felix watch won the 2015 Grand Prix D'Horlogerie de Genève (GPHG) Petit Aiguille award. Composed of manufactured components from small suppliers in Austria, Germany and Switzerland, the anchors are assembled by hand; hairsprings counted and curved by hand; wheel/pinion combinations assembled by hand – just to name a few of the processes that go into this uniquely handcrafted  watch.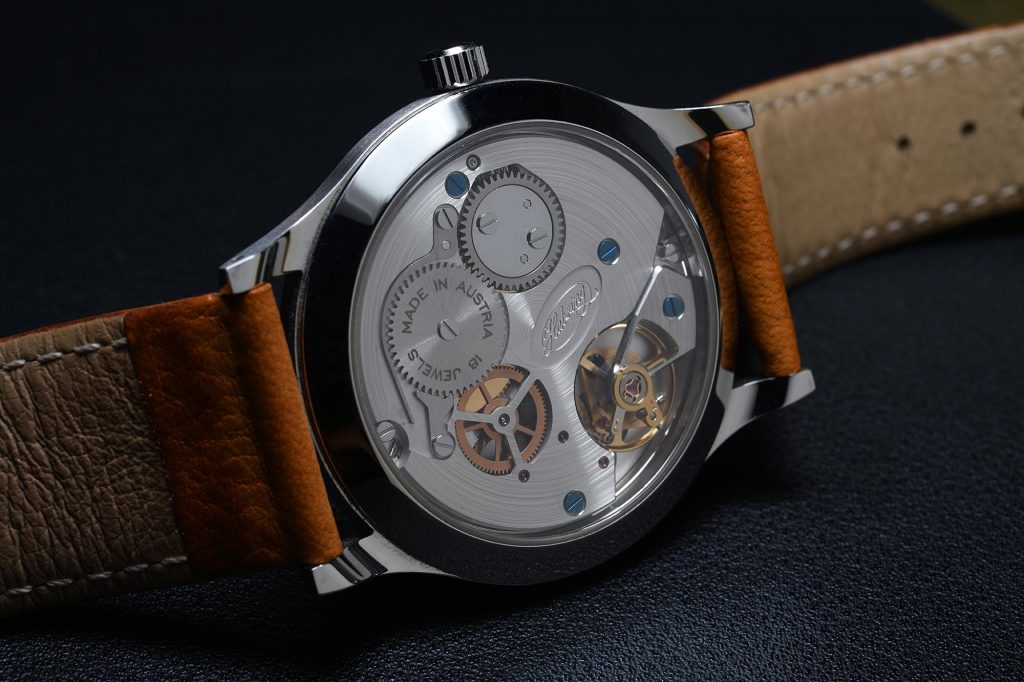 The movement is 30mm in diameter – filling up the watch case perfectly, so no fillers needed – and it is a svelte 4.2mm thin. It beats at a modern 28,800 vibrations an hour (4Hz), with a slightly above average 48 hour power reserve. There's more – a tangential screw fine adjustment capability, anti-magnetic escapement with a Carl Haas hairspring that is chronometer quality, KIF shock protection pursuant to DIN and NIHS, 18 jewels and hand polished edges, decorated perlage and engravings.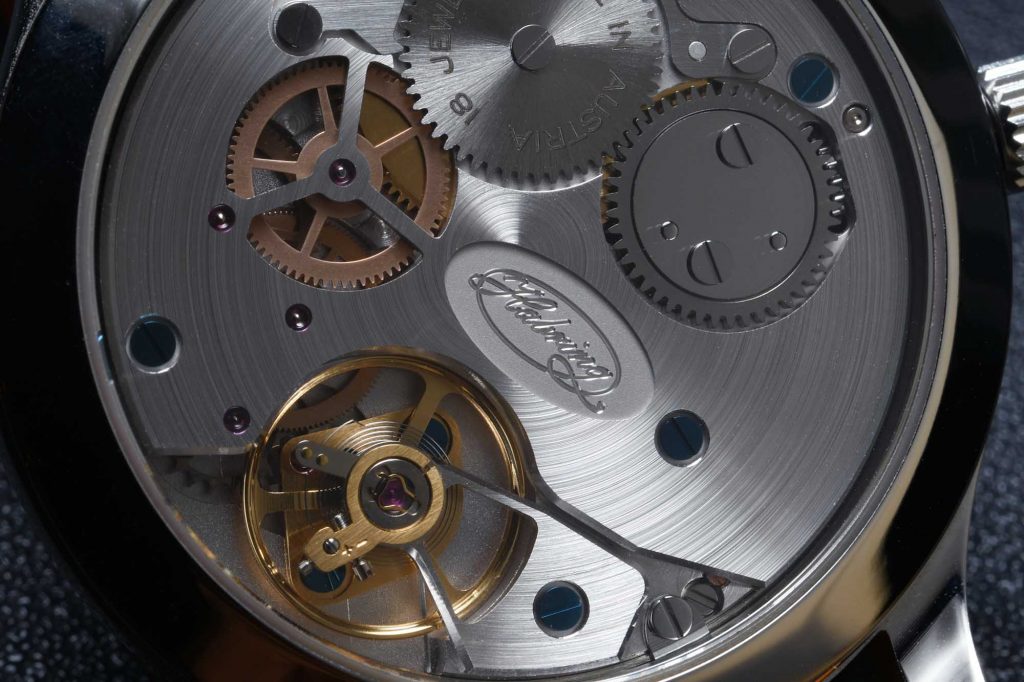 Despite Richard Habring's prior experience there, don't expect A. Lange and Söhne levels of decoration and finishing however. To the unaccustomed, the restrained and decorative style might seem a bit "industrial'. This is a misnomer, however, look closely and you will see it is anything but. There is a solidity and soundness to the fit and finish of every component of the watch, a harmony to the way the aesthetics, materials, construction, feel, finish and design come together. It is simply 'beautiful'. To take a page from the design language of the Patek Philippe Calatrava: all that is essential is present, nothing more, nothing less.
The Habrings price their watch at EUR 4,450, which is quite frankly, a steal for an inhouse movement equipped watch from an independent brand. Part of the brand's philosophy is to charge their customers a fair price, and not for unnecessary extras. To this end, the watch comes in a handsomely made and simple pear wood box, which contains the owner's manual, and small compartments that house a small tube containing an extra pair of hands, an additional winding crown, two rubber gaskets for the case seals against water ingest and extra strap pins.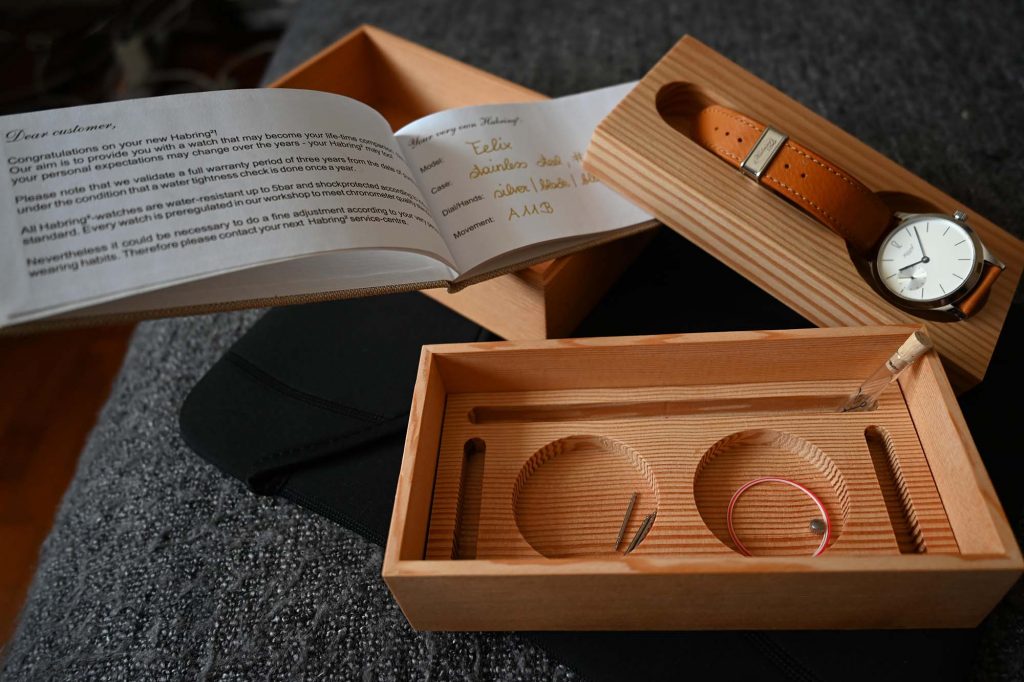 Ever seen those kinds of items in the box when you buy a watch from other brands? Well, me neither.
The manual as well has a handwritten page that describes my watch specifically and I believe that it is Maria Habring herself who had penned these words. I love the caramel coloured calfskin strap my watch came on and a signed deployant clasp completes the whole package.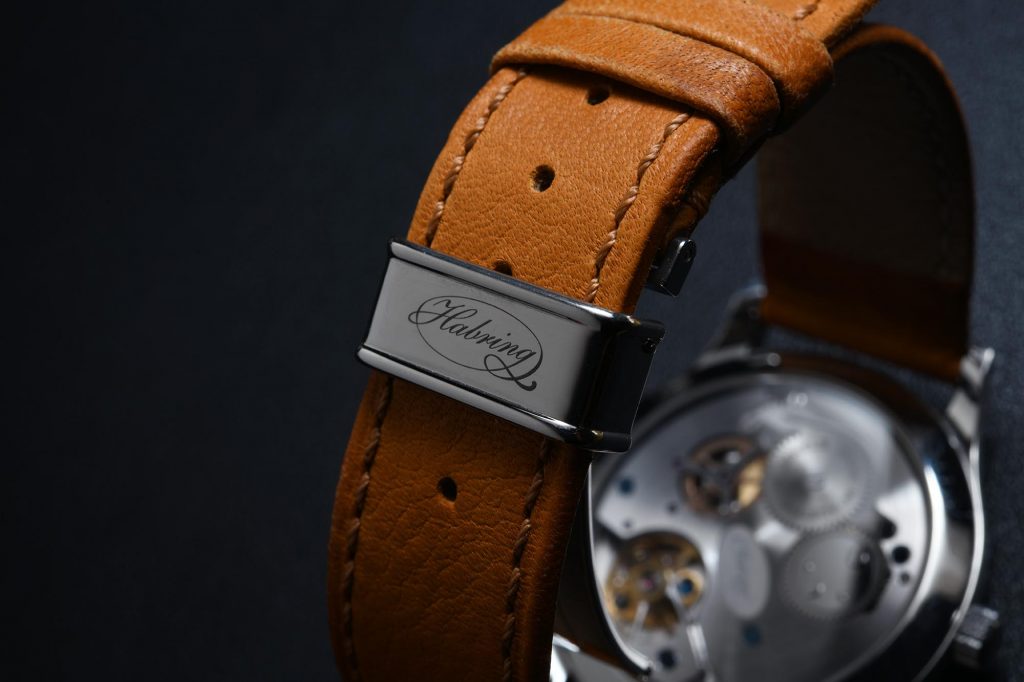 Have I come clean yet about how much I like, no, love this watch?
I have not even talked much yet about the creators, Richard and Maria Habring. While the watch itself is stunning in design and execution, it was actually understanding and appreciating the founders of the brand that pushed me over the edge to acquire this watch for my humble collection.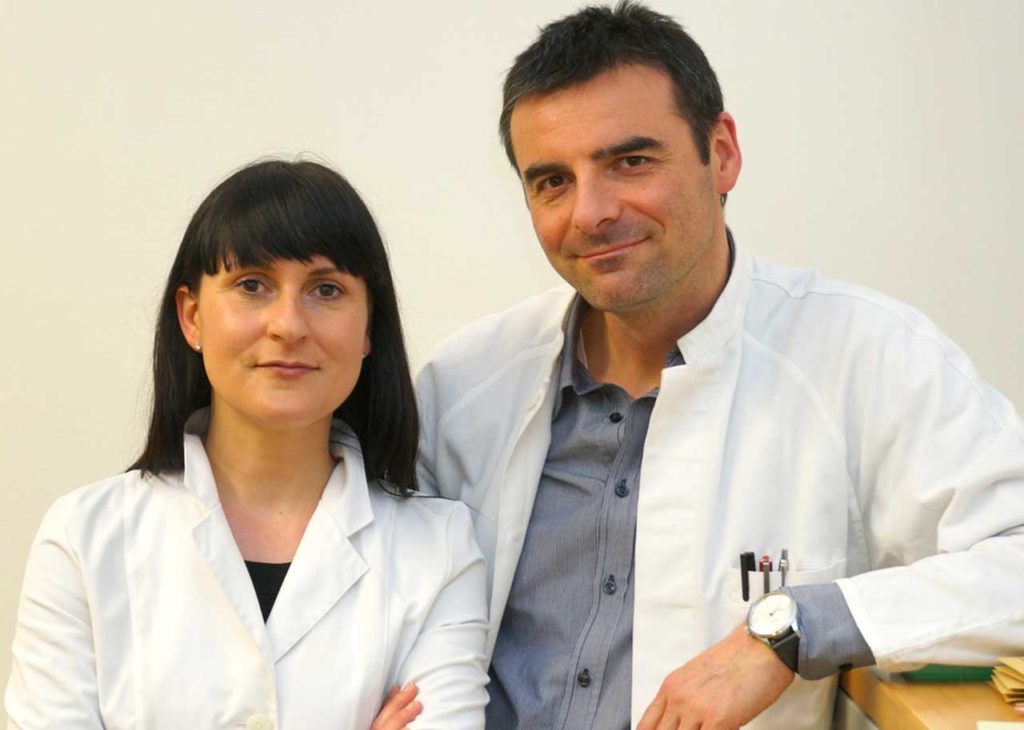 Why? I will leave you dear reader to find out more about them; and of the brilliant inventive complications that Richard is so well known for in the rest of the Habring line up. Hint: Richard Habring invented the Doppel Chronograph (Split seconds chronograph module) when he worked at IWC. He continues this 'habit of inventiveness' with the Habring2 line of watches!
One last "clean" thing I have to mention: The Habrings are described as the 'organic farmers' of the industry, making the best watches they can while maintaining long term partnerships with local suppliers. Sustainability, responsibility, ecology and trade fairness are all elements the couple base their brand on. If these things appeal to you, then I needn't say more.
As for how it is like to wear this watch, Sometimes you just want the purity of a watch that does its job well and tells the time, without calling attention to itself.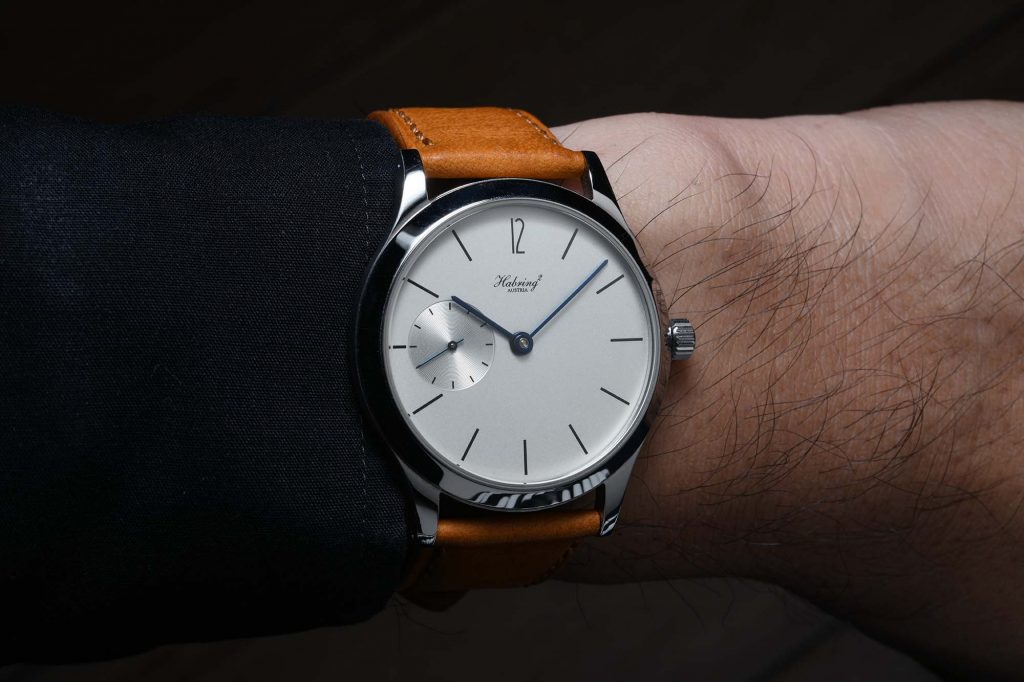 However part of the joy of wearing this watch is realizing every now and then, that within its simple exterior are the admirable values of the brand that made it.
Not only that, most who see it don't register it, but with  those that do who want to take a closer look are usually watch enthusiasts themselves. Any conversation that begins about this watch veers towards being weighted in substance rather than being about brand hype, waiting lists or dealer games, as most watch related conversations are wont to do these days. 
That is definitely, not counting the others, a good enough reason for me.