There's no getting around this one – either you're a fan of Astro Boy or you find this watch cool enough to want to become a fan of Astro Boy.
This new "AZIMUTH X GO ASTRO BOY GO!" is a watch by Azimuth in collaboration with the famous manga character whose raison d'être is to save the earth. With Azimuth being the brand famous for the iconic Mr Roboto, a watch inspired by toy robots from the 1950's, I'd say that there is enough street cred here to make the collaboration work.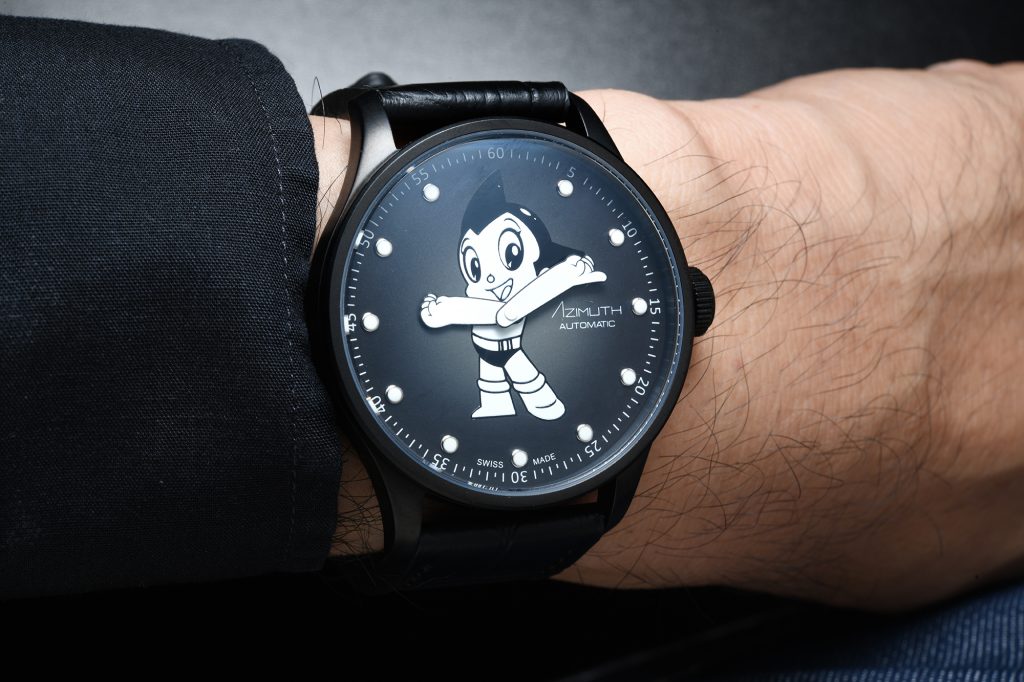 The watch is simple enough – it's sized at 42mm with a black PVD case carrying an automatic ETA movement. Astro Boy decorates the dial, standing sideways and wearing a cheeky smile, with his arms helpfully serving as hour and minute hands to tell the time. Furthermore, the dial has a charcoal-coloured fumé effect and Astro Boy himself coated with a layer of luminous paint, which means that he glows in the dark!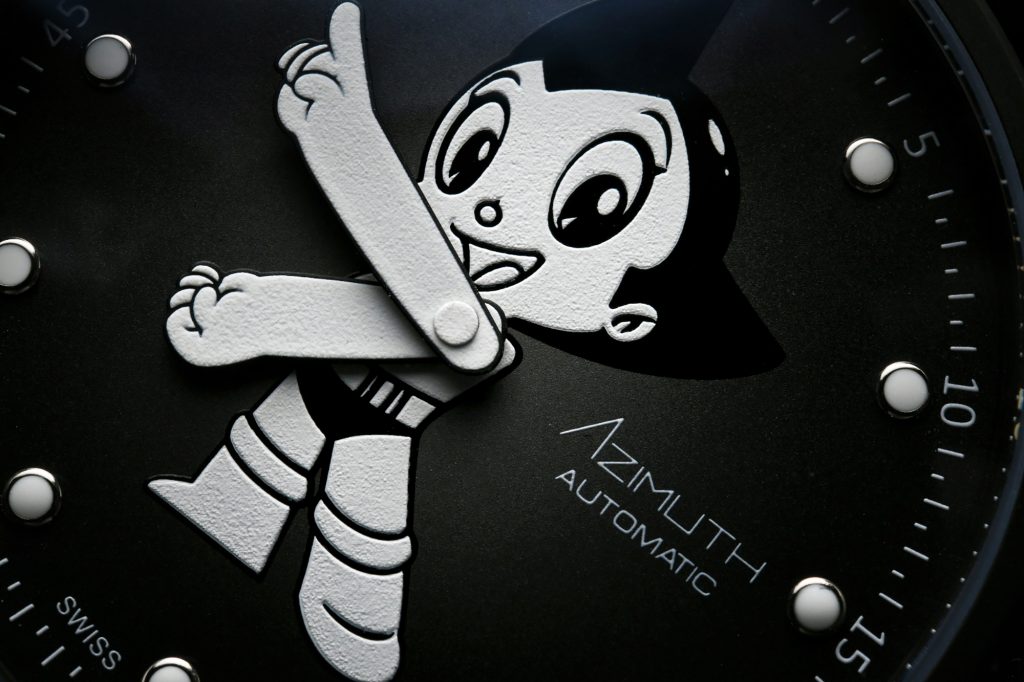 Round the back, we find the text "Go Astro Boy Go!" which is the name of the TV program that the character stars in, as well as the limitation number, out of 50 pieces.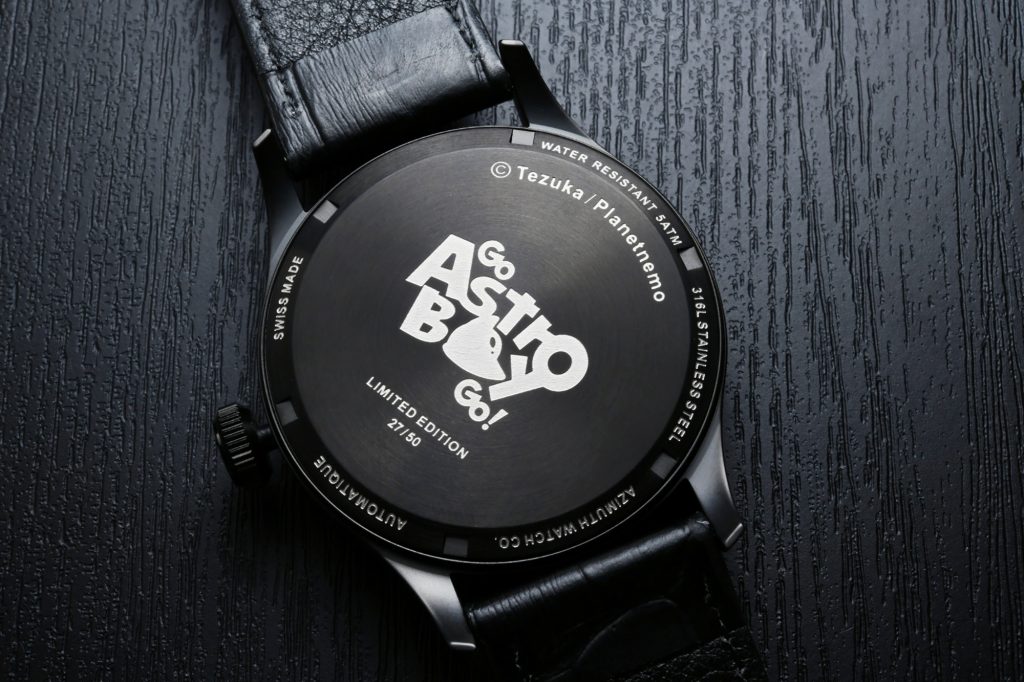 The watch was created for Thailand, although the interest for it has spread far and wide. According to Azimuth, enquiries for the piece have come from many countries in Asia, including some further afield where the cartoon was shown. Nostalgia is a powerful thing, and to this end, the number of pieces that are available as of press time has dwindled rapidly. Best to contact Azimuth directly if you're interested in getting one.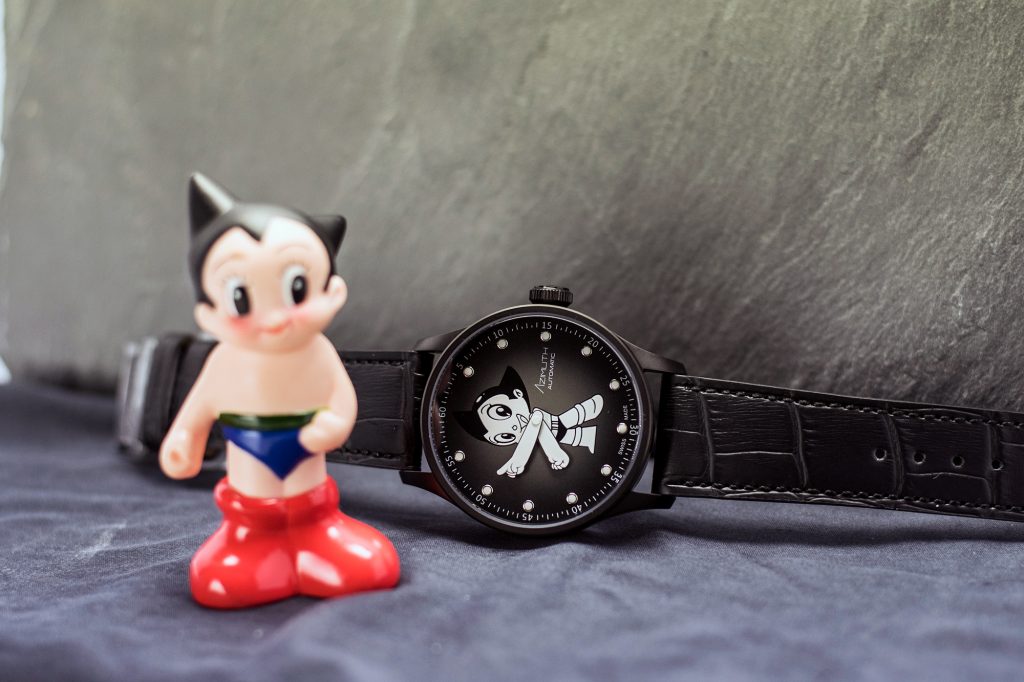 The watch comes with a limited-edition Astro Boy figurine, which is a nice touch. Something similar was done with Mr Roboto, with a little robot figurine coming in the box as well.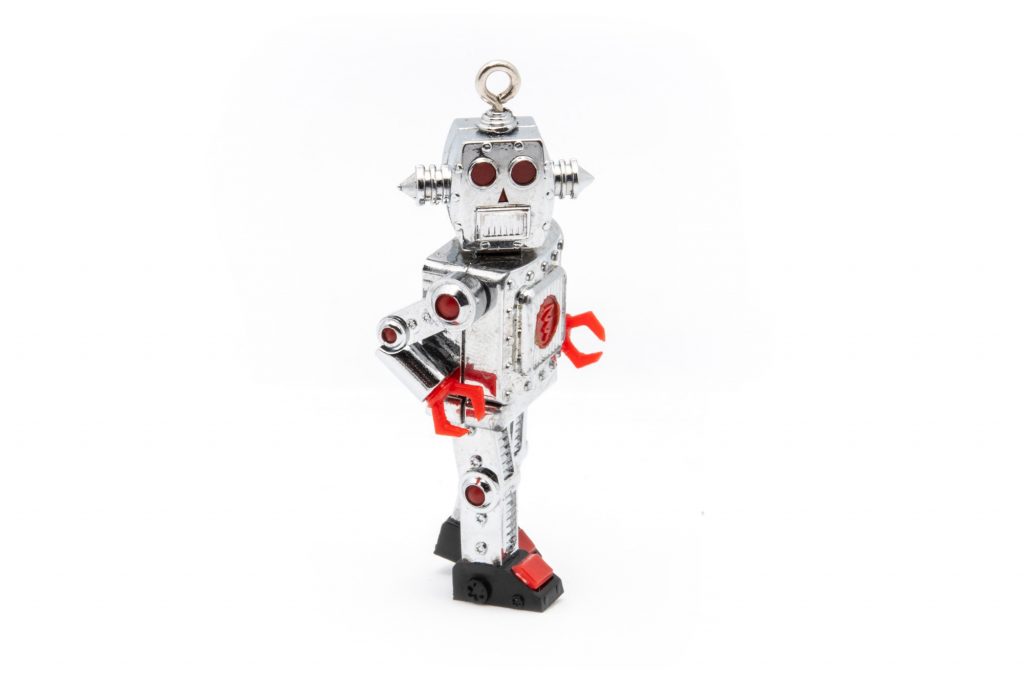 If you're not familiar with Astro Boy, here is a brief summary from the press release:
Astro Boy ( also known as Mighty Atom) is a science fiction character created by the godfather of manga, Osamu Tezuka during the 1950s. Set in a futuristic world where humans and robots coexist, it is a powerful android created by the head of the Ministry of Science Dr. Tenma to replace his son Toby, who died in a car accident. The scientist gave Astro Boy superpowers – the ability to fly, bionic eyes and ears, a high IQ, fingers equipped with lasers and limbs that fire rockets. More than just an Android, Astro Boy has a soul and displays human emotion.
However, it did not take long for Dr. Tenma to realize that Astro Boy could not replace the feelings he had for his lost son, and decided to sell him to Hamegg, a selfish robot circus owner. Fortunately, Astro Boy was rescued by Professor Ochanomizu, who became the surrogate father of Astro Boy.
Professor Ochanomizu subsequently created a robotic family for Astro Boy and helped him live a normal life like an average human boy, while accompanying him on his heroic adventures.
Or you can watch this, which is also fun:
[ninja_tables id="4396″]