From Italy to Hollywood's red carpet, the Roman brand has always had a way of combining audacious designs with the natural beauty of gemstones. For 2023, Bulgari unveils a slew of models for ladies that combine High Jewellery with Fine Watchmaking, elevating both crafts to a new level.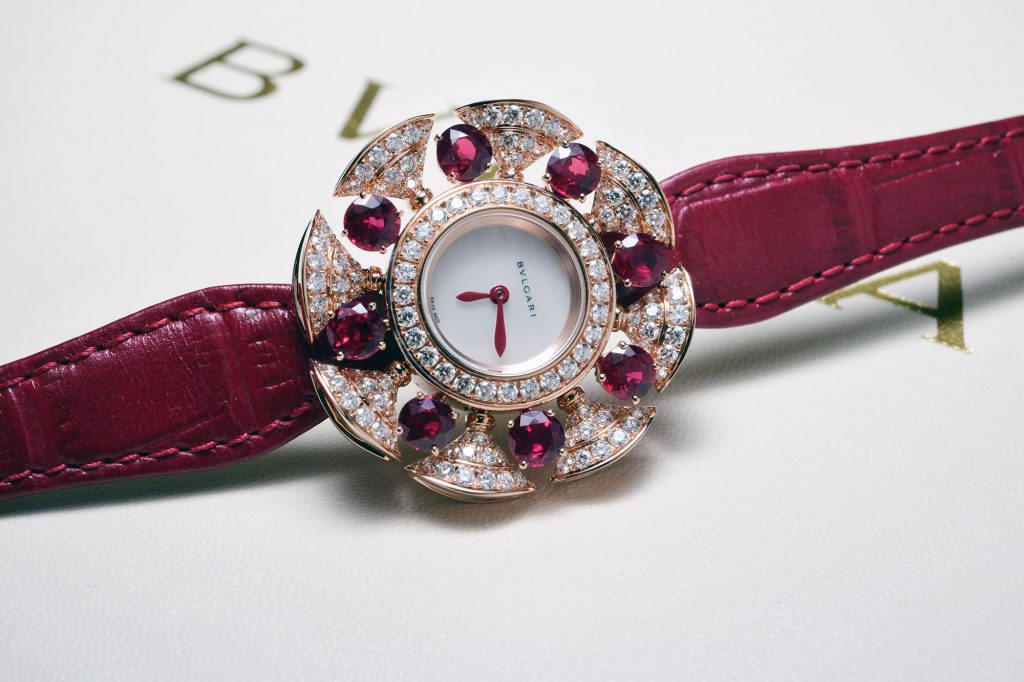 Diva's Dream
This latest release from Bulgari not only showcases the brand's strength in High Jewellery, but has also incorporated this into a watch with a kinetic sculpture for the wrist. With a case crafted in 18 karat Rose Gold, the petals surrounding the mother-of-pearl dial are shaped like a ginkgo leaf that symbolise the union of opposites. A flick of the wrist sends these petals fluttering, allowing the piece to further play with light through the movement of its gem-set petals.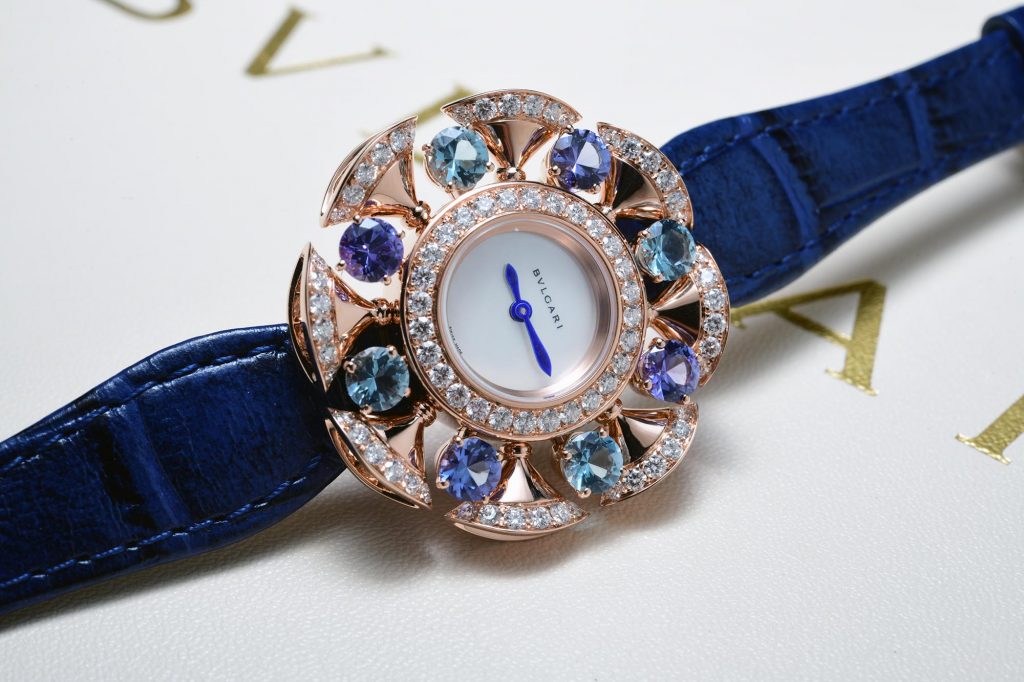 Three models were officially unveiled at LVMH Watch Week – a model with topaz and tanzanite for a blue hue, a second model with amethyst and tourmaline for a mauve feel, and a diamond and ruby model for a passionate statement piece, or one that would be right at home for a Lunar New Year celebration.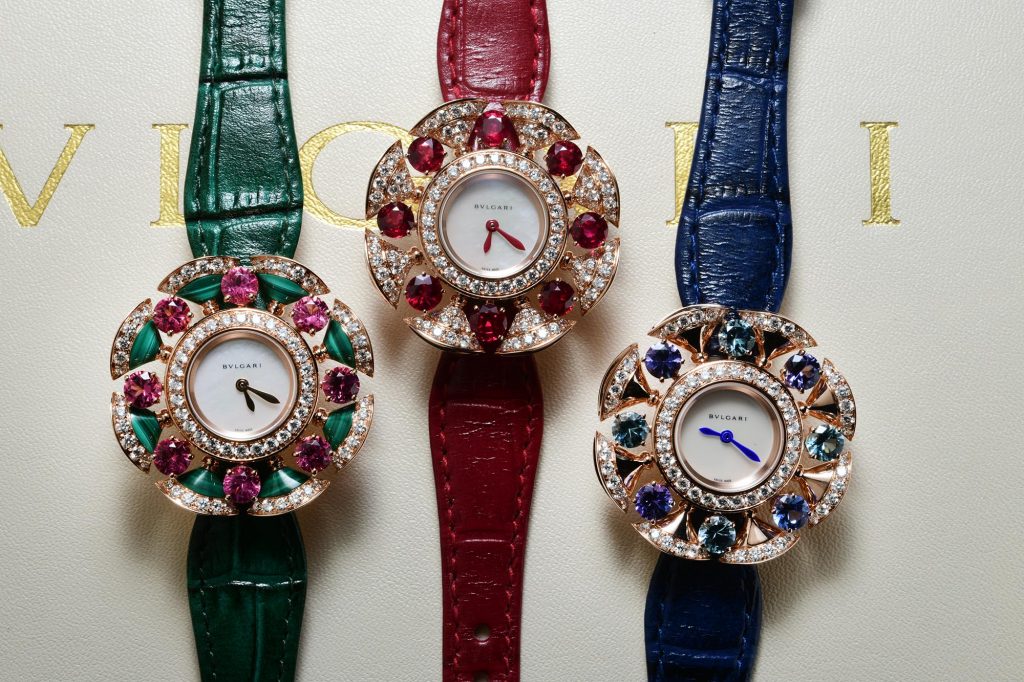 A fourth model was spotted with malachite and magenta gemstones giving the feel of a verdant garden.
Diva's Dream Mosaica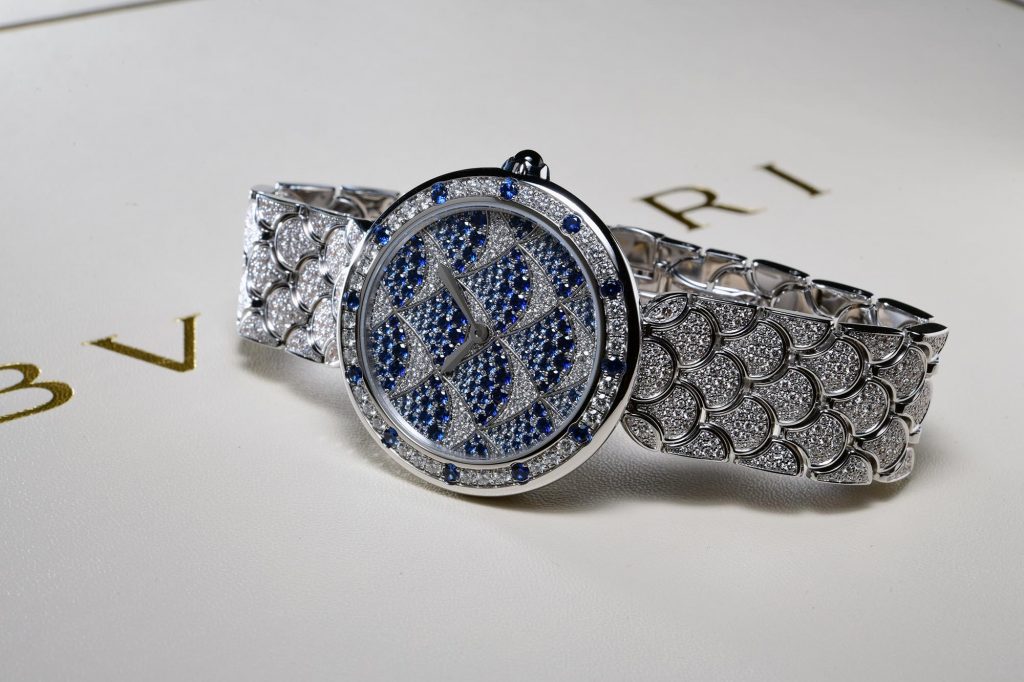 A combination of High Jewellery and Fine Watchmaking, the Diva's Dream Mosaica takes its inspiration from the Baths of Caracalla, with its fan shaped tessellation that is fully gem set and shows the full force of Bulgari's expertise. Two models were unveiled at LVMH Watch Week – a rose gold model with pink sapphires that displays a gradient of colour from pink to magenta and is delivered on an alligator leather strap with diamond set folding clasp, and a sapphire model crafted in white gold with a full diamond bracelet that is expertly set by Bulgari's jewelers.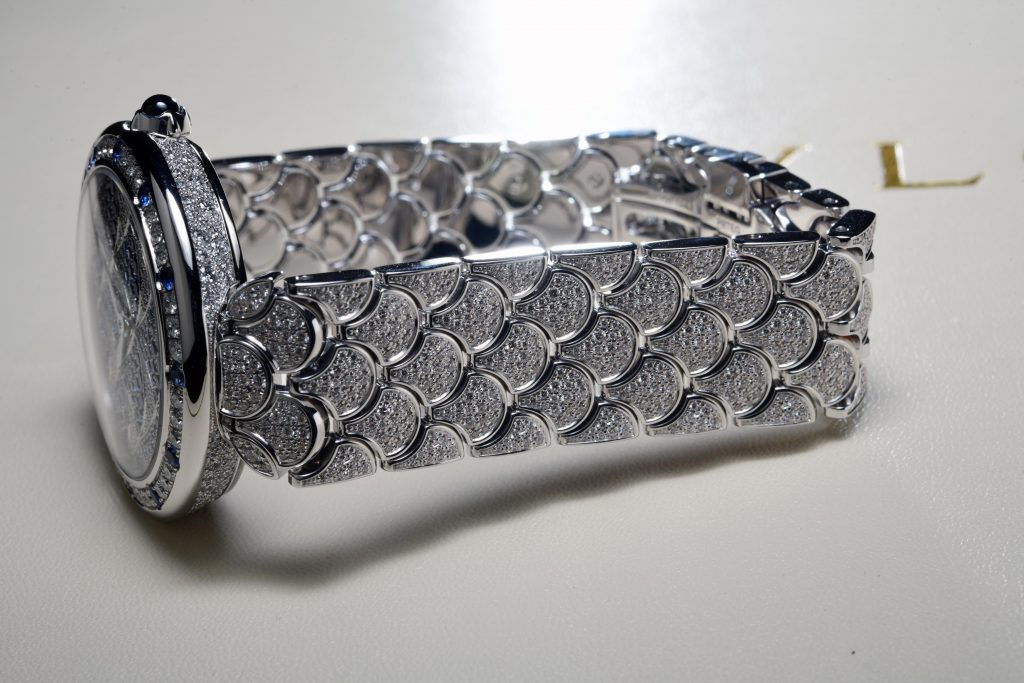 In particular, the sapphire model boasts an impressive number of gemstones, totalling approximately 7.8cts of diamonds and 3ct of blue sapphires. Topping these models off is a cabochon cut sapphire in the crown – a Bulgari signature.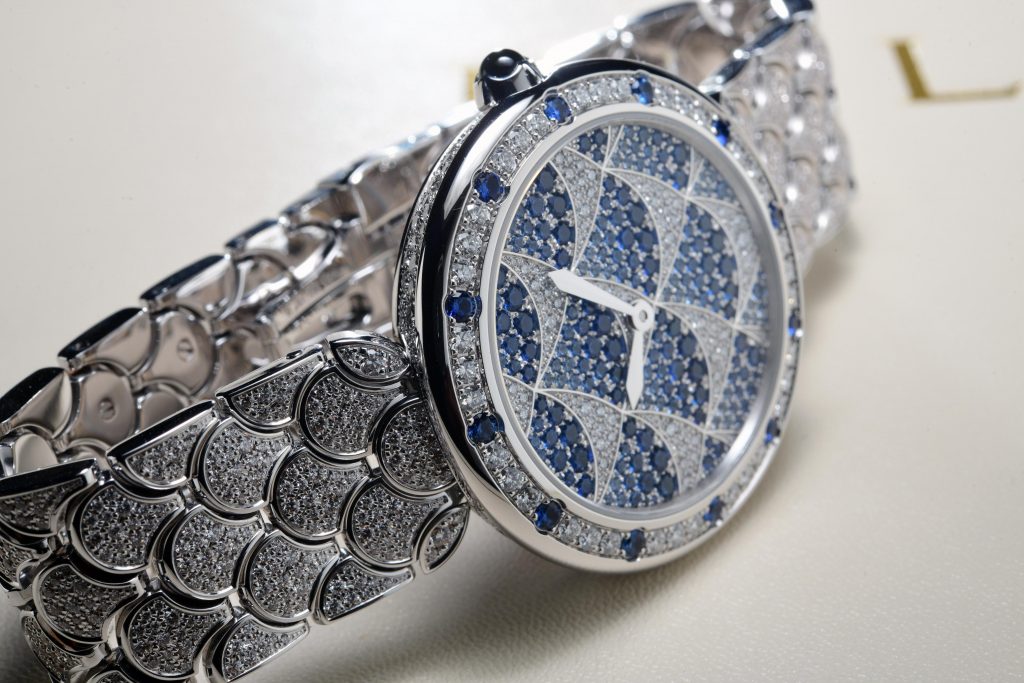 Powering these models is the Manufacture BVL 191 that is expertly decorated, automatically wound and displaying the hours and minutes – a perfect blend of watchmaking savoir-faire and the precision of high jewellery.
Allegra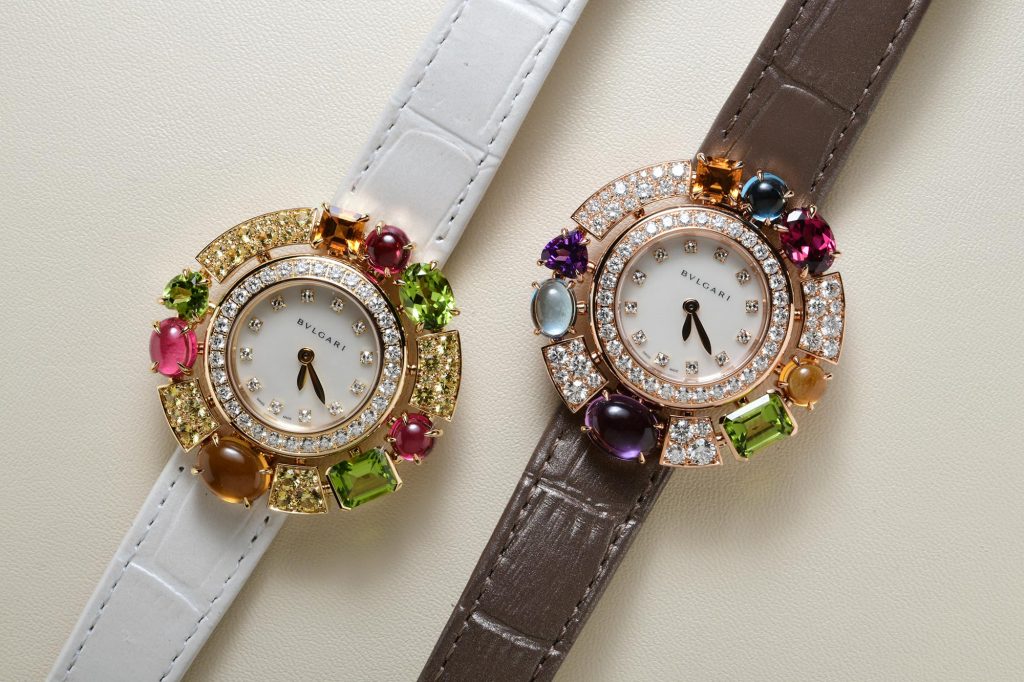 Having made its first debut in the Summer of 2022, two new models in this collection make their debut in a flurry of colour. The embodiment of the sentiment "Time is a Jewel", the Allegra models unveiled at the LVMH Watch Week explode in a technicolour dream of all shapes and sizes. This new collection incorporates tourmaline, peridot, citrines and rhodolites in varying styles of cut that are a result in a kaleidoscope of hues that celebrate the joie de vivre.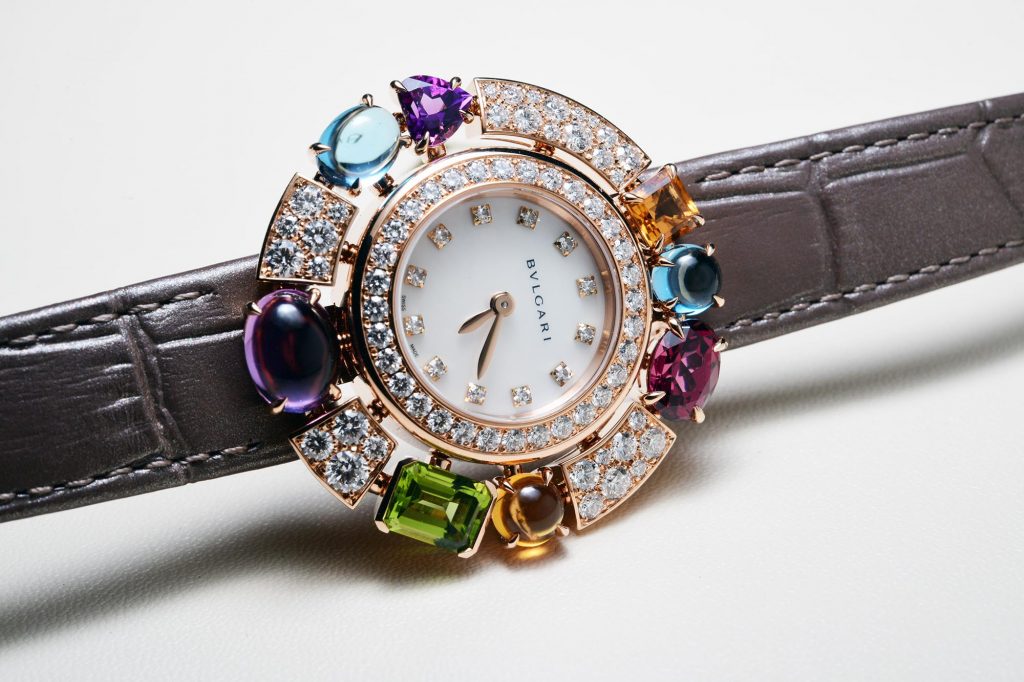 These cocktails of coloured gemstones are delivered on an elegant alligator strap with a diamond set ardillon buckle, and powered by a quartz movement.
Serpenti Tubogas Infinity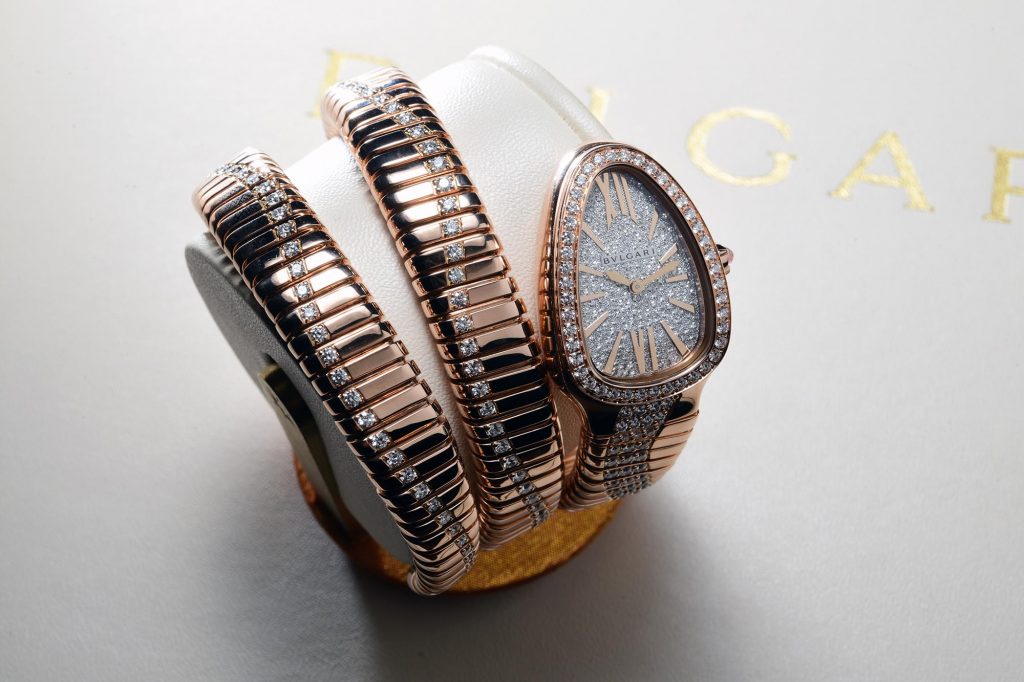 The virtues of perpetual rebirth, wisdom and vitality embodied by the serpent have always fascinated the brand, and its first watches in this form were released in 1948 in a very similar form that is seen today. The Serpenti's distinctive Tubogas bracelet involves several metres of gold or steel wire being coiled into the desired shape, thus giving it flexibility and the ability to be shaped into different forms.
The Serpenti Tubogas Infinity features a new construction – with rings in the shape of the snake assembled onto a titanium blade which gives the bracelet its flexibility. Each ring is of a unique dimensions, which is moulded, before being polished and gem set. This construction has then allowed the motif of the snake to continue down the bracelet with gem setting, following its own line down the bracelet. The "head" of the snake has a diamond set bezel, and a snow-set dial further adding to its distinctive look. This model is available in two variations, the single-tour bracelet and the double-tour bracelet versions, both powered by a Bulgari-personalised quartz movement.
Bulgari's ladies models are full of extravagance and passion, celebrating their Roman roots, whilst continuing to defy expectations of how ladies watches should be made. Our better halves deserve designs for themselves, and Bulgari makes no apologies in making watches for ladies so distinctively feminine, yet so overtly powerful.