When I first saw Divers Sixty-Five Chronograph Hölstein L.E. from Oris, I assumed that it was a gold watch, since it looked as if the head and the bracelet were made of a yellowish metal. Instantly I wanted to question the brand on why they had produced something so luxurious, a watch that seemed so obviously an affront to their tagline – "Real watches for real people". Perhaps it was because it was in celebration of the brand's 116th birthday that such a thing would even be considered? Perhaps they were in a good mood when the idea was conceived?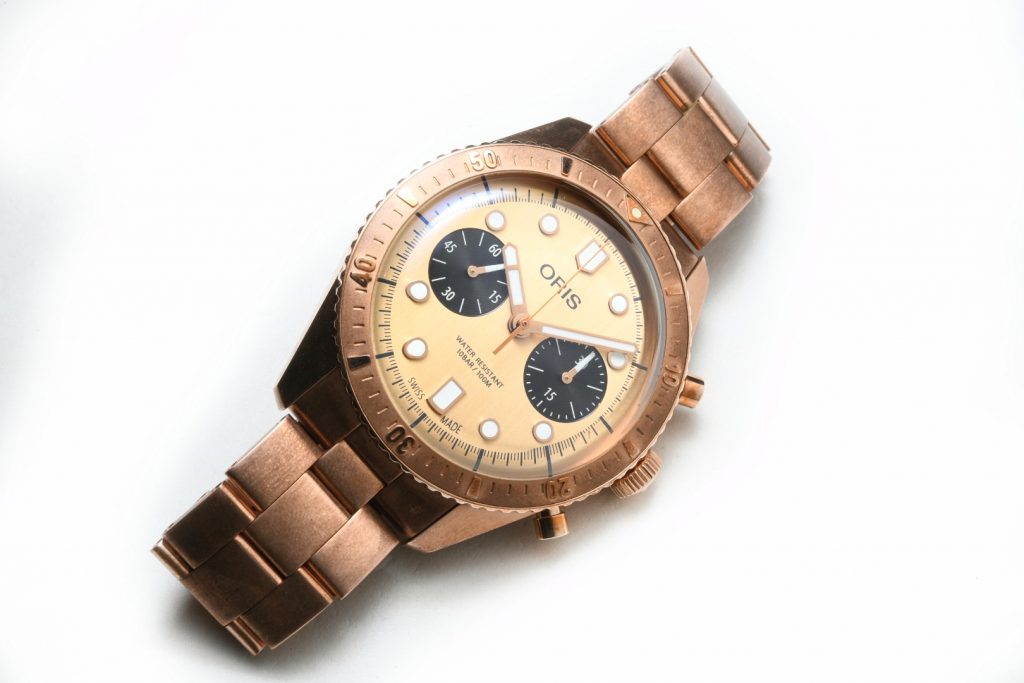 Little was I to realize that this watch was not what I had assumed it to be – a piece of luxury in full gold. Instead, it was something else, and perhaps something even more special. It was, as I was to discover, a watch that was fully – and I mean watch head AND bracelet, made in bronze.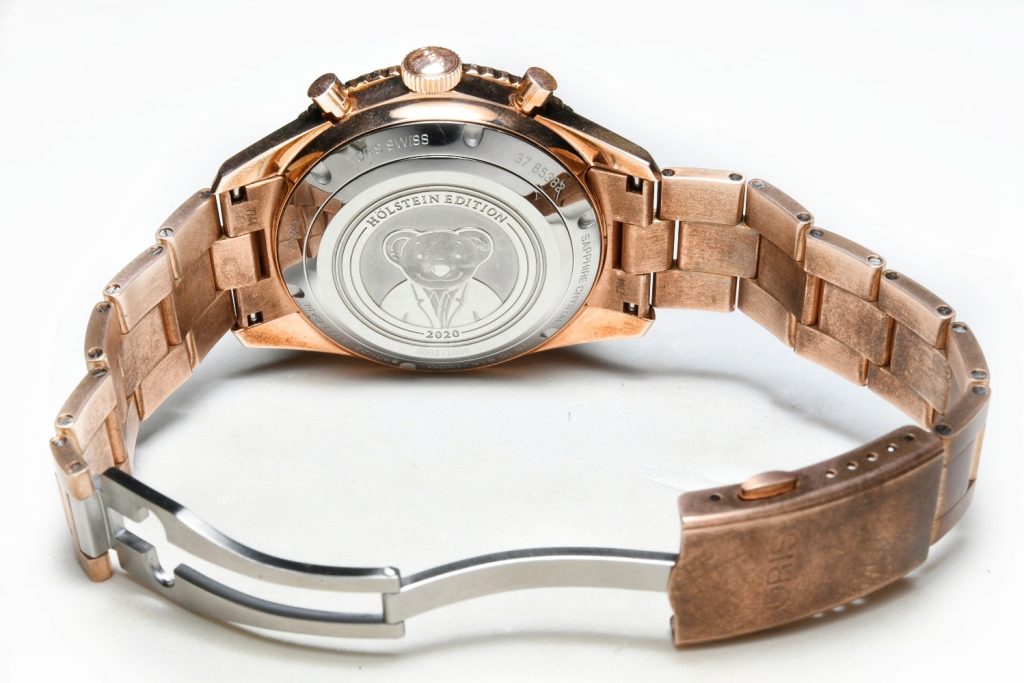 Now most bronze watches as we have seen come with bronze only for the watch head itself, with a rubber, leather or silicon strap to complete the package. A bracelet in bronze however? Now that's something I have never seen before. Correct me if I am wrong, because I think it's probably the first time that it has been produced in the watch industry. 
As anyone who is familiar with my preference will know, a watch bracelet is a beautiful thing. I've certainly always been partial to them and normally prefer a watch with one than without. Bracelets are easy to put on and take off, are resistant to water, and when well designed, can give a distinct look to the entire watch that can in some cases, propel it to iconic status.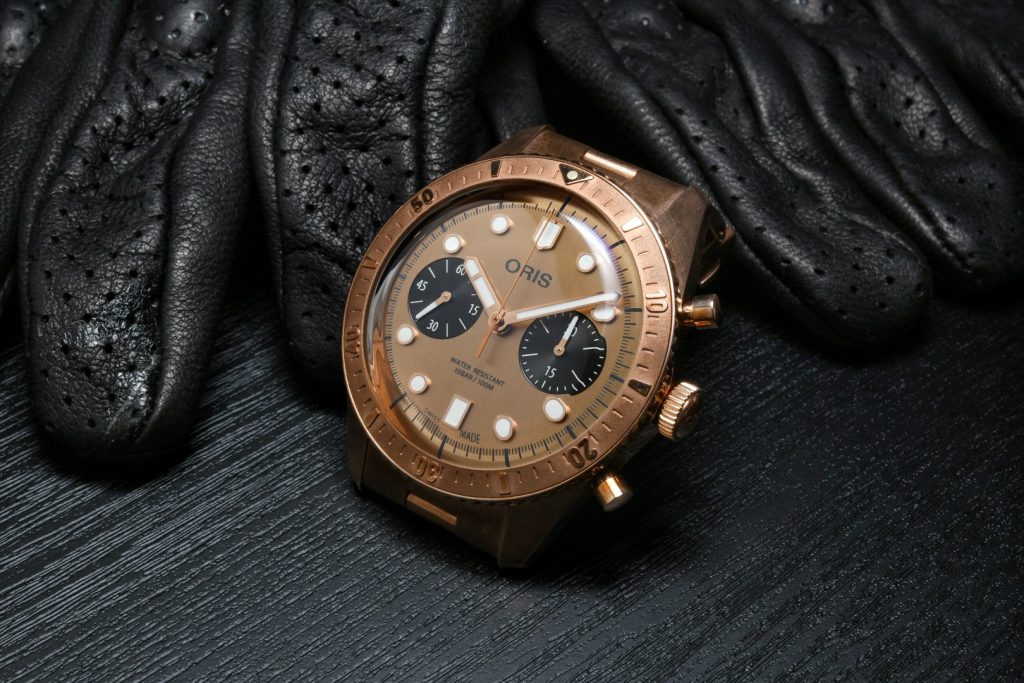 Now the bracelet on this new Oris won't win awards for having a unique design, since it comes with big chunky oyster style links that fit in well with the diving credentials that the watch brings to the table. What is unique about it of course, is that it is made in bronze, which, as bronze lovers know, loves to patinate, developing a beautiful aged finish, in combination with the environment and the wearer.
Oris has of course produced a number of bronze watches before such as the Carl Brashear Chronograph Limited Edition Bronze and the Big Crown Pointer Date, and they have, over the years, built up quite a bit of technical expertise in working with this metal. 
Technically of course, given the relative softness of bronze, the parts of the supporting structure within the bracelet, such as the screws and the bits that contain the clasp are made in stainless steel, in order to maintain the functionality of the bracelet over time. 
Everything else however is in bronze and for the first time ever, owners can enjoy a more enveloping experience of patina on the entire watch. In fact, in this sample that I got to handle at an early preview of the watch, it had already started to patina, as shown in this picture of the clasp.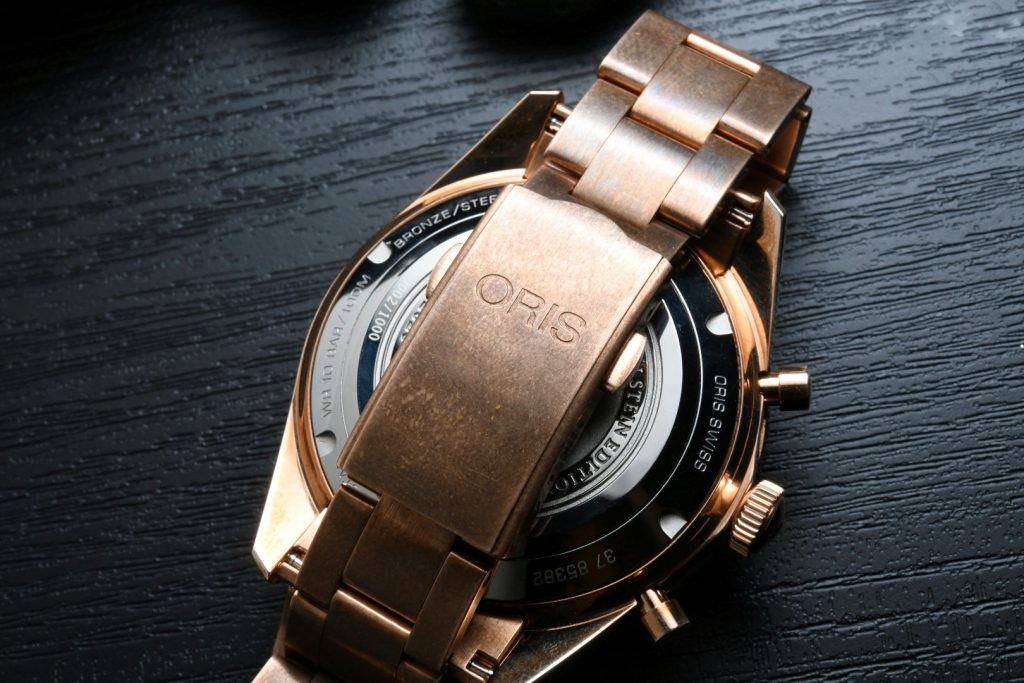 The dial is in the same bronze colour, which achieves its appearance by being gold-plated (ah, the irony)  with black chronograph counters that add a little bit of a panda look. 
Probably the number one question that you might ask on seeing a watch like this, is if there is any danger of an allergic reaction to the bronze, since the bracelet envelopes and touches the wrist. It's certainly enough of a concern that watch brands use a caseback of a typically hypoallergenic metal on their bronze watches to avoid it touching  the wrist. When I put this question to Oris, they told me that they had tested their bronze watches extensively and had found no issues so far. The jury is out on this, but so far all is good. 
In fact, I was able to find out that an allergic reaction to bronze only occurs in those with a nickel allergy which apparently consists of 6% of people. For these people then, perhaps to best approach bronze watches with caution. For the rest, apparently, there is a benefit in wearing bronze since it can assist in alleviating copper deficiency through absorption by the skin. It is also said that bronze is also believed to aid in arthritis, rheumatism and joint pain, although I'm not sure if this can be believed. 
What is certain though with this Oris Chronograph is that you will probably have to wipe off the green residue on your wrist that comes as a result of the patination. Bronze watch owners will be familiar with this.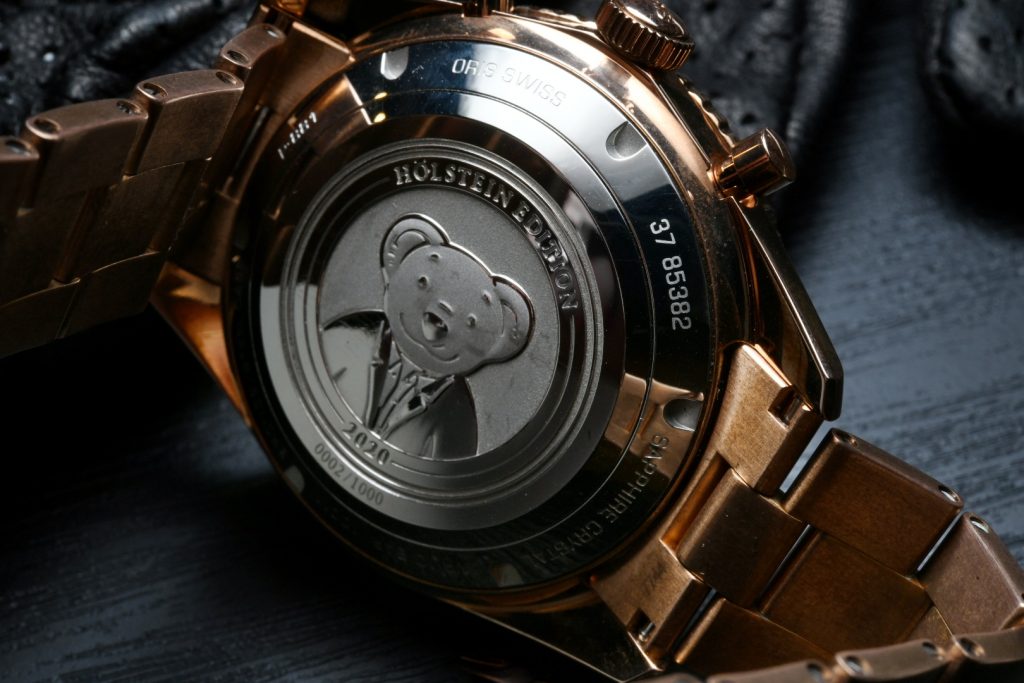 The base watch of the Diver 65 chronograph is a well known entity that has been around since 2018 and it carries the Oris 771, or essentially the Sellita SW510a chronograph movement, a clone version of the Valjoux 7753. Setting this watch apart from the rest is also the engraving of the Oris Bear which can be found on the caseback. For the 250 lucky owners of this limited edition watch that is only available through boutiques, it will certainly be fun to enjoy the patina that will develop for this full bronze wonder.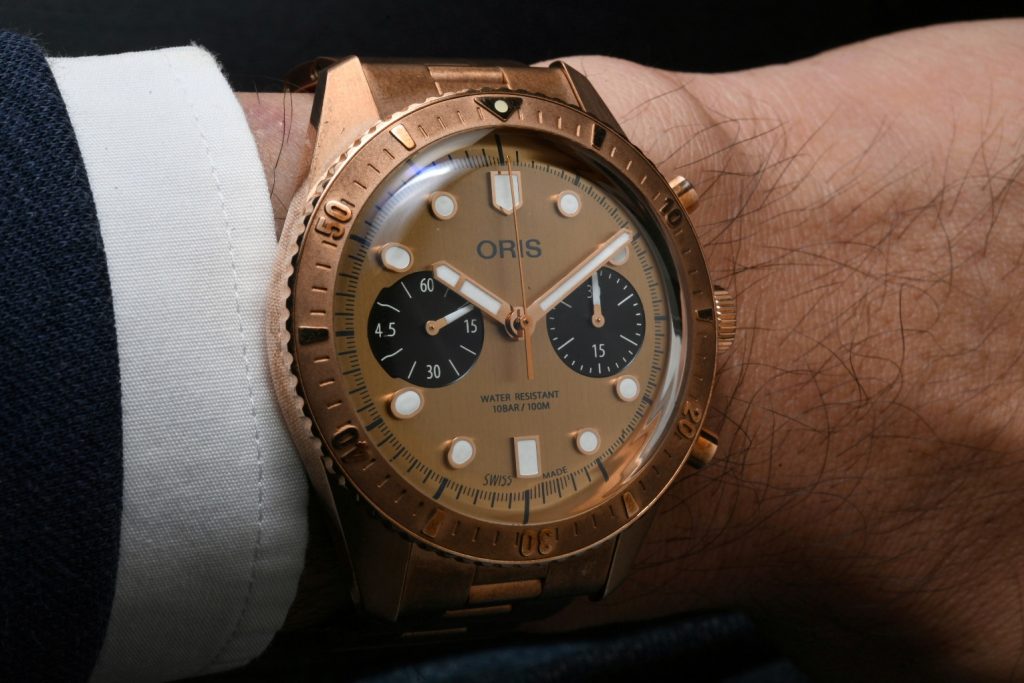 As a piece that celebrates 116 years of Oris, it is very special indeed.
[ninja_tables id="3411″]