What do you get when you combine the idiosyncratic signature elements of H. Moser and Cie and MB&F? Well you get a new watch from each brand, that together celebrate both the 15th Anniversary of MB&F, as well as the 15th Anniversary of the relaunch for H. Moser & Cie.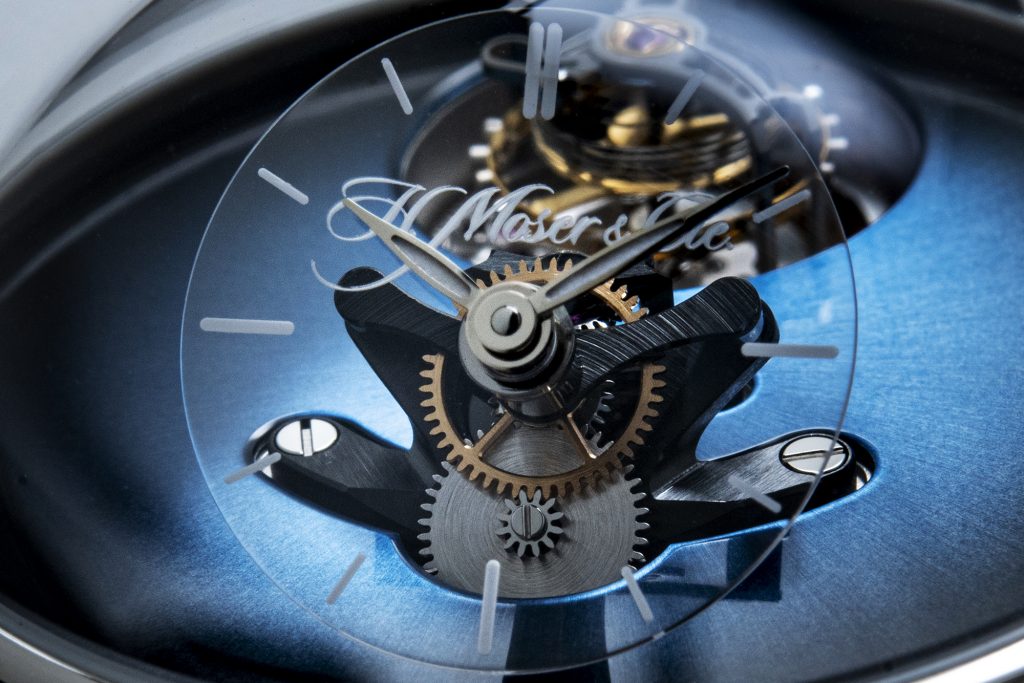 Now, I've only been able to have a look at the H. Moser & Cie Endeavour Cylindrical Tourbillon since the brand made it a point to have it delivered to me during this past month during the lockdown in Singapore, when I was able to spend a day with it for photography and to have some hands-on time. Kudos to them and their local retailer Cortina for handling this and for not allowing the pandemic to get in the way of us having a good look at this watch.
Because of this, I'll be focusing on the H. Moser side of the collaboration in this article and leave the other watch from MB&F for another time.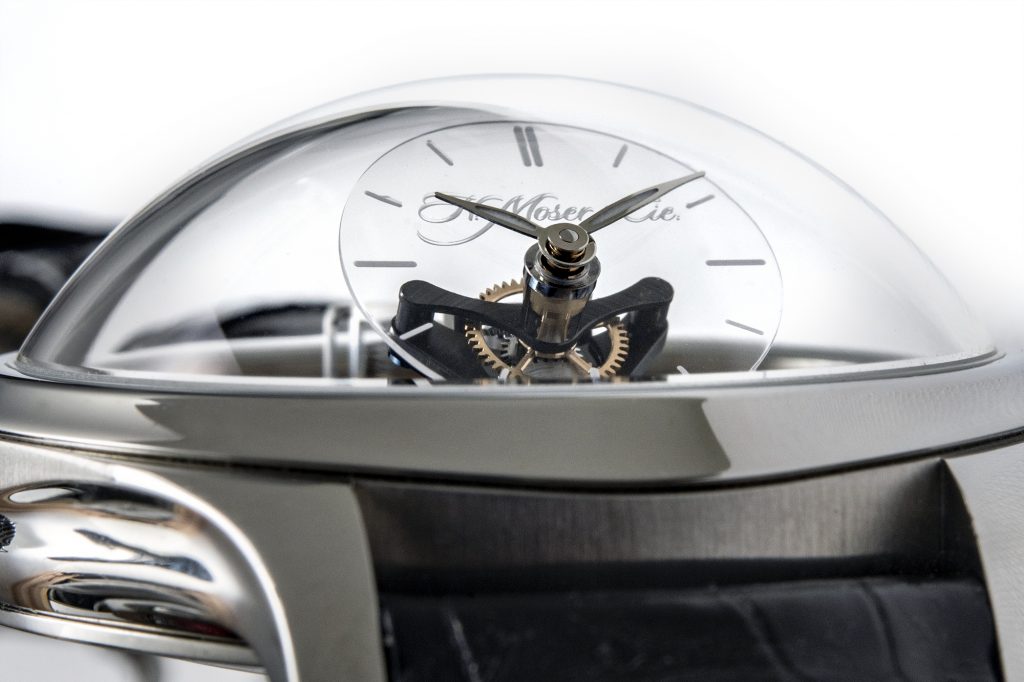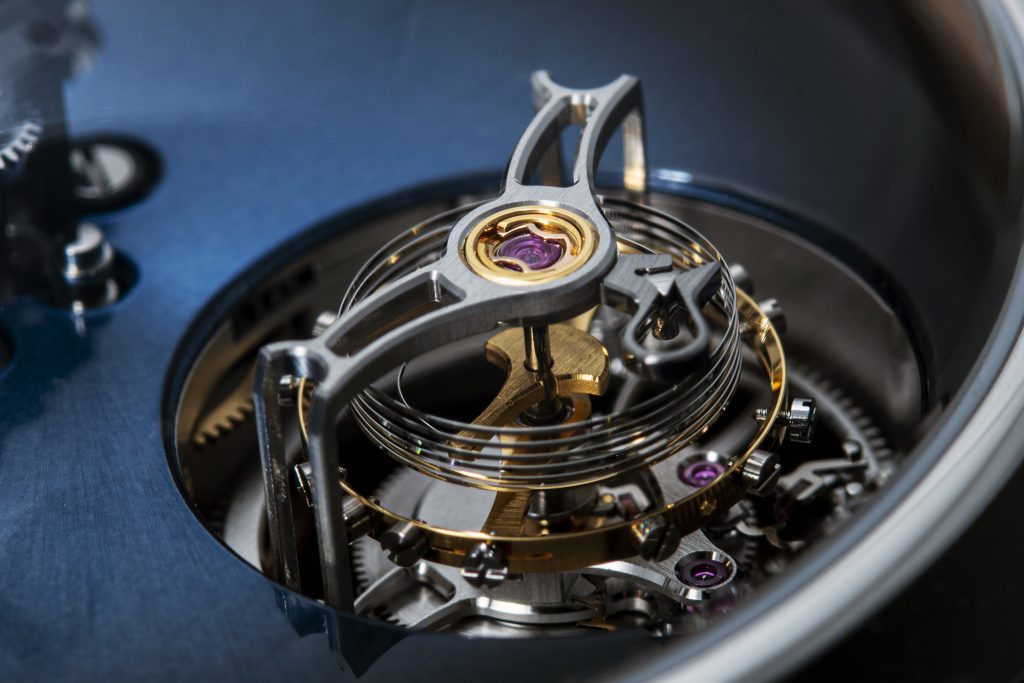 Now this is a watch that definitely makes a dramatic first impression since the first thing that grabs you is the bulbous and tall sapphire crystal. Then when you look closer, you see the two main elements of the watch against the Moser fumé background – the 40°inclined dial and the tourbillon just behind it.
The layout of the watch is familiar, and that's because its main design ideas come from the MB&F Legacy Machine FlyingT, which was a stunning vision of a ladies watch from the brand's founder, Maximilian Büsser.
The Endeavour Cylindrical Tourbillon is different though, and not for the obvious reason of being housed in an Endeavour case, but for the thing that is in its name, the cylindrical tourbillon.
Here it is, visibly beating away. As its name implies, it's not flat, like most hairsprings are, rather its shaped like a cylinder, which makes the most of the height of the sapphire crystal since it is visible from all sides. The cylindrical hairspring was invented in the 18th Century and was used mainly in marine chronometers due to its performance advantage.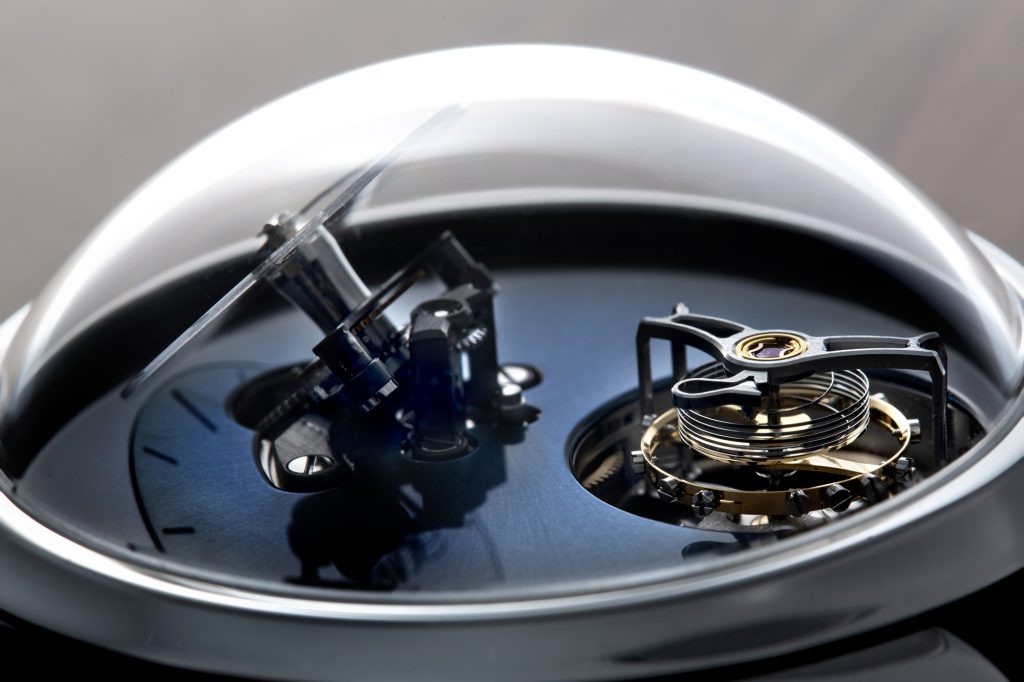 Over a traditional hairspring, it breathes concentrically and therefore geometrically, without being affected at the attachment points (pivots) of a traditional flat hairspring. In fact, the Phillips terminal curve and Breguet overcoil were invented to counteract these excessive forces on normal hairsprings since they move the point where the hairspring starts its concentric movement a little further down away from the pivot.
This cylindrical hairspring is attached via a Breguet overcoil at each end, which isolates its concentric movement, and allows it to breathe optimally.
It's not widely known, but H. Moser and Cie is one of the few brands that make their own hairsprings, which is why they were able to make the one that appears in this watch themselves. In fact, they have been supplying hairsprings to other watch brands like MB&F for many years.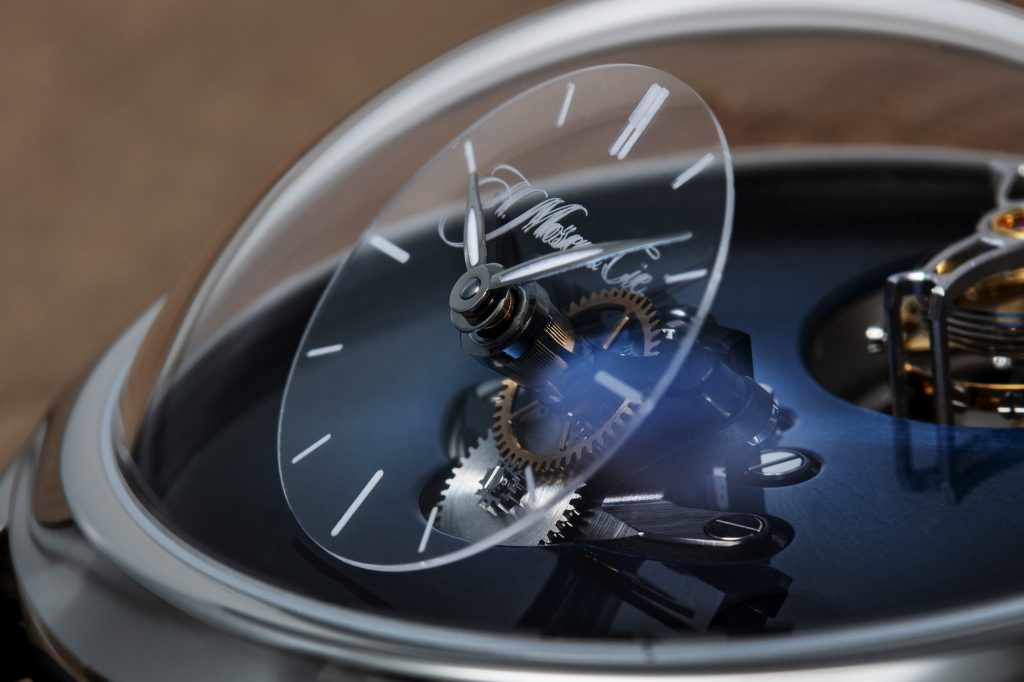 The 40° inclined dial is yet another interesting detail to look at on the watch. The hands make their movement around a clear sapphire dial with the H. Moser & Cie logo and the hour indices printed on it.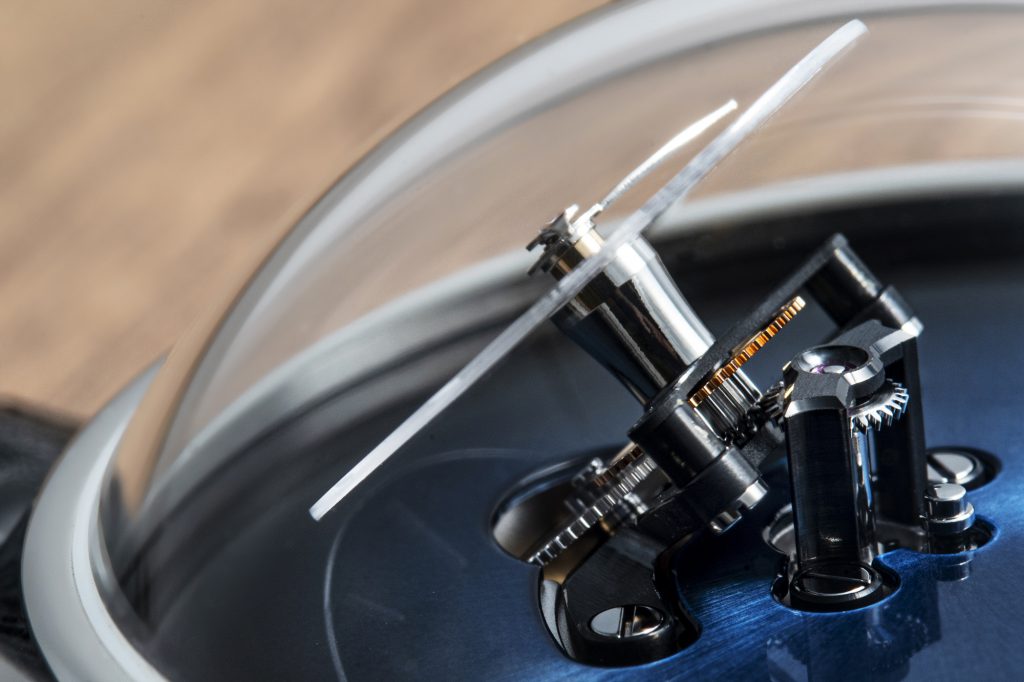 The clear dial set at an angle allows the wearer of the watch to look at the time when it is on the wrist, as well as allowing a clear view from all angles of the conical gear train just behind it, that transmits the torque from the mainspring from the plane of the movement to the plane of the sapphire dial.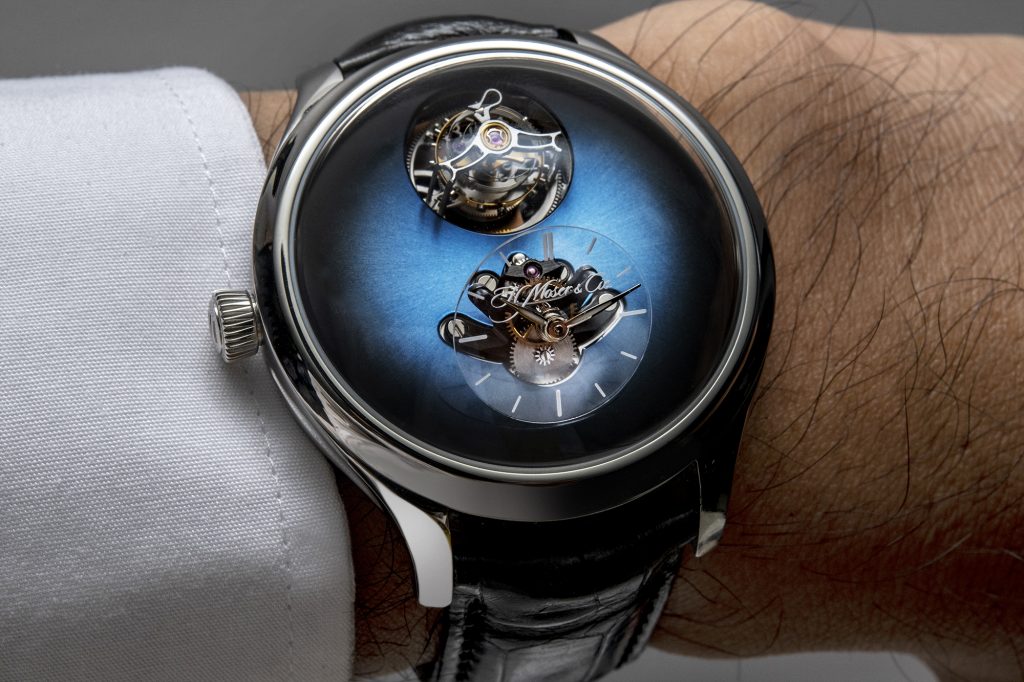 On the wrist, the watch with its 42mm wide case wears well, but the only thing which might be a little nerve-wracking is its 19mm height, which makes this a watch that one wears rather carefully. Still, this is a watch that is more an art-piece than an everyday one, and so this can be forgiven.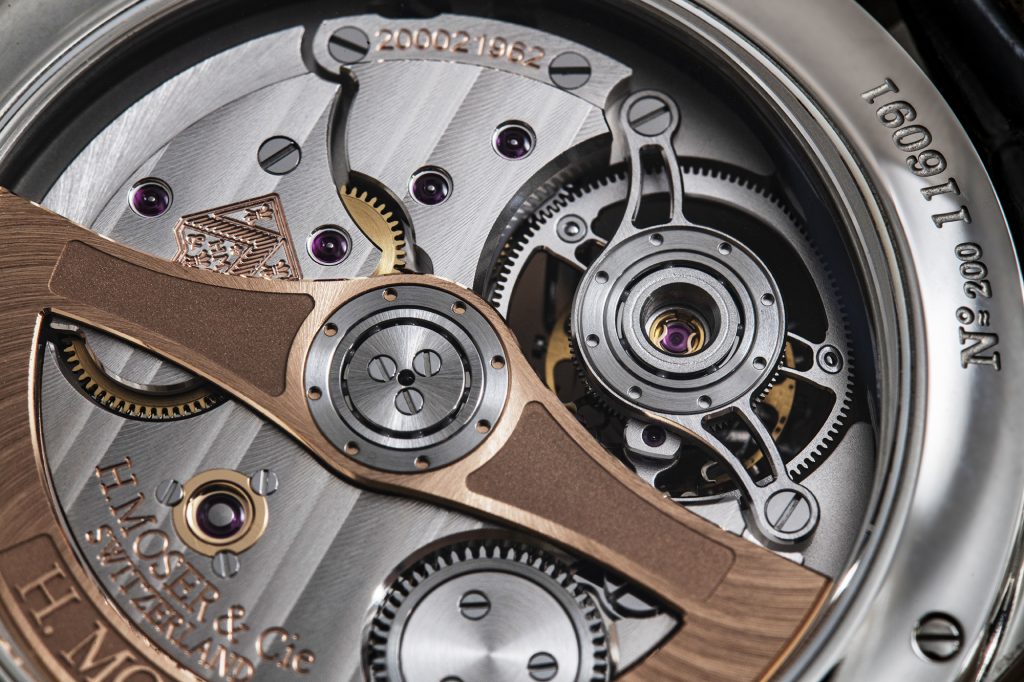 I'm genuinely pleased that this watch was created, and that's because H. Moser & Cie has really come a long way since its relaunch. In 2013, when Edouard Meylan took the helm as CEO, I asked him what his vision of the brand could be, given that they had been until that time relentlessly classical in their watchmaking. He told me then with a straight face that he did not know.
Well, he obviously worked it out.
Yes, while H. Moser & Cie still makes classical dress watches on leather straps, the brand is becoming more multi-faceted, with water-resistant watches that you can swim with and the surprising and amazing bracelet-ed Streamliner this year, he has steered the brand to encompass more than its initial classical genre, to embrace more of watchmaking's possibilities as a whole, while keeping a clear brand and design identity all the way.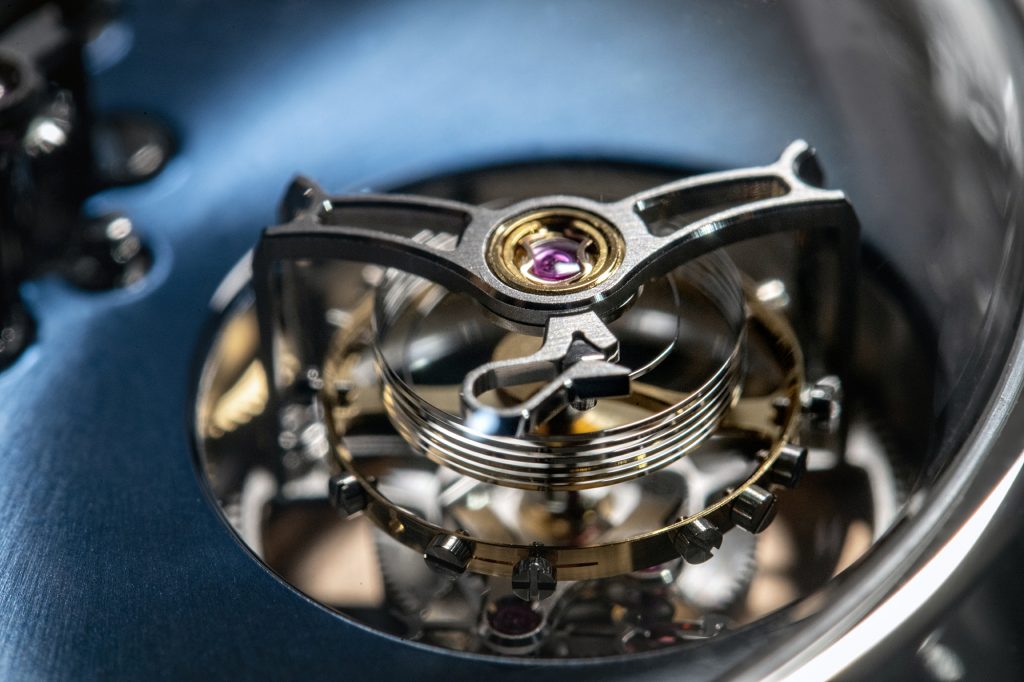 Now, with the Endeavour Cylindrical Tourbillon, and some magic dust from MB&F, H. Moser & Cie has a new possibility in front of them, to go into the sort of declarative watchmaking that is all about pure creativity. What will come from this in the future? Well, I'll be excited to see. With Edouard, there's no point predicting what he will do since you'll probably guess wrong.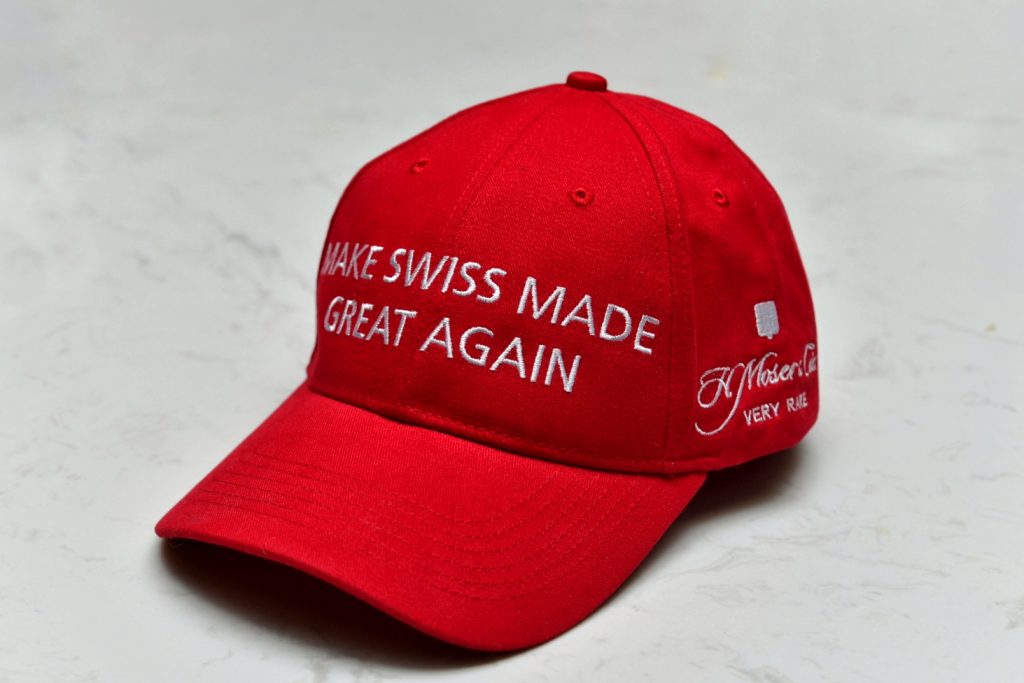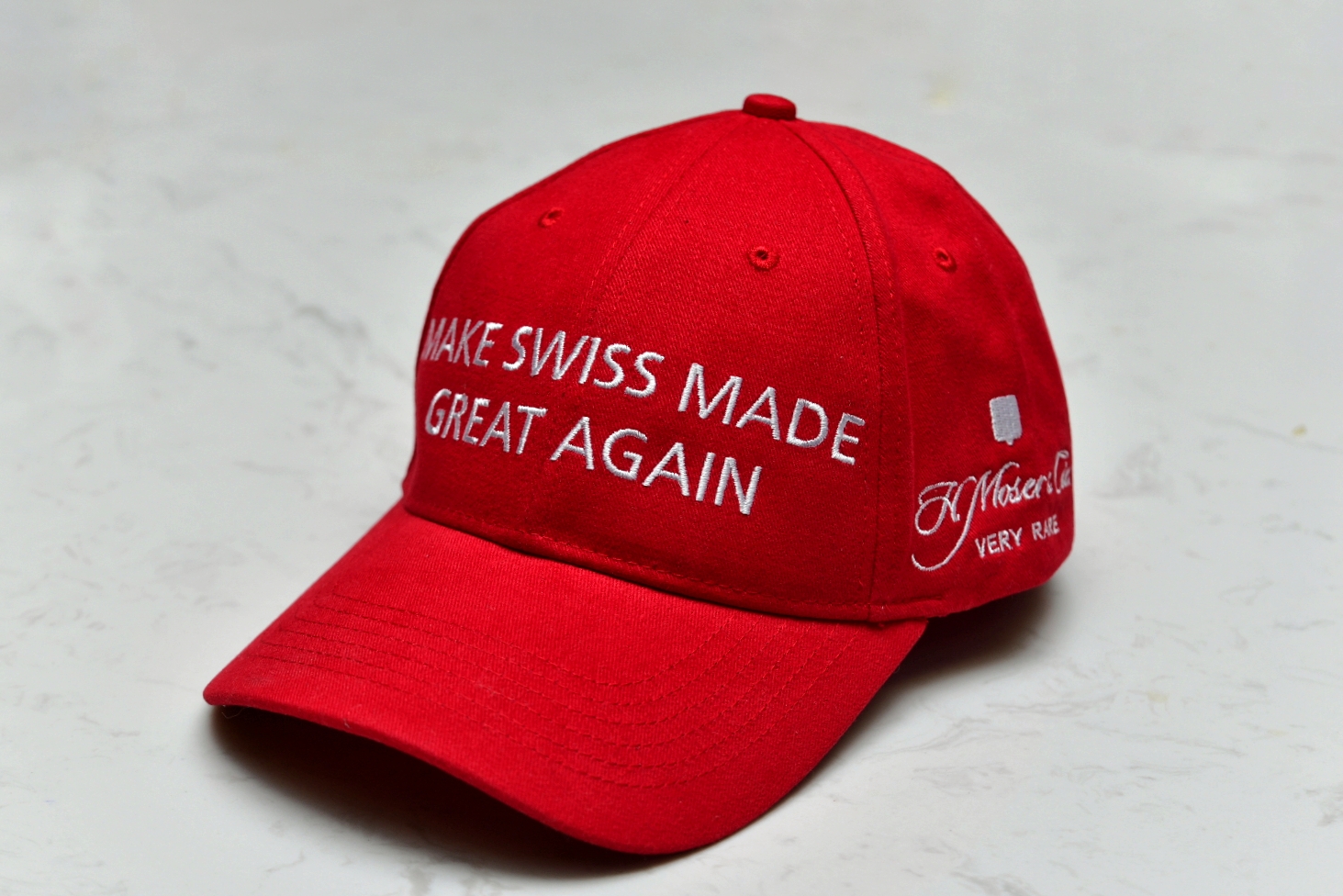 The H. Moser & Cie Endeavour Cylindrical Tourbillon H. Moser X MB&F comes in five separate 15 piece limited edition runs per dial colour (Funky Blue fumé, Burgundy fumé, Cosmic Green fumé, Off-White fumé or Ice Blue fumé with sunburst pattern) and all in stainless steel.
[ninja_tables id="5523″]