Throughout history, the chronograph has been used for a myriad of purposes, in addition to measuring elapsed time. Doctors, racers and athletes with a keen interest in time would most certainly have an interest in a utility chronograph that can help them with their endeavours. As such, these chronographs would not only be able to measure elapsed time, but are also able to perform other time-related calculations through the use of scales printed onto the dial or fixed onto the bezel.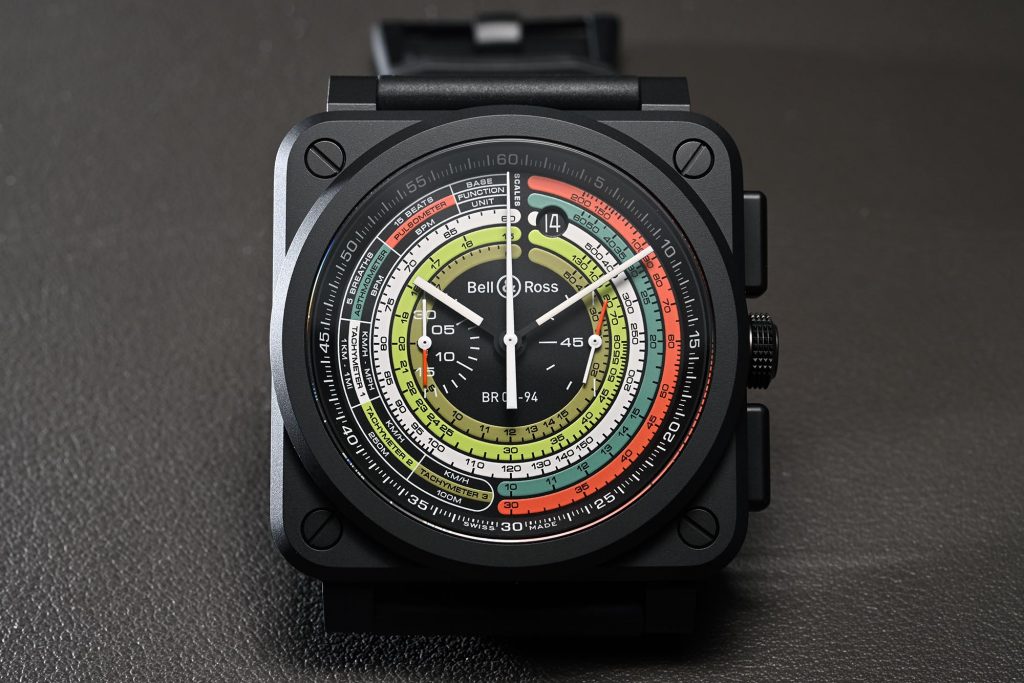 To honour these professions and watches that have come before it, Bell & Ross have unveiled the BR03-94 Multimeter, a colourful chronograph that appears complex on its surface, but is well thought out in terms of its design, with its cockpit inspired case and usage of different hues for its indications.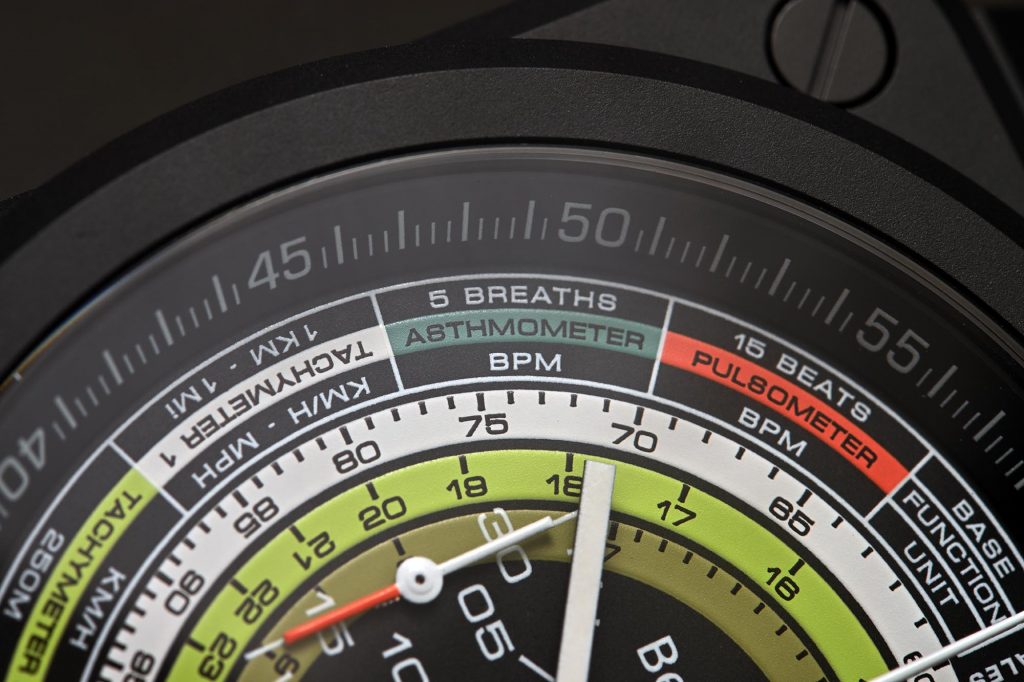 As its name suggests, the BR03-94 Multimeter features multiple scales on the dial for different use cases. Each have a unique way of using the chronograph to calculate crucial measurements – featured on the dial, from outside to inside are:
– Tachymeter – Typically used in motorsports, but can also be used in cycling and athletics, the tachymeter is probably the most commonly seen scale on chronographs that are released today, used for calculating speed over a certain distance. A tachymeter is usually calibrated for a certain distance (usually 1 kilometre or 1 mile), and the chronograph is started when the vehicle/bicycle/runner crosses a starting point. The chronograph is then stopped when the racer crosses the finish line. On the BR03-94 Multimeter, there are three tachymeters incorporated into the watch, one in white calibrated for 1km/1mi (aimed at motorsport), a second one in "pale green" calibrated for 250m (specifically for cycling) and a third in "light grey"/olive green calibrated for 100m (able to be used by sprinters and athletes).
– Pulsometer – Physicians and nurses would traditionally use this scale to measure heart rate in beats per minute (BPM). Using a stethoscope and starting their chronograph, the measurement would be taken by listening to the patient's heartbeat, and counting up to what the chronograph is graduated for – in the case of the BR03-94 Multimeter, it is calibrated to 15 beats, and is distinguished by its orange colour.
– Asthmometer – A scale that is not often seen on modern watches, even ones designed for physicians, the Asthmometer is utilised to calculate the rate of respiration in a patient, measured in breaths per minute (BPM). Using the chronograph, the physician would start the timer and count one breath in and one breath out as one respiration. In the case of the BR03-94 Multimeter, it is calibrated to 5 breaths (5 breaths in and 5 breaths out) and designated a "bottle green" colour.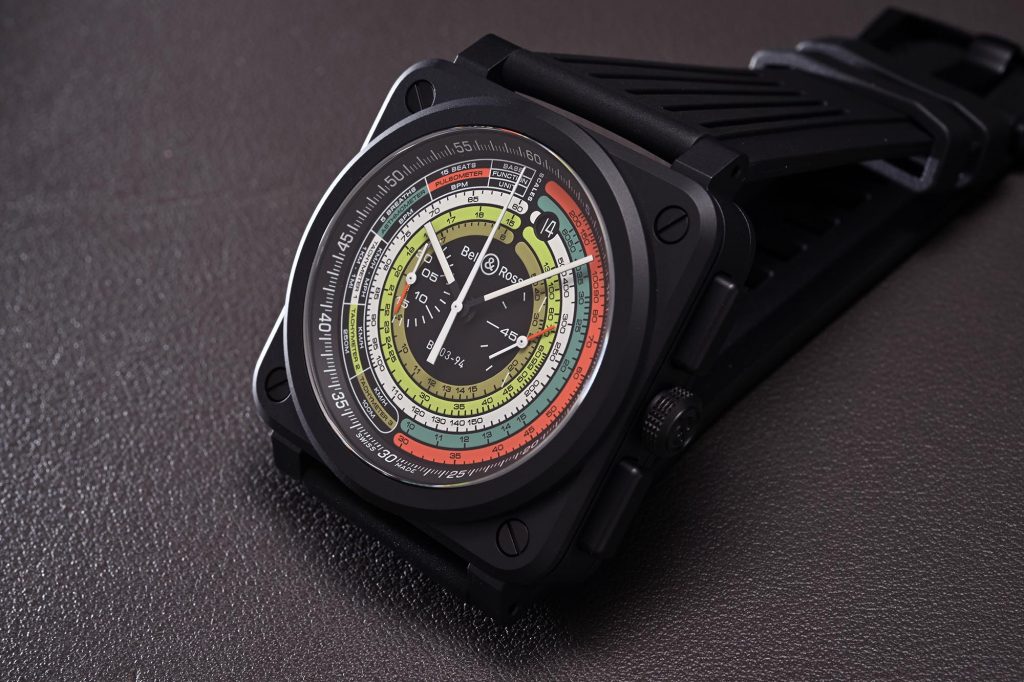 The BR03-94 Multimeter features its distinctive cockpit inspired case, with its "circle in a square" design. Originally created in 2005, the case design of this series is reminiscent of analogue cockpit instruments of planes past. Executed in matte black ceramic, the watch measures in at 42mm wide and 12.8mm thick, giving an impression of great presence, without overpowering the wrist and overhanging on either side. Its square pushers also add to the bold look – integrating into the instrument style look of the case. The dial is the most distinctive feature of the watch, with its multi-coloured scales traversing the periphery of the watch.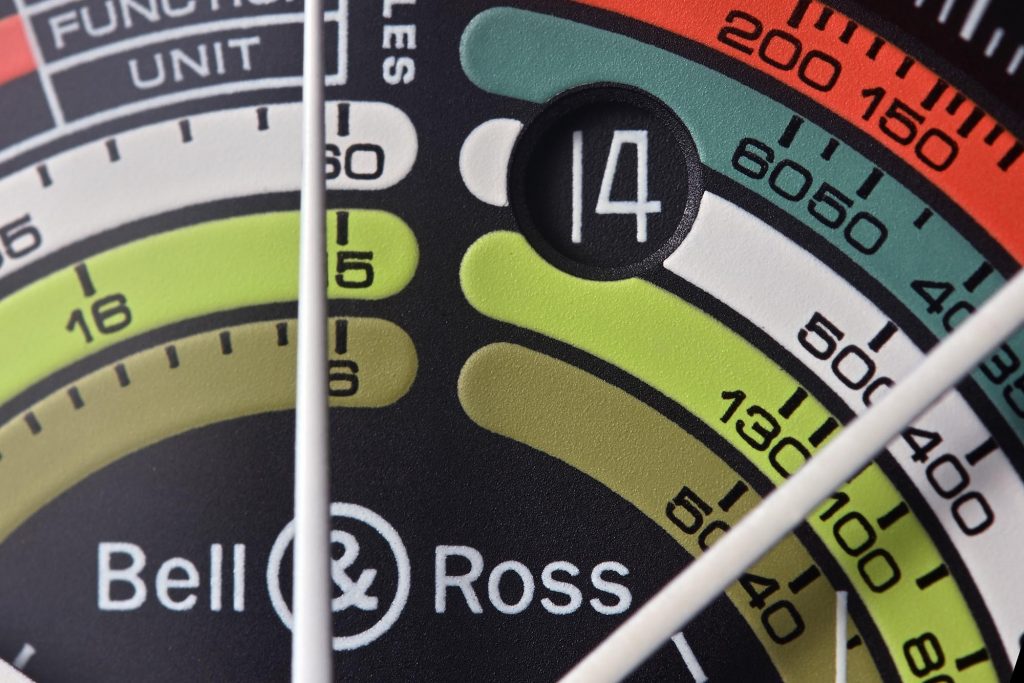 To aid in legibility and functionality of its scales, the date function has been moved between 12 and 1 (normally on this model it is located around 4 and 5 o'clock).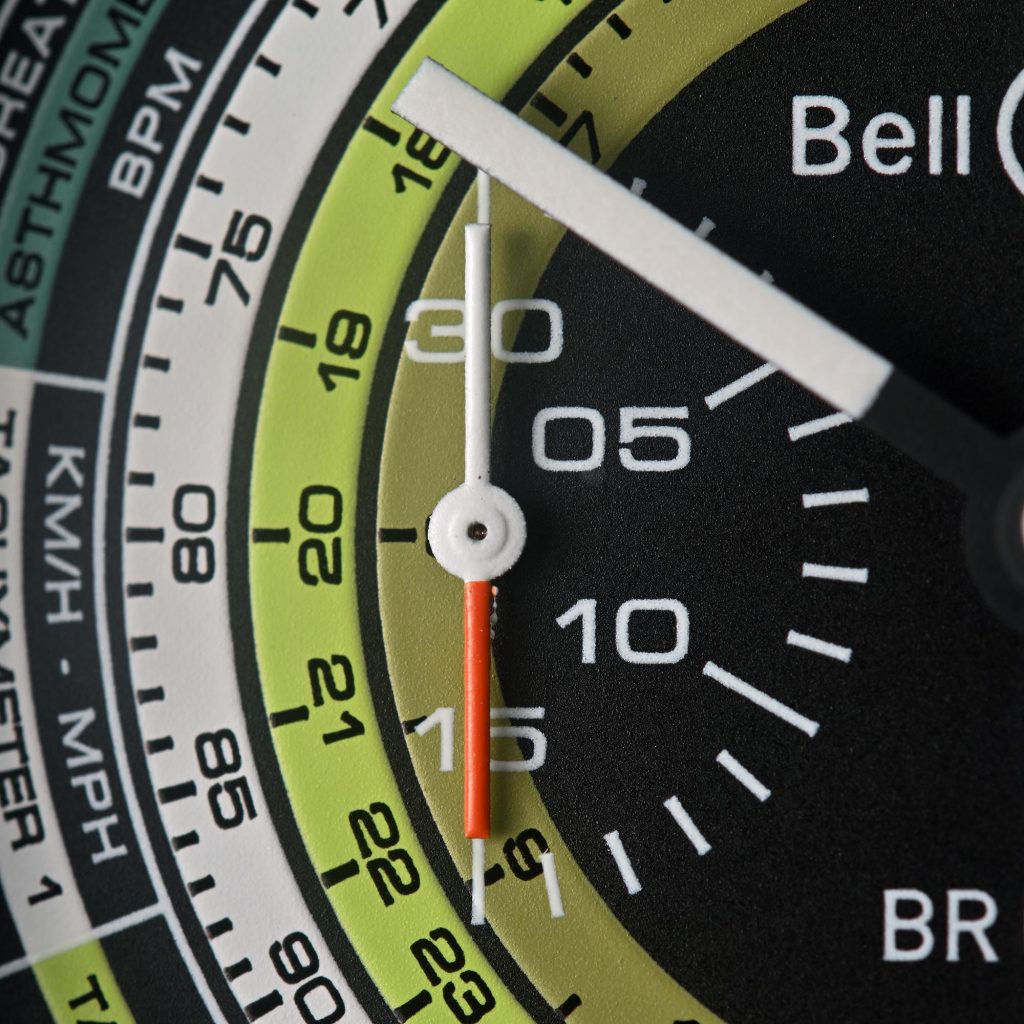 In addition, the chronograph counters at 3 and 9 o'clock are double weighted – in essence, double handed to make up for the lack of traditional counters, where half of the space for the counters is taken up by the different scales. Counting of the chronograph seconds, however, is traditionally laid out, with the seconds markers at its periphery. On the left hand side of the dial is a legend that outlines each of the five scales. Scales that can be utilised by physicians take up the right hand side of the dial, and the tachymeter indications take up the inner part of the dial. A 100m water resistance rating and a specially moulded rubber strap on a black PVD steel pin buckle completes the watch, and gives it its everyday wearability.
Powering the watch is a BR-CAL.301 Automatic Mechanical movement with a bi-compax chronograph layout, based on an ever-reliable ETA 2894-2 movement with a modular construction.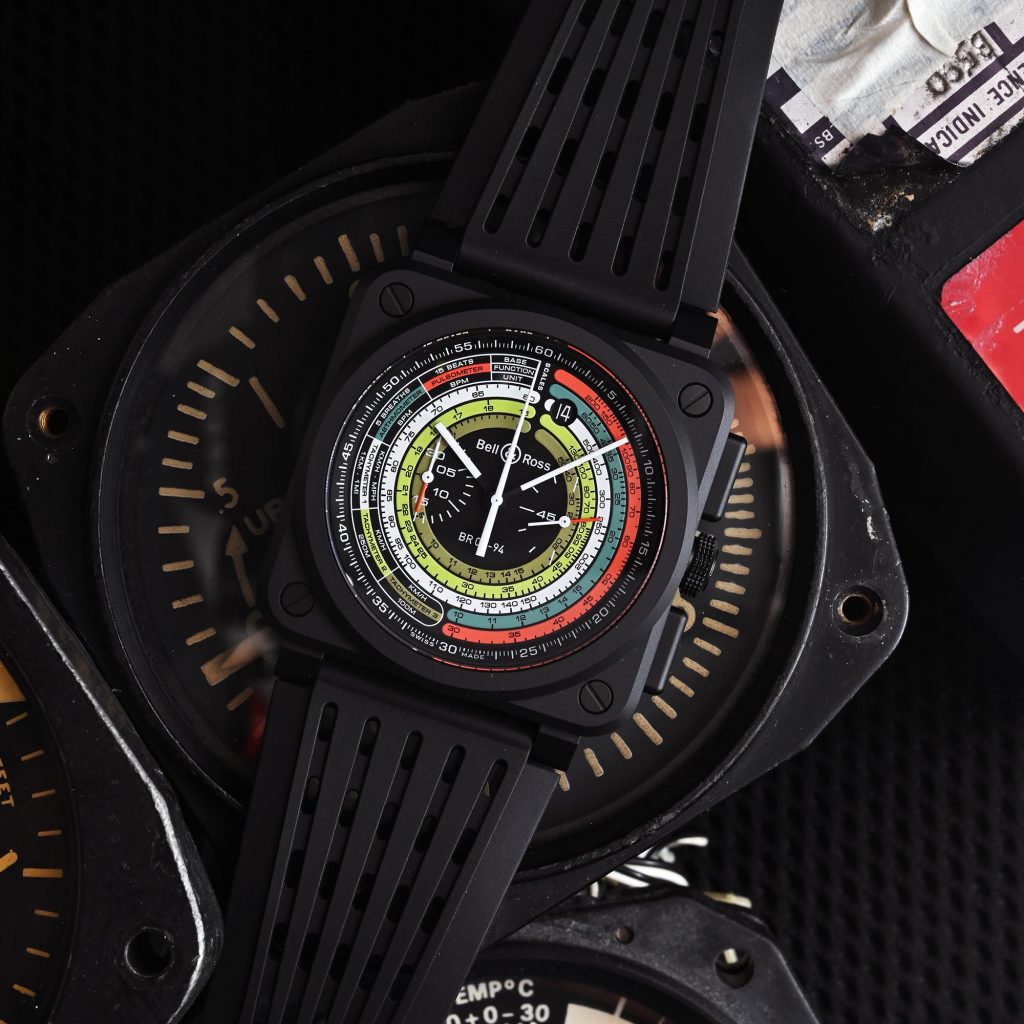 Bell & Ross continue to make novel displays for their watches, and the BR03-94 Multimeter is no different. It serves as an educational tool, teaching us about scales used for chronographs, and shows the versatility of the chronograph in a modern way. Much like health monitors of today, its design is akin to that of modern movement goal trackers, and the BR03-94 Multimeter shows its versatility in all sports and professions – at the very least, it pays tribute to them in a contemporary manner. Limited to 500 pieces worldwide, it sure to be a bold watch, polarising in its design, but starting meaningful conversation around chronographs and their utility.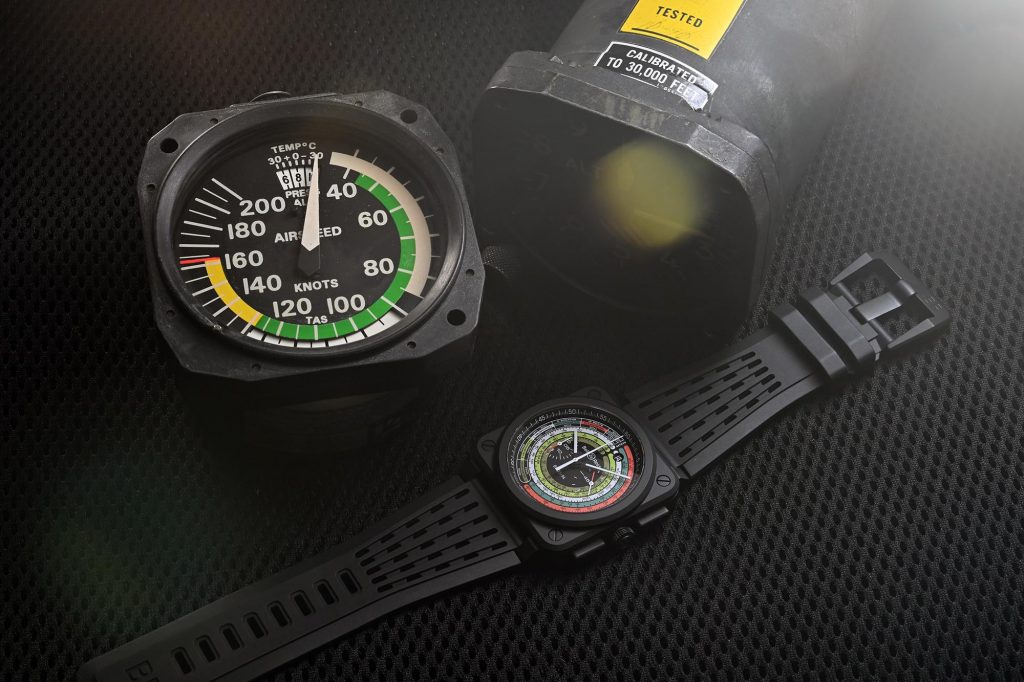 Tech Specs
Movement: BR-CAL.301. Automatic mechanical
Functions: hours, minutes, small seconds at 3 o'clock and date. Chronograph: 30-minute counter at 9 o'clock, central chronograph seconds. Tachymeter, pulsometer and asthmometer.
Case: 42 mm in width. 12.80 mm thick. Matt black ceramic.
Dial: black. Indicators for 3 tachymeter zones, 1 pulsometer zone and 1 asthmometer zone. Minute track painted white on the flange. Super-LumiNova®-painted hour and minute hands.
Crystal: sapphire with anti-reflective coating. 
Water-resistance: 100 metres.
Strap: perforated black rubber and ultra-resilient black synthetic fabric.
Buckle: pin. Steel with black PVD (Physical Vapor Deposition) finish
Limited Edition: 500 pieces worldwide