On seeing the announcement of the new Seamaster Planet Ocean Ultra Deep recently for 2022, I did feel some very strong Deepsea vibes. By this I mean that it's hard to not compare this new Omega to the most technologically advanced diving watch from rival brand, Rolex, and their Deepsea Sea Dweller.
The Rolex Deepsea Sea Dweller has always been one of my favorite watches and I have on occasion toyed with the idea of buying one. Yet between the ever escalating (real) prices of their sports models and the occasional hangup of wearing such a big and heavy watch for everyday use, I have somehow always shied away from pulling the trigger.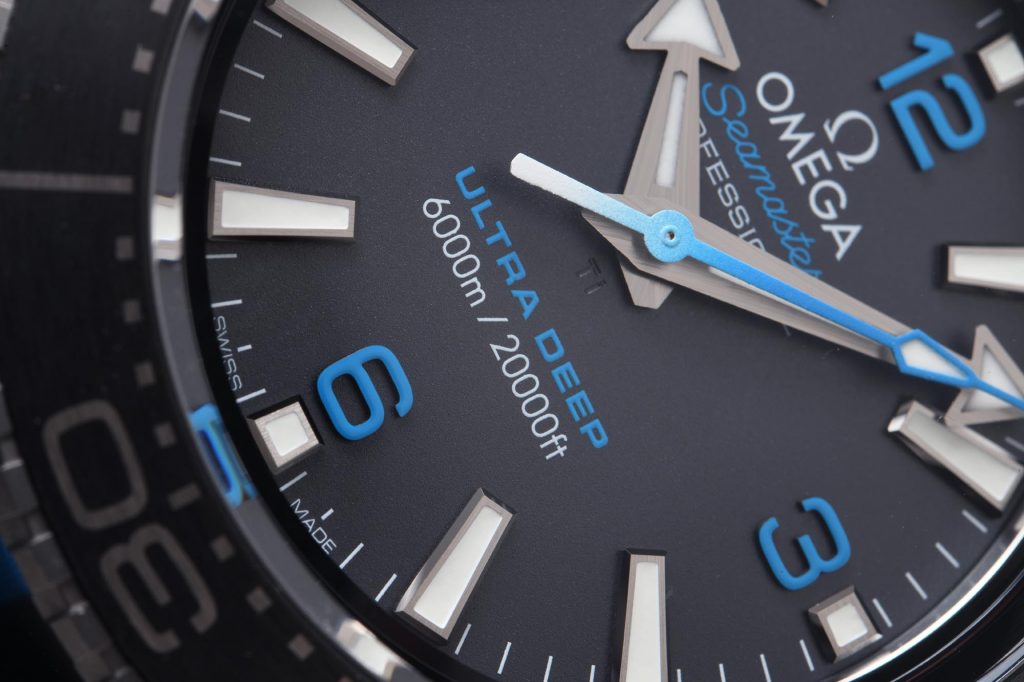 Well, it seems, the new Seamaster Planet Ocean Ultra Deep collection from Omega might just be the credible alternative that might entice me, since it not only has a deeper water resistance (3,900m vs 6,000m), but there is also a titanium model that might be light enough to be more bearable as an everyday watch.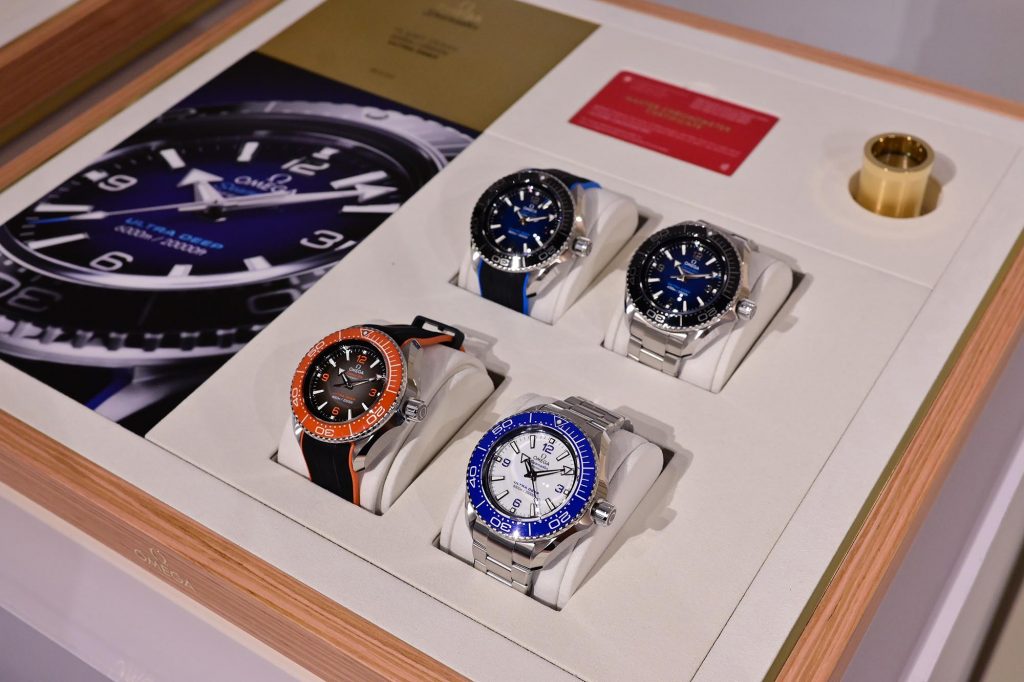 How did Omega attain its deep water credentials? Well, despite having the "OMEGA Marine" from 1932 – the world's first divers' watch available to civilian divers with its cleverly designed "double case", the Seamaster 300 from 1957 – the brand's first professional diving watch, and even the saturation diving capable Ploprof in its history, any new deep water Omega had to make a bolder statement than all of the above. Afterall, there was a clear number that they needed to beat.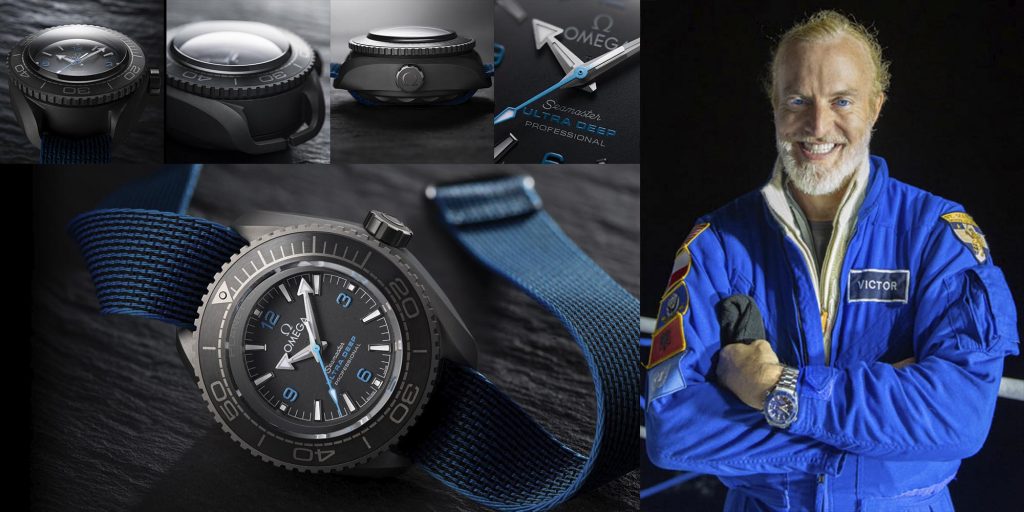 And so it was with the original Ultra Deep from April 2019 that Omega stunned the world by marking their place in the sand with a new depth record. On this occasion, three Ultra Deep watches joined explorer Victor Vescovo on a mission to the bottom of the Mariana Trench and reached a depth originally recorded as 10,925 m (35,843 ft) and later updated to 10,935 m (35,876 ft) – the deepest any human or watch has ever dived.
This beats the record set by the Rolex Deepsea Challenge, a watch that accompanied filmmaker and explorer James Cameron to a depth of 10,908 m (35,787 ft) back on the 26th of March 2012.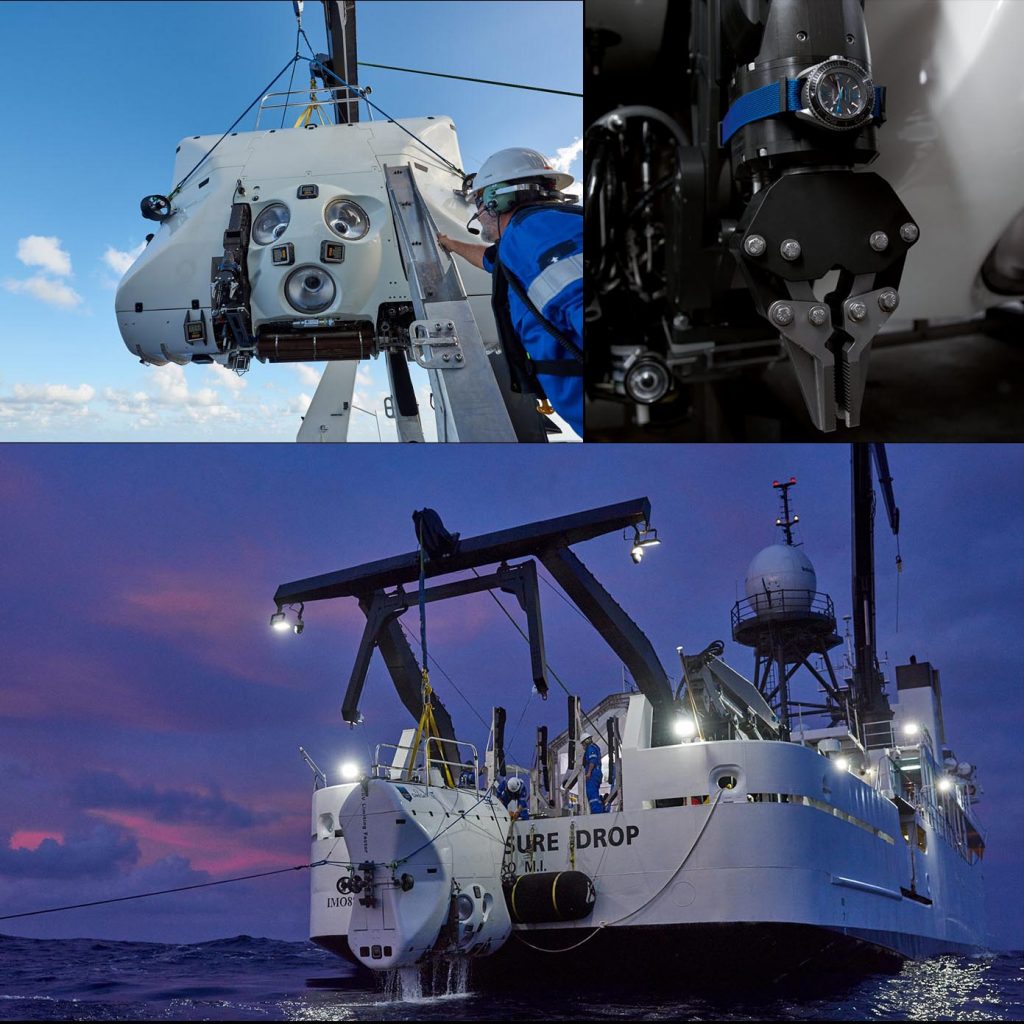 In similar fashion to the Rolex record attempt, the Ultra Deep watches were attached to the outside of Victor Vescovo's submersible – with two on its robotic arm and another strapped to a data-gathering unit known as a Lander, with all three watches enduring the 12-hour dive without a problem.
Check out this documentary (linked below) on the record-breaking dive with the original Omega Ultra Deep from 2019.
The original Ultra Deep was rated to 15,000m or 49,212 ft compared to the civilian versions that you can buy that are only rated to 6,000m. It's much the same story in Rolex land, with the record setting Deep Sea Challenge rated to 12,000m compared to the normal Deepsea Sea Dweller, rated at 3,900m.
It goes without saying that the depths that these watches are capable of are needlessly impractical since the human body can only withstand a tiny fraction of it, yet the technology is still cool. Furthermore, if considered as an engineering exercise, the technology of these watches might prove useful within the liquid oceans of other planets when the human race can get to them (equipped with Speedmaster Professionals of course.)
Which version should you get then?
Well, if you're a watch geek like me, get the titanium version no question.
It is afterall the one that is closest to the original Ultra Deep from 2019, sharing the case material – forged grade 5 titanium, with the same streamlined asymmetrical case design, brushed ceramic bezels with a Liquidmetal™ diving scale, as well as the distinctive and robust "Manta lugs".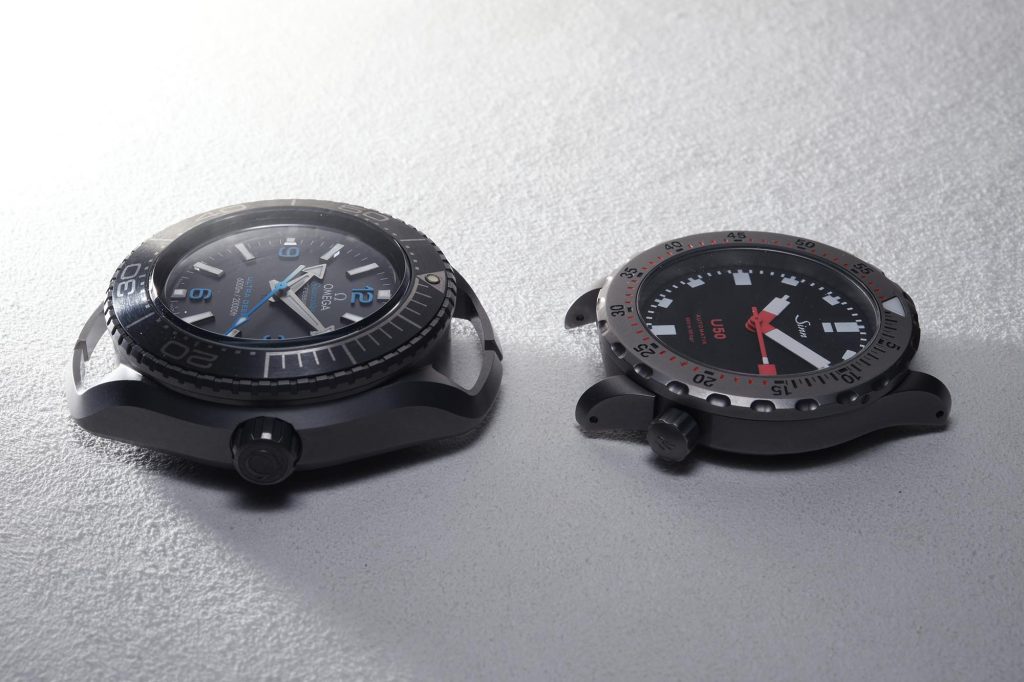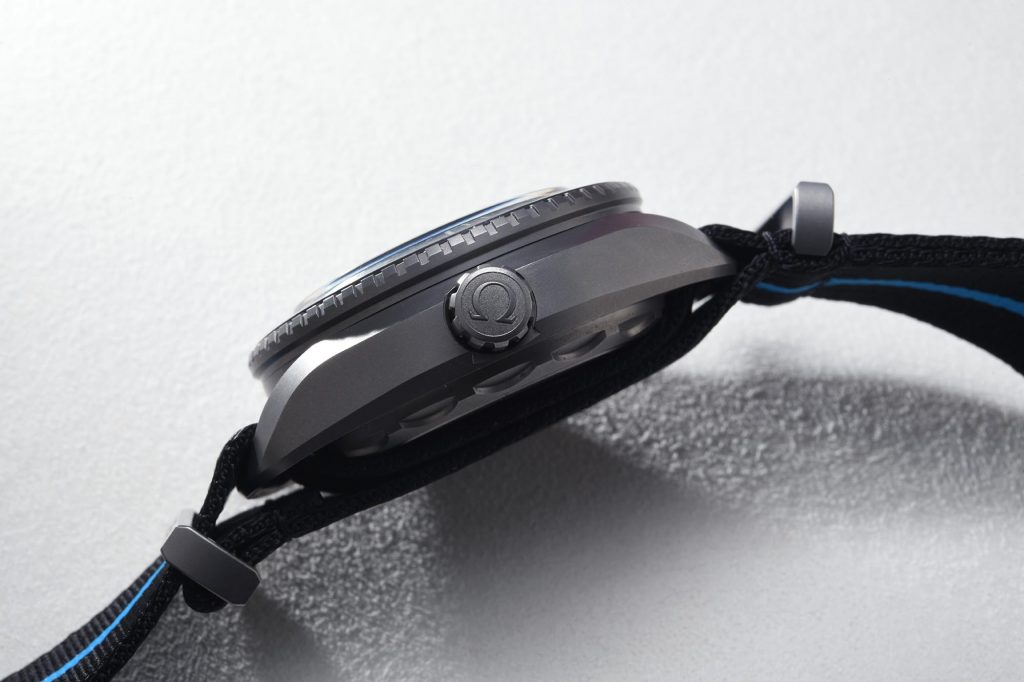 These Manta lugs are the coolest part of the watch, but their design necessitates the use of a NATO strap, which may or may not be to your taste, since it can look a little bunched up at the top side. If you like to wear your watches on a NATO strap, then you'll be pleased to know that the one that comes with the watch – striped in cyan and black – is made from polyamide yarn that is sourced from recycled fishing (Save the earth!), and comes with all metal hardware in grade 5 Titanium.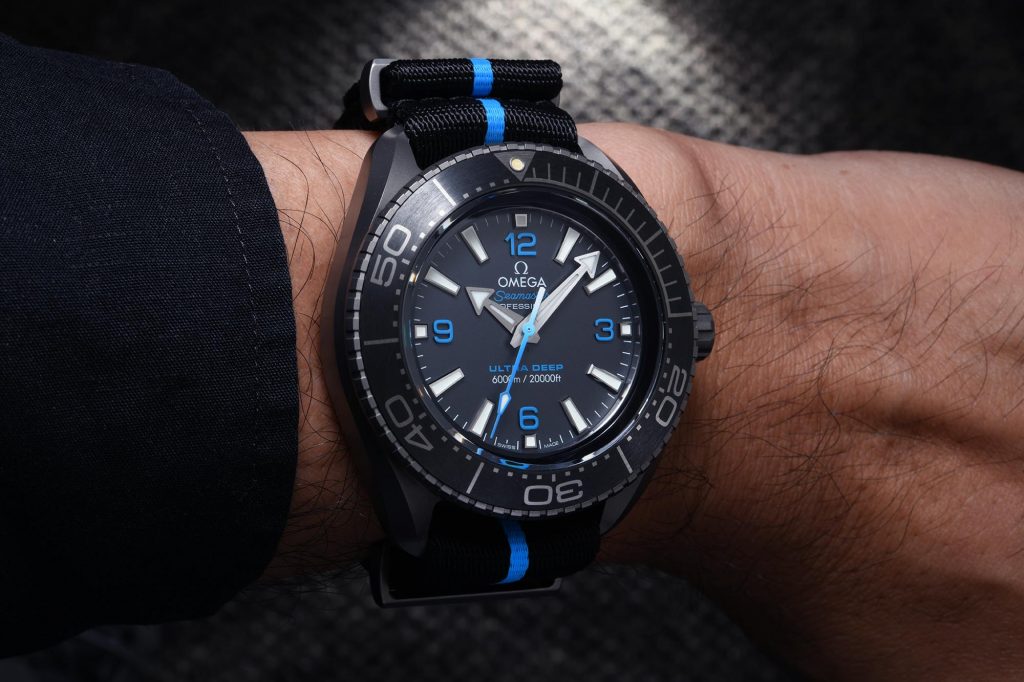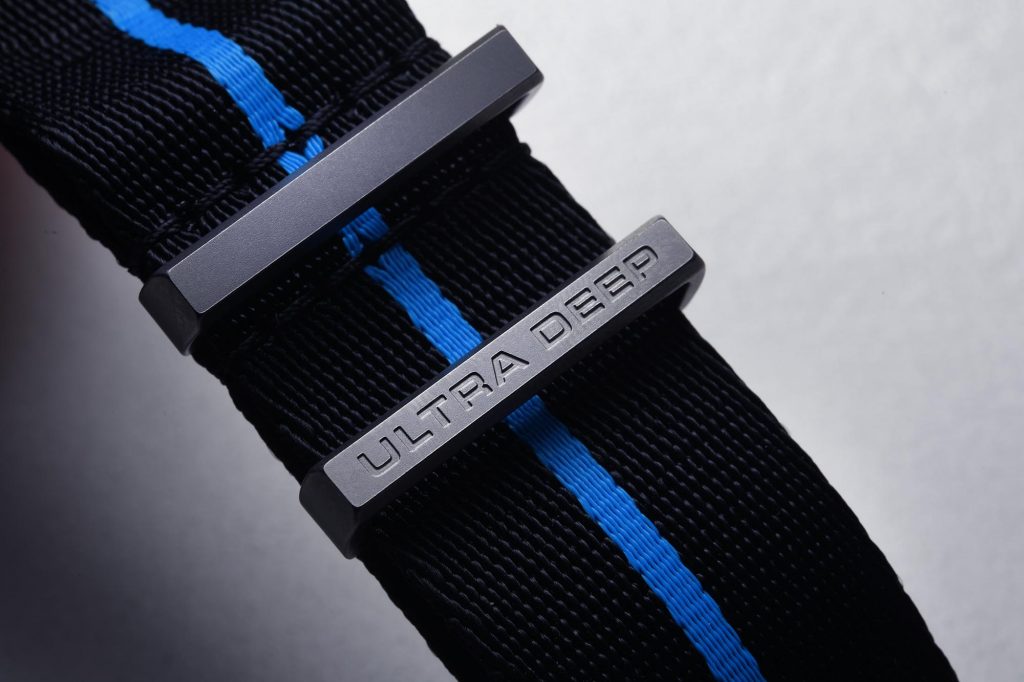 If however you're not too keen on the NATO, I say still get this version, since it doesn't look too difficult for someone to design an aftermarket rubber strap that can be fitted to these lugs.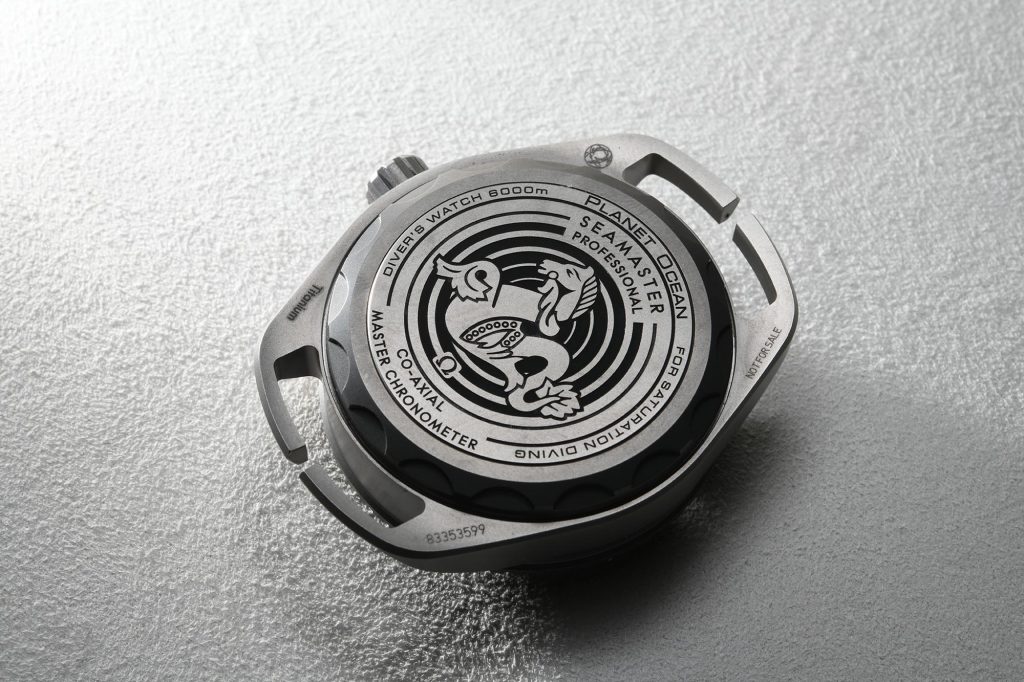 The other six references are for those not as keen on the record-breaking association and perhaps are more mainstream in their appeal. There is still the same 45.5mm size, 18.12mm thickness and 6,000m water resistance but there are three main differences. The first is that you get a number of color options (try doing that with a Deepsea), the second is that you can get these visions on a rubber strap or stainless steel bracelet, lastly they come in a brand new type of stainless steel called "O-MEGASTEEL".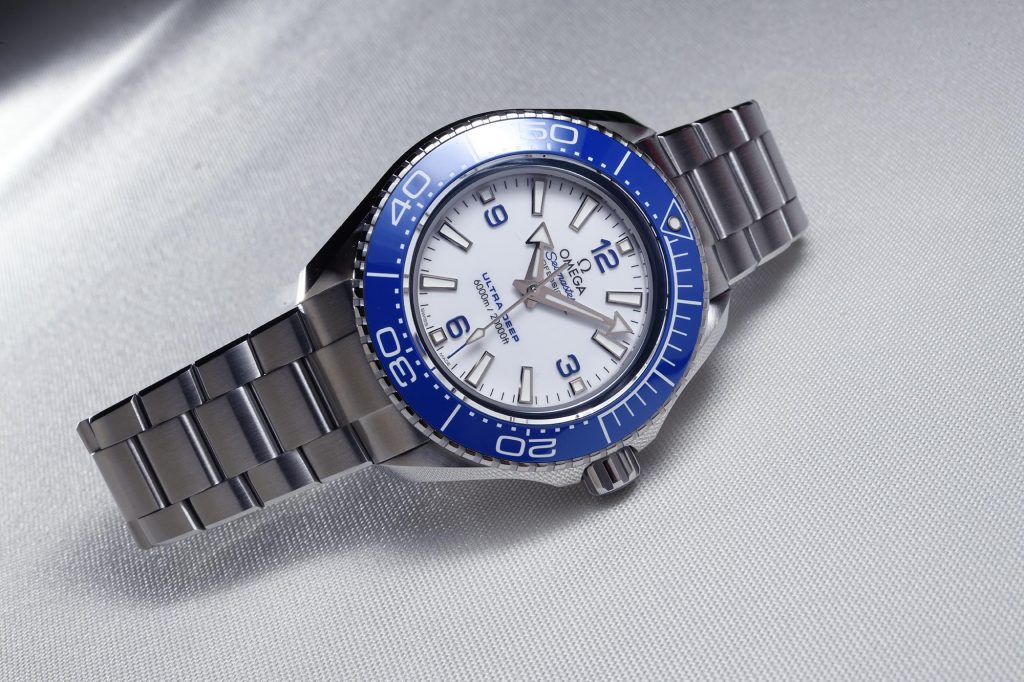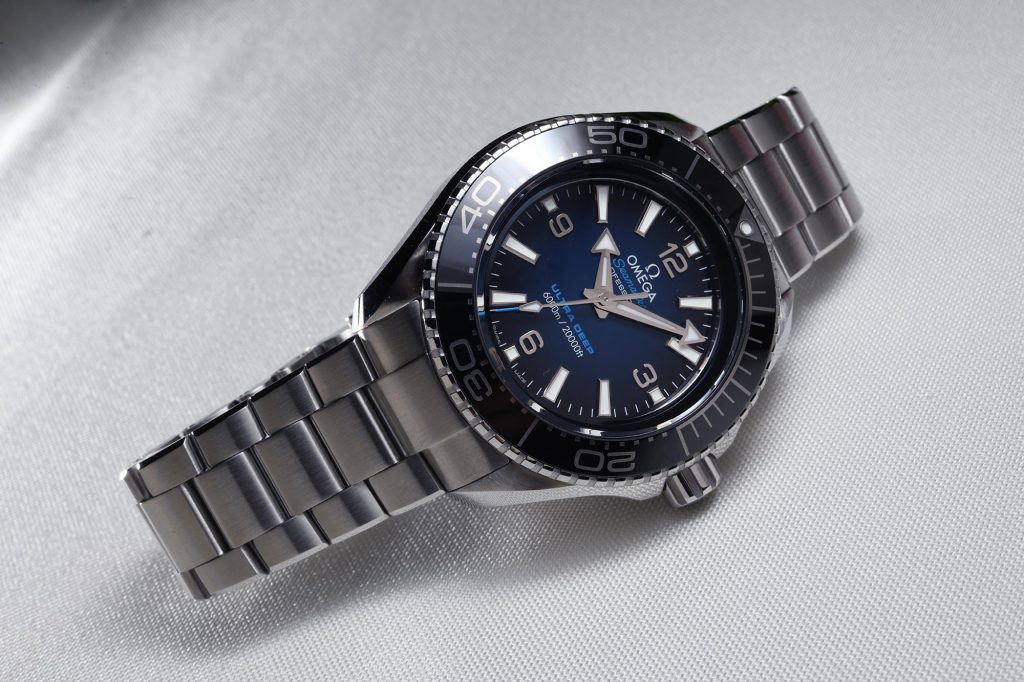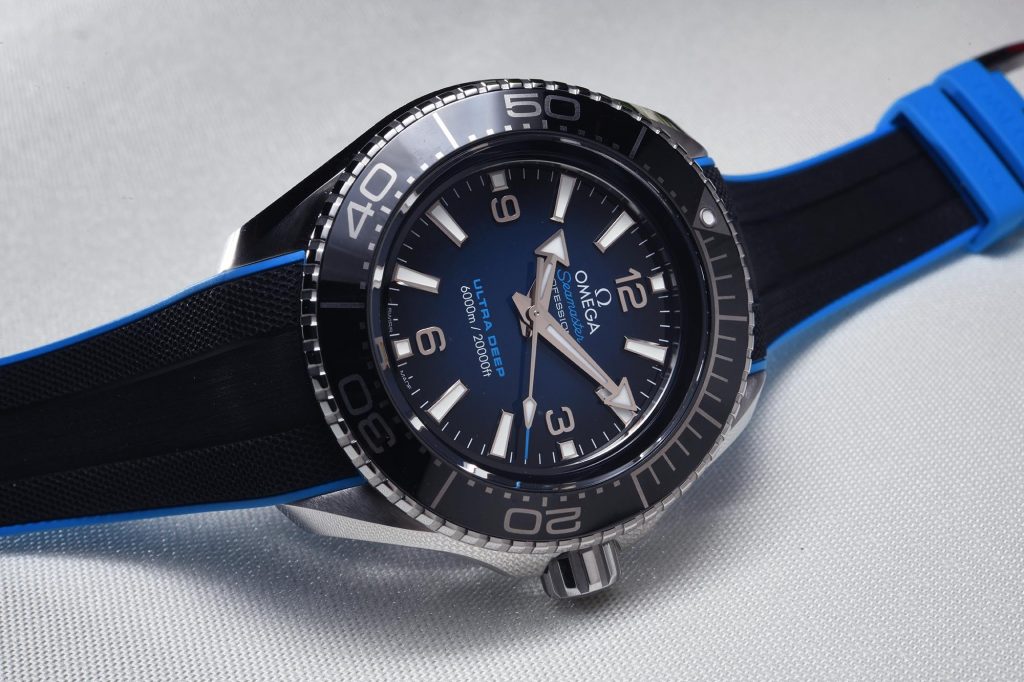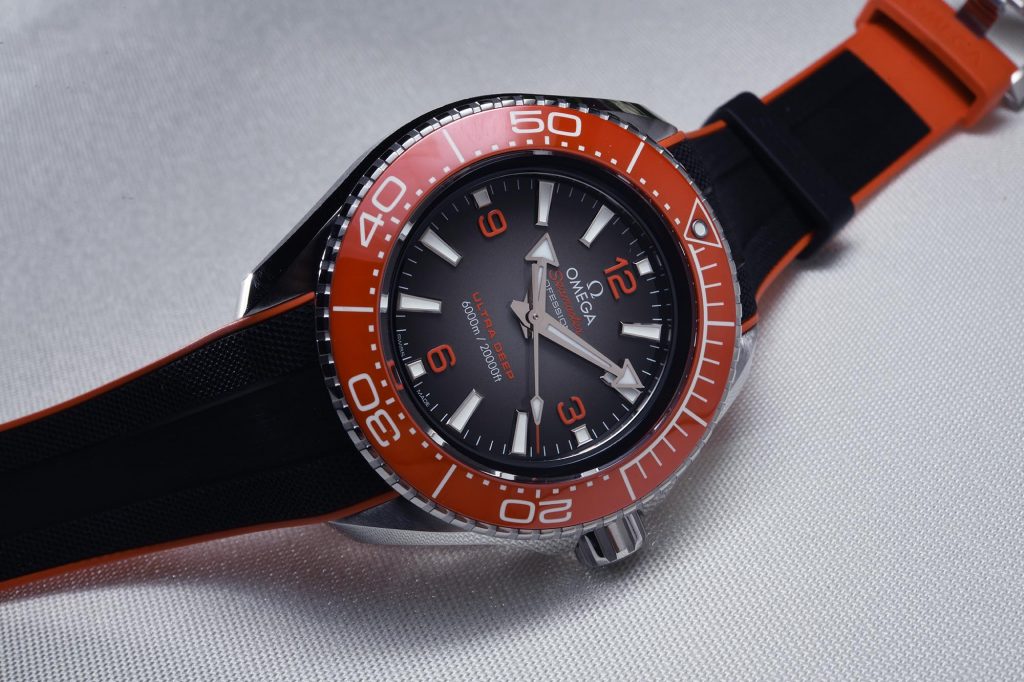 I know what you're thinking, something similar happened in Rolex land at Baselworld 2018 with the brand introducing their 904L steel variant called "Oystersteel".
I'm not particularly impressed with these new steels since I'm no metallurgical expert who can test the claims but I get it, it's a good method of market differentiation.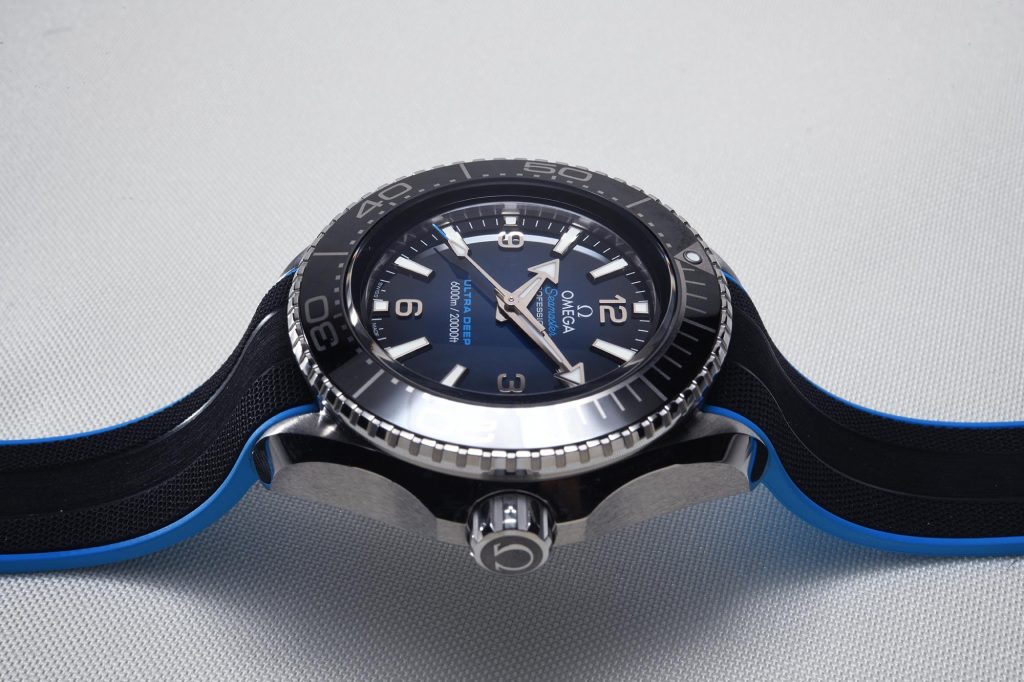 In Omega's case let's just take their word for it. From the press release: O-MEGASTEEL is notable for its superior strength, whiter color and incomparable shine. It also offers exceptional resistance to corrosion for a longer-lasting appearance.
Movement wise, the watches are driven by the Co-Axial Master Chronometer Calibre 8912, which is, in the vein of all modern Omega's, Master Chronometer (METAS) certified. This means, as accords with my experience, the highest standards of precision, performance and magnetic-resistance (greater than 15,000 Gauss).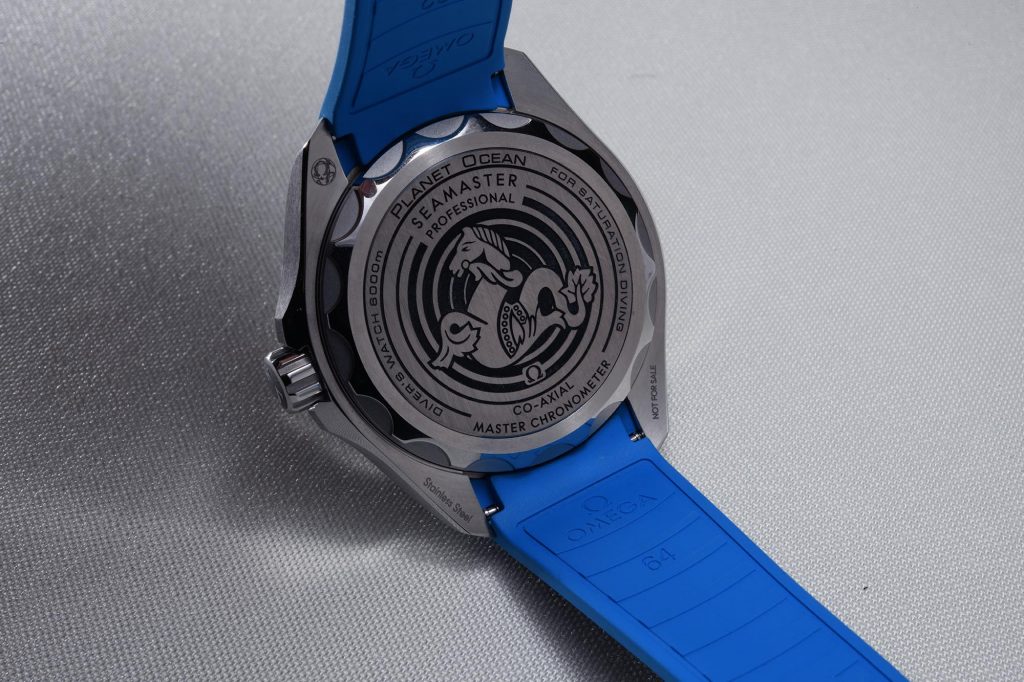 What's more this watch comes with the markings "For Saturation Diving" on the caseback, which are included to meet the ISO 6425 standard for saturation divers' watches. The difference here is that unlike other diving watches, this too is certified by METAS, which is a first in the watch industry.
Lastly and most impressively, this civilian Ultra Deep, (not the original from 2019), was actually ocean-tested to a depth of 6,269 m (20,567 ft) in the Mariana Trench in 2021. I'm pretty sure that this is the only production diving watch that has gone so deep before and by doing so, actually proving the depth rating on the dial – how cool is that?
A viable alternative?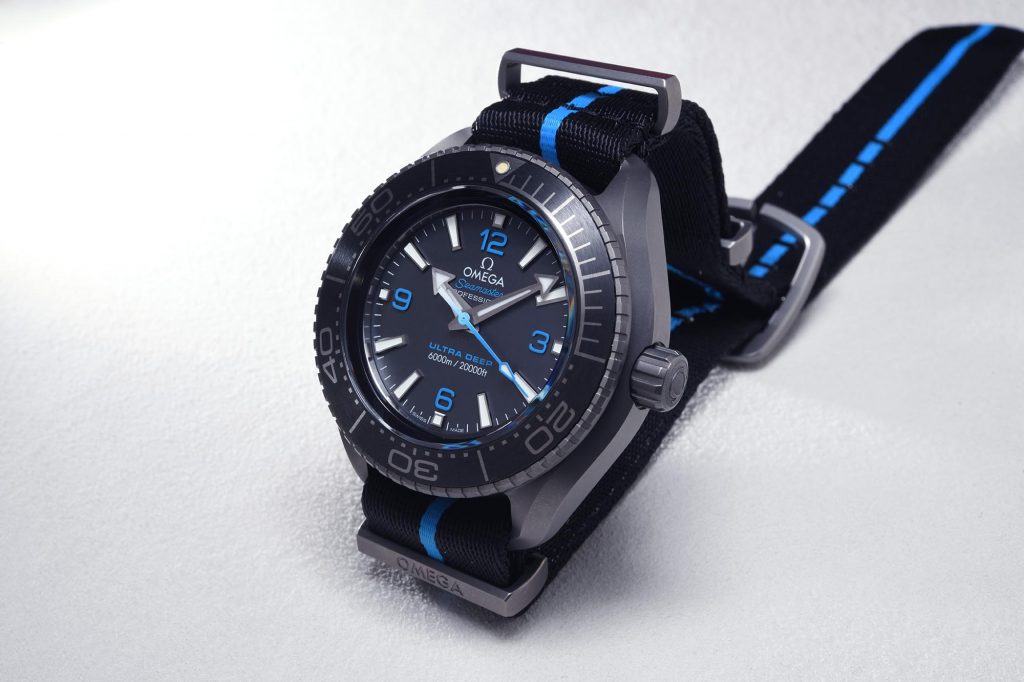 Size, when compared to the Rolex Deepsea Sea-Dweller (44mm wide and 17.7mm thick) won't really be a factor even if the Ultra Deep is slightly larger (45.5mm wide, 18.12mm thick), since both options are very much at the extreme end of what is comfortable enough to wear on the wrist.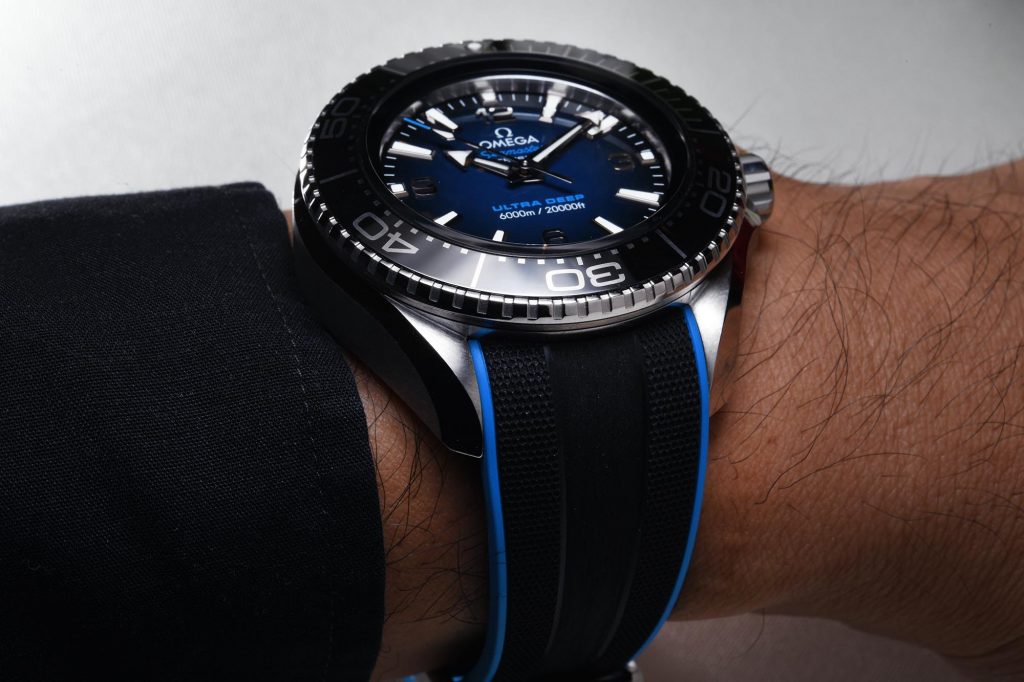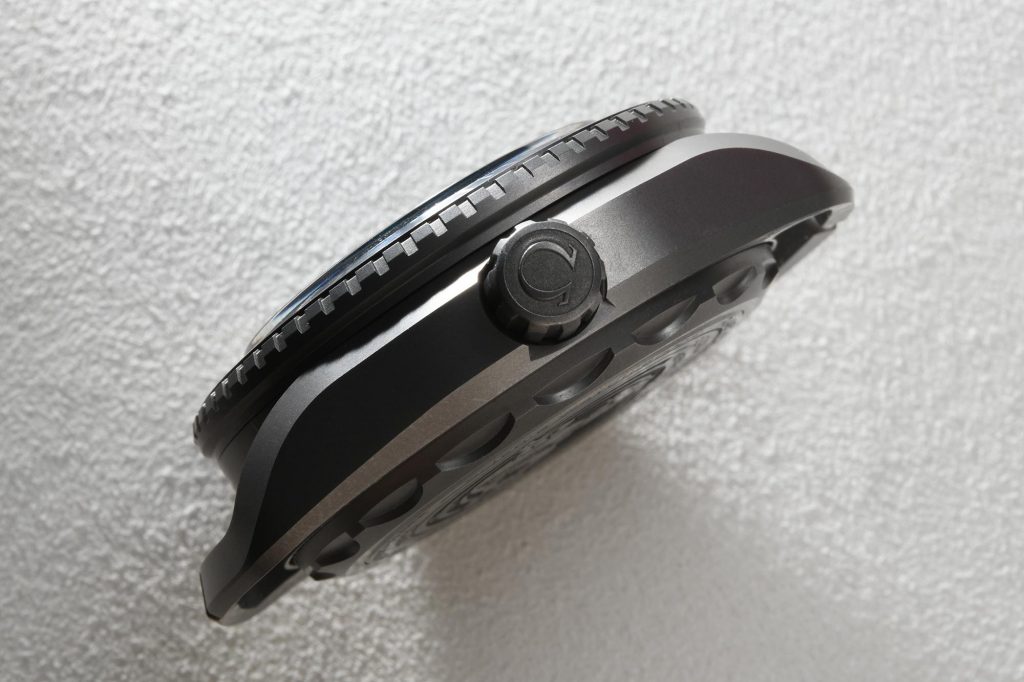 If however, having a date complication is important, then the Rolex is the clear choice, since the Ultra Deep doesn't have one. Although the case can be made that having no date is the proper way to do a watch like this, since when diving, knowing the date is unimportant. The people who make these arguments will also say that you can use your mobile phone to get the date, which is less frequently required than the time.
There is definitely a cool factor associated with owning and wearing the deepest diving watch available to civilians, and if that's the case, the Ultra Deep wins. But then, it wins by 27m, which is not much.
I think though that it'll probably come down to which brand one resonants with more strongly, and the individual features and options that each brand presents. Though it's very clear, if you've always been thinking about getting a Deepsea, you should check out the Ultra Deep first before making a decision.
Technical Specifications
Movement:
OMEGA Co-Axial Master Chronometer Calibre 8912 – officially certified by METAS; Frequency: 25,200 A/h (3.5 Hz); Power reserve: 60 hours; Exclusive features: Magnetic resistance: 15,000 gauss, Silicon "Si14" balance spring, OMEGA free sprung-balance, Co-Axial Escapement, 3 levels, 2 barrels mounted in series NIVACHOC
Display
– Central hour-minute-seconds hands
Materials
Flagship model in Grade 5 titanium – [ZrO2] ceramic bezel ring, NATO strap: Grade 5 titanium hardware and polyamide. Rest of the models in O-MEGASTEEL.
Case
– Diameter: 45.50 mm; Height: 18.12 mm; Lug-to-lug: 56.00 mm, Water resistant: up to 600 bars (6000 m / 20000 ft). Four patents pending on the technical design; Front EFG sapphire crystal: domed, protuberant and scratch-resistant with anti-reflective treatment on both sides; Caseback: sandblasted grade 5 titanium, wave-edged, screw-in caseback with oriented sandblasted grade 5 titanium medallion laser engraved with "PLANET OCEAN", "SEAMASTER", "PROFESSIONAL", "Ω", "CO-AXIAL", "MASTER CHRONOMETER" and "DIVER'S WATCH 6000 m FOR SATURATION DIVING"
Bracelet
For titanium model – Black NATO strap with cyan stripe, made from polyamide yarn, sourced from 100% recycled fishing nets. Others – with rubber strap or O-MEGASTEEL bracelet. The rubber straps feature a technical diving suit structure on the upper surface, along with an O-MEGASTEEL buckle. For the metal bracelets, OMEGA's patented extendable foldover rack-and-pusher has been included, with a complementary length adjustment and an extra diver extension – perfect for use around a thick wetsuit; Fitting: 22 mm between lugs, 22 mm on buckle
Others
International 5-year warranty; Delivered with a Master Chronometer certification card, ensuring that the watch has passed the tests certified by METAS; Conforms to the requirements of the ISO 6425:2018 standard for saturation divers' watches