Sometimes it takes making things simpler to satisfy Sinn fans
Among the many outstanding choices in the Sinn catalogue I've always considered the EZM 13 to be one of the more intriguing options. The thing is, I've always been fascinated by diving watches with chronographs that you can actually use underwater. You know how it is with most chronograph watches – everyone will warn you not to engage the chronograph underwater as doing so might compromise the seals of the watch.
I see diving watches with chronographs and I wonder why they exist, especially those that have screw down pushers to prevent accidental engagement of the system. Usable chronograph pushers underwater then are a logical step to enable full functionality of your watch – after all, you paid for the complication didn't you?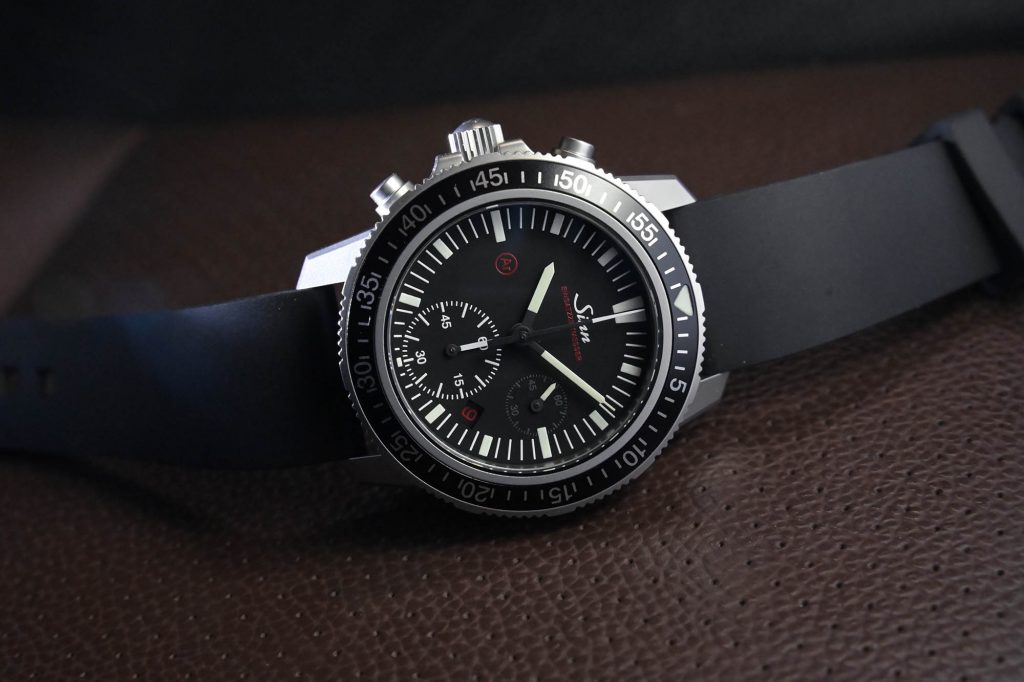 Why the need for a chronograph underwater if you already have a bezel timing your total dive duration? Well, it's not possible to time a separate event when your dive is already in progress if you only have the bezel. With a separate chronograph on board, you are free to time other events that might crop up, such as decompression stops or a spontaneous deviation from your plan to explore an unexpected cave that you come across.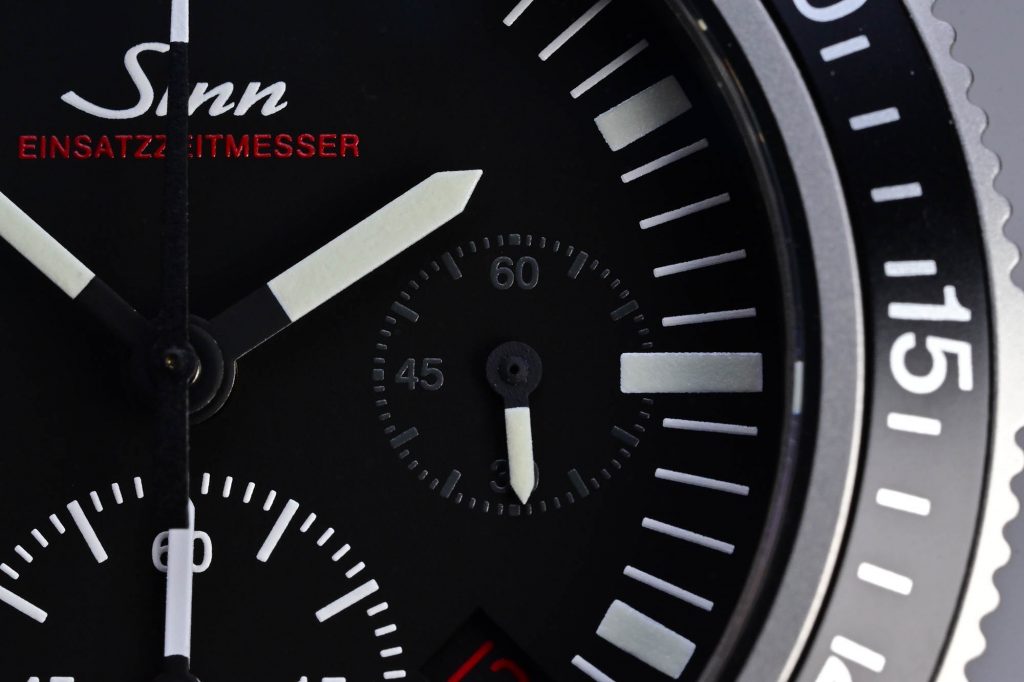 It's not a popular feature though, as there are not many chronograph watches that are able to do this. Those that do are typically billed as serious diving options and they are few and far between indeed.
Now discontinued, but having this ability include the noteworthy TAG Heuer Aquagraph that I reviewed in a previous article and Sinn's U1000 and EZM 13.
Currently available to buy now, some options you have include the Blancpain Fifty Fathoms Chronograph, the Omega Seamaster Professional Chronograph, the IWC Aquatimer Chronograph (to 120m), and now the new Sinn EZM 13.1, which is basically a minor update to the previously mentioned EZM 13.
The power of a cleaner dial - or doing away with the Arabic numerals
So what is the main difference between the Sinn EZM 13 that was discontinued to howls of derision among Sinn fans, and the new EZM 13.1 that was introduced this year in 2022? Well, in three words - "no Arabic numerals".
Now this is a minor change, and most onlookers would scratch their heads and wonder why Sinn chose to do this. Well, watch lovers, especially those who are fans of Sinn, are nothing if not vocal about the littlest details.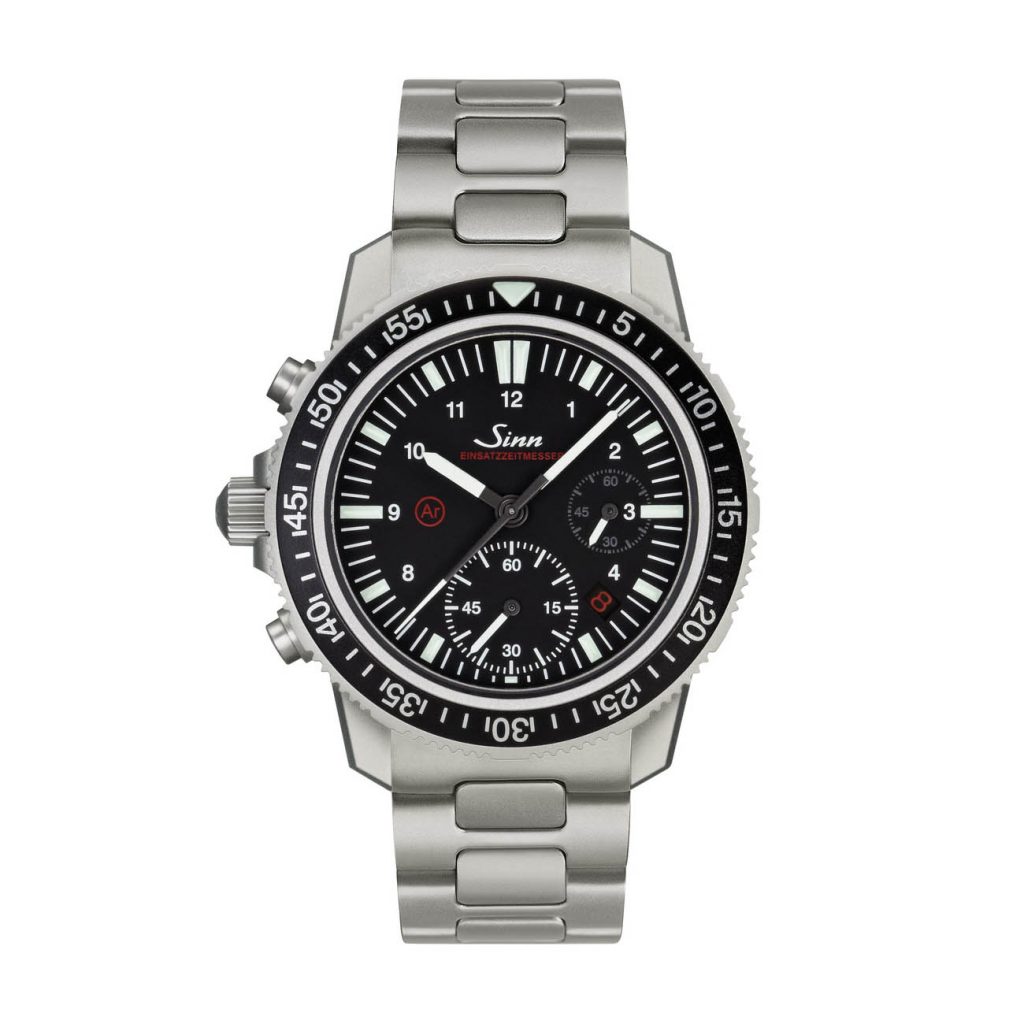 The main point of contention about the EZM 13 was that the Arabic numerals made the dial too cluttered, a criticism also made of its non-chronograph sibling with the same Arabic numerals on its dial - the 500 meter capable EZM 3.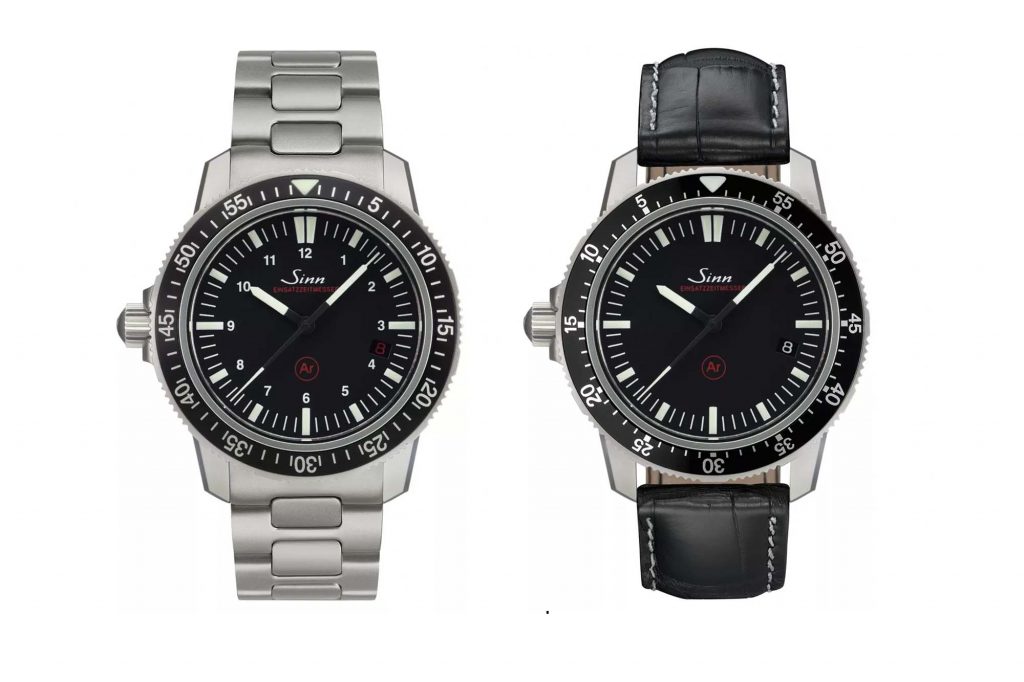 When a "flieger" version of the EZM 3 came out, christened the EZM 3F, what was essentially the same watch, had now pivoted in function to become a pilot's watch, and so was slightly thinner, came with a bidirectional countdown instead of diver's bezel and had "only" 200m water resistance. Yet no one fixated on these features. Instead this watch was universally praised for its cleaner dial, now sans Arabic numerals, just as many Sinn fans had hoped for.
The possibility was real then, Sinn would listen to feedback, and very soon, a vocal bunch of fans started imploring the company to release an EZM 13 with a cleaned up dial.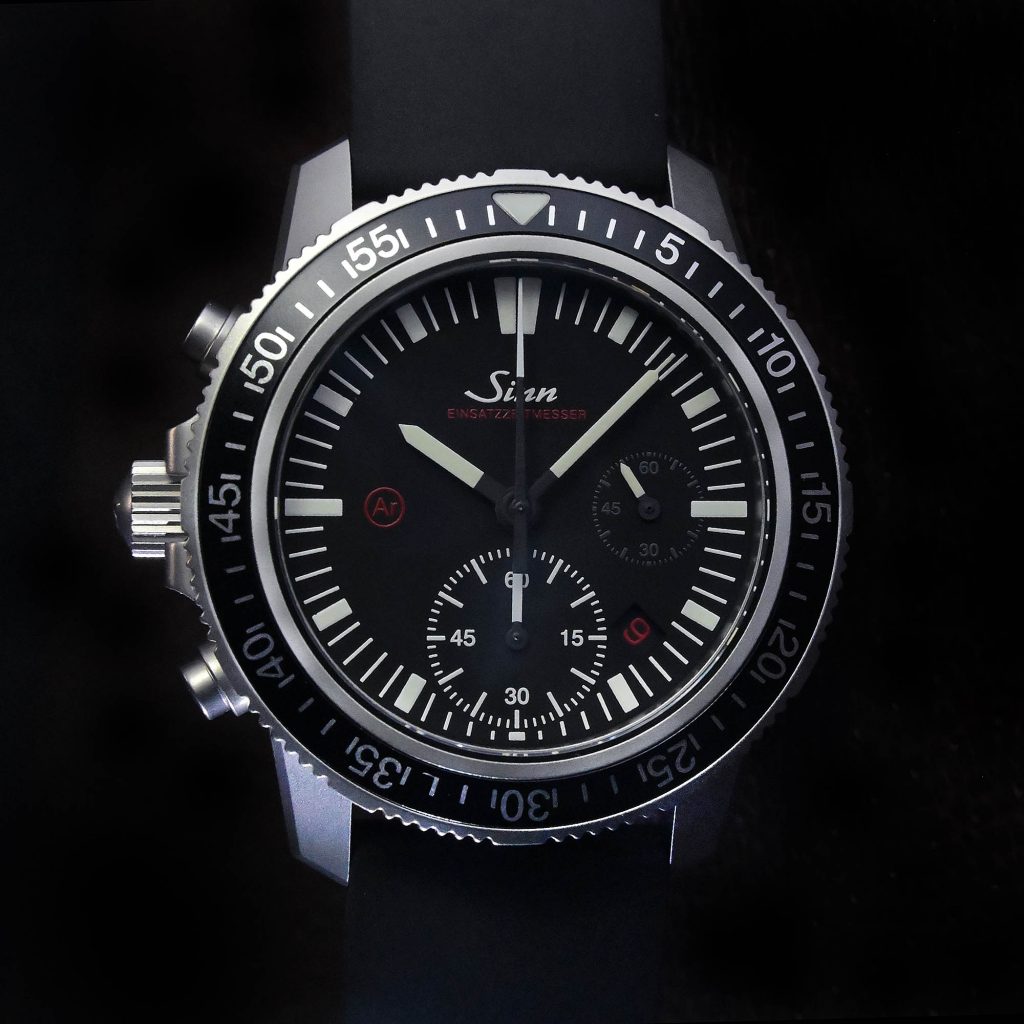 Well it seems, Sinn listened, and what we have in this, to outsiders and non fans of the brand, lukewarm refresh of an older model, is precisely what hardcore Sinn fans have always wanted, the new Sinn EZM 13.1
Now personally, the Arabic numerals of the EZM 13 never bothered me, but I can see the point of the criticism. A counter argument has been put forward to suggest that Arabic numerals would help an oxygen starved diver orient themselves to read the time under conditions of stress or reduced brain function. I wouldn't know as I'm not a diver (currently), but I see that because most dive watches don't have Arabic numerals, I can't really accept this point.
Whatever the case may be, I would personally be happy with either one, old or new. But in a pinch, I would probably take the newer one.
Why the Sinn EZM 13.1?
If you're familiar with the old EZM 13 you can probably stop here and just go on with your day, because everything about the new watch, aside from the dial, is exactly the same. If you aren't then let's continue to discuss what makes the new EZM 13.1 (for 2022) a compelling option for your wrist.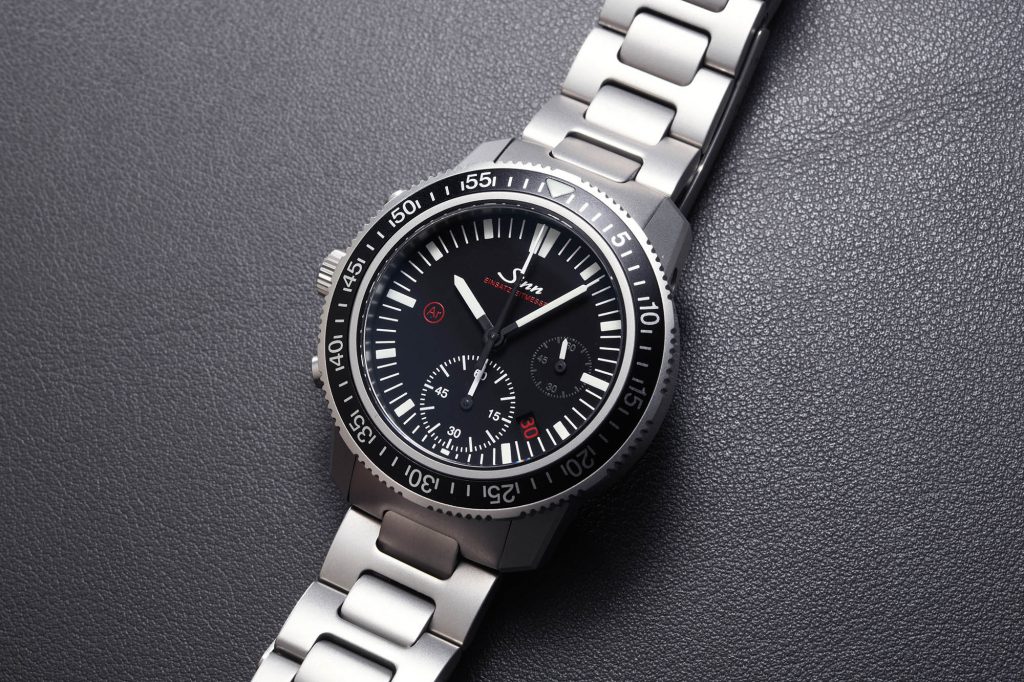 As I've mentioned before, the Sinn EZM 13.1 is one of the few watches on the market that you can buy now that allows the use of the chronograph function underwater. In fact, it's the most affordable out of the ones I mentioned earlier in my article, coming in at EUR 2,650 on leather or rubber straps to EUR 2,850 on a steel bracelet.
The movement is a Sinn modified version of the Valjoux 7750, called the SZ02, with the modifications including the removal of the 12 hour chronograph counter, and the change of the 30 minute counter to a 60 minute one.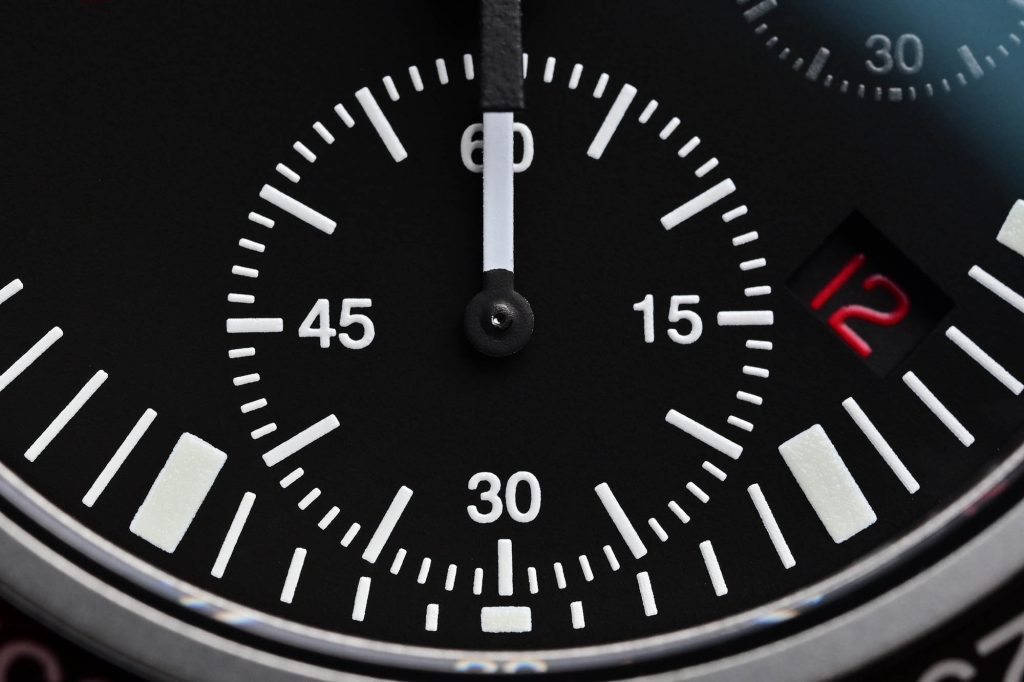 This 60 minute sub-dial takes a large and central location above the 6 o'clock position on the dial and is much easier to read from a distance than the 30 minute chronograph counter of the typical Valjoux 7750. The watch of course measures only up to an hour, which is appropriate in a diving context, though it is possible, if you're on land, to use the chronograph in conjunction with the diving bezel marking the hour hand instead of the minute hand, and use that to time periods longer than an hour.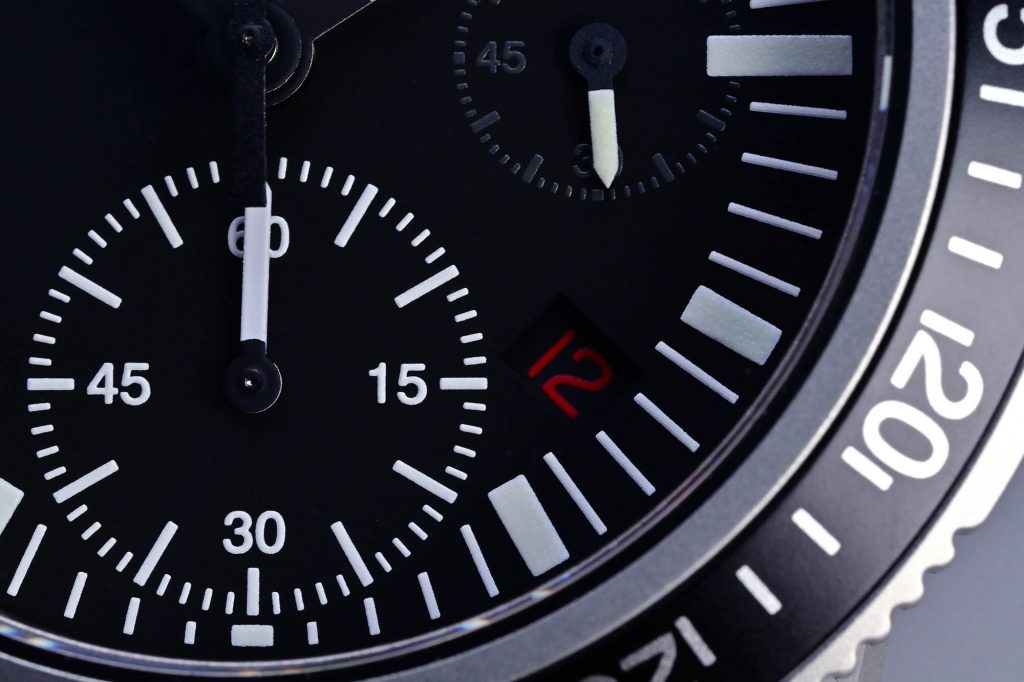 Other notable features that showcase the focused attitude of its design include the date wheel, with red numerals against a black background, that recedes from view under low light conditions, a running seconds indicator at the 3 o'clock position, made very small and in gray, and only used, in the diving context, to show that the watch is running as per ISO6425 standards, a 60 click unidirectional bezel, as expected, an impressive 500 metres of water resistance and finally, 1,000 Gauss of magnetic resistance.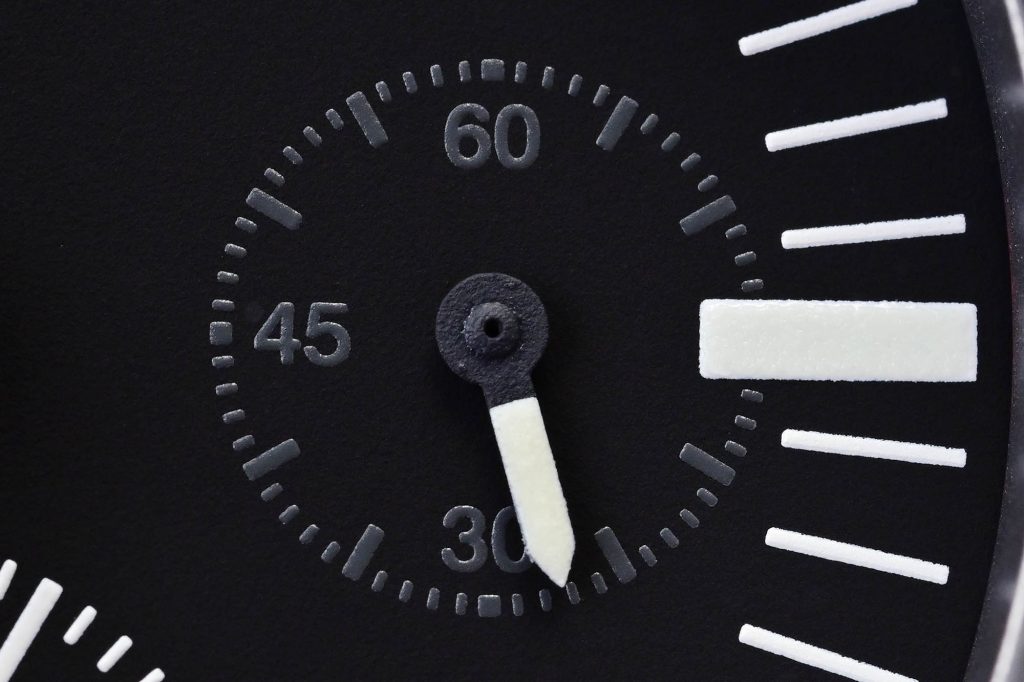 On that last point, it's worth noting that the Sinn EZM 13.1 and its sibling the EZM 3 are the only two diving watches that the brand offers with magnetic field protection. The rest that do, as you would expect, are pilot's watches. This is something to take note of if this feature is important to you.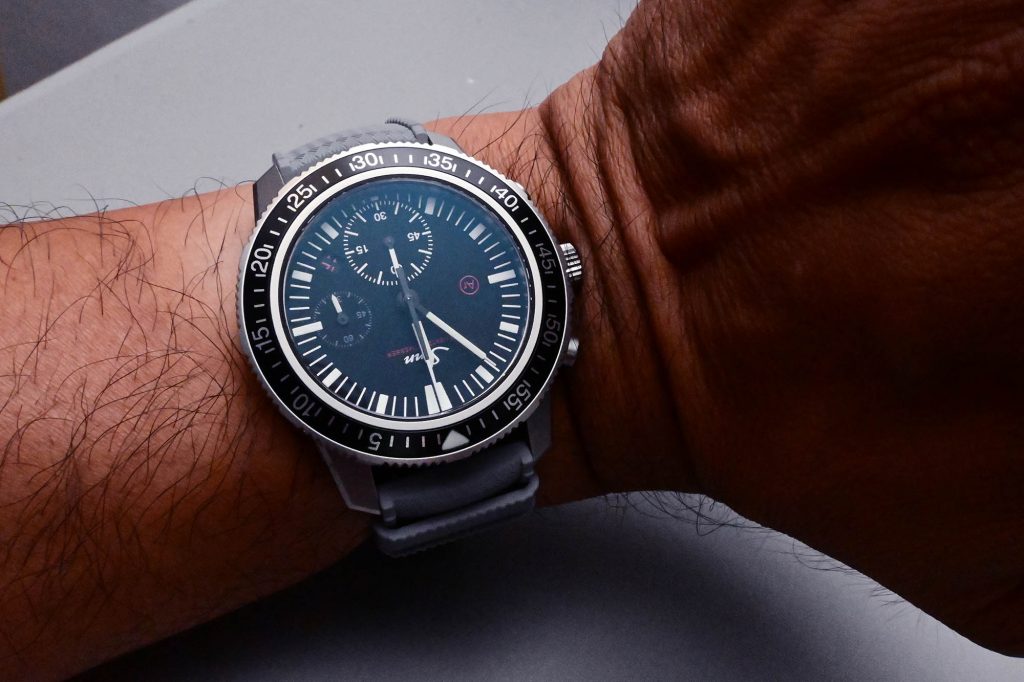 Lastly, that left handed, or "Destro" layout of the crown and chronograph pushers, a Sinn signature move, helps in making sure that the controls of the watch do not interfere with your wrist during physical activity. Just to be clear on this then, you start and stop the chronograph with the lower pusher, and then you reset with the upper pusher.
Now regarding the underwater use of the chronograph pushers, I have to admit, I will find this a very difficult thing to do because of the psychological barrier that I have to overcome through years of training in this being precisely the thing not to do.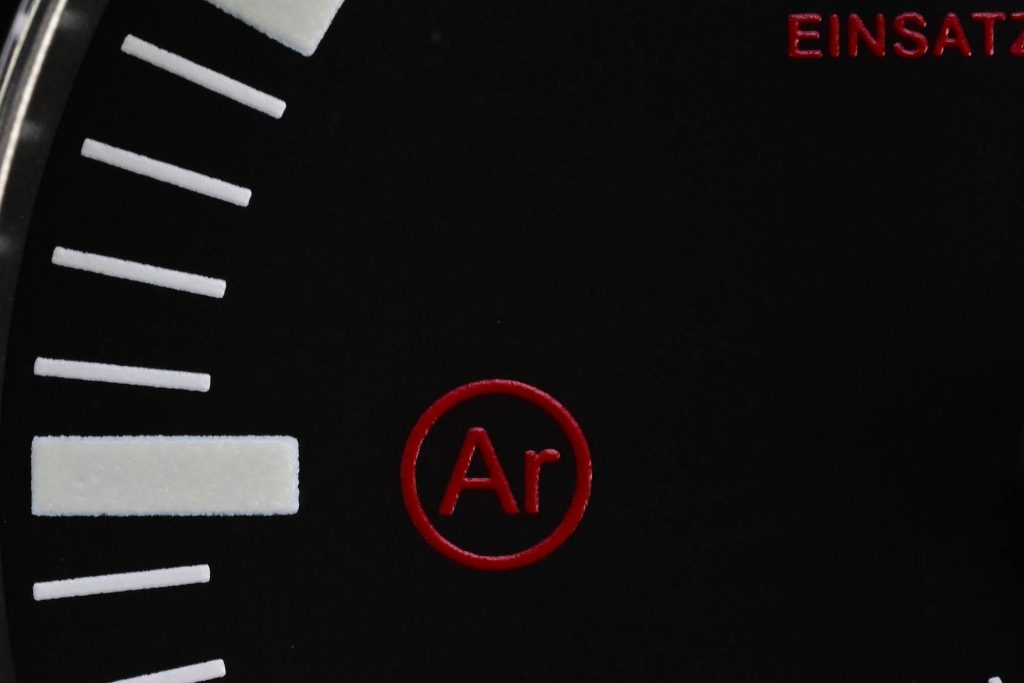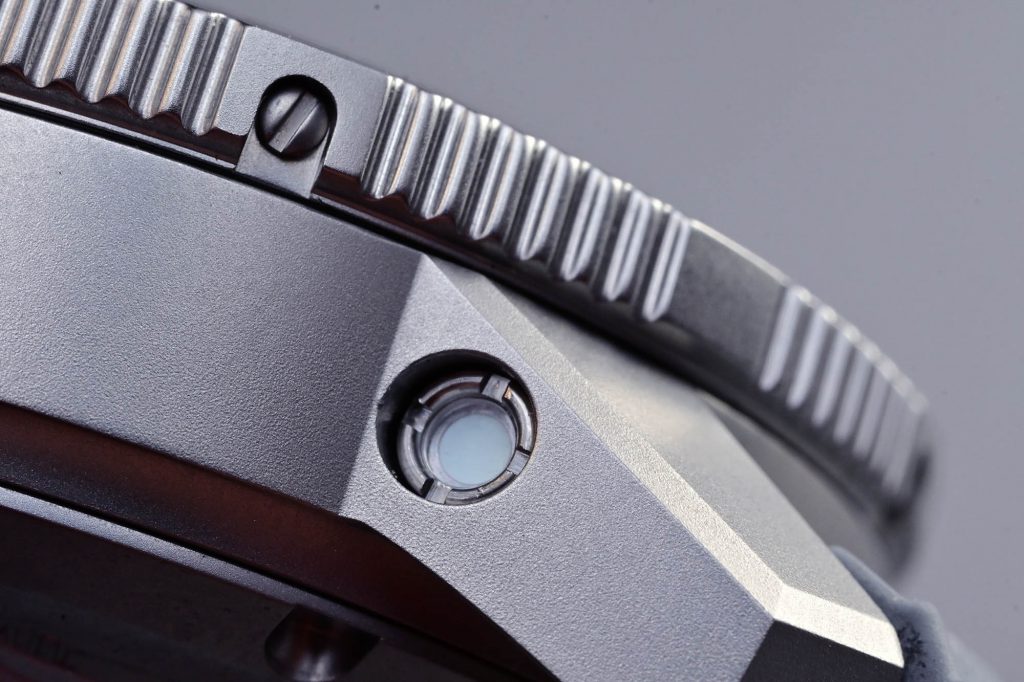 It helps that there is Sinn's Ar-Dehumidifying Technology - a combination of nitrogen (previously Argon) gas in the watch that helps to trap any moisture and prevent it from interacting with the movement, as well as a copper-sulfate capsule that helps to remove any moisture that might come into the watch. This capsule is visible on the lug of the watch and starts as white, but turns blue as more moisture is absorbed over time. It's a good warning system that helps to give me peace of mind if I decide to engage the chronograph underwater.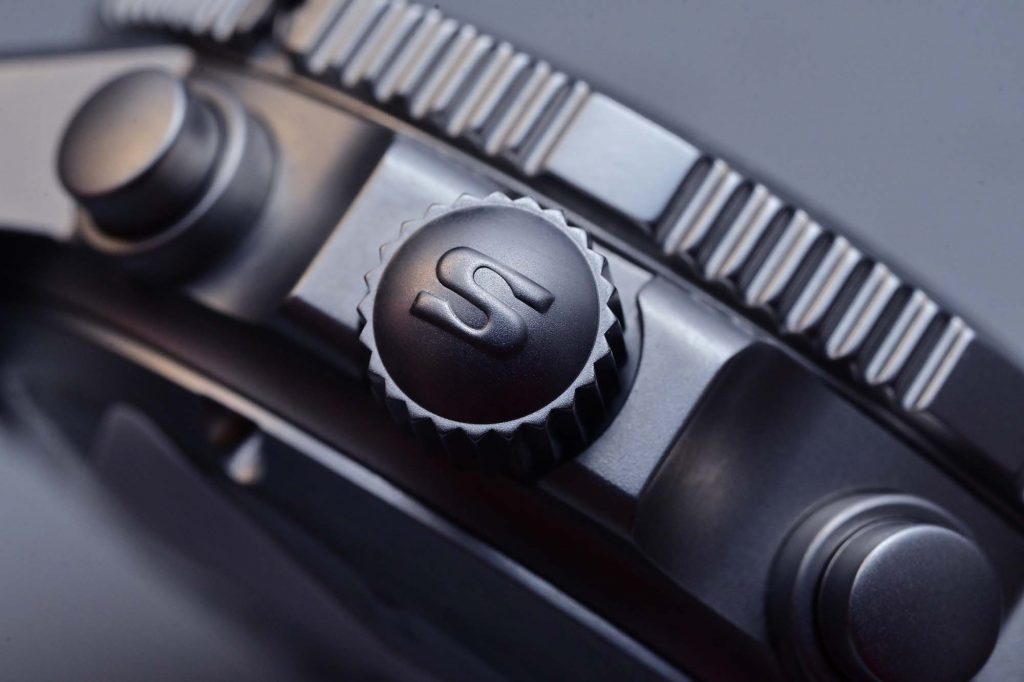 There is also Sinn's D3 pusher system, which according to their website states that "In our D3-System watches, the push-piece pins and crown shafts are mounted directly in a fine-finished case aperture, creating a perfect seal to the case." I'll have to find out for myself how this works exactly, and what type of procedures Sinn has in place to ensure precise machining of the parts involved, but it should be interesting.
On the wrist
The watch wears surprisingly well and part of the reason why is that it has dimensions that remind me of Sinn's original EZM 1 from 1997. That iconic watch was 40mm wide and 16mm thick which is near enough to the dimensions of the EZM 13.1 at 41mm wide and 15.4mm thick.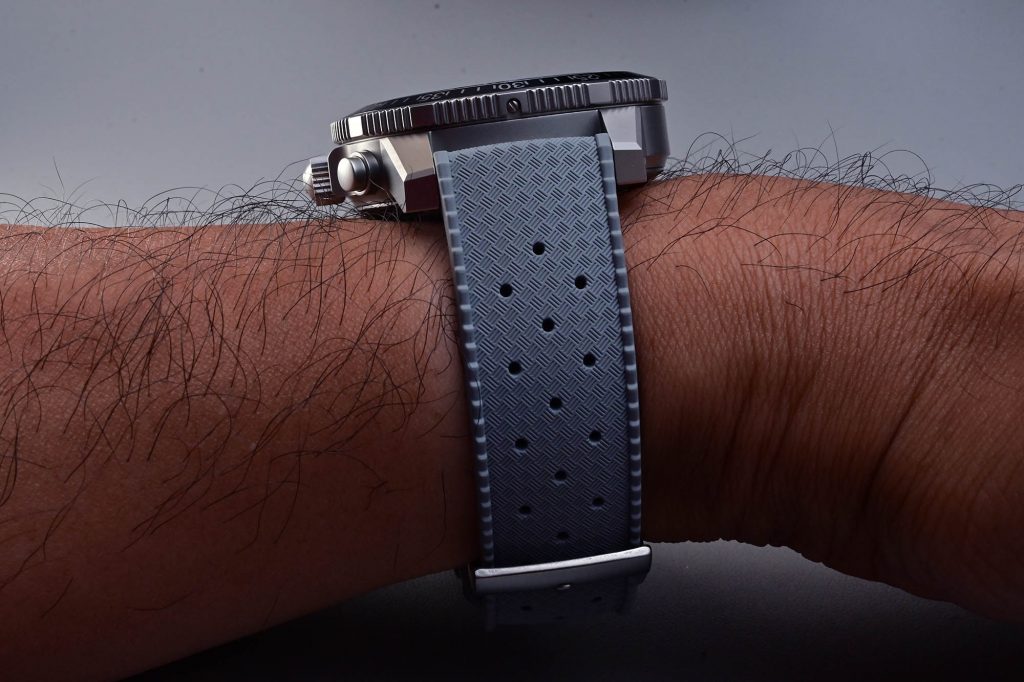 Because it is Valjoux 7750 based, the height of the case cannot be helped and you'll have to accept that it'll sit somewhat tall on the wrist. I wouldn't go so far to say that it's tuna-can-like in feel, but I can see where the comparison comes from. It helps that the lug to lug distance of 47mm enables the overall footprint to be tidy, with the rounded bulge of the case-back helping the watch sit into the wrist somewhat, taking away some of the bulk.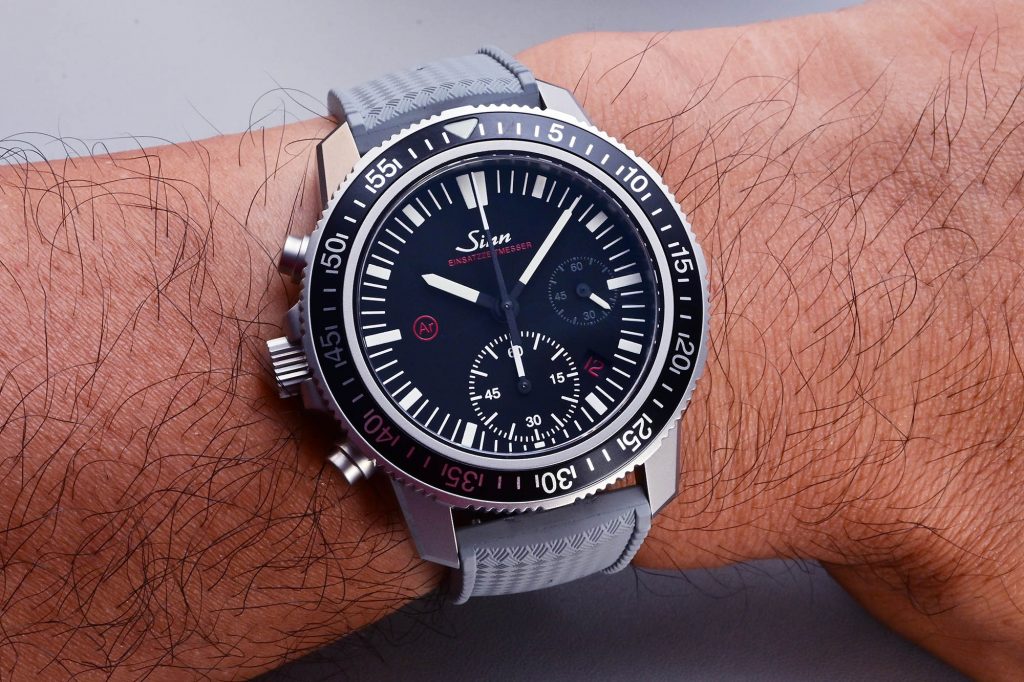 Generally speaking though, if you're used to wearing a watch with a Valjoux 7750, then the height of the Sinn EZM 13.1 will be a non-issue to you. But if you're used to a thinner three hander, a chronograph like the 12.2mm Rolex Daytona or even most vintage manual winding chronographs, then it's best to try the watch on in real life to see if you can live with the 15.4mm height on your wrist. I certainly can.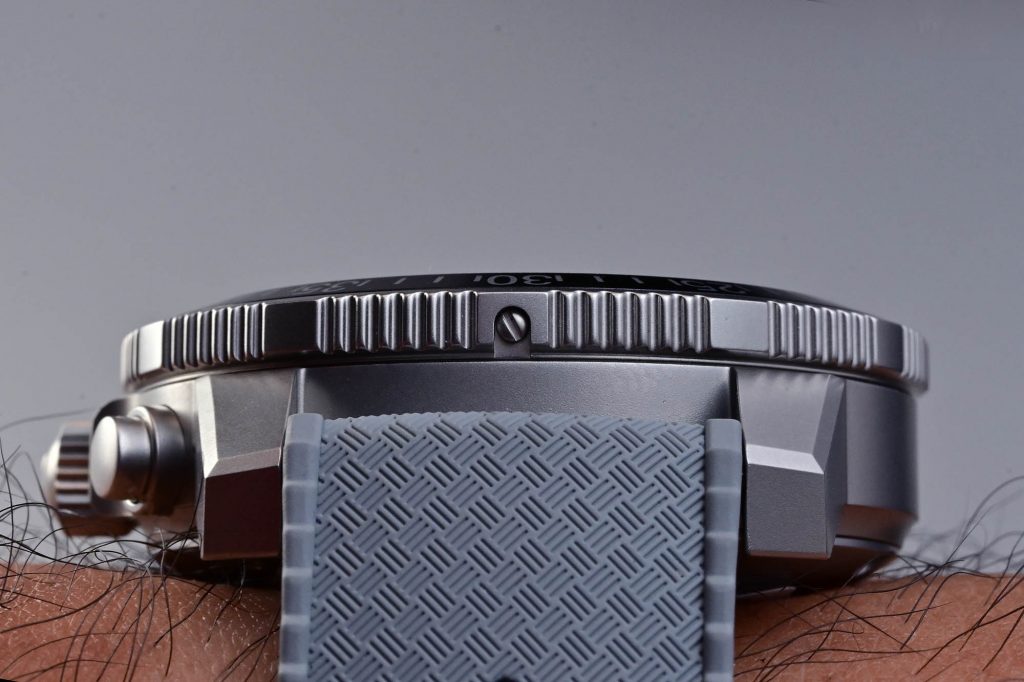 Lastly, the pushers have a decisive and positive feel, and surprisingly take less force to engage than a typical Valjoux 7750. The bezel action could be better, it's not exceptional but it works.
Overall then, a good watch, but one major caveat - it doesn't have Sinn's ultra scratch resistant tegimented case, which is a bit of a bummer since quite a few of the rest of the EZM lineup do.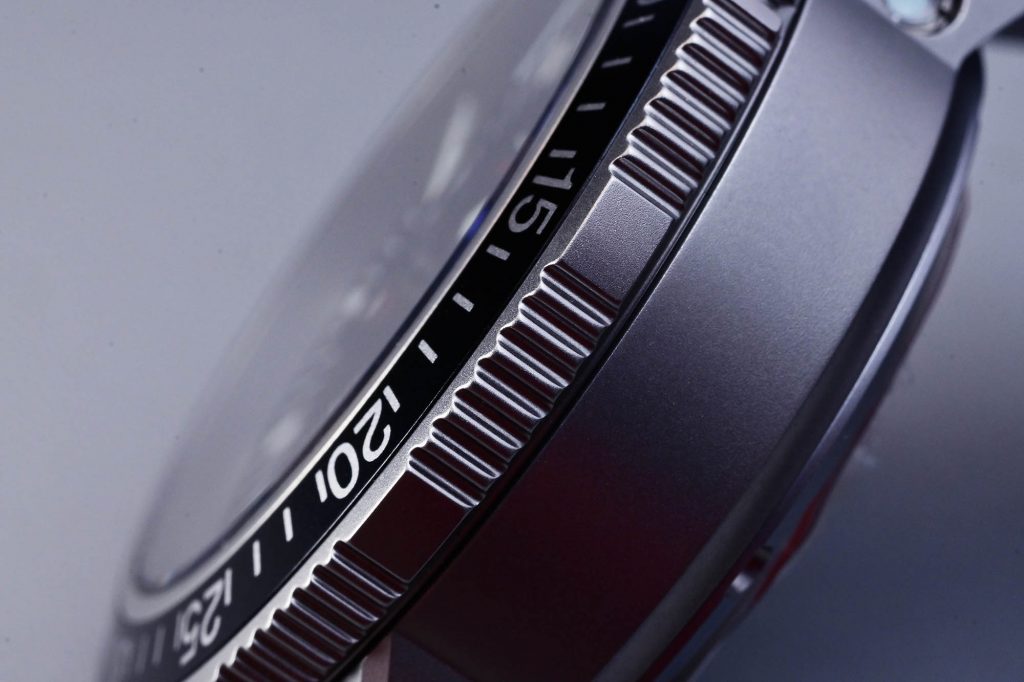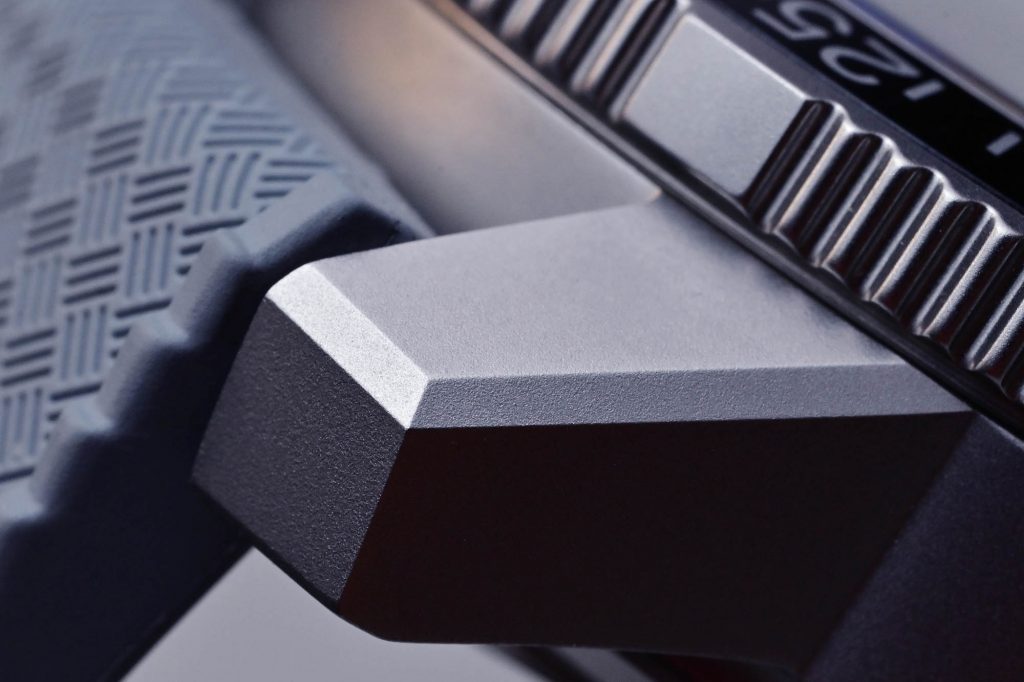 Sinn, if you're reading this article, make an EZM 13.1 T. Do that and I'll buy one. And oh, update the clasps of your bracelets with a micro-adjust capability while you're at it.
Other options
If you're like me and considering this watch among other similar candidates then here are my thoughts.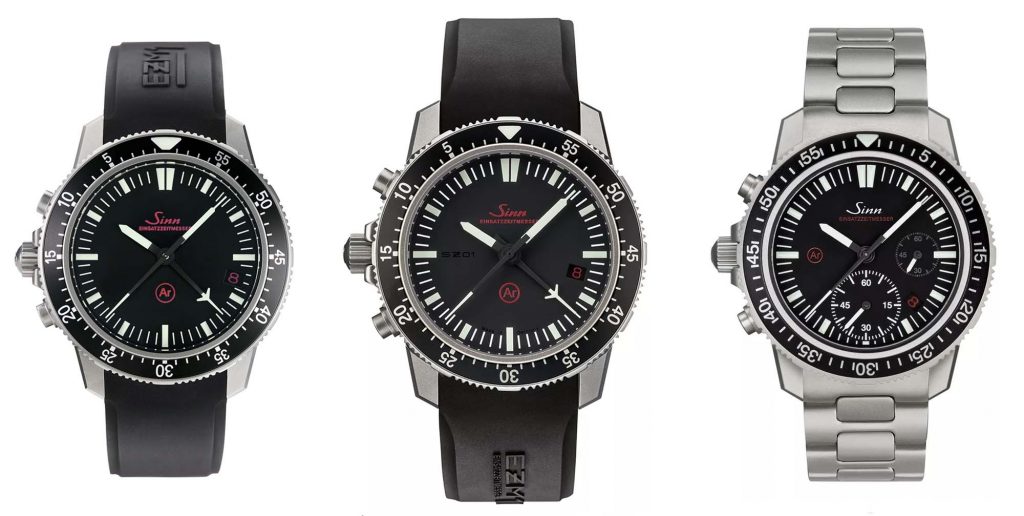 If your choice is between the EZM 13.1 and the EZM 1.1 or EZM 1, then the issue is whether or not you want a diving focused watch with a unidirectional diver bezel and 500m water resistance. Both the EZM 1.1 or EZM 1, while boasting a good water resistance of 200 metres, are not diving watches, as evidenced by the bidirectional countdown style bezel.
If your choice is between the EZM 13.1 and the EZM 1.1, then your points of consideration will include the sizes of both, their prices, and if a tegimented case is important. The EZM 1.1 is bigger at 43mm wide versus the 41mm of the EZM 13.1 with both being about the same thickness. The EZM 1.1 and the new for this year EZM 1.1 S are also more expensive, and difficult to get (both being 500 piece limited editions). But they are tegimented while the EZM 13.1 is not. Another point to consider is that some people like a running seconds hand on the dial, if that's you, then it's the EZM 13.1.
If your choice is between the EZM 13.1 and the EZM 1, then the issue is being able to find an EZM 1, since it is long discontinued, and if you can stomach the prices nowadays since it is considered a rare collector's item. If you want to use your watch as it was designed for, and not worry about wrecking an expensive and rare watch, then the EZM 13.1 is probably a better choice.
Conclusion
Overall then, the Sinn EZM 13.1 is an excellent choice to consider, especially so if you are after that mythical one watch collection. It's an unflashy tool that tells the time, and gives you two methods of measuring elapsed time, and it even has a date. It can also be a trusty companion that can accompany you for all your adventures and missions in your life and for that I can't think of any reason why it shouldn't be on your wrist.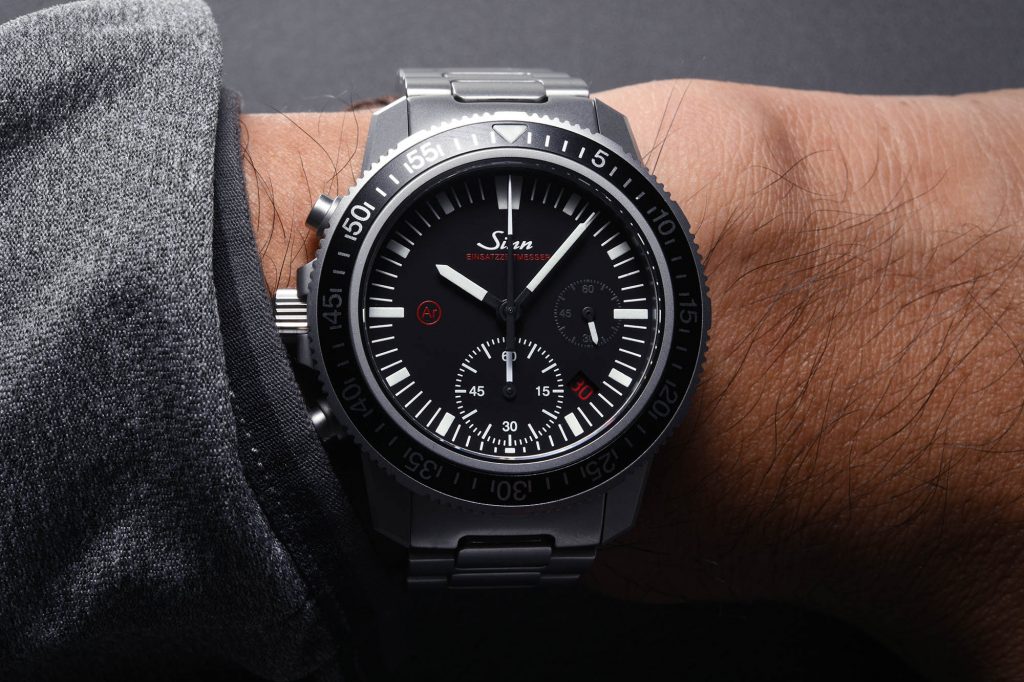 Technical Specifications:
SINN Movement SZ02
Self-winding mechanism
26 bearing jewels
28,800 semi-oscillations per hour
Seconds stop function
Anti-magnetic as per DIN 8309

Case
Case made of stainless steel, bead-blasted
Sapphire crystal glass in front, anti-reflective on both sides
Case back screw-fastened, nickel-free
Crown screwable
Meet the technical requirements for waterproofness, as set out in standard DIN 8310
Waterproof and pressure-resistant to 500 m diving depth (= 50 bar), certified by DNV
According to the technical demands for the diving norm DIN 8306
Tested based on European diving equipment standards EN 250 / EN14143 and certified by DNV
Low pressure resistant

Functions
Hours, minutes, subsidiary seconds
Date display
Chronograph with 60-minute stopwatch display
Diver's bezel with minute ratcheting and luminous key mark

SINN Technologies
SINN movement SZ02 with 60-minute stopwatch display
Ar-Dehumidifying Technology enhances functional reliability and freedom from fogging
Temperature Resistance Technology, therefore functionally reliable at temperatures from -45°C up to +80°C
Magnetic Field Protection up to 100 mT (= 80,000 A/m)
Captive bezel
Push-pieces with D3-System

Dimensions and Weight
Case diameter: 41 mm
Band lug width: 20 mm
Case thickness: 15 mm
Weight without strap: 98 gramme

Dial and Hands
Mission timer design for optimal readability
Matte black dial
Indices coated with luminescent colour
Hour, minute and second hand coated with luminescent colour

Warranty
Warranty period 3 years