2021 is shaping up to be a year of materials experimentation for Tudor, with 18K gold and 925 silver as brand new additions to the repertoire (for Watches & Wonders 2021), and the expansion of usage capability with their pre-existing ceramic and bronze models, the latter of which we shall see in this article.
Now, I'm probably beginning to sound like a broken record in my effusive praise of the manner in which Tudor has been releasing their new watches, so I'll just say this: I was pleasantly surprised at the release of the new Fifty Eight Bronze because it is so fantastic.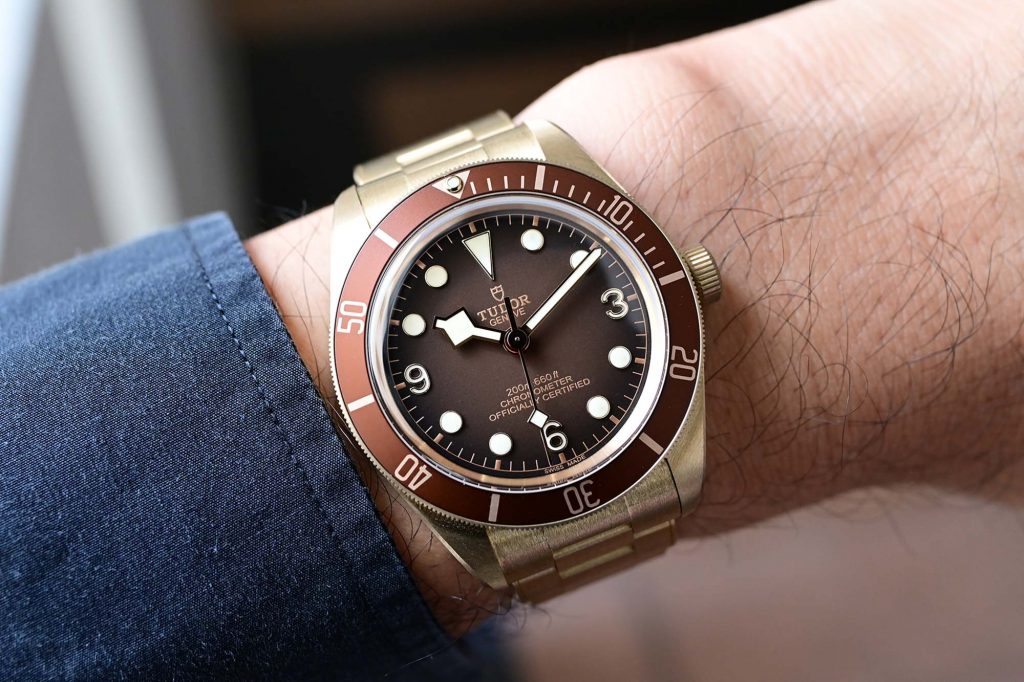 How fantastic? Well, it was in my day of spending time with it that I began to entertain the notion of whether I should seriously consider getting myself one – it was that good.
What it is, is essentially as the name suggests – a Tudor Black Bay Fifty Eight in bronze. Yet the story goes a little deeper than that, since Tudor has added two particular highlights that make this release even more special – the first- that it comes on a full bronze bracelet, and the second – that this bracelet has a brand new micro-adjust feature on the clasp called "T-Fit".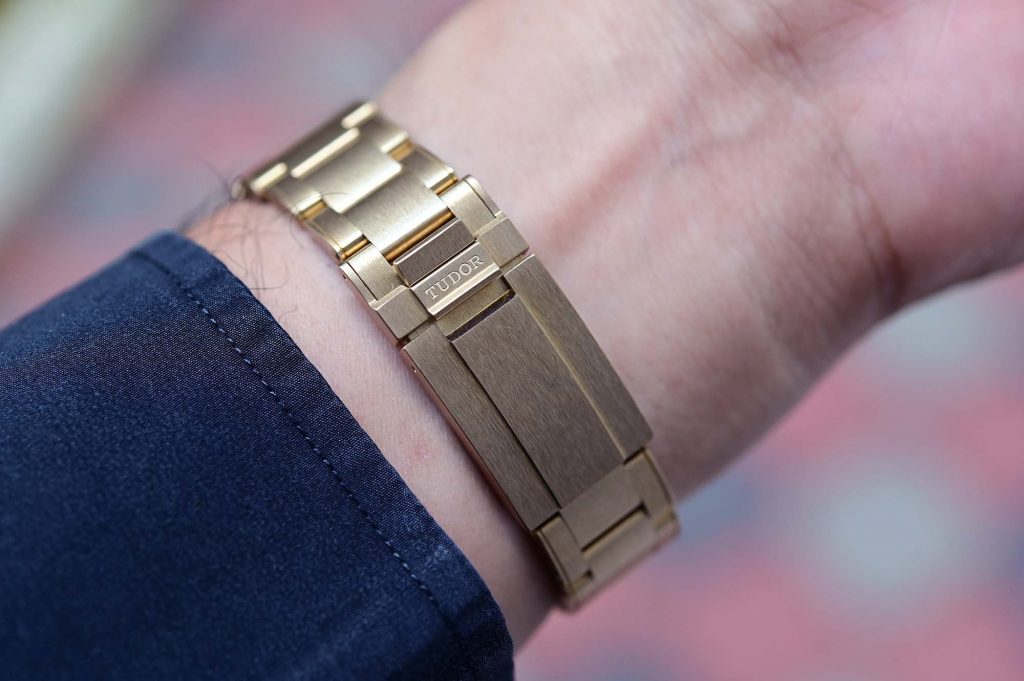 Now we all know that Tudor launched the first and original Black Bay Bronze at Baselworld 2016, and that was to wide acclaim that year. The new Fifty Eight Bronze watch takes on the similar aesthetics, with a brown bezel insert, and brown dial with 3, 6 and 9 Arabic numeral hour markers on the dial. Aside from the obvious differences between the two – with the previous watch coming in at 43mm in diameter, and that was not available on a bracelet, the new watch has a subtle difference in the dial colour. The brown tone overall is darker, and it is done in a gradient effect – being lighter in the centre and darkening to the edges – all to mimic a vintage tropical effect.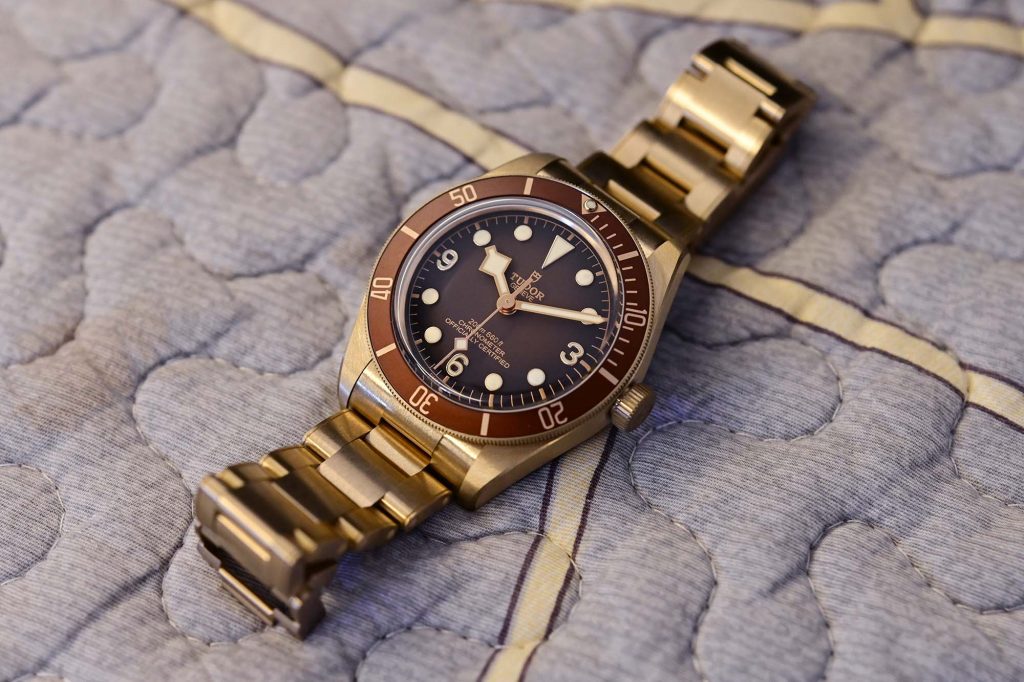 It was perhaps a given that Tudor would offer a bronze watch in the "Fifty Eight" collection, which at 39mm wide, accords well with the prevailing "smaller is better" trend in watch case sizes. Every Tudor "Fifty Eight" has done well for the brand, much more so than the 41mm Black Bay watches and I think that we all intuitively know the reason why. A 39mm watch just works better for more situations, being lower in profile and getting in the way less. Consequently, as a daily wearer, as all Tudor watches tend to be, they fit more people and more situations.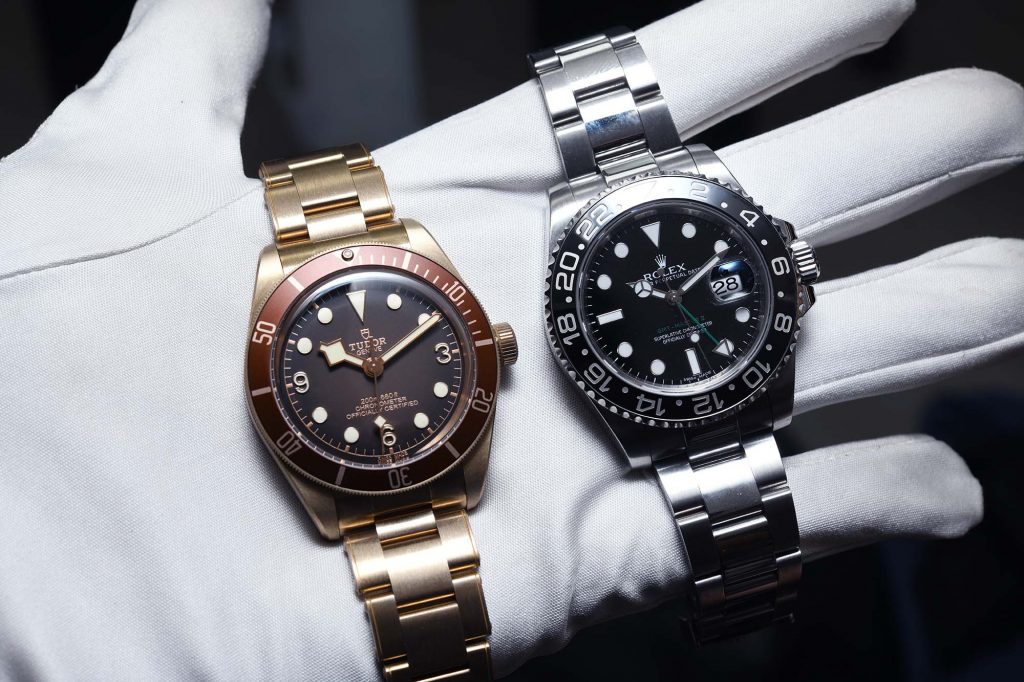 To the smaller bronze case then, Tudor added a full bronze bracelet, a first appearance for such a feature from the brand. While it may not be the first bronze bracelet we have seen in watchmaking, having appeared before from a handful of other brands, it does comes along with two particular features that make it stand apart.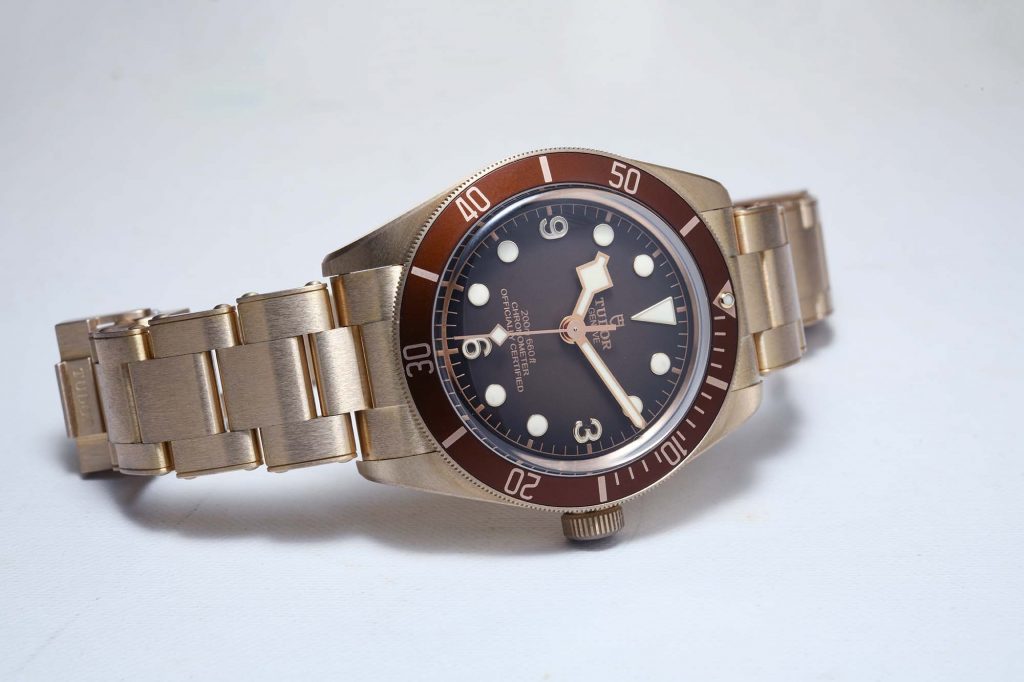 Before we get into that, let me just say that a full bronze bracelet and case has an aesthetic that is as close as can be to 18K gold. That is one of the reasons why I feel that this watch will appeal to those who love the warmth and vintage vibe of a golden bronze bracelet around the wrist, and be able to get the look without the huge price of the precious metal.
Now the bronze used by Tudor, is the same as the one that was used in the previous 43mm version, and is called "aluminium bronze" by the brand. The precise formulation of the alloy is a trade secret, but the combination has the advantage of being more resistant to corrosion and being 1.5 times harder than the typical bronze formulation made of copper and tin. The most important feature of this bronze is that the patina that inevitably develops, is more "controlled", and will be more homogeneous in its development. The tone of the bronze therefore will darken over time, but in a stable fashion, and avoid the sometimes extreme green patination that has been achieved by overenthusiastic watch collectors with all manner of acidic concoctions.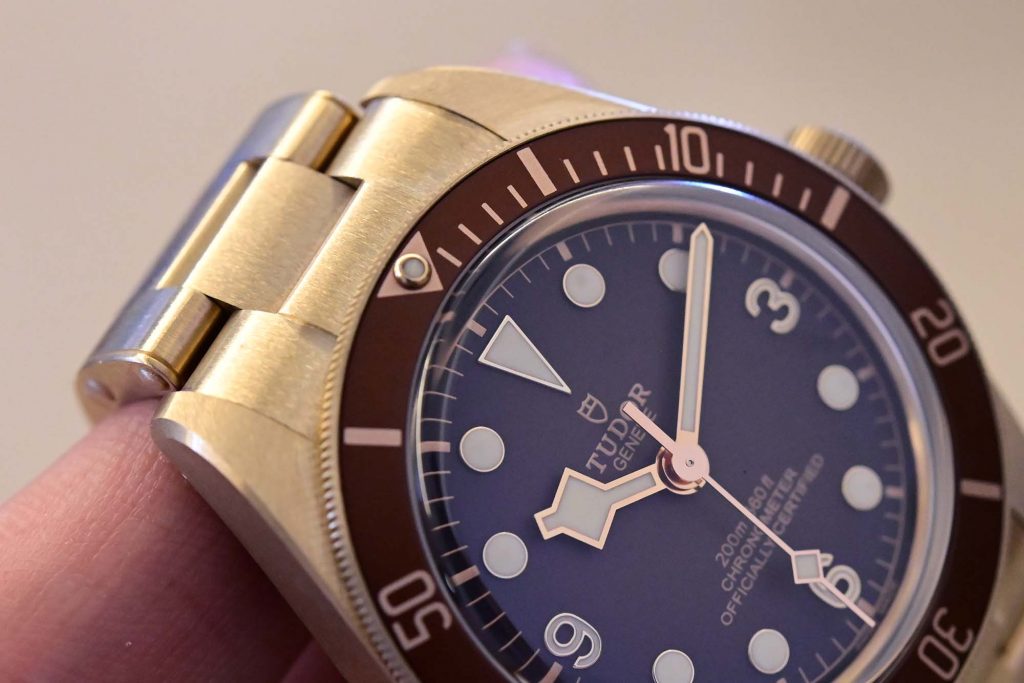 Your mileage will vary on that point, and for me personally, I'm not a fan of green patina, so I prefer the Tudor way – so to speak.
The next major feature is the new T-fit clasp in the bracelet, which I have to say, after spending a day with the Black Bay Fifty Eight Bronze, has to be the best thing about it.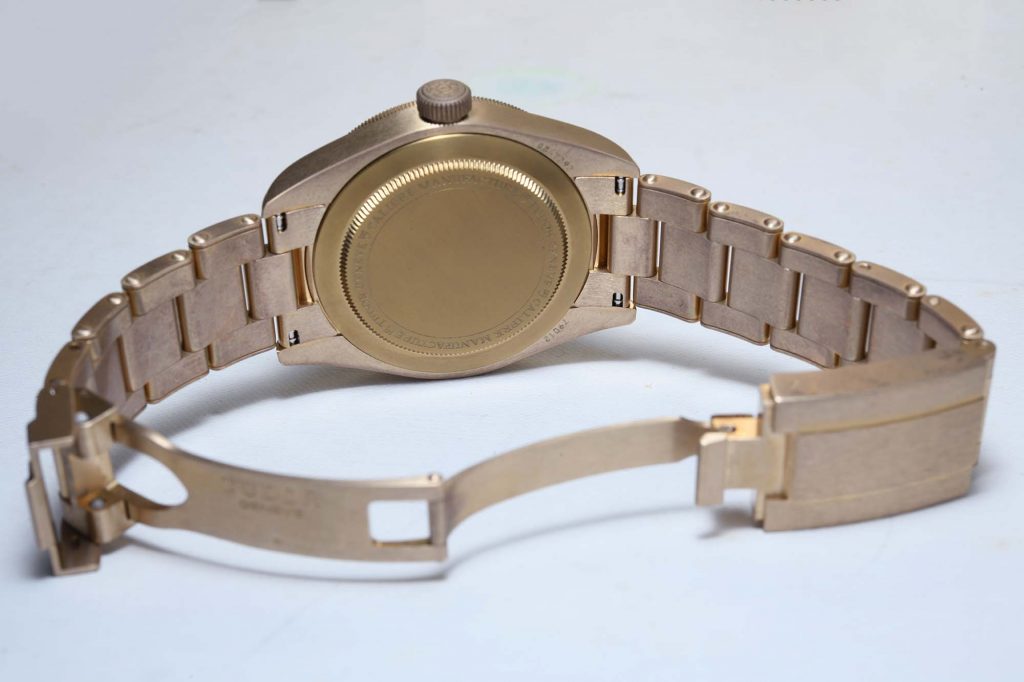 Let's go back a bit.
Now, I've always lamented the fact that despite the diving heritage that the Black Bay line draws its inspiration from, there was never a possibility of micro adjusting the bracelet while being worn, or even at the very least that the watches had a diving extension. This was one of the factors that prevented me from taking any of the Black Bay watches seriously as a diving watch. Of course the Black Bay GMT, which I have and love, (watch the video below) is not a diving watch so it is forgiven on this score.
It's not as if Tudor were not aware of the utility of an adjustable clasp on a bracelet. For evidence of that, just look at the Pelagos, a watch that has easily the best clasp on a bracelet on a diving watch ever made, that can, not only be micro-adjusted on the fly, but can breathe in and out and adjust to the wearer's wrist, WHILE IT IS BEING WORN.
Well, a slightly less sophisticated, but no less marvellous clasp has finally arrived, and any misgivings that I have ever had about the clasps from the Black Bay line being inadequate, will possibly start going away soon, and that is if Tudor decides to introduce T-Fit to the rest of the line up as they have done with this Fifty Eight Bronze.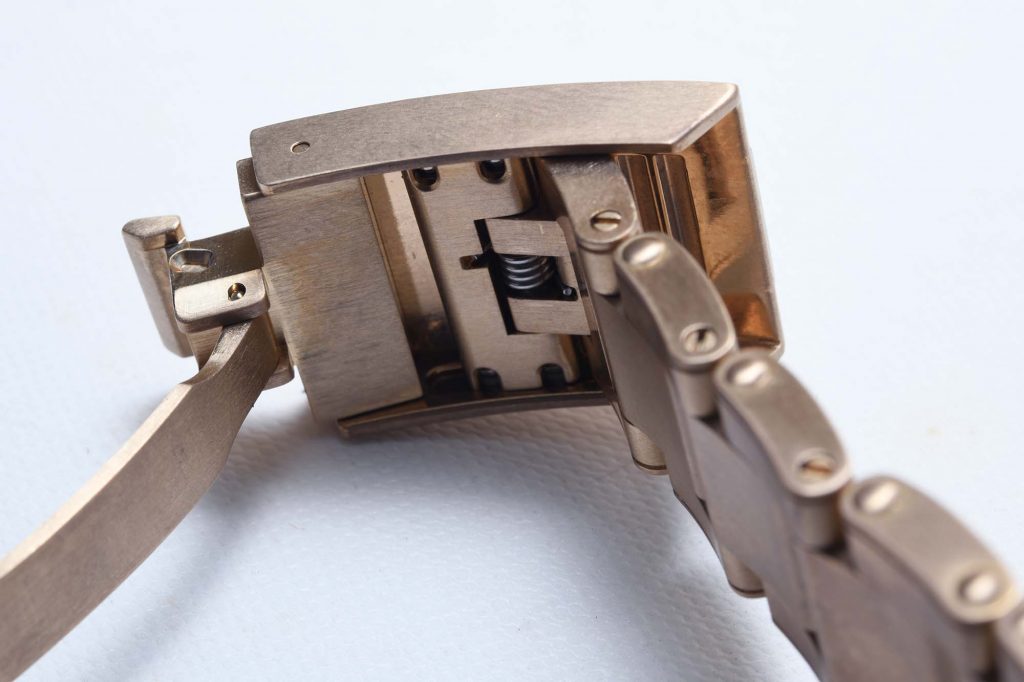 What is it? Well, it's a Rolex Submariner Glidelock style clasp that allows an 8mm adjustment along the length of the clasp. It works similarly as well – just have a look at the video below to see how it can be easily adjusted. While it might not have the same 20mm adjustment possibility of a Glidelock equipped Submariner, I'll take 8mm any day, as it is more than enough for most people, equating in my estimation, about a one and a half link in length. Interestingly, the clasp and all the components are mostly made of the same aluminium bronze, and not with some combination of stainless less or titanium with bronze. My guess for the reason why is that because the Tudor bronze formulation is harder, it is therefore more robust, and so should be able to serve the function of a high use and wear component (the clasp) well.
Now Tudor were not able to confirm if the T-Fit will appear on the other bracelet clasps on the rest of the Black Bay line-up, but they did acknowledge that it would be a logical assumption to make. That to me, is as good an admission as any that it will come, and if it does comes to pass that T-Fit becomes a Tudor standard – well then, its a game changer.
Ever owned a bracelet equipped watch that was between sizes and just couldn't fit perfectly no matter the combination of micro-adjustment holes and links that you tried? Well, avoid the discomfort of a too tight or jangly bracelet (possibly) with a Tudor Black Bay, in the future.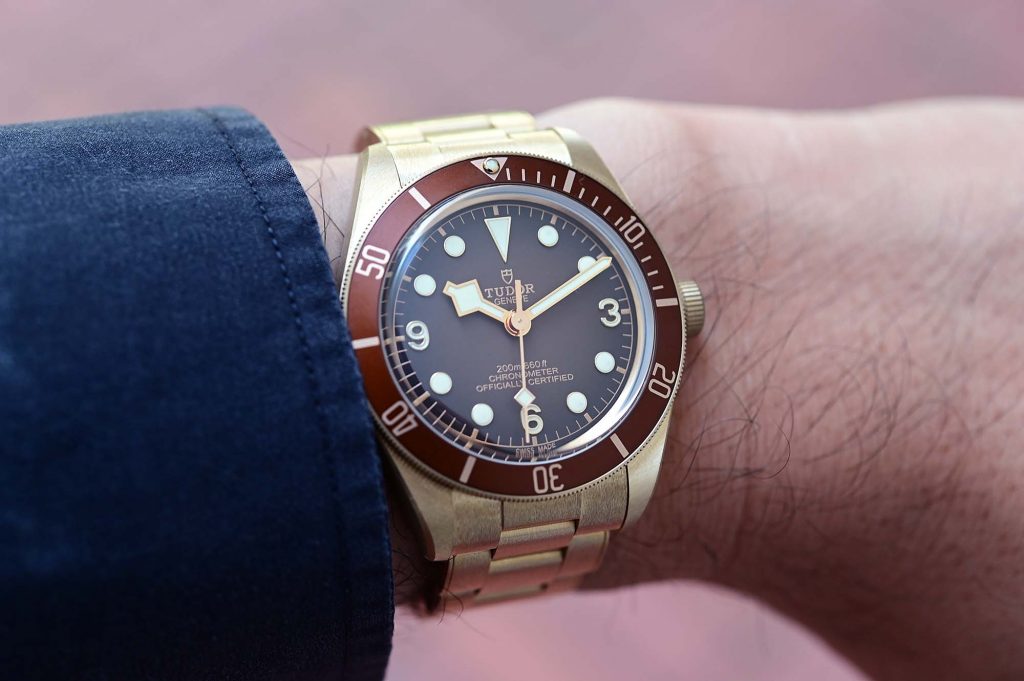 The movement of the new Black Bay Fifty Eight Bronze (Ref: 79012M) is, as what you'd expect, the MT5400, a workhouse movement that is the same as the ones that have graced the other Black Bay Fifty Eight models. It also comes with a 5 year international guarantee that follows the watch (and not the owner) for easy warranty claims and the watch itself comes in at a fairly accessible price of SGD$ 6240.
This Black Bay Fifty Eight Bronze is also being billed as a "Boutique Edition", which is admittedly, kind of strange, as Tudor doesn't specifically own their own boutiques, but rather relies on authorised dealers in their sales channel. Well, it's a "Boutique Edition" in as much as the fact that the environment that you can buy this watch in will be fully Tudor branded, even though it will be owned and operated by an authorised dealer. Tudor tells me that it is their way of rewarding their retail partners (of the roughly 50 plus Tudor boutiques worldwide) who have invested in the brand, and I can stand behind that.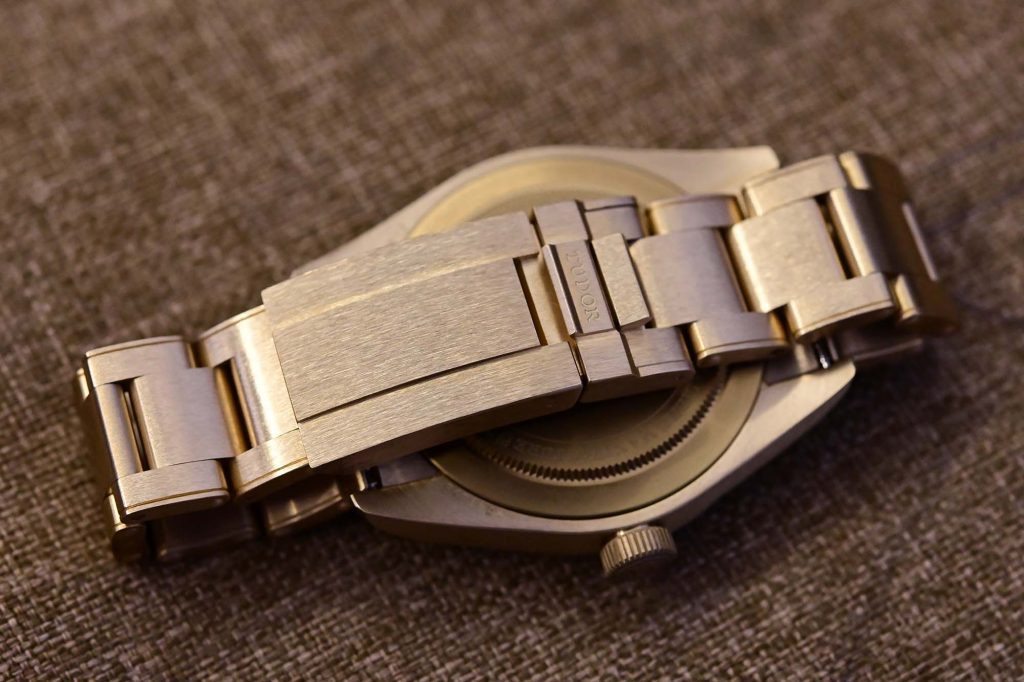 Some have made a big deal about this strange way of describing the situation, but it's mostly the more pedantic members of our ilk – watch people who find joy in keeping to arbitrary definitions that no one else is interested in. I'm not concerned either way. It's a minor point for a brand that has been firing on all cylinders for the past few years, and still seems to keep going upwards to hidden levels that we didn't know existed.
In Singapore, the watch will be available at the two boutiques in the country, one at ION Orchard and the other, at Wisma Atria. If you're in Singapore, get yours there. If you're from a country that doesn't have a Tudor boutique, perhaps you can call to the nearest one from you to order one. Either way, many of the initial watches available have already been spoken for, as is typically expected for any Black Bay Fifty Eight when it is first released. Although the good news is that this watch is not a limited edition, so it will probably only be a matter of time before you can get one on your wrist, after putting your name down for one.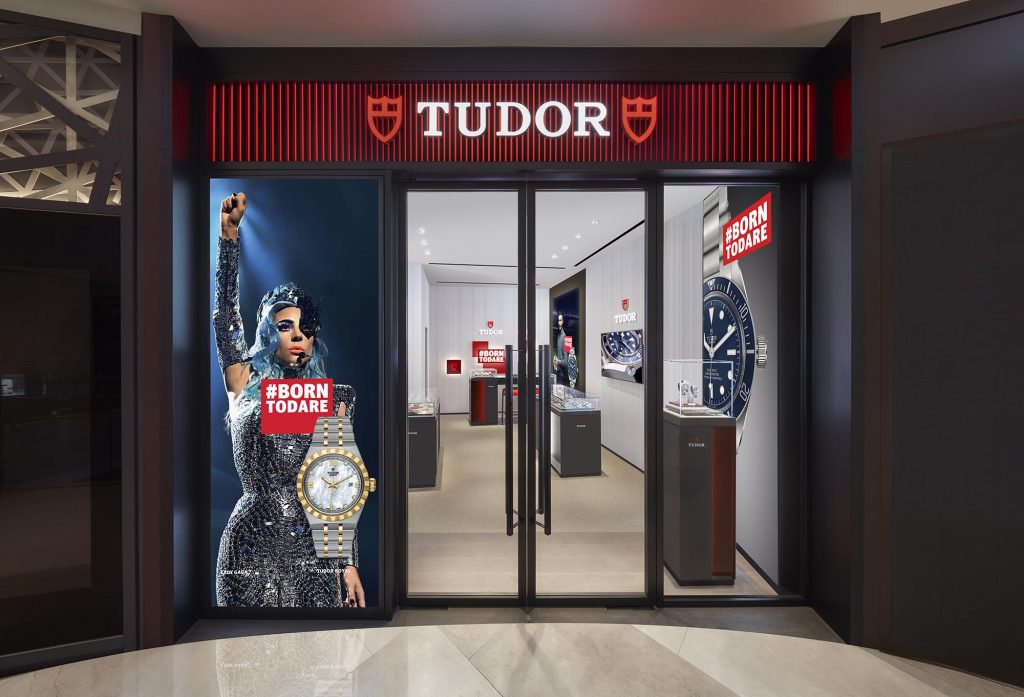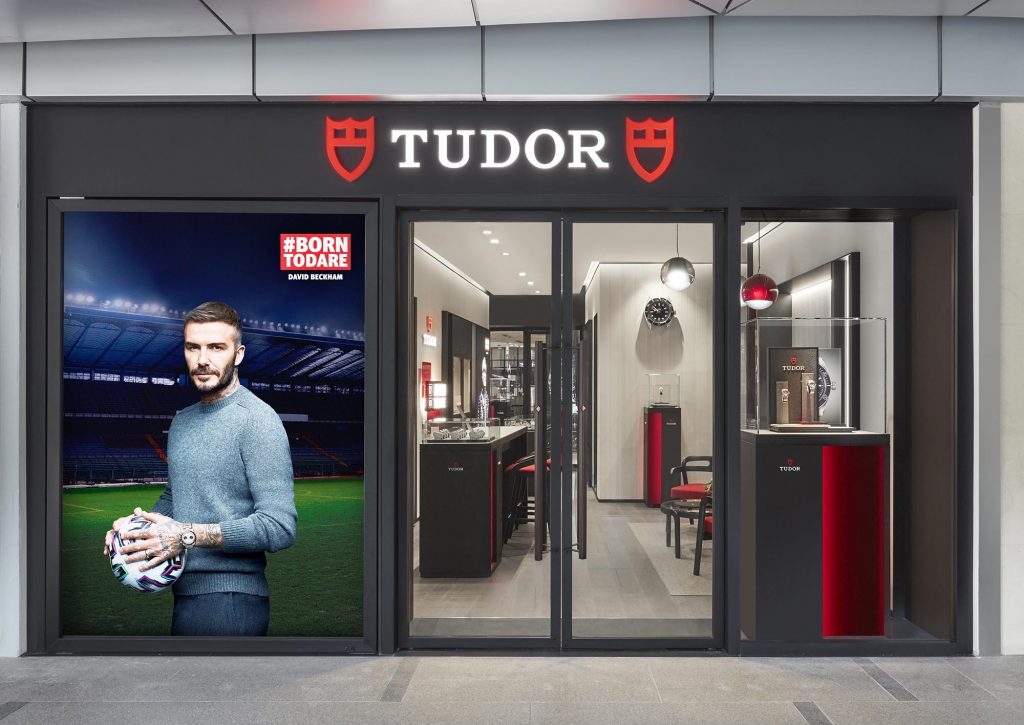 Reference:
Ref: 79012M
Movement:
Tudor Manufacture Calibre MT5400, automatic (bi-directional winding), 4Hz (28,800 vph), traversing balance bridge, free-sprung Microstella balance wheel, silicon balance spring. COSC-certified Swiss chronometer.
Functions:
Hours, minutes, seconds
Case:
Aluminium Bronze, water resistance: 200 metres
Case Dimensions:
Diameter: 39 mm Height: 11.9 mm
Strap:
Full Aluminium Bronze bracelet with T-Fit micro-adjust clasp.
Power Reserve:
70 hours
Price:
SGD$ 6240 in Singapore