In the last article that I wrote about my experience wearing a Tudor for an extended period of time, I concluded that this was a brand that really knows what it's doing. 
I don't know what it is about their watches, because just like the Black Bay Chrono that I wrote about, this Pelagos that I'm now experiencing is a watch that hasn't left my wrist since I loaned it from Tudor two weeks ago.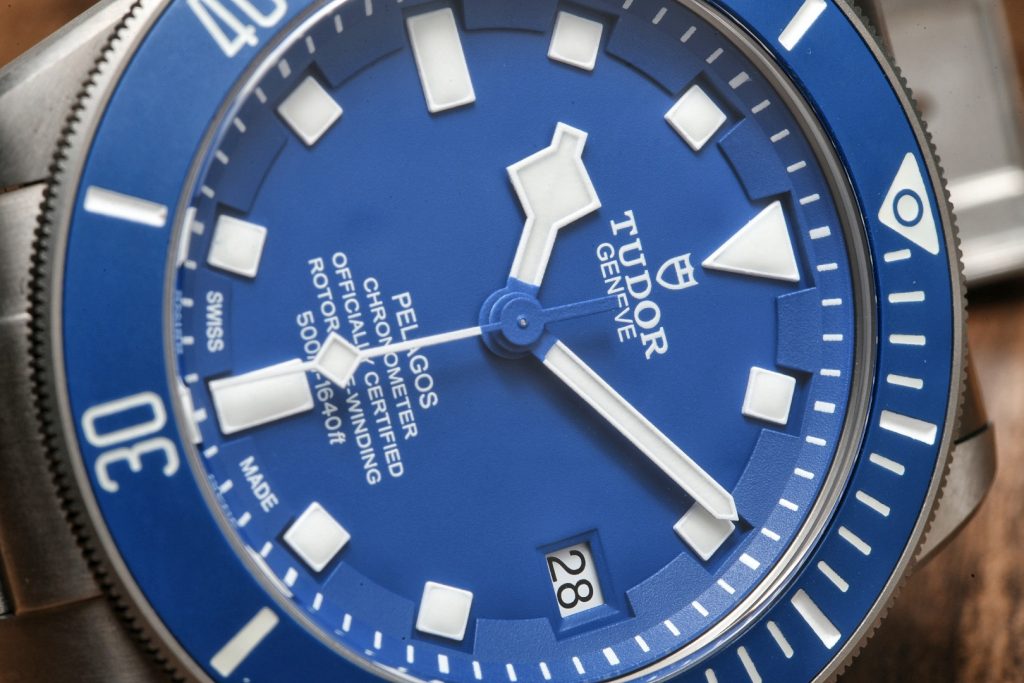 Should I be surprised? Perhaps not. But it's interesting that the same thing has happened again.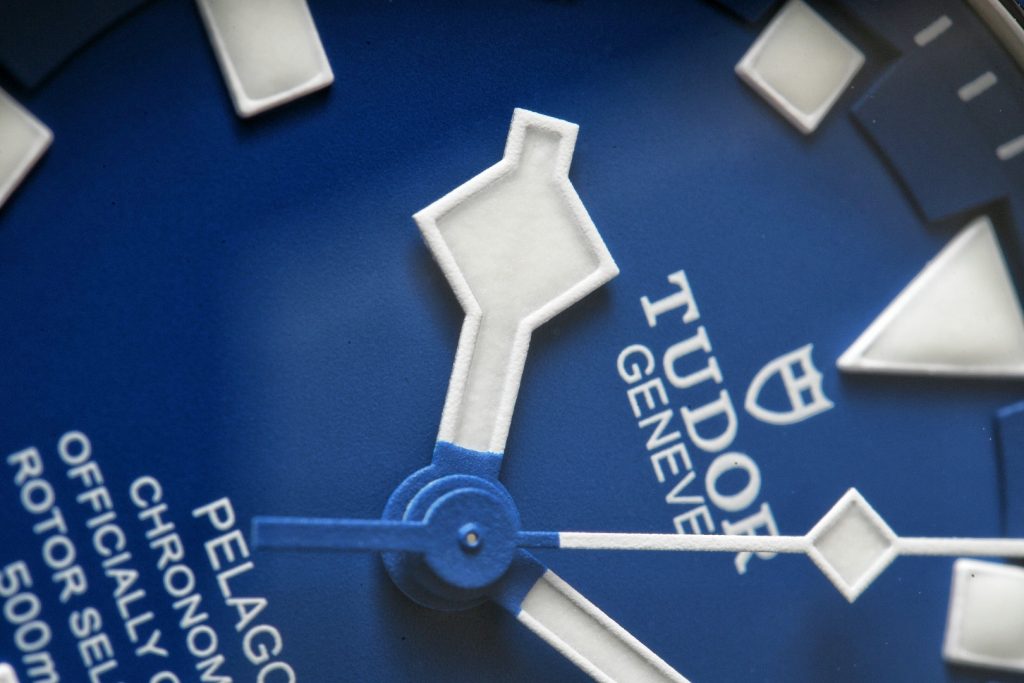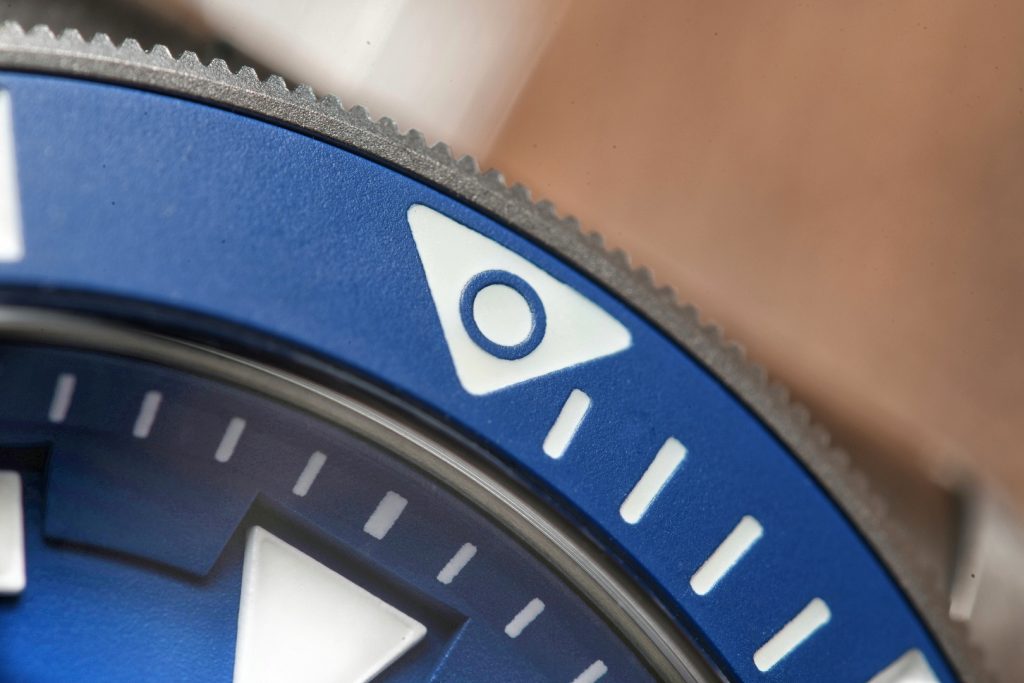 Now the Pelagos is a watch that has been on a short list of Tudor watches that I've been interested in for some time. It represents an approach to watchmaking that is modern and forward thinking, and is more my cup of tea compared to the history looting trend of many watch brands going all vintage inspired. Tudor of course has been a big part to this trend with their Black Bay and Heritage Chrono lines, but I'm willing to forgive this because they know how to satisfy people like me who prefer wearing watches that look like they are from the era we live in now, rather than from the past, with examples such as the Pelagos and the Fastrider Chrono in ceramic. The modern outlook of the Pelgoes is evident to see in many aspects of its design. It's a watch that has been thought through carefully by the best minds in the business as it is not only well crafted as a physical object, but well tuned with just the right ingredients to satisfy when wearing one.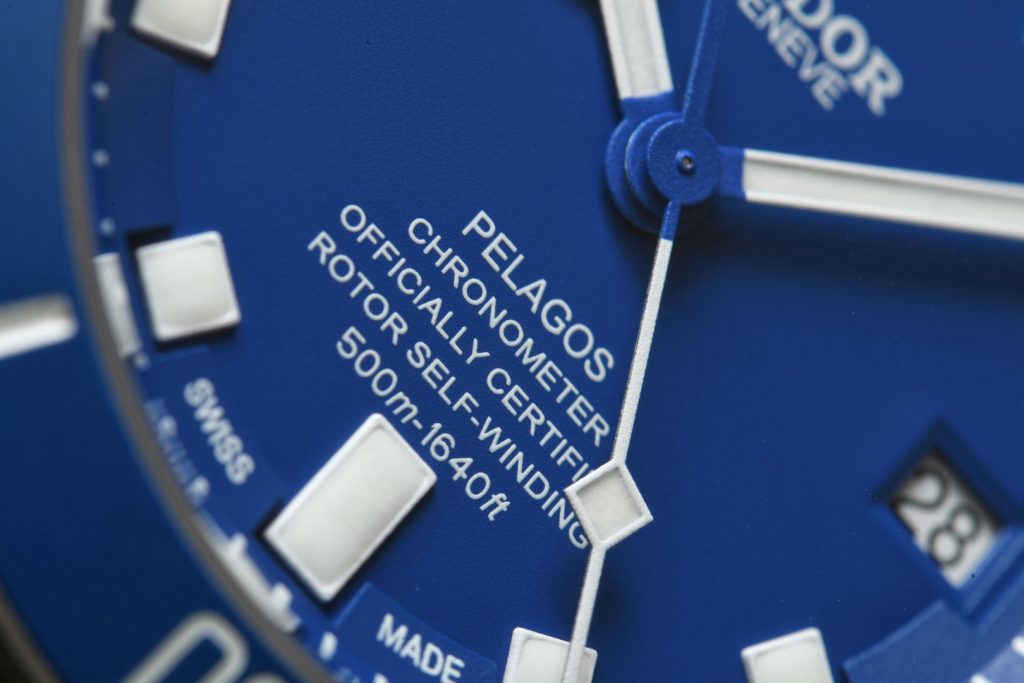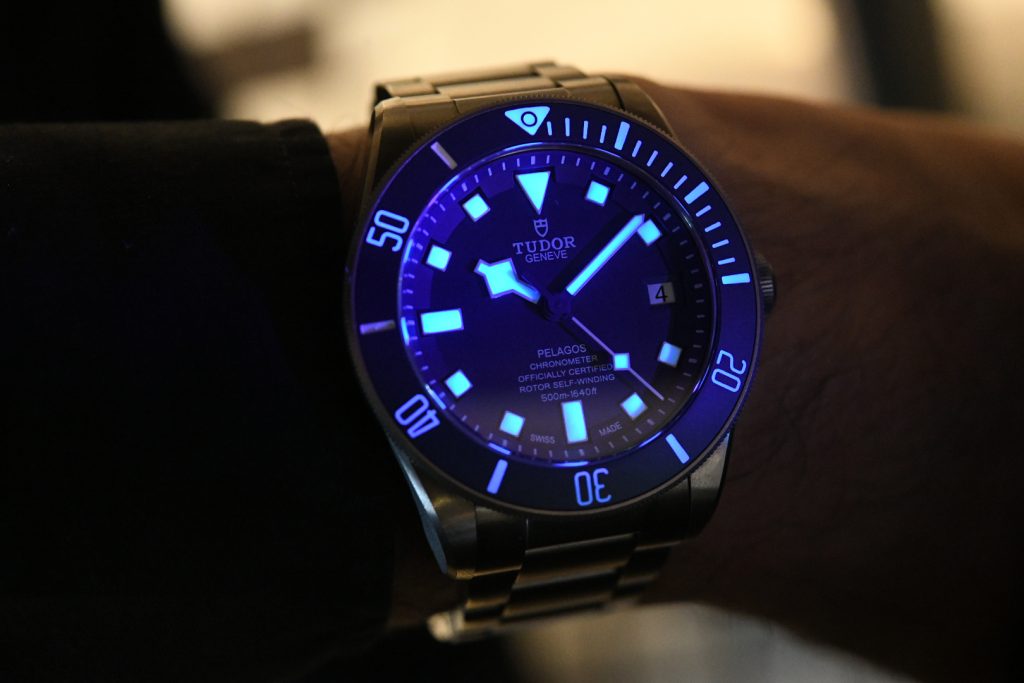 It's as if Tudor knows to give you what you know you want, but also to give you things you didn't know that you wanted, until you've experienced them. That level of product development can only come from being the little brother to Rolex, a brand that has undoubtedly mastered the art of making watches that people want to buy, own and wear every day. The spec sheet reads like a wish list of things that are absolutely necessary for a diving watch to have, an above par 500 metre water resistance, a helium escape valve and lume that glows bright. Yet it goes further in refining the things we already expect to be there, with a ceramic bezel that is fully lumed, an in-house silicon hairspring equipped movement and what is probably the best bracelet ever put on a watch.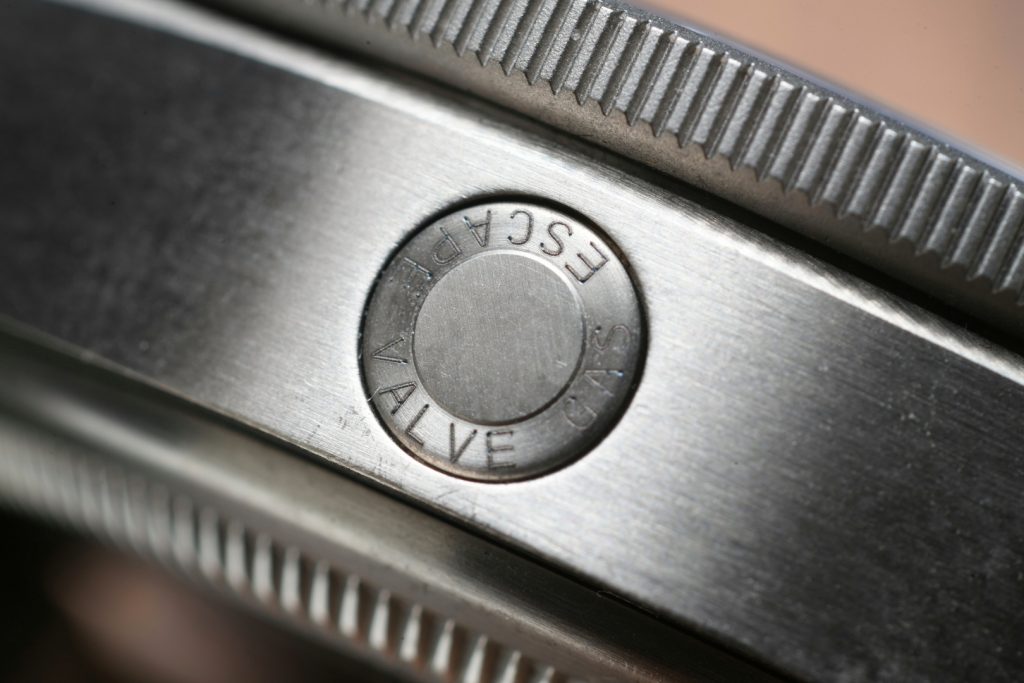 Titanium 
The choice of titanium for the case and bracelet is an interesting one in the Pelagos because it is the first and only watch made by the Rolex group of brands (Rolex and Tudor) to use it. I can only imagine how the decision was made when the watch was being developed. Certainly, it had to be a modern size, larger than a 40mm of most Rolex sports models, to keep in line with Tudor watches generally being a bit bigger, and also perhaps to account for the 500 metre water resistance.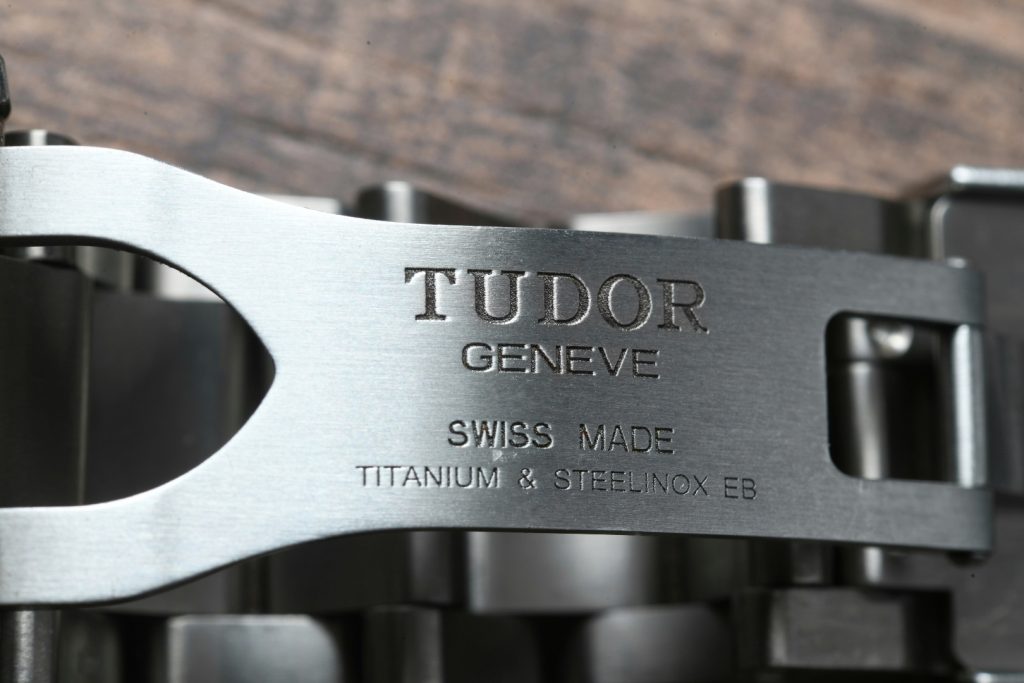 At a 42mm case size, the Pelagoes would only work in titanium, since a watch this large in stainless steel would be too heavy as a comfortable everyday watch. Perhaps this was an important factor for Tudor to consider, since a heavy stainless steel watch might have swayed people away from buying it if that were the case. The only feasible solution would have either been to make the watch in titanium or to offer it only on a rubber strap. The second option probably was a non-starter with the majority of customers who prefer the experience of a bracelet or at the very least the option of having one.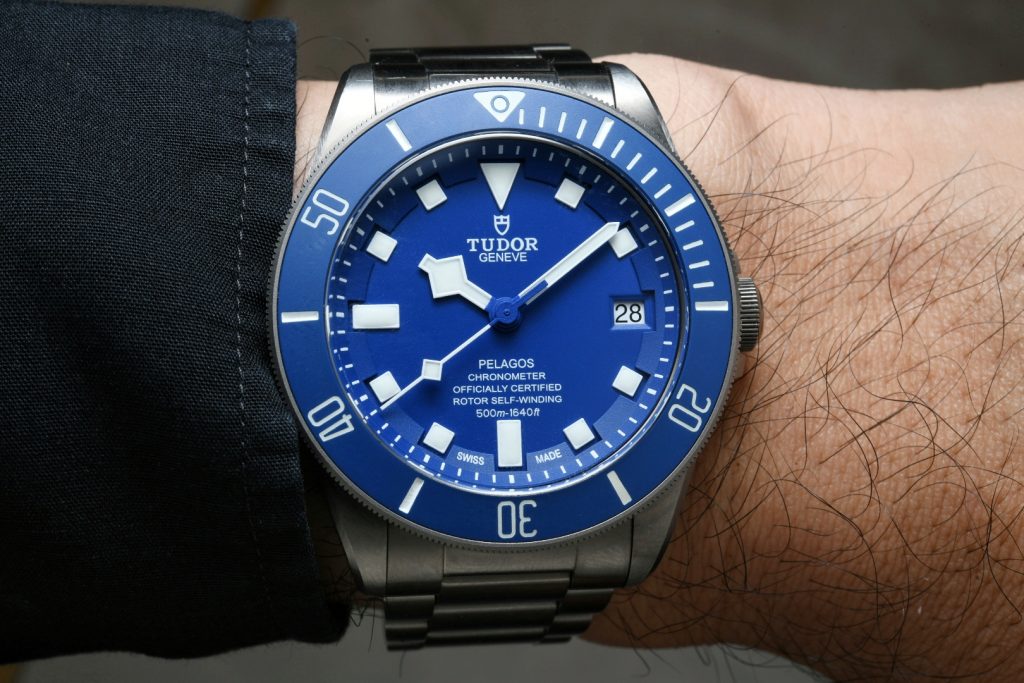 The benefits of titanium are too numerous to mention, with the leading reasons being its strength and lightness. Being a material that was difficult to work with until fairly recently, it is still considered a premium option over stainless steel. The grey tone of the titanium on the Pelagos works in my opinion with its modern feel, keeping to the ethos of being on the edge of technology. 
Bracelet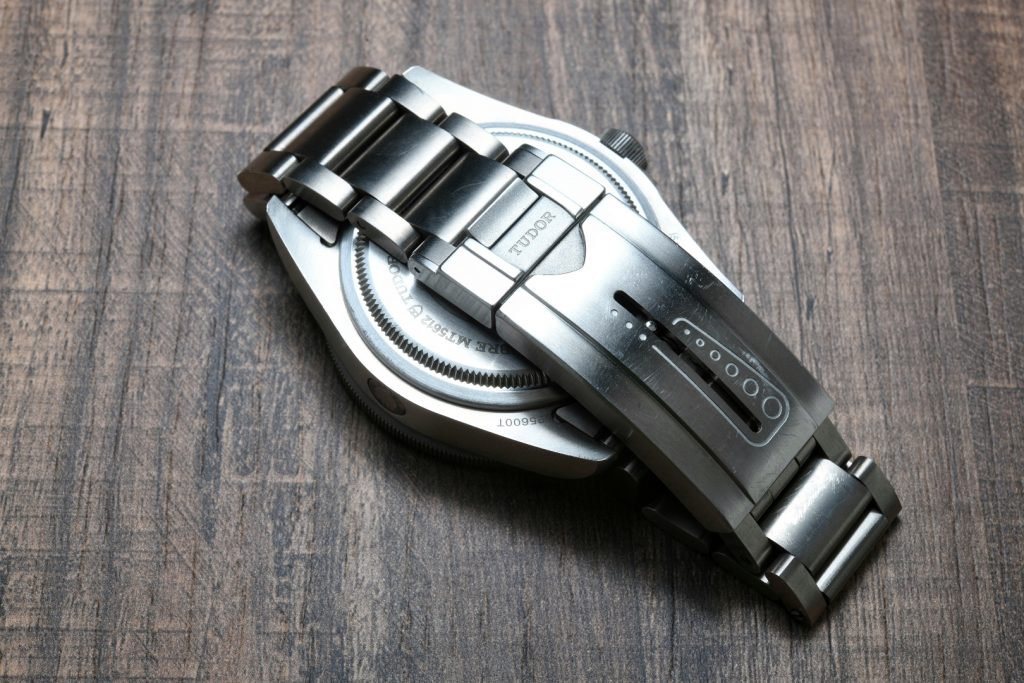 Rolex watches are worn mostly on a bracelet, and to this end, the brand has been at the forefront of developing bracelets that are strong, comfortable, and fully featured. We know of the various bracelet technologies that they have introduced in their watches, such as Easylink and GlideLock. Yet even with these peerless bracelet features, I feel that they saved their best ideas for their sibling brand, Tudor, in the Pelagos.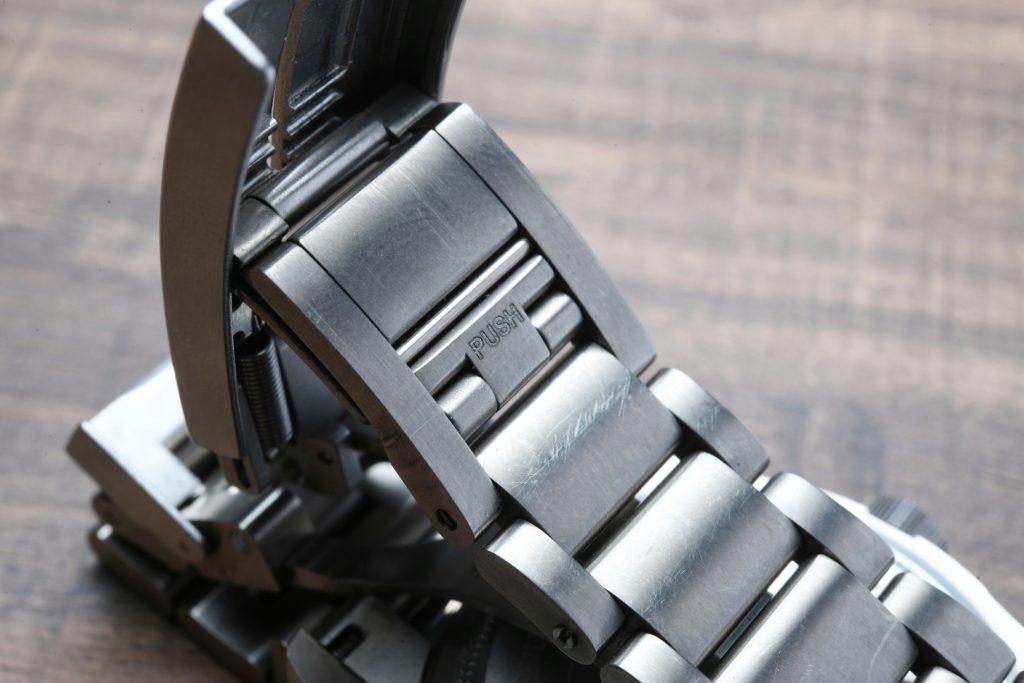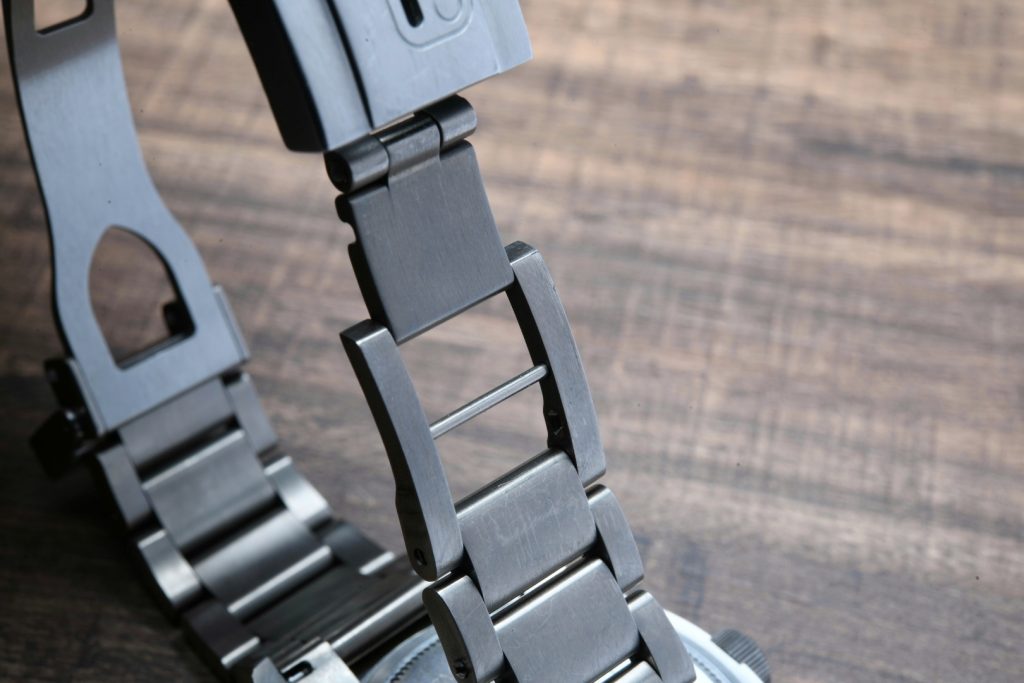 Why? Simply put, the fact that the bracelet comes with a number of micro adjustments that can be done on the fly, as well as a portion which can "breathe" – or stretch with the width of your wrist as it adjusts to different temperatures. This alone is frankly such a good idea that it should be more widely adopted, although what might be stopping this is the difficulty to engineer such a feature in a bracelet and have it reliably functioning for years.The Pelagos bracelet clasp is not too long despite the 14mm of adjustment possible, not to mention that there is a divers extension as well. It has to be the best and most satisfying bracelet ever, and probably accounts for the fact that I have been wearing the watch almost continuously since I got it. In fact I would go so far to say that personally, the bracelet might just be the best reason to own this watch. 
Lume 
It goes without saying that a diving watch should have good lume, and on the Pelogos that is the case. The lume here however has a different quality, being blue, unlike the more common green, with a cool and modern feel, much like the look of a cockpit in a spaceship that you might see in a movie. Also, the Pelogos had a feature that was novel at the time it was released, coming with lume on the ceramic bezel on markers for the first 15 minutes and the numerals. It makes so much sense if you're diving with this watch as there is no confusion on the amount of time you've spent underwater, with the extra markings to guide you.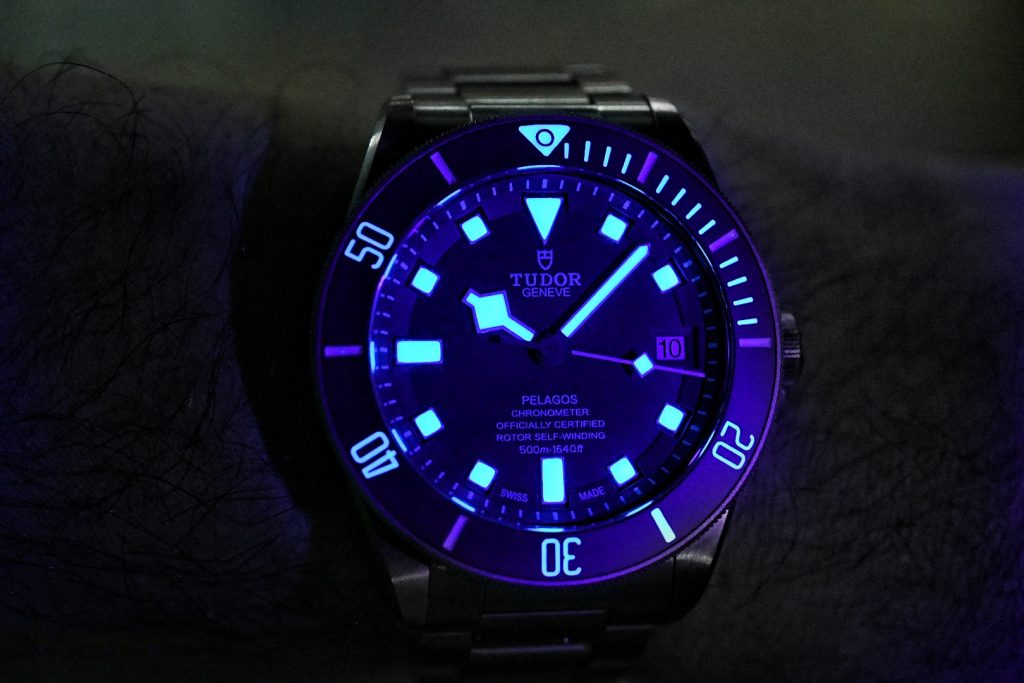 Movement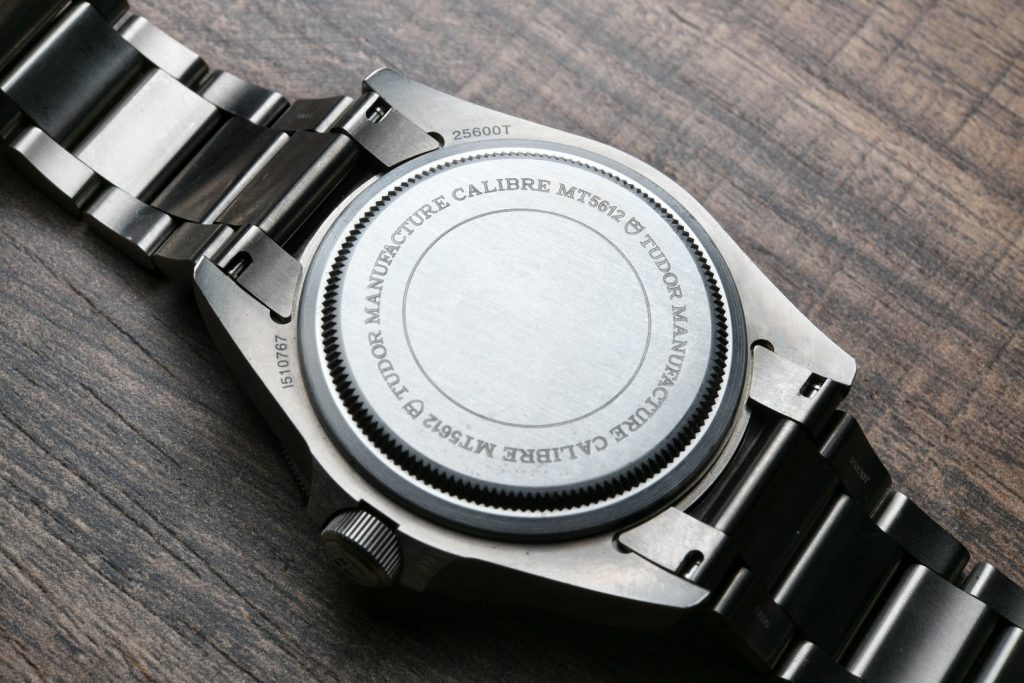 The inclusion of the MT5612 in-house movement was probably the best thing that happened to the Pelagos since the time it was introduced in 2012. At launch, it came with an ETA movement, as was the case before Tudor started to move their collection slowly towards have in house movements. Now some might say that the previous ETA equipped version is more collectible, and that might be the case, but if you plan on using this watch everyday, it would be better to get the current version with the in house movement. Not only does it come with a longer power reserve of 70 hours and an anti magnetic silicon hairspring, It is from the same gene pool as the Rolex movements that we have come to know and trust for their bulletproof reliability. 
In comparison to others 
If you're in the market for a dive watch, there is a ocean of choice that is available that sit at various price points. Out of them all, I would rate the Pelagos as probably the best one of them all. In fact, even in comparison with the other Tudor diving watches or even the more expensive Rolex Submariner, it trounces them all just based on the technical specification. In fact the inclusion of the 500 metre water resistance and the helium escape valve makes the watch sit closer in abilities to the Rolex Sea-Dweller and at a much better price. 
In fact, the only reason why you would not choose a Pelagos is that you want something with a more vintage look, and that's fine.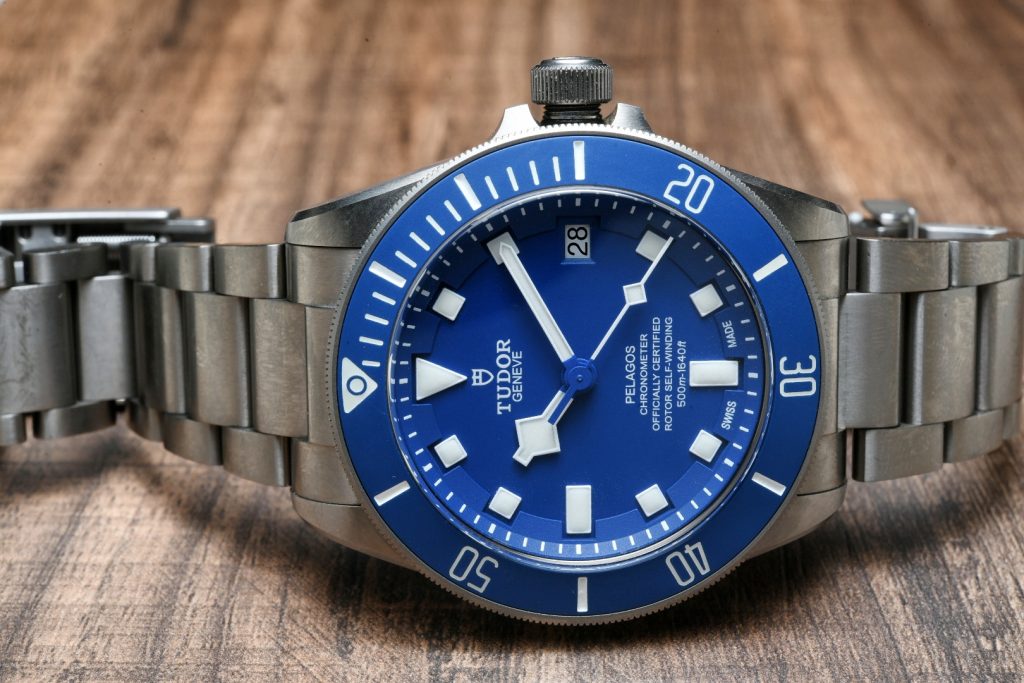 However, if you want a large modern diver made of titanium for easy wearability, there really is no better place to put your money. Out of the few out there that fulfil this criteria most will lag due to their off the shelf non in house movement, not the robust and reliable in-house calibre made where Rolex makes theirs. Even taking into account some options from Omega and Grand Seiko that might have this point covered, you would still go for the Tudor because of the overall design, price and that fantastic bracelet.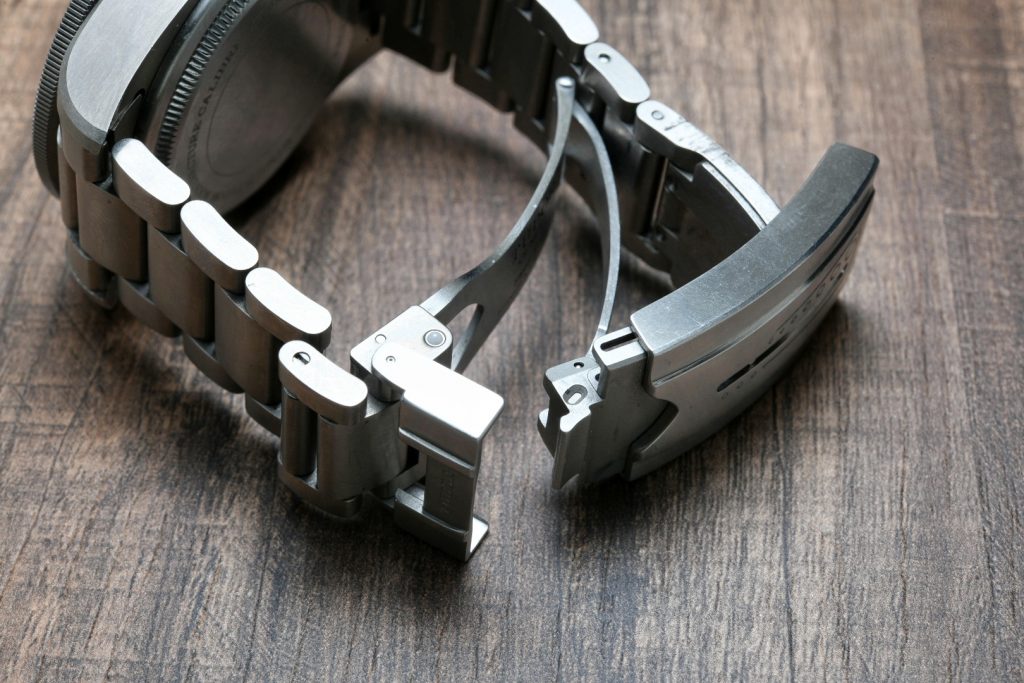 [ninja_tables id="4891″]