We at ISOCHRONO have a soft spot for Horage, especially our Founder and Editor-in-Chief, Adi Soon (you can read more about his and the author's thoughts on the Autark 10 Years Edition here and here). A relatively young company in the grand scheme of watchmakers, Horage has established itself as a movement manufacturer – made completely by the company, engineered from the ground up for the task at hand. Starting with the K1 and housed within the Autark, the movement has proven to be a great performer, with numerous variants available, as well as passing Chronometer certification from the COSC. With a reputation of solid watchmaking and a "no BS" attitude, the company continues its journey of manufacturing excellence with the K2 Movement, as well as the first watch to use this new movement – the Supersede.
The K2 Movement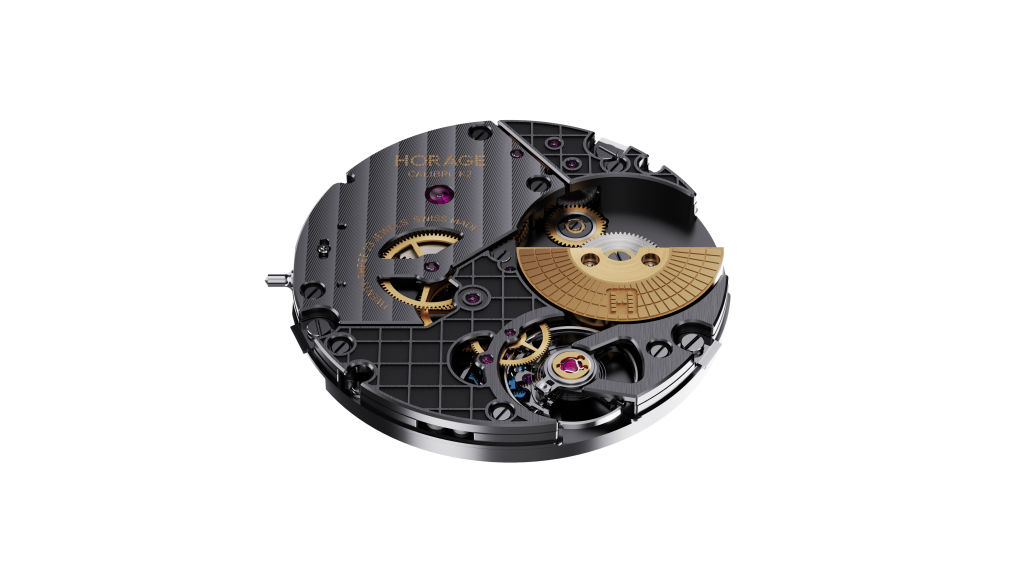 2008 marked the beginning of the Horage journey, with the K1 movement – its design being completely an in-house, full-rotor automatic capable of housing multiple functions such as a power reserve indicator, large date and central seconds, as well being Chronometer-capable.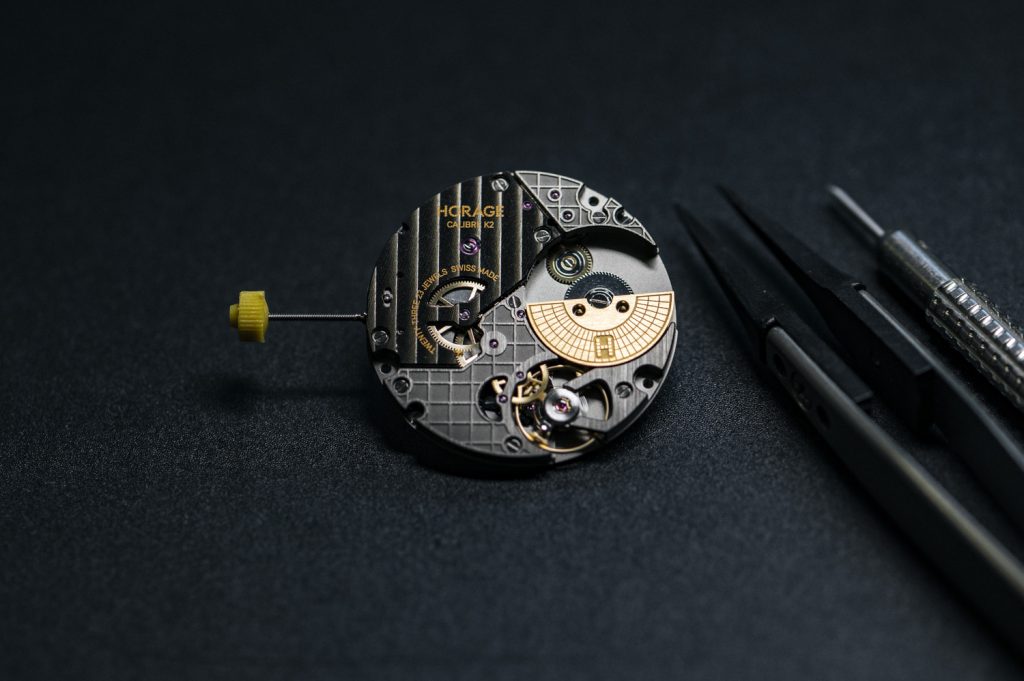 After 12 years of research and development by the company based in Biel/Bienne, this has resulted in the K2 – a modular micro-rotor movement that is capable of providing additional functionality without significantly changing the dimensions of the watch case. Micro-rotor movements have always been a source of fascination for watch enthusiasts – primarily for their intriguing architecture that gives slimness combined with automatic winding, and a better view of the bridges and plates of the movement. The K2 builds on this by being one of the first truly new micro-rotor movements to make its debut for a number of years – creating 3 versions of a base movement that enable functions to be subtracted as needed, with slimmer variations available as less complications are needed (the most basic of which is 2.9mm thick, going to 3.3 and 3.6mm for the more complicated versions). This enables the K2 to have up to four complications (central seconds or small seconds, calendar, power reserve indicator and independently set GMT), for a total of 38 different combinations possible with the K2 movement.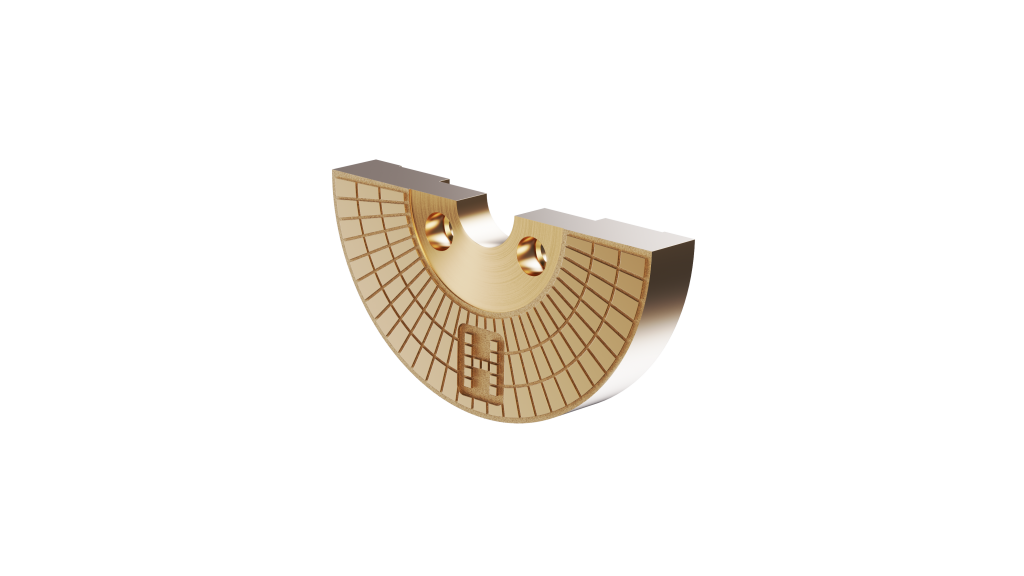 For the K2, Horage has paid a great deal of attention to the usability of the movement, in particular, the automatic rewinding system. As Horage states "instead of emphasis on power storage, the focus has been on efficient power output through advanced rotor rewinding".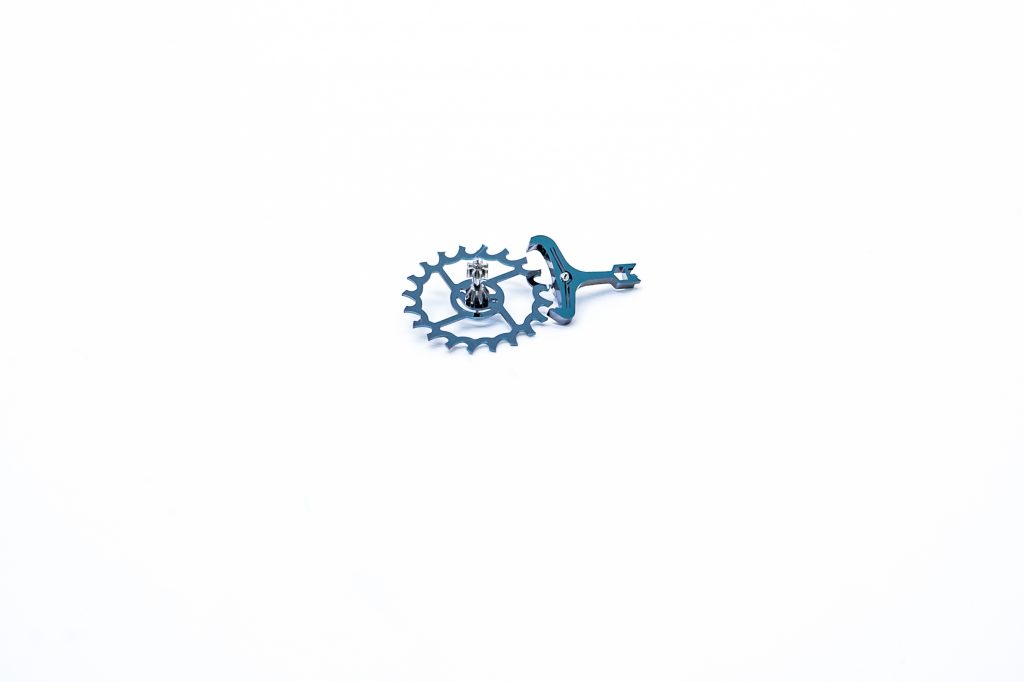 A single barrel gives a 72 hour power reserve – this is achieved through optimising the weight of the rotor, as well as the utilisation of silicon escapement components (escape wheel and anchor – silicon balance springs are a real possibility, with the patents due to expire in November 2022). Capable of Chronometer performance, this is a testament to the engineers of the movement, as making something this thin introduces challenges in tolerances between components.
This new movement, as impressive as it is, needs a test platform that can expose it to the elements through adventurous use – the first watch to house the new K2 movement is certainly one to raise the eyebrows of certain enthusiasts, but is wholly appropriate, given the capabilities of the new movement. Ambitious by name, the upcoming Horage Supersede watch is one that challenges what a rugged, everyday watch should be.
Horage Supersede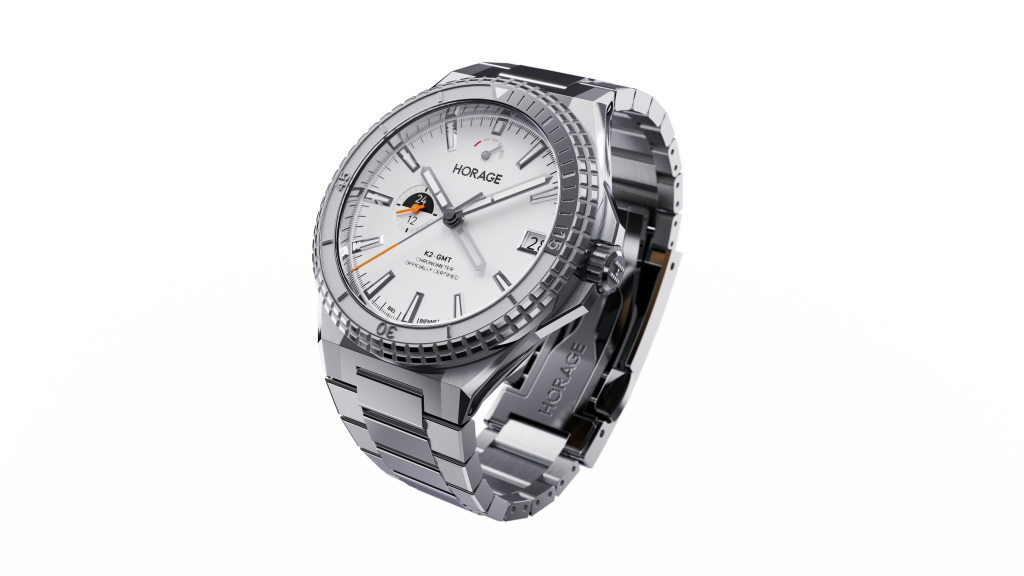 The Horage Supersede is a watch meant to challenge the notion of a thin, all-terrain GMT timepiece. As such, the team set out to make a watch to fulfil the following criteria:
10mm or less in thickness
100 – 200m in water resistance
12/24 hour true GMT with day/night indicator
70+ hours of power reserve
Micro-rotor
Silicon escapement
The prevailing thought was that the watch should be comfortable, functional and made from the best possible materials, and so they set forth to create a watch that met their requirements.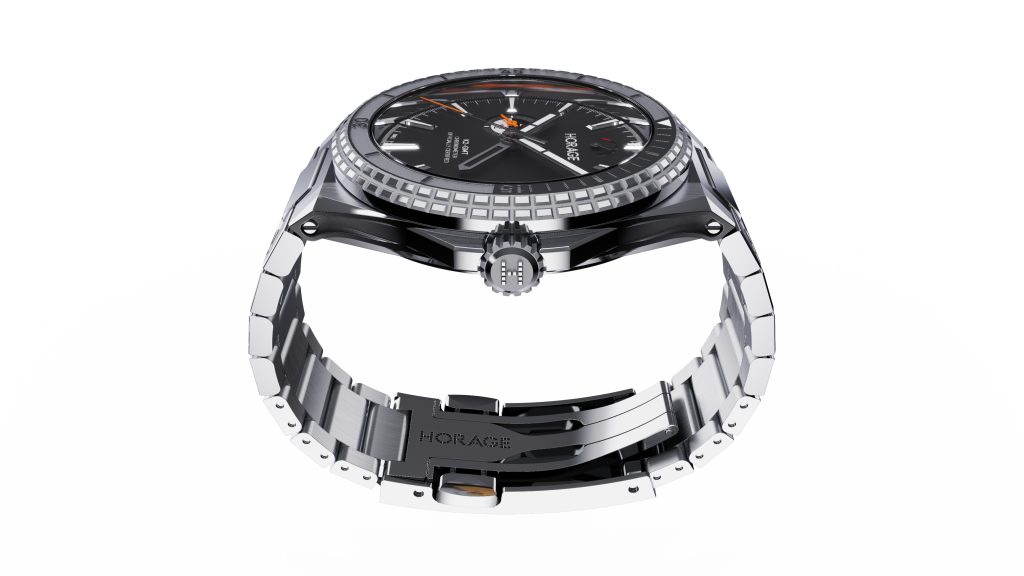 The Supersede watch is set to have a case and bracelet crafted from 904L steel, a material that is a durable form of stainless steel that resists corrosion, as well as giving great lustre once polished. Measuring at 39.5mm in case diameter, the watch will be well sized with a thickness of 9.85mm, fulfilling the requirement of something that is imminently wearable and comfortable, and will have a minimum of 100m water resistance as well as a unidirectional rotating bezel.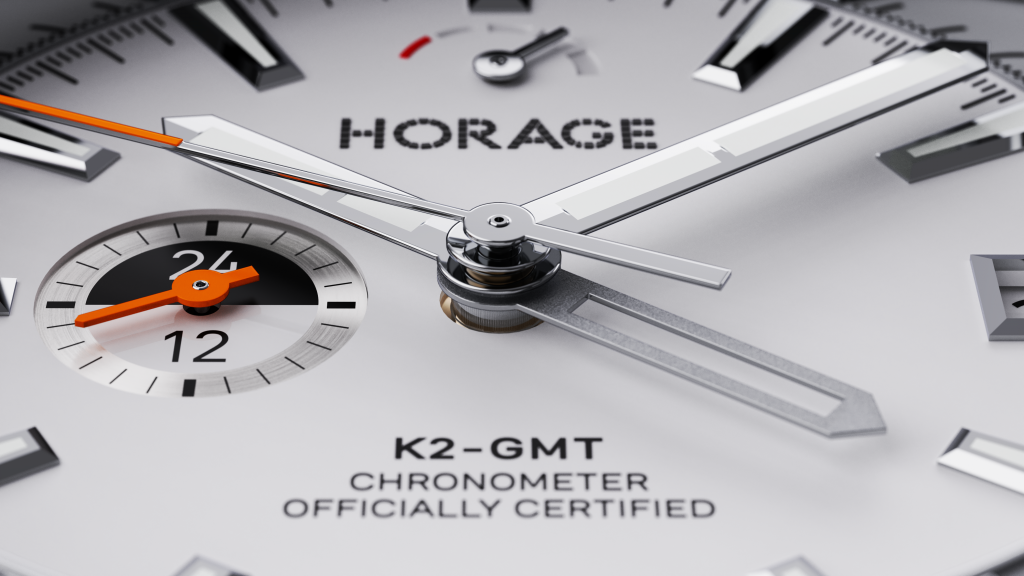 The dial features the date at 3 o'clock, day/night indicator for home time at 9 o'clock, and an embossed power reserve indicator at 12 o'clock. Applied hour markers will be filled with SuperLuminova for low-light visibility, and the hands are diamond cut, polished by hand and also filled with SuperLuminova (with exception of the home-time hand, which remains skeletonised). In particular, the seconds hand and the 24 hour hand will be luminescent, unusual for components of small dimensions.

Horage have set the basics for this watch, including its functionality, and overall dimensions, however, they have enabled a number of things to be voted on by the watch community. 6 colours will be decided upon by enthusiasts: 12:00 (White), 24:00 (Black), Jet Stream (Grey), Boreal (Green), Atoll (Light Blue) and Transatlantic (Dark Blue), and the top three colours voted by fans will be the colours put into production. Strap options will also be decided upon by the community of enthusiasts – whether a rubber strap will be included in the package, or available as an option will be up to fans, as well as whether the bracelet will feature brushed or polished centre links. From a movement perspective, the fans can decide whether Chronometer certification is important to them or not, as well as whether a solid 22K gold rotor or a gold-plated tungsten rotor will be the way to go.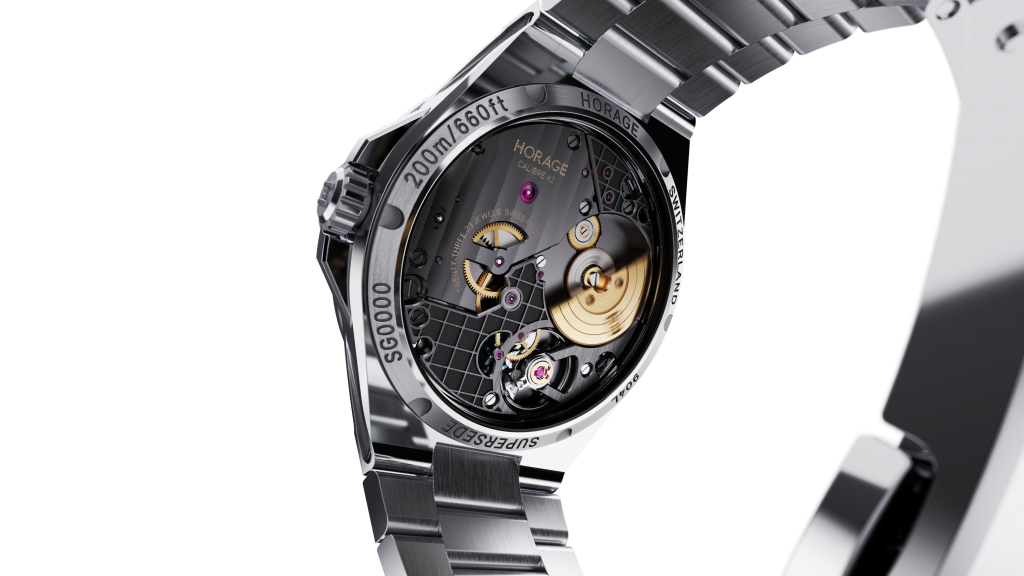 From a movement perspective, the K2 will feature the date, GMT functionality, and date in a very slim 3.6mm movement. As mentioned earlier, automatic winding has been optimised for efficiency, and 1 hour on the wrist will equal 10 hours of power reserve generated. In addition, the GMT function is independently adjustable, with the local hours hand being adjusted in 1 hour increments, and the home time visible in 12 hour format, and used in conjunction with the 24 hour day/night indicator at 9 o'clock. The watch will also have a 2 x 2 year warranty – 2 years initial warranty, and extended by 2 years at the time of servicing.
A fair price for the Supersede was also a goal for the team at Horage – bearing in mind that this is a micro-rotor movement with power reserve, true GMT, and date, the pre-order price will be CHF4500, that will stand for 72 hours once pre-orders are announced in November 2021. Regular pricing will be at CHF6500, which still makes it the most affordable Swiss micro-rotor GMT watch.
With the K2 movement, and the Supersede watch, Horage are setting out to be one of the most ambitious, young independent brands in Switzerland today. Boasting an incredible amount of movement engineering in a rugged package, the Supersede containing the new K2 movement will also be one of the very few watches where enthusiasts will play a direct role in deciding the future of the watch. Undoubtedly a great effort for community engagement in an industry that can be translucent at best, Horage continue to surprise and delight their followers, as well as fans of Swiss watches – providing a refreshing take on a well-established tool watch category.