Hublot is a brand that is certainly polarising with watch enthusiasts, with "The Art of Fusion" being a tagline that gives Hublot much freedom to experiment. From materials like leather dials (Big Bang Unico Berluti Cold Brown) and composite concrete cases (Classic Fusion Concrete Jungle New York) to Haute Horlogerie movements (The MP-07 and Big Bang Alarm Repeater), the brand has routinely demonstrated that it combines tradition and modernity in a near-seamless fashion.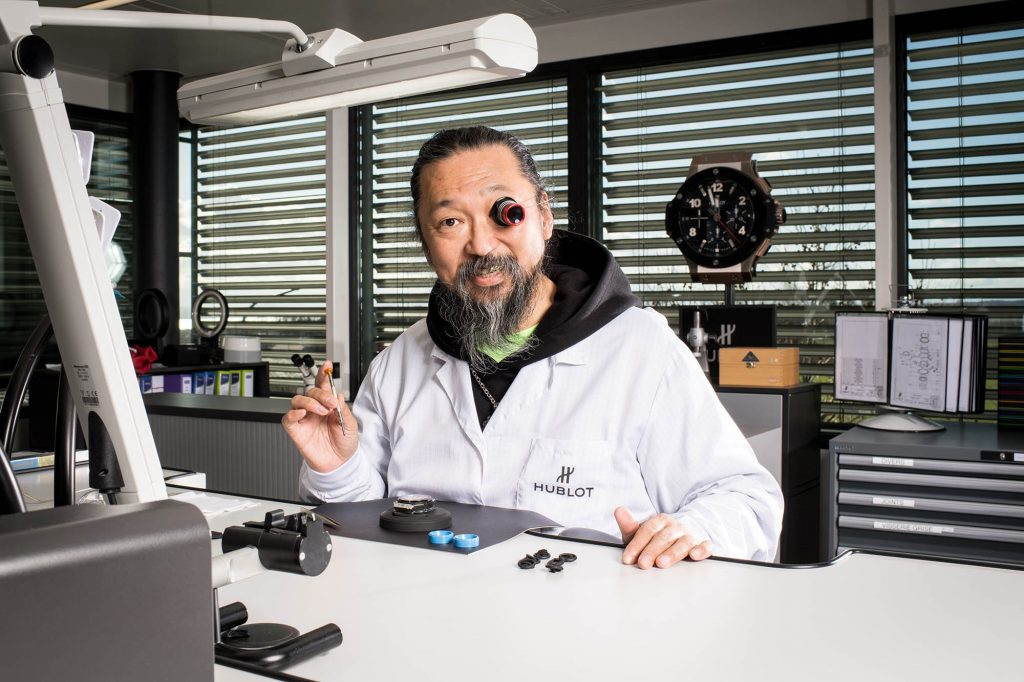 More recently, we have see Hublot partner with artists on a very collaborative scale, joining forces with the likes of Yohji Yamamoto (of Y-3 Streetwear fame), Richard Orlinski (renowned for sculptures of wildlife in a "faceted" fashion) and Maxime Buchi (a tattoo artist known for his geometric patterns). These watches incorporate much of their motifs and design language, creating watches that truly embody the artist. In 2021, Hublot collaborated with Takashi Murakami for the Classic Fusion Takashi Murakami All Black – it is a watch that brings Murakami's aesthetic to the wrist, and cannot help but make you smile when you glance at it.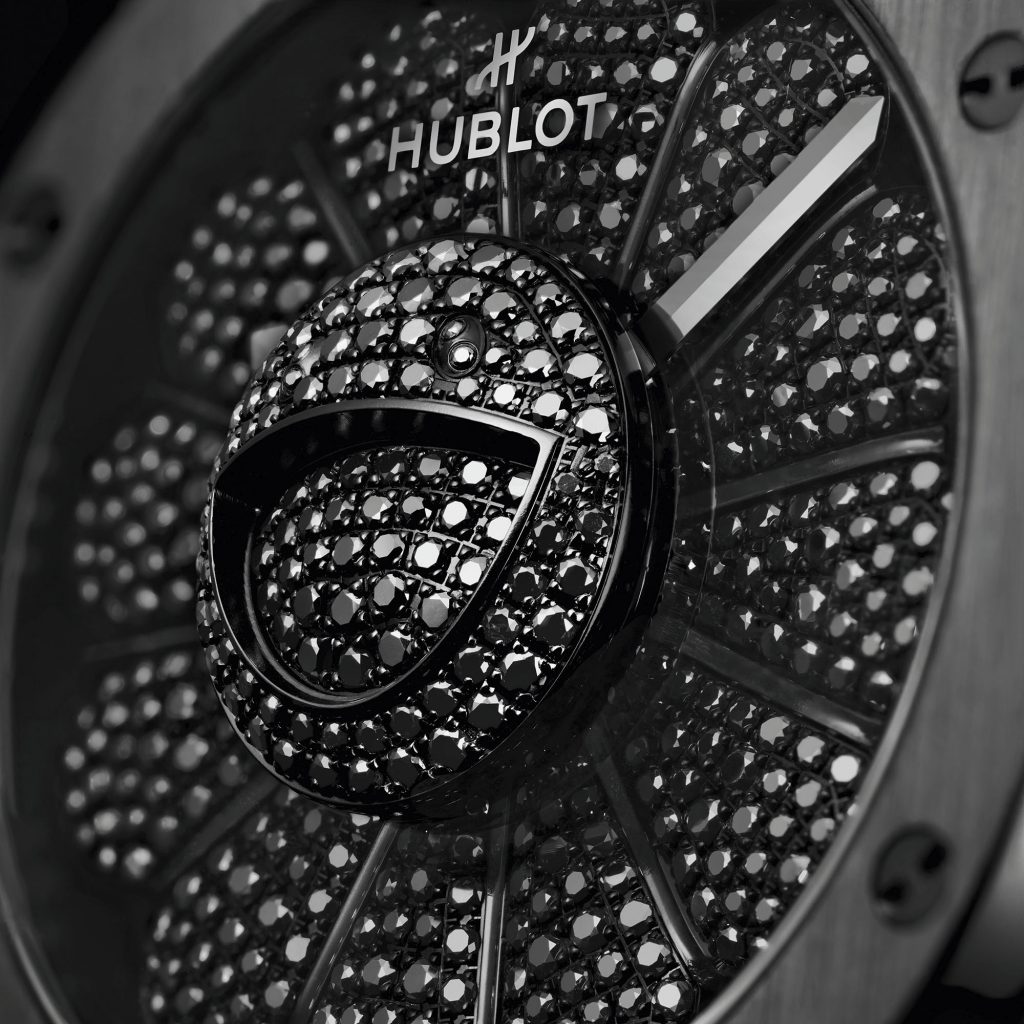 The works of Takashi Murakami have been an example of blurring the lines between "high" and "low" art, with much of his inspiration taken from the Otaku subculture of Japan that includes anime and manga. His Superflat style of art has drawn many people to his work for its colourful and easy-on-the-eye effects, and a hugely successful collaboration with Louis Vuitton helped to cement the blurring of lines between high art and consumerism – akin to how Andy Warhol combined pop culture and high art.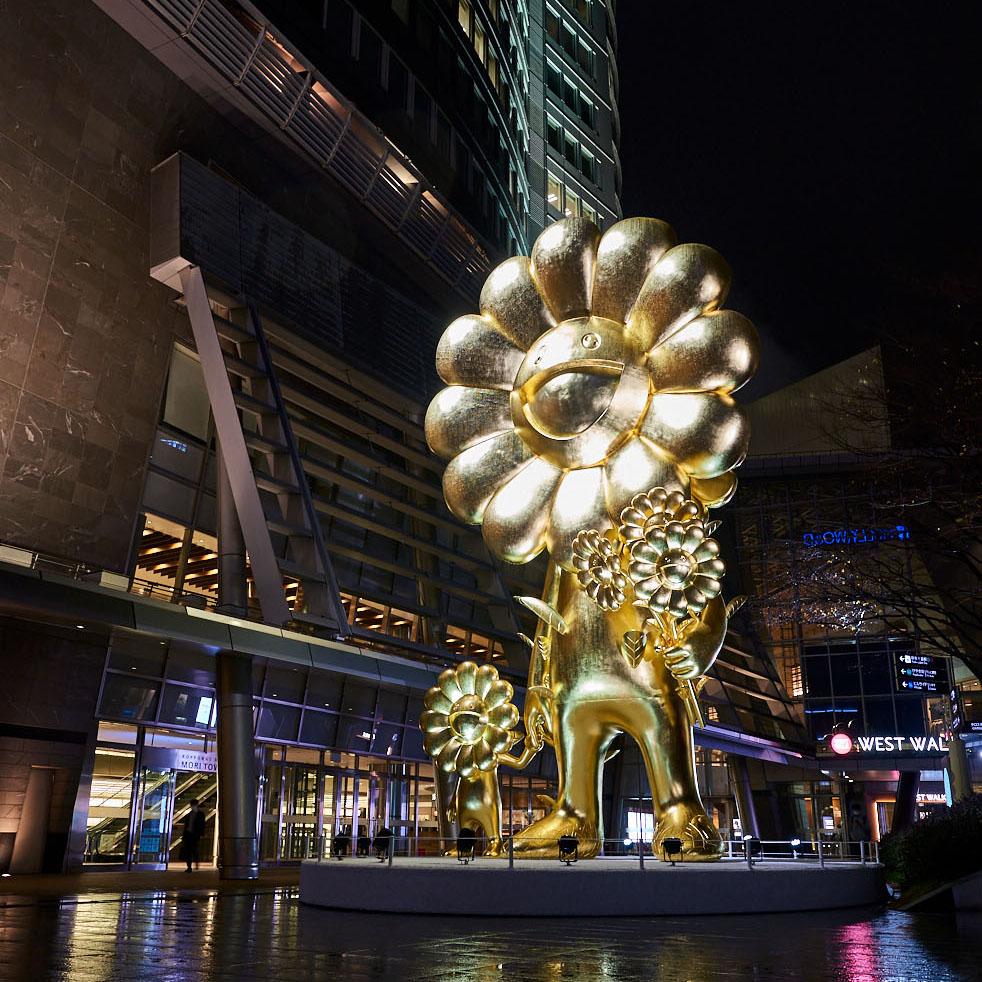 In this fashion, Murakami has brought much acclaim to Japanese art through his Neo-Pop movement, producing prints and sculptures alongside highly consumer-centric goods that demonstrate the appeal of his artistic style. It is through this widespread appeal that brings us to the new watch unveiled at LVMH Watch Week, highlighting the popularity of Murakami's artistic movement, and the fusion of Haute Horlogerie.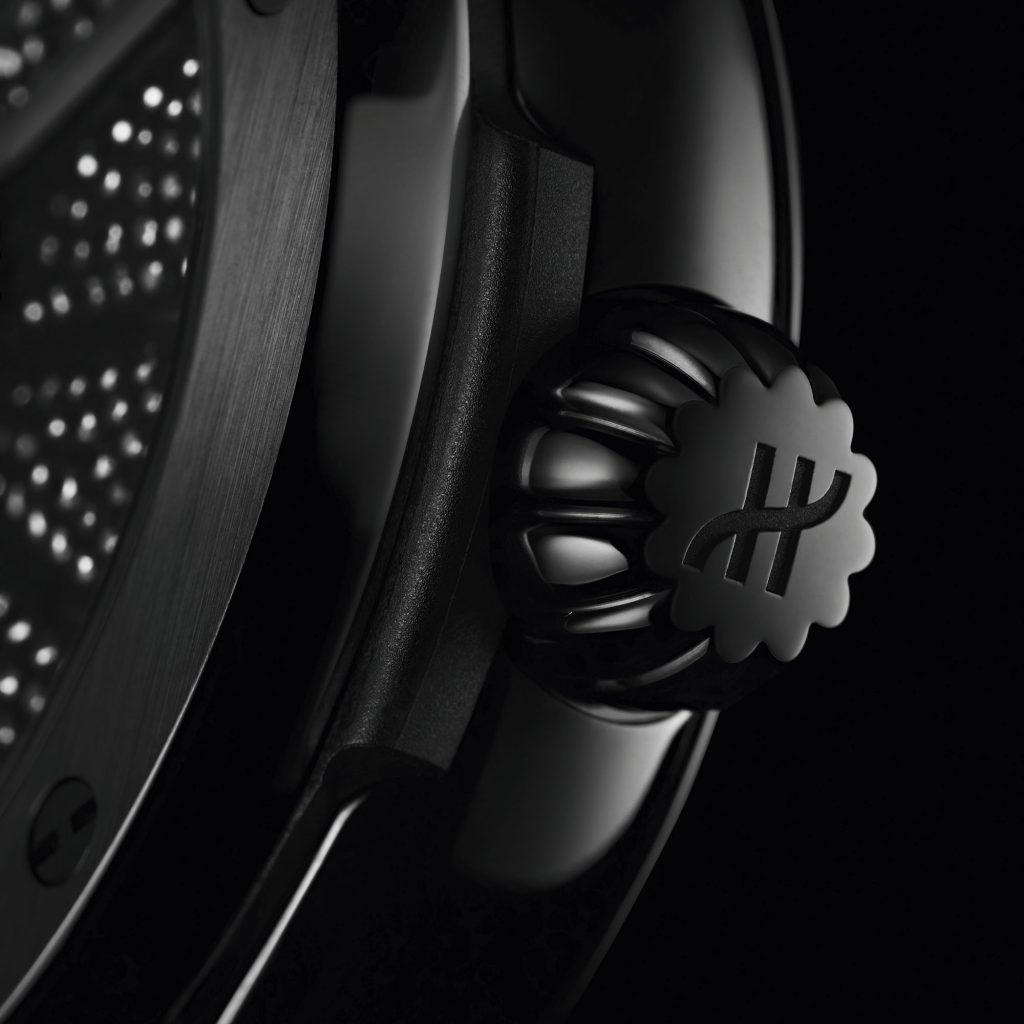 The new Classic Fusion Takashi Murakami All Black combines Murakami's signature Superflat Smiling Flower motif with a mechanical animation. A special ball-bearing system developed by Hublot's engineers, the twelve petals of the flower inside of the watch rotate as the wrist is moved, with the petals being weighted on one side – much like the way that automatic winding rotors operate.
The face of the flower is three dimensional, and is actually mounted onto the sapphire crystal glass of the watch. The hands of watch come up behind the flower's face, and are only really present when you are searching for the time – bringing the flower motif front and centre of attention. The face and petals are set with an amazing amount of brilliant-cut black diamonds – 107 for the face, and 456 for the petals. With the All Black motif being a signature of both Hublot and Murakami, the case is in black ceramic measuring at 45mm, with contrasting brushed and polished finishes. To top it all off, a black rubber strap and a deployant clasp secure the watch to the wrist.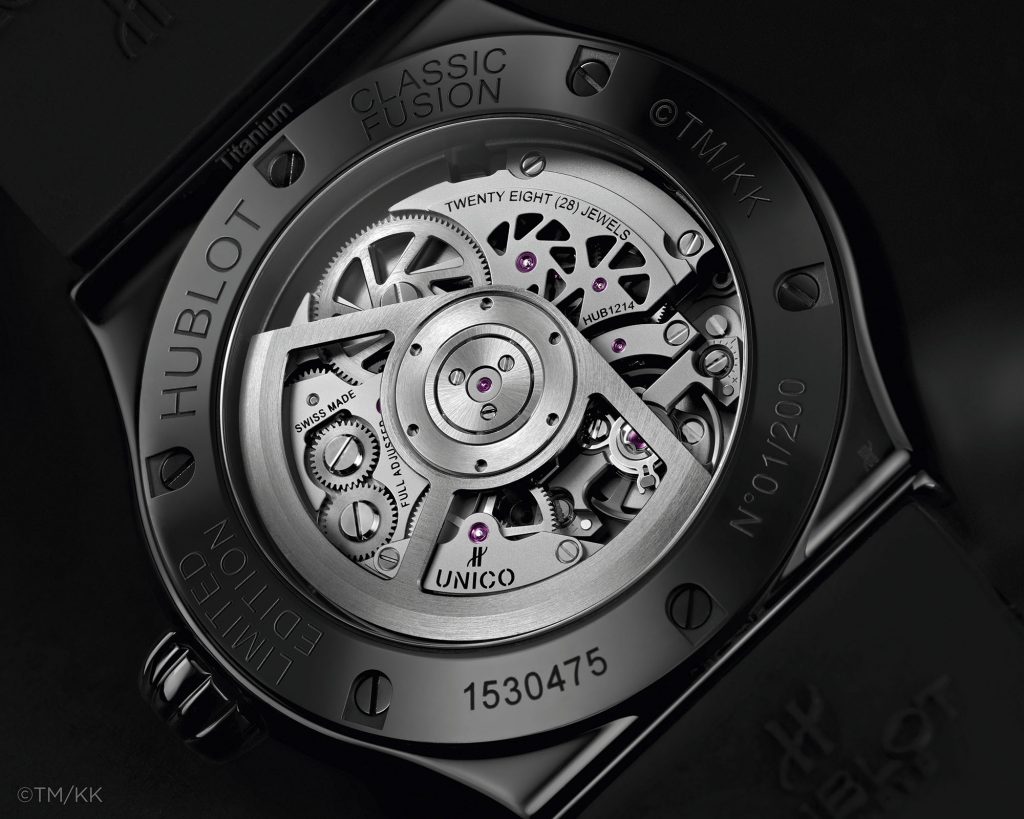 Housed inside of the Classic Fusion Takashi Murakami All Black is the HUB1214 Unico movement. This is essentially a version of the Unico movement found within the Big Bang Unico chronographs, but with the chronograph module removed. The movement also has a higher cannon pinion in order to provide clearance for the hands to tell the time above the petals.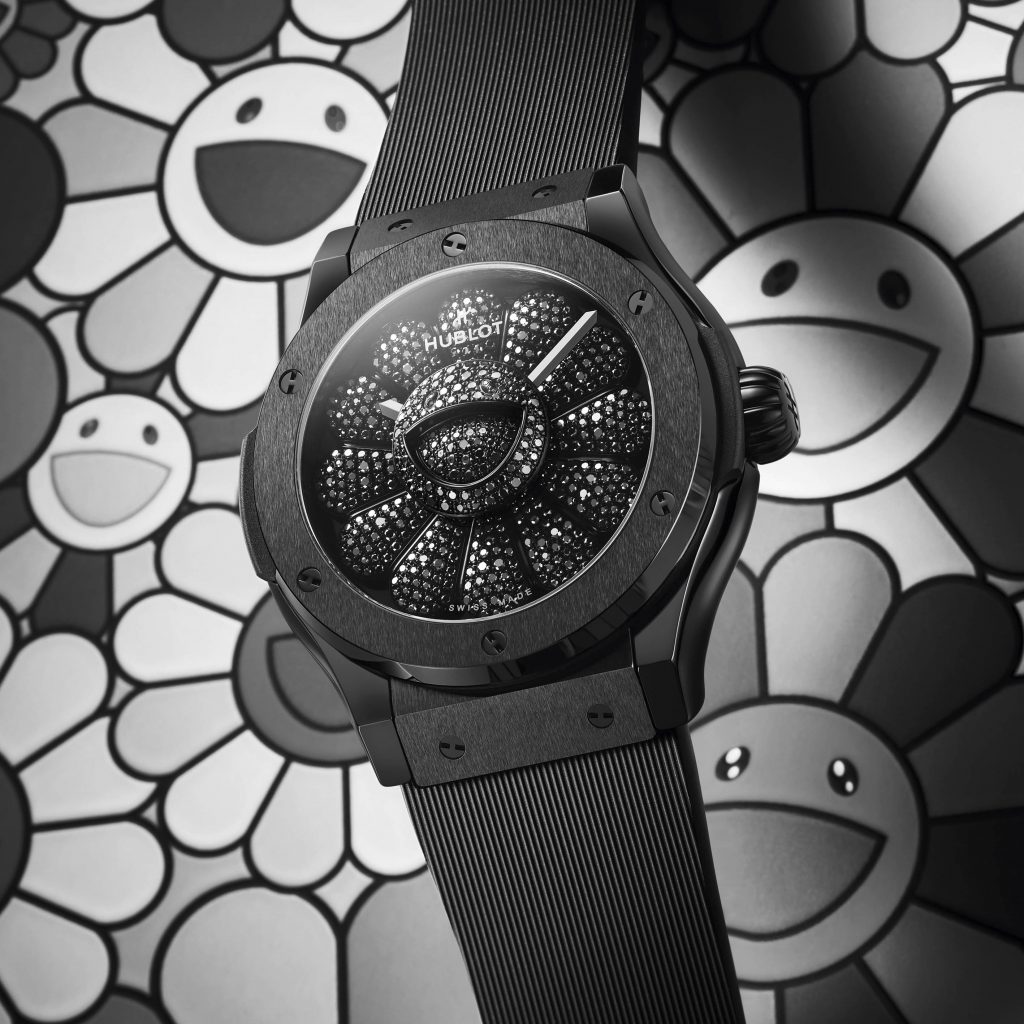 The Hublot Classic Fusion Takashi Murakami All Black is a watch that, without fail, evokes a smile for every instance you check the time, and is truly a watch that embodies Hublot's collaborative spirit when partnering with artists. With Murakami's flower taking centre stage, the watch is unmistakably bold. Despite its monochromatic look and name, it appears that the watch has incredible depth and playfulness that comes with a Murakami piece. Combining Murakami's Superflat flower and Hublot's modern Classic Fusion aesthetic, it is almost a certainty that the 200 pieces produced of this watch will go to a wide audience of people who appreciate this artistic partnership – each for their own reasons.