What is it?
It's a skeletonized version of the brand's in-house 10-day power reserve movement, in a new titanium case with integrated bracelet. Also, it's a stunner.
In the beginning – Calibre 110
When Oris introduced Calibre 110 in 2014, it was a momentous occasion for a watch nerd like me. Yes it's an uncommon thing for brands to release new movements generally, but Calibre 110 went way beyond that. It wasn't just a standard ETA/Sellita replacement, created with the goal of retaining the same functionality and the new ability to call it in-house.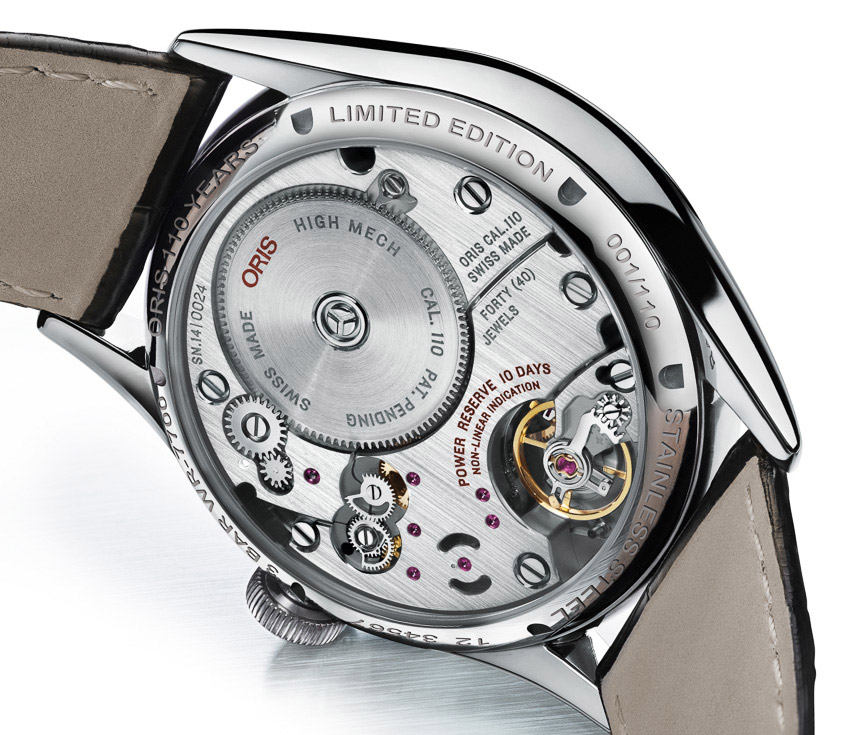 No, this was a movement that was created with the horological enthusiast in mind, coming with the kind of specification that would only please those with a higher than average understanding of watchmaking. What specifications? How's this for a list – 10-day power reserve, hand-winding and a relatively large 34mm diameter.
Why are these specifications so drool-worthy? Well first, the large size and hand-winding capability are classic pocket watch movement ingredients. Then throw in a concession to our modern need for convenience with a 10 day power reserve (a difficult achievement in itself) and you have a movement ripe for possibilities galore in what it could do complication wise.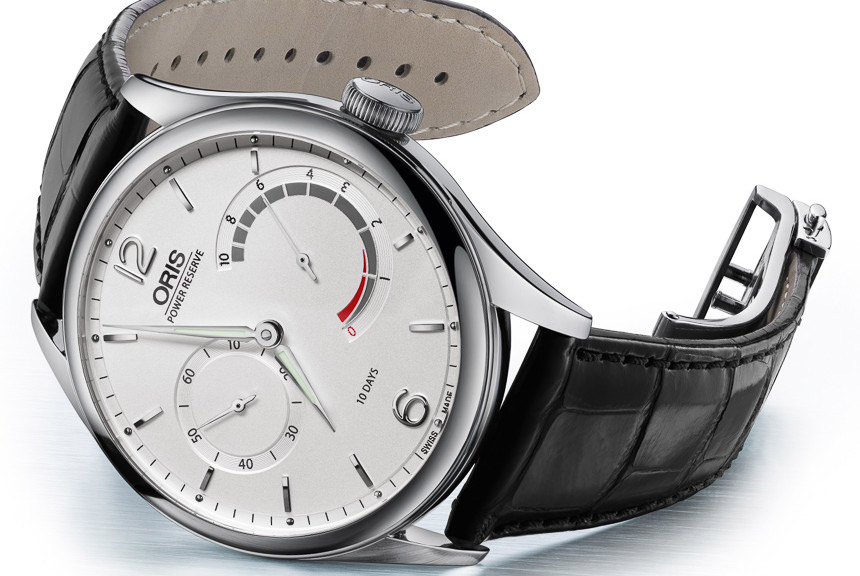 At the time there were not many brands with movements having a specification like this, and those that had it were typically more expensive. It was therefore amazing and unexpected for Oris to offer Calibre 110 since it could form an ideal base for the brand to create watches that would be a little more special and set apart from their ETA/ Sellita based ones.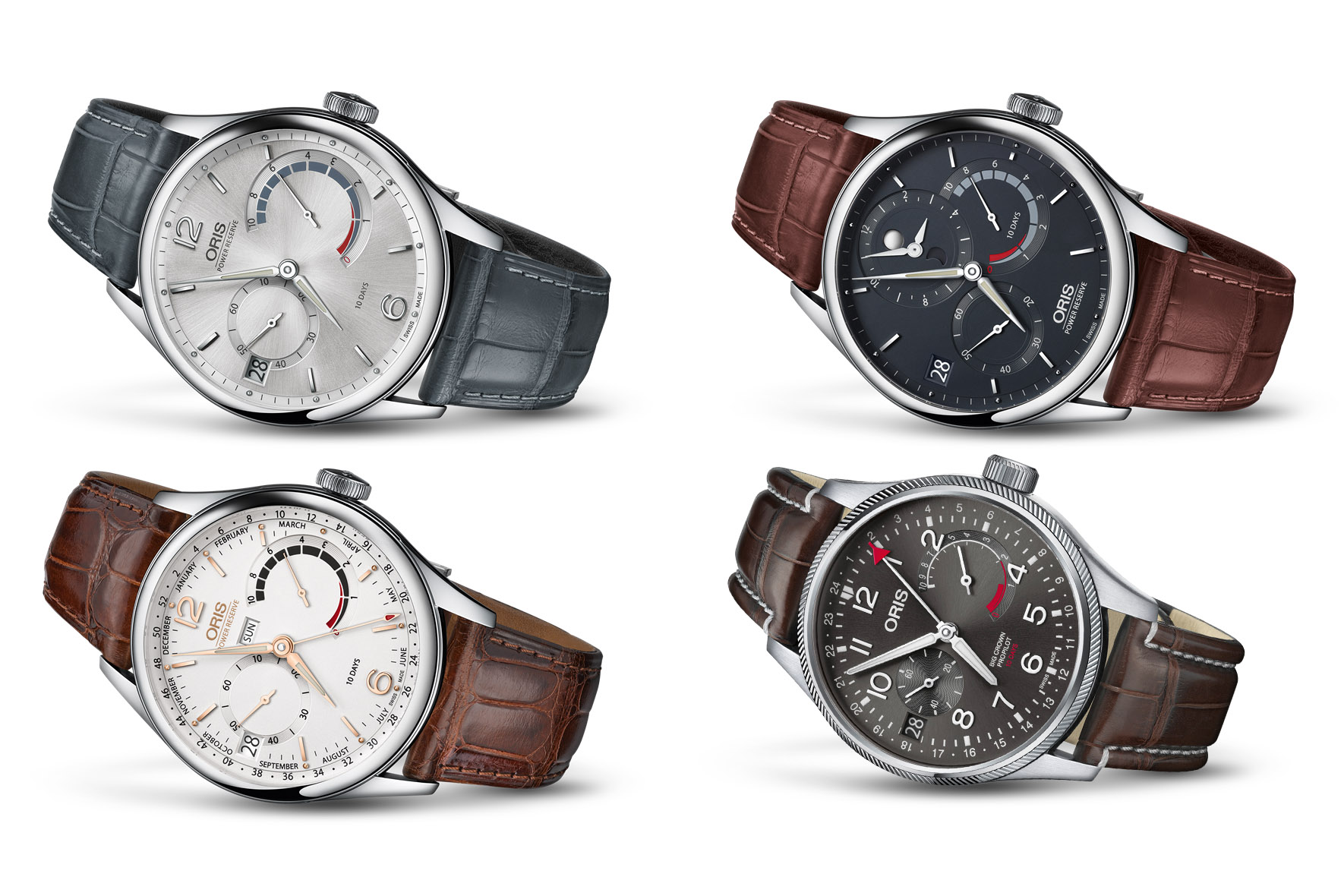 The technical promise of the movement was fulfilled in the years that followed, with each new variation introducing a new complication. After the 110-piece limited edition Calibre 110, came the Calibre 111, that added a date complication, then the Calibre 112 that came with dual time via a sub-dial, then Calibre 113 that came with the week of the year and finally Calibre 114 with GMT.
What was missing?
Despite the parade of watches that have appeared based on the Calibre 110, I had always felt that this was a series that never lived up to its potential. Yes, there was a buzz that would surround each release every year at Baselworld, but it would die out soon after.
Some have suggested that perhaps they were too expensive for the Oris badge that they carried, even though for the specifications they offered, they were still priced well below others from more prestigious brands. I did not know the reason, but I was disappointed that they were not the popular and much talked about watches that they deserved to be. In fact, I had started to fear that the Calibre 110 based watches would become a curiosity in the Oris catalogue and slowly drift away.
An Aesthetic Triumph
Let me just say that I'm pleased to see the new Oris Big Crown Propilot X Calibre 115. In fact, when I was given the opportunity this past Baselworld to see the Calibre 115 when it was still under embargo, I was impressed.
On the face of it, one might be inclined, without seeing a picture of the watch, to think that Oris has gone backward, since the Calibre 115 doesn't offer any complication, not even a date. Yet this is not a watch about complication. Instead this is a watch as a statement about the past and future of the brand.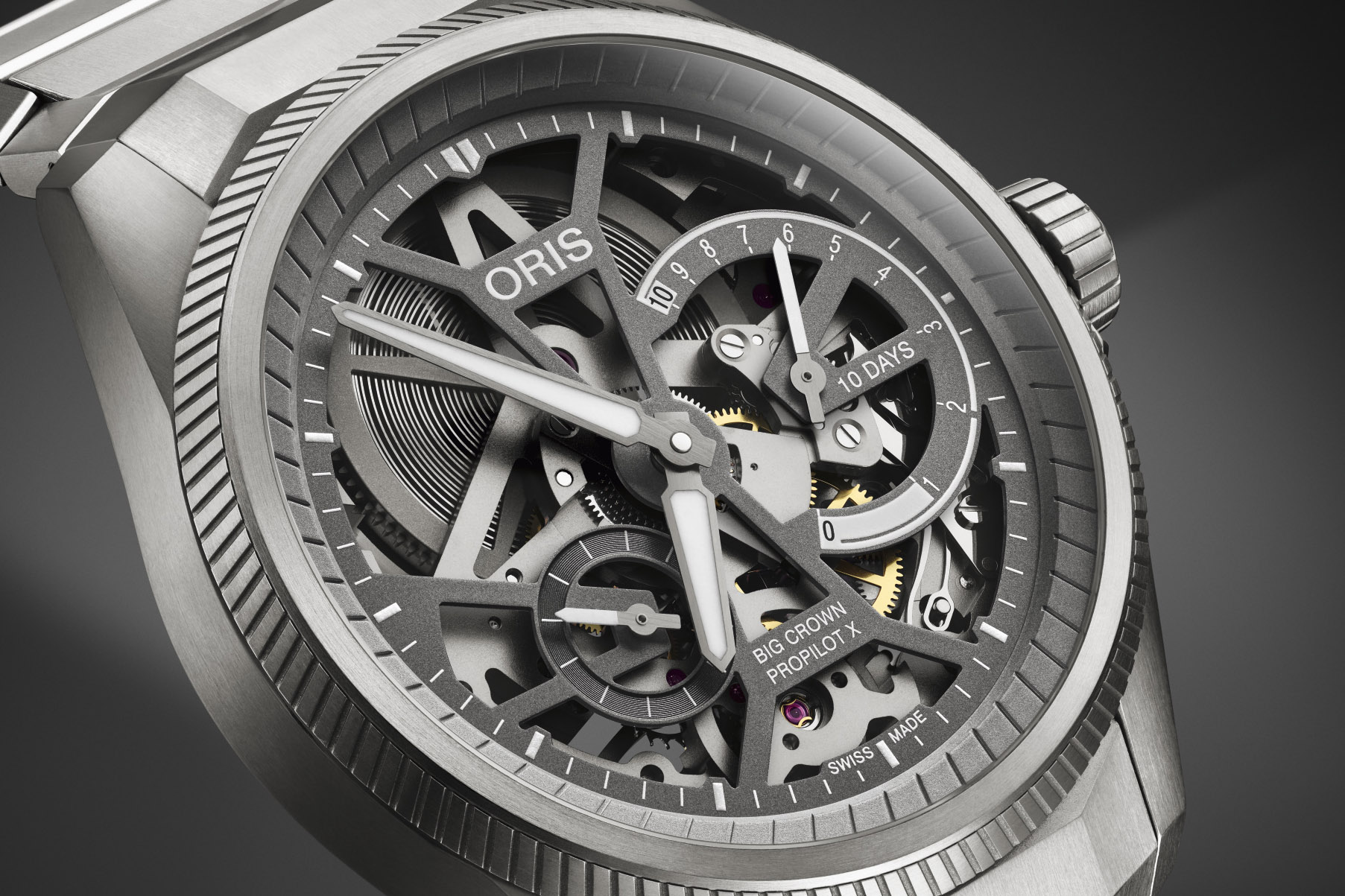 How does the Calibre 115 achieve this? By utilising skeletonization to highlight the technical and aesthetic beauty of the movement, then wrapping it in a brand new and thoroughly modern case and integrated bracelet for an aviation inspired watch.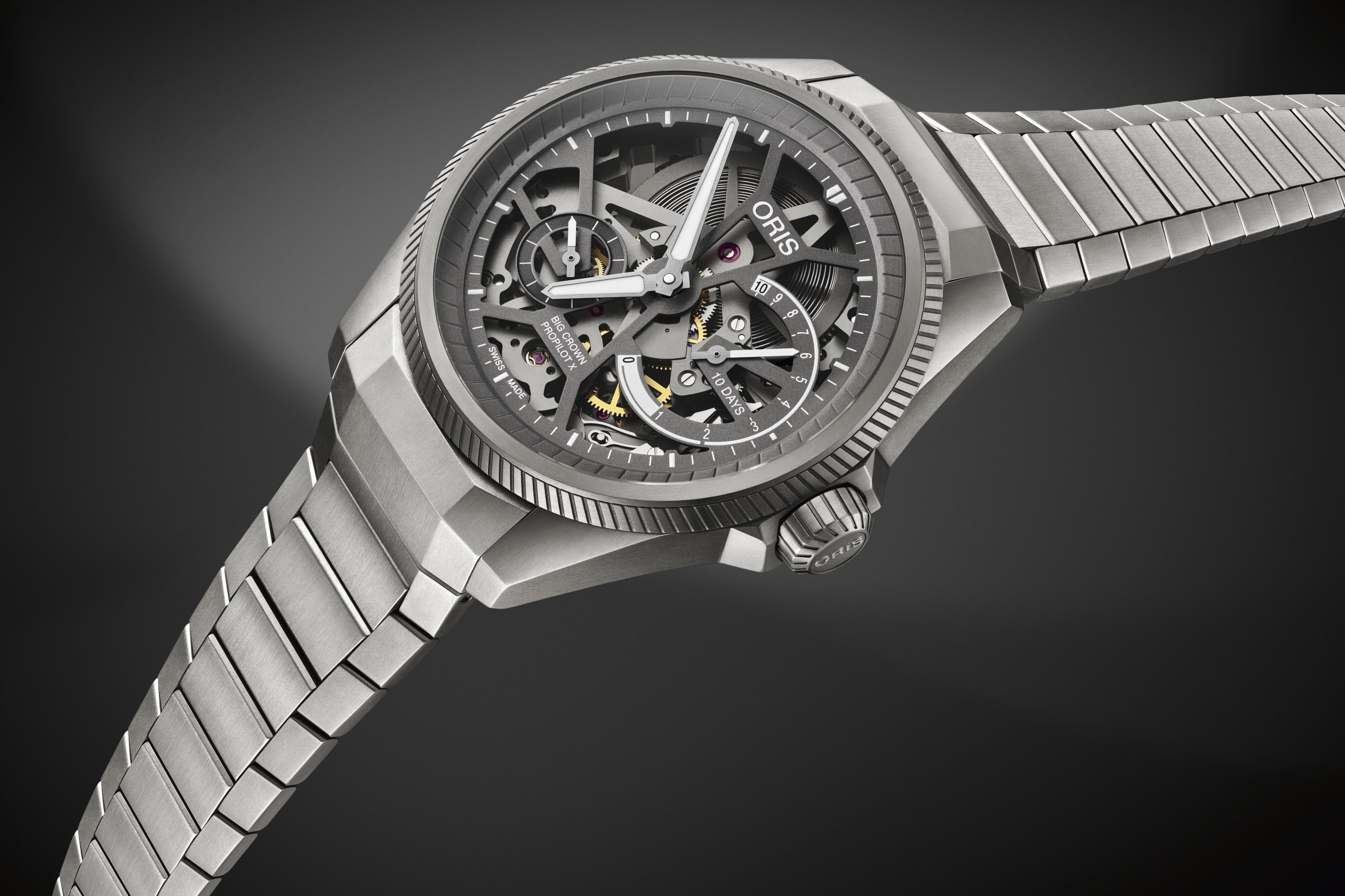 But let's be clear, since this is a Big Crown Propilot that has an additional "X" in its name. Think of most pilot watches on the market now, and you imagine wearing them around the sleeve of your thick fleece lined leather jacket in a cold unpressurised cockpit, with analogue switches and gauges surrounding you, and perhaps with a propeller spinning up front or to the sides of your plane.
Not with the Calibre 115 though. When you're wearing a watch that looks like this, your imagination will probably conjure up a thoroughly modern cockpit with digital displays and touchscreens that will surround you as you're sitting inside a plane made of advanced materials going very fast, while wearing a spacesuit.
I mean, just look at it.
The response to this watch was amazing when it launched on social media, much more so than any other Calibre 110 based watch that I can remember. I can even forgive Oris for not warning me about the launch date (hint, hint), since I had a chance to see the overwhelming response before writing this article.
It is clear that the 2 year development period to create this movement and this watch was worth it.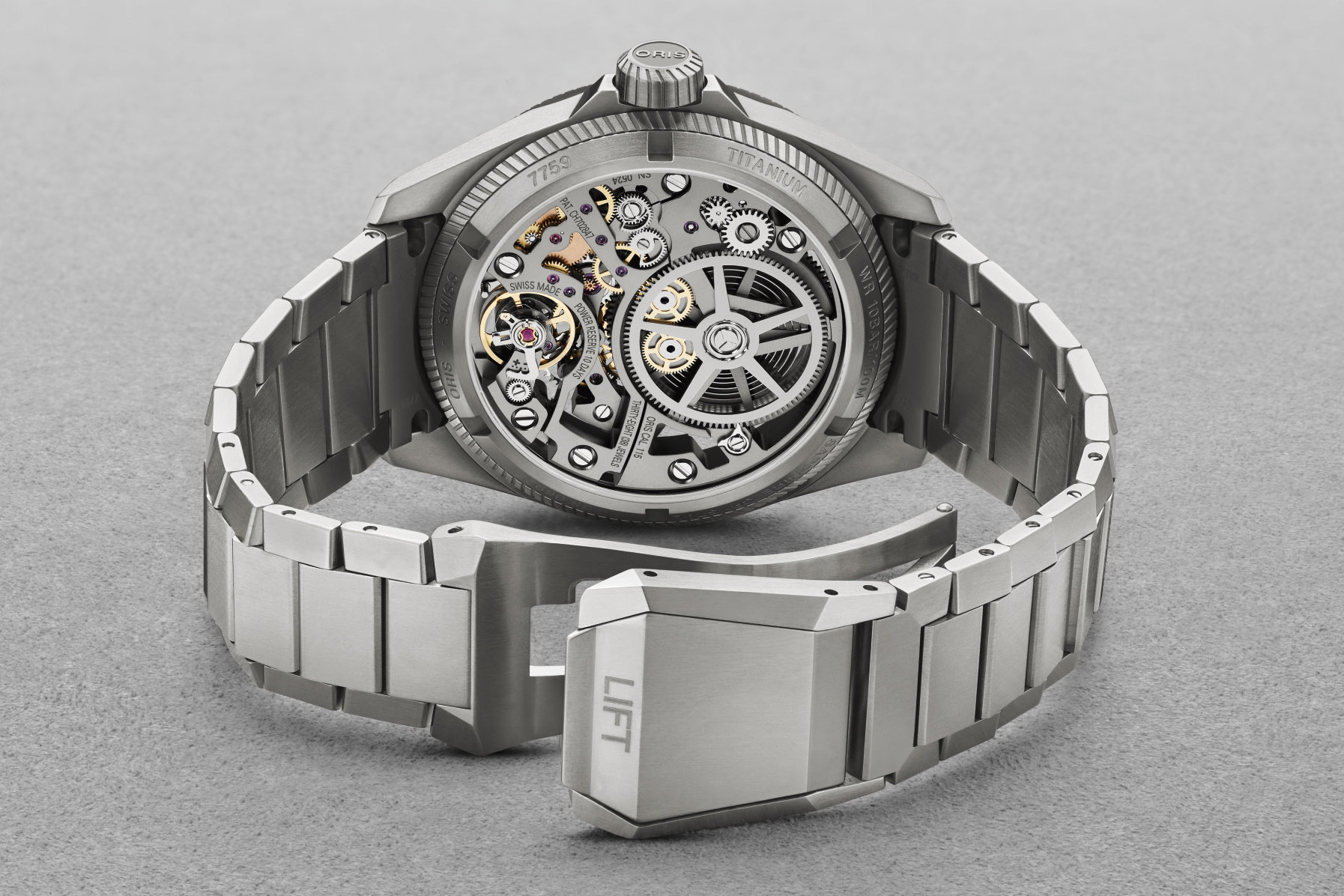 The titanium for the case and bracelet is fitting, since it is a material used in aviation as it keeps things light, and makes wearing the large 44mm sized watch easy and comfortable. Kudos as well for keeping the titanium surfaces brushed, since who needs a shiny watch in the cockpit that can blind you with the sun reflecting on high polished surfaces. (Many pilot's watches are guilty of this)
The knurled bezel inspired by jet turbine blades is a nice touch as are the faceted surfaces of the case that remind one of modern stealth fighters. The integrated bracelet follows the same theme, with flat center links joined to outer links that angle down, giving a faceted appearance as well.
Straight lines are also abundant in the dial side skeletonization with the largest area given to the skeletonized barrel that gives a generous view of the mainspring, making the distinct pleasure of seeing the coil get tighter as it is being wound, a possibility. The shape of the dial cut out is devoid of anything extraneous, with whatever that is left behind the necessary points that support the pinions for the hands, and the name and brand of the watch.
As a point of difference as well, unlike the other Calibre 110 based movements, save for the Calibre 112, in this watch, the seconds hand is at 8 o'clock position instead of at 9 o'clock. Lastly, it has a screw down crown for 100 metre water resistance, which makes this a tough all purpose watch for everyday.
What's the difference?
Perhaps the reason why the new Calibre 115 is different from the other Calibre 110 based watches is that those followed a standard playbook, and placed a groundbreaking movement into watches that came from familiar genres. After all, the main ones have almost been covered – from elegant dress watch, to classic pilot's watch, to businessman's watch and traveller's watch.
Even though the movement was on full display through a sapphire case-back, it never felt that it was the focus. Until the Calibre 115, the movement didn't have a case that went far enough to express just how much of an achievement the original Calibre 110 was, and how it represented a bold new step and direction for the brand.
Not anymore, with the Calibre 115, we have a presentation that showcases the majesty of the movement, in a case that finally catches up in the vision for the brand's future.
This is THE Calibre 110 based watch that will finally get everyone talking.