Instagram is mostly tedious, but occasionally, it serves up unusual gifts, providing a window into new possibilities unimagined, and showing some really interesting things that people are doing.
https://www.instagram.com/skillwatches/
In this case, it was my accidental stumbling on a new brand – Skill watches (@skillwatches) that has prompted this article today. It is a brand that offers quite possibly the most affordable in-house Swiss Made Tourbillon watch now, and made by a man with some serious credentials to his name and also a very unique watchmaking philosophy.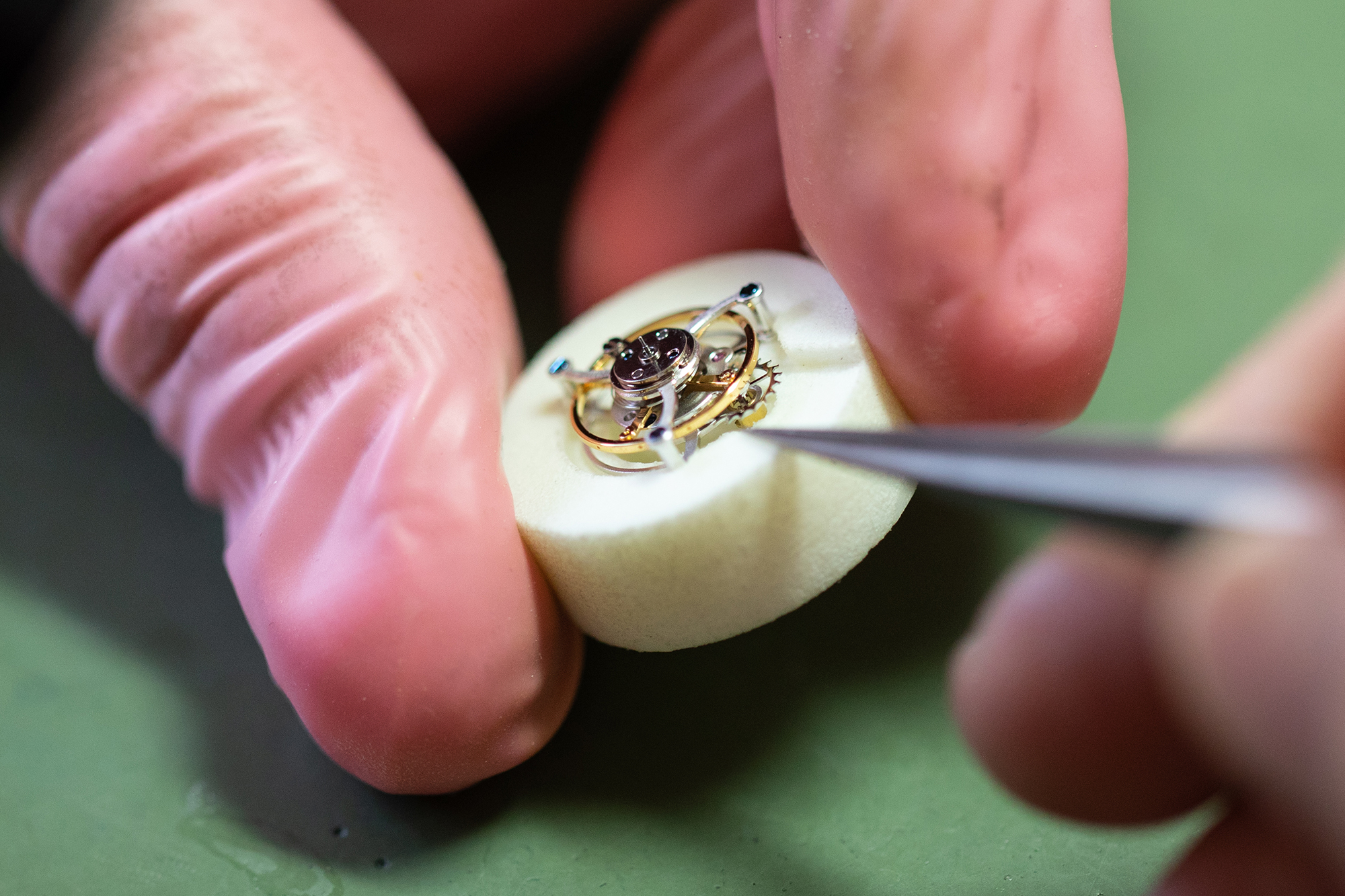 But first, let's get the basics out of the way. Just how affordable is it? Well how does 7,600 CHF sound? That's approximately 50% down from the TAG Heuer Tourbillon 02T which was 14,900 CHF at launch.  Certainly, by going under the 10,000 CHF mark, this is a serious watch that makes a serious statement.
Now the company is small and it has just started, and while the affordable tourbillon is indeed the strongest talking and selling point of the brand, I think it's worthwhile getting to know the founder of Skill watches, Olivier Mory, and the interesting reasons why he started the brand in the first place.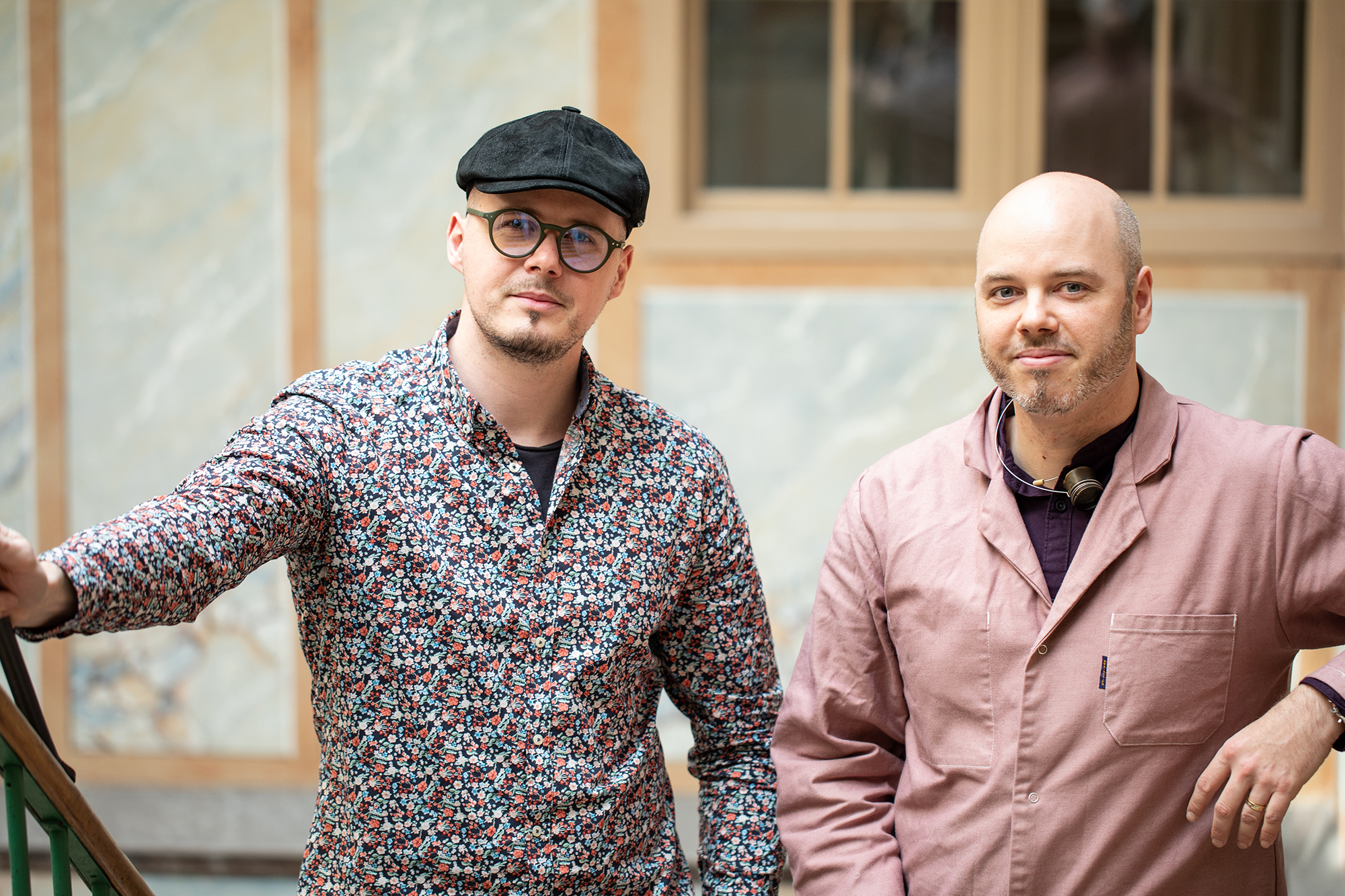 Tell me a bit about who your experience in watchmaking.
I was born in 1982, and have been a watchmaker since 1994 (although I was technically qualified in 1999 with my 1st diploma). I worked as a watchmaker at brands like Audemars Piguet and Richard Mille, and was also an R&D manager at Sellita, the movement maker. With Skill watches, I wanted to join up the two main parts of my past experience for my own brand.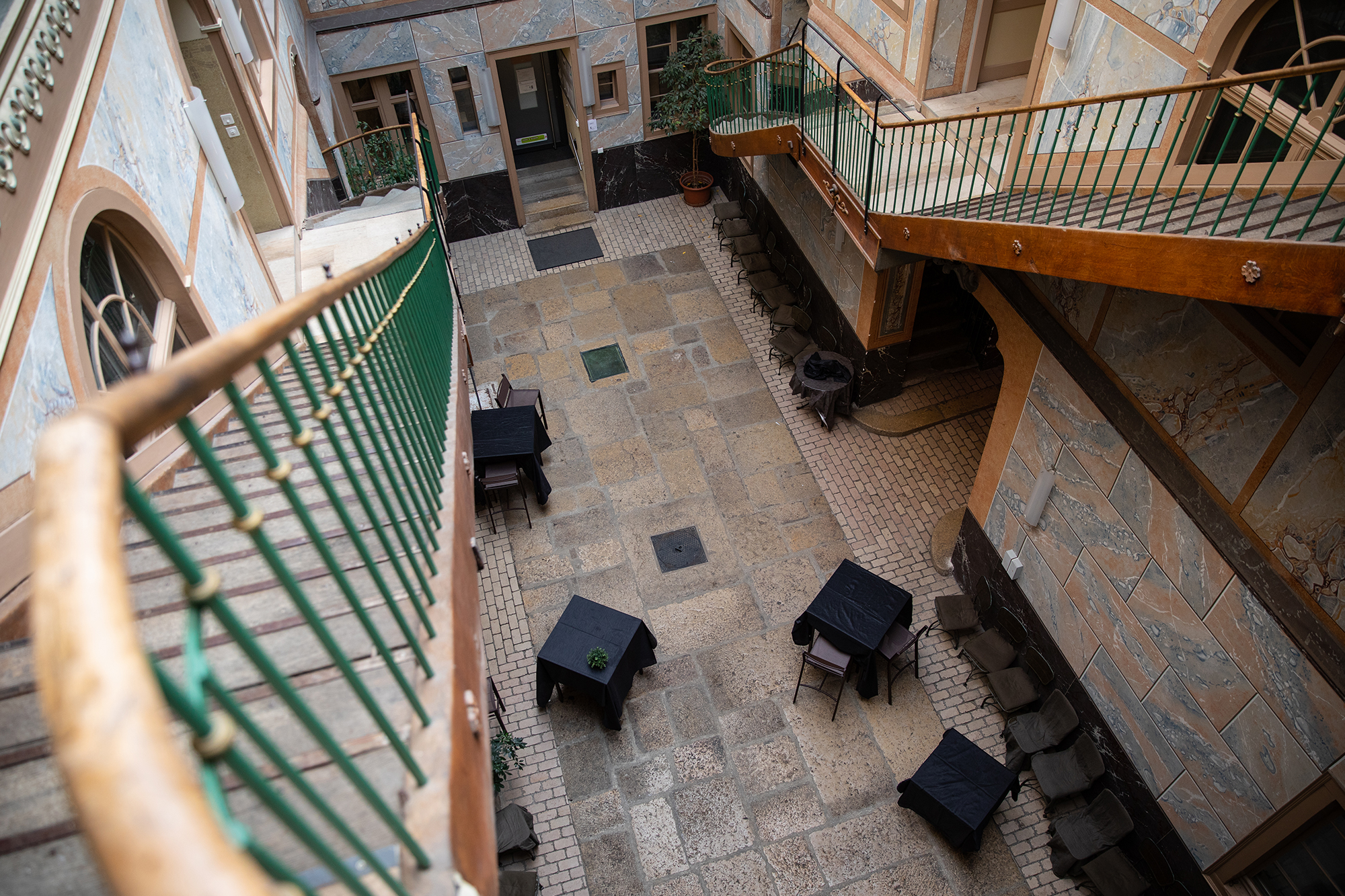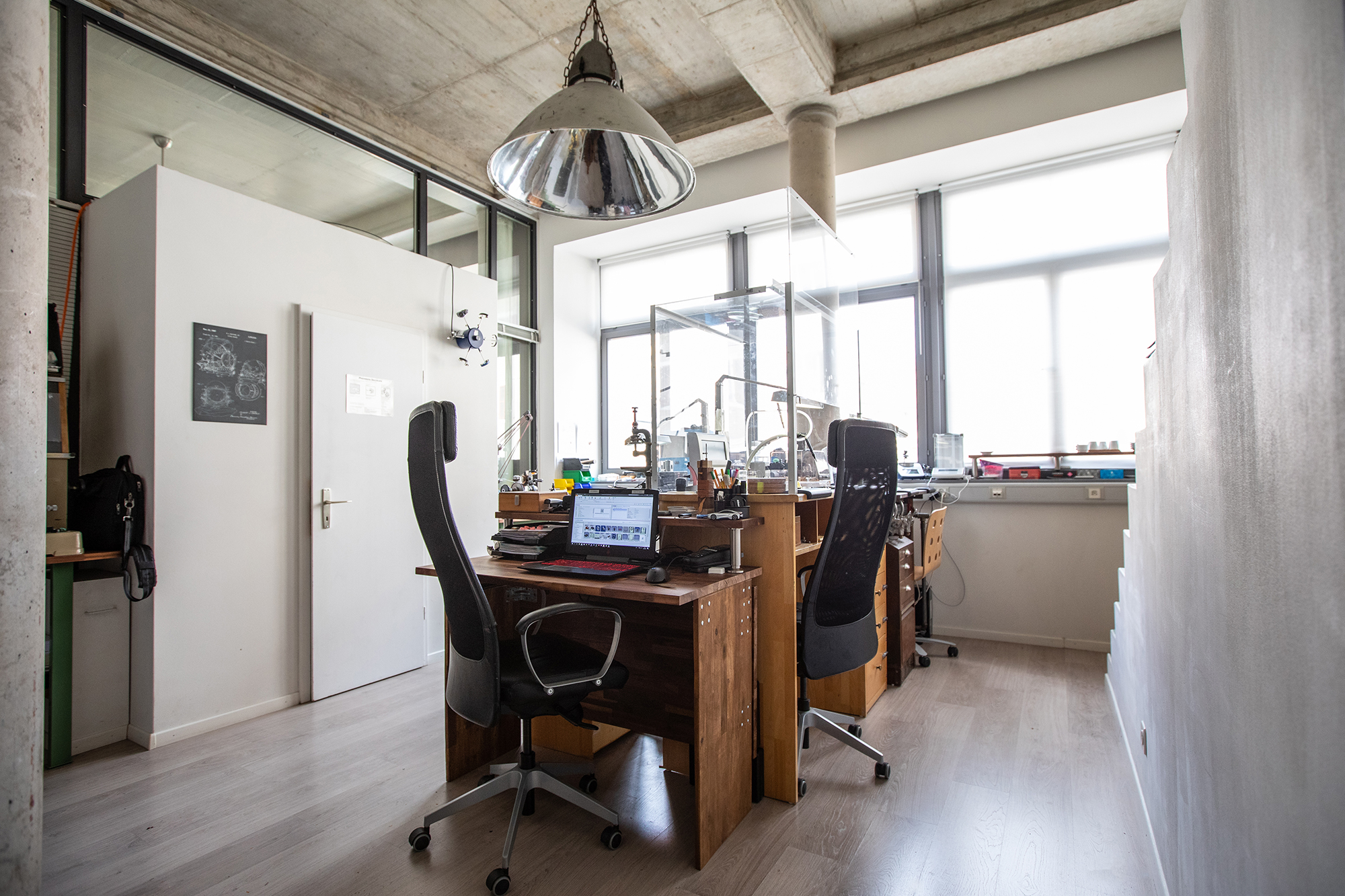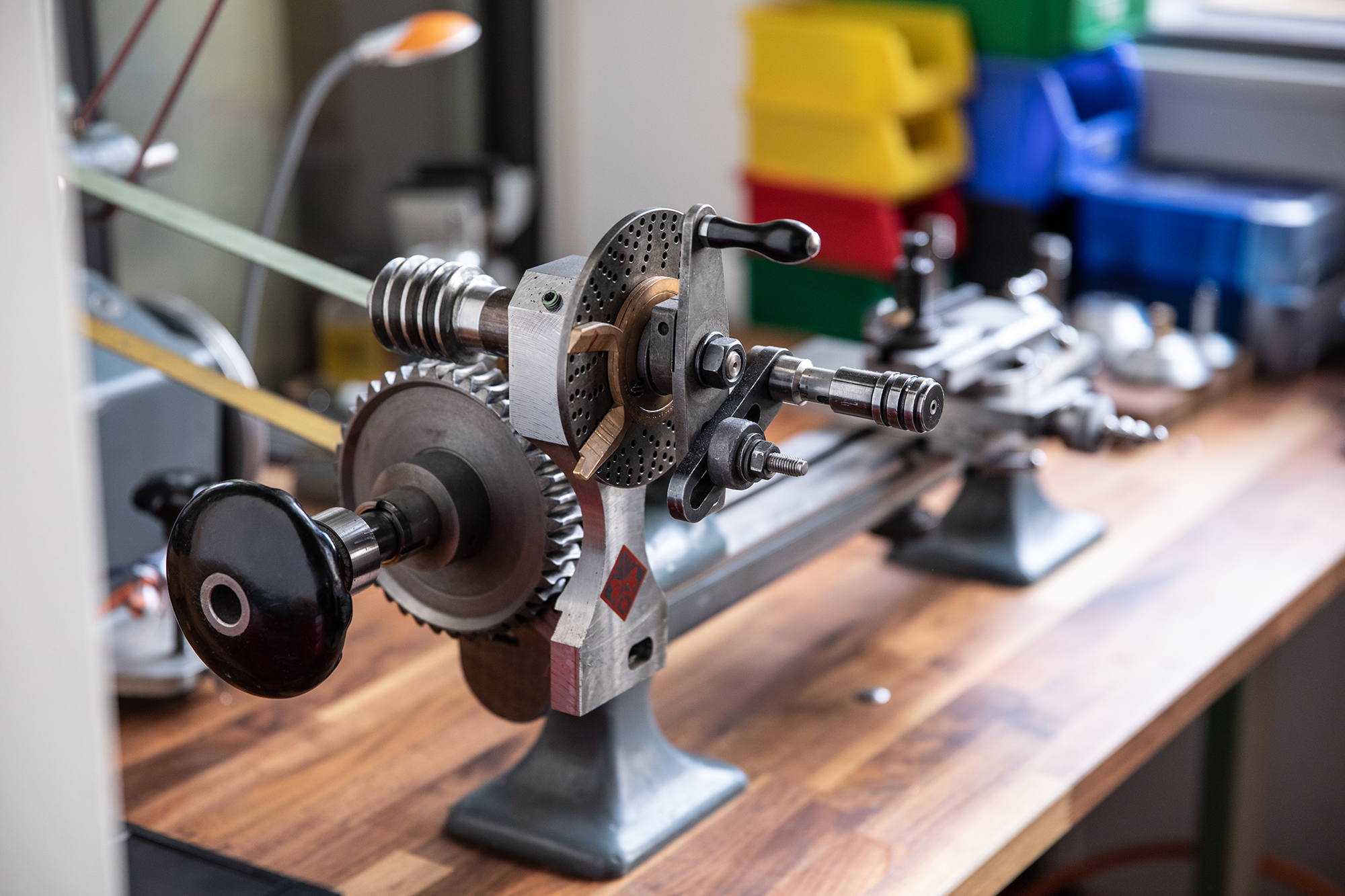 What is the main goal of Skill watches?
I have quite a few goals in mind, three main ones in fact, or pillars of my brand.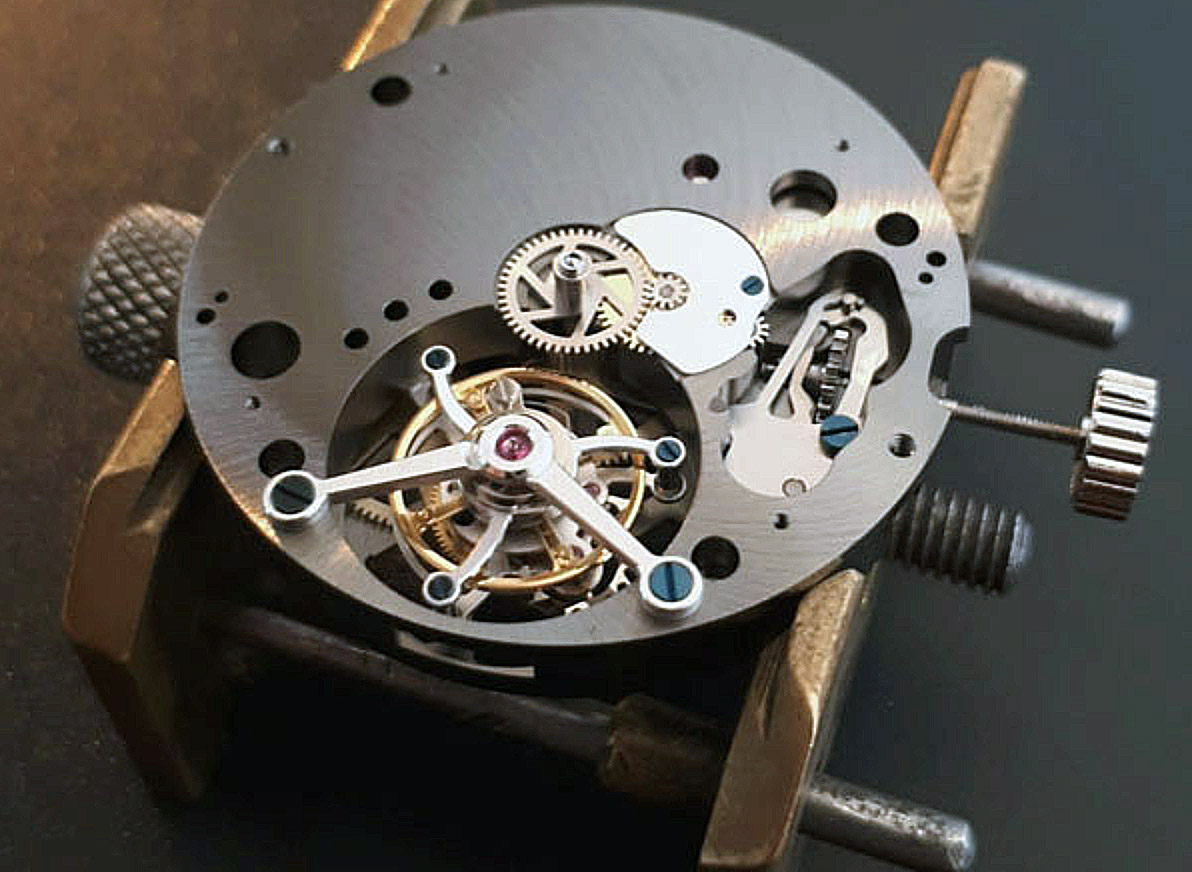 The first, when I decided to become an independent, I planned to develop movements for brands, as a consultant. But since the age of 21, my dream has been to create a new kind of high-end product: high-end timepieces that normal people can afford. So I thought that designing an affordable tourbillon was the first thing to do. This is the first "pillar" of SKILL: Affordable High-end watches.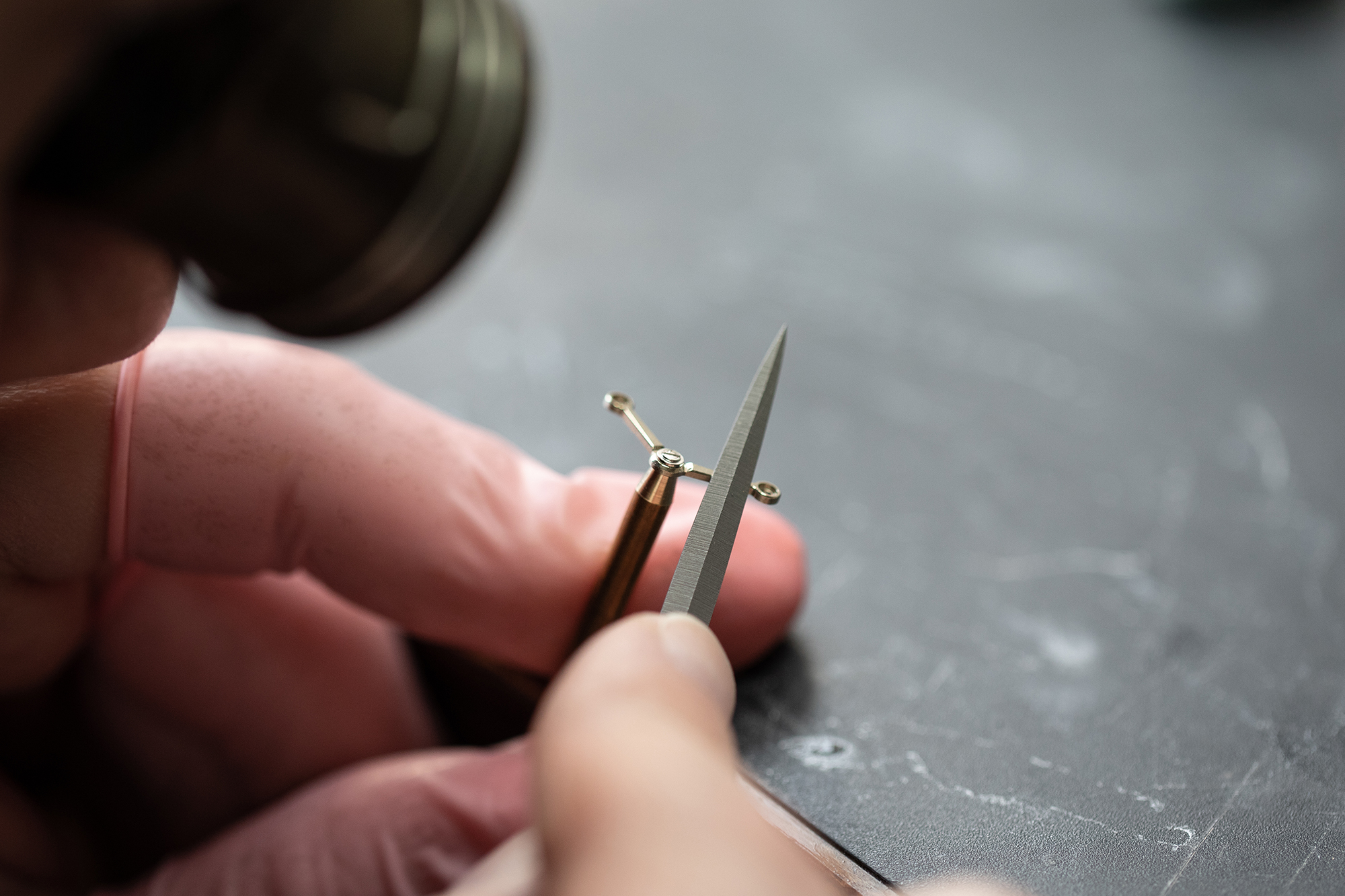 The next pillar came from my experience working for big brands or groups, and I become disgusted and disillusioned by their behaviour. It was all about looking for profit first, and lying in their marketing about the origins of the parts in their watches. Even if the quality of some foreign components is excellent, producing something outside Switzerland and then placing a "Swiss Made" label is unfair. I decided to do things my way – make Swiss Made watches yes, but 100% real ones. I have been able to find partners for every single component in Switzerland, and if we design things in a clever way, we can keep the prices affordable. This is the second "pillar ": REAL Swiss Made, even for things like straps!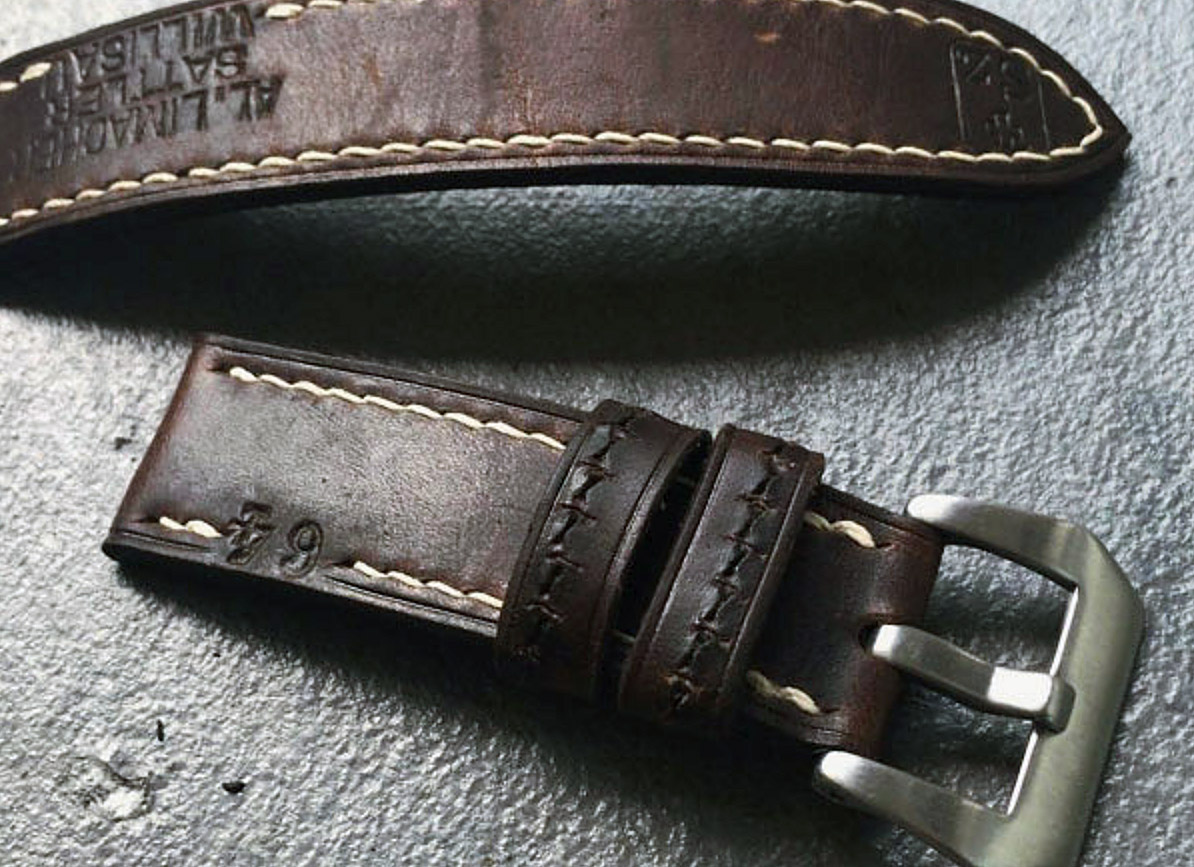 Before we go on to your third pillar, tell me how you have been able to keep your tourbillon calibre affordable?
I'm used to producing movements at Sellita and there, the thinking has always been about efficiency. Designing for mass production or industrial design, is the secret. It's always about asking the question of how to design the components so that they can be easily produced – to make everything easy to mill and drill, and results in lower production costs.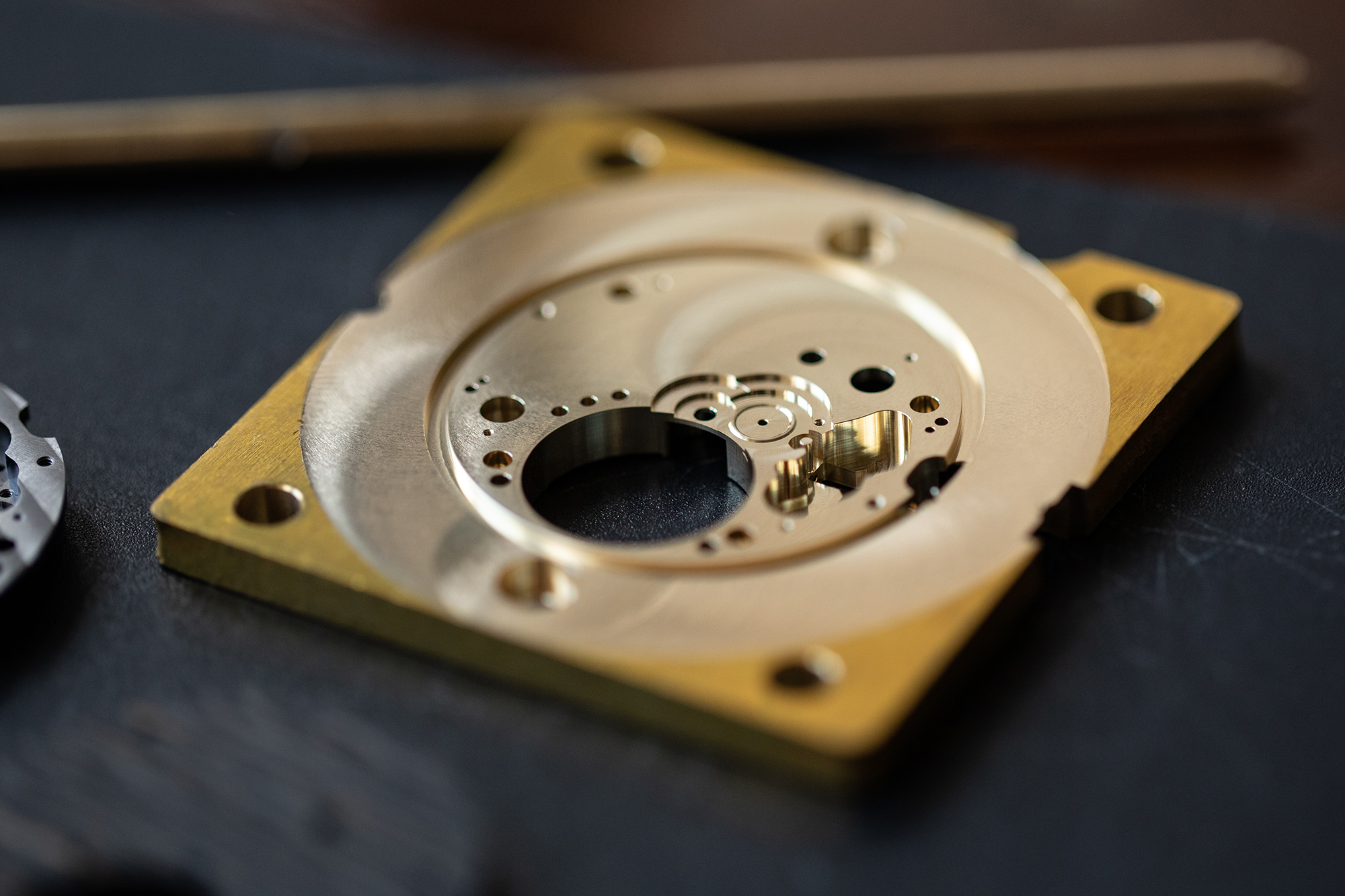 The tourbillon movement was designed in 2016 and prototyped in 2017, and has been in production ever since. It's called the T02 and it was meant to be a reliable "every-day-use" tourbillon caliber. As I use it for my own brand (SKILL), it is called the "M51".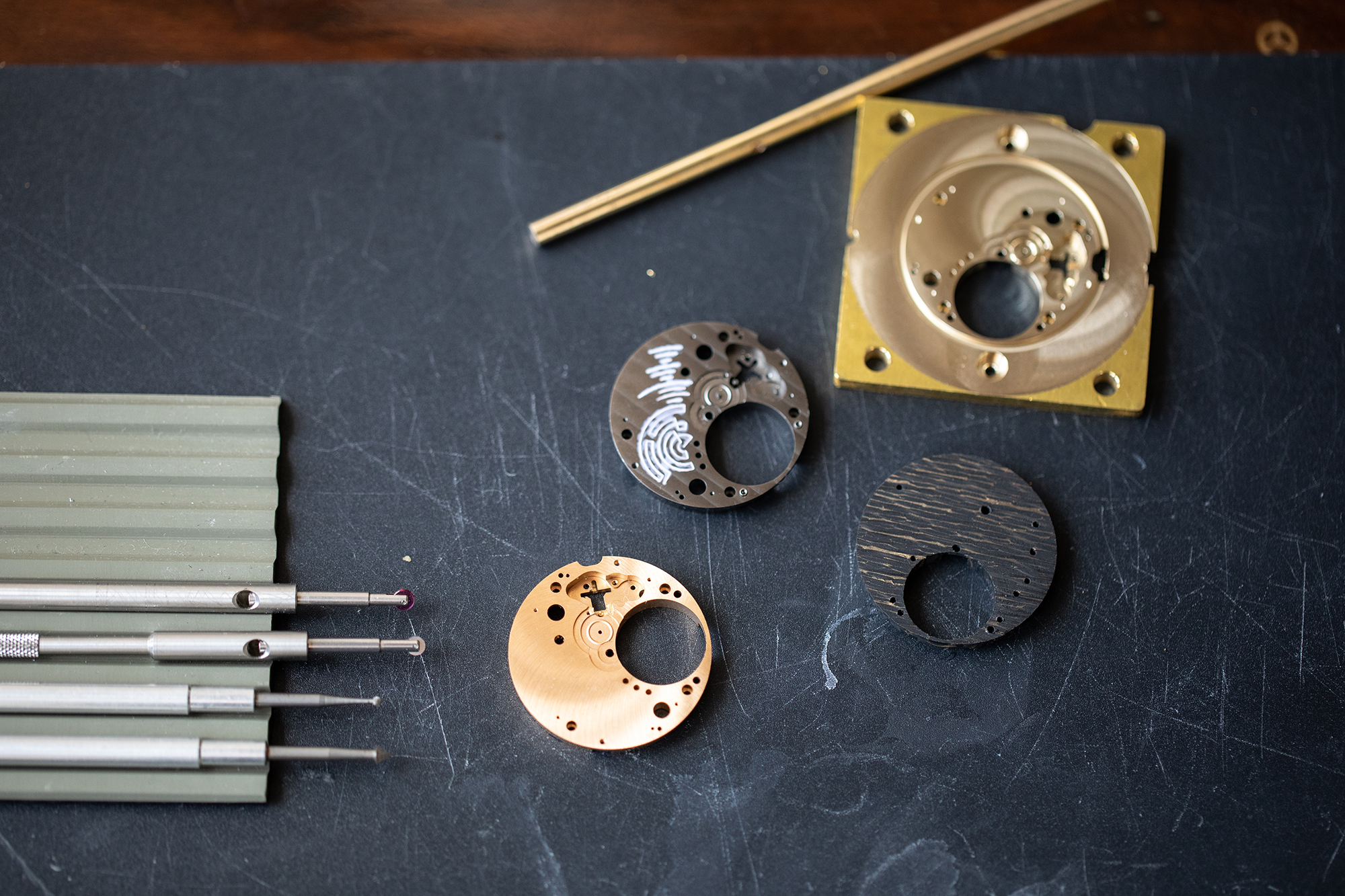 You can find the same movement with some variations in other watches under different names/ caliber numbers, as it basically depends on what our customers want to engrave on it. The technical specifications are the same: 100+ hours of power reserve, 3Hz, shock resistant up to 5000G and magnetic fields resistant up to 2000 Gauss as well as being handwound.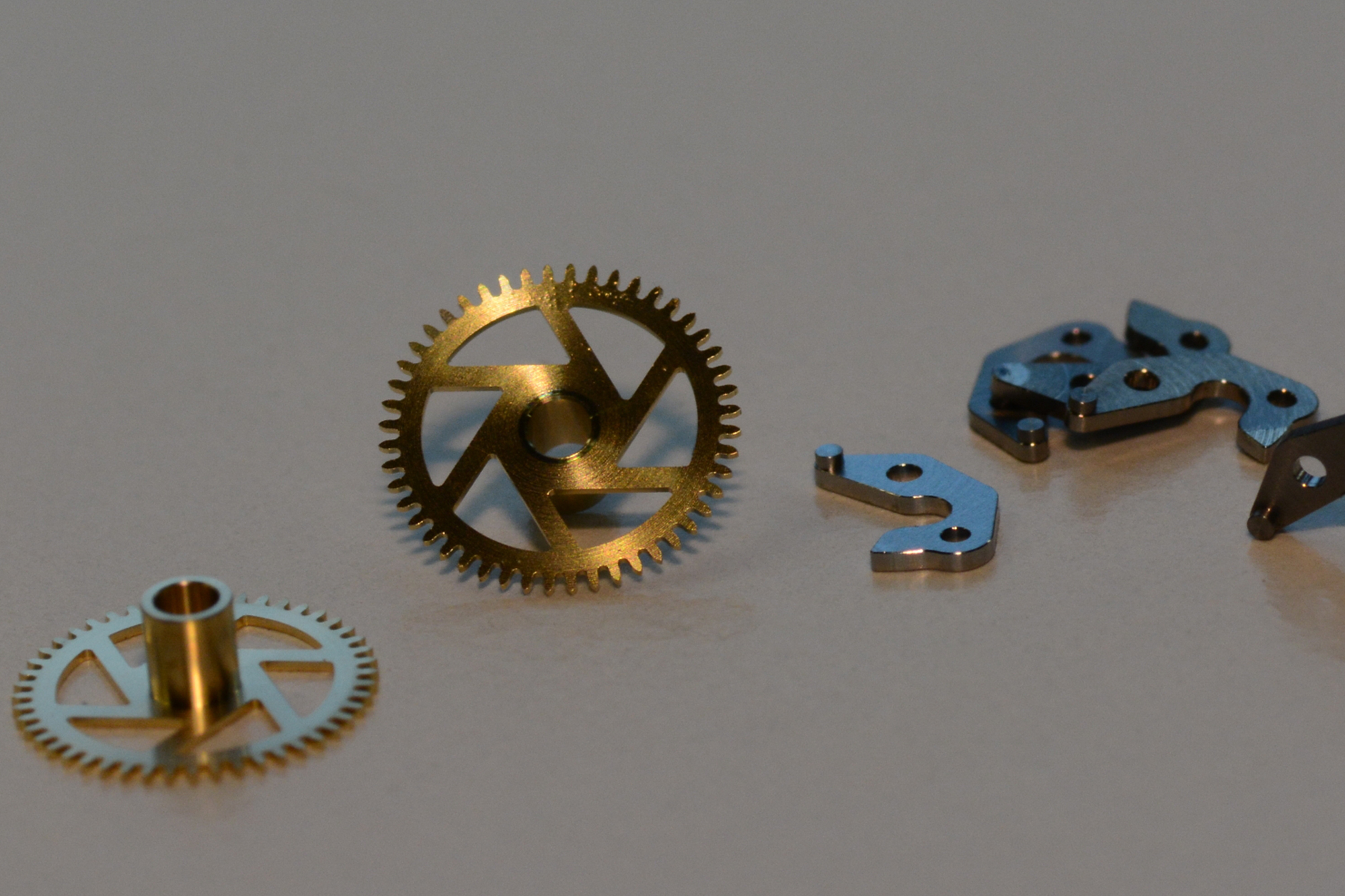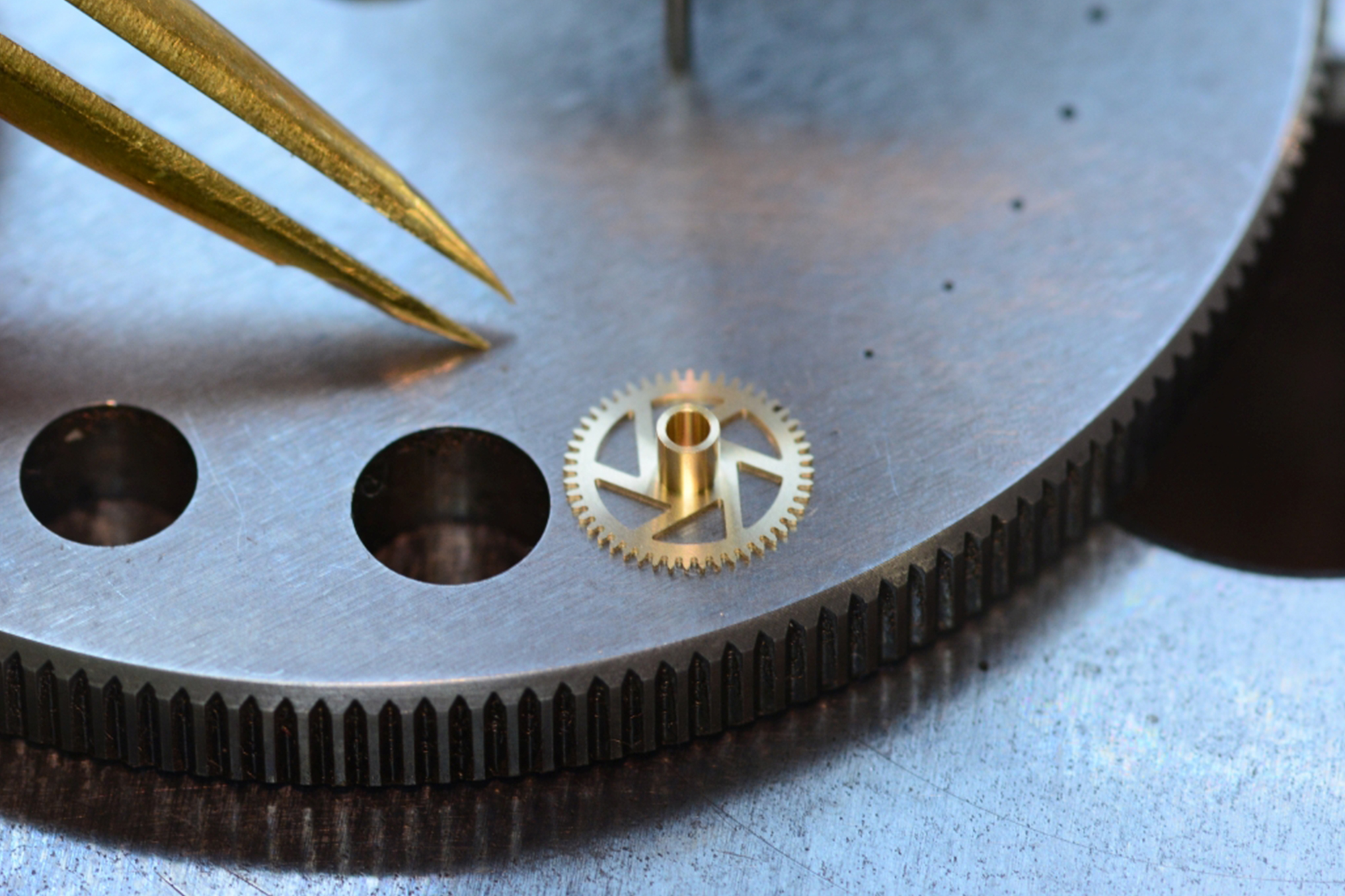 Lastly, it's not based on an existing architecture like the Unitas 6497 or that kind of movement. My objective has always been about being a "game changer", not a "follower", and so I designed and calculated the optimal powertrain for my movement instead of using an existing one.
What is your third pillar then?
As a simple man living on a fragile planet, I know that my job is essentially useless. People don't need a new watch, they want it. So being that it is not a critical need, it should be "eco-friendly" and the best way to achieve that is through up-cycling.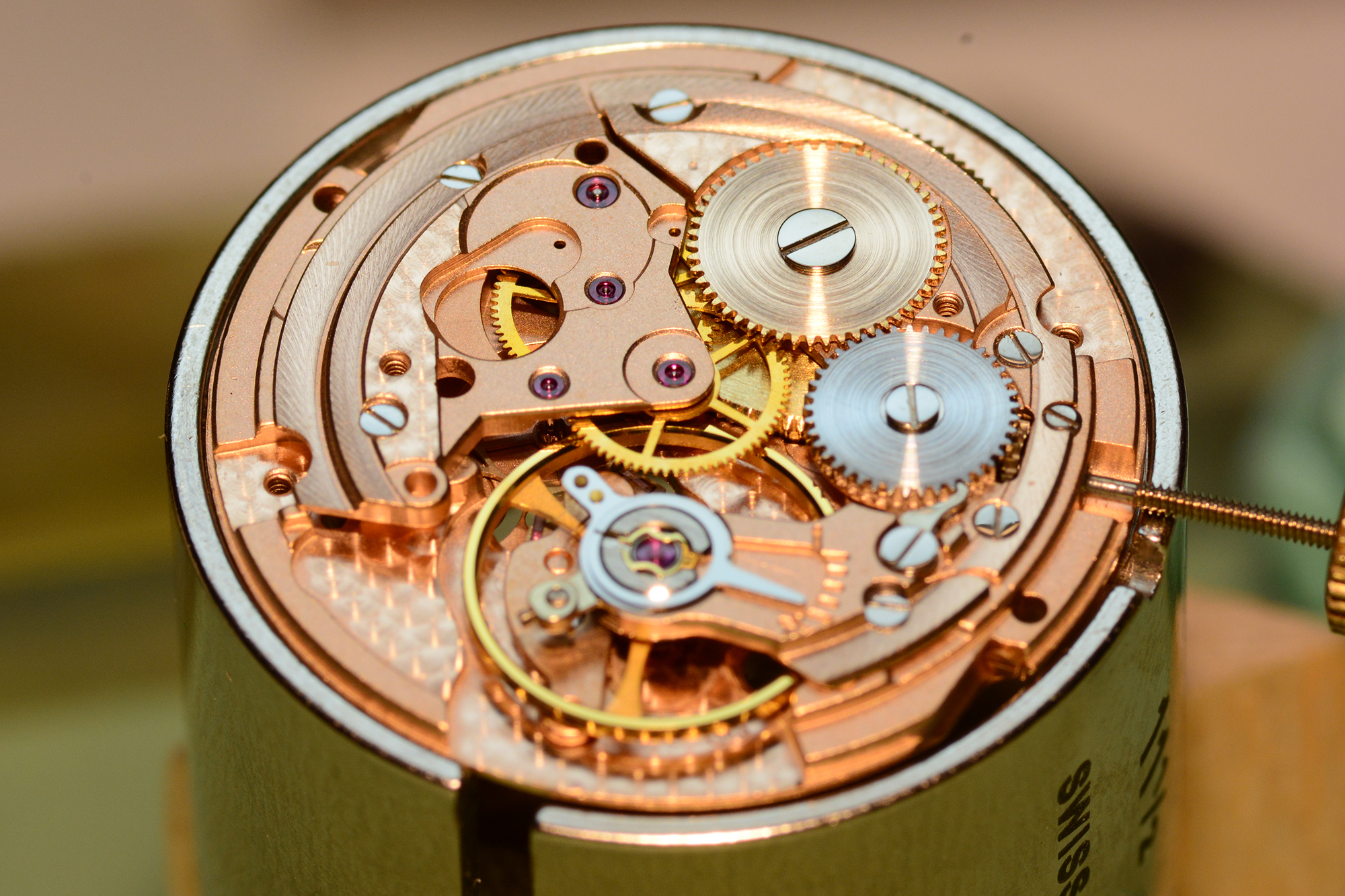 For our straps, we use old Swiss military leather. For the case, we use bronze because it is a renewable metal that can be melted again and again and reused. On our automatic model, we use a vintage movement, entirely rejuvenated with new decorations, and with new parts swapped in if the old ones are bad.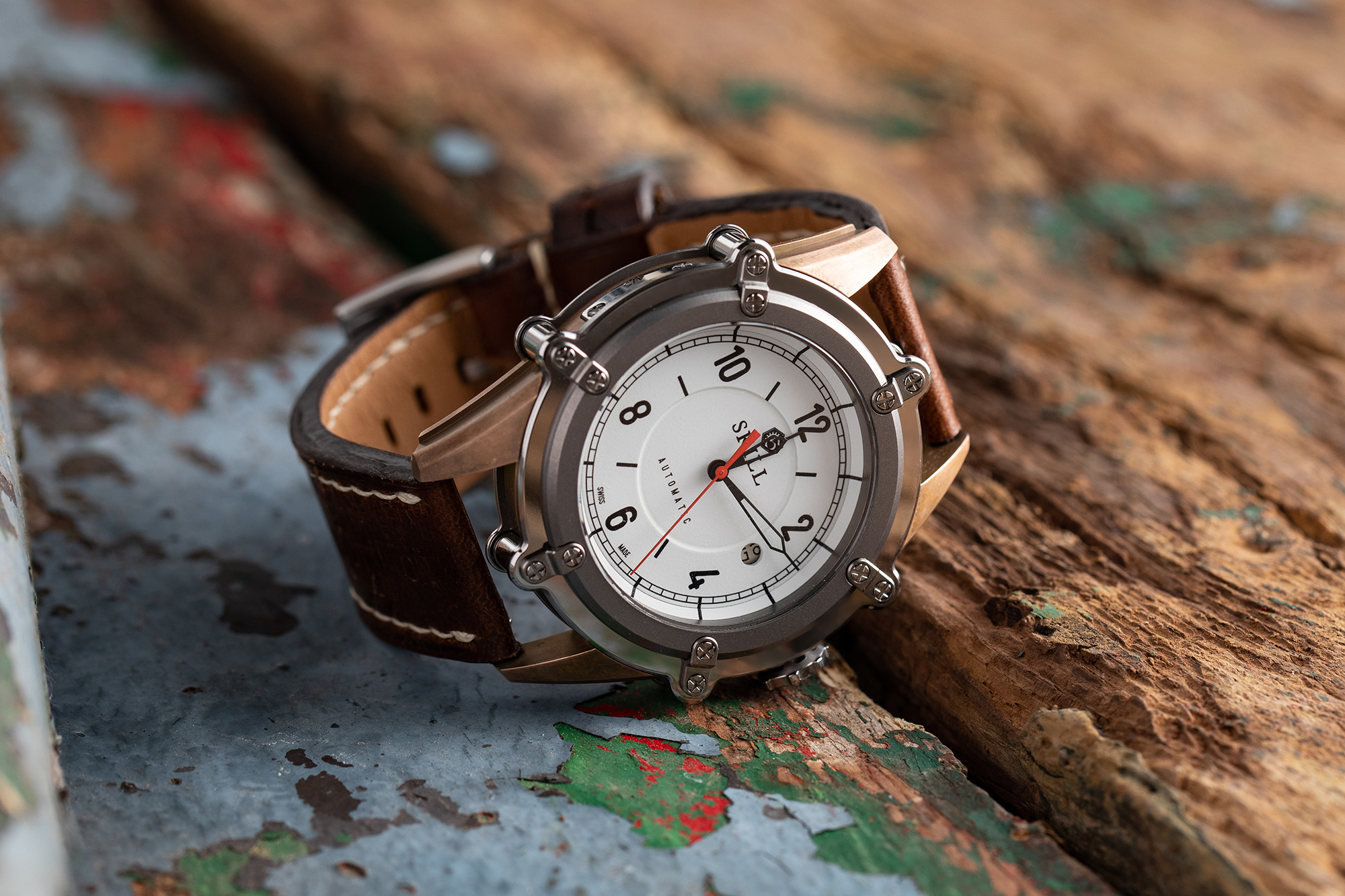 Also, we offer the possibility for our customers to upgrade their watch. If you have bought our automatic watch, the "Sampo" model at 4,500 CHF, but you want to change it for the tourbillon in our "Maelstrom" model at 7,500 CHF. All you need to do is to send it back to us. We will remove the movement, replace it with the tourbillon one and send the watch back to you. You will keep your case and strap, and it will be just like a heart transplant, only that it will cost you 66% of the price difference between the two watches. That is our third pillar, to use as little energy as possible.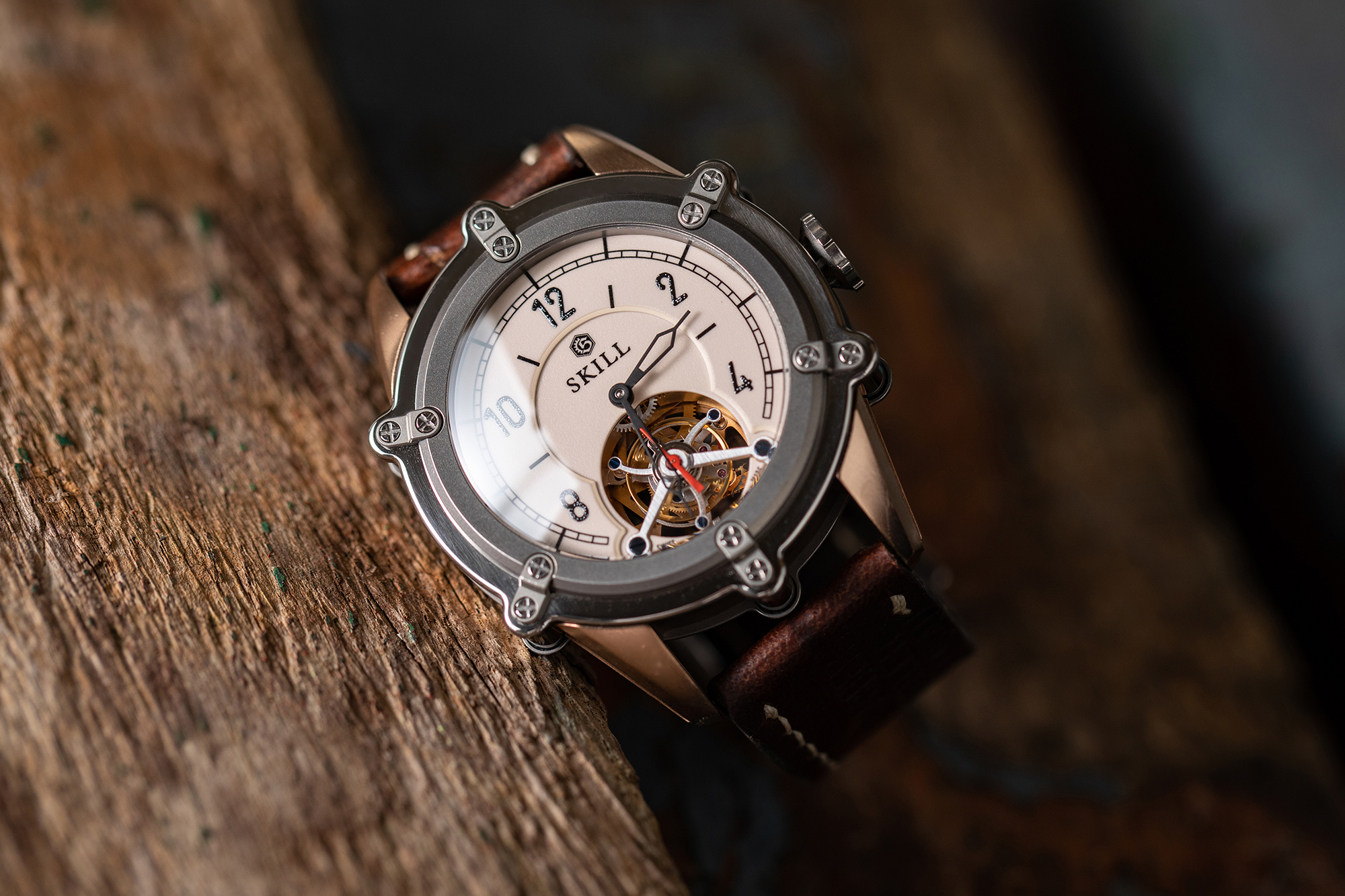 Will there be possibilities to do this swap with other complications? Will you be creating more calibres in the future?
Yes, the options we will offer are going to be a huge part of what we plan to do. We have quite a few things planned. In addition to the tourbillon, we are planning to produce a chronograph, perpetual calendar, moon phase and even a micro-rotor in our future movements.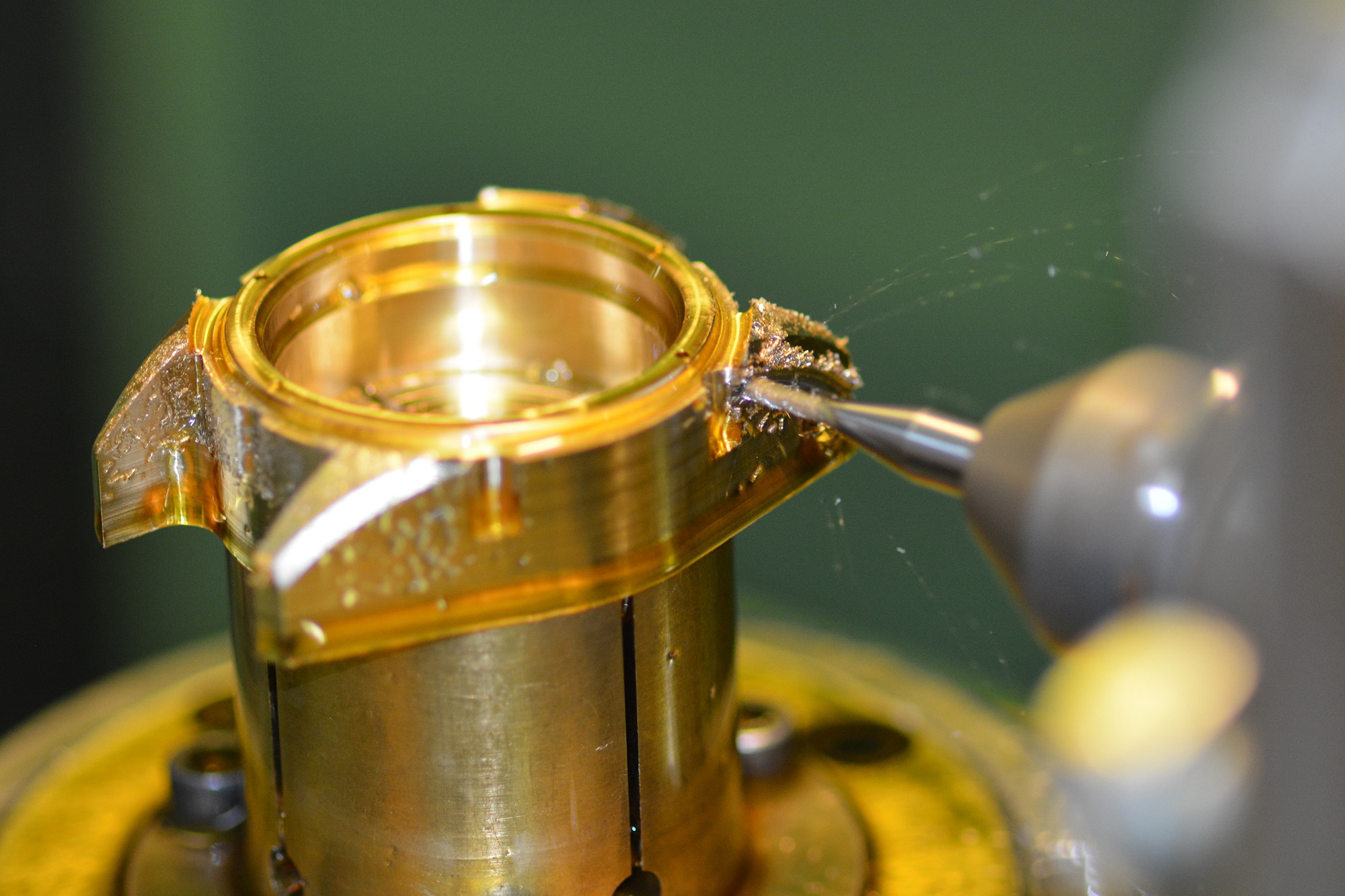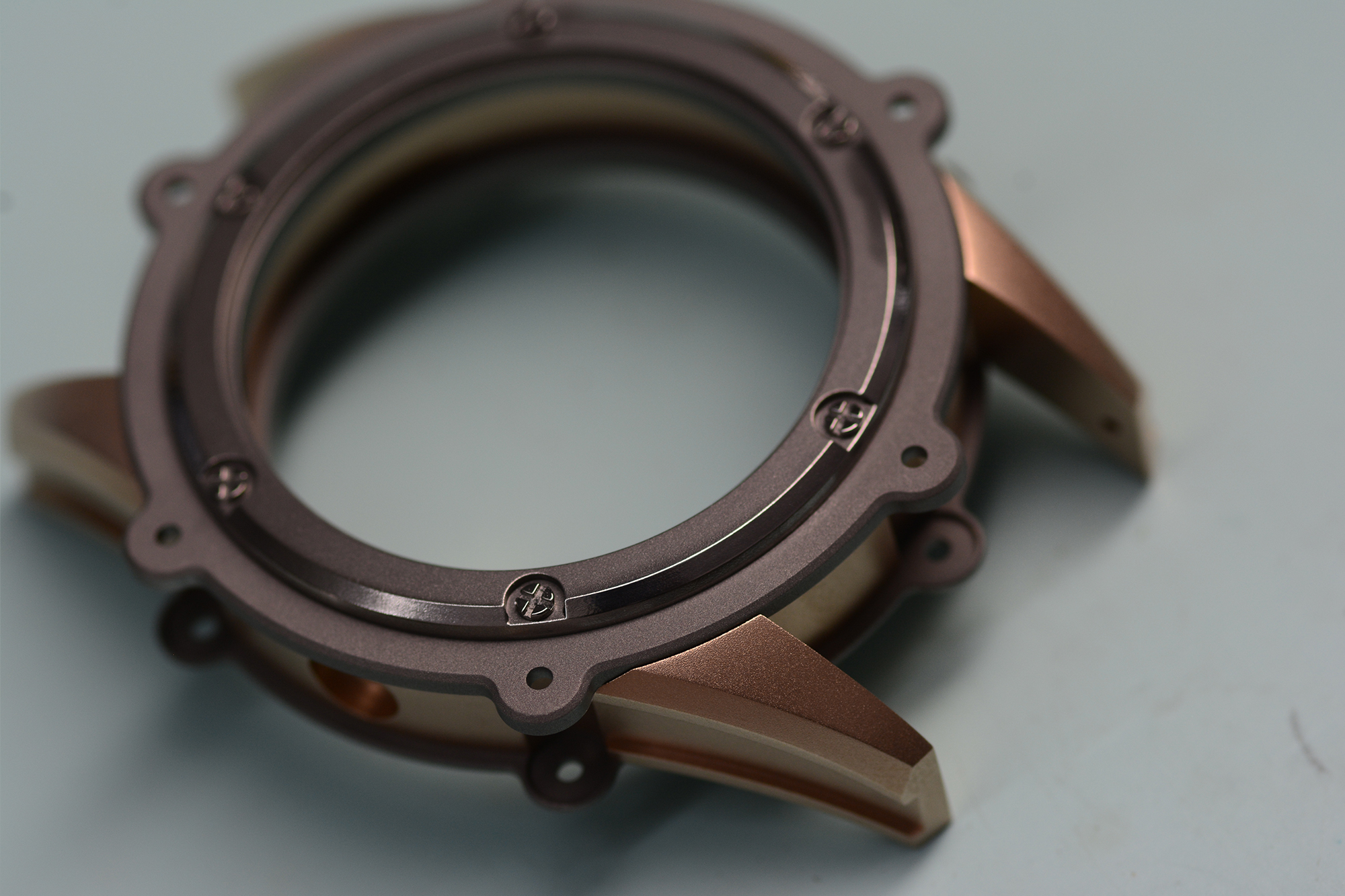 Our case is designed to hold a lot of complications, so be patient and you may have a real stunning machine on your wrist.
How has the response been since you started?
We've only started this year, and the first 5 watches have been sold. We are waiting for the next 10 pre-orders to launch a new batch. I work with my brother Thomas, who joined me on this adventure. He's not a watchmaker, or not like people think a watchmaker should be, but he has a brilliant mind that helps me to find solutions for our daily concerns.
Anything else you want to let potential buyers know?
I'm giving a lifetime warranty on every watch, people should not be afraid about the costs of their watch in the future, that's the way I do watchmaking.
Find out more at skillwatches.ch or click the image below: