The Rolex Oysterdate Precision (reference 6694) has always stood out as one of the most affordable ways to get "the crown" on your wrist. Yes, it may not have certain niceties such as chronometer certification or even automatic winding, but it is still a Rolex Oyster, meaning that it has that distinctive Rolex look with a date cyclops, and it is also water resistant.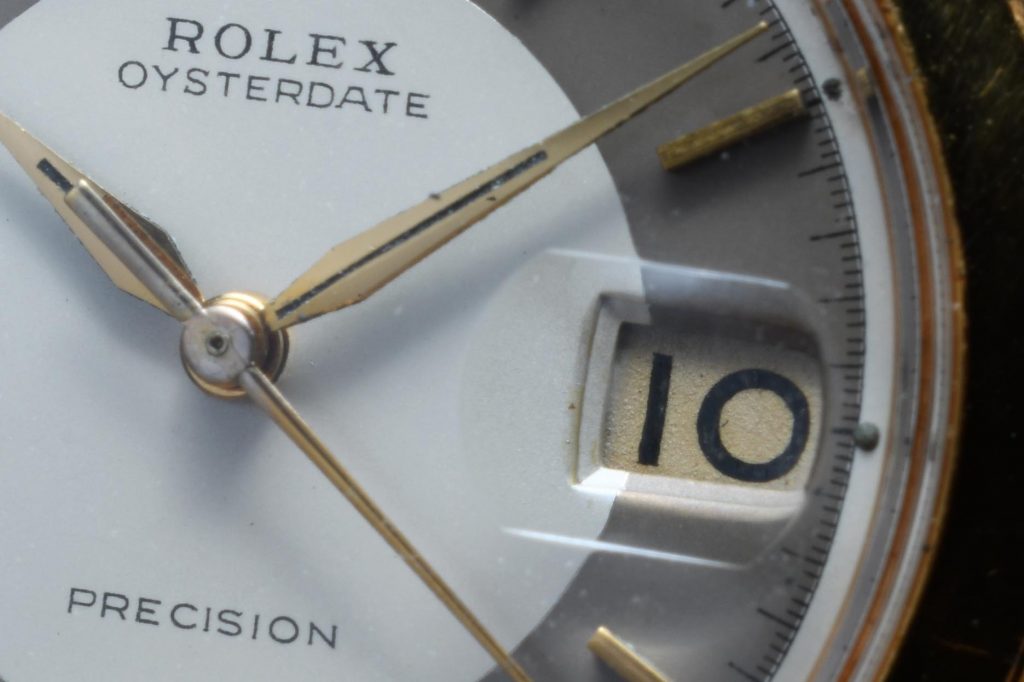 Introduced in the 1960's, this is a reference that was made well into the 80's and was meant to be the entry level model in the catalogue. Sized at 34mm, with a plexi-glass crystal, the manual winding calibre 1225 and a screw down crown, it has all the basic elements to satisfy the budget conscious watch lover who wants a Rolex at an affordable price.
With Rolex prices having started their onward ascent, it's often nice to know that these can be had for as low at $2200 SGD, which is pretty remarkable any way you look at it.
This watch shown here is one of the more unique ones I've come across so far, with a 14K gold plated case and a stainless steel case-back. But then you say – aren't Rolex watches never gold plated? Well, that might be the case now, but not in the earlier days.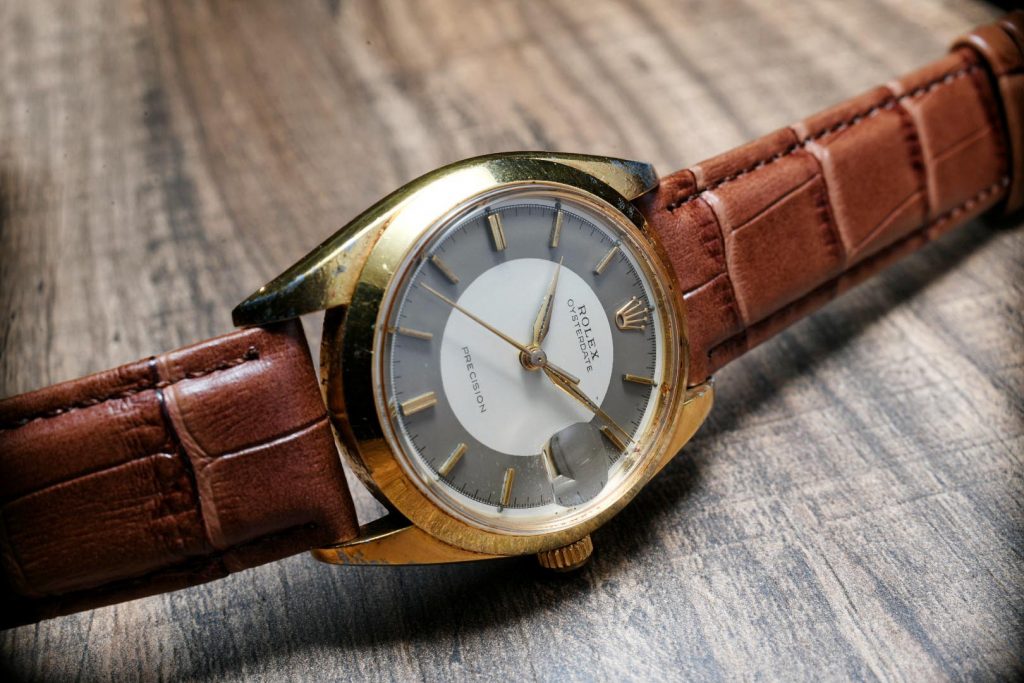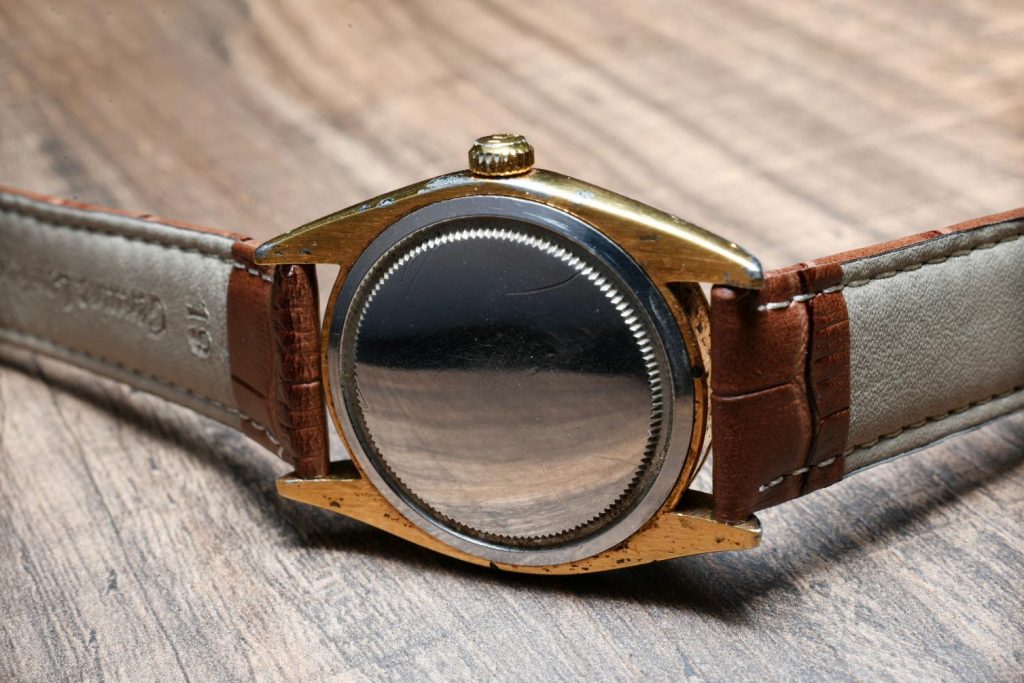 Rolex did offer watches with gold plating on the case and bracelet and they did this with some of the lower priced models such as the reference 1500 or this 6694. The term that was used was "gold wrapped" or "gold filled", with some dealers in Singapore referring to these watches as "golden eggs", essentially meaning that a 20 micron layer of 14K gold was used to cover a stainless steel case.
It's obvious why this practice isn't really done anymore, not with Rolex, or with many of the other old brands that were around at the same time such as Omega, due to the fact that the plating does wear off over time – as can be seen from this example – with the parts that touch the wrist taking the brunt of the wear. The only modern brand that is notable for having gold plated watches that you can buy today is Frederique Constant, which they have stated is 10 microns thick.
In fact the watchmaker who serviced this watch told me that he couldn't guarantee water resistance anymore as some corrosion had taken place in the screw threads holding the case-back.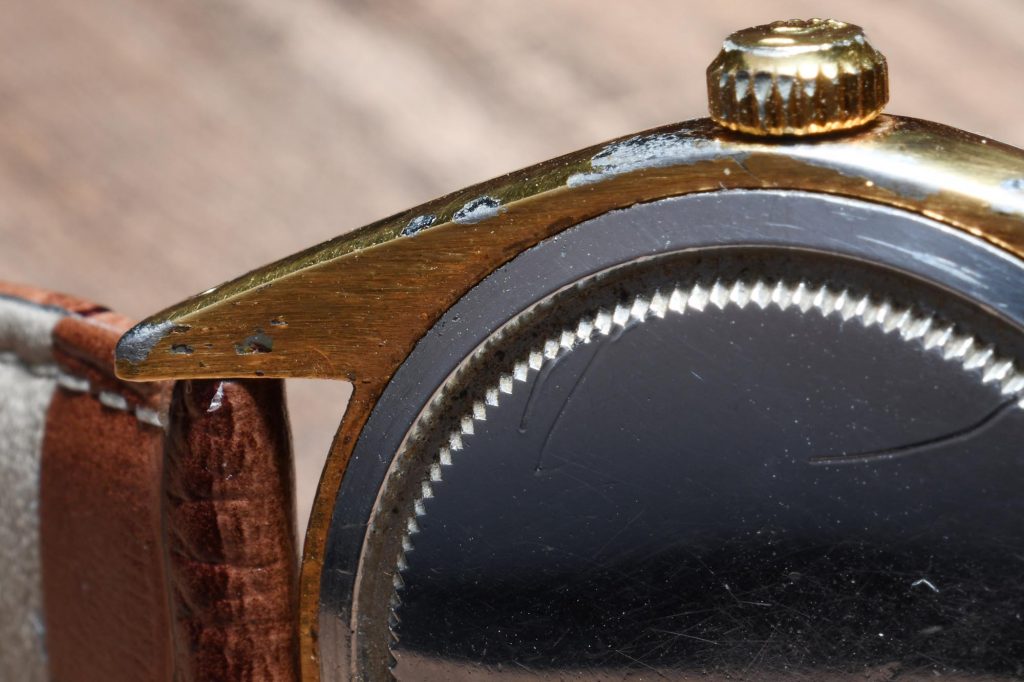 Interesting story about this particular watch. A family friend had contacted me asking to know if it was real or fake and if I could help to get it serviced.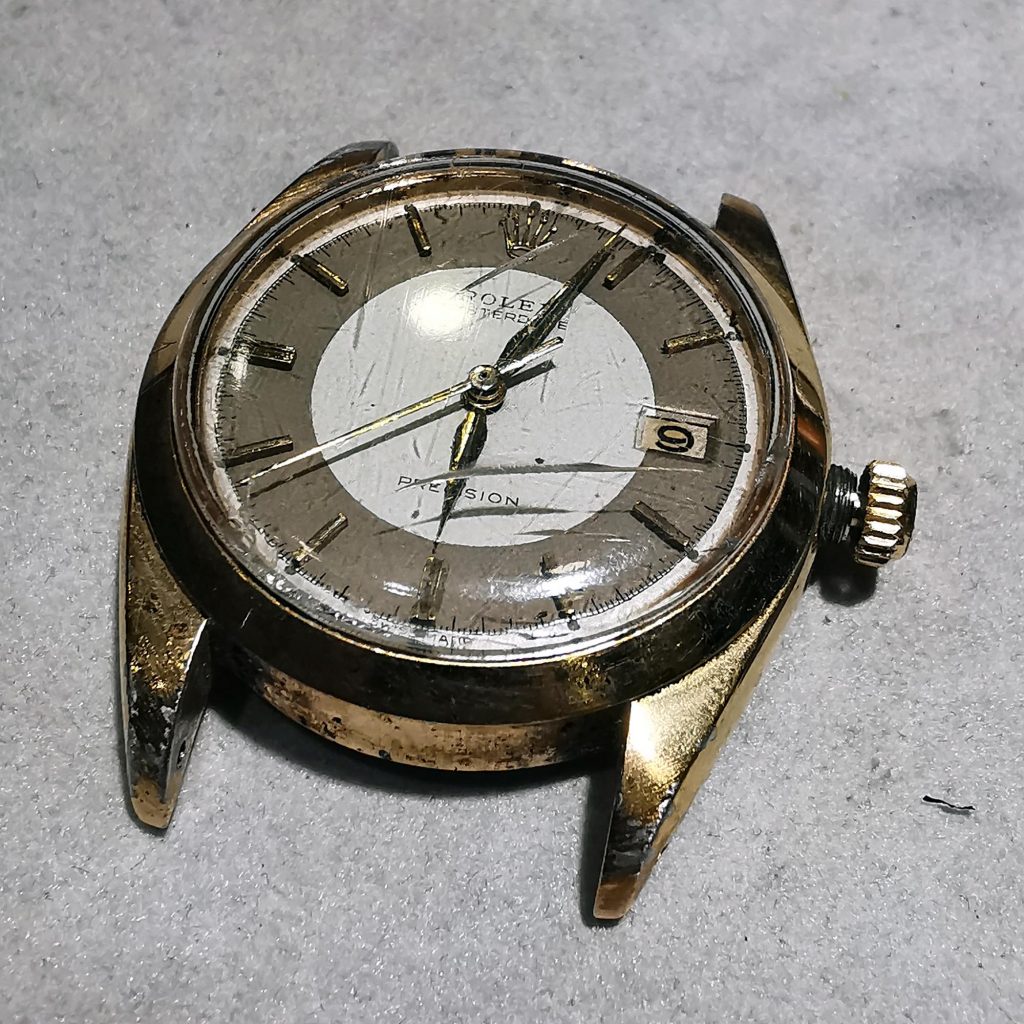 Turns out that he had bought it at a restaurant in Thailand in the 1980's, which had a corner offering all sorts of random knick-knacks. He got it for what was a very good price – watch only, for a few hundred dollars – and no guarantee on its authenticity. So he decided to take a risk, bought it, and then he wore it for awhile, before putting it in a drawer for a few decades.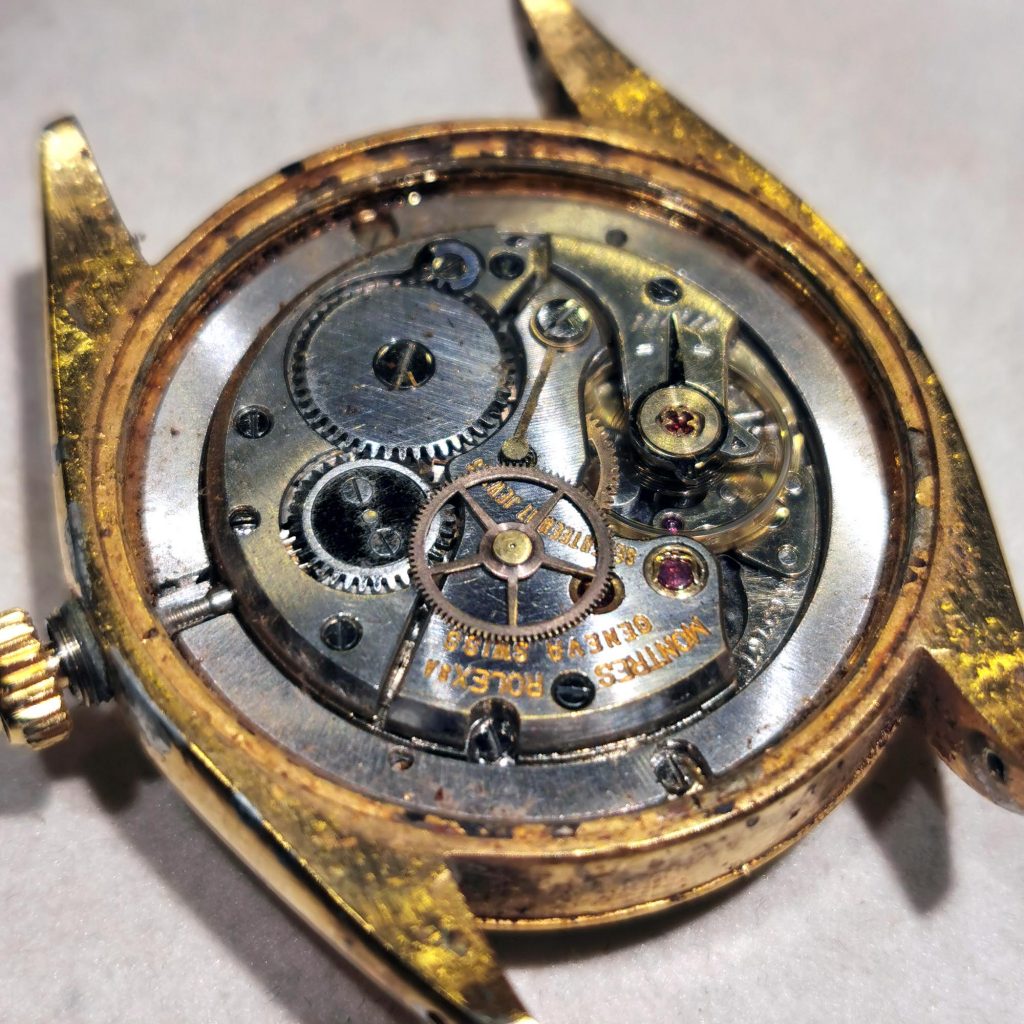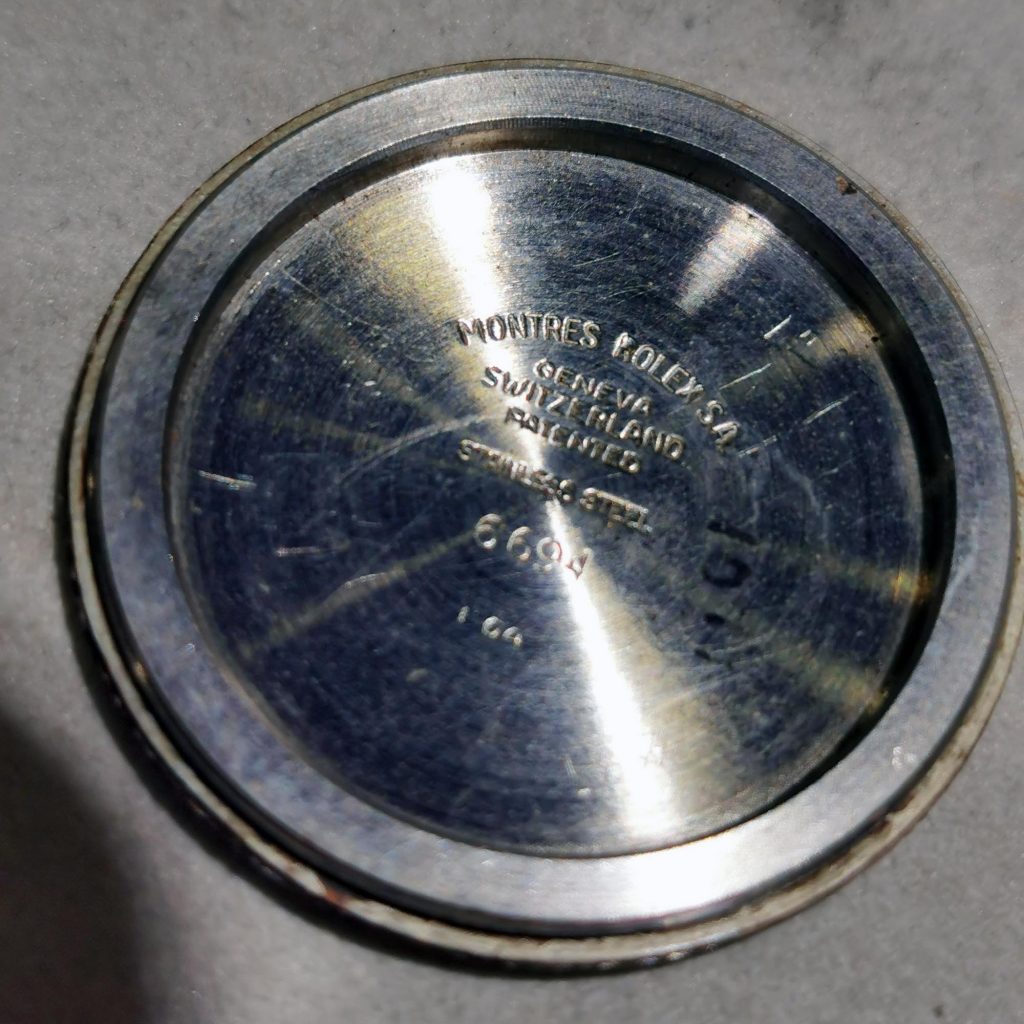 Well, it looked authentic to me when I examined it, and my hunch was confirmed when the watchmaker opened the case to confirmed that everything inside, movement and all, was indeed legit. The condition of it however, left much to be desired, but even though the oils had dried up, it didn't really need to have any parts replaced, so it was just a standard disassembly, oiling and cleaning that was done, with also a new crystal and leather strap added.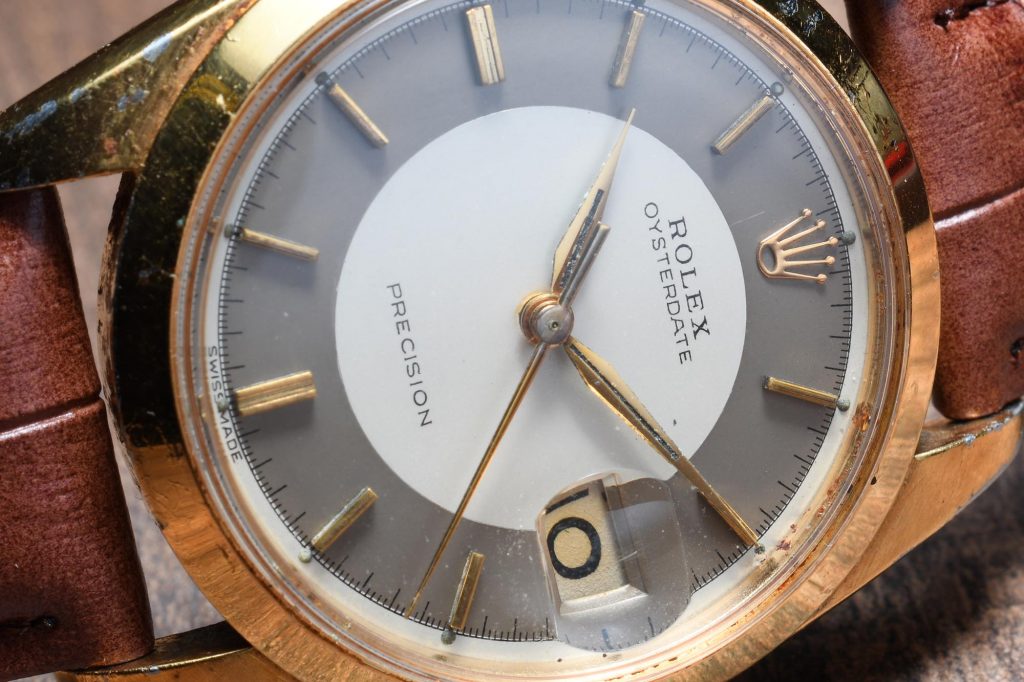 Something interesting about the dial, it's quite a rare one being two toned, with the central portion in white and the surrounding area covering the minute track in grey. Apparently its a dial that the watchmaker himself has not seen in person before, which was a nice surprise to its happy owner when he received it back, running as smoothly as a Rolex should.
So now you know about gold plated Rolexes – yes, they do exist.