Away from the hustle and bustle of Baselworld 2019, a new brand was launched that was being talked about in hushed whispers. Showing across the river from the fair at a suite at the prestigious Trois Rois hotel via appointment, it was a brand that had been created as a result of a few partners coming together with their particular specialities and a particular concept. 
Certainly, what makes the CU29, a new watch from the brand, "The Alchemists" stand apart from everything else is its rather weird, or some might say contentious unique selling point – an ability to heal all sorts of ailments via "Cuprum 479", a proprietary alloy of 80% copper, gold and silver that makes up its case material, with the exact composition of each metal a secret. 
The name of the brand does suggest something along these lines, but we'll get to this later, and summarize now what the watch is about from a horological standpoint.
Looking good
The CU29 is a watch that comes with quite a few interesting characteristics that make it worthwhile as a piece of horology.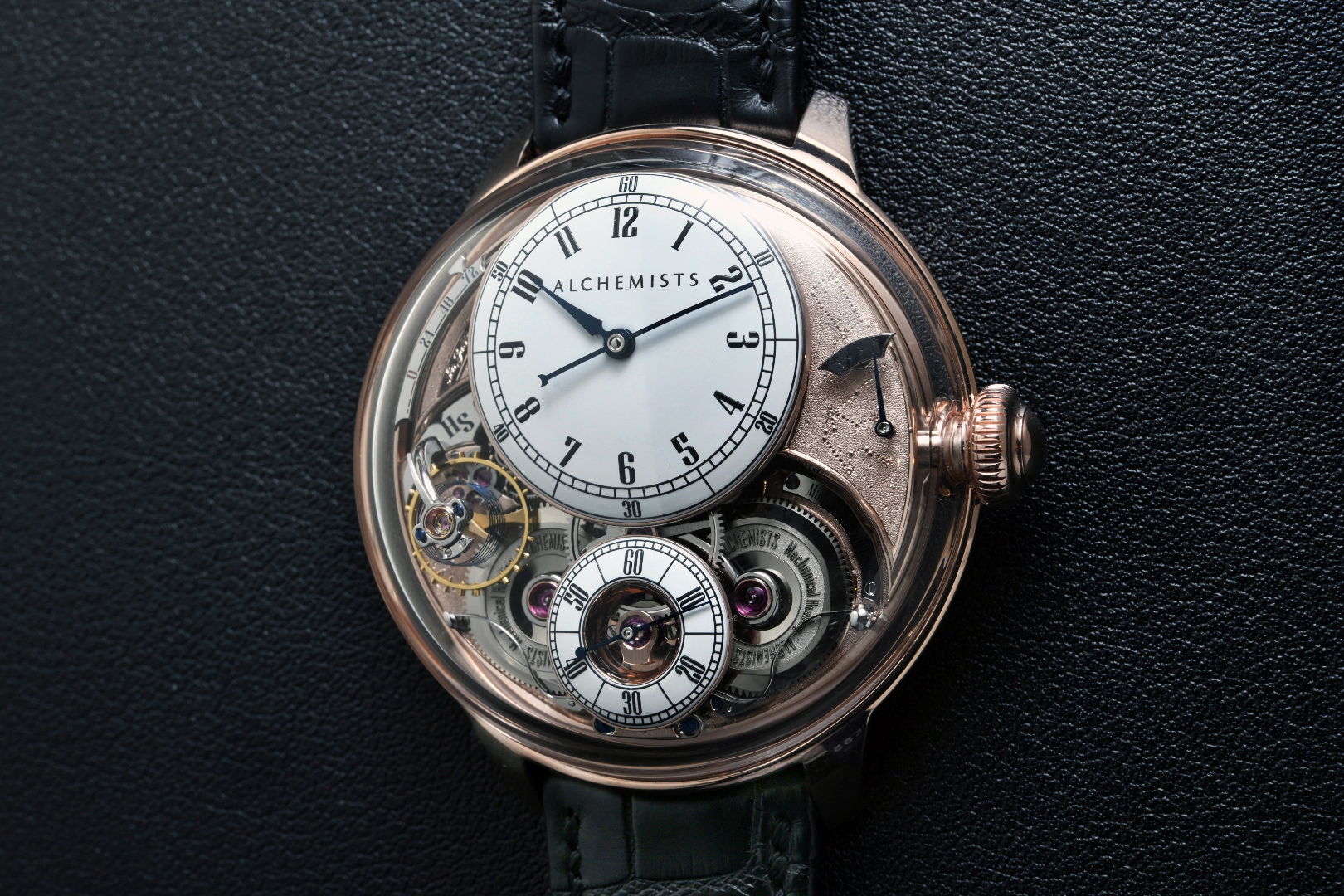 First of all it is rather attractive, and does invite desire from an aesthetic point of view. The fashionable practice of having a sub-dial for hours and minutes, and a smaller seconds sub-dial below that is in use here, allowing the rest of the space from the front dedicated to showing off a number of technical highlights of the Calibre AC 003.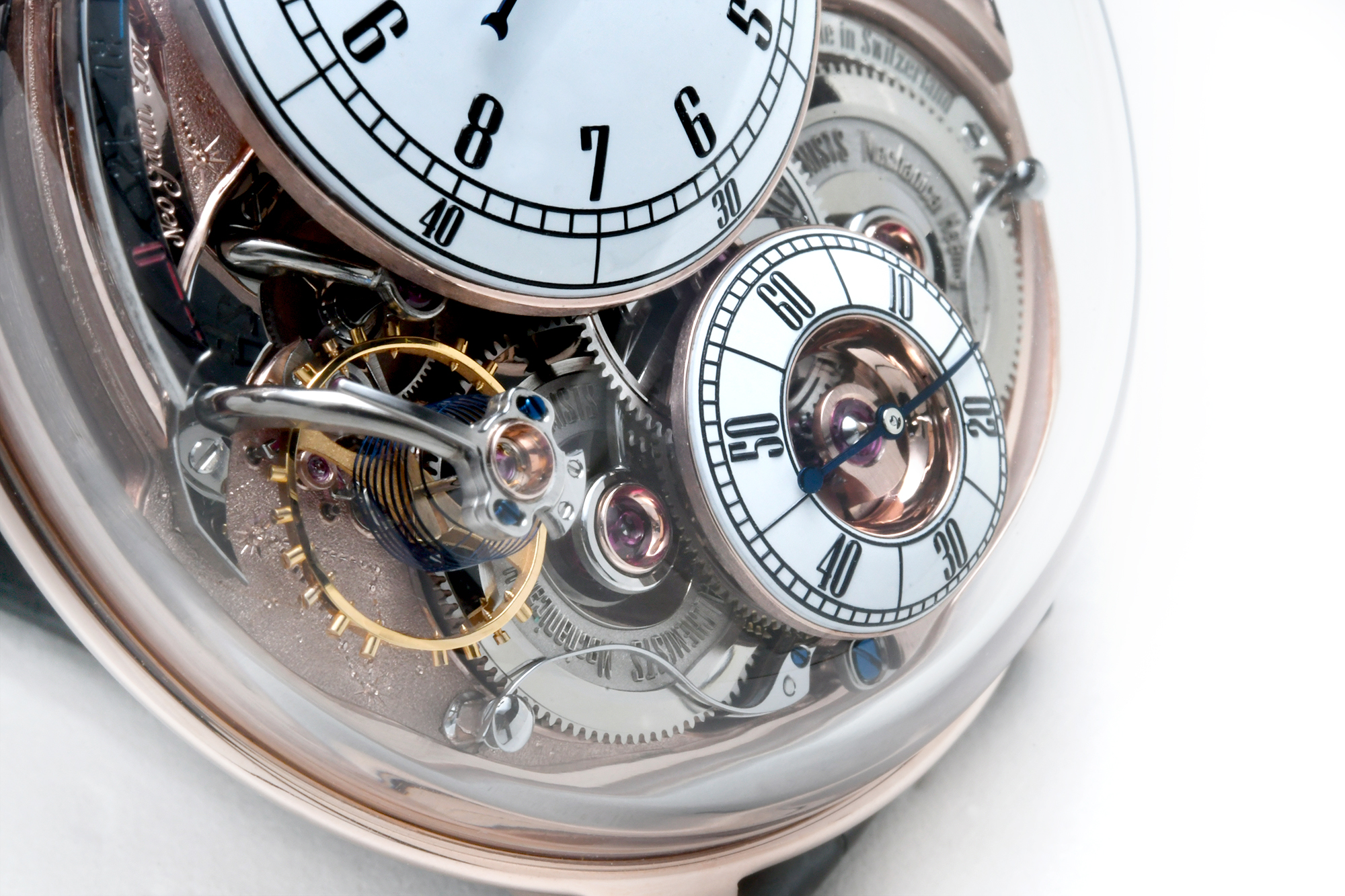 Situated at 8 o'clock is a variable inertia balance wheel with weight screws connected to a blued cylindrical hair spring, with a power reserve indicator from 0-72 hours just above that to the left of the hour/ minute sub-dial. Opposite to this, between 2 and 3 o'clock, is a function selector, with W, indicating (Winding) or S, indicating (Setting). At 4 and 7 o'clock on either side of the small seconds sub-dial, there are two barrels, linked in parallel and connected to moustache-shaped pawls that allow users to see each click of the ratchet when the watch is being wound.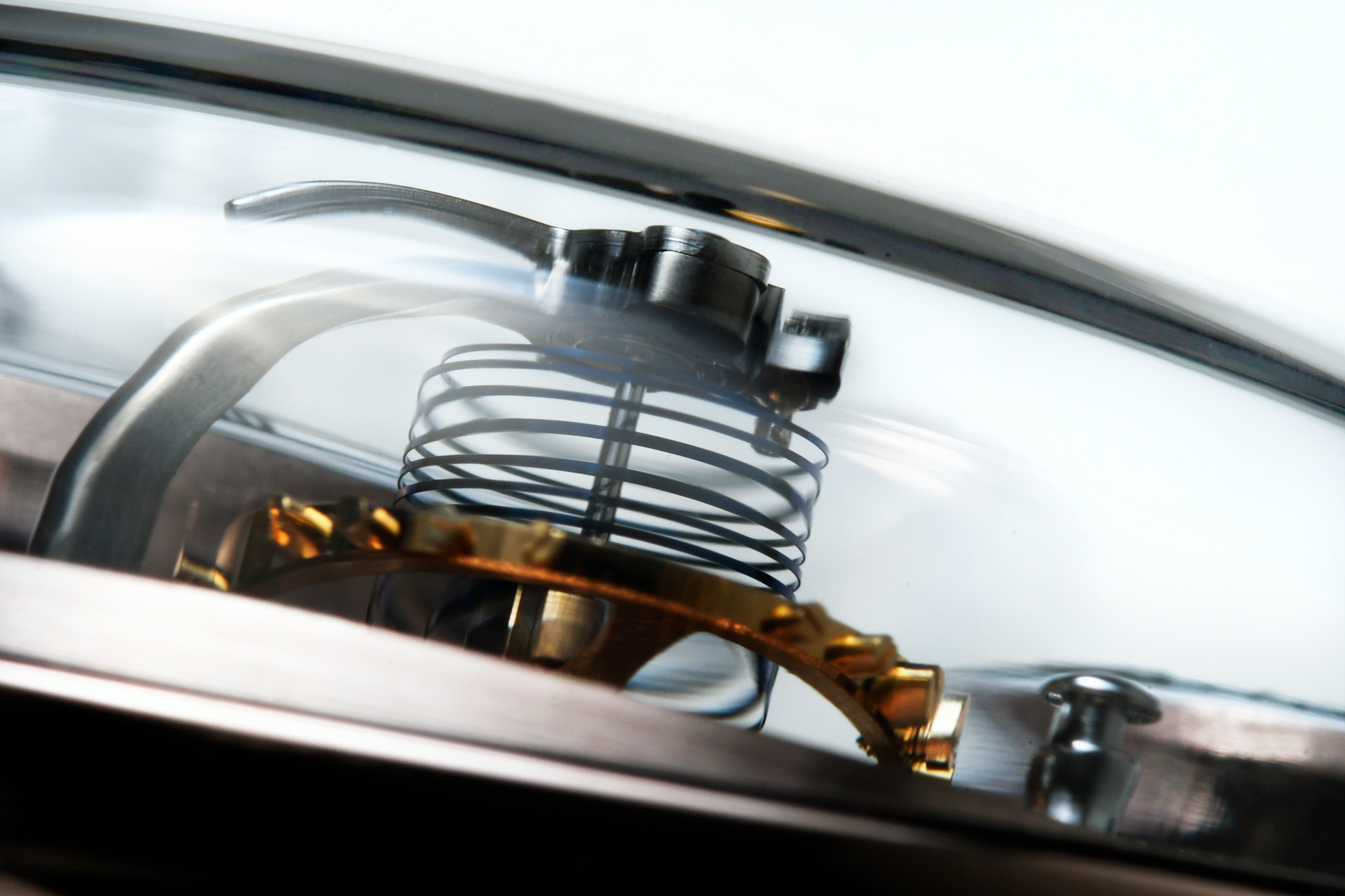 All this sits within a case covered over with a bulbous "glass box" crystal, allowing an exceptional view of the internals of the watch. On this point, the crystal is rather special as well, because the base of the crystal is of a smaller diameter than the outside edge, meaning that the the crystal's diameter gradually expands from the base until it takes on a hemispherical curve at its apex.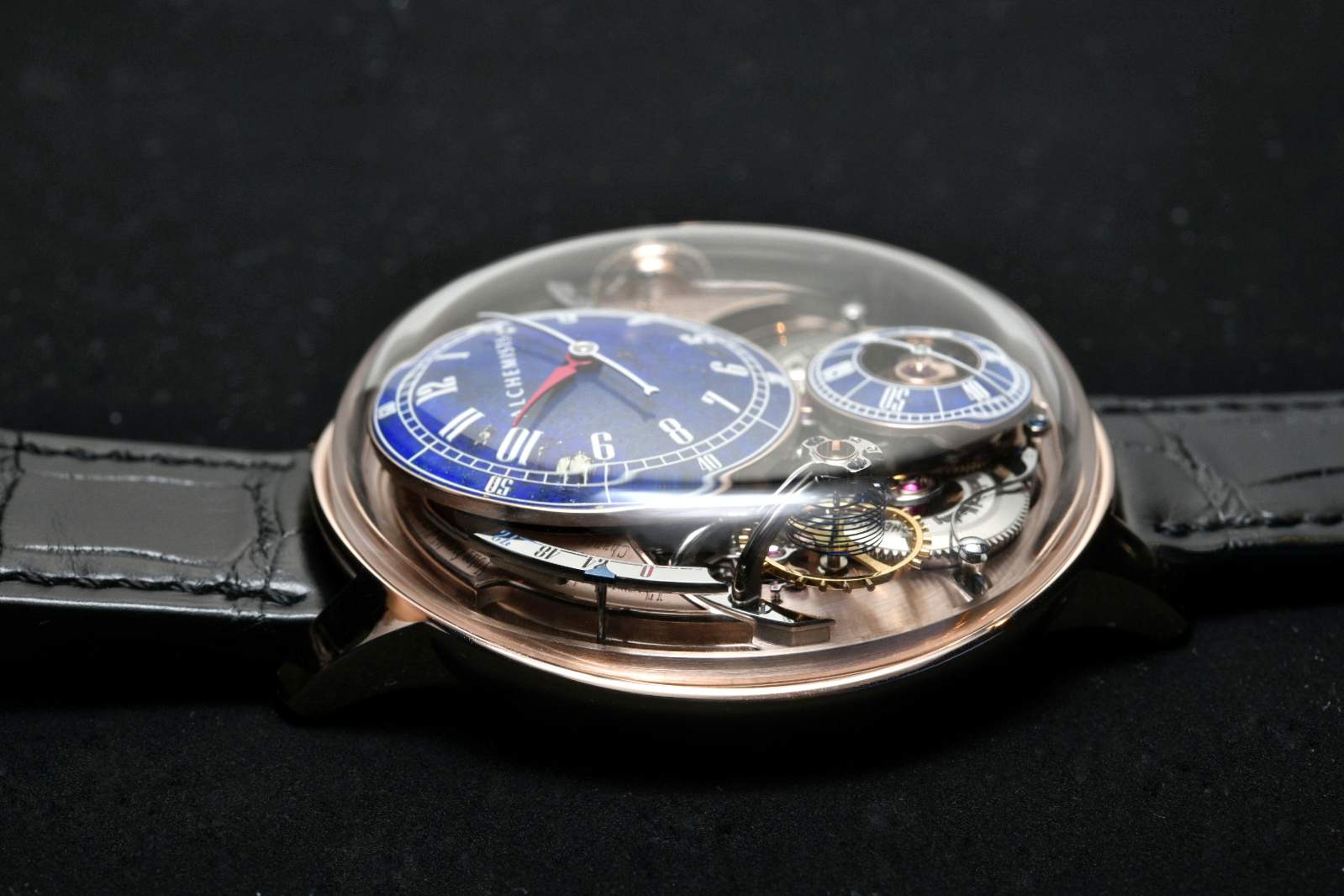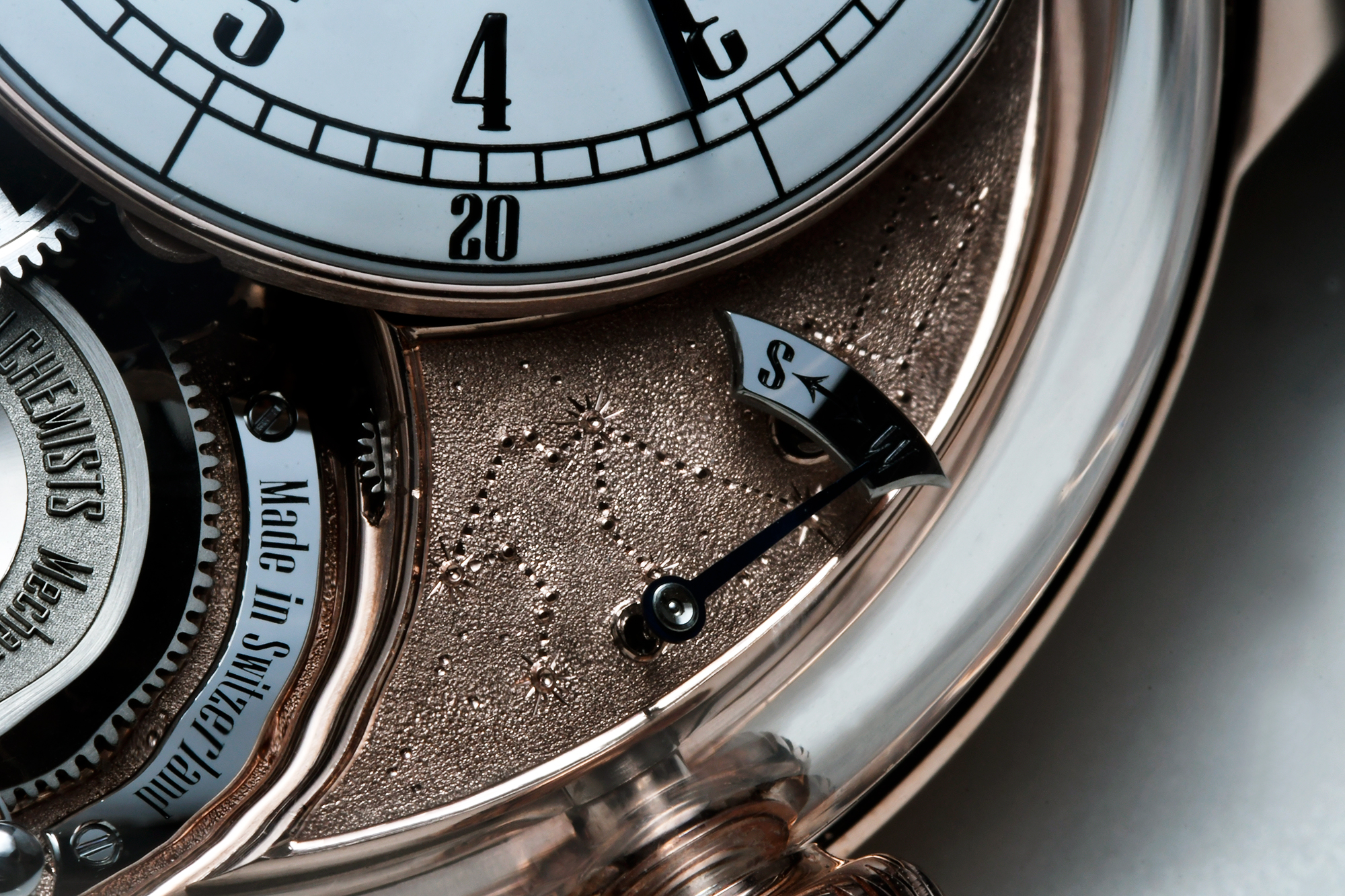 The last point on the crystal is that it is pierced by the crown tube, which is something I've never seen before. Since there is more crystal than case in the design of this watch, it does make sense to do it this way, and is a unique point of differentiation. That being said, you have to realize that this method of case construction means that water resistance will not be a factor in your consideration when buying this watch. For those instances anyway, you'd probably be wearing your Submariner.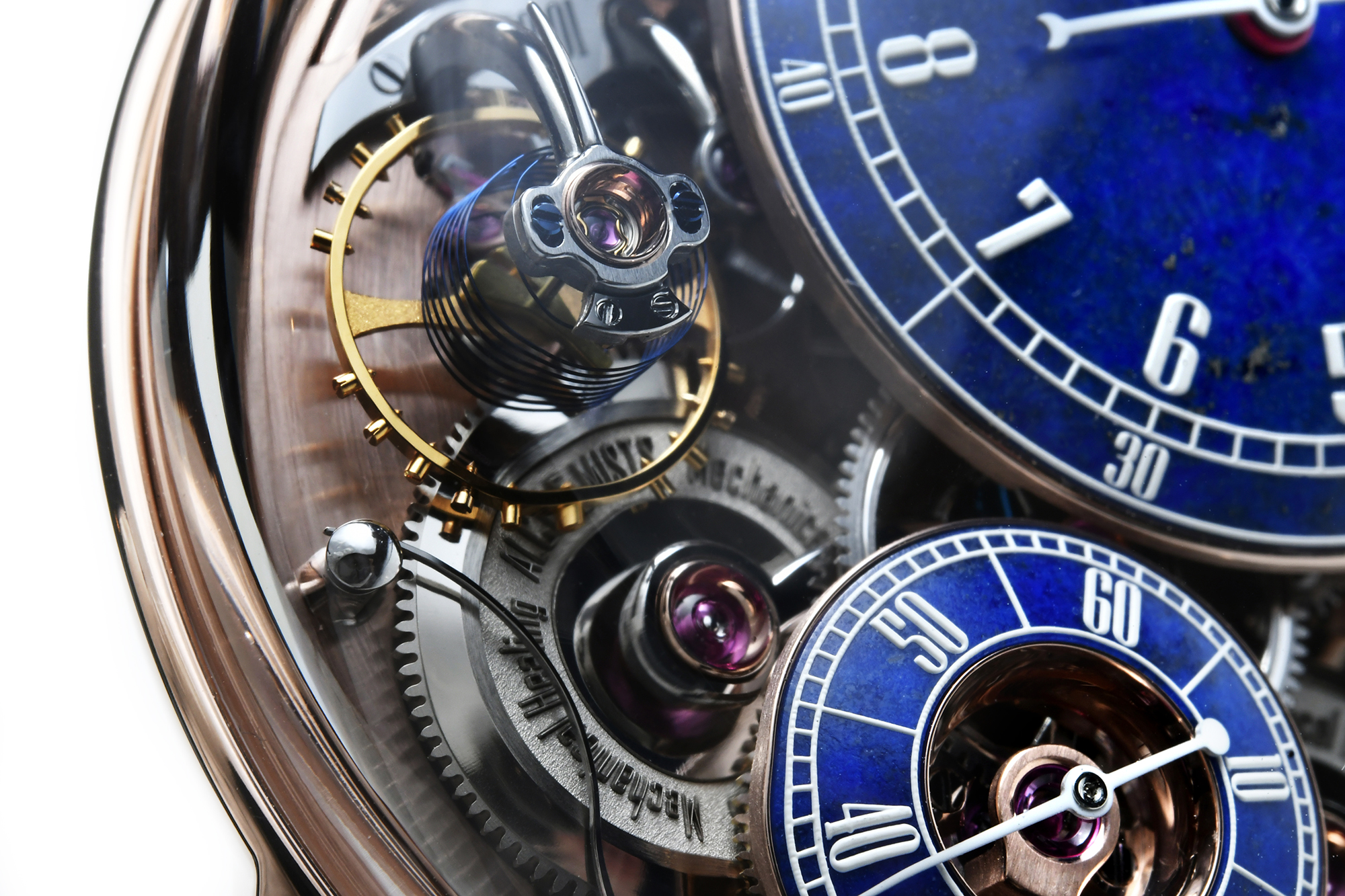 The next significant factor that contributes to the horological interest is due to the top class finishing that can be found in the watch. It's all done by hand and in the traditional way, and if you found why your eyes might pop out of your skull. 
In two words – Philippe Dufour. Well, not the master himself who does the work, but watchmakers that he trained in the traditional arts of finishing, and whose work is overseen and approved by him. Well that got your attention didn't it? And might account for the relatively high asking price of 214,107 CHF for a time only watch.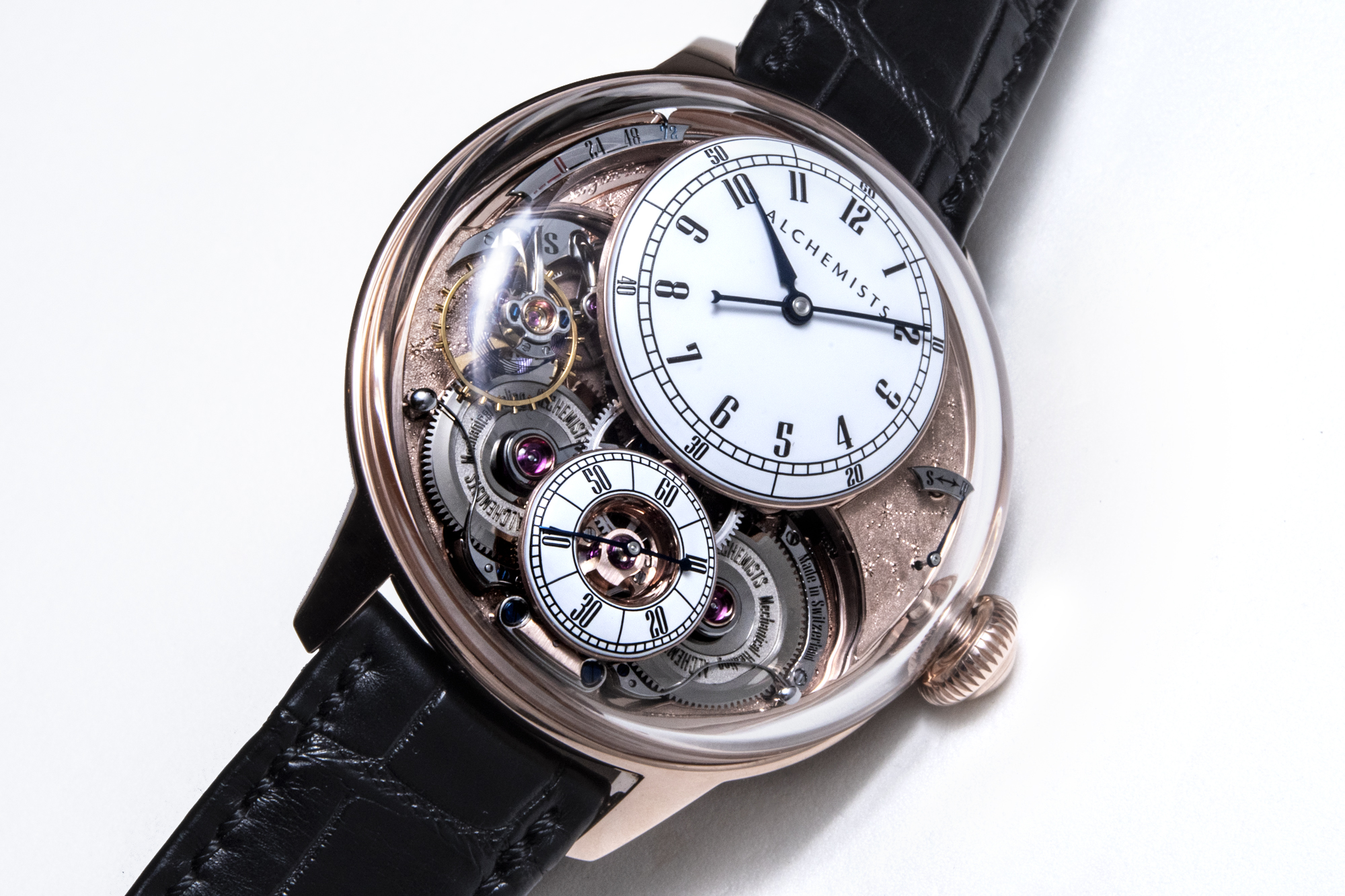 Overall then, a nice watch and with a great design and great finishing. But then, what about the healing?
Does it heal? 
So the case is made from the aforementioned alloy, CUPRUM 479 and allows as large a surface area as possible to contact the skin, so that the purported healing benefits are possible.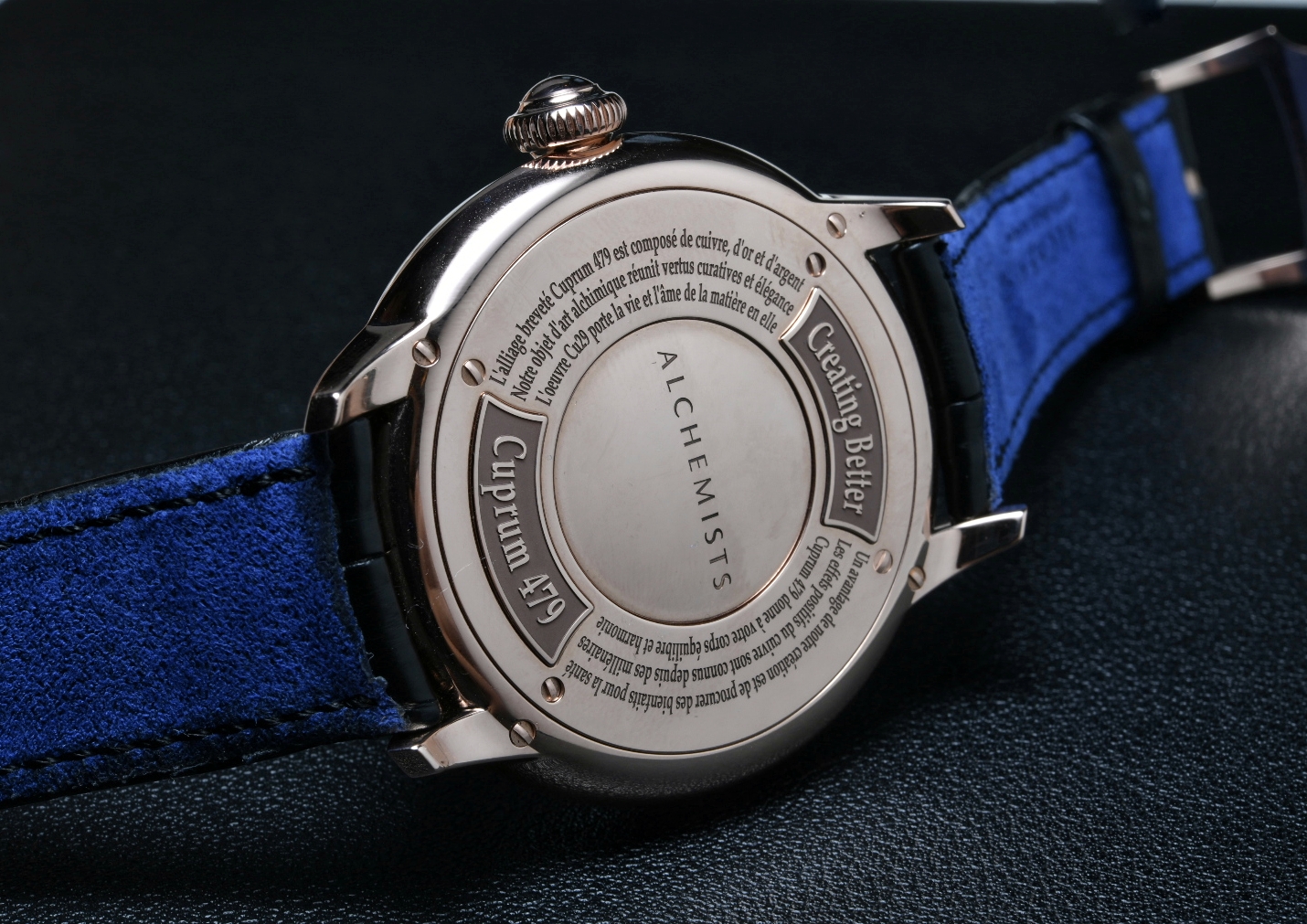 As you can see from the pictures, there are a few different dials offered, Grand Feu enamel is one and the other, a specially curated stone, which has different healing effects in conjunction with CUPRUM 479. The offered combinations are as follows:
– Cuprum/Black Obsidian: this combination helps protect, and promotes spirituality.
– Cuprum/Lapis Lazuli, to promote creativity, improve concentration, and instill wisdom. Lapis lazuli is also reputed to help alleviate allergies and skin problems.
– Cuprum/Jade: This age-old combination is considered a source of prosperity, compassion, optimism and tolerance.
I'm sure that there will probably be other possibilities depending on the preferences of the clients that buy this watch, who can probably choose other stones depending on their month of birth or on account of them requiring certain stones to heal whatever ails them physically or mentally.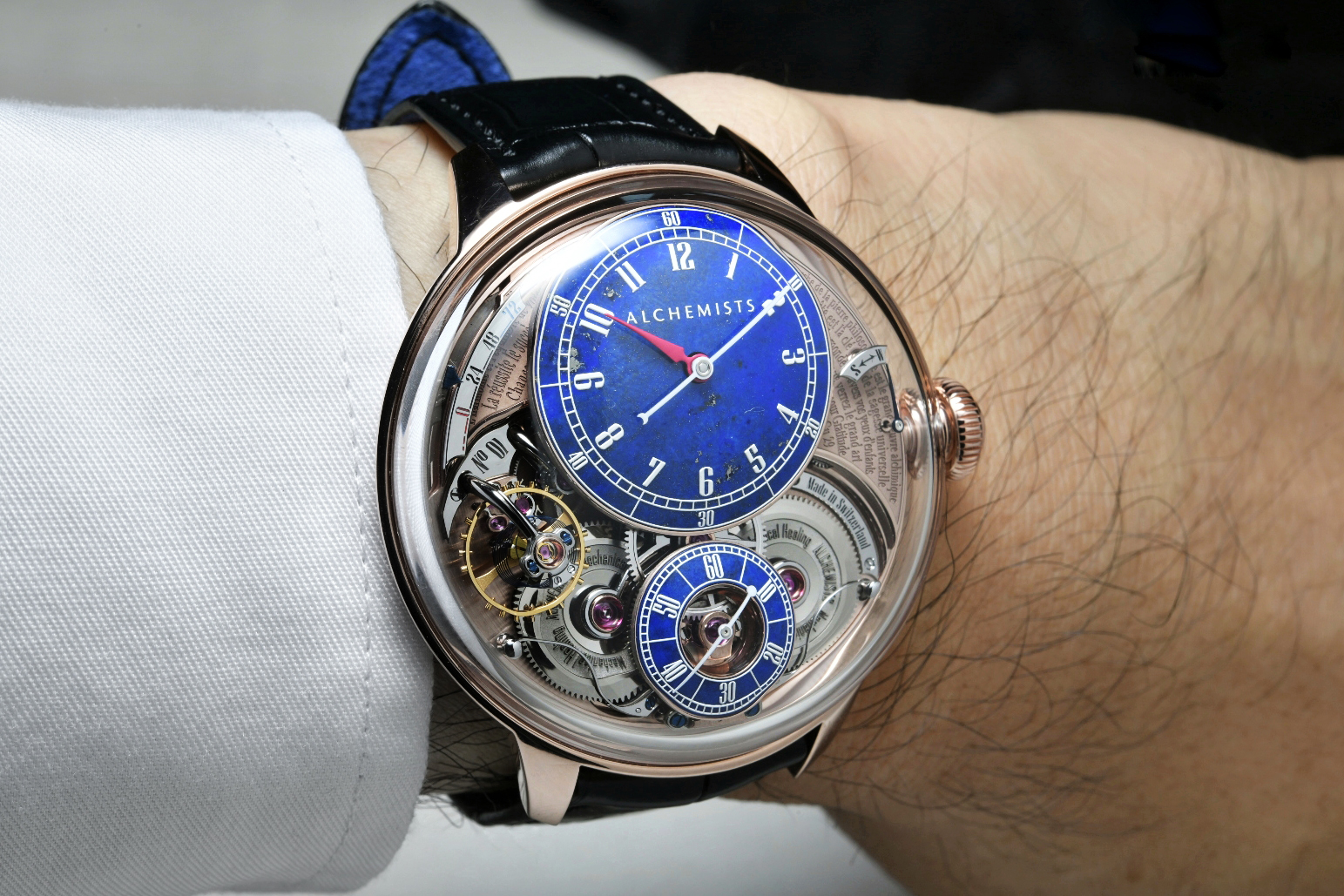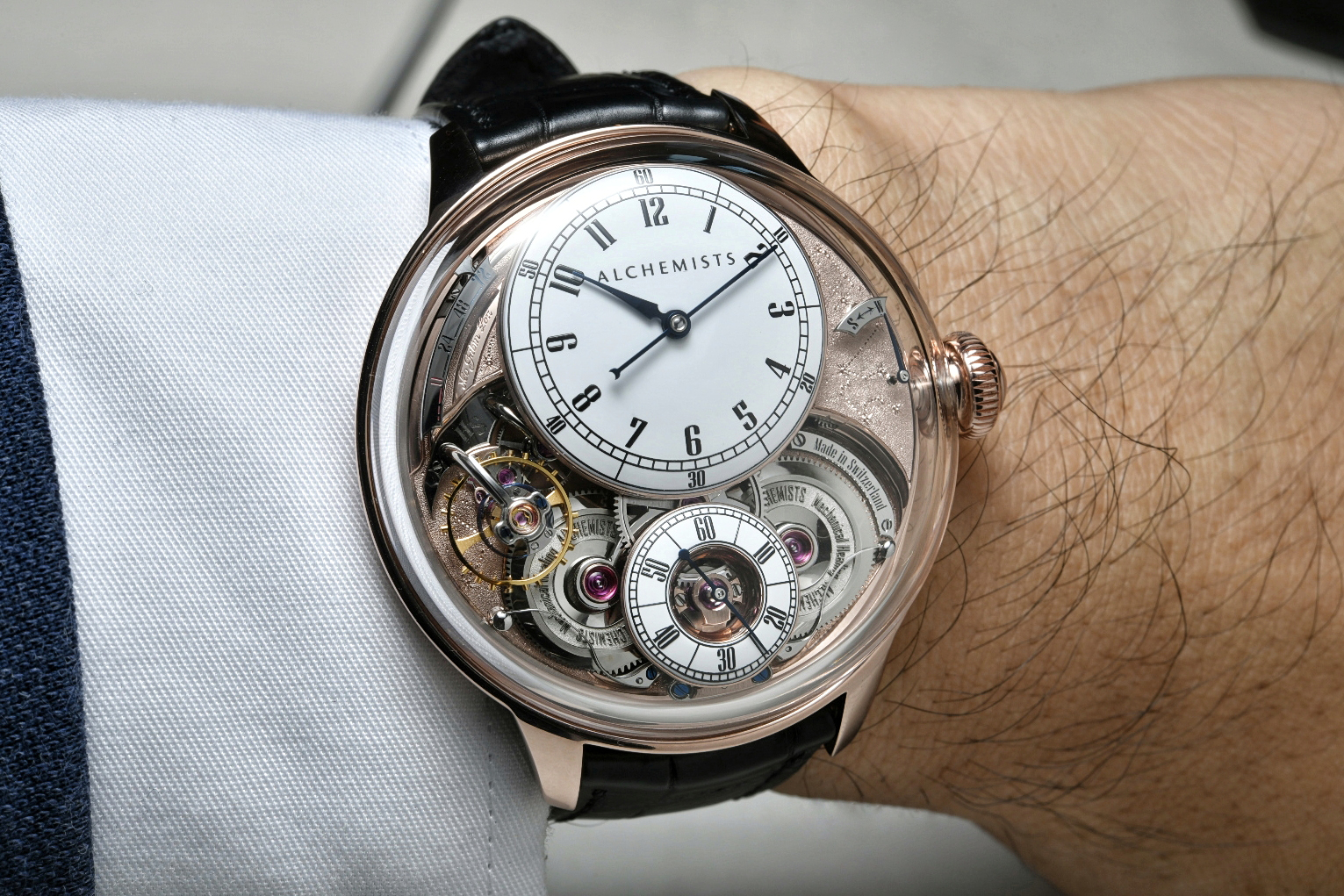 The main aspect of Cuprum 479 is the copper which makes up 80% of its composition, and is the ingredient in the alloy that is responsible for its healing properties. How does it achieve this?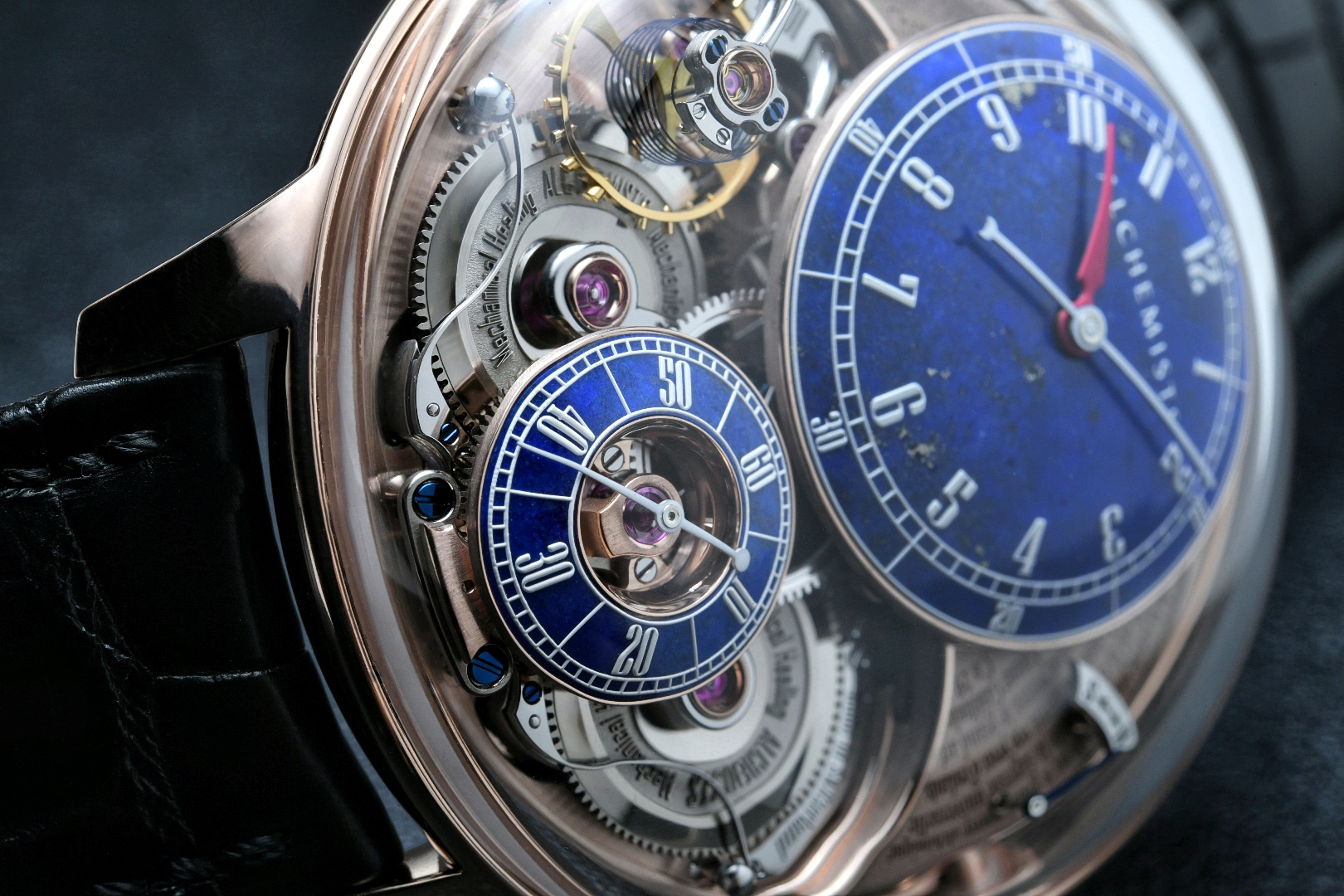 Well, it seems that it stimulates the body's natural defences, with the dominant mechanism being its promotion by the body in the assimilation of vitamin C. Then add silver, which is a powerful antibacterial, and resulting synergy between the two metals increases their effect. 
Furthermore, it is a component of many proteins and enzymes found within the human body, with 100 mg being present within an adult body. It also is essential in the formation of collagen and is a major catalyst in the formation of red blood cells. Also, it is present in numerous enzymes, as it participates in the metabolism of proteins and lipids, and keeps the myelin sheaths around nerve fibres in good condition. It helps maintain the body's immune defences and promotes fertility. It may also prevent certain types of arrhythmia thanks to its metabolic action.
Now, much of what is in the previous paragraph comes from the press release of the CU29 from The Alchemists, lightly re-written. 
I'm no doctor, nor a medical professional and so I have no way of verifying these claims. A cursory search online does turn up some research that suggests that there might be a basis in copper's ability to heal, but frankly, it's all too circumstantial and a little "woo woo" for me. I think that to be convinced, perhaps a credible scientific opinion can be shown, and then I might take all this more seriously.
So maybe it's a marketing gimmick, or maybe science hasn't caught up enough to explain the effects. Whatever the case may be, I'm not going to take a stand either way.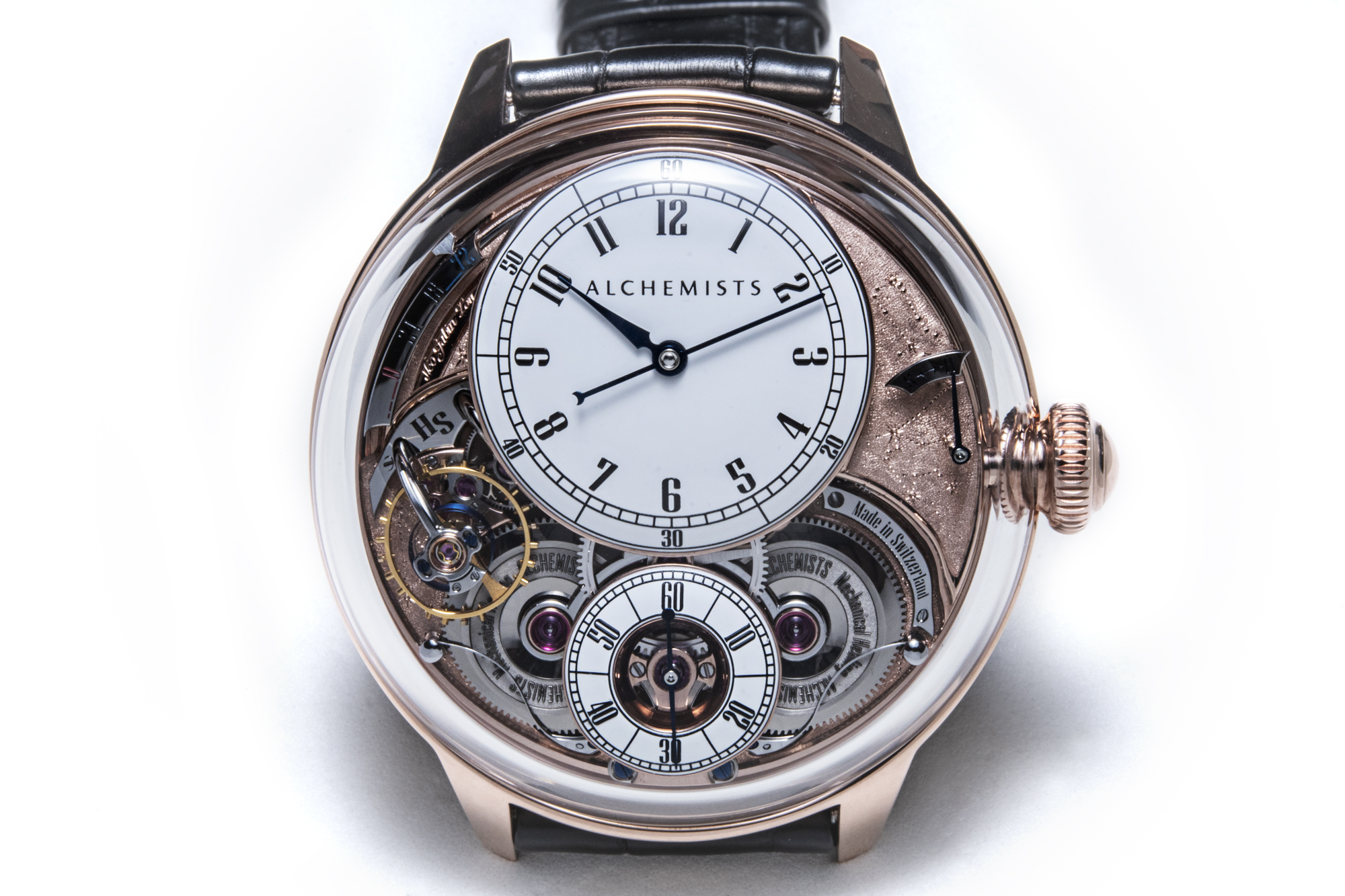 For me, this is a watch that stands on its own, and does so well from a horological standpoint, and the fact that it was a finalist in the 2019 GPHG, does suggest that, "healing" aside, this is an exceptional watch. 
The only other thing worth mentioning is that the watch comes in at quite a steep asking price of  214'107 CHF, which I suppose can be attributed to the Dufour name attached to the project, and if you are so inclined, the healing properties of the CUPRUM 479 case. 
My guess, I think this will be a watch that will find interest, and if the brand continues to make watches like this, it can go far. As for the healing claims, well, what do I know? Maybe it will be important to clients of this watch after-all. I for one, would probably entertain the notion of buying this watch (if my finances permit), purely on the basis of it as horological art, and I would have no problem with that at all. 
[ninja_tables id="3947″]