Bell & Ross has been offering lume centric watches for some time now, which is great since it emphasises the graphic quality of their designs. This time though with the new BR03-92 DIVER FULL LUM, they've gone all the way, giving us a fully lumed dial that any diver would be able to see underwater, in all conditions.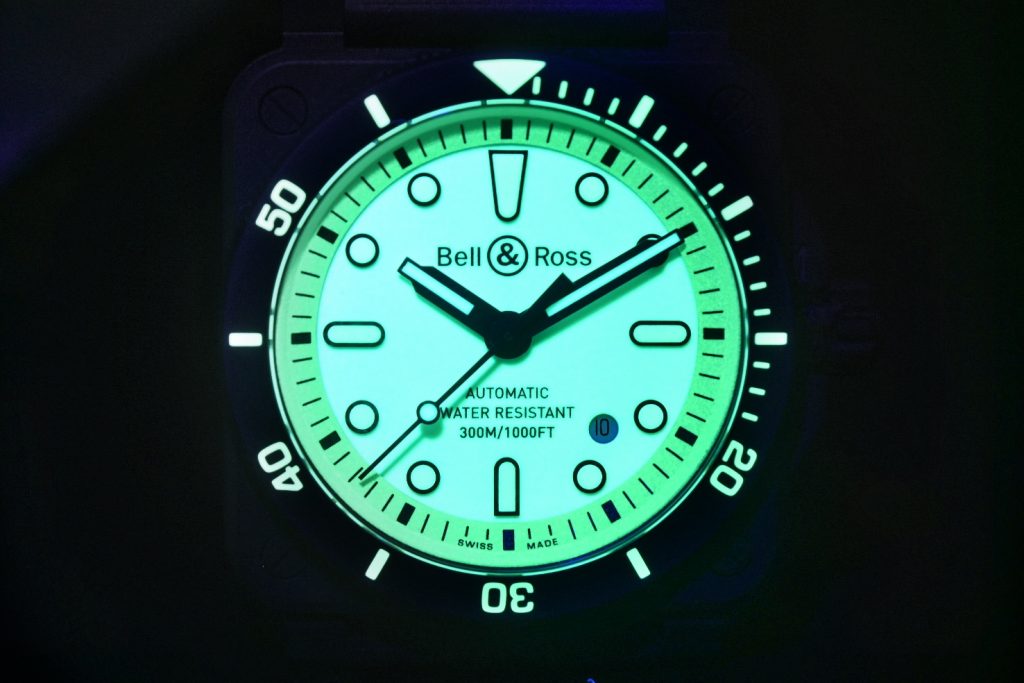 Fully lumed dials are not a new thing of course, a variety of brands have done it before over the years. It's not really a very common thing though, but it appears often enough to remind us of how wonderful a thing it is to experience in the dark.
A fully lumed dial in a diving watch also makes the most sense since legibility in dark conditions is par for the course, and a basic prerequisite for survival. In this new BR03-92, it gives us watch enthusiasts a visual treat, as it is a dial that endures no half measures, lighting up like a party in the dark.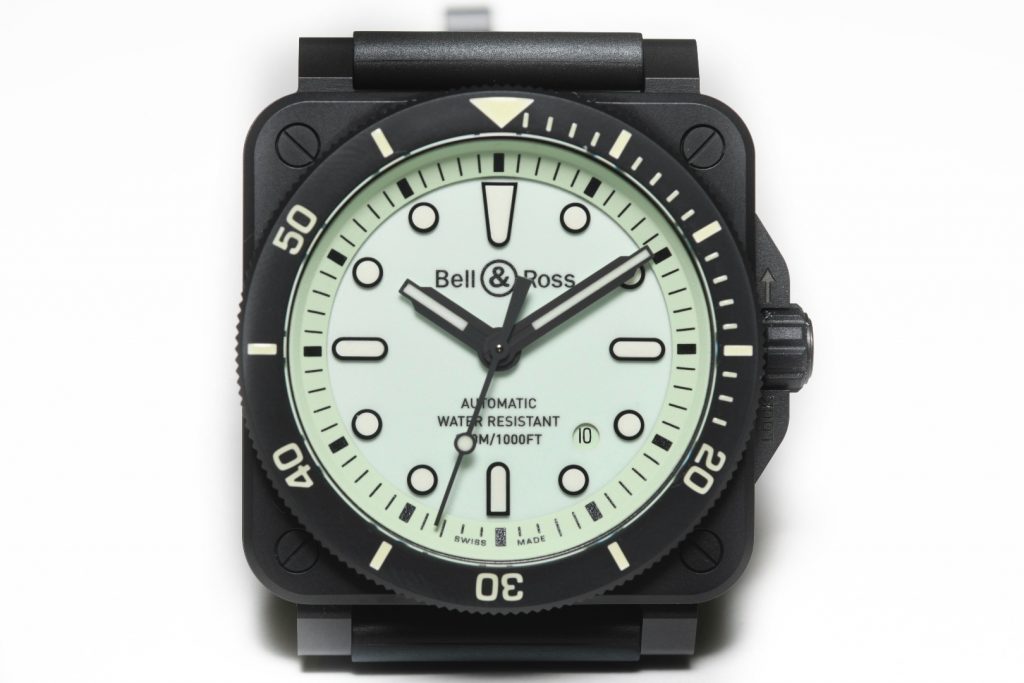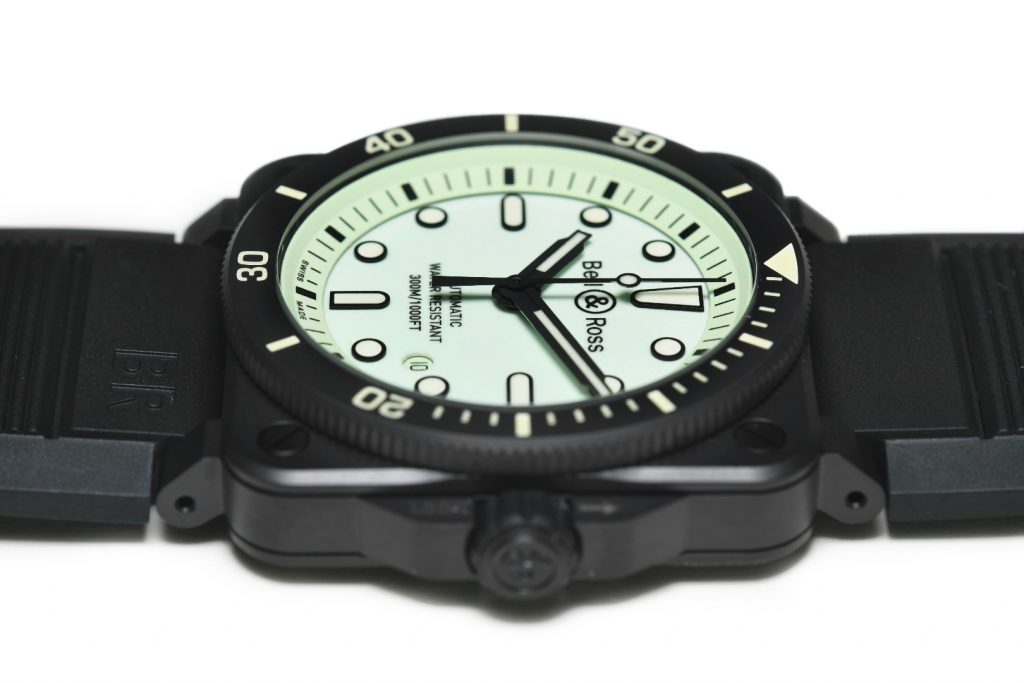 The thing that fully lumed dials have to do however, is be reminded that they are watches that have to be used in well-lit conditions as well. This means that the colour tone that they appear in when there is light, has to be accounted for when designing the overall look of the watches. Now some fully lumed dials from other brands might impress in the dark, but come the day time, the off white, greenish tone is not handled well.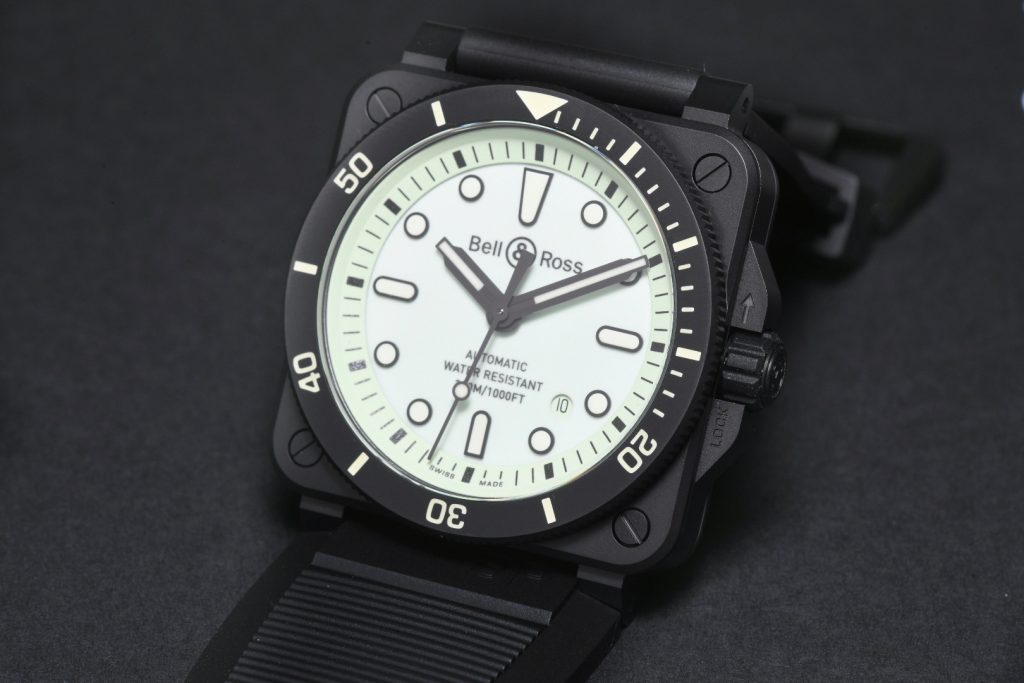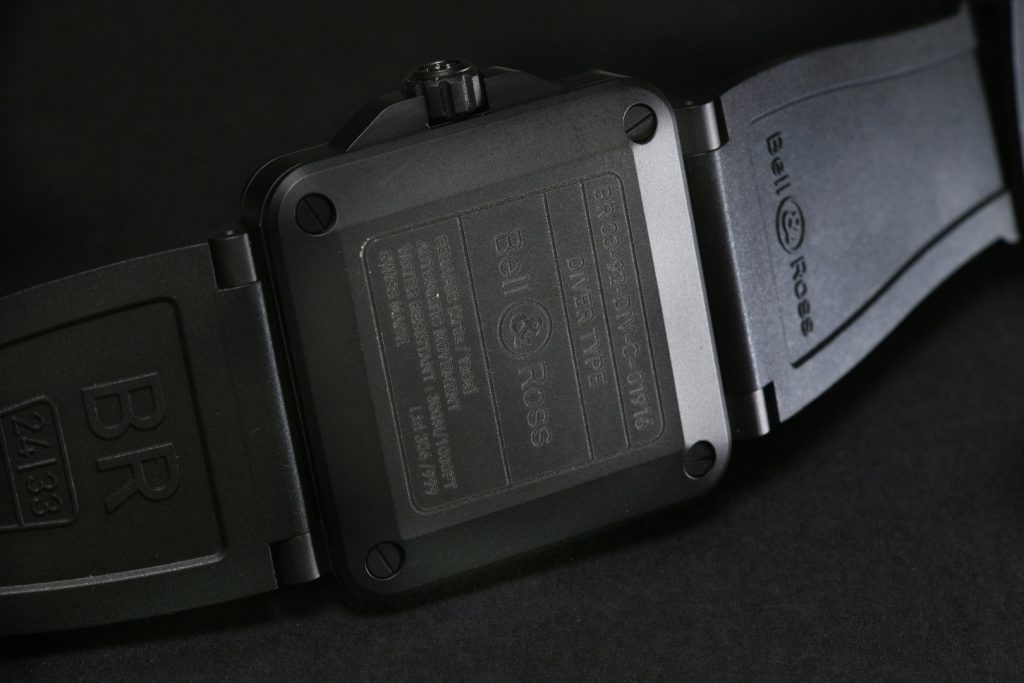 Thankfully, the BR03-92 DIVER FULL LUM is realized extremely well. The squared off black ceramic case and bezel provides the foundation for the rest of the elements, which include the tones of grey that come through on the black elements (such as the logo, minute indices and hands) when enough light touches the dial. This monochromatic palette is countered by the two shades of Super-Luminova that make up the rest of the dial. The dial comes in a green Superluminova® C5 pigment, while the metal applique skeletonized indices and the bezel's numerals are filled with a green Superluminova® C3, which appears a slightly yellowish shade of white.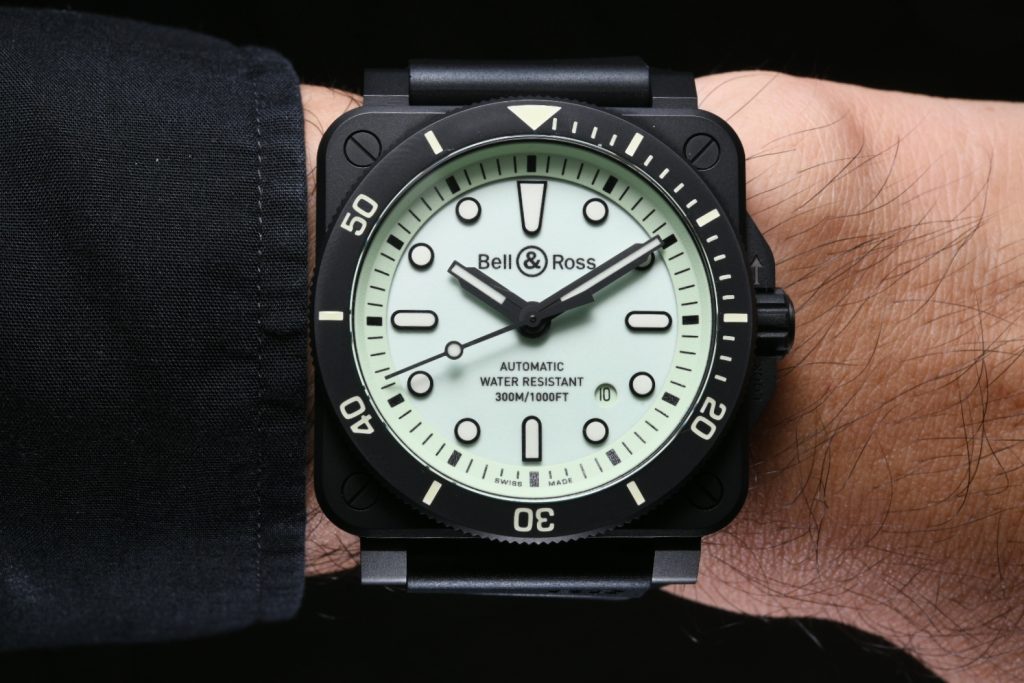 It's subtle, but the effect is well put together, and it is the best iteration of a fully lumed dial that I've seen in a long time. And need I mention as well that it also has a fully lumed bezel, an uncommon feature still, in diving watches today.
The watch when paired with a black ceramic case comes across as a serious diving instrument on the one hand, and also a piece of graphic art on the other, which is quite a strange statement to make, but is true in this case.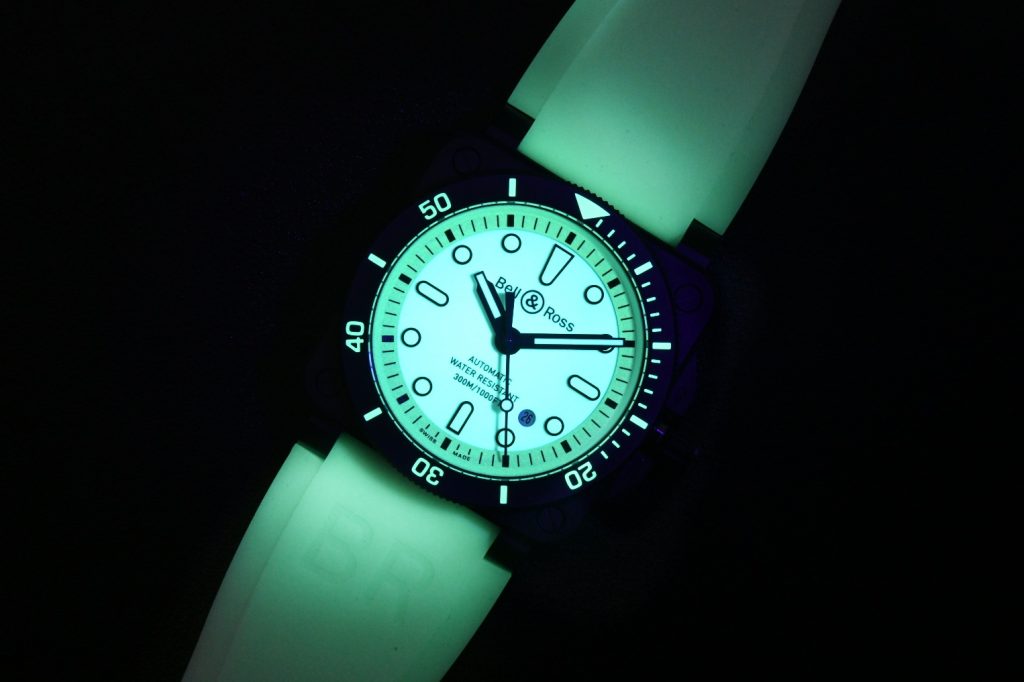 Now, I was curious to see how this watch would fare when paired with the glow in the dark strap from the BR 03-92 FULL LUM, another watch from the brand with a fully lumed dial. Well, I must say, it brings things up to a different level!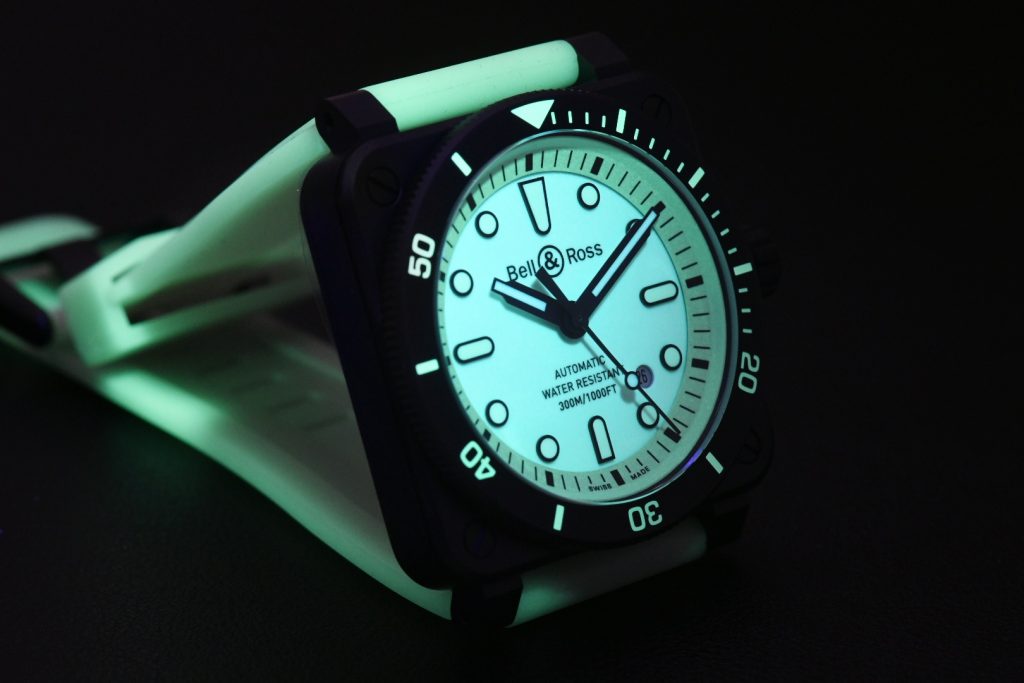 Take note though, the BR03-92 DIVER FULL LUM does not come on this strap, so you'll probably have to buy it separately if you want to achieve the look that you see here.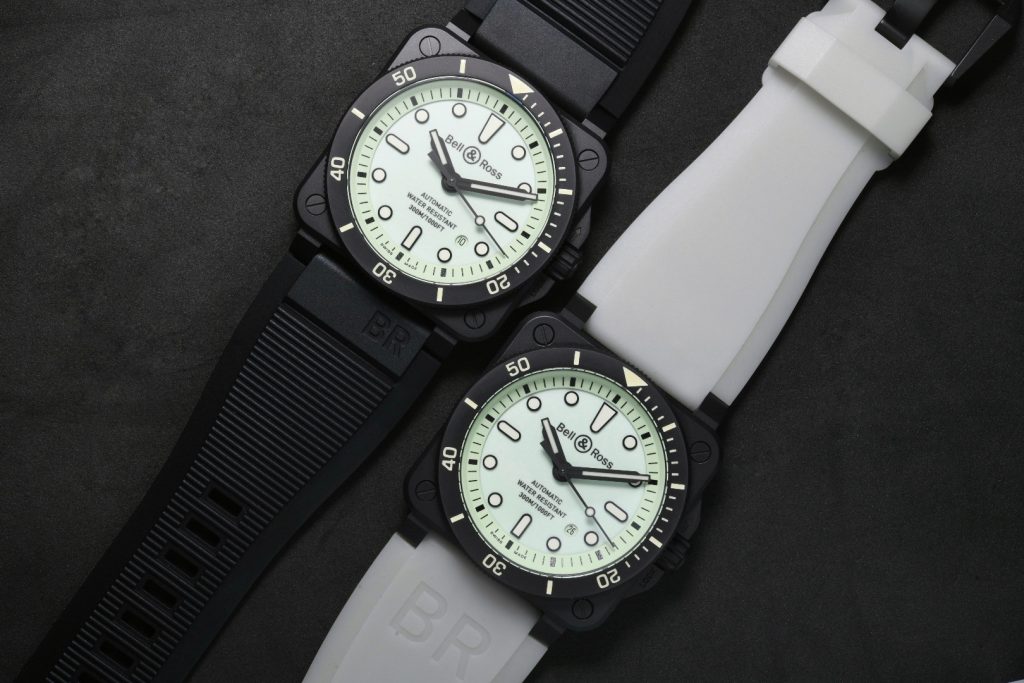 It's great to see that the BR03-92 DIVER collection has already spawned so many interesting variations, and is beginning its life to become a staple collection from the brand. This version of the watch though, the BR 03-92 DIVER FULL LUM will be limited to 999 pieces. It will also come with two straps, the first, one in black rubber with a black PVD pin buckle as seen in these pictures. The second, one in ultra-resilient black synthetic canvas that has a quick to adjust Velcro closure system.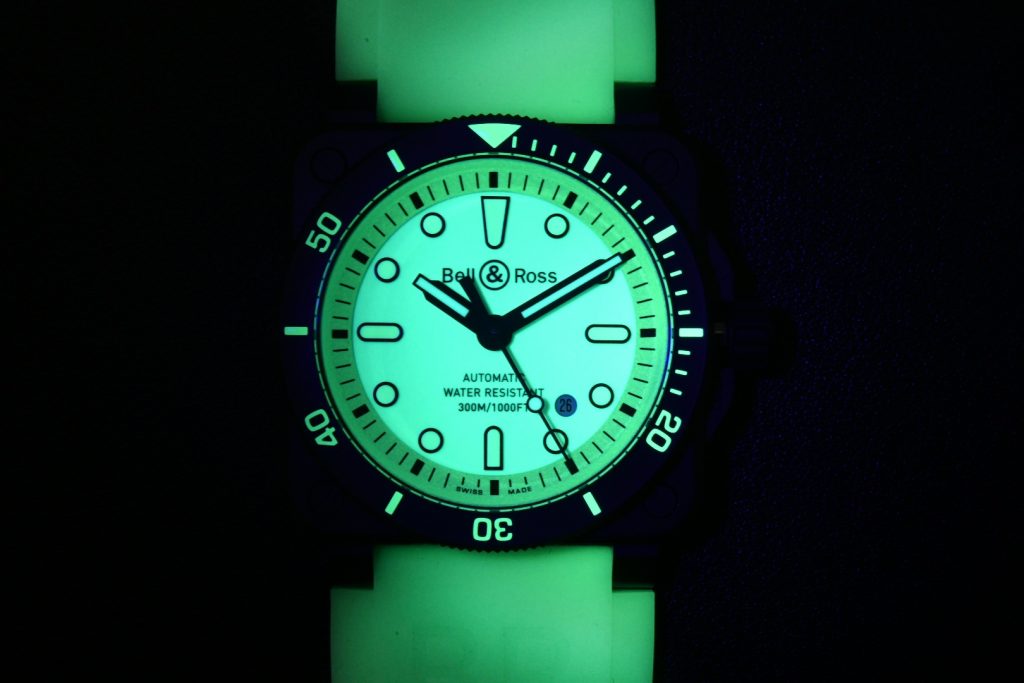 [ninja_tables id="5572″]