That feeling of regret
The most striking thing about the new "Tribute to 3705" is that it shows how IWC understands its most ardent fans.
Why so? It's all in the name. When you name your new watch by its reference number, you're reaching deep into a general watch buying demographic to pull out a select group of people who know these numbers by heart and what they mean.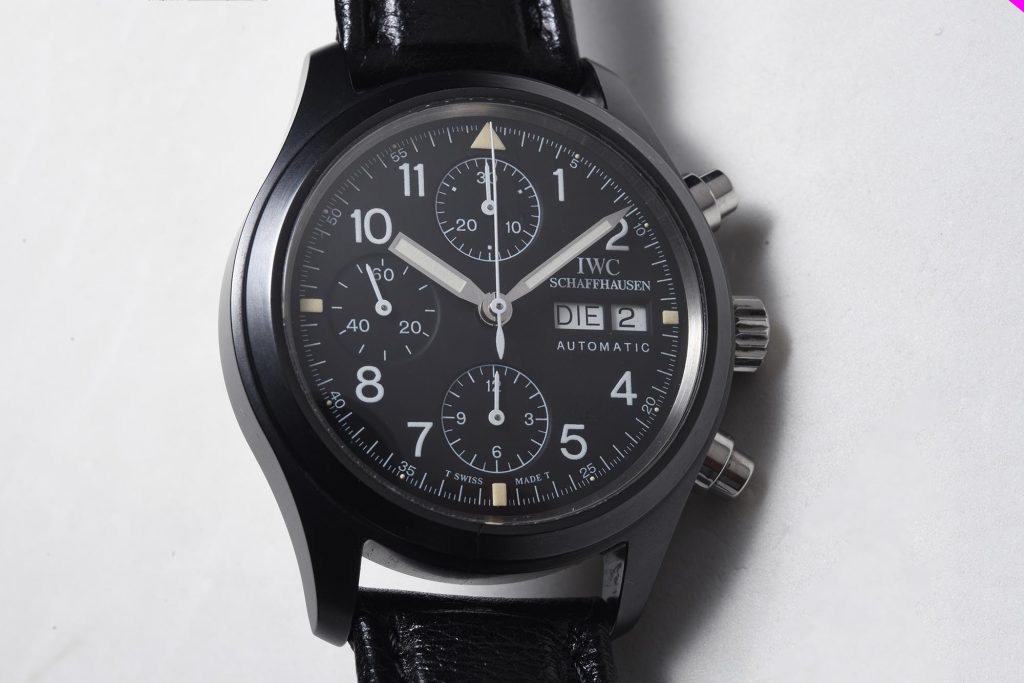 What does the reference number 3705 mean then? Well, to a complete watch nerd like myself, it means the following: the first pilot watch from IWC made in black (zirconium oxide) ceramic and powered by a Valjoux 7750 chronograph movement and at a 38mm case size.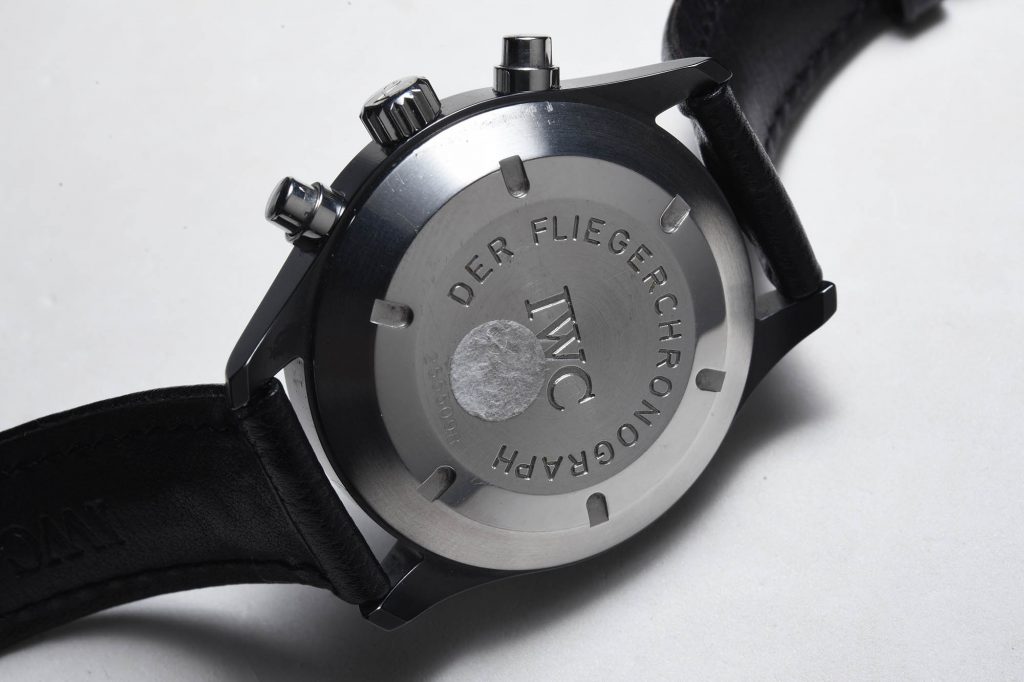 When the reference 3705, or "IWC Fliegerchronograph Keramik" was launched in 1994, it was a showcase of IWC's commitment to advancing the frontiers of watchmaking technology. It's a fact not widely known generally, but IWC was the first watch company to introduce ceramic as a case material with the 1986 Da Vinci Perpetual Calendar Chronograph, or reference 3755. The 3705 was, in that bygone era, perhaps a little too much ahead of its time. It sold poorly – only about 1000 pieces – before being discontinued. Perhaps it was the case the ceramic was just too weird for people then or that we as a human race were just too primitive.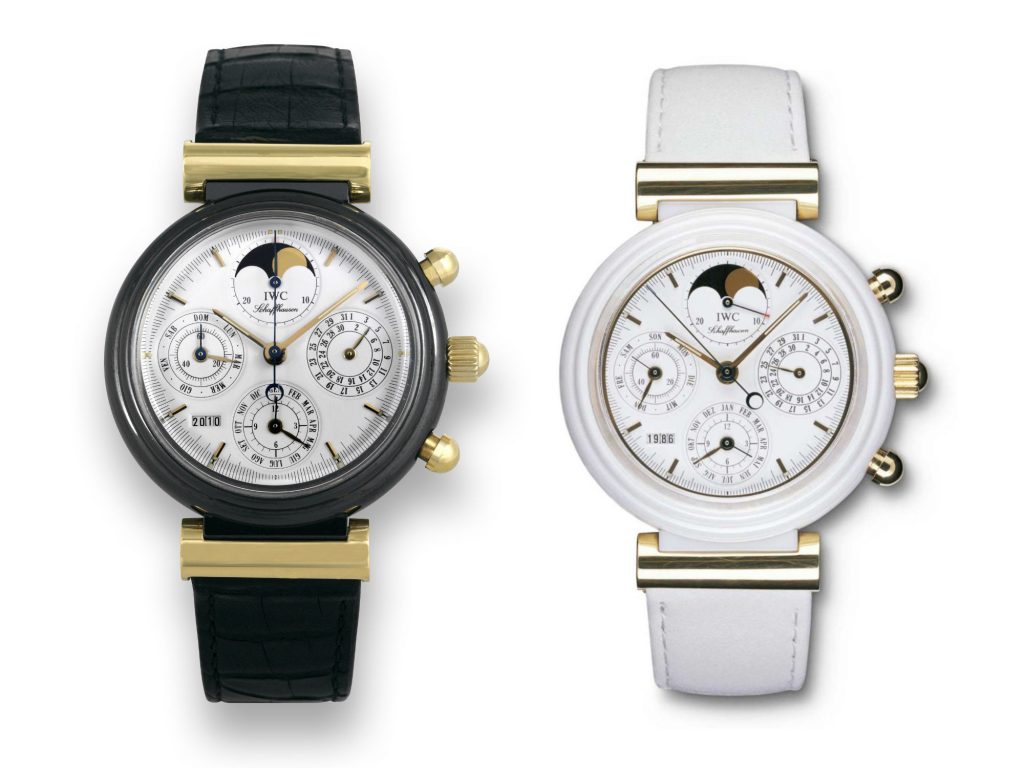 So I got to know about this watch in the relatively early days of my watch appreciation journey, when I came to that point of wanting to buy my first B-Uhr inspired pilot watch.
First of all, it had to be an IWC. The Big Pilot was my ultimate dream at the time but it was unattainable financially, and so I sought the next best thing, a pilot chronograph.
At the time if you wanted a pilot watch, you could go with the reference 3706, the more common sibling to the 3705, and mostly the same albeit in stainless steel. The 3706 though came in at a case size of 38mm, which might be fine nowadays, but not then, when watch sizes were marching upwards. In the end I went with the 42mm wide reference 3717 which I still own today.
It wasn't that easy of a decision to make though, for even though the 3705 was only 38mm wide, it was cooler since it was made in scratch resistant black ceramic and was consequently an important piece in IWC's history.  It was also selling used, (since there were no new ones to buy) at a price that was slightly higher than a used 3706 but less than a new 3706.
So, even though I had the 3717, I still kept a look out for a 3705. It was a cool watch that had captured my heart, and in my daily trawling of the watch forums I was able to see this watch pop up fairly regularly at reasonable prices. How reasonable? Well, I started looking more than 10 years ago when they were at about $5-6000 SGD. Today, they start at about $20,000 SGD.
In all this time, even though I saw them for sale fairly regularly I never moved on it. Then suddenly one day they stopped showing up, and the few that I could find after much effort were no longer available at the price I had first seen it at before. Why?
My best guess is that the wider appreciation of watchmaking in our current times as well as the acceptance of ceramic as a legitimate case material, were two reasons that perhaps led to one piece from the personal collection of former IWC director Günter Blümlein, being auctioned for a staggering $53,750 USD in 2018. Provenance aside, (given that it was owned by the father of modern IWC, JLC and A. Lange & Söhne) it is what this watch represented for watchmaking and for IWC that was the reason for the meteoric increase in value. I guess that others, like me, had felt the same thing, and the only difference is that they were fast and I was slow.
By the way, if all these numbers mean nothing to you, then that's what I mean about the emotional appeal of the original 3705. You had to be alive and aware at a certain point in history to understand the appeal of this watch and why the new tribute was created. It's akin to those instances when old people reminisce about the past and how good things were, telling you about places and things that are now gone and that can no longer be felt.
What's new
So the new "Tribute to 3705" seems like a chance to redeem my past mistake – so what's it about?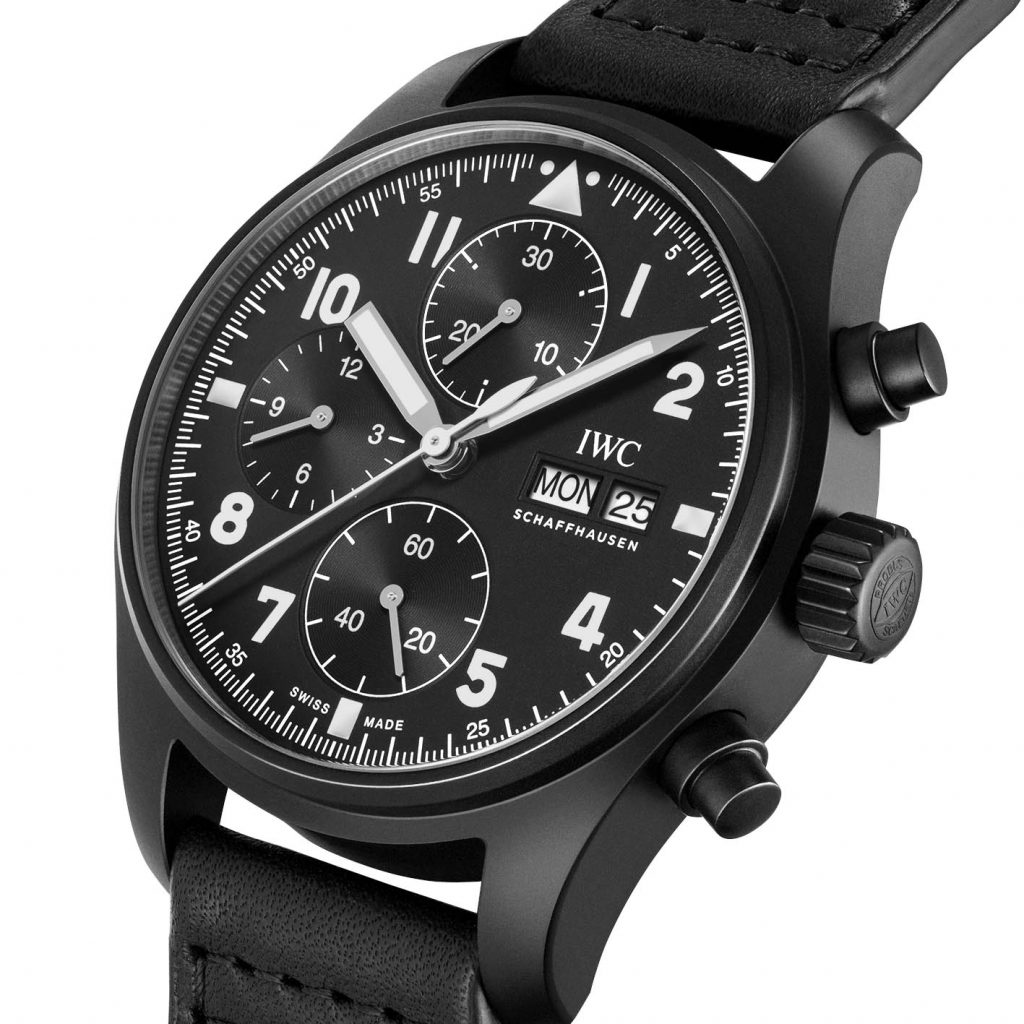 Basically the new watch shares the same dial design as the old. You can notice the same shapes of the hands, the same two totalizers at 9 and 12 o'clock displaying stop times of up to 12 hours and the same small seconds located at 6 o'clock. Also, both have the day and date display at 3 o'clock. Lastly, both will exist in roughly similar numbers, with the new watch being limited to 1000 pieces.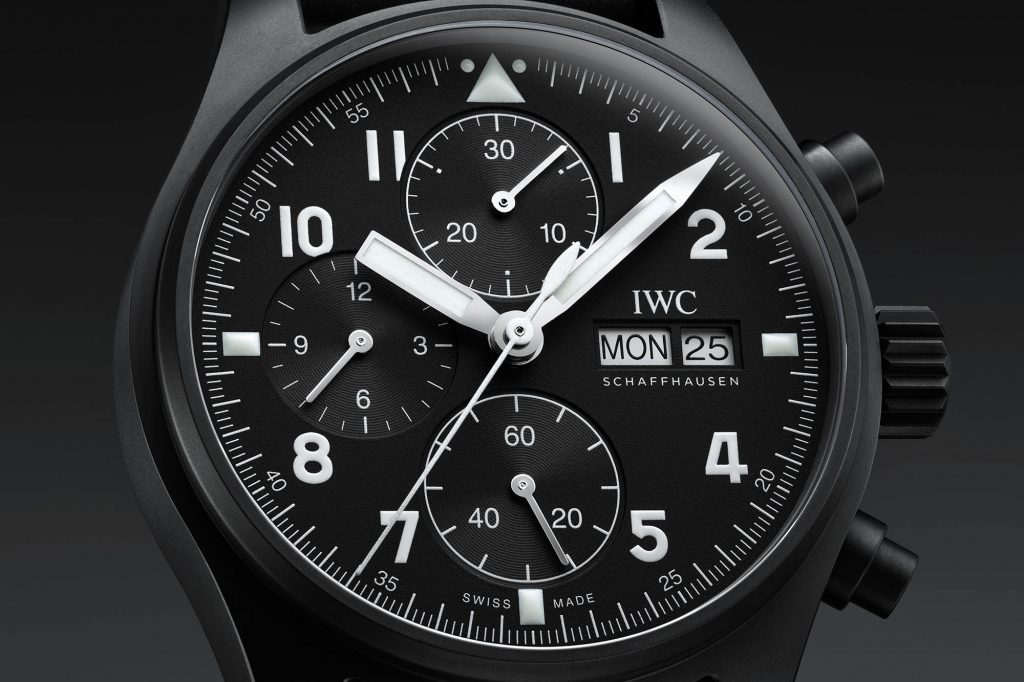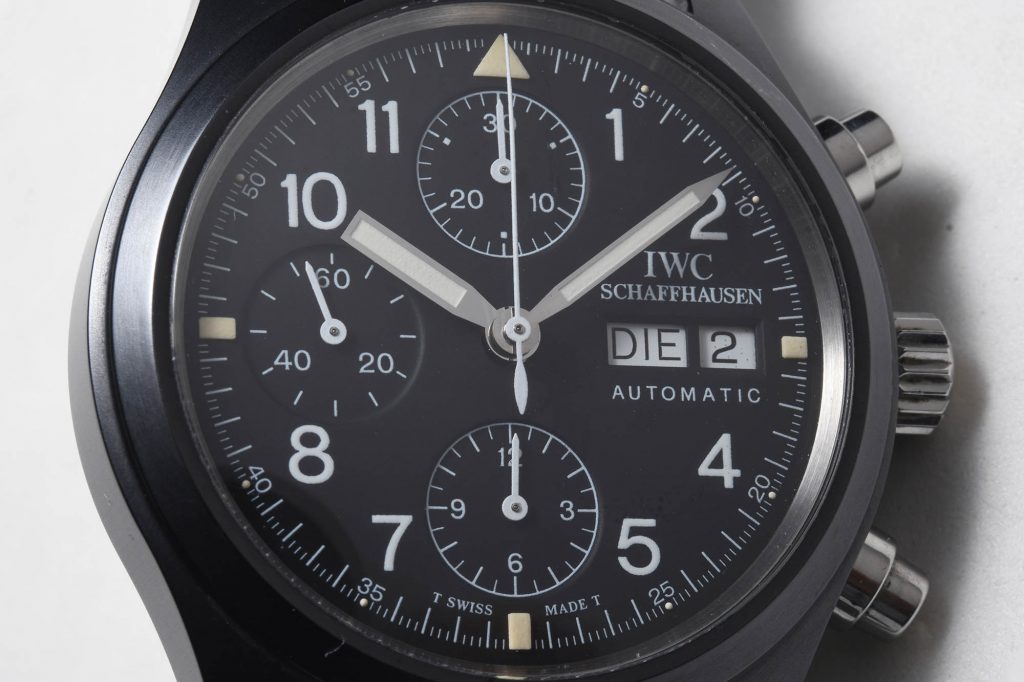 The differences however can best be described as performance upgrades. The new watch also has a scratch resistant black case, but it is no longer just plain jane ceramic. Instead, the case, chronograph pushers and pin buckle are made of Ceratanium®, a relatively new material in the IWC arsenal.
Machined first from a special titanium alloy, the parts are forged and treated in a furnace, with the result being that the surface of the material assumes properties similar to ceramic. Ceratanium® then combines the best properties of both materials, being light and robust like titanium, but also similarly hard and scratch-resistant like ceramic.
Then there is also the matter of the new in-house movement, with the original powered by the Valjoux 7750 derived calibre 7902 (albeit extremely modified by IWC) versus the newer, with the in-house calibre 69380 with column wheel. Lastly the case size is a larger and more modern 41mm, a fact that accounts for the newer watch having a little bit more breathing room in the dial furniture than the old. Compare for example how much more space there is around the day date window between old and new to see the difference.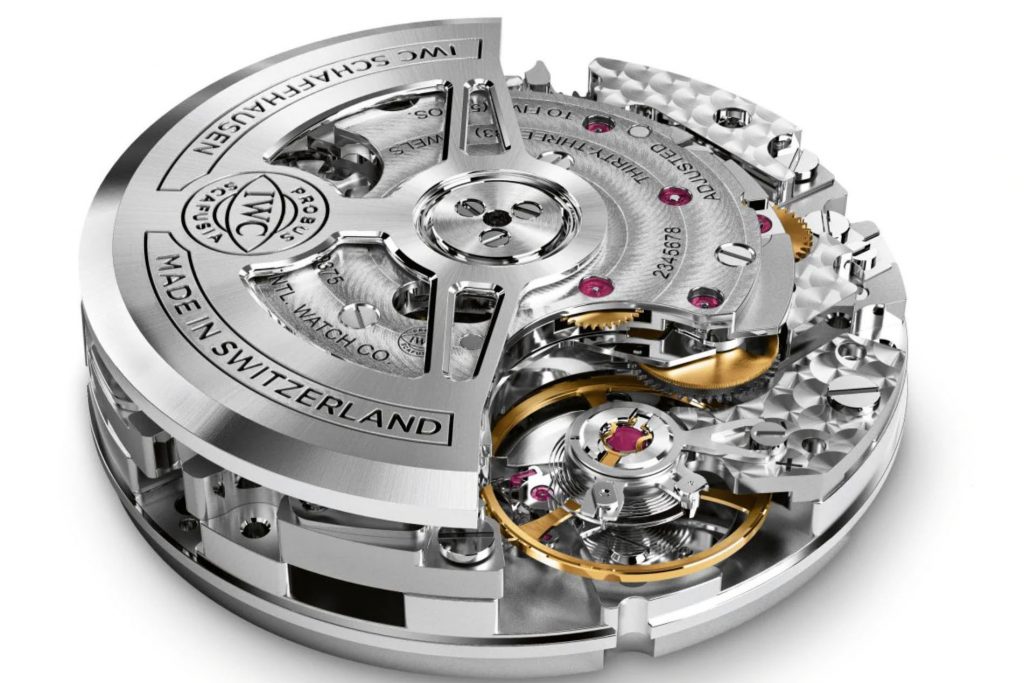 Now I haven't seen the actual "Tribute to 3705" in person yet, but I suspect, given how the people at IWC are basically watch lovers themselves, that they'll know what to do, in the details big and small, to make a watch that I will basically fall in love with when I can finally see it in hand and on the wrist. Though it will not have the same emotional resonance as the old one, which I have basically been priced out of now, what it has, as a modern watch, are performance benefits (such as useful Superluminova instead of weak aged tritium) that should more than compensate. Also, it's priced at 12,900 CHF, which is a bit of a premium on a similarly specced IWC Pilot chronograph in steel. However, considering its unique case material when compared to a standard ceramic one, the price is reasonable.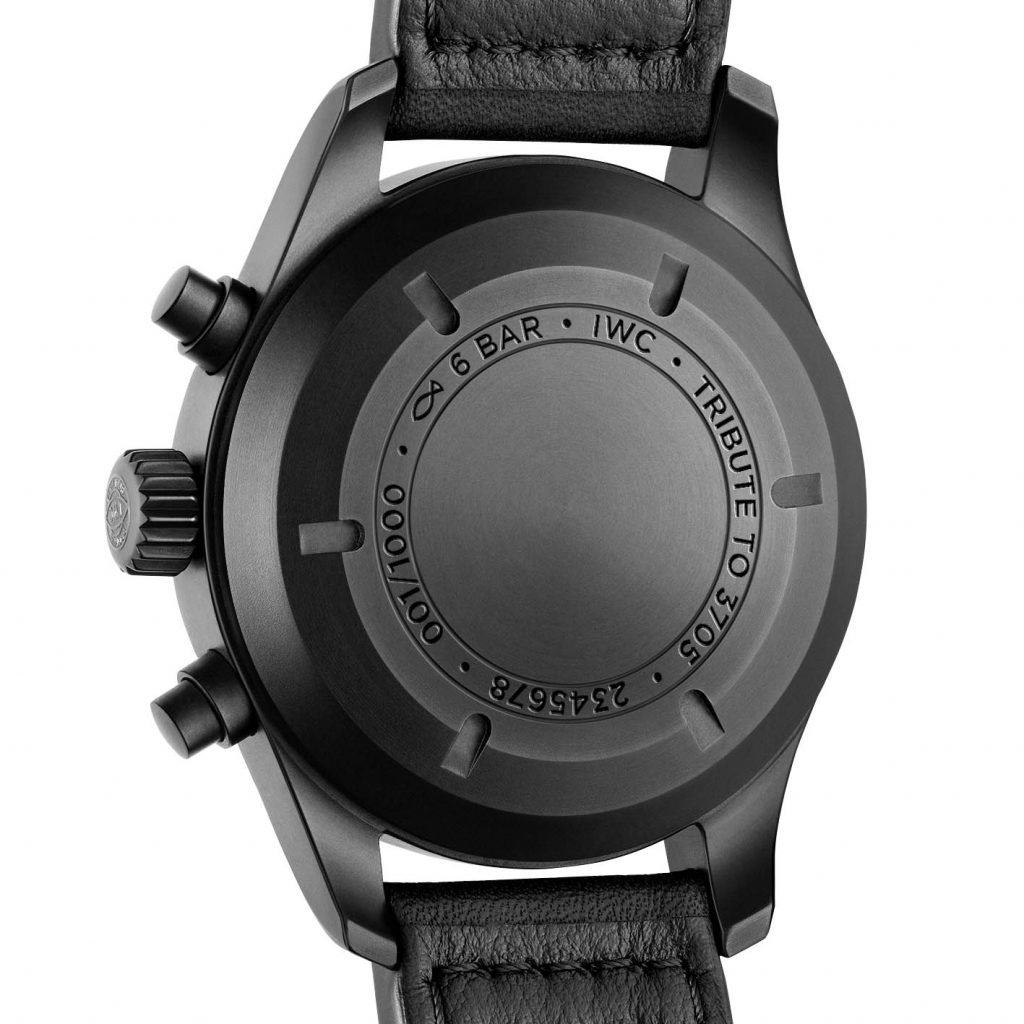 One potential pitfall though – given how watch retail is moving very quickly online these days, I might not be able to see the watch in person before it gets sold out. Why? Well, given its limited nature, the watch will only be sold exclusively on IWC.com, wechat, YNAP, and the official flagship store on Tmall.
Well, maybe IWC might bring one in to Singapore to show me after they see this article.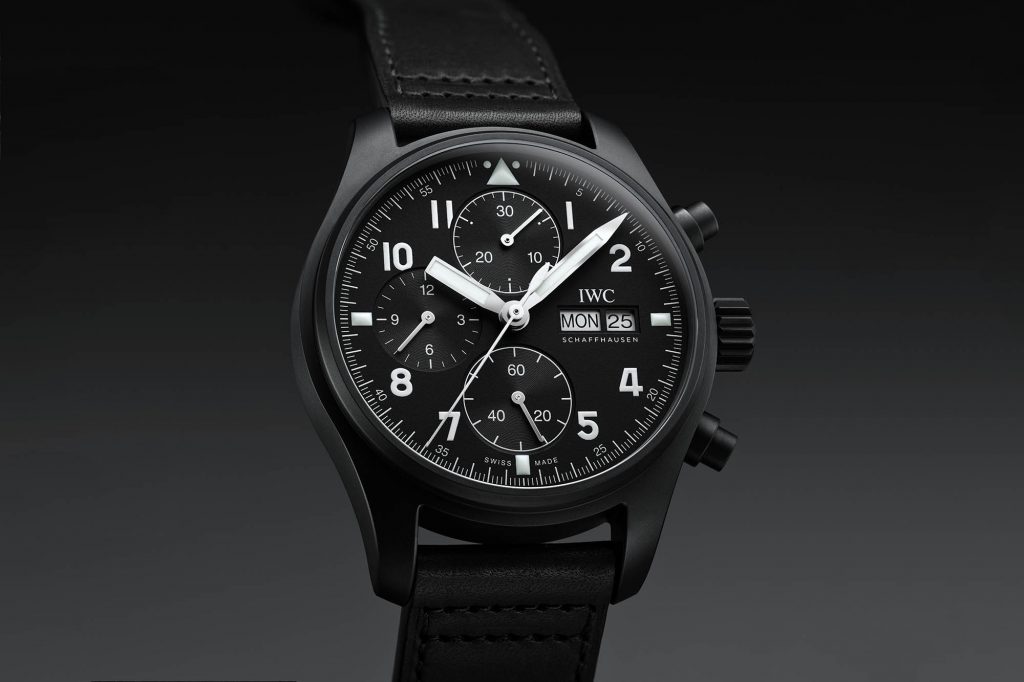 So in conclusion, I have to say, "Well done IWC". A brand's strength lies in acknowledging its heritage and history, and taking care of old and new fans of the brand alike. I for one, can't wait to have a closer look at this watch, and see if my expectations stack up to the reality.
In the meantime, it's probably best that I start allocating funds to a possible purchase that might happen. We'll see.