Those who know me will probably not be surprised that I've been a fan of Horage for some time now. After all, I recently completed a webinar on the Tourbillon 1 in collaboration with Red Army Watches that you can watch here by clicking on the promotional graphic just below this paragraph, and I've acquired what I can only describe as one of the best everyday watches ever made, the Autark 10 Years, (a 39mm sized integrated bracelet watch made of hardened titanium and with the in-house K1 movement), for my personal collection.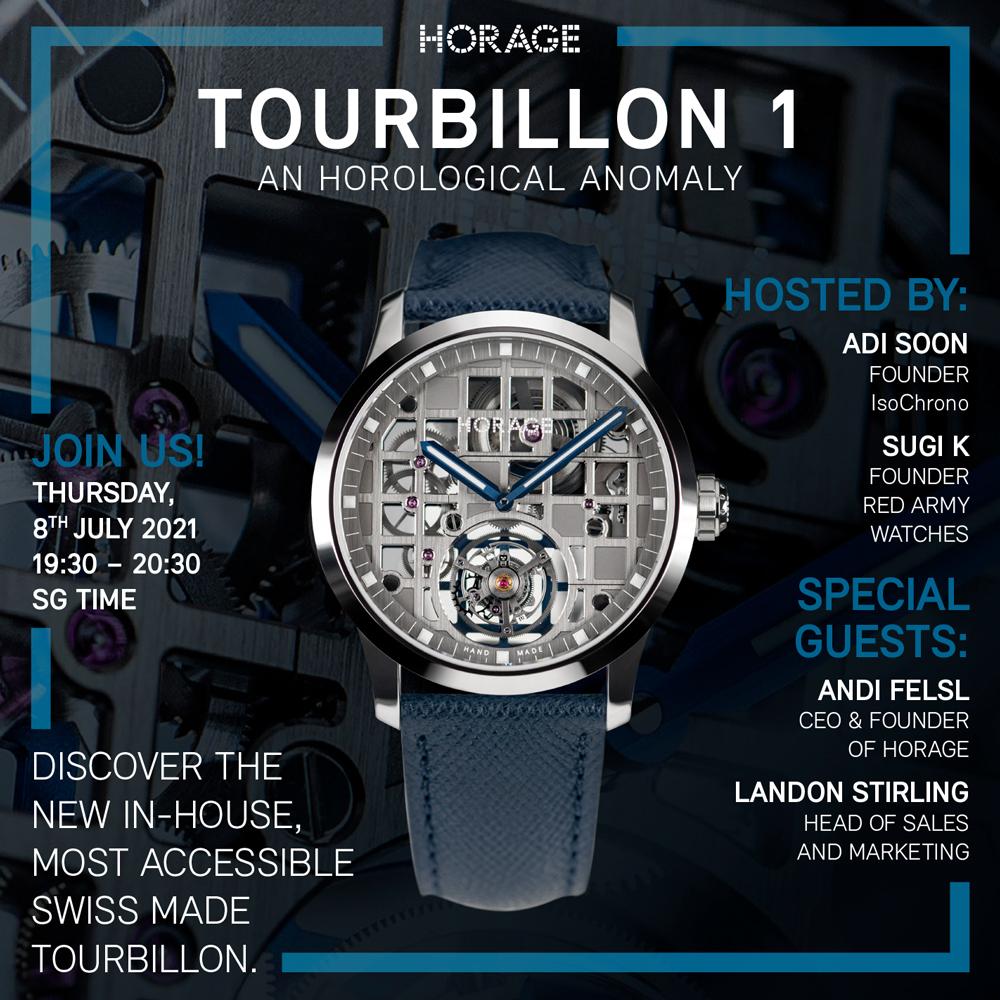 Some years ago, I had gotten to know about Horage through my forays into the darker reaches of the internet, and found them fascinating because they had developed their own in-house movement despite being a small brand that I hadn't heard of. I had done whatever research I could about this unique company but information was scarce. This was the reason why in 2019, when I heard that they were coming to Singapore to promote their Tourbillon 1, I had to meet them to find out more.
This was when I met Andi Fesl, brand owner and founder, and Landon Stirling, communications director, who were not only the nicest and most agreeable watch people I'd met, but also possessed a scrappy "can-do" attitude that was immediately endearing. It was as if they had not been given the rule-book on how to start a watch brand, you know – follow the same steps like everyone else – buy an off the shelf movement, stick it in a case design of a known genre (sporty or dressy), slap a logo on the dial, then sell it.
Indeed, it was obvious that this was no ordinary watch brand. Why? How about the fact that they decided to go about making their first in-house movement in 2008, after realising that the supplies of off-the-shelf ETA movements might prove potentially unreliable?
Now this was an issue that many watch brands were experiencing at the time and Horage might have decided to do what many small brands were doing, buying up and hoarding whatever supply of movements they could get, then hoping for the best. Yet they decided to take a path more typical of a big brand with plenty of resources, or more accurately for them as a small brand, a path that was risky, expensive and foolhardy – develop their own movement.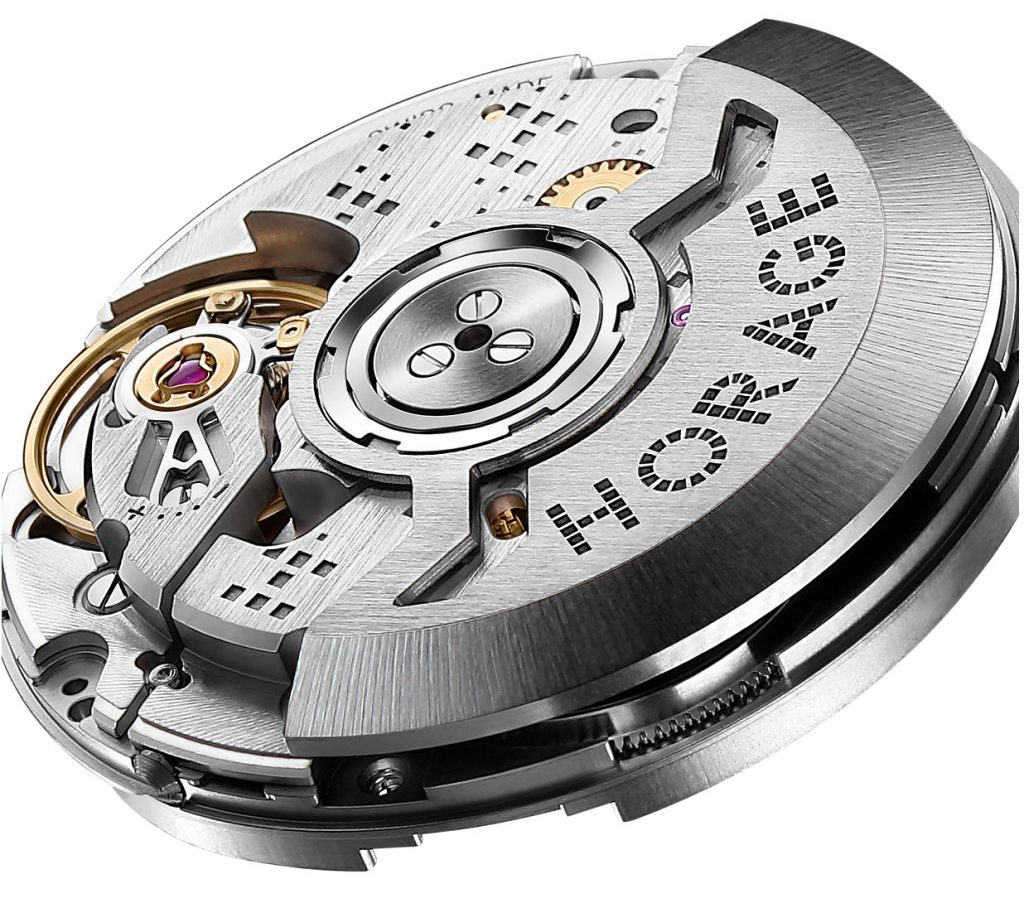 The journey to produce K1 was long, arduous and expensive, but the result is a movement that you can't help but feel is authentic to the company that offers it. By this, I mean that Horage is a watchmaking company in the purest sense of the word – instead of a watch assembling company, as most watch brands really are. The more pedantic among you might think that it's not possible for one company to make everything themselves, and you'd be right. No watch company for example breeds alligators for their straps, but Horage makes their own movements, which I'm sure that every watch snob will agree, is the heart and soul of a watch. It's something that only a small percentage of all watch brands can and will do,
So with all that said, I'm here to convince you why the Tourbillon 1 is a watch that you should consider seriously. To summarize, it's a Swiss, in-house made and designed watch with a flying tourbillon and a skeletonised dial as shown here.
So why should you buy this?
1. A fantastic value:
At 7490 CHF, the Horage Tourbillon 1 currently stands as the most accessibly priced Swiss made tourbillon watch being offered right now. The nearest one in price that you can get from a mainstream brand is the Carrera Tourbillon 02T from TAG Heuer, a fantastic piece that I own. But while that is a fantastic watch, it comes in at over twice the price of the Horage Tourbillon 1. Beyond this, most other tourbillon watches exist in the realm of the unattainable price wise for most people.
The appeal of a tourbillon is easy to understand. While it may not technically be a complication, it can be considered as one since it is difficult to design, produce and assemble. On the wrist, it is visually stunning, and extremely enjoyable to look at. It is watchmaking as pure spectacle, and hours of fun.
And let's be clear- sure you can buy a Chinese made tourbillon at a much lower price than this. But it's not the same thing from a quality and reliability standpoint. This movement as well, is not the brand's first rodeo, since they already have the in-house K1, and the K2 which is currently in development. The engineering chops are definitely there.
If you're curious on how Horage was able to make this watch and offer it at such an accessible price level, be sure to check out this article on the Tourbillon 1 that I wrote previously.
2. Now Fully In-House:
The journey towards the creation of the Tourbillon 1 you see today is a saga that is best recounted via this article here below.
However, to keep things brief, the potted summary is as follows: In the early development of this watch, the Tourbillon 1 was a watch that would utilize an existing movement from movement specialist, La Joux Perret, with Horage undertaking some upgrades and modifications to it. The collaboration was going along fine, until there was a sudden change in management at La Joux Perret, and because of that and related issues, the project was terminated.
Now Horage could have chosen to either discontinue the project, or possibly refund those that had made pre-orders. After the initial shock of the project being derailed due to such a supplier issue, calmer heads prevailed in the ensuing days, and it was realized that technically, it was possible to continue on by themselves. Afterall, they had the K1 movement, the K2 under development and the corresponding technical experience gained in their creation to draw from.
There is certainly nothing like a problem like this to fire up one's resolve, dig deep to find a way, then push ahead to offer your customers something even better than they had pre-ordered (with no increase in price) – a tourbillon watch that would now be fully in-house.
So the new tourbillon movement utilizes components from movement K1 and K2, as well as some newly developed ones like the tourbillon cage, new geometries for the gear train, and all with a design that had a similar layout to the original La Joux Perret movement.
Except for the silicon escape wheel and anchor that comes from a supplier in Southern Germany, just across the Swiss border, every component within the watch comes from a 45km radius of the Horage manufacture location in Biel/ Bienne Switzerland.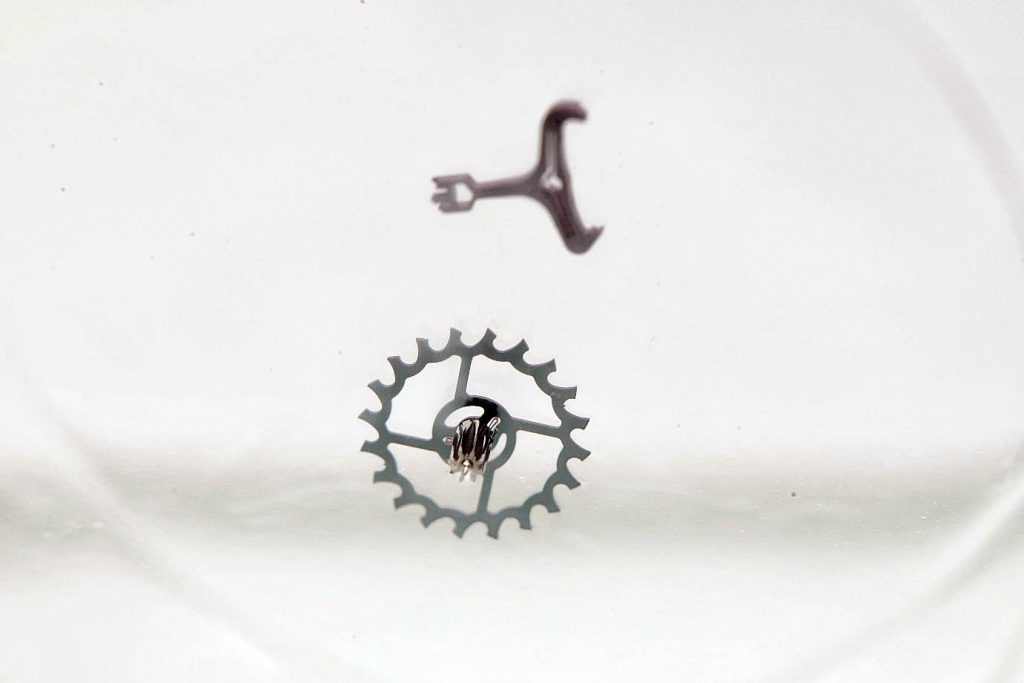 The Tourbillon 1 you get now is a fully in-house one, and in a sense you could consider it an upgrade, courtesy of an unfortunate situation. Good things come from conflict, because pain forges strength. And for those who ordered the watch before this situation occurred, it's the same as buying an economy class ticket, then arriving at the airport to find out that you've been upgraded to business class.
3. Choose your own flavour of the Tourbillon 1:
Horage has not finalized how many Tourbillon 1 movements they will make in total, but the number will be small – there are currently under 200 pieces that have been pre-ordered. So your watch will definitely be very rare.
The interesting thing about the Tourbillon 1 is you can customize it further, to make it even more distinctive and unique. Hit up the configurator (link here) to mock up a version that you'd like. There are many options that you can choose from: brushed or polished case parts, different coloured movements, COSC certification (chargeable upgrade), strap colours, and even the possibility of having a gold case (charged in a fair manner based on the spot gold price at the time of ordering).


This ensures that the Tourbillon 1 you design, will likely be unique to you, or at the very least, be relatively rare. Design it by clicking on the link below:
4. A technically proficient movement and company:
As mentioned in the previous point, it is possible to have your movement COSC certified if you so wish. This is an important point – a movement that can be regulated to COSC standards is by its nature a good movement.
Another fact to note is that a prototype was worn on the wrist of Benson Ko, a chef from Taiwan, while he competed in a full triathlon – taking the watch running, swimming and cycling. The watch returned to Horage still running within specification, which attests to the robust engineering of the tourbillon cage.
The last point on this is that the company is located in the famous watchmaking town of Biel/Bienne, a place where Rolex, Omega, and Armin Strom have their main manufacturing facilities. The wealth of experience within the company, with the many watch industry veterans on the team is profound, with watchmakers, micro engineers and designers who have worked previously at watch brands and movement specialists that you've heard of.
What does this mean for you? Well the movement in your Tourbillon 1 will be of the quality you'd expect from a serious watch company in Switzerland.
5. A refreshing brand philosophy:
The "can do" attitude is refreshing from a collector's point of view, and is best exemplified by what I would consider the brand's motto, as engraved on the case-back of the Autark 10 Years, that states "Start where you are. Use what you have. Do what you can."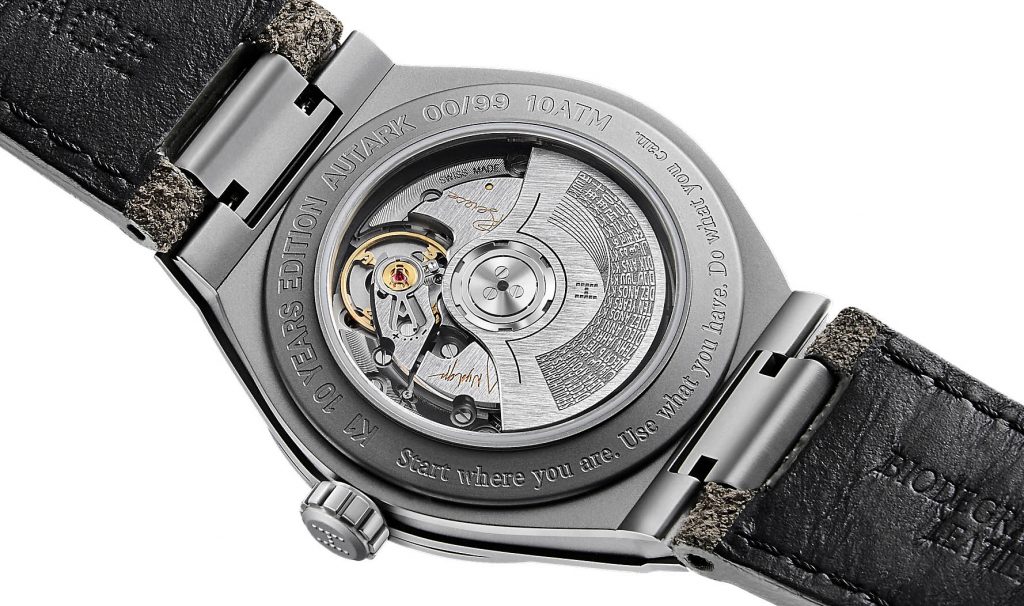 This describes precisely the journey of the creation of the Tourbillon 1. It also embodies an authentic, unpretentious attitude an approach to watchmaking.
It's easy to get behind such a philosophy if you truly love watches.
6. Mastering the Tourbillon means a fantastic product pipeline:
There is doubt about the engineering capabilities of Horage. After the inhouse K1 and K2 movements that were engineered to be modular, the Tourbillon 1 represents another feather in the cap of a company that will probably be looking for their next engineering challenge.
I know that they are thinking of embarking on watchmaking's other big complications. I mean, with a tourbillon under their belt, almost everything else is going to be relatively easy. Maybe an in-house chronograph would be the next big challenge project? Who knows, but I wouldn't bet against a company that decided to come up with an in-house tourbillon in under a year when their supplier decided not to play ball.
Whatever it will be, Horage has already proven that they have the engineering chops to go far.
7. Horage is a brand that everyone will know:
You know how it is when you meet someone, and they are so exceptional that you just can't help but imagine their bright future, and how it will only be a matter of time before they fulfil their destiny?
Mark my words, Horage is an up and coming brand that will become widely known among watch lovers in the future. Buying a Tourbillon 1, or indeed any Horage watch now is the same as getting in on the ground floor of the next big thing. Imagine being one of the first people who invested in Google in the early days when nobody had heard of them. It's the same thing.
With all that said – are you convinced? Pre-order closes in 2 days at the end of July, so get yours now if you want one via the link below.

Case: 904L stainless steel or 18k gold
​Dimension: Lug width 22mm, Lug to lug 47.8mm, top ring 41mm, case body 39mm, total thickness 11.8mm, case height (excluding glass) 10.8mm
​Dial: Double layer luminous appliques applied at hour markers
​Hands: Hour and minute hands, luminous filled hands. Seconds hand on tourbillon cage
​Crystal: Multi-Layer anti-reflection domed sapphire crystal, Horage logo applied on backside of sapphire crystal
​Case Back: Sapphire crystal
​Crown: 904L stainless steel or 18k gold
​Water resistance: 100m
Movement: HORAGE K-TOU, 19 jewels
​Functions: Hand winding, silicon escapement, +120 hour power reserve, tourbillon revolves every 60 second with start indication at 3 o'clock​
​Strap: Black Grip Leather, Classic Black Leather, Blue Grip Leather, British Racing Green Leather, Russet Leather, Ocre brown leather, Frosted White leather, Allure Blue Vegan
​Buckle: Single fold stainless steel deployant buckle