So there I was, floating in a dark cave somewhere in Vietnam, feeling beneath the water line for unseen dangers in the form of jagged rock that could injure me with any untoward, flailing movements. Above my helmeted head, a five storey cavern with a ceiling of ancient stalactites, dimly seen in the darkness with only my torch to light the way.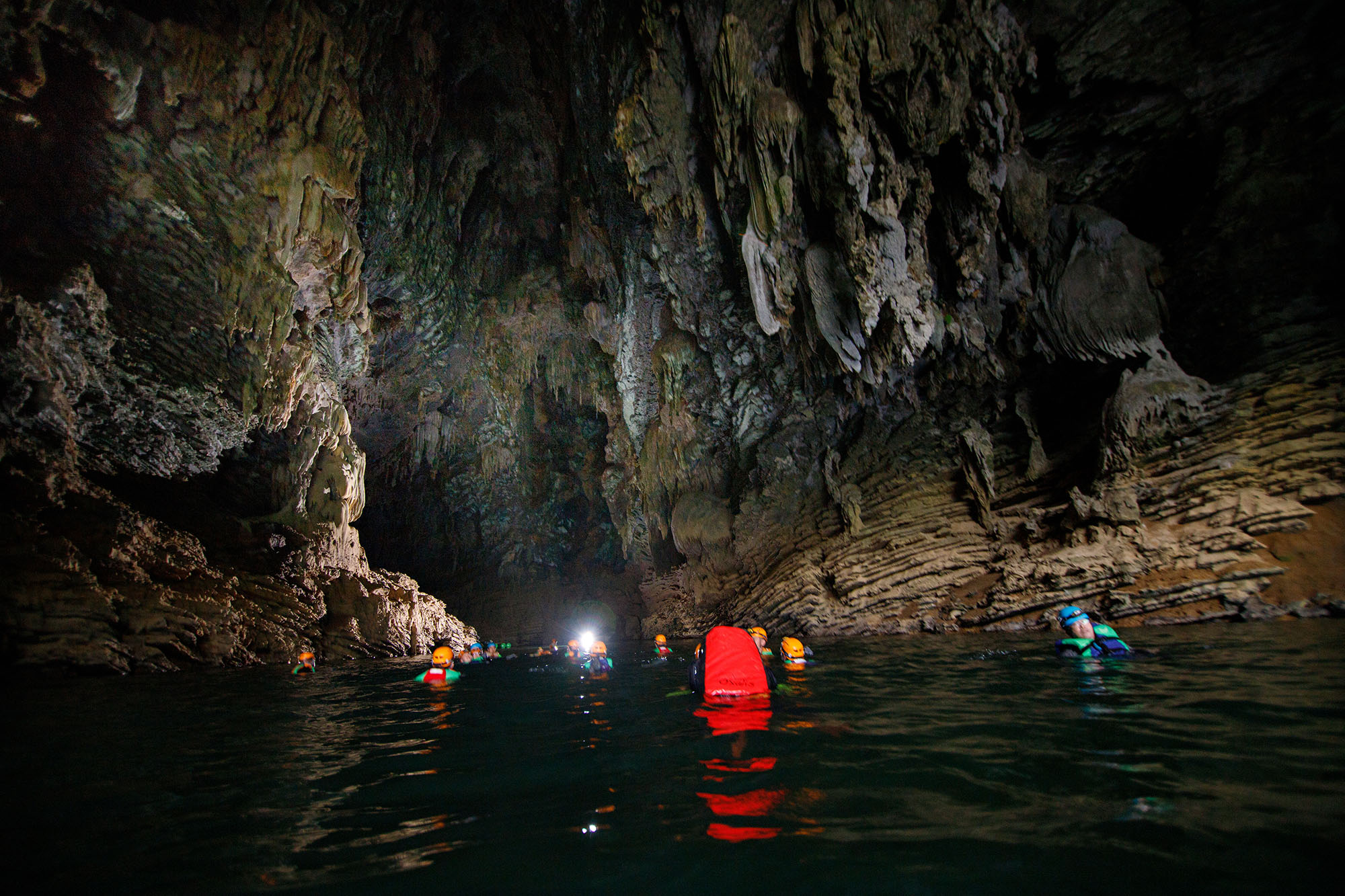 As I attempted to overcome the cramps that were forming in my legs, as well as the aches that were forming in muscles that I didn't know existed, I asked myself – why did I agree to do this?
Well, it was all my fault in any case. I recall the moment when my fate was sealed when I was asked by the President of Montblanc South East Asia, Matthieu Dupont, what my level of fitness was. I told him that it was decent, (I lied, I hadn't exercised regularly in years). On hearing that, he replied with a casual grin, "Good, then you're going to Tu Lan Vietnam."
A History of Adventure
Montblanc has over the past few years, been making good strides in their watchmaking division, releasing watches that have gained the respect and attention of watch connoisseurs. Last year was a particularly high watermark in terms of their latest releases, which came in the form of the Geosphere, a rugged watch with world-timer and dual-time functions, that looked to be perfectly suited to be worn on extreme outdoor adventures, especially with the bronze cased variant.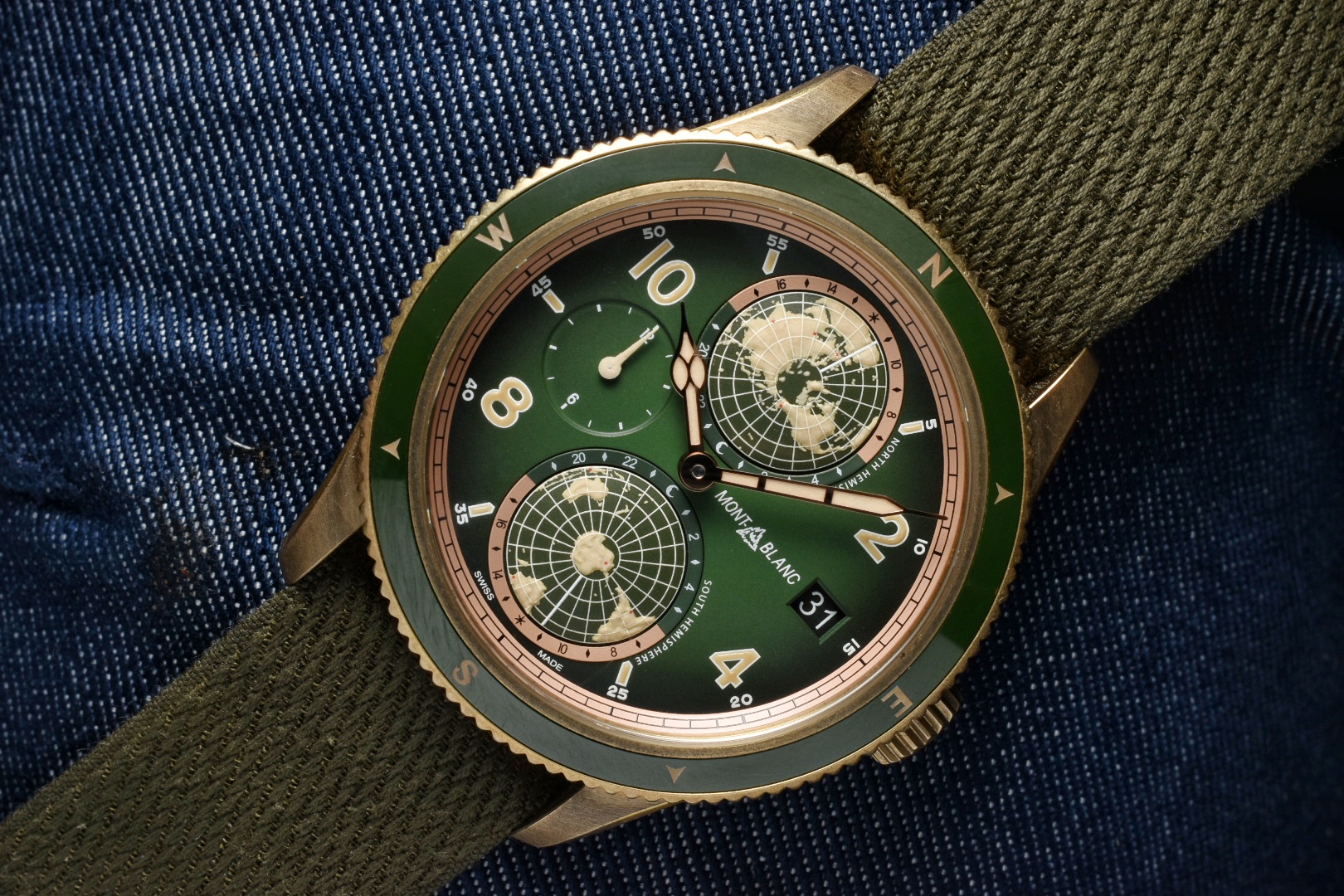 In fact due to the success of Montblanc as a global brand, it is sometimes easy to forget that it was named after a mountain, specifically, the tallest mountain in continental Europe standing at a height of 4,810 metres.
This is worth remembering every now and again, and in the context of Montblanc's recent direction of creating watches for exploration and the outdoors, it is something that makes sense and that I can whole-heartedly agree with.
Notwithstanding the fact that the namesake mountain is the tallest in Europe, which also connects strongly with ideas of achievement and success, something that the brand's pens already do so well, it's nice to see another new dimension coming into focus, with the mountain itself making the easy connection to nature and exploration.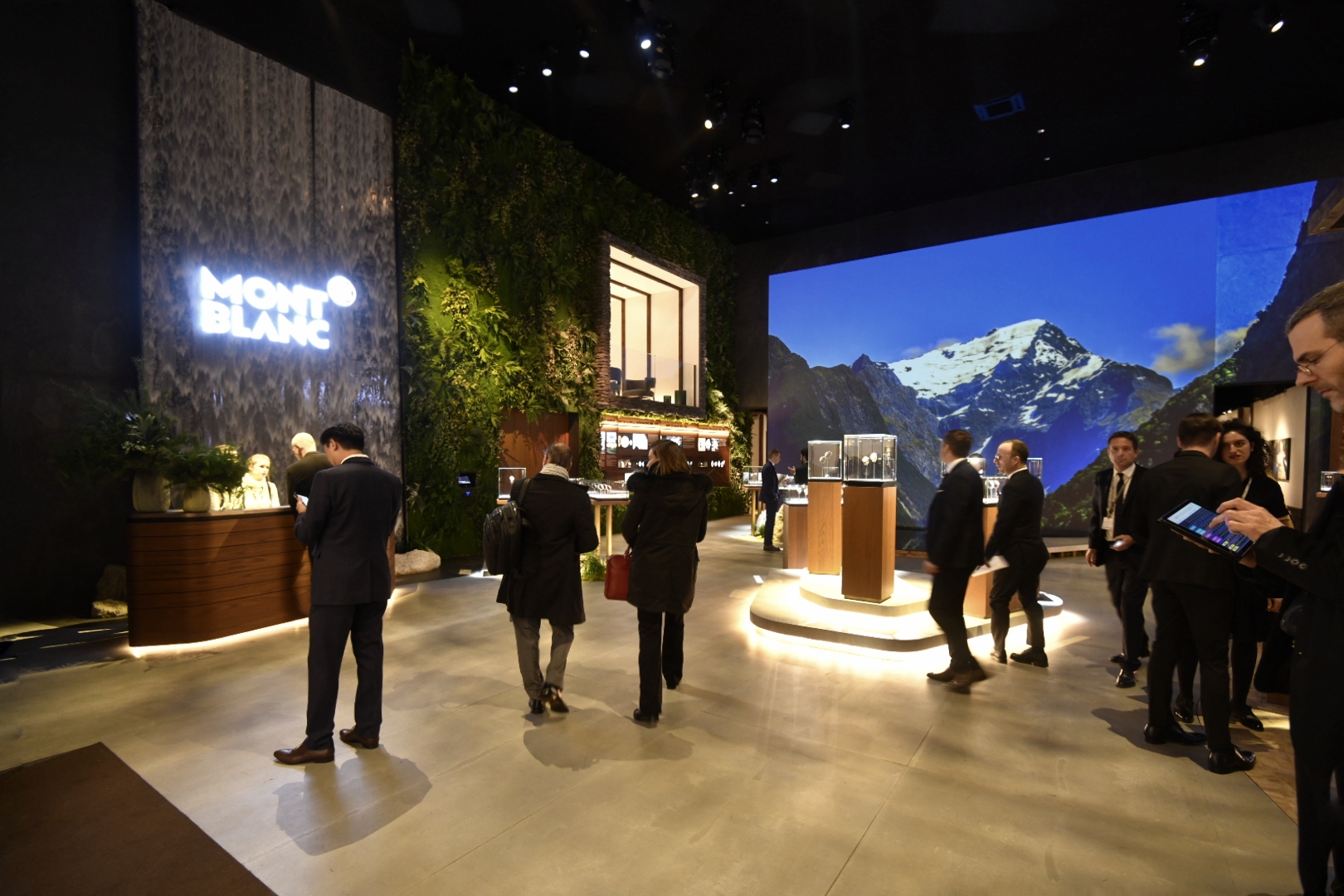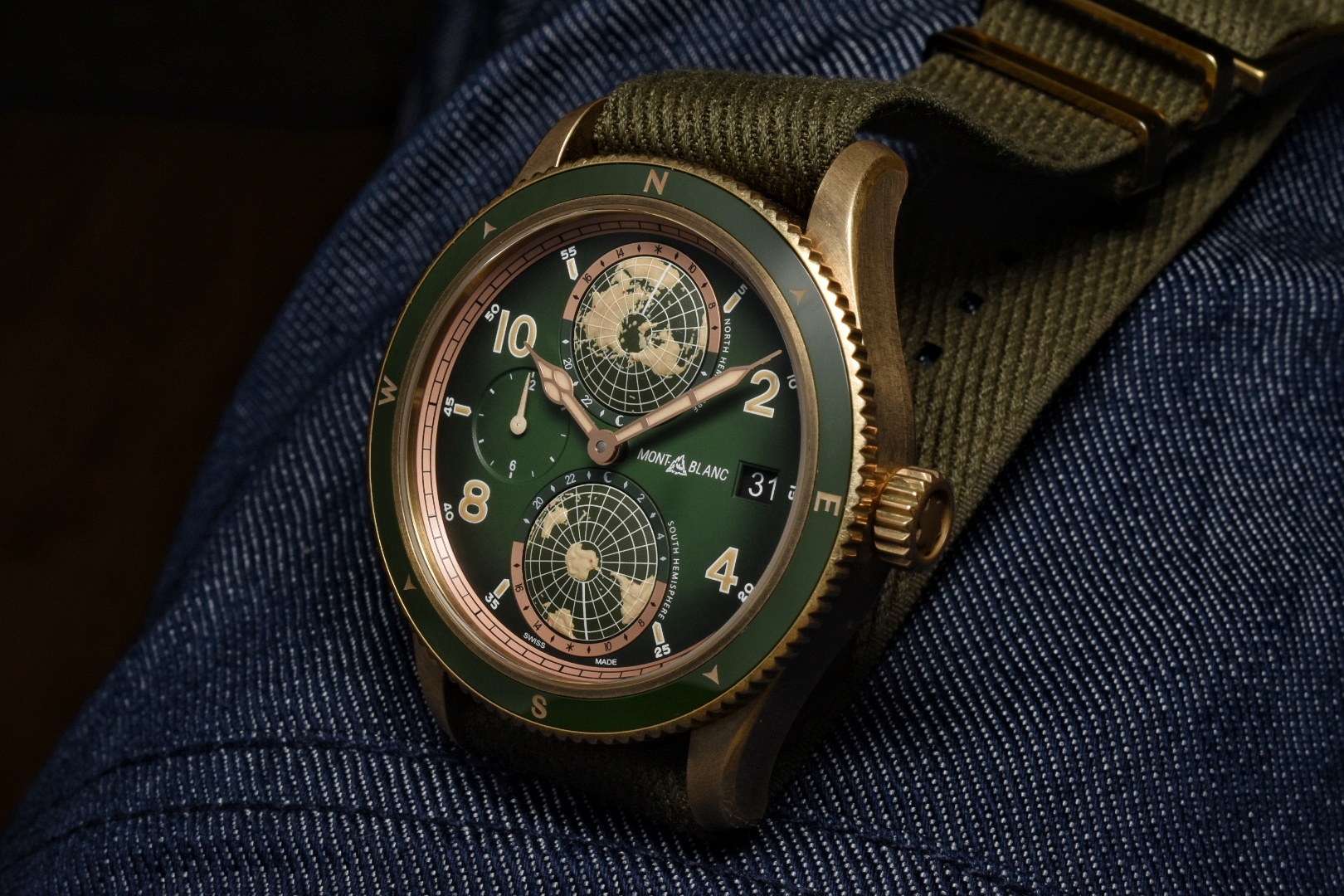 The embodiment of this new direction is the Geosphere, one of the most sublime releases ever from the brand, coming with a robust 100 metre water resistant case and complications that suit the modern adventurer who has to travel to faraway places.
In fact, it was, as I would realise, particularly suited to the adventure that I would face. Firstly, that it is a mechanical watch, something I realised would be important in an extreme environment, where electronic communications and a reliable electricity supply were non-existent, and secondly, that it also had day/night indicator – in the form of the world timer function on the dial, that would be ideal (theoretically) for exploring caves.
I say this because we all know about the Rolex Explorer 2, the only watch I can think of that was initially created for spelunking, or the exploration of caves. The key feature that enabled it to function for this purpose, aside from the robust build of the watch itself, was the addition of a 24-hour hand that allowed the wearer to know if it was am or pm. This makes sense since caves are places where sunlight rarely penetrates, and it is easy to lose track of time.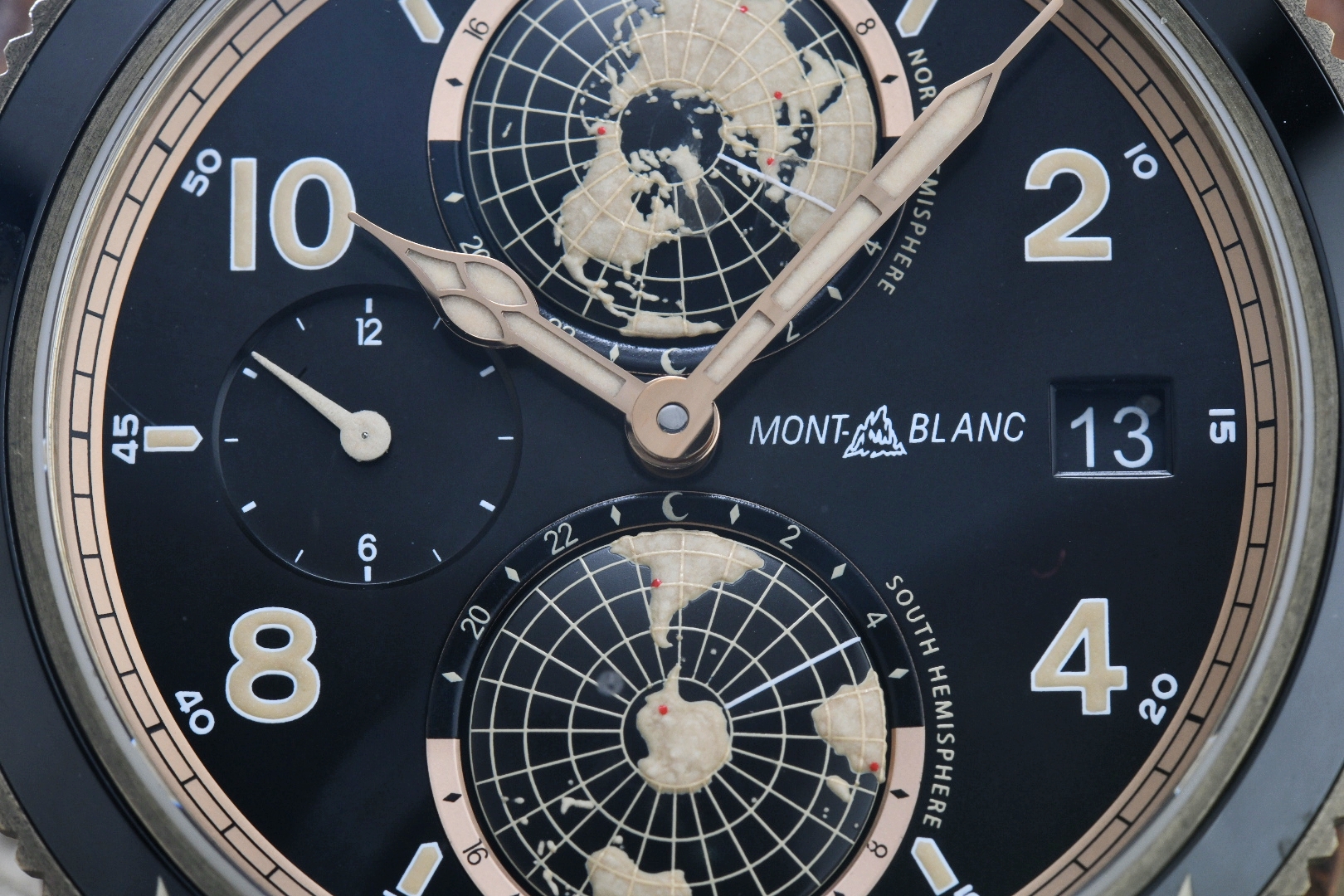 The Geosphere might not implement its day/night indication in the same way, but it can function well enough by keeping track of the location of where you are in the world against the 24 hour day and night track in the two world-timer sub-dials. This is certainly usable for caving and also and as a bonus, other things if you're more of a traveller than an adventurer. Feature for feature, the rest of the watch, compared with the Rolex Explorer 2, matches up very well.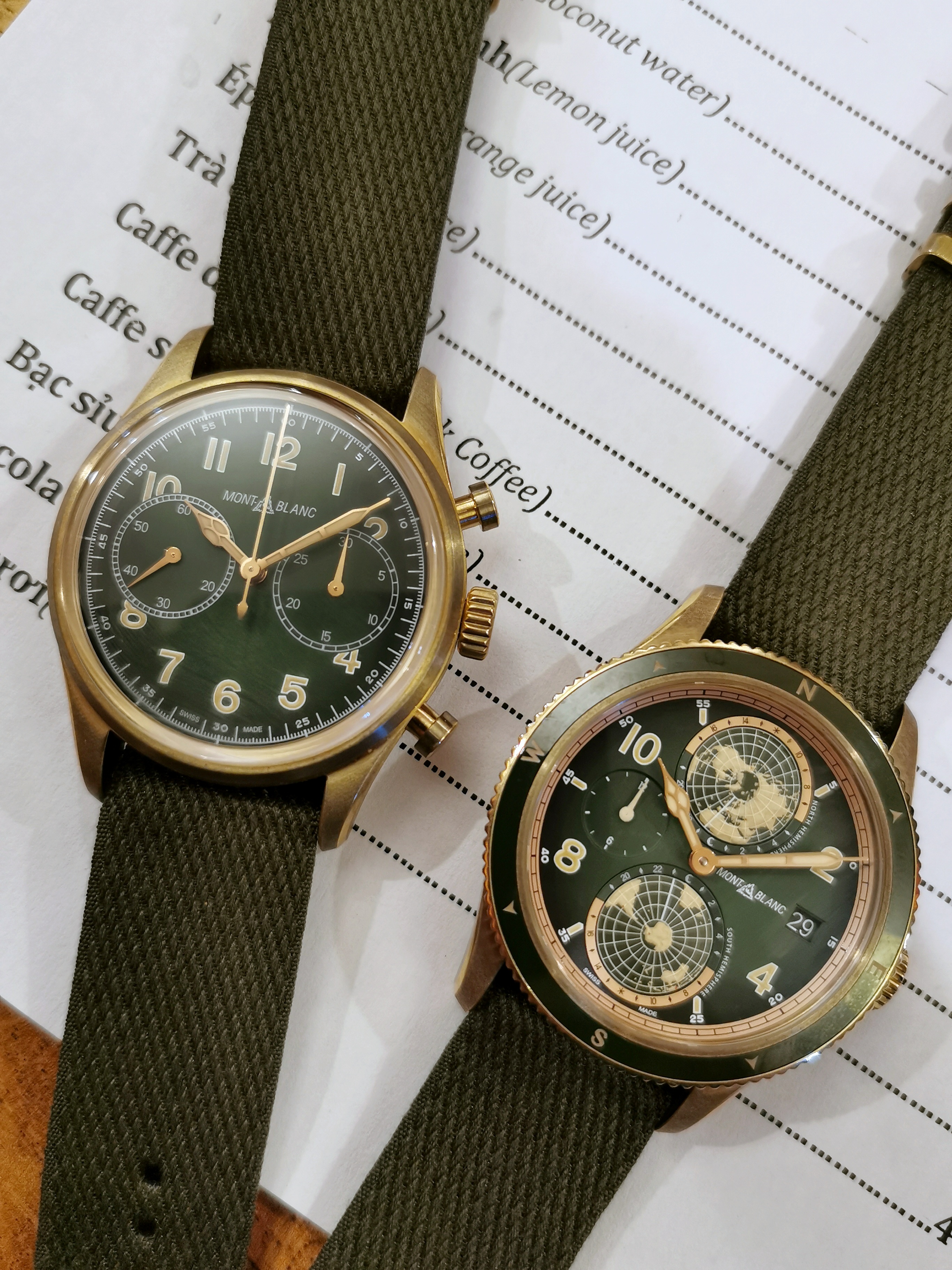 In any case, I would be able to find out for myself if the Geosphere would be a capable spelunking watch, with Montblanc providing, for the small group of us participants from the Asian press, two watches to be rotated among us to wear while on the adventure. The first, the Geosphere in Bronze case, with the new for 2019 green dial, and the second, a similarly appointed 1858 Chronograph.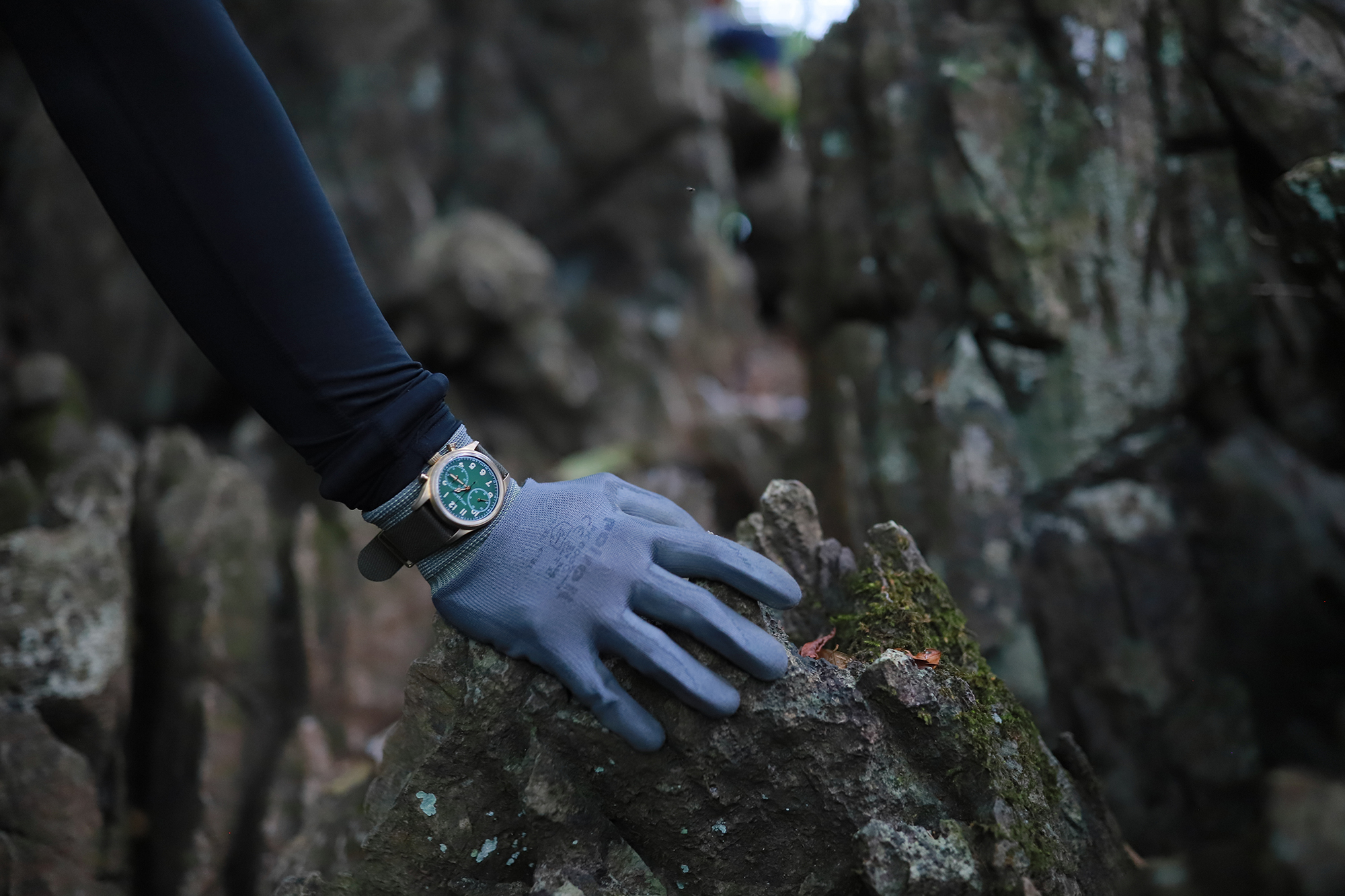 The Tu Lan Cave Cave System
The Tu Lan Cave System, the staging point of my adventure, was surprisingly, only discovered in 1992. Situated somewhere in the middle of Vietnam, it is a remote and mountainous area covered with dense jungle and vegetation. More importantly it's also where your mobile phone signal goes to die.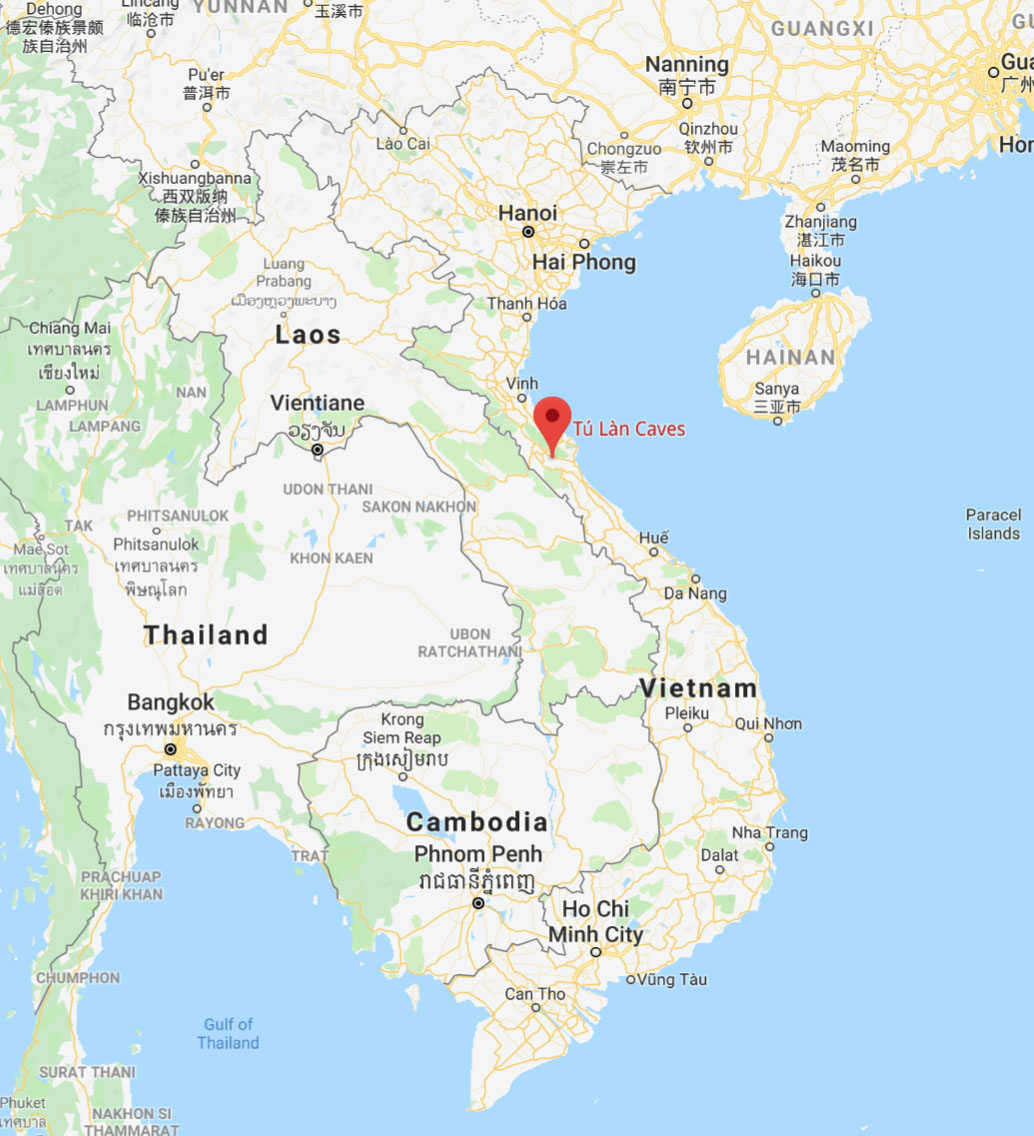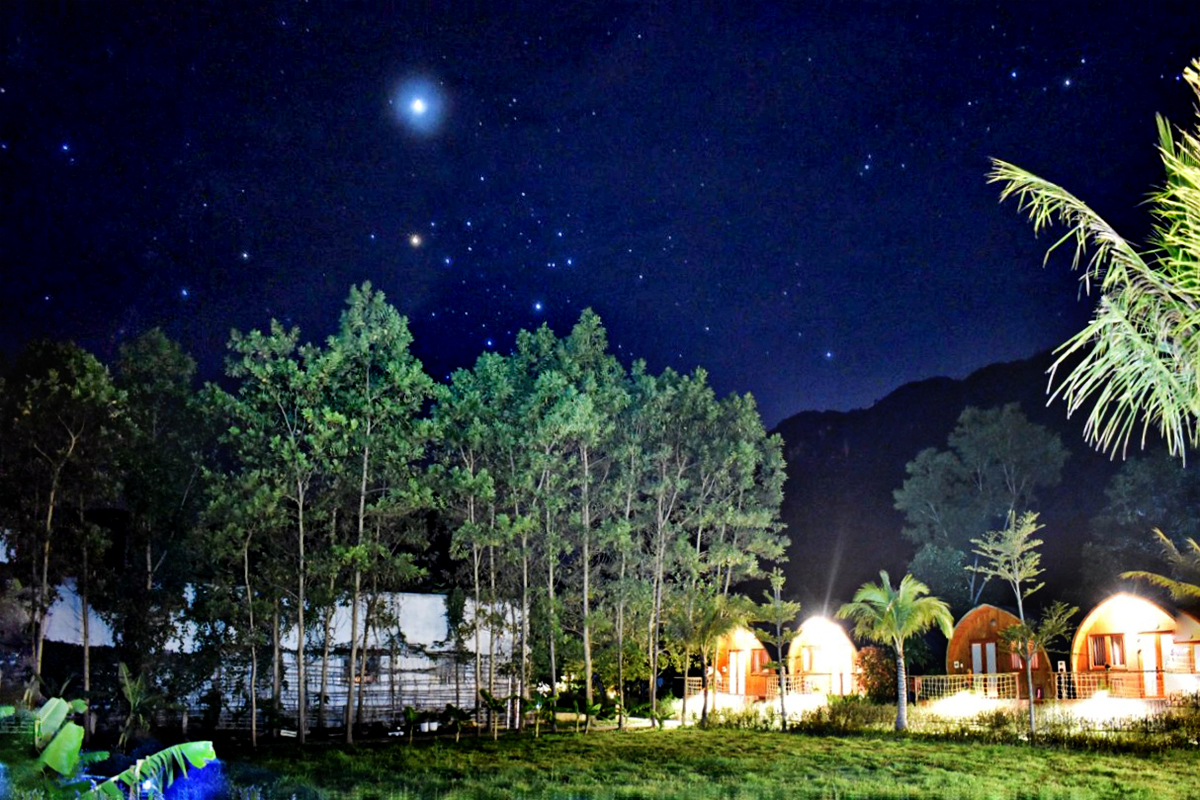 Comprising 10 caves in all, the Tu Lan Cave system was only revealed by the discovery of the first cave – Hang Tom cave in 1992. Subsequently, and due to the way caves are formed, more were discovered in the same area.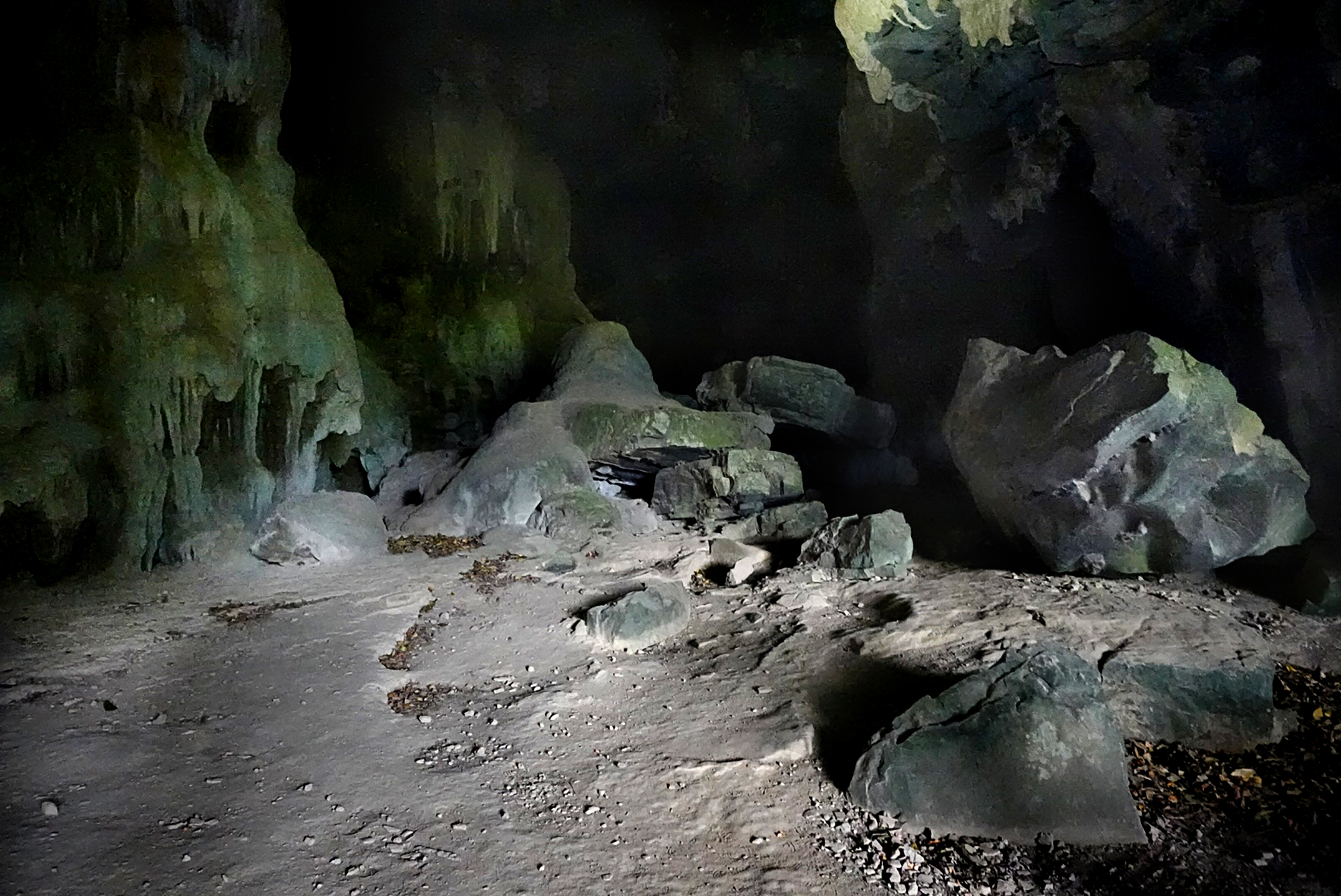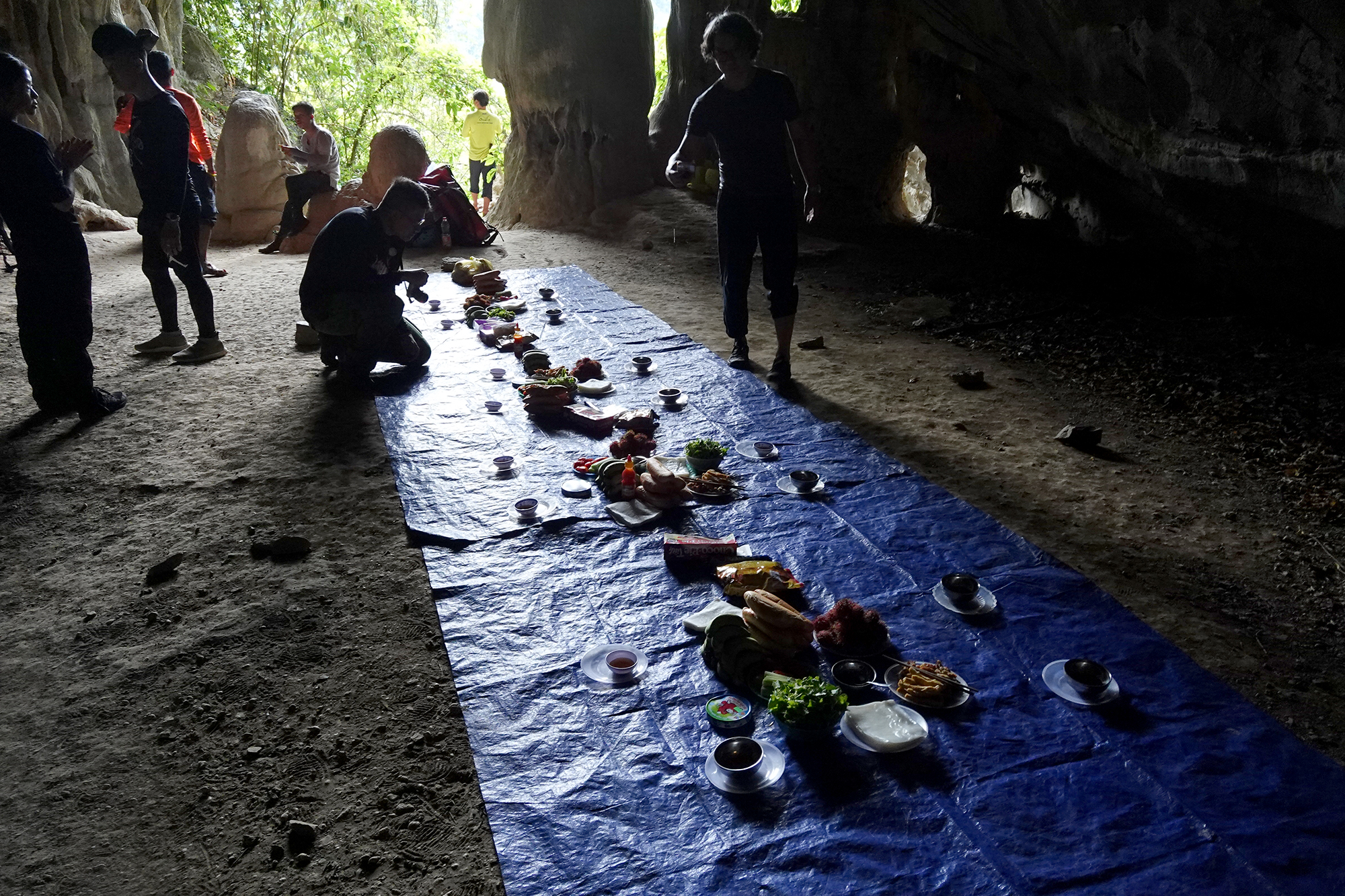 With the mountains in the region formed by tectonic plates that have always been moving and bumping into each other, water from rain, forming into rivers has continually cut into the bottom of the rock surfaces, carving new caves over time.
As these caves move upwards due to active shifts in the tectonic plates, the water continues to find lower ground, carving new caves in the process. That's why the river caves in the Tu Lan cave system such as Ken Cave and Tu Lan Cave are very young, only about 3 million years old, and why the higher, dry caves (dry Tu Lan and Hang Tom Cave) are much older, and date to around 5 million years old.
Potentially of course, many undiscovered caves might still exist. Case in point is Kim cave, which was named after a Dutch tourist who wandered off from his group to relieve himself, only to discover a new cave and get himself into the history books. Although some people have said that it was so named as a marketing tactic to encourage new visitors, so that they might feel inspired to find a cave and have it named after them. That might certainly be the case, although I'd suggest you don't try, as you shall see why.
A bit of a hike
The various caves of the Tu Lan cave system are not accessible by road, as I had initially and naively thought. Instead the journey requires a 2.5 km trek starting at base camp towards the point where one heads up (30m) and down (100m) a relatively small mountain to Hang Tom cave for lunch, then to another longer and far treacherous trek up and down Mango mountain, so named for the large mango tree that marks the peak. We were not given the height for this second mountain, except that the distance for this section totalled 3 km. They probably didn't want to scare us.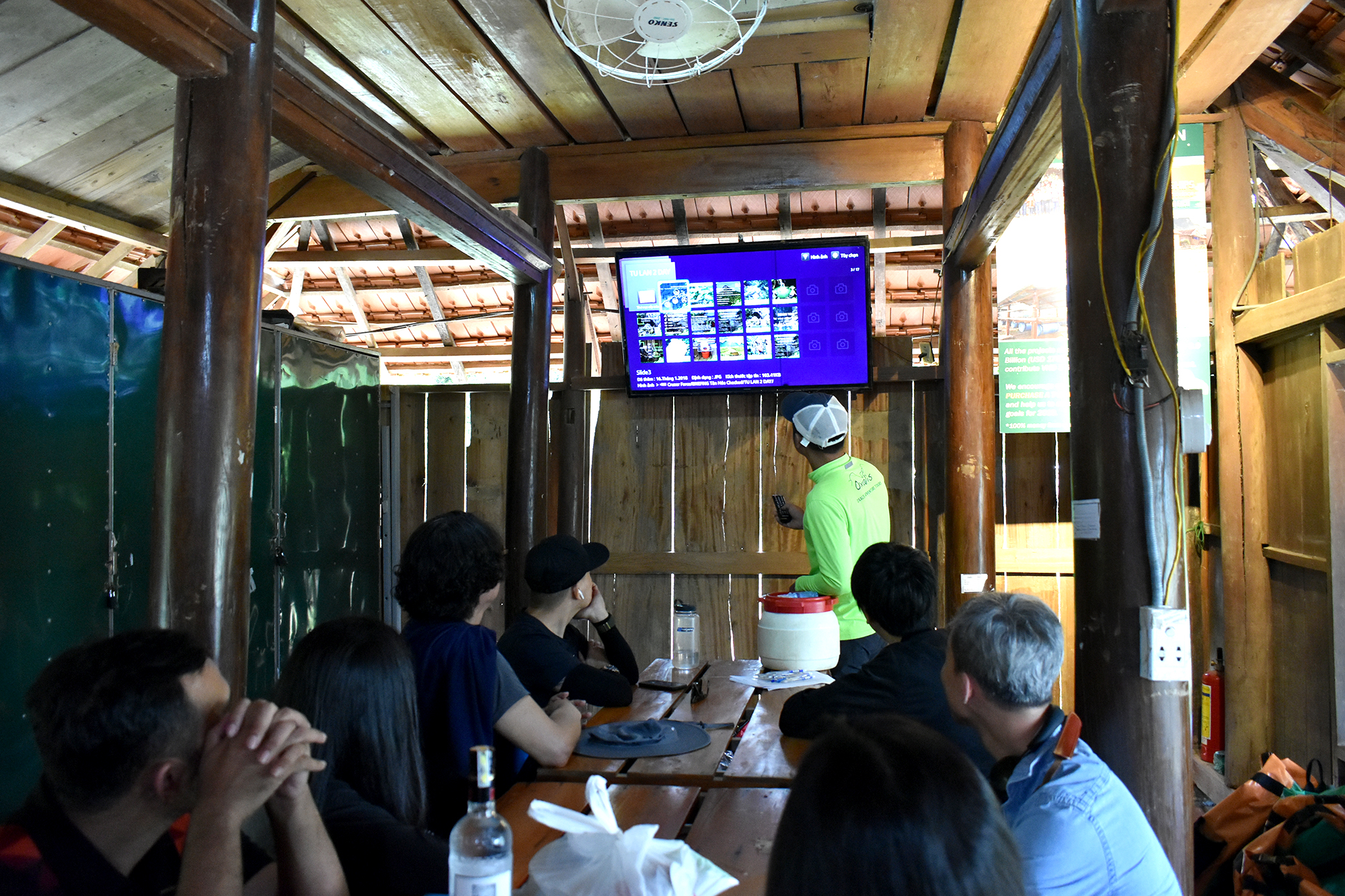 I was with a small group of of my fellow press members from around Asia with the tour led by Oxalis Adventure Tours, who are the only tour company certified to lead tours into the various cave systems in the area. The company was established in 2011 with help from members of the British Cave Research Association, who were the first cavers who helped to map and explore the system when it was first discovered. The Tu Lan cave system is only one of a number of systems that are possible to explore in the region, with each one varying in difficulty. Apparently, the tour I was on was in the middle in terms of difficulty, but I was not to be fooled. Luckily I was scared enough by the physical challenges that were to be expected that I did train for a few months beforehand – I just wanted to survive.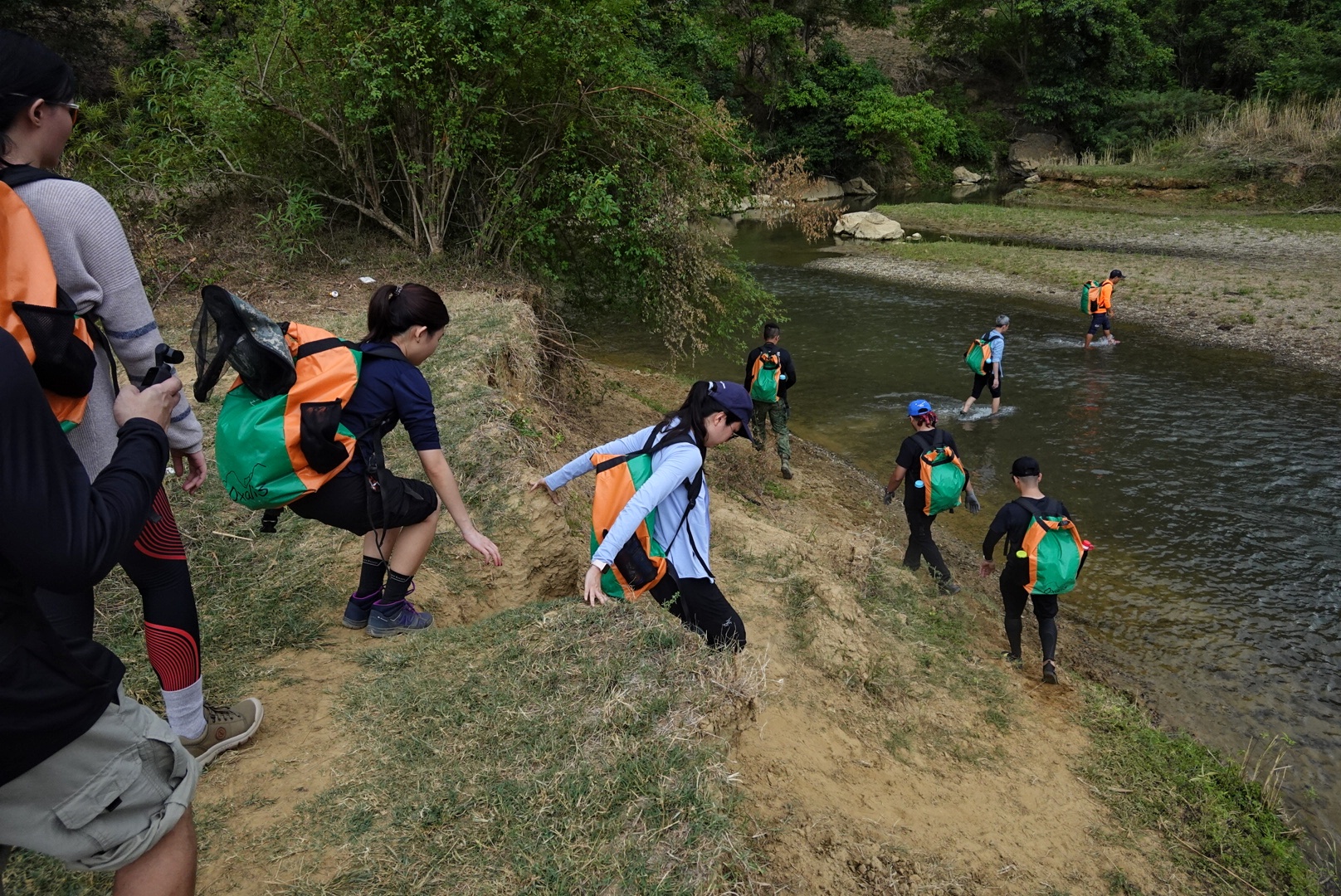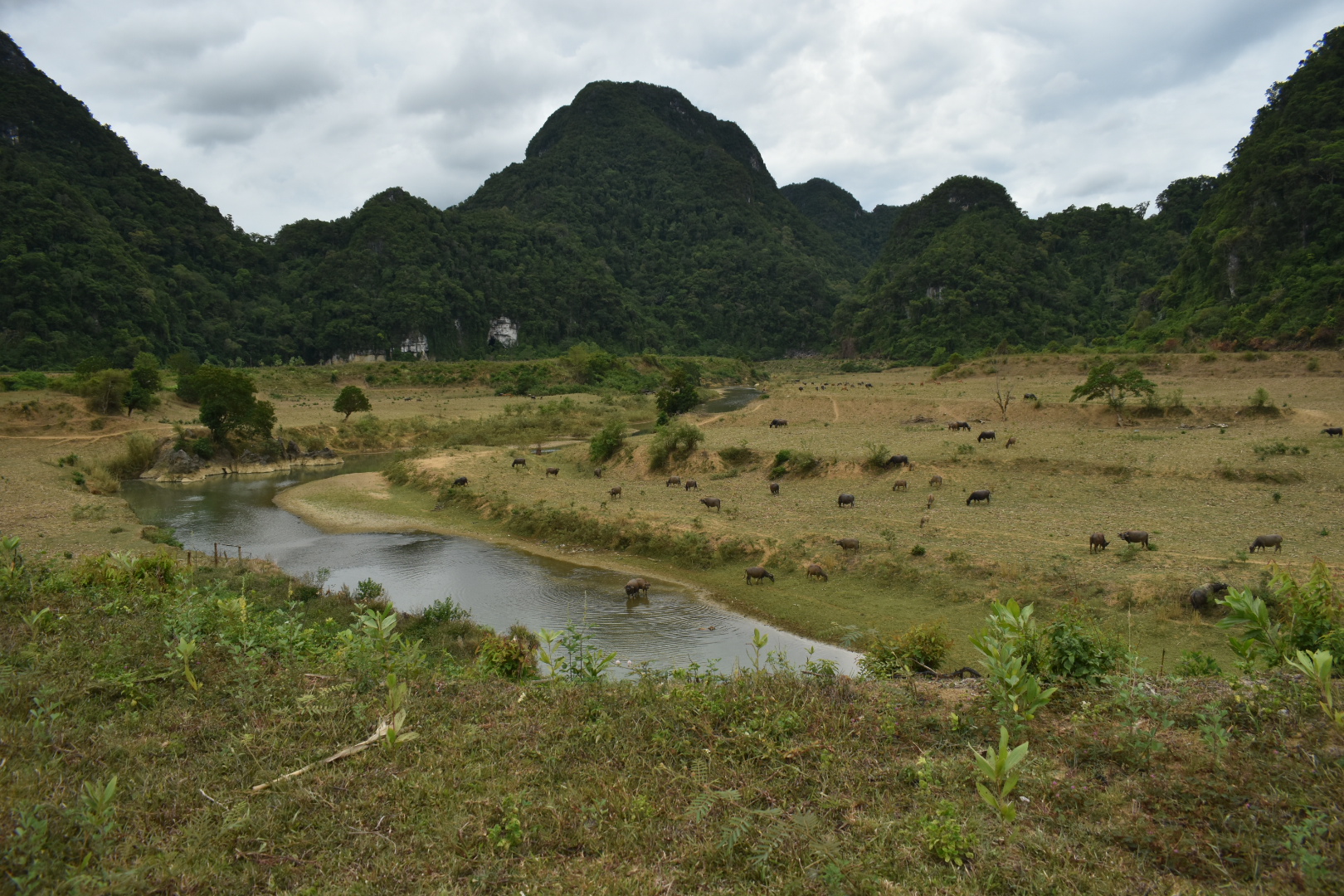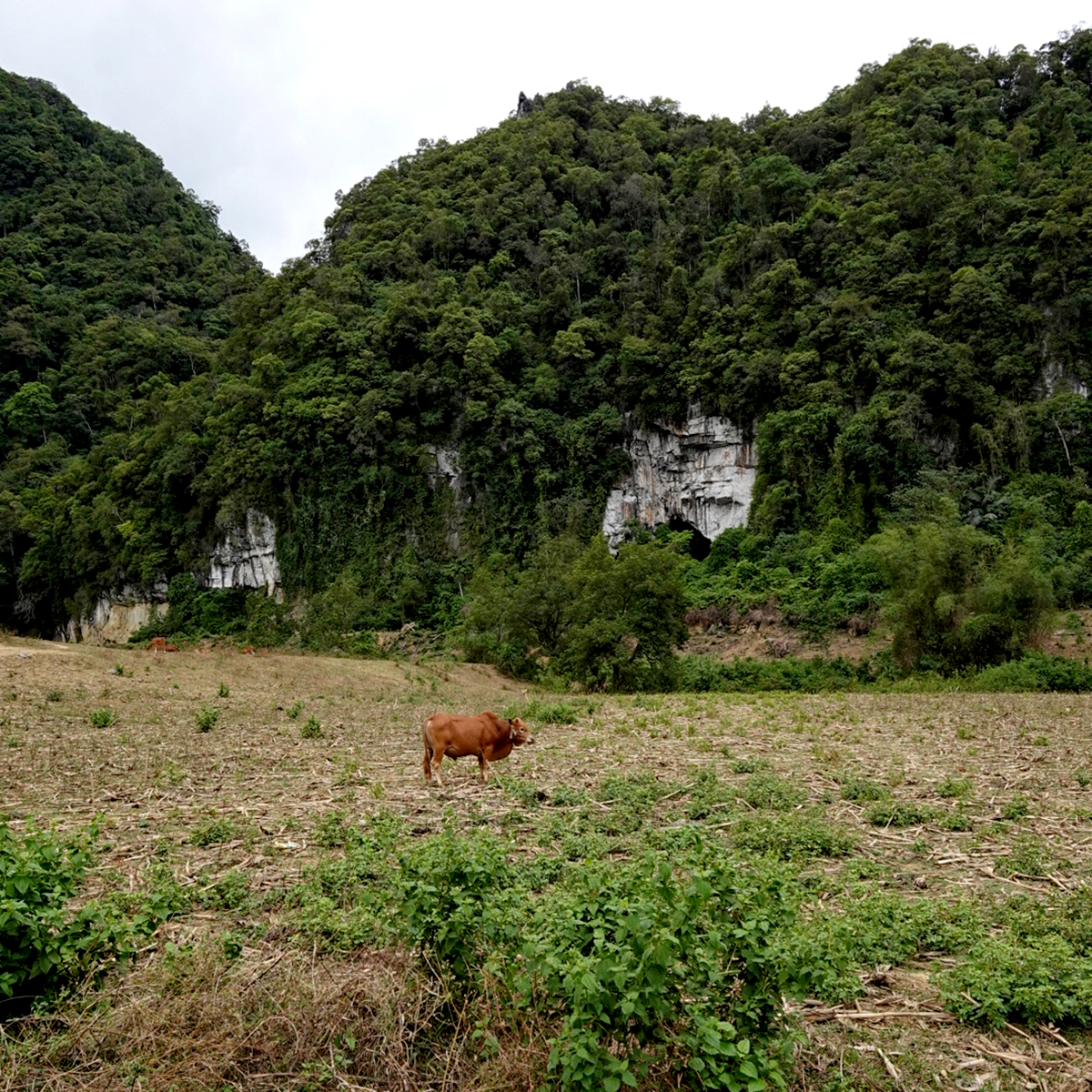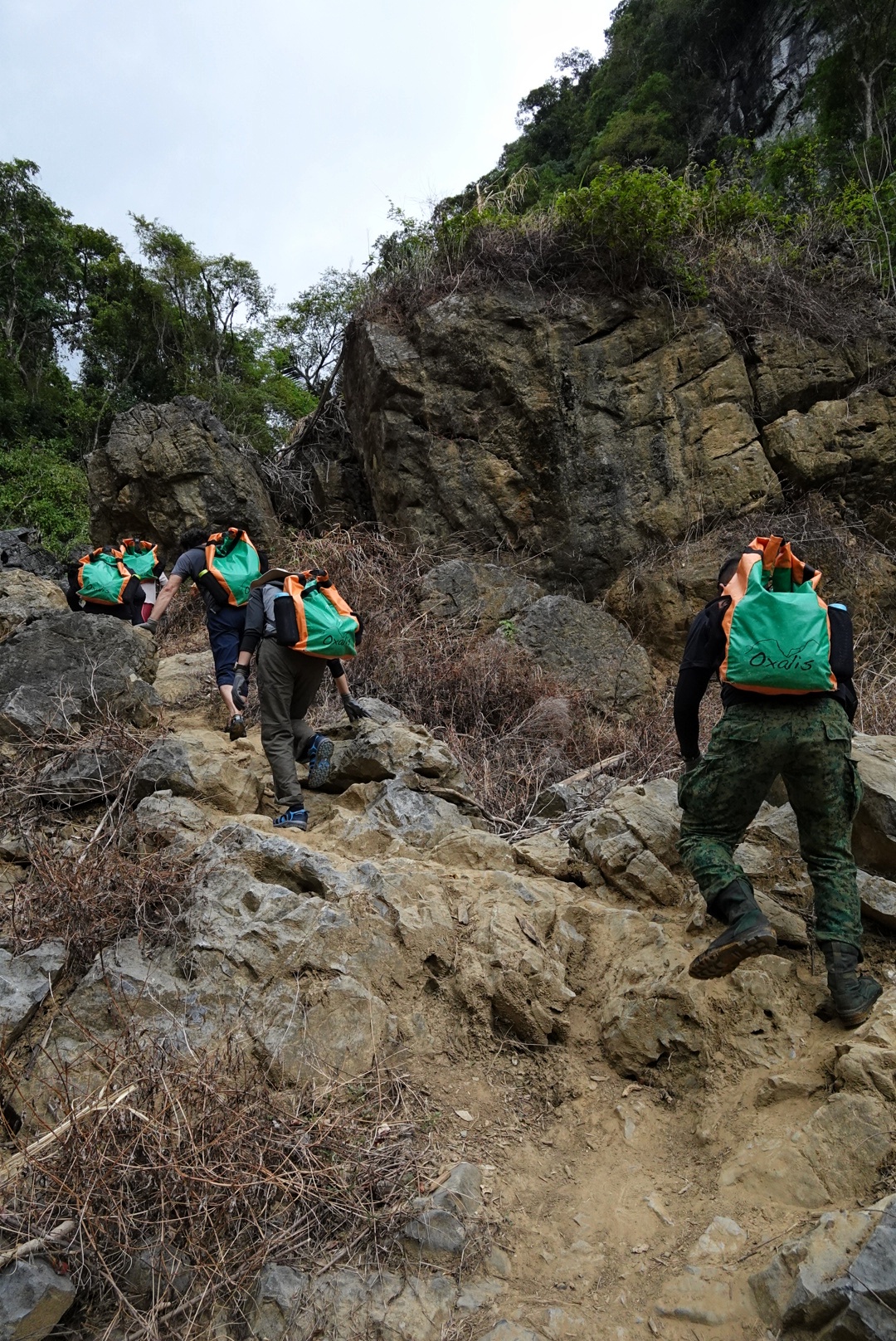 It did not take me long to realise how unforgiving the terrain would be. With uneven ground, rocks strewn everywhere and in ways that I could not foresee, it required not just stamina and physical strength but a good sense of balance to use all four limbs to navigate and climb the rocks. The jungle as well was hot and humid and as we experienced these conditions, one of the tour guides joked about how it was during the Vietnam War, that all the Vietcong had to do to prevent captured US soldiers from escaping, was to remove their shoes.
I can believe that. In this place, there is no way that you could travel far without shoes, not to mention proper trekking ones, as well as gloves, long sleeves and lots of water.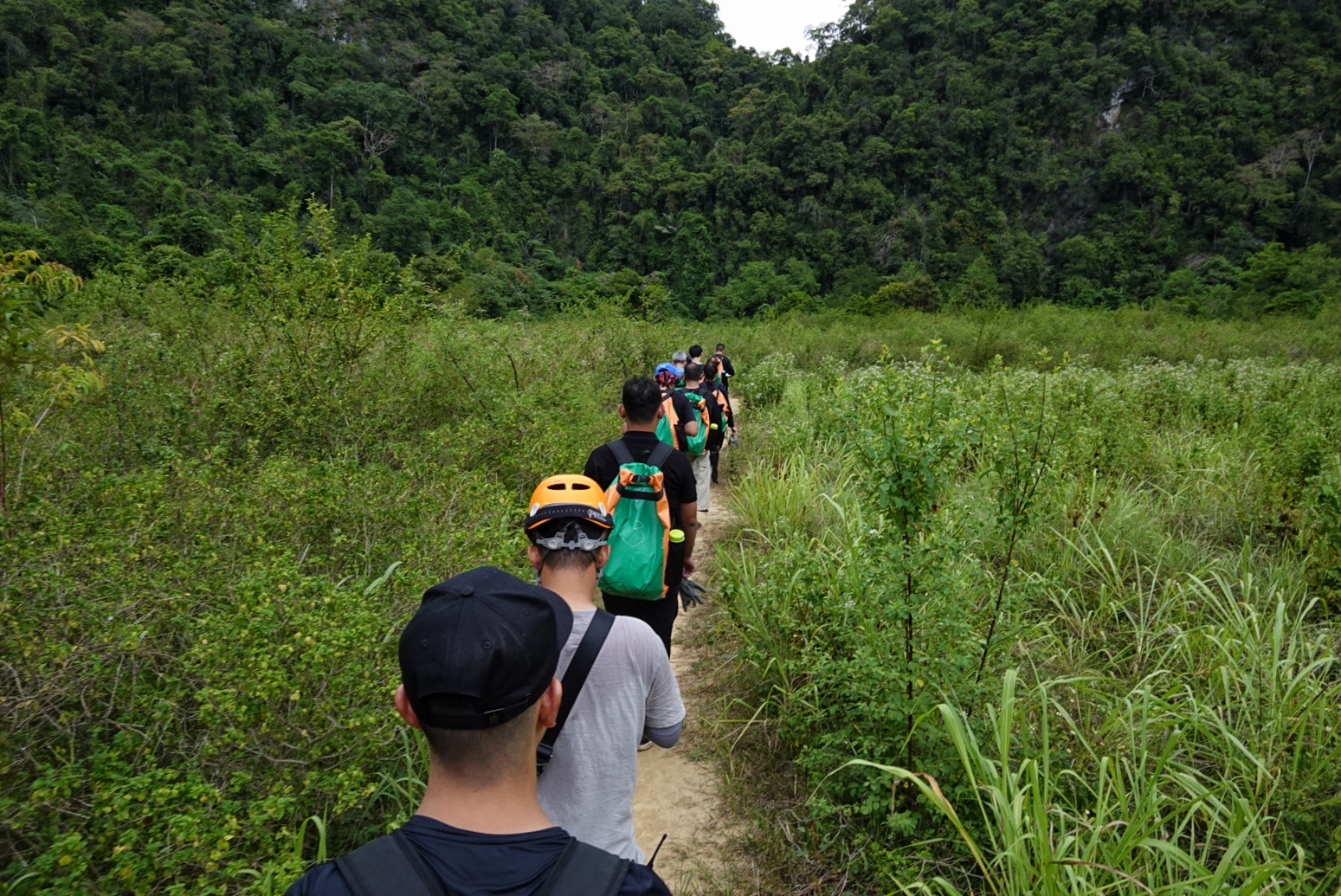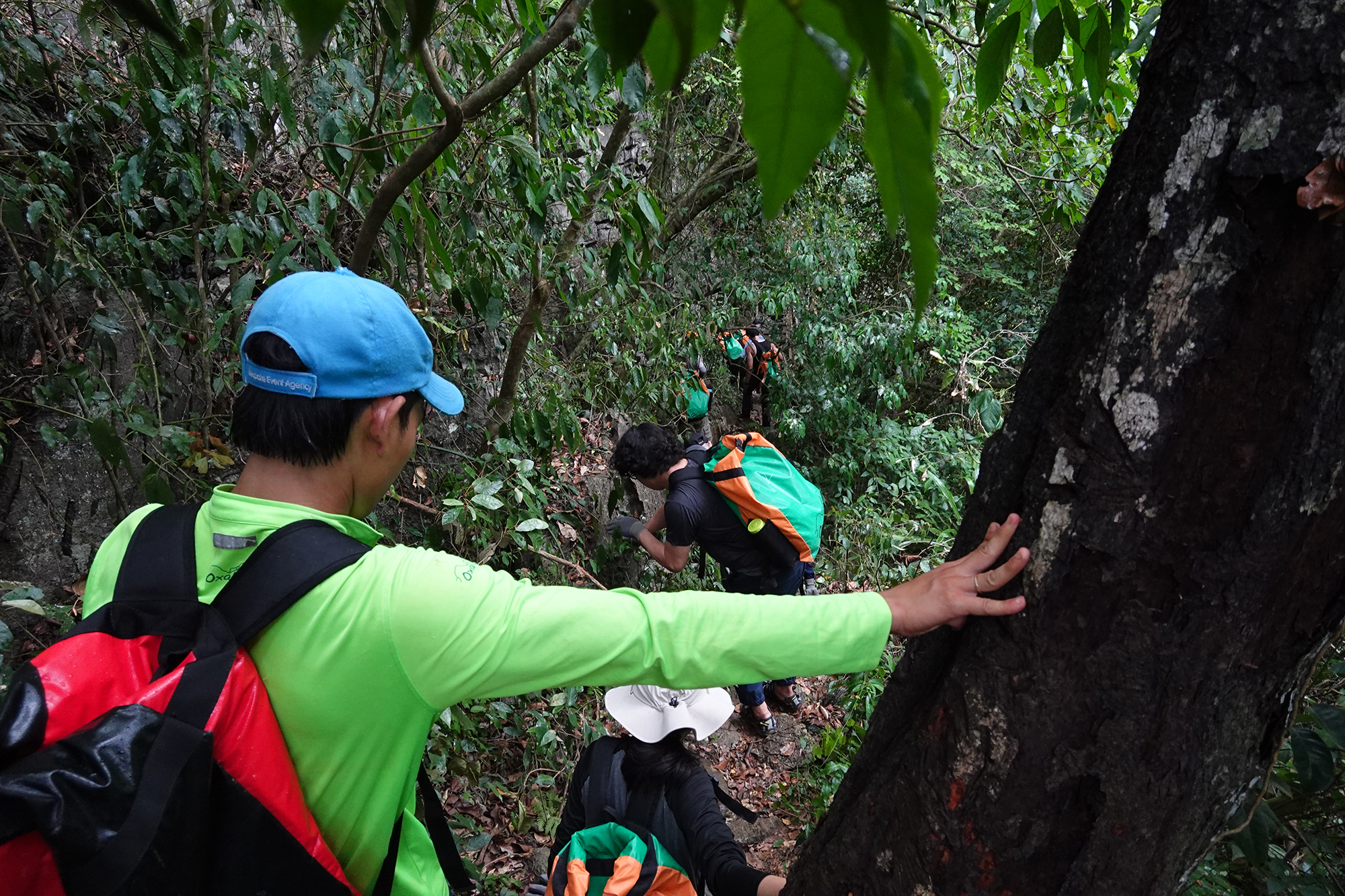 Of course, I had already expected the journey to be tough, because I had seen the YouTube channel of Oxalis Adventure Tours to get a sense of what to expect. Have a look at some of the videos yourself, and you'll realise that it is something that requires some level of physical fitness and mental preparation.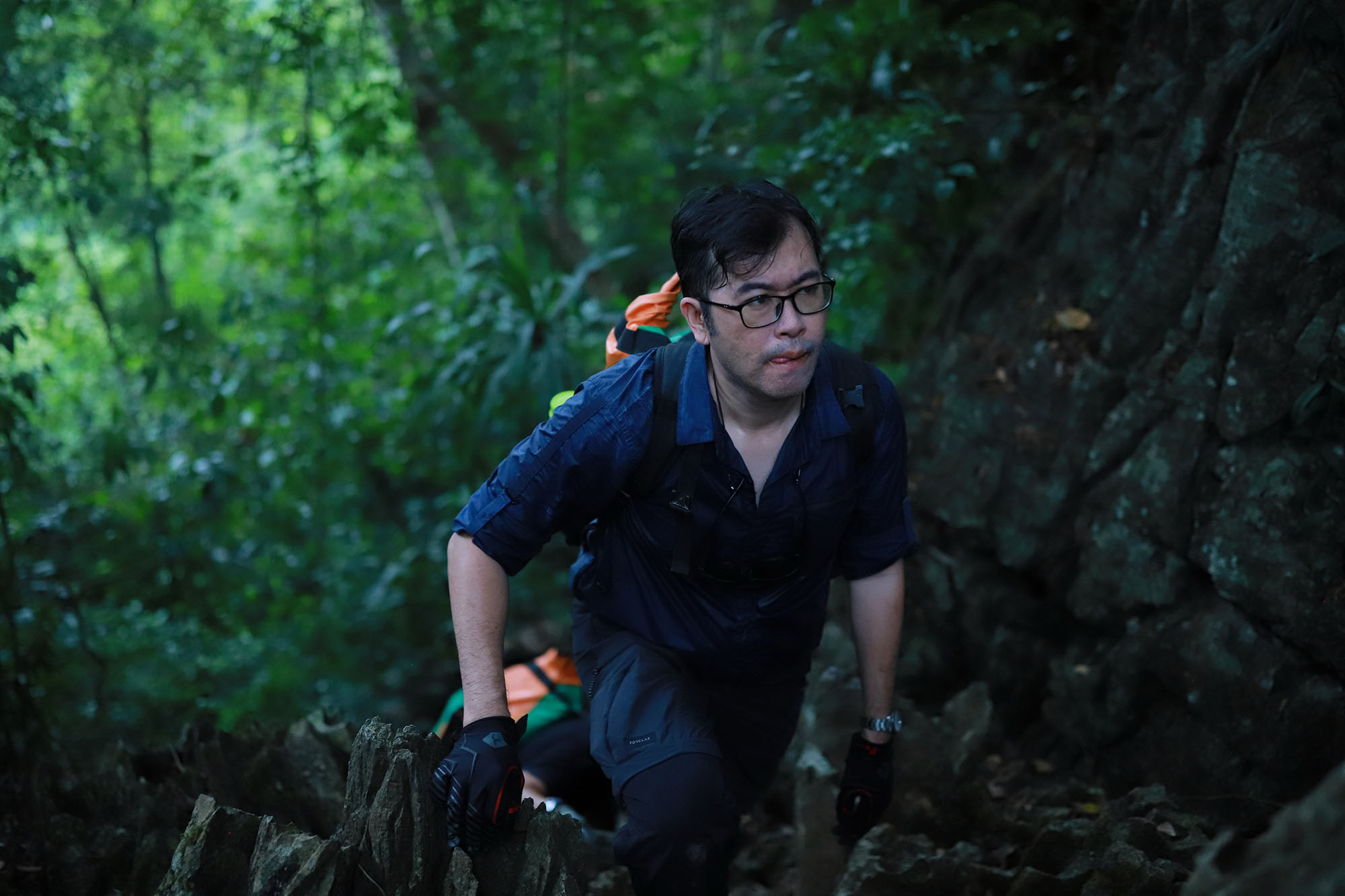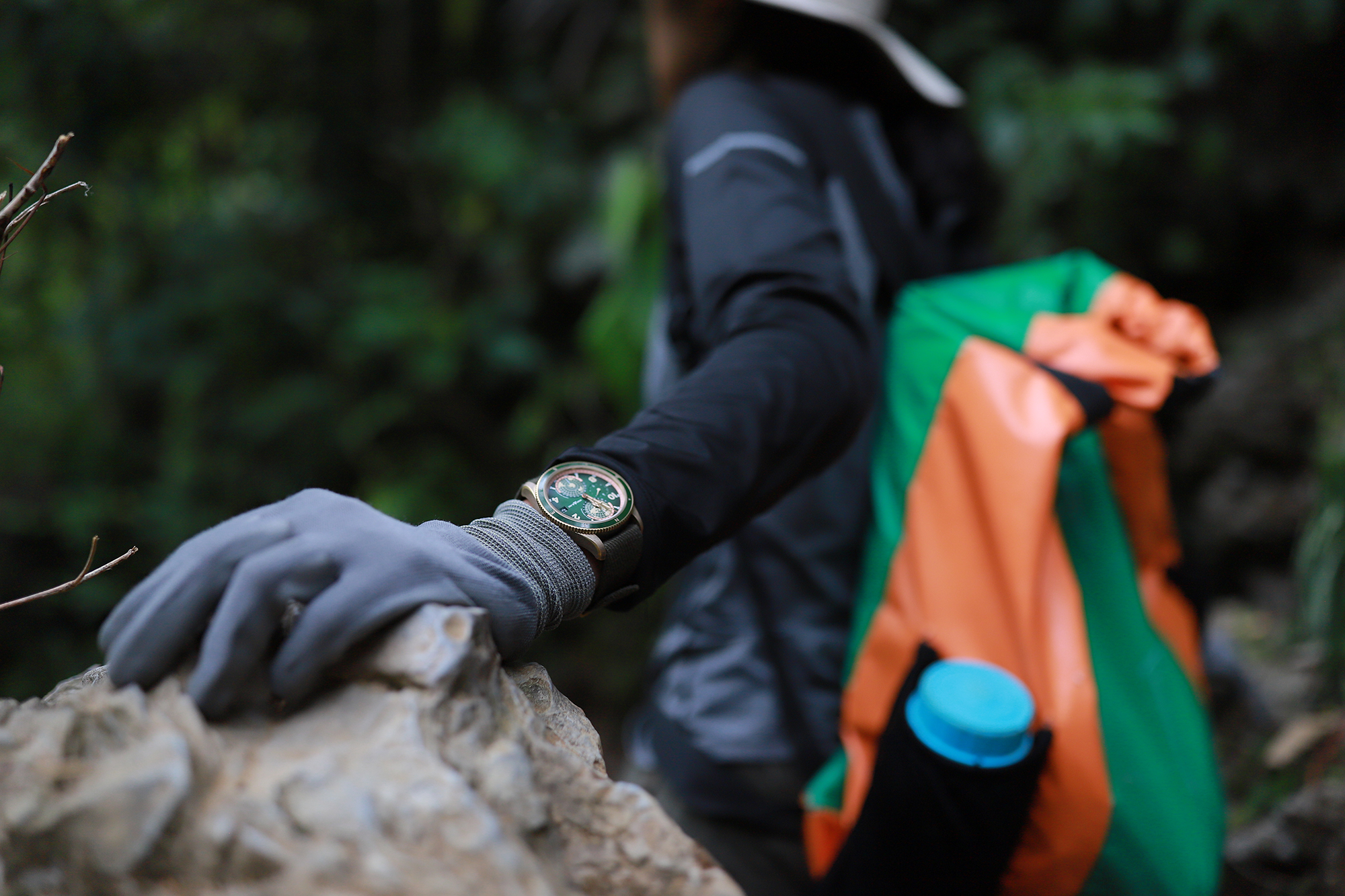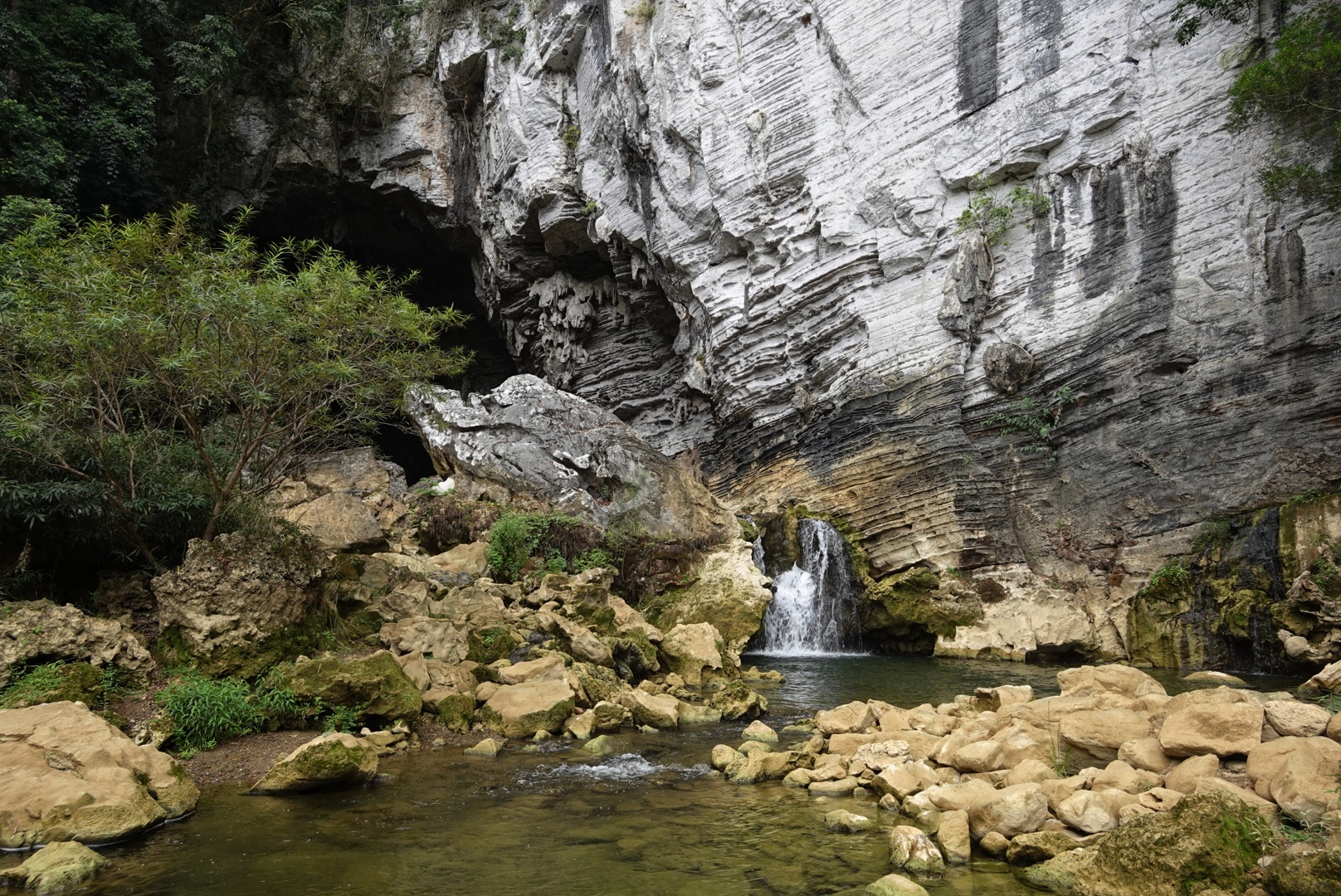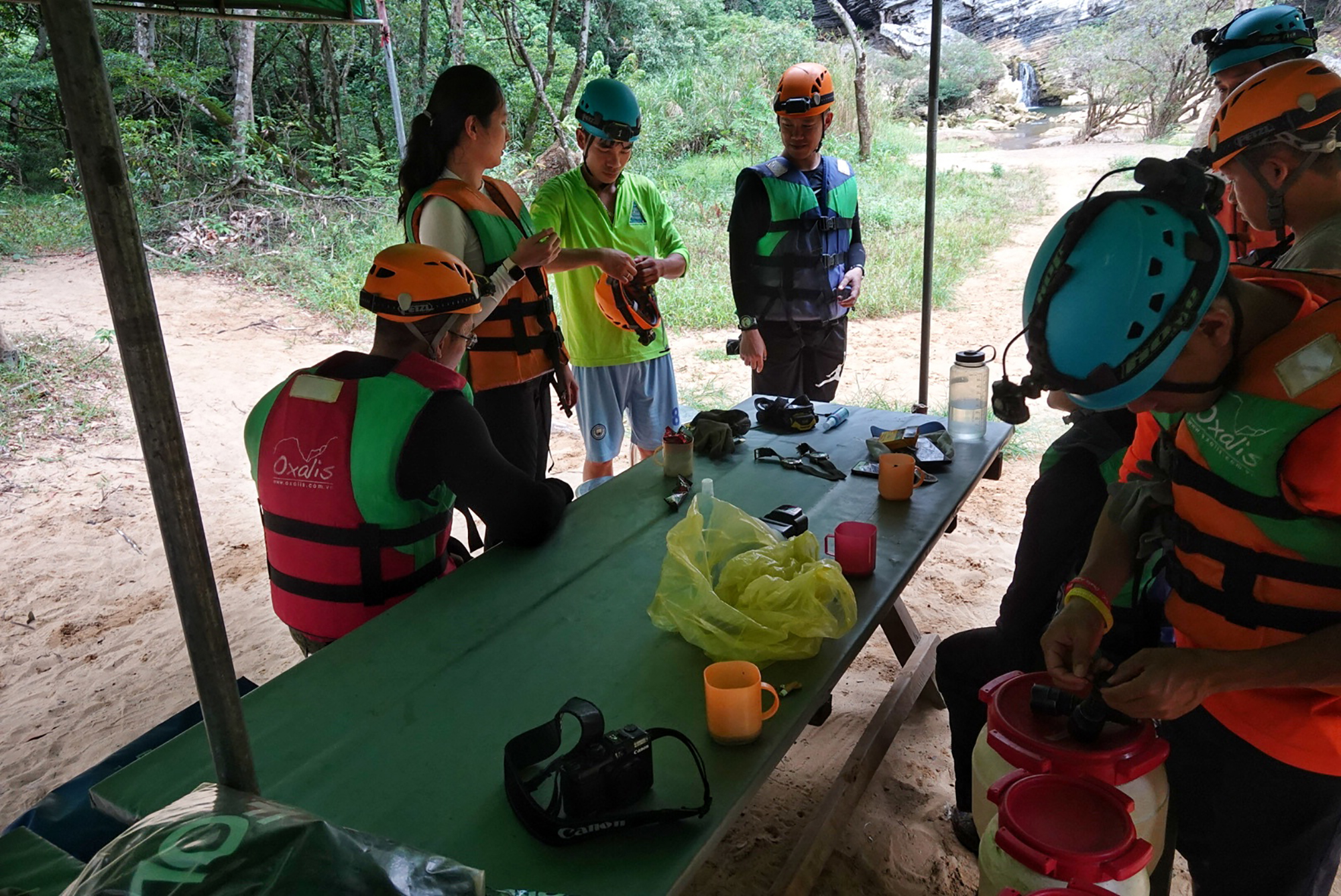 Whats it like in a cave? 
It takes going into a cave to realise how sanitised our modern world is, with its flat surfaces and flat walls, and the rough edges of nature essentially non-existent.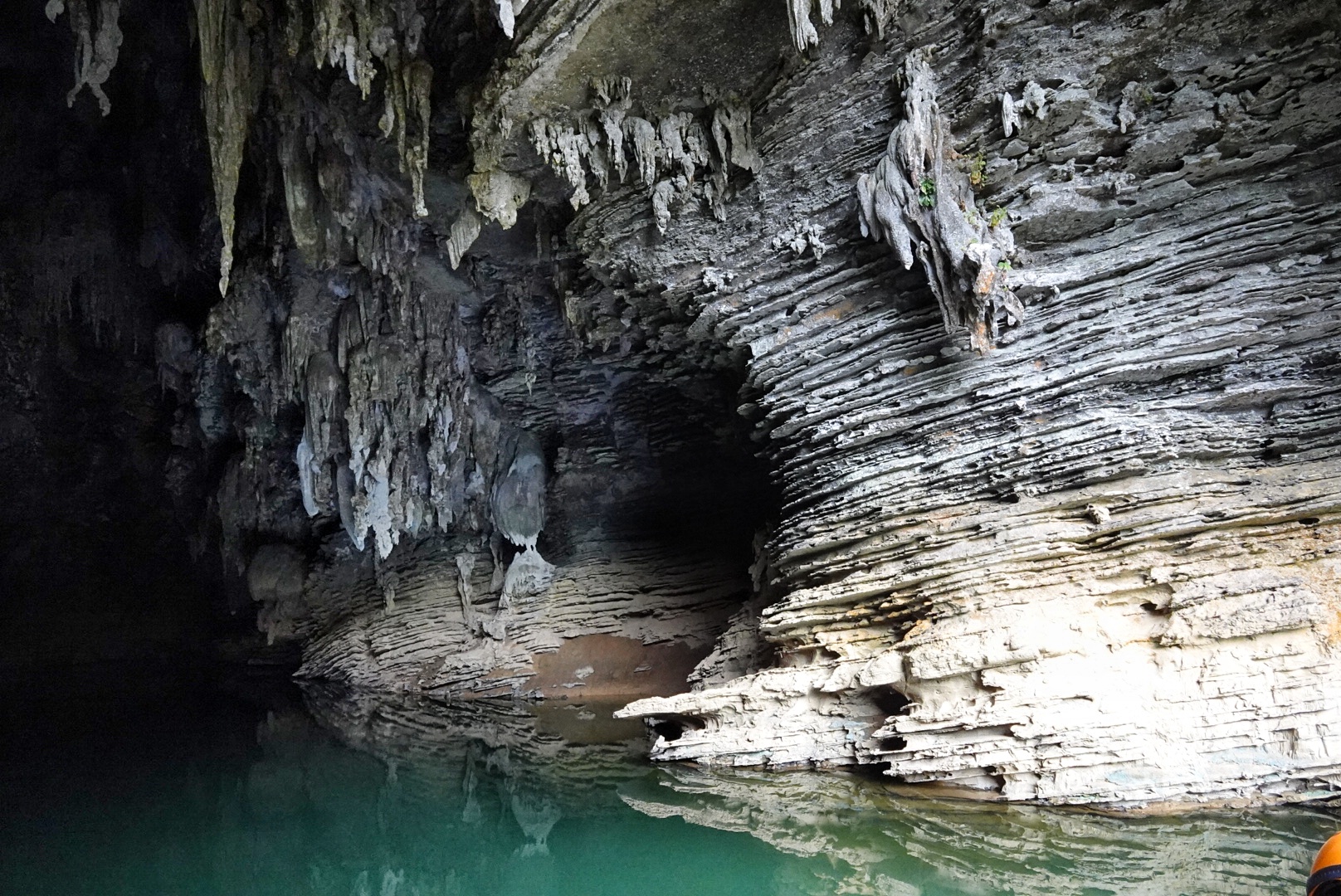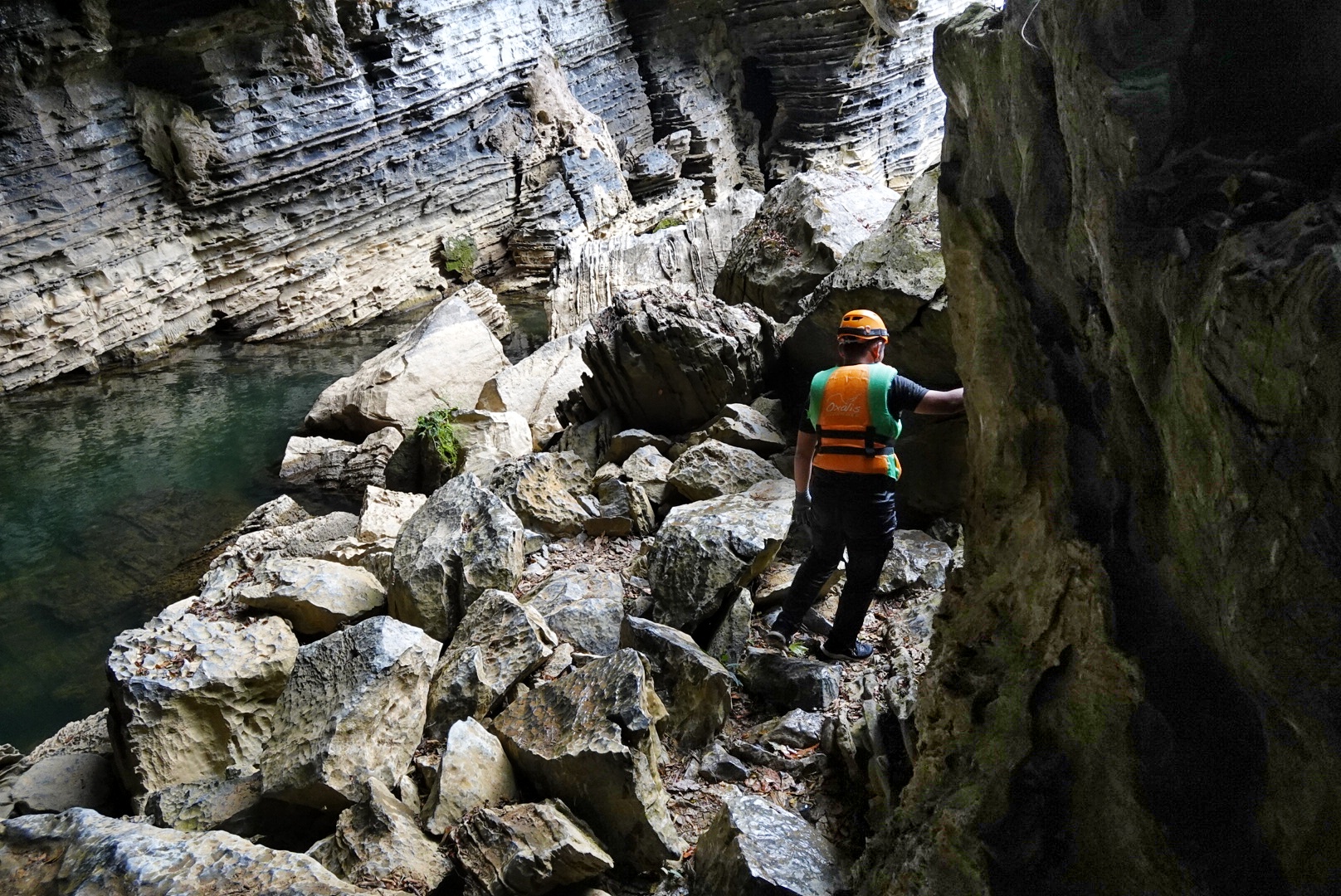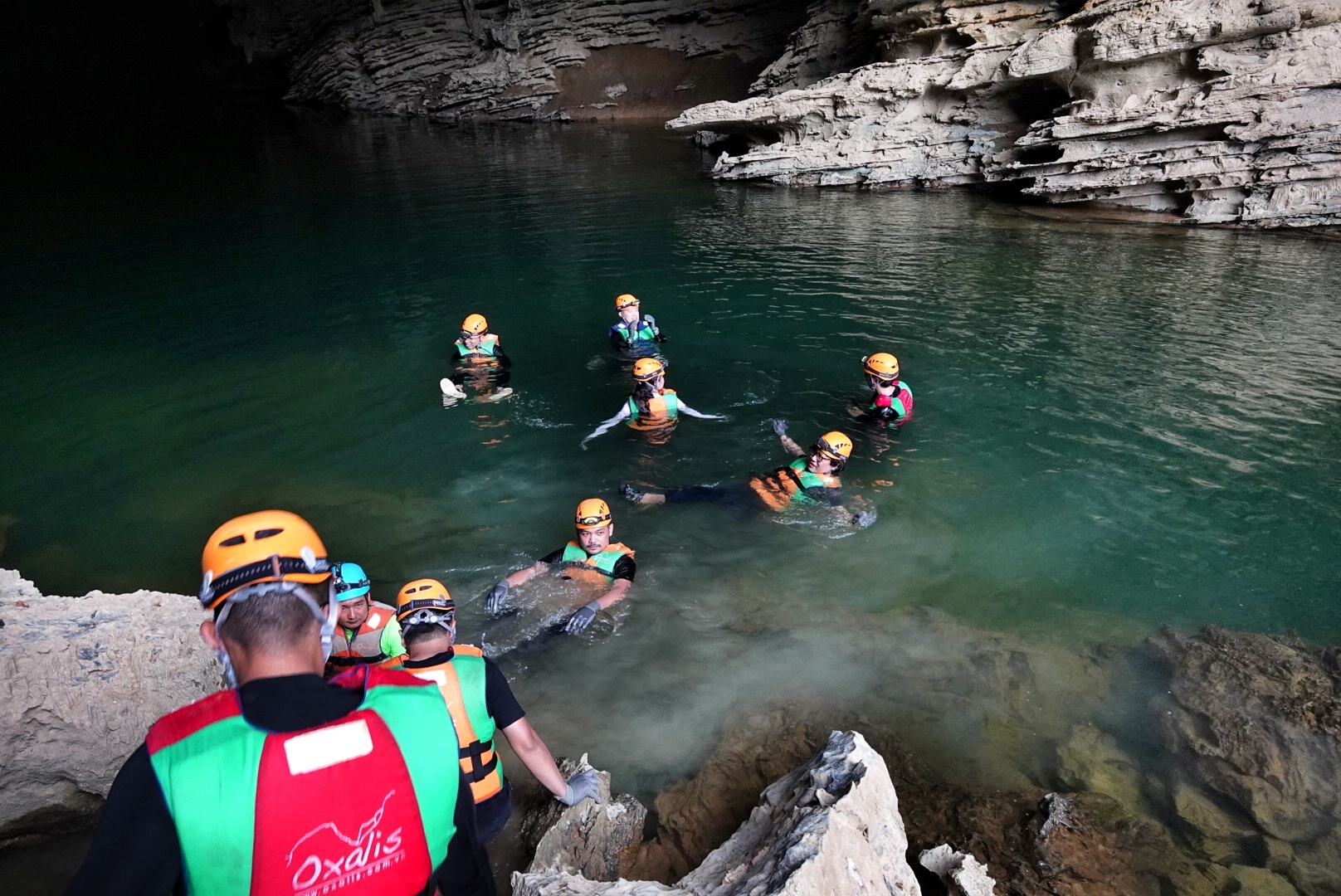 Just moving forward with the rocky surfaces all around was made more difficult by the lack of light in the cave. With the only light sources being the torch on our helmets, and occasionally the powerful floodlight used by the guides to show us the rock formations and for photography, it was basically pitch black with all the lights turned off. In fact, your eyes cannot even adjust to the dark because there is no light at all for your eyes to adjust to.
Challenges get even more pronounced when you consider the swimming, which requires the wearing of life jackets and big waterproof backpacks. It was possible to move forward in the water, but it was awkward. Also, swimming in the cave was not as straightforward as swimming in a pool, as there were strangely shaped rocks underwater that one had to be careful about. Basically gentle movements were required while swimming so as to avoid smashing oneself into underwater rocks. Along the way, some of the people swimming in front of me started calling out to those who were following to warn them about rocks in the water ahead. I dismissed these warnings only once, for when I came to the rocks I was warned about,  I realised that they were shaped so oddly that I wondered how it was possible to contort my body to swim around them.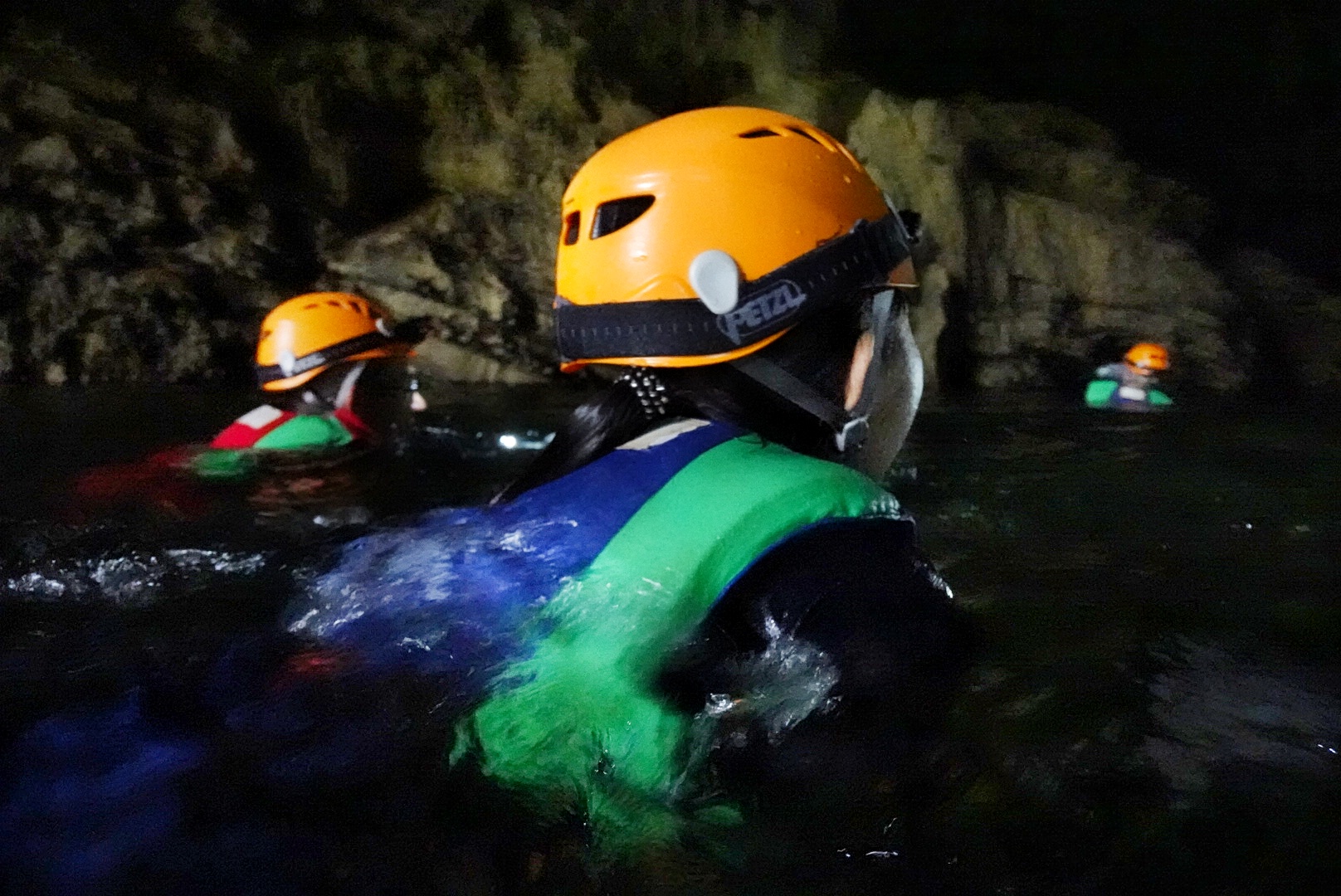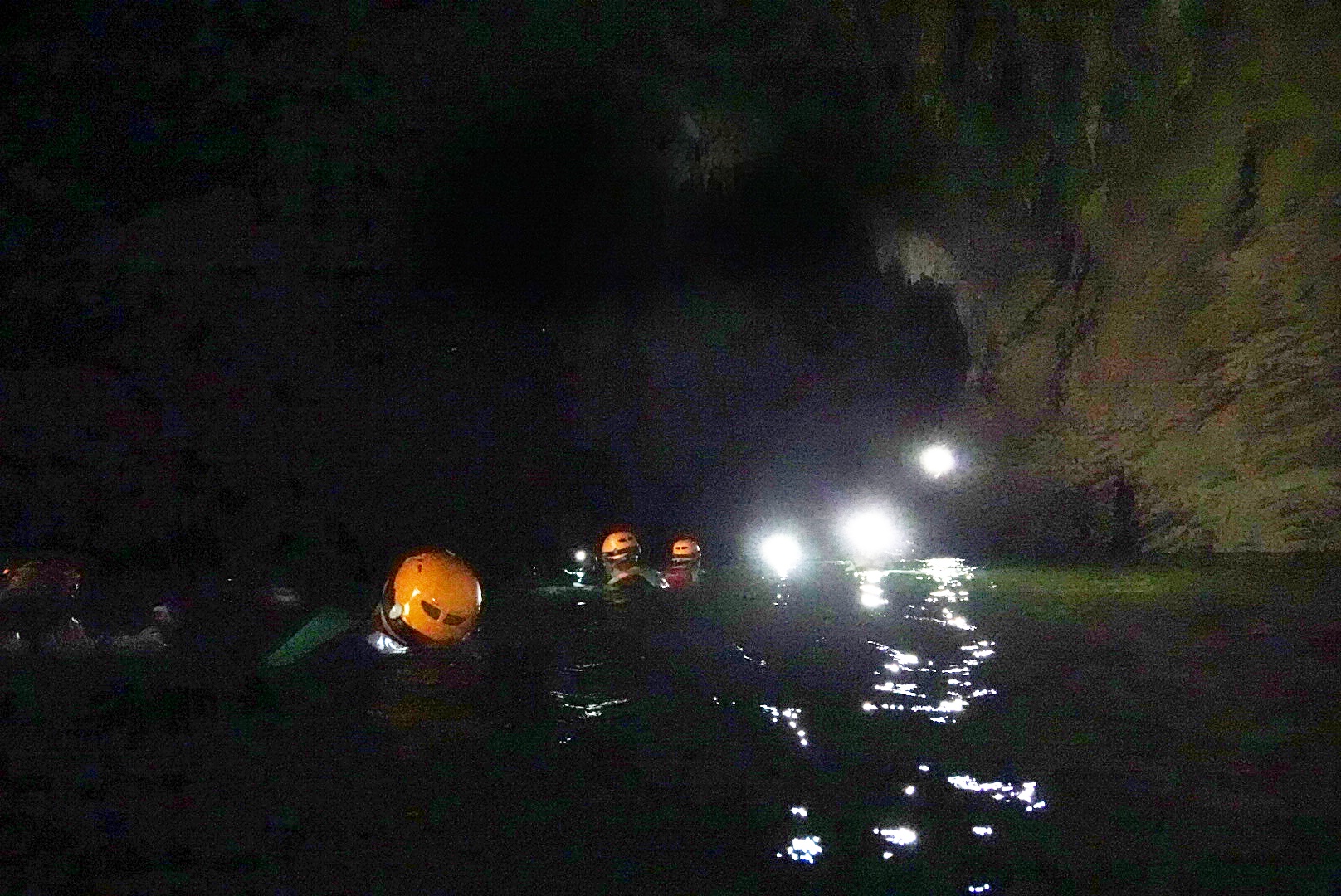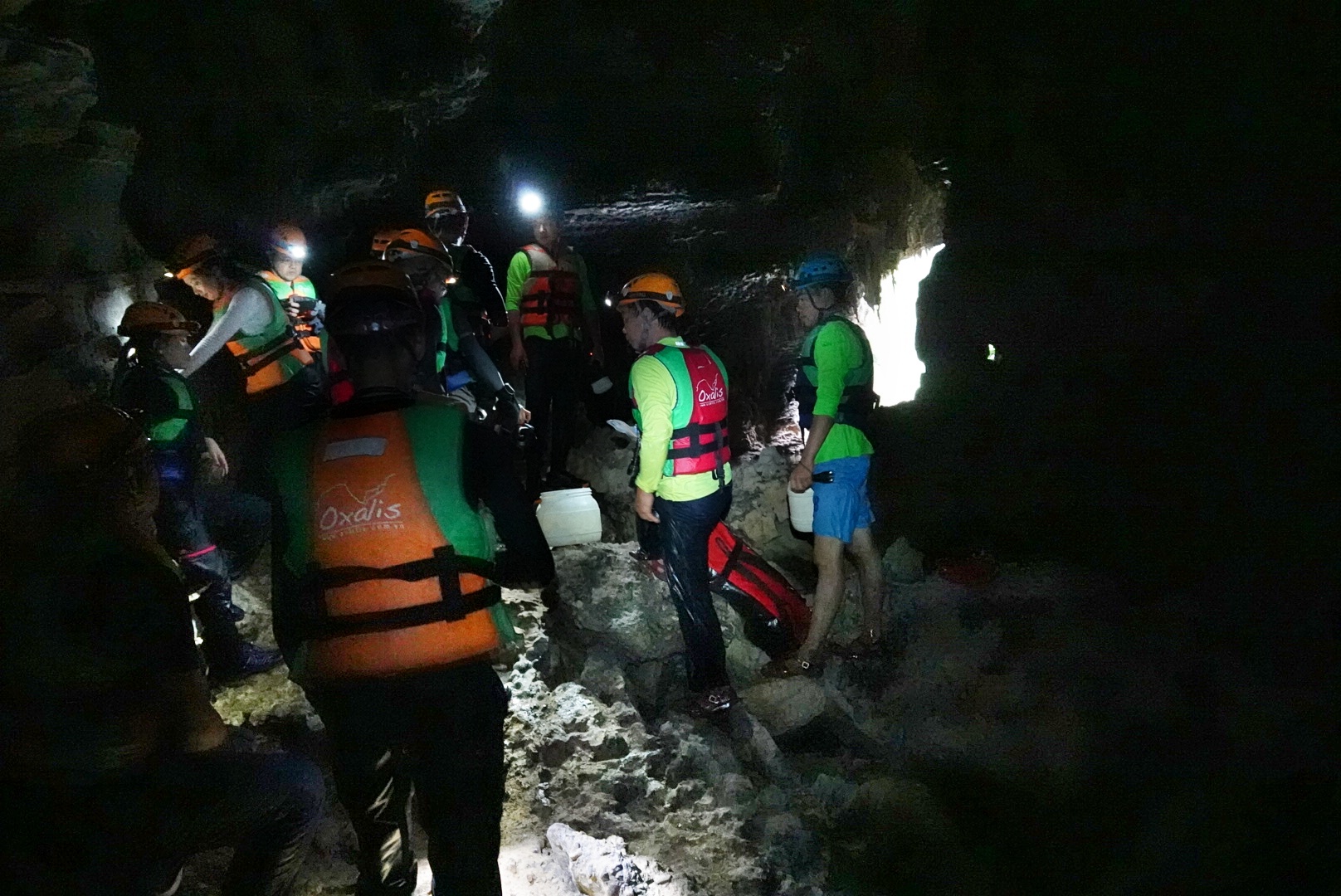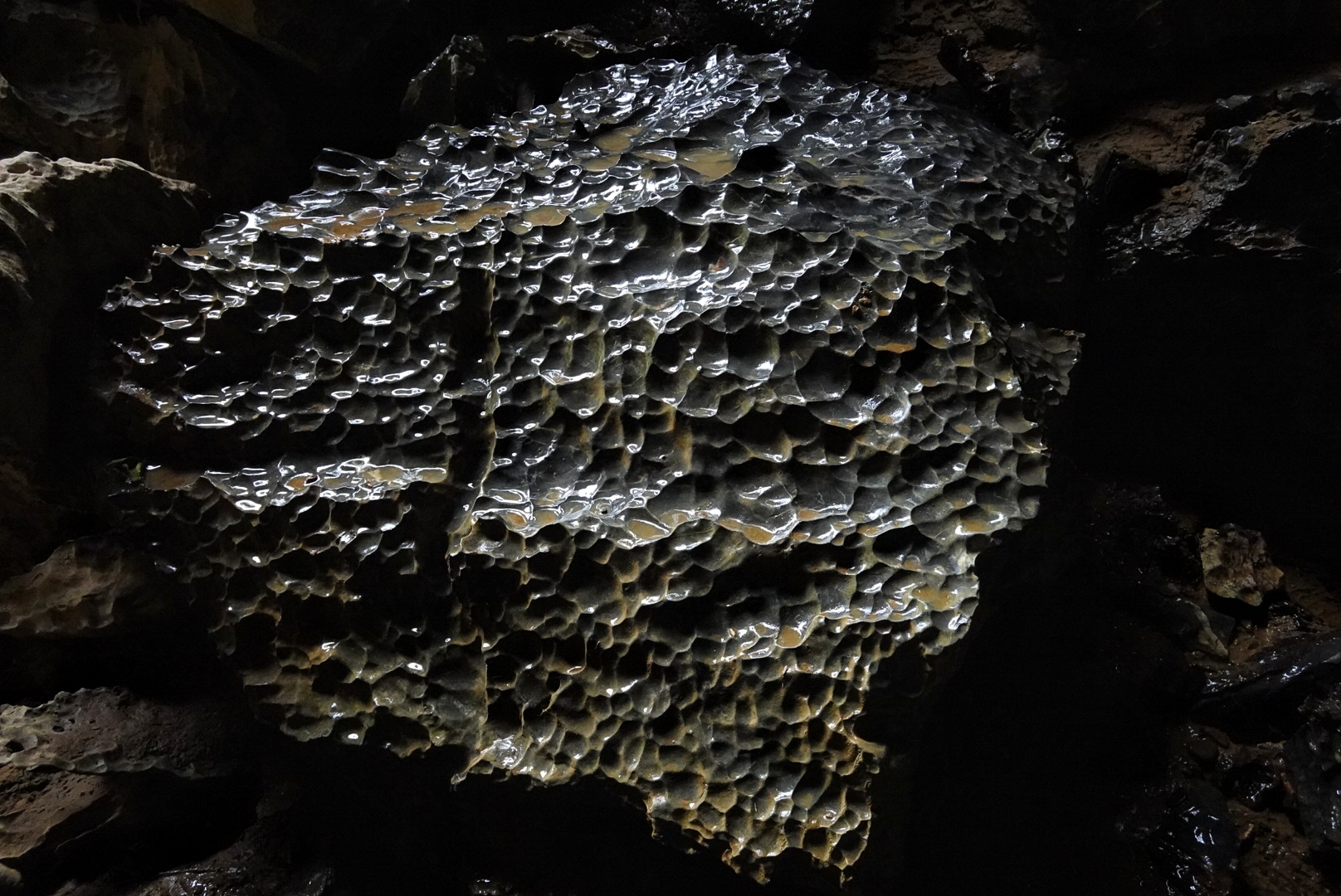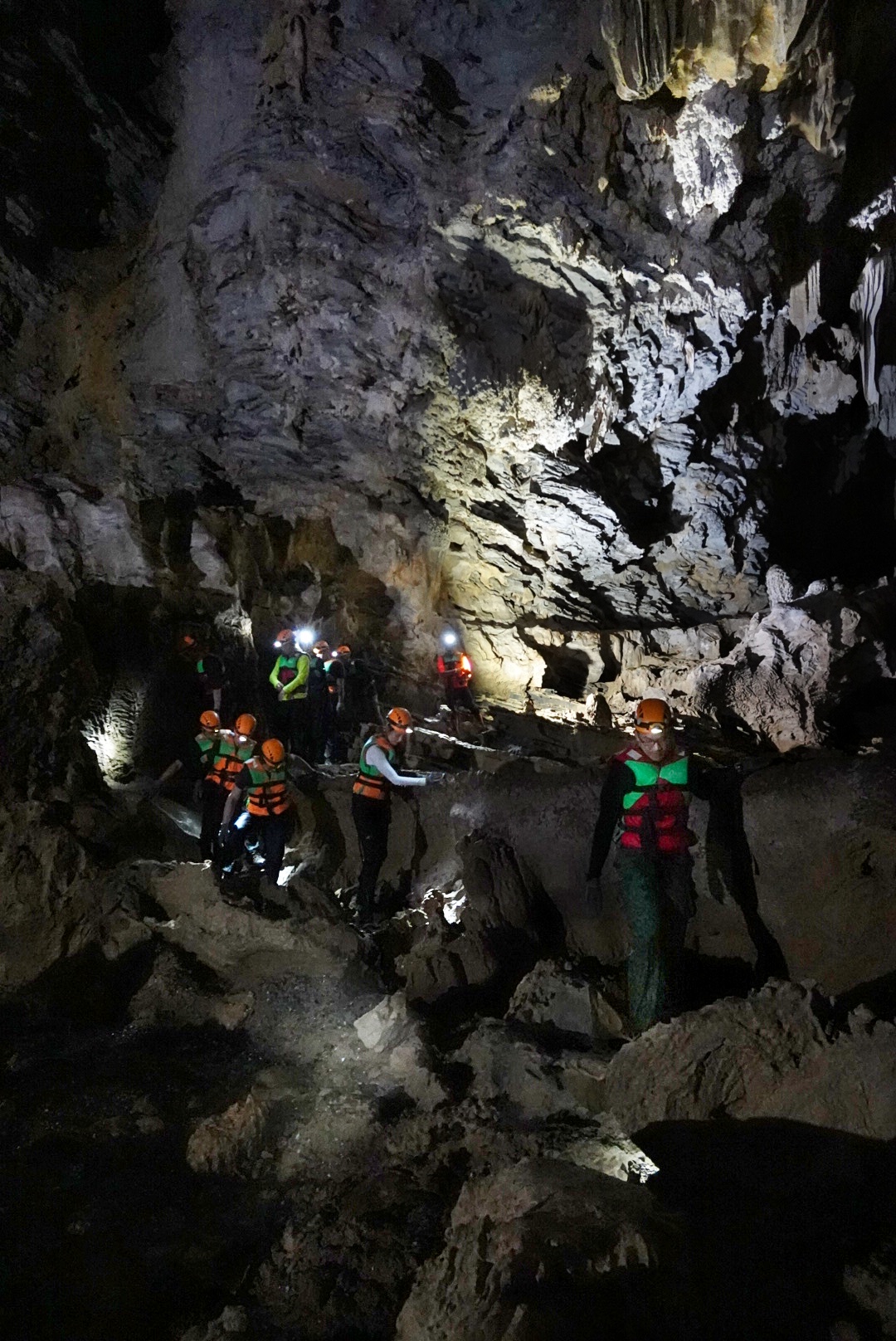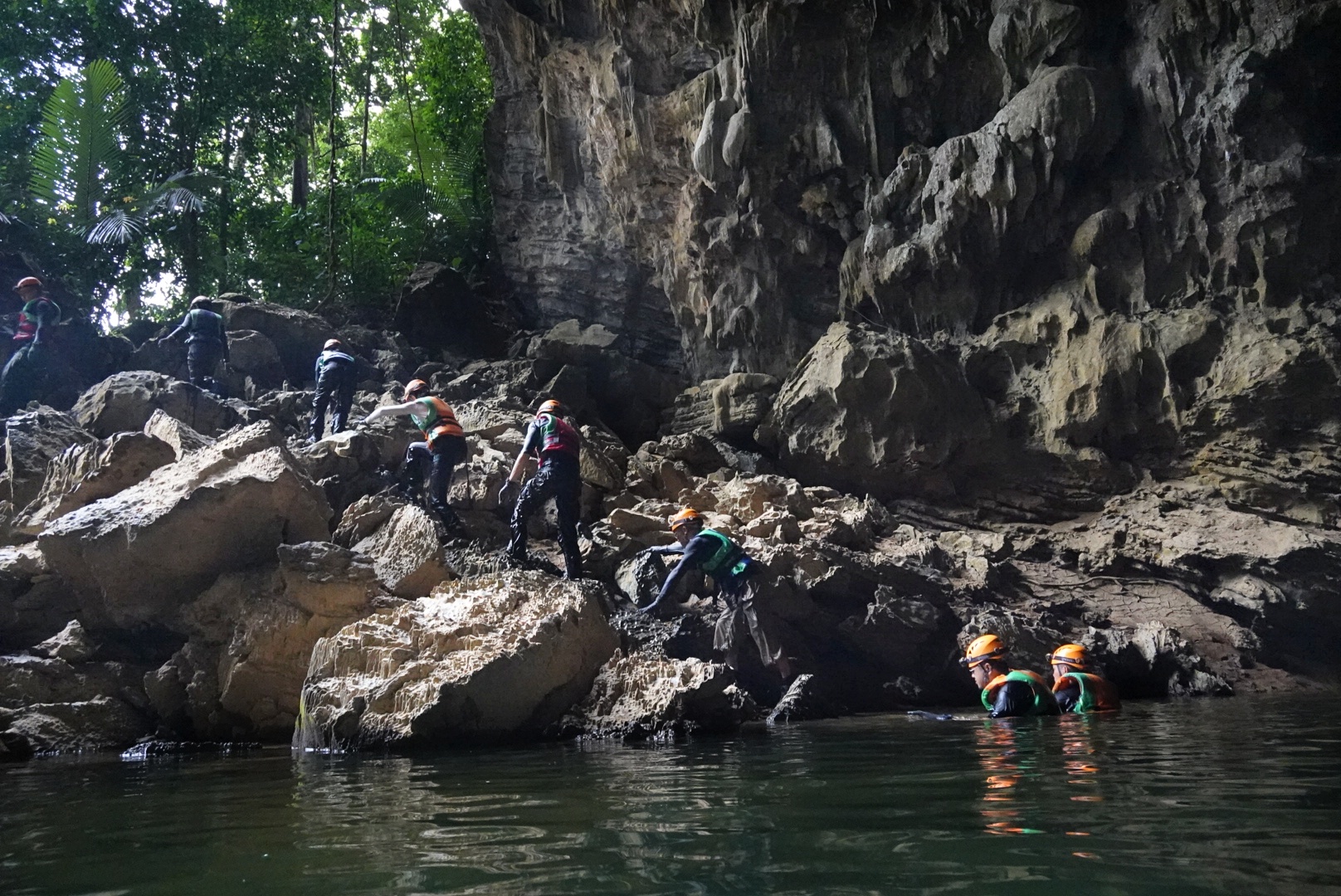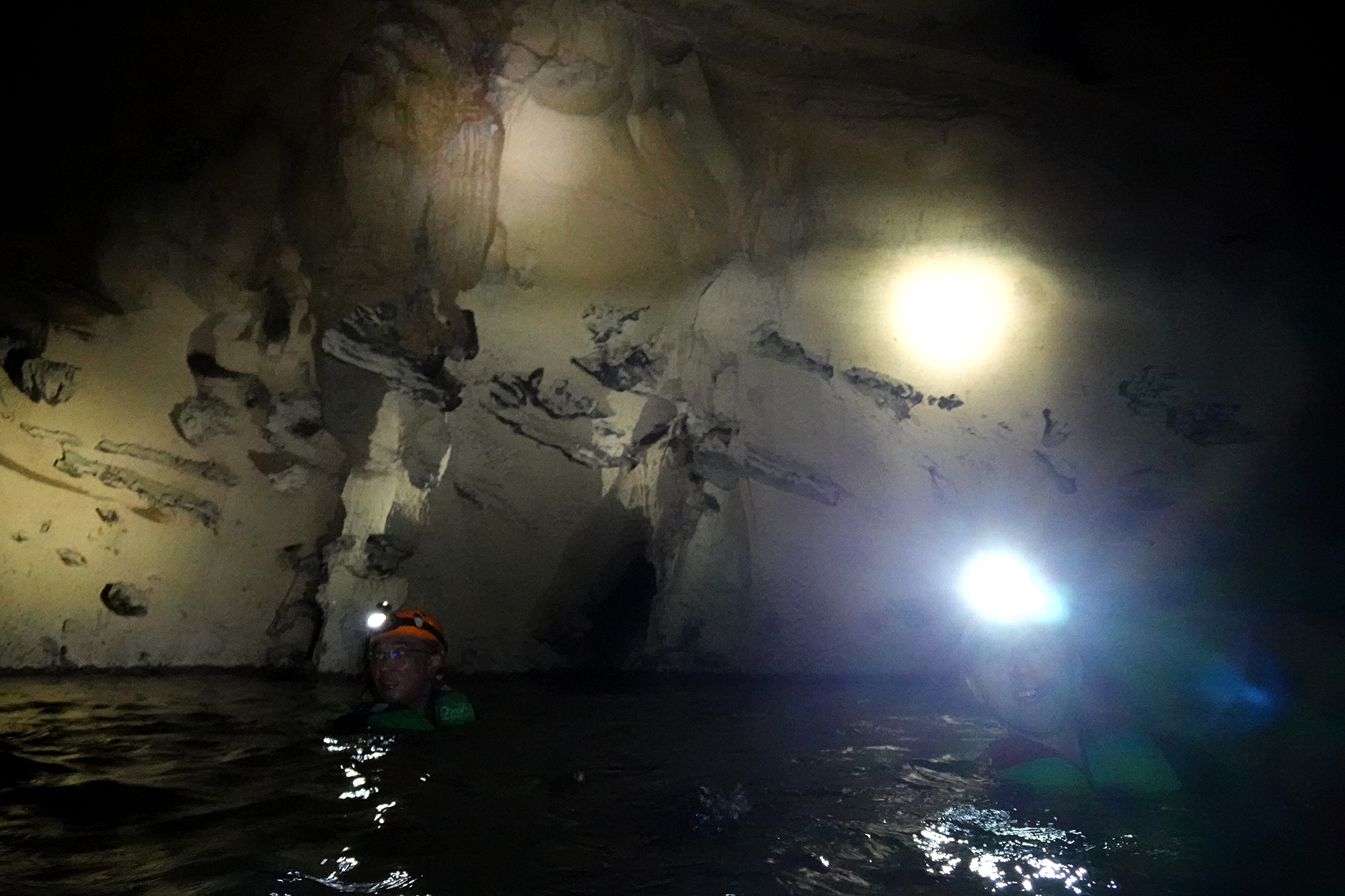 Photography
Understanding the situation I would be in, I realised that my normal practice of lugging a big DSLR was out of the question. Photography is next to impossible if you are inexperienced as a caver. Basically, you use all your hands and legs to move around, and you are only concerned with just surviving the environment. There is no mental energy or physical strength to do photography properly. Not to mention that you have to protect your camera in some way from the water while swimming, and carry that protection as extra weight on your back.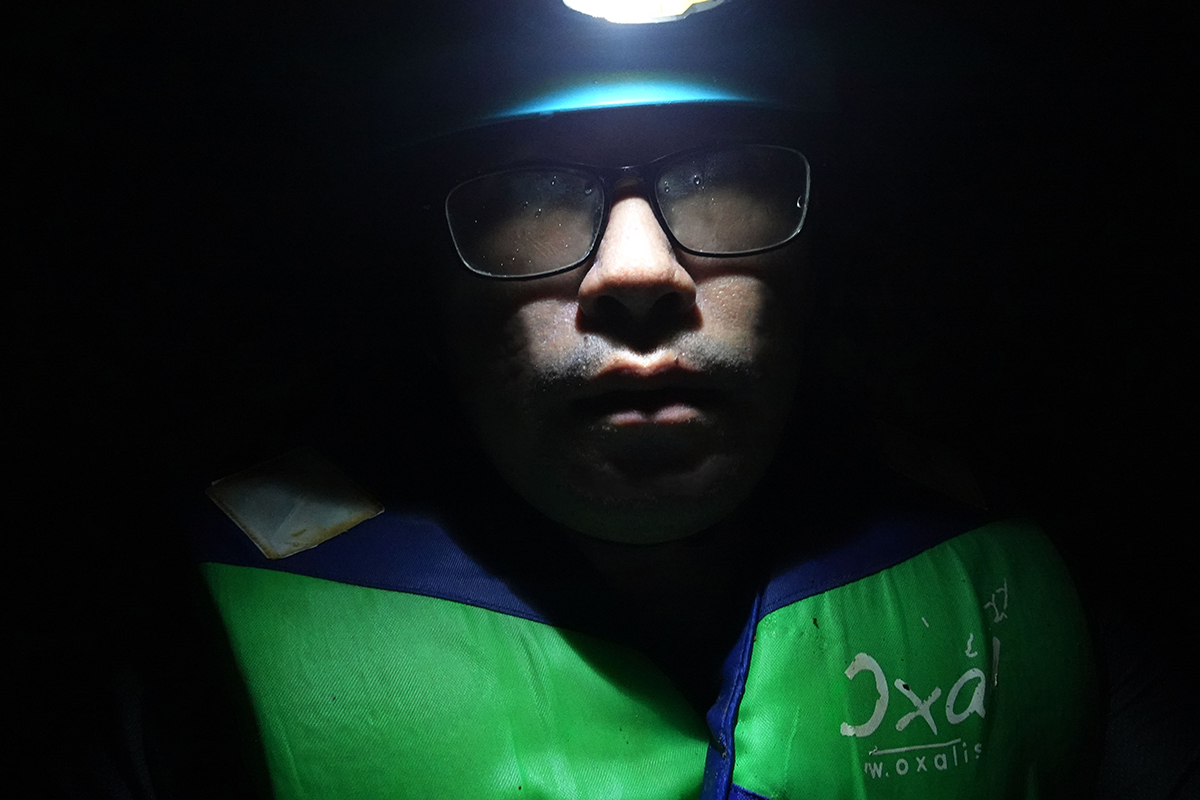 That's why I was unable to show you more pictures of the cave. Whatever pictures that I have taken were done from a position of stability, when I was not moving. It helped in my case that I used a small, and light camera in the form of the Sony RX0 Mark 2, which is water-resistant to 10 metres, that allowed me to clip it onto my life jacket and shoot with one hand when I could and when there was some light from the guide's floodlight.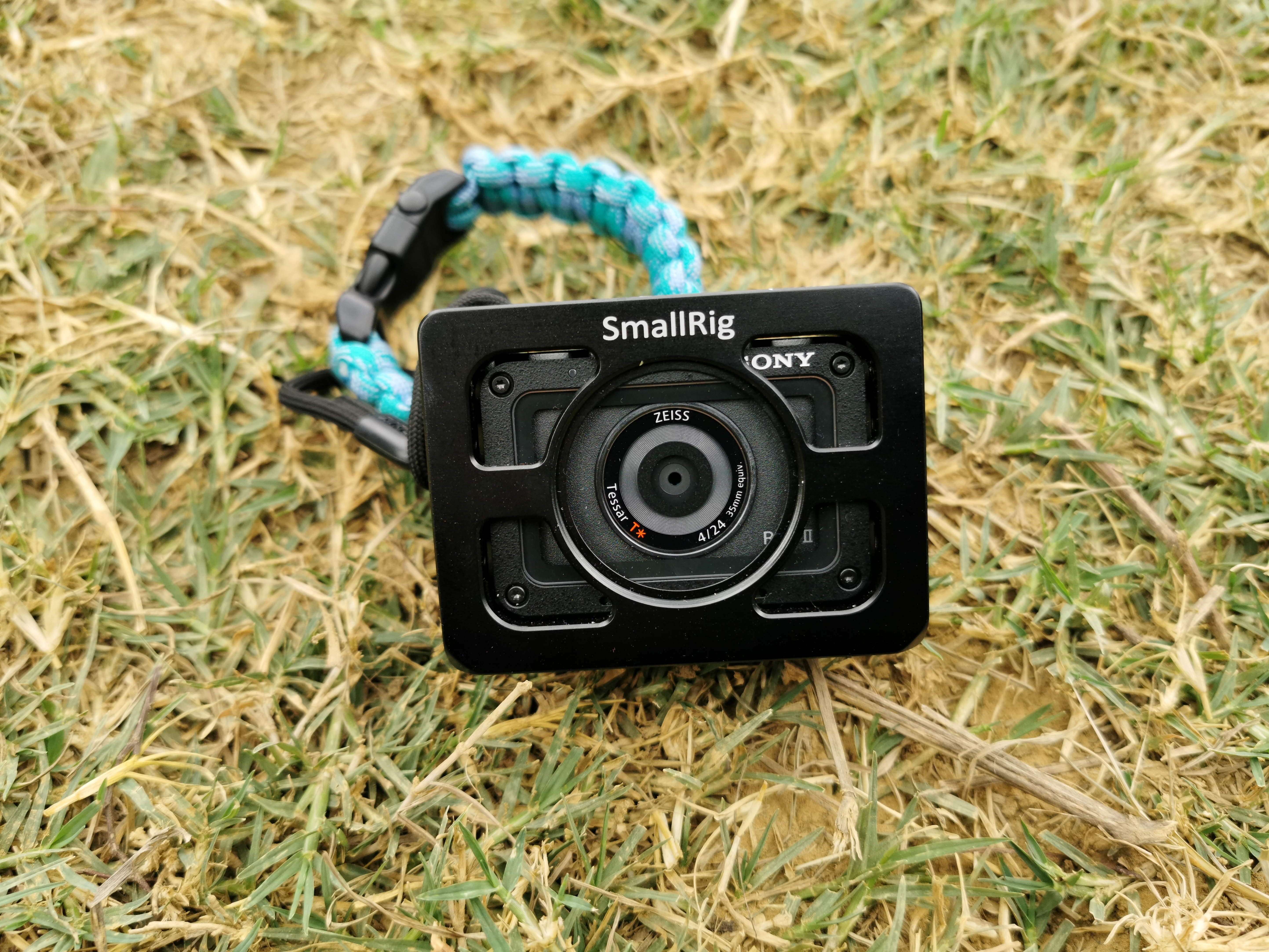 If you want to do photography properly, you have to be superman fit, just like the official tour photographer shown below, who carried his naked Canon DSLR on his head while swimming the caves, using his other free hand to do what I could barely manage with two hands.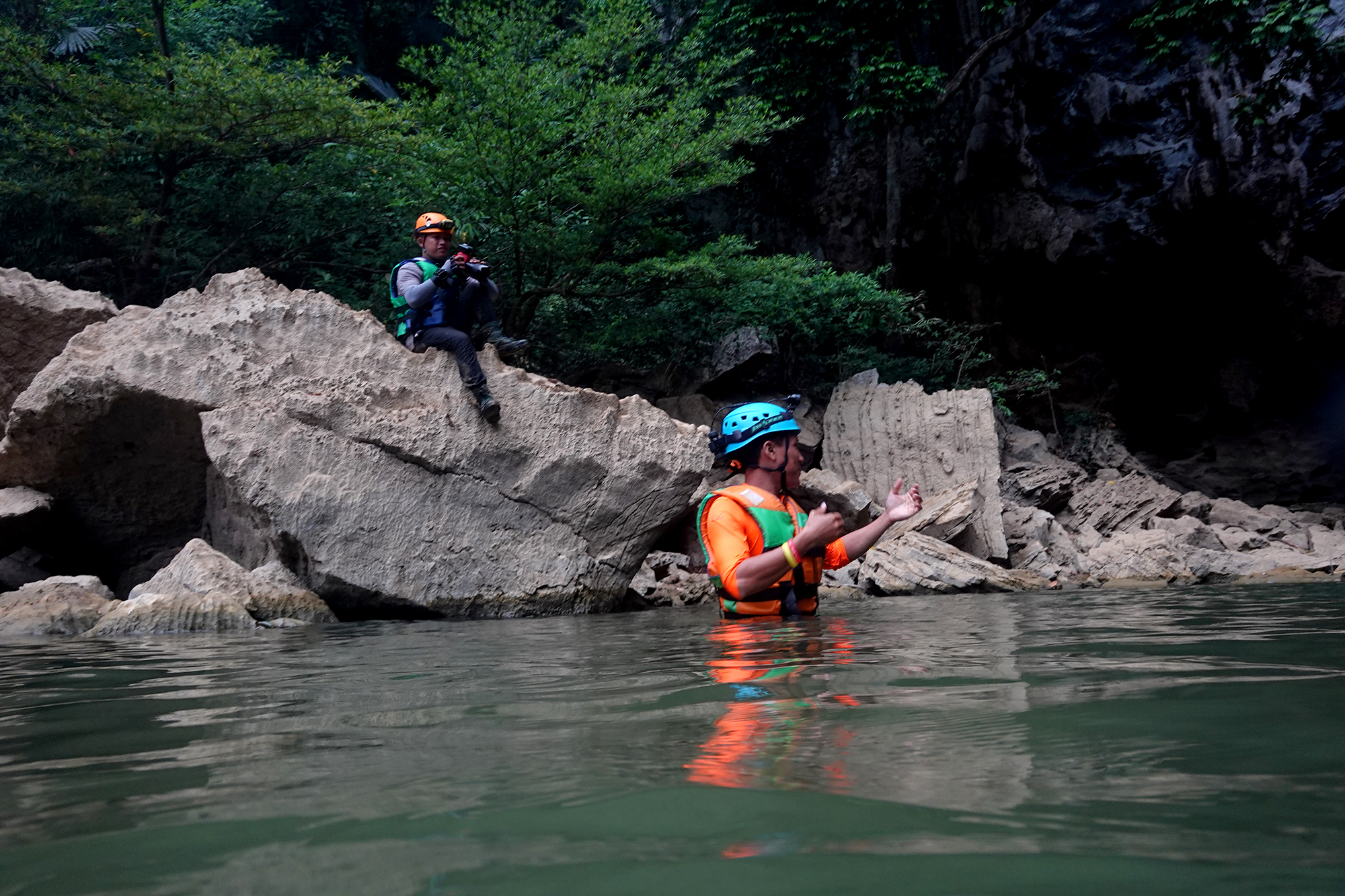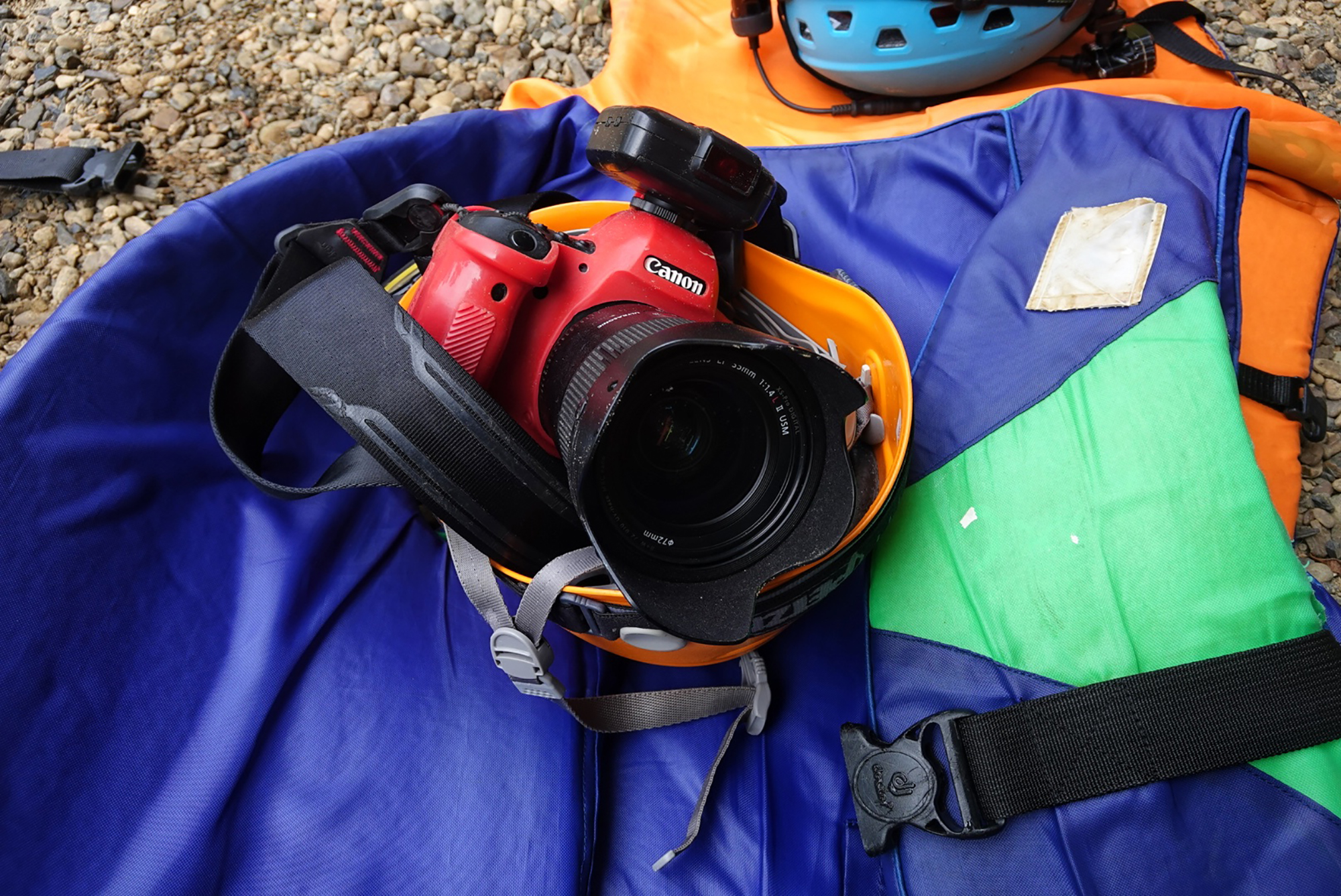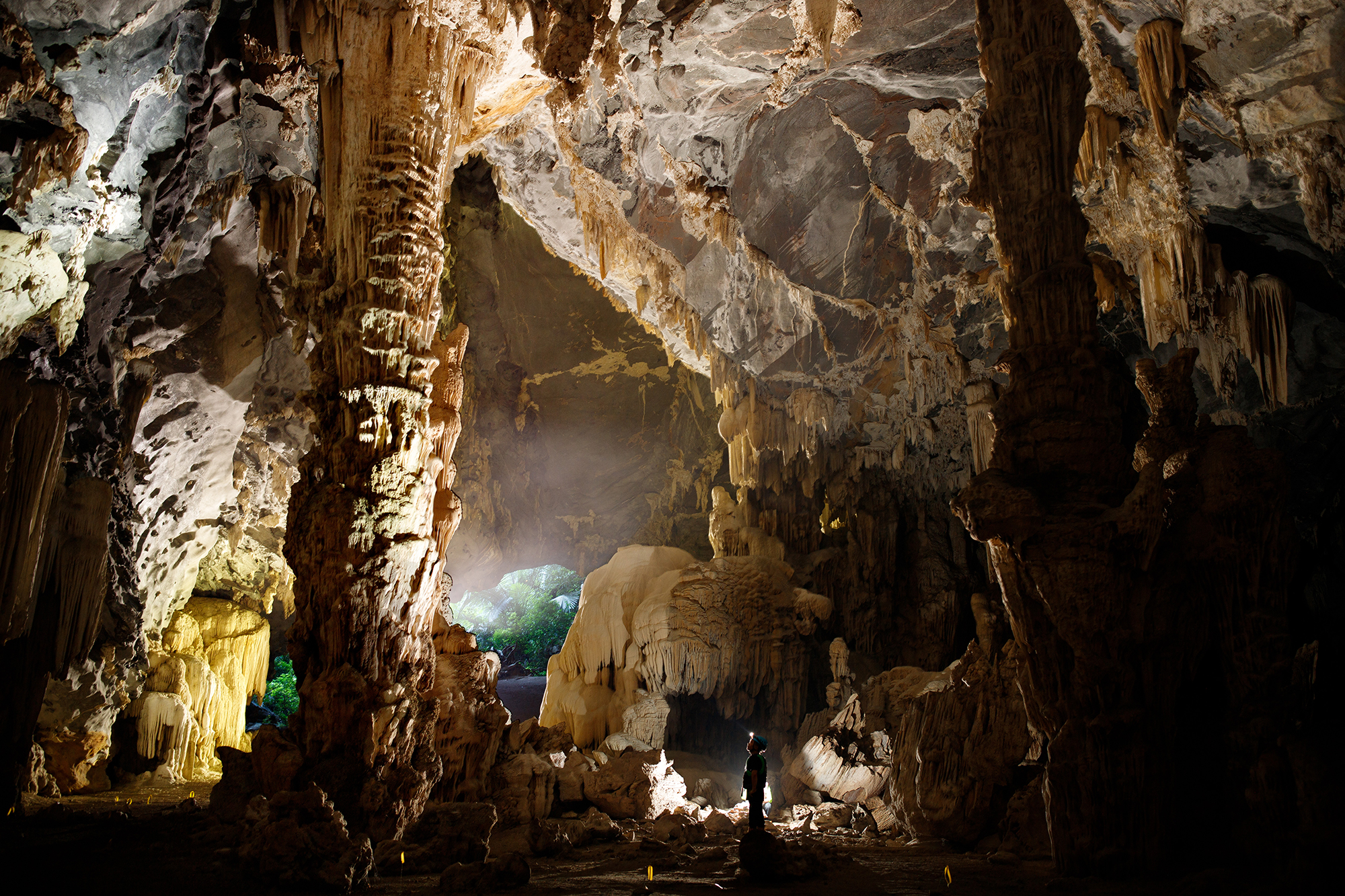 The Reward of Being in a place like this
Caves are environments that are utterly unique, closed eco-systems, that are carved out by nature in ways that are difficult to imagine. They are also dark and dangerous, with a myriad of ways for things to go wrong if you are unlucky or not careful. With the right preparation though, it is definitely worth it.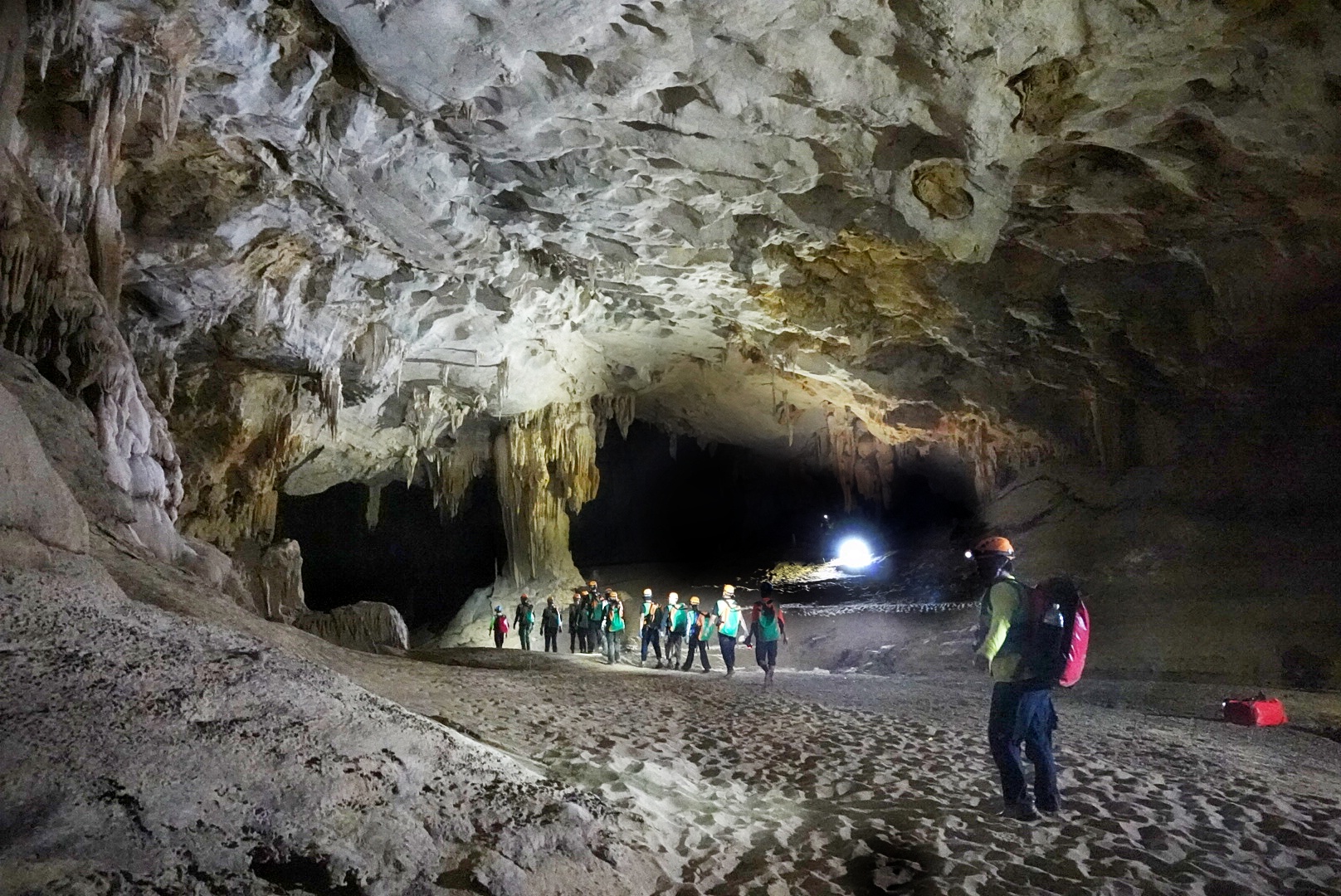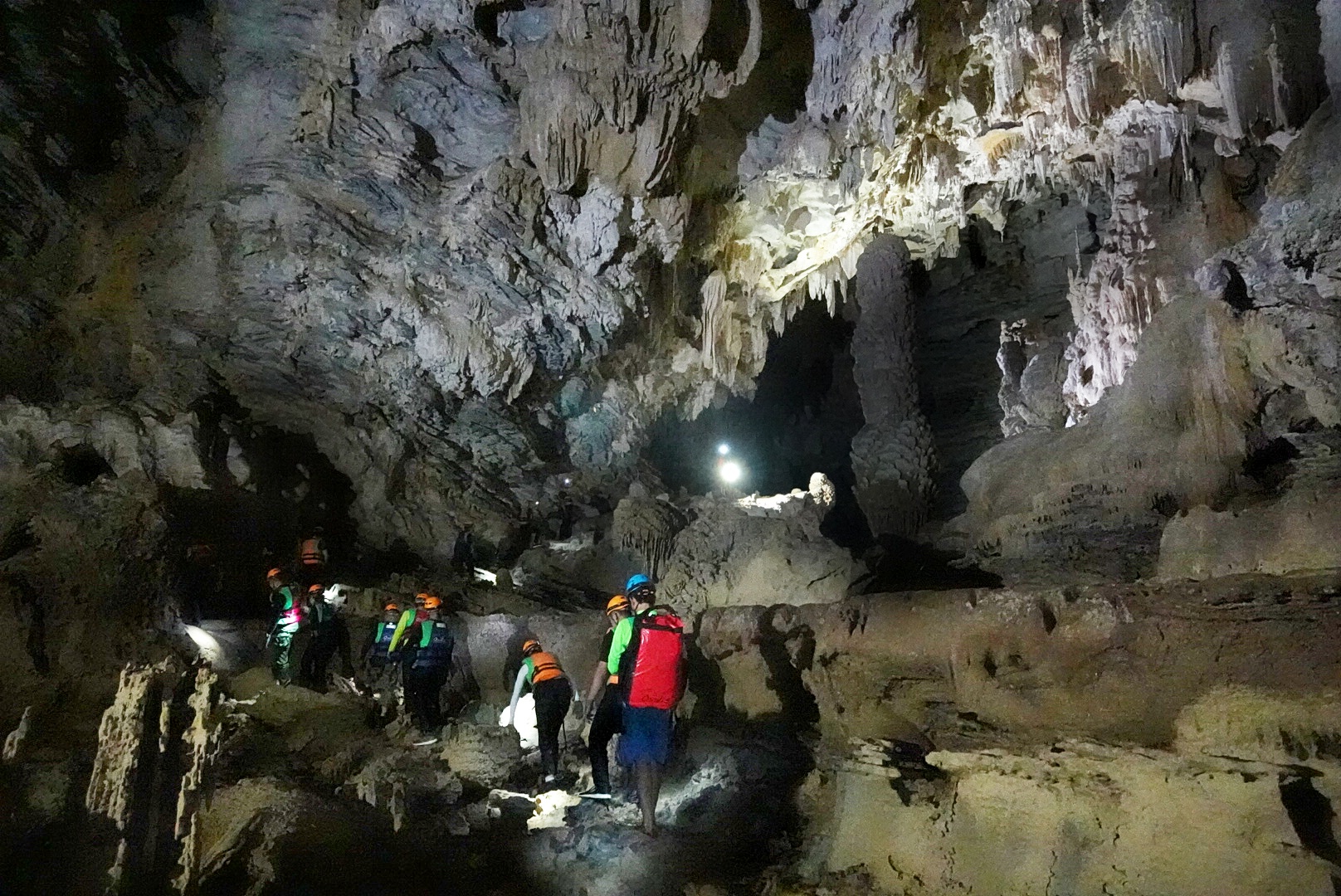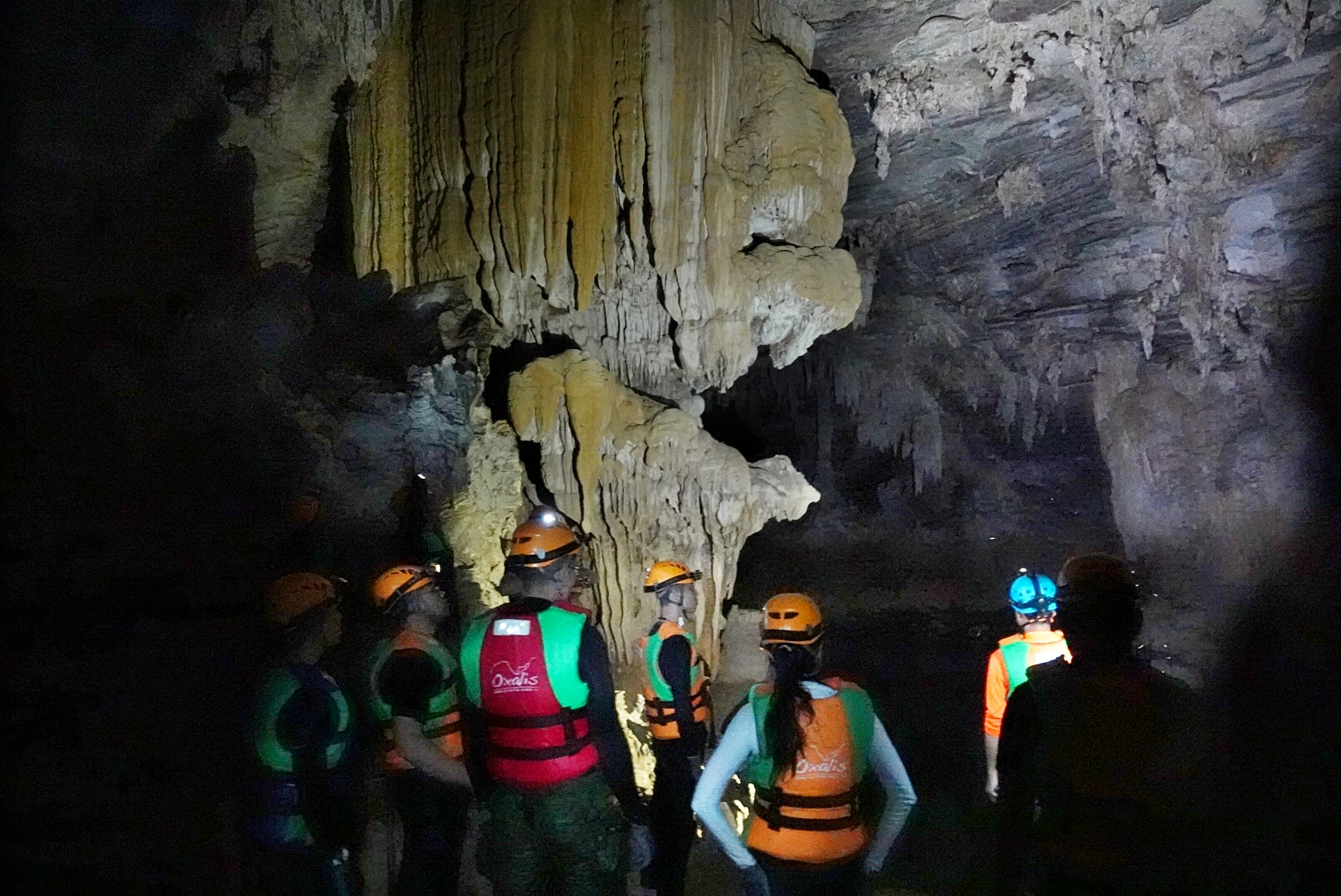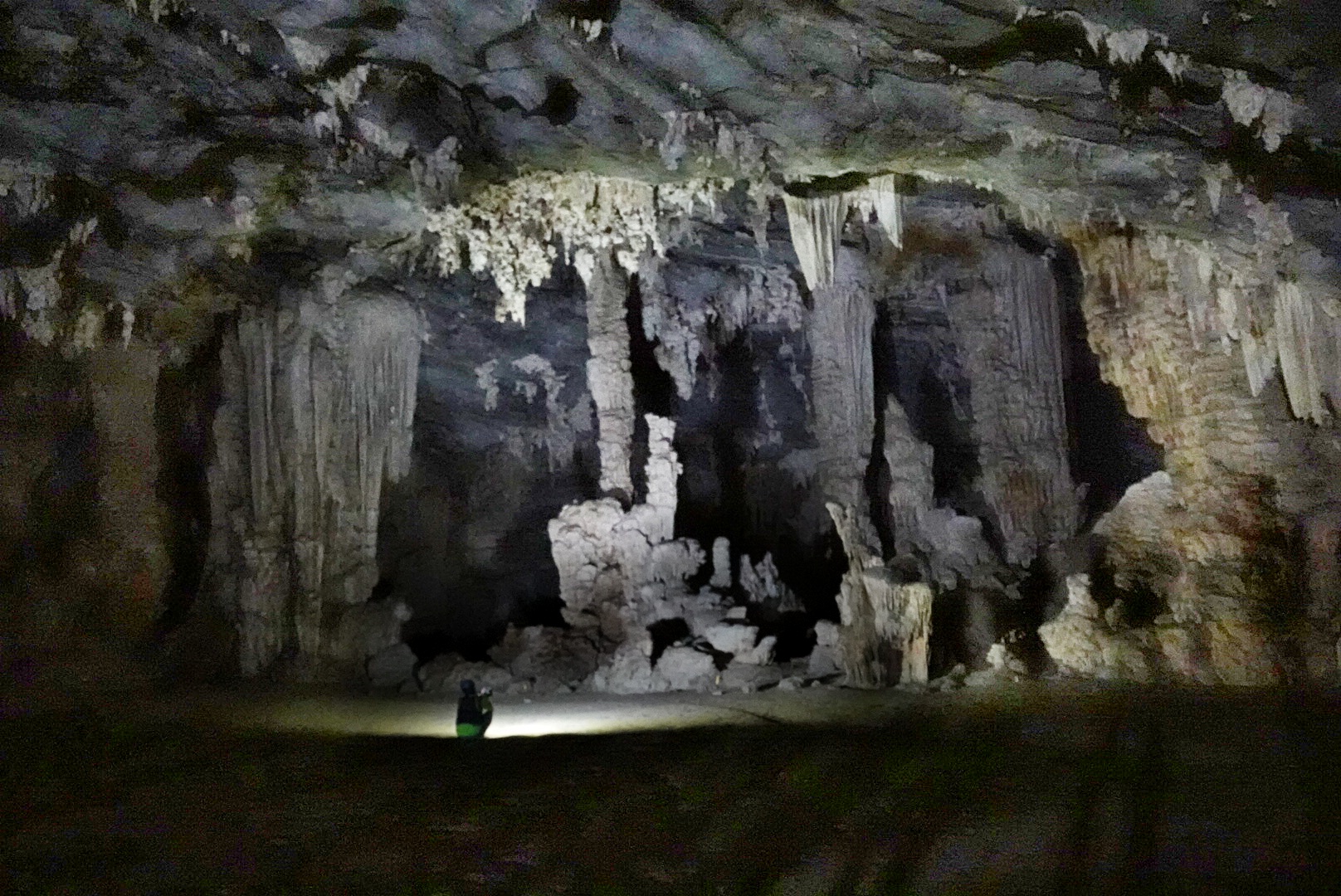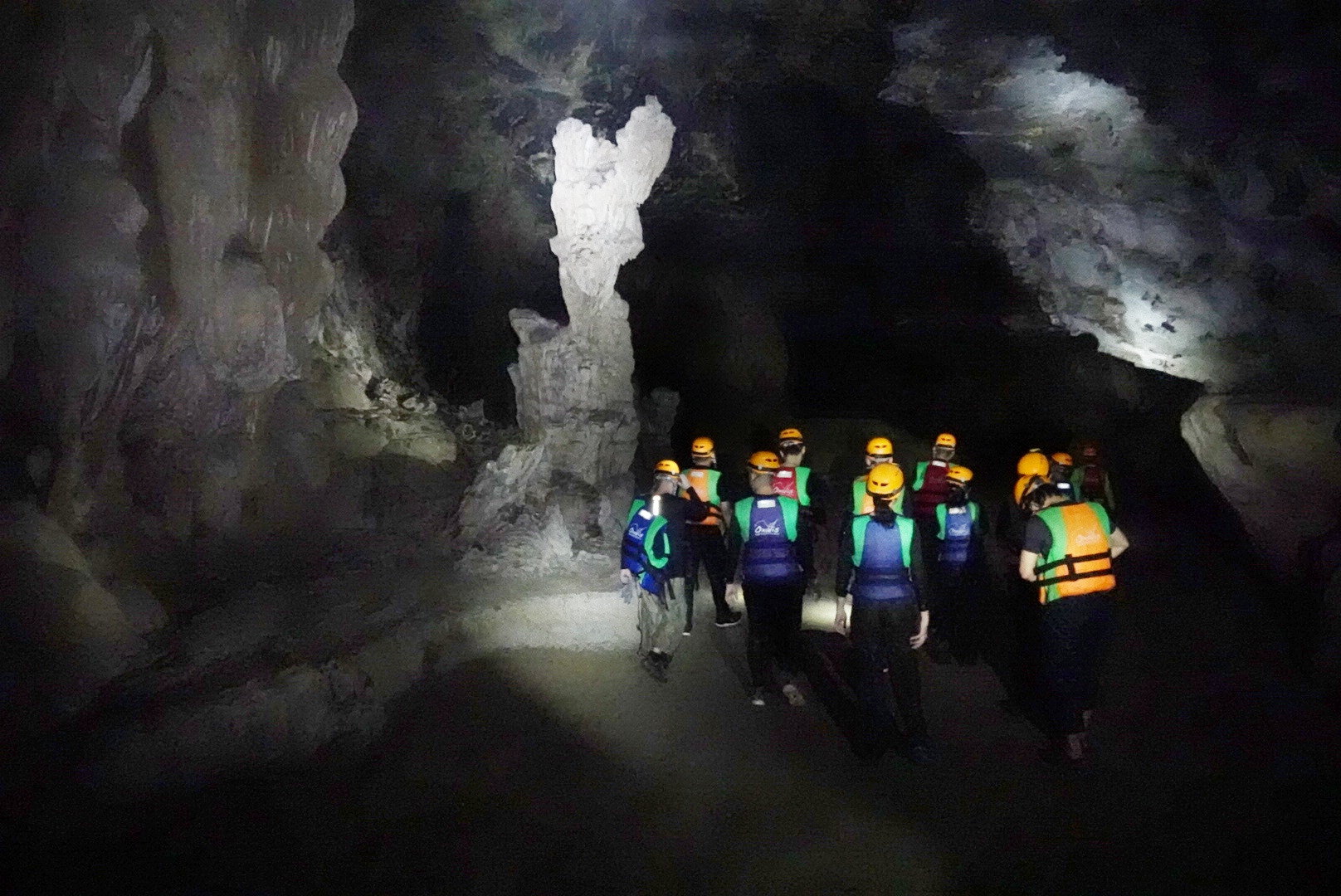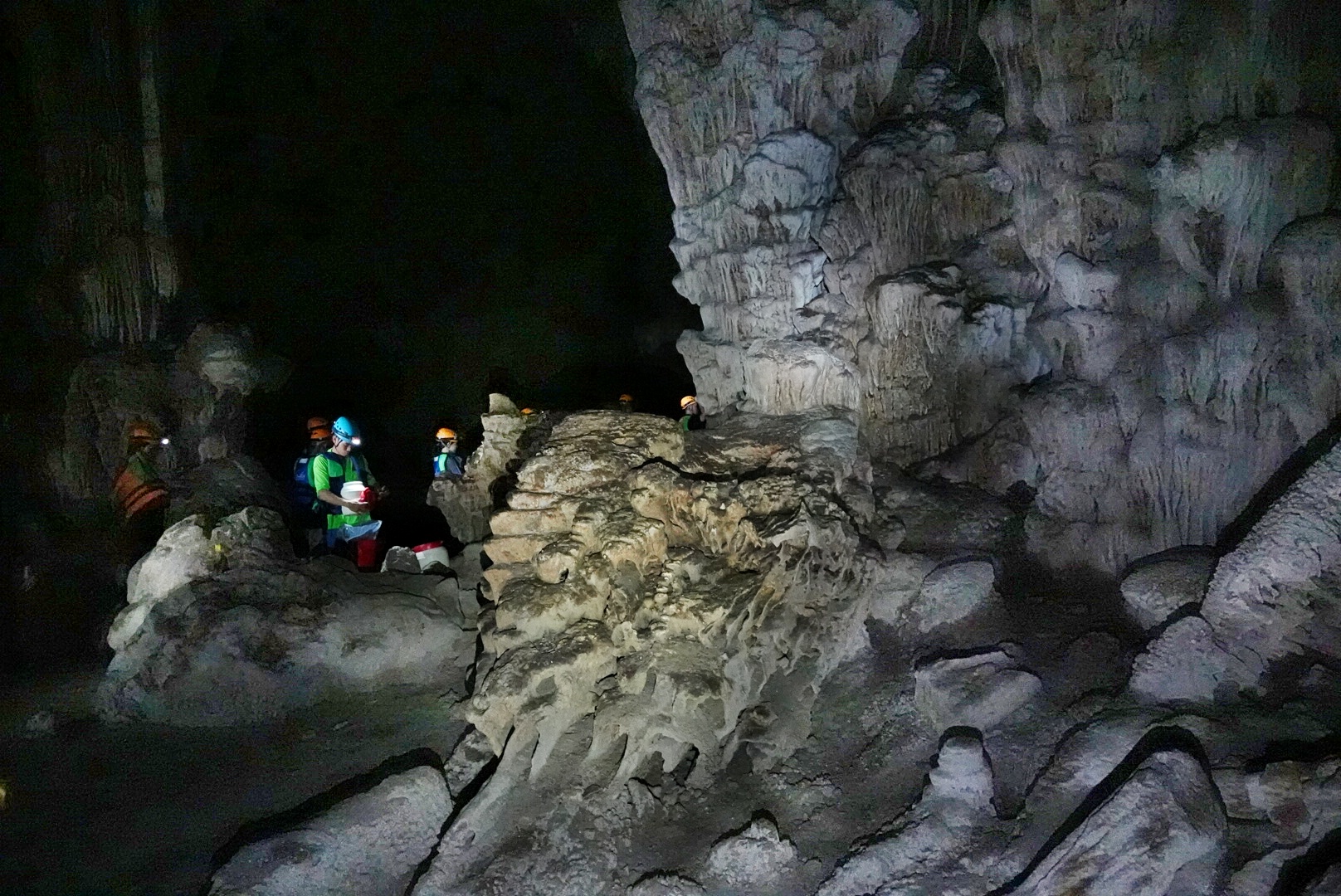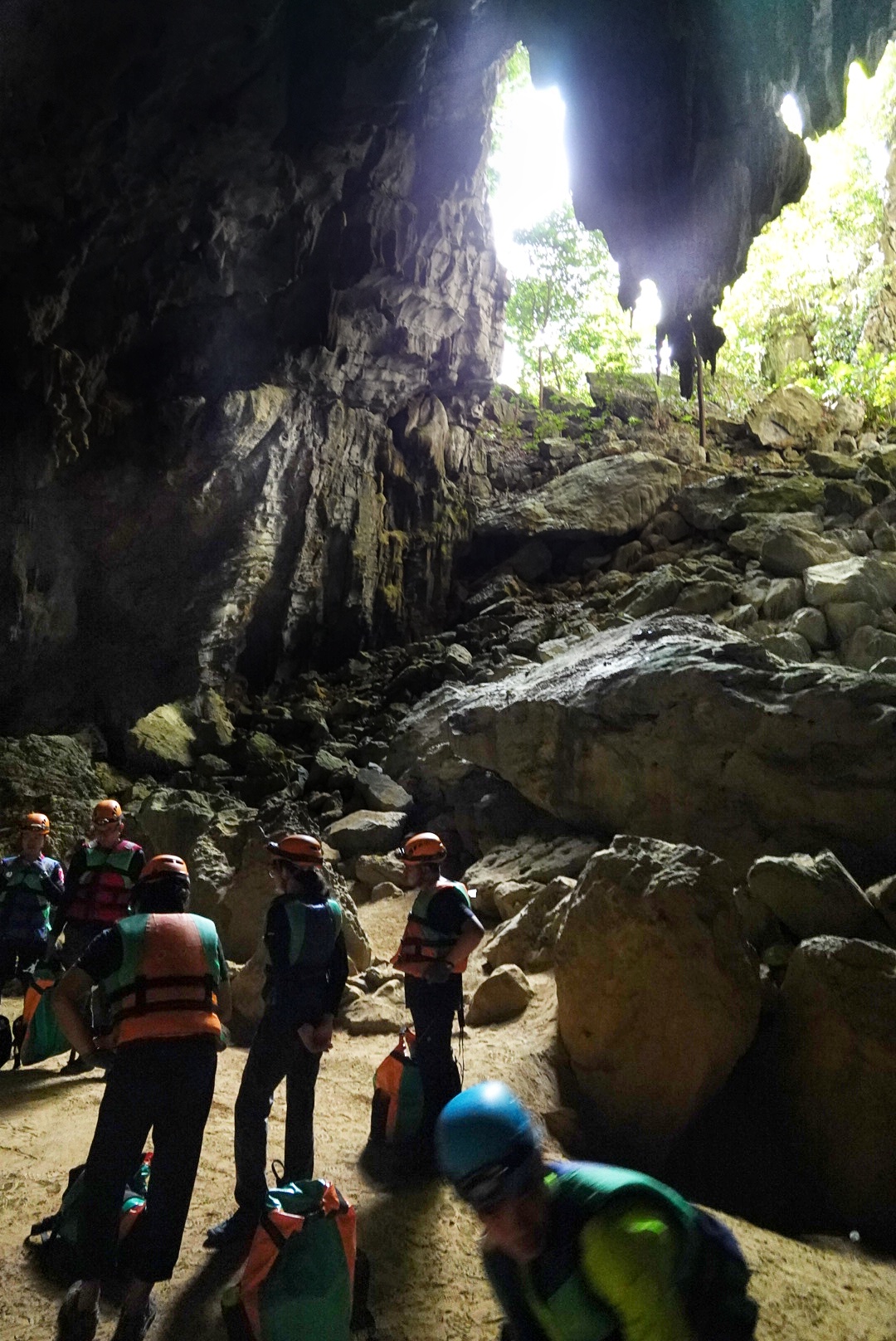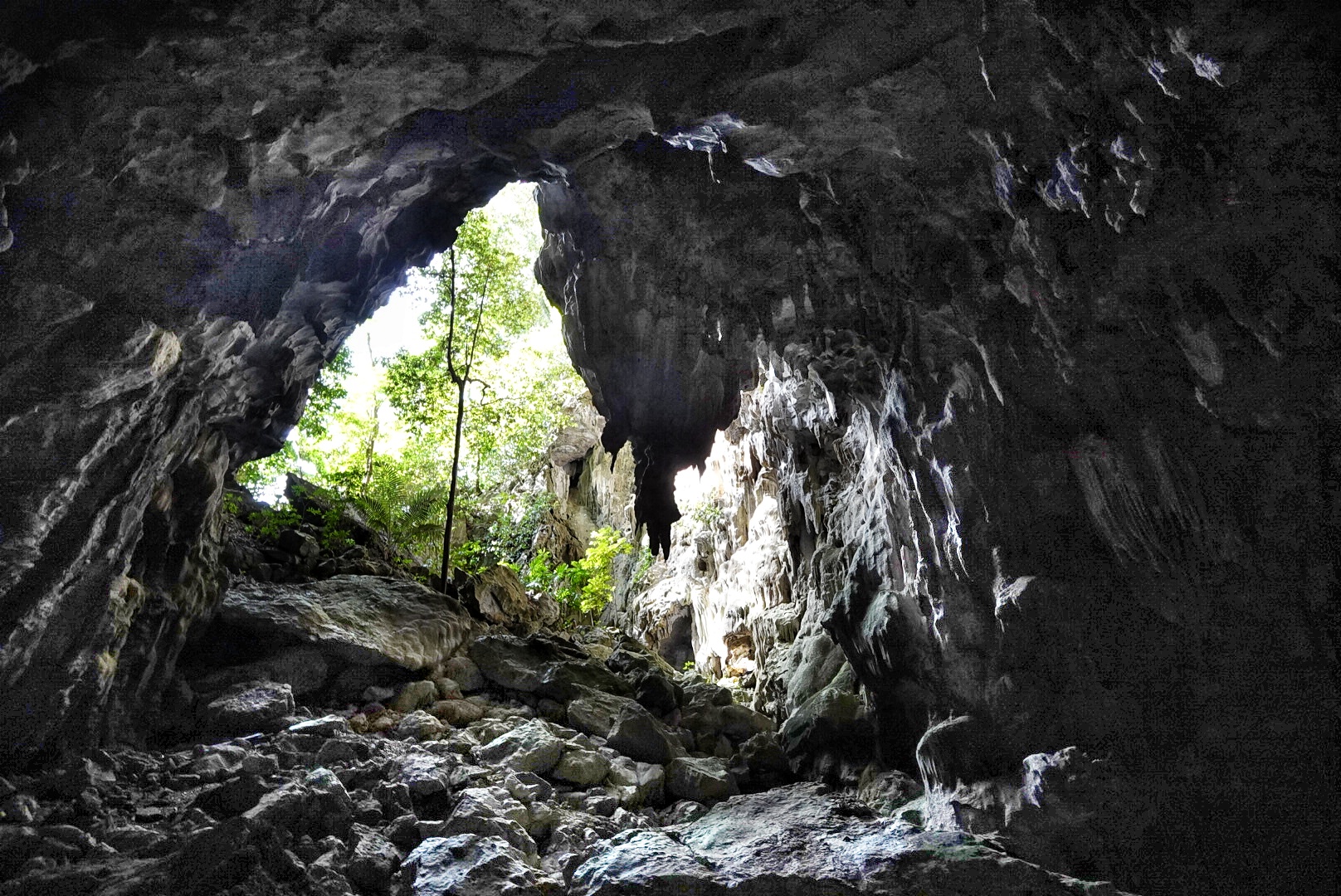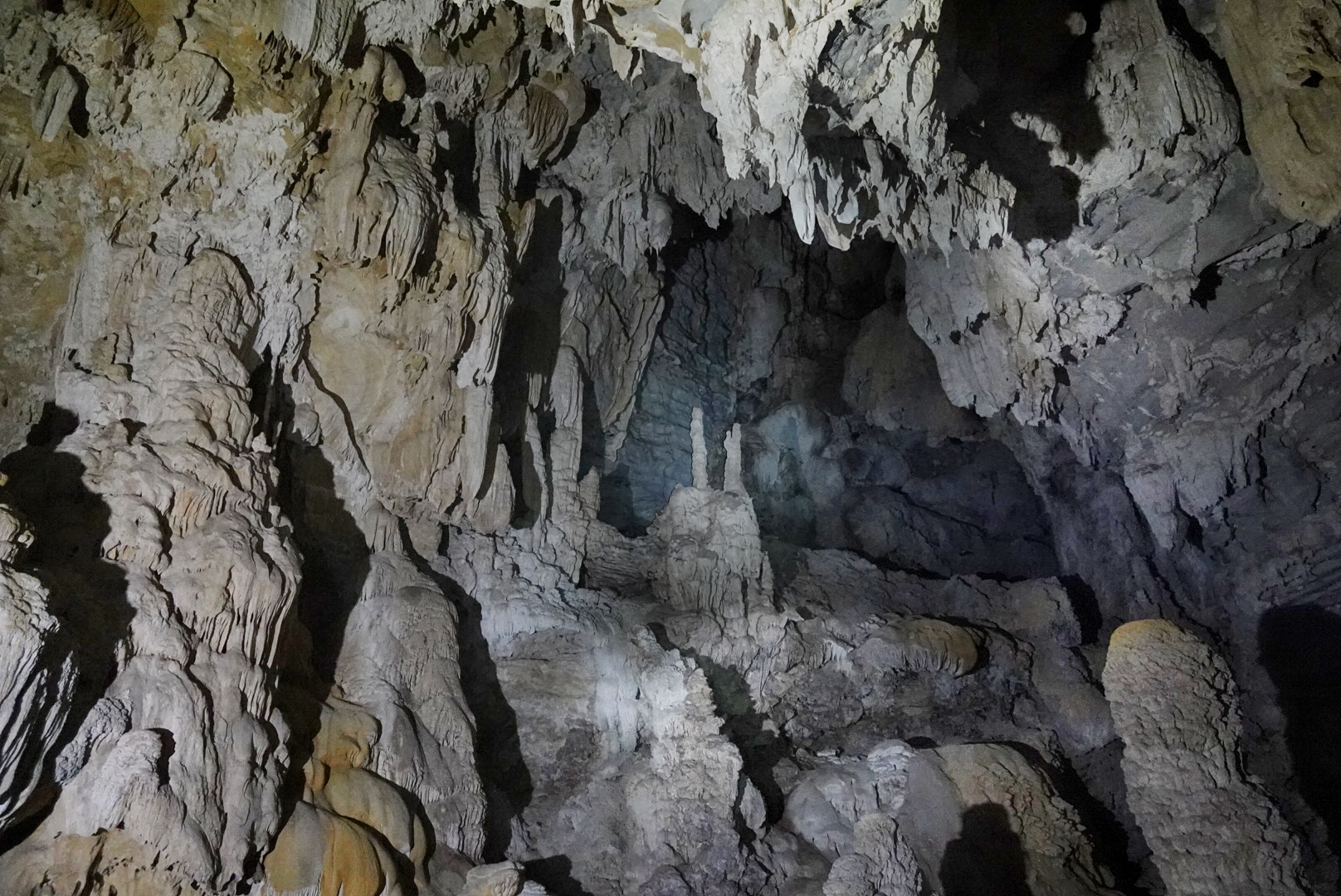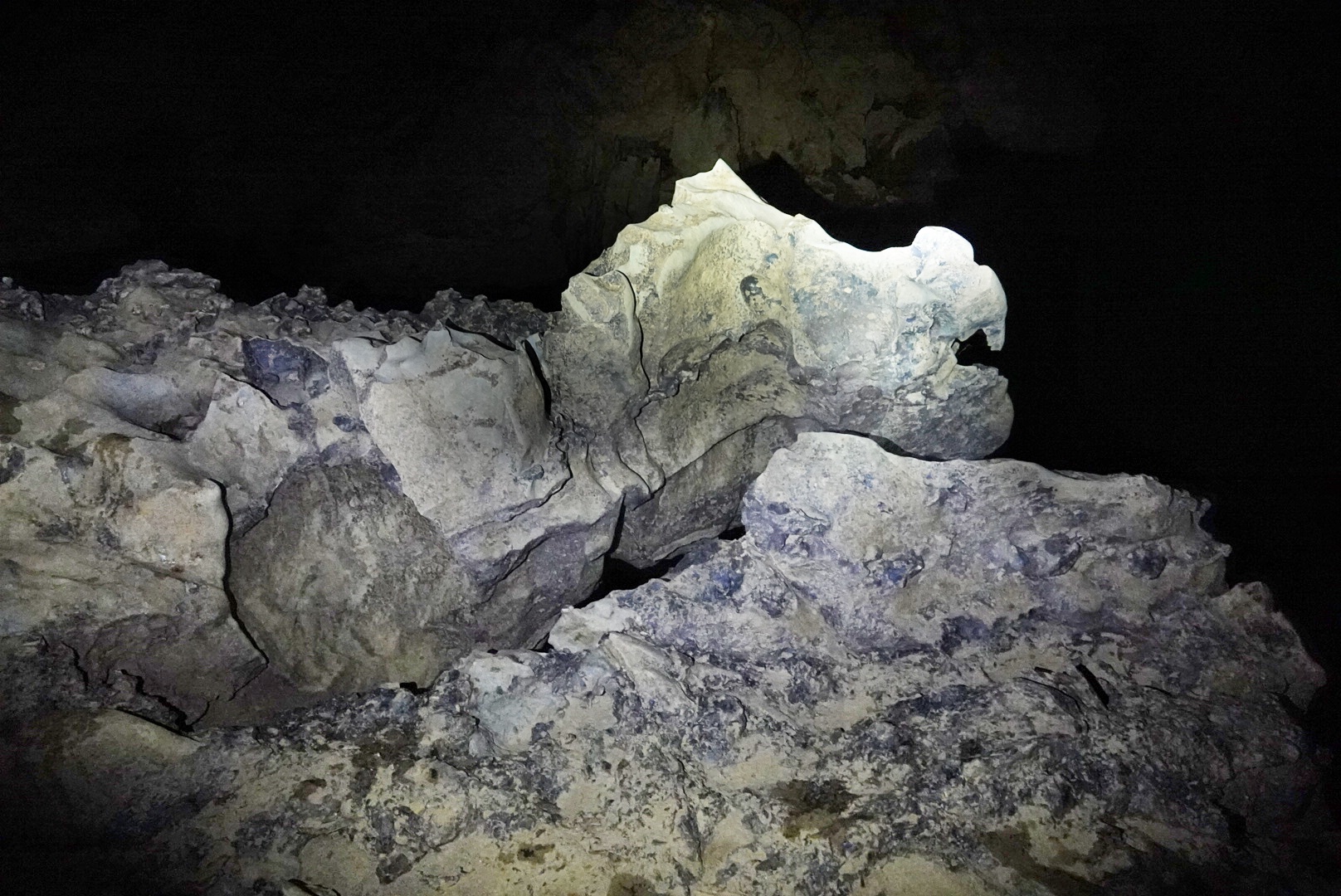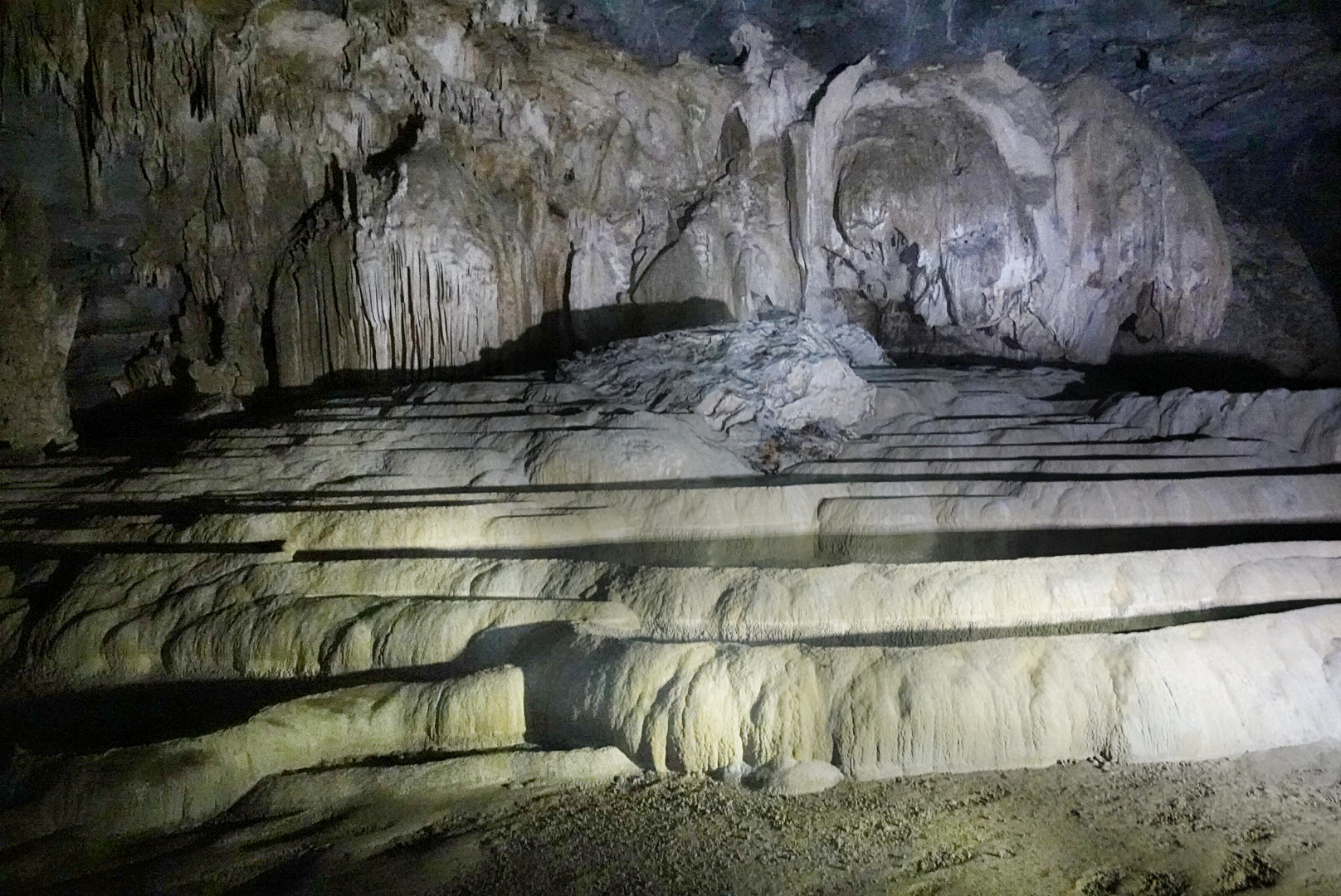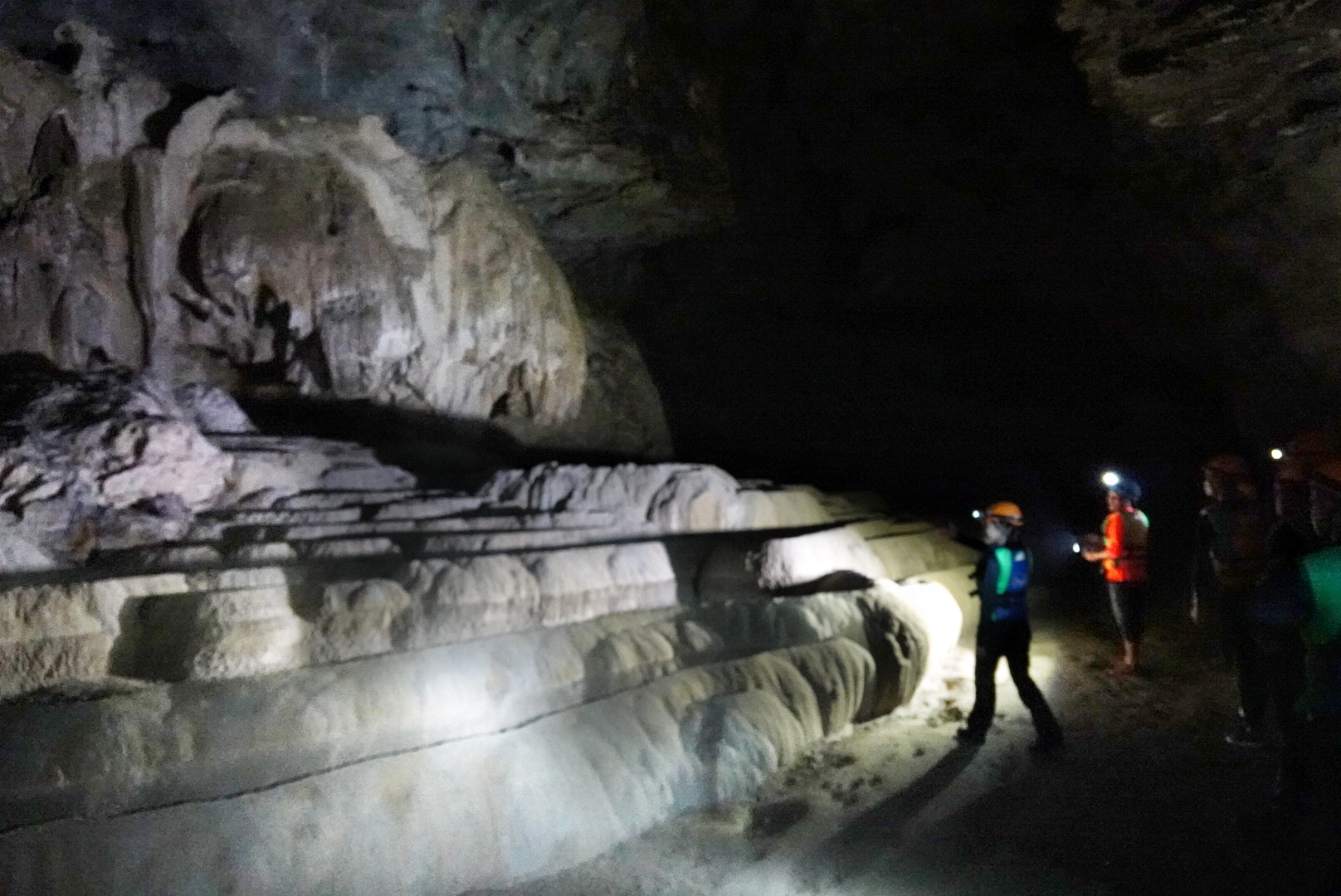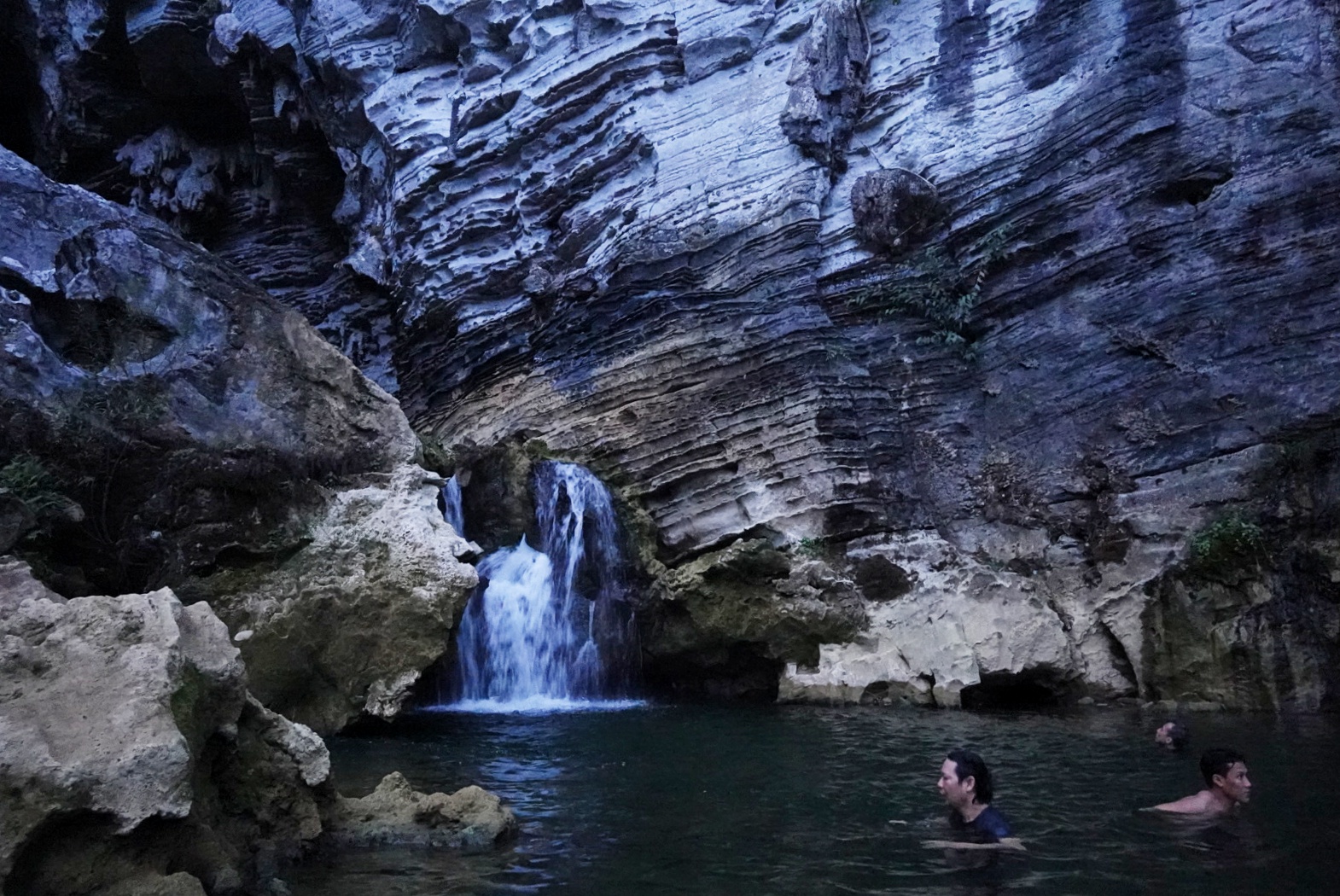 Concluding thoughts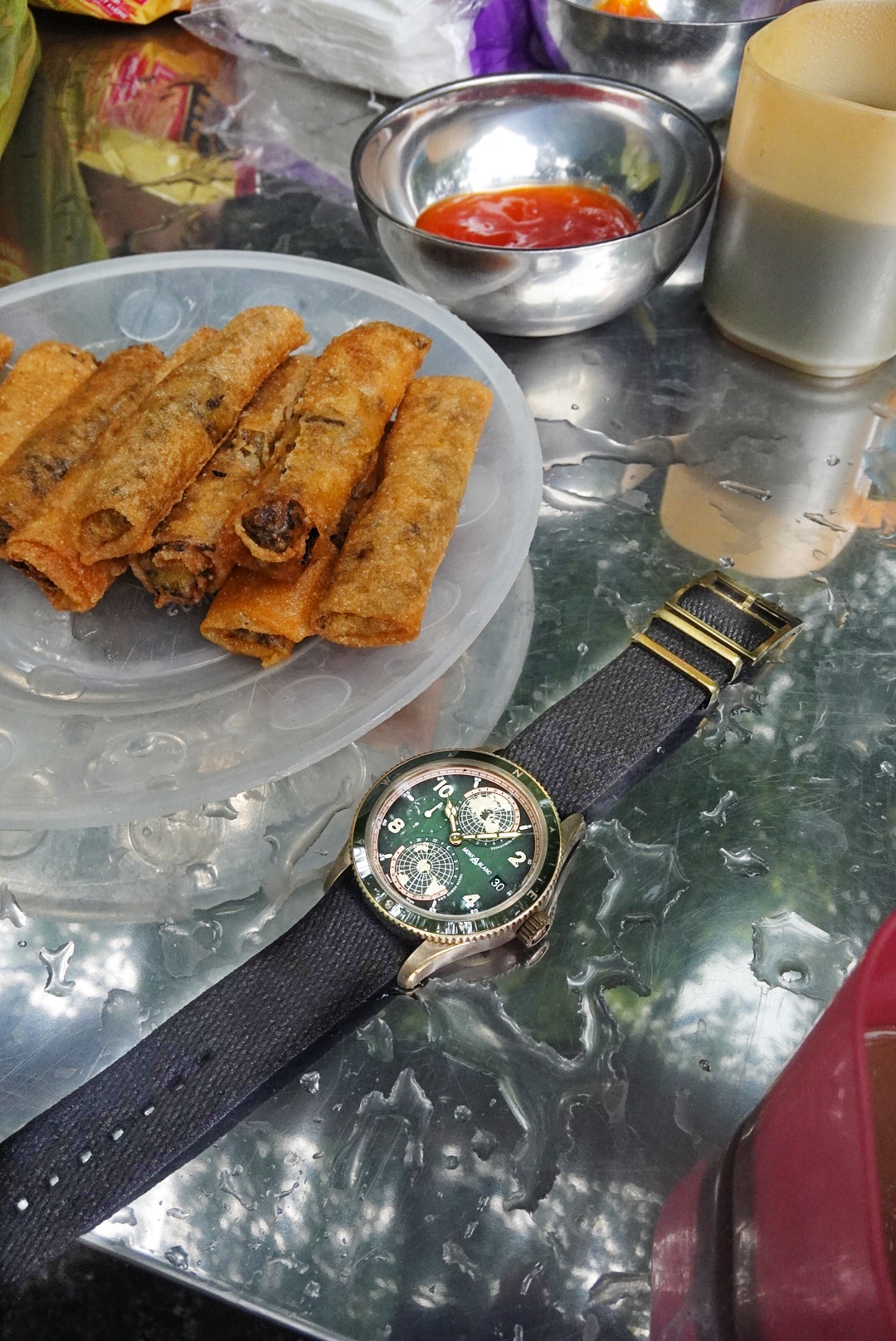 As you can tell by the fact that I wrote this article, I did survive the caves, and it was mostly down to the professionalism of Oxalis and their guides who made sure that we are all safe. Even though I left Vietnam with an aching, tired body, I took away an experience that I had never had before, and the pride of undergoing a decent amount of suffering, while getting to understand some of the natural processes that the earth undergoes. 
It's the type of trip that I've never looked to go for in the past, but the physical challenge, the sights and the time that I was disconnected from the modern world were all very satisfying. In a way, my eyes are open to going on more trips like this, so thank you Montblanc, the suffering was worth it.
What about the Geosphere?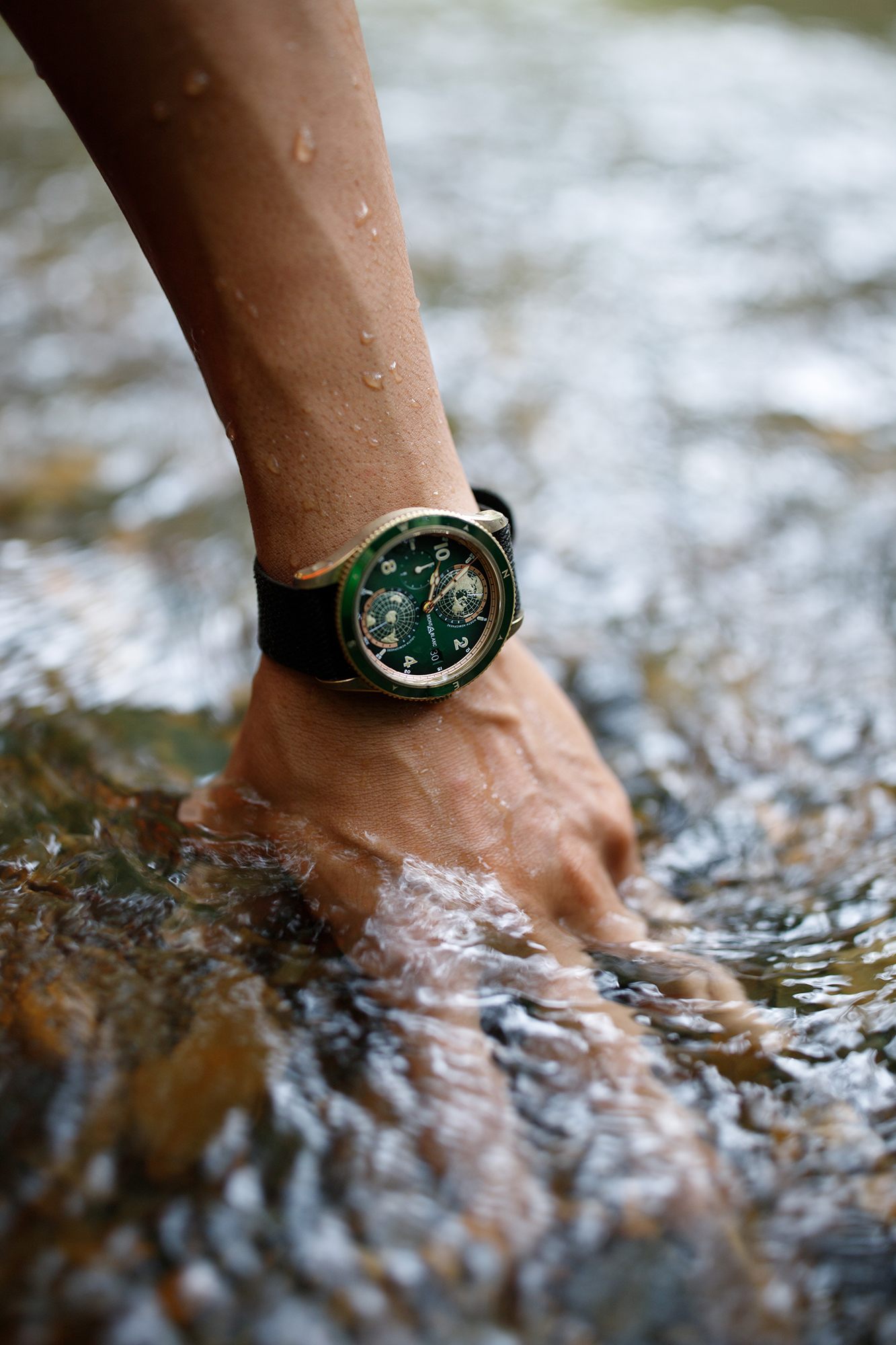 Well, that and the 1858 chronograph both survived as it was worn in rotation on the wrists of everyone who attended, while engaging in the activities that I showed here. And while we never went deep enough or long enough to test out if the day/ night indication of the Geosphere works well, I think that on balance, it works for me, since it survived what I went through, a real cave exploration. I find it hard now to doubt the seriousness of Montblanc and its watches in this particular genre of watchmaking. After-all, I experienced a real adventure with them myself. 
Want to go on the same adventure? Check out the link below for information from Oxalis Adventure Tours!