Is this watch a message from the stars?
The Solar Wind is to me, one of the most interesting watches from Horage. Its main feature is its meteorite dial, and we all love a good one. Aside from the Widmanstätten patterns that ensure that every dial is unique, the fact that meteorite is older than the earth we're standing on, makes for a good reason to consider the philosophical ramifications of time with this watch worn on our wrist. All the more apt when one considers that it is installed in an item that is a keeper of time for our daily lives.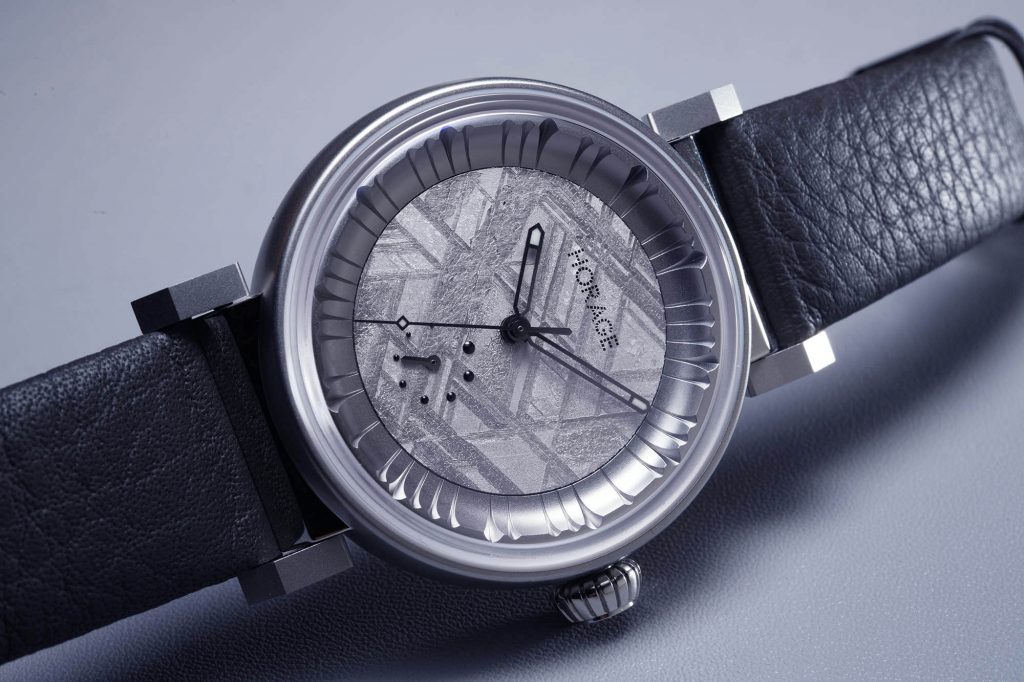 Though, I have to say, after having spent some time with the Solar Wind, I have come to the conclusion that the meteorite dial is surprisingly, probably the least interesting aspect of this watch.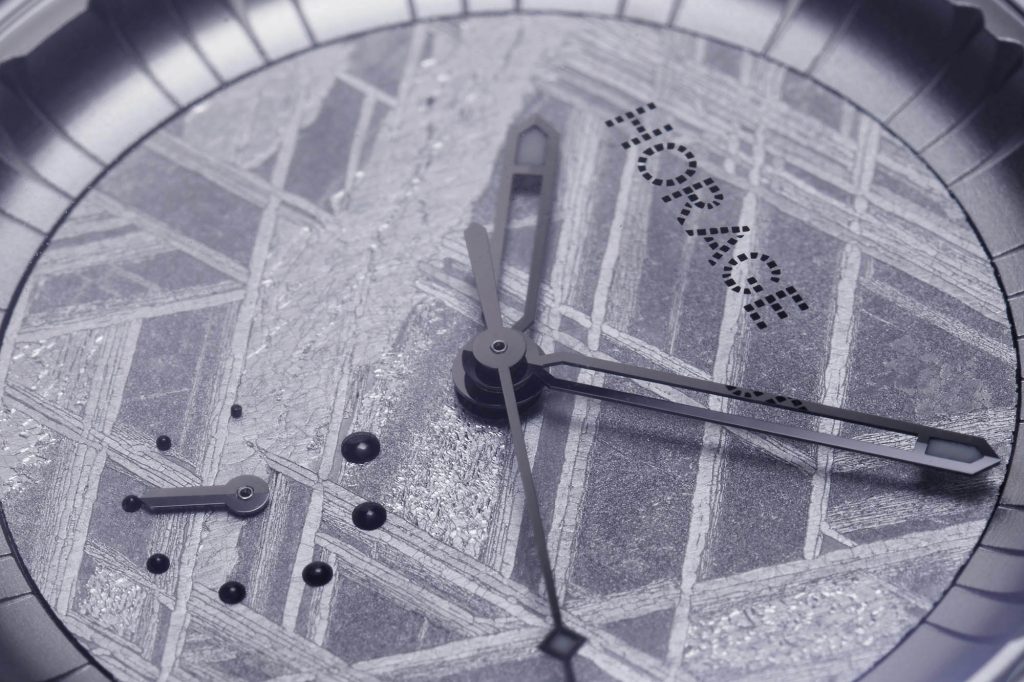 Now, the Solar Wind is a watch that I've been curious about but had not got round to looking at closely since I've been largely enamoured and preoccupied by the other members of the Horage collection. However I've always been drawn to it because it does, in its materiality and presentation, vibrate with a special kind of energy.
The Solar Wind is certainly unique in the aesthetics department with plenty of interesting details. It has a 42mm wide round case held to the strap by articulated lugs that are very much like an IWC Da Vinci in function, but beefier and more technical than baroque in appearance. These lugs span 52mm from lug to lug, but are a more manageable 47.1mm lug to lug when they are angled down on the wrist.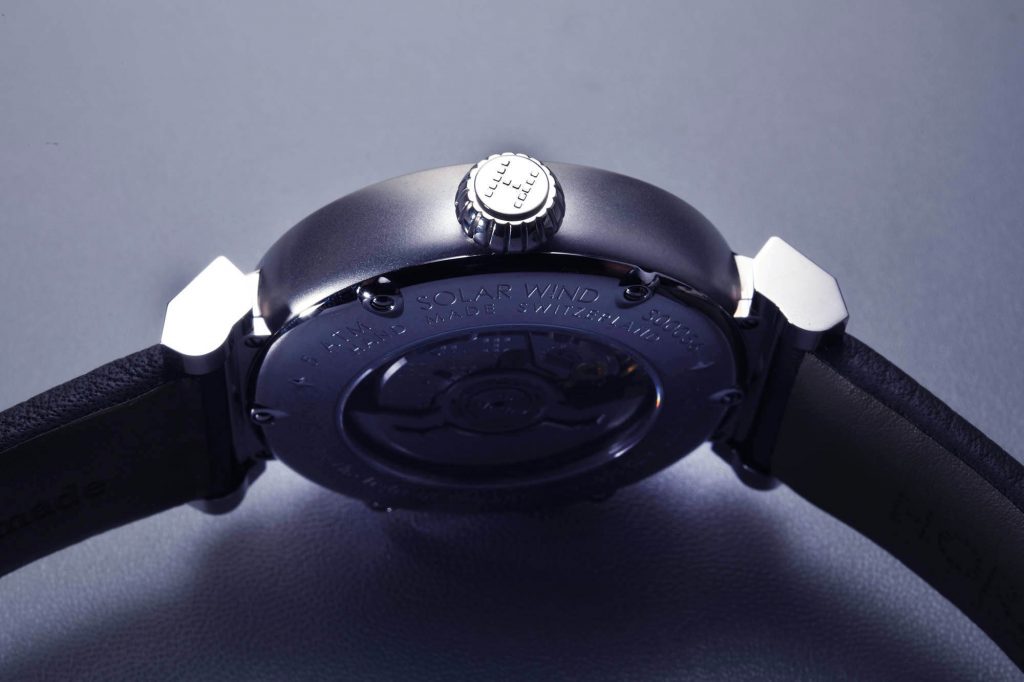 The case itself has a rounded, almost pebble-like appearance in look and texture, which somehow feels organic and technical at the same time.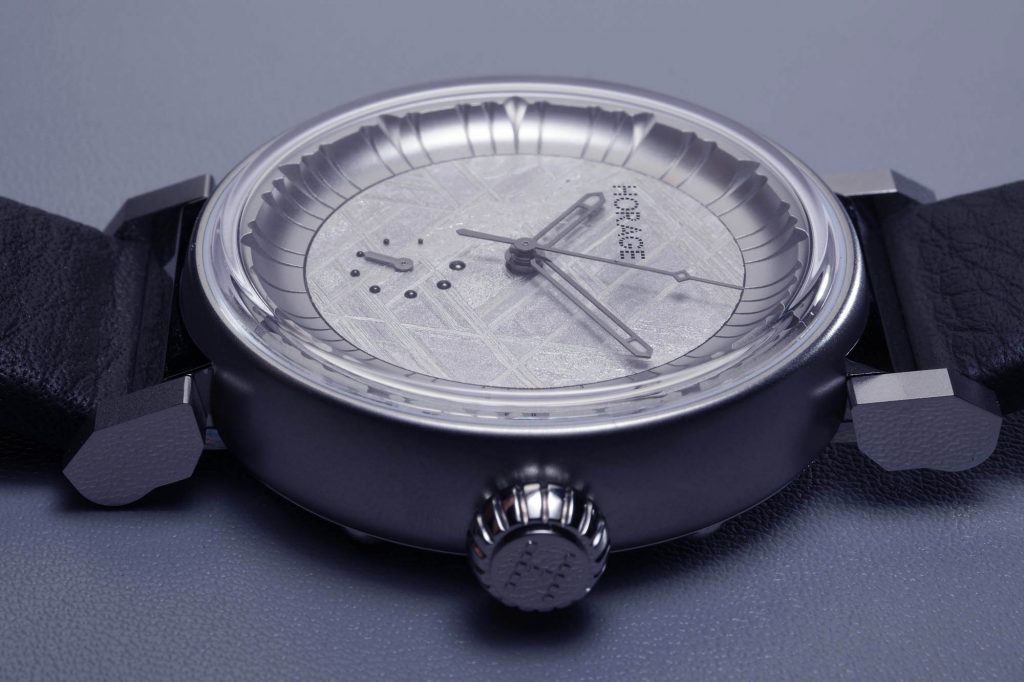 Where the dial meets the stainless-steel case, we find deep notches and sidewalls that slope into the meteorite, reminding me, when the watch is set laid flat on the table, of the Coliseum when seen from above.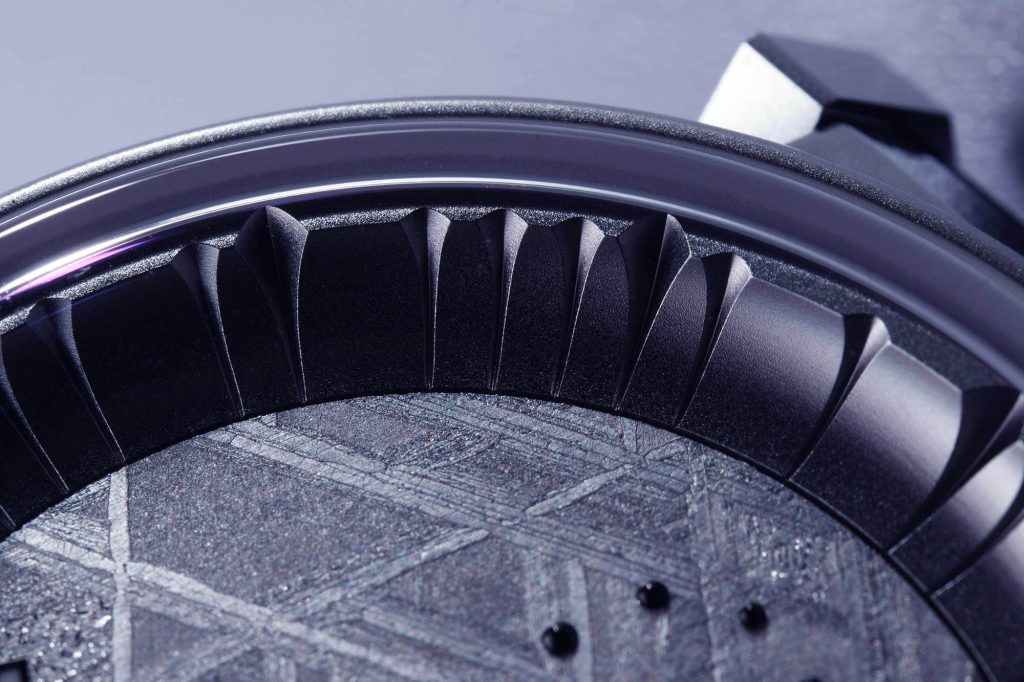 These notches in the sidewalls are, according to Horage, meant to resemble the marks of a meteor's impact crater. The deeper ones are the 5 minute markers and their appearance is regular and complete (with all twelve) on the dial. The shallower ones between these however represent the minutes but their number and order seems random.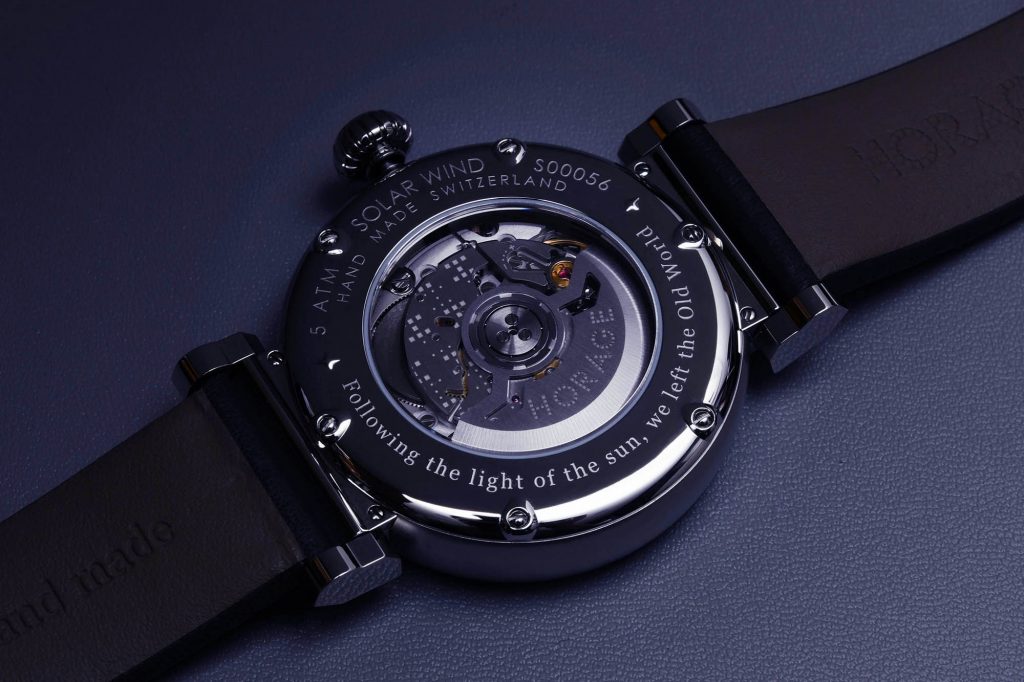 Then we flip the watch over and find the sapphire caseback with a view of the brand's in-house K1 movement, which has engraved around it, a quote from Christopher Columbus – "Following the light of the sun, we left the Old World".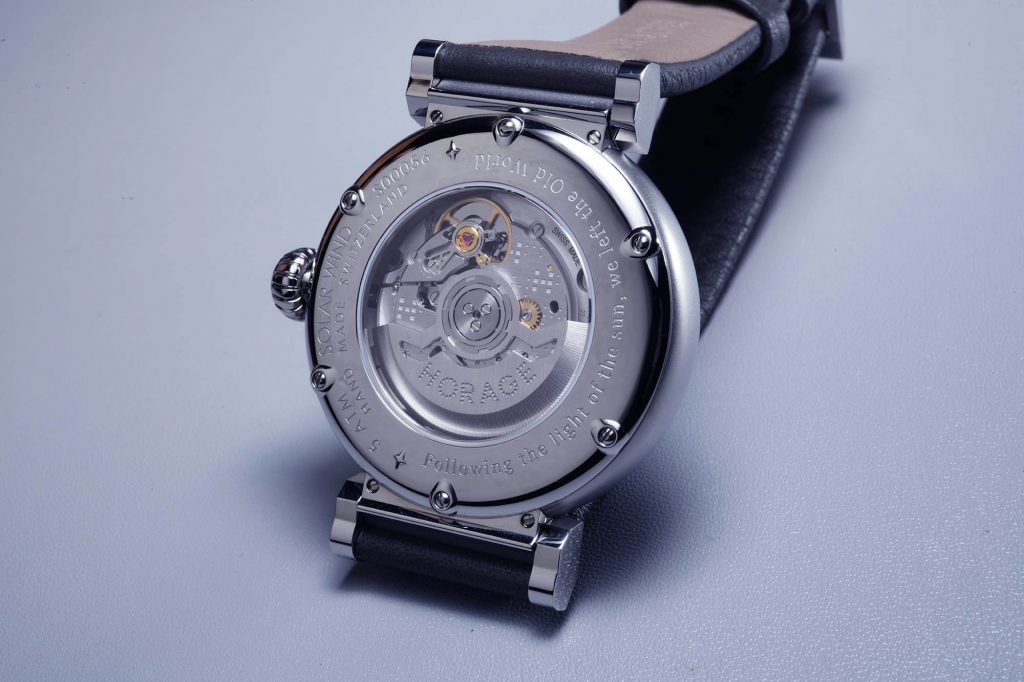 All in all, it's a watch that has a space-y, technical feel about it. No question. But why was I feeling that something was off. The design was coherent but somehow it was trying to tell me something more.
Holding it in my hands – while trying to look deeper into the details to figure it out, I suddenly saw it – there it was – the smoking gun – those black shiny dots arranged in a semi spiral, and varying in size, that make up the power reserve indicator.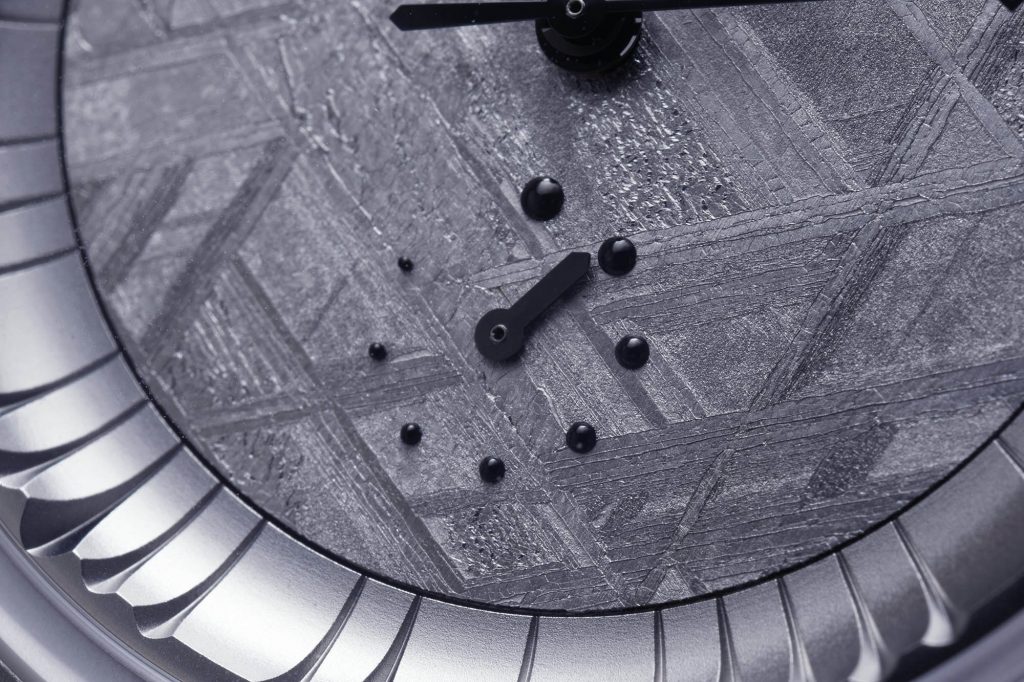 Now bear with me folks, for I'm going to put on my tinfoil hat and regale you with a strange conspiracy that may be true or just something out of my demented imagination.
Doesn't that look like this?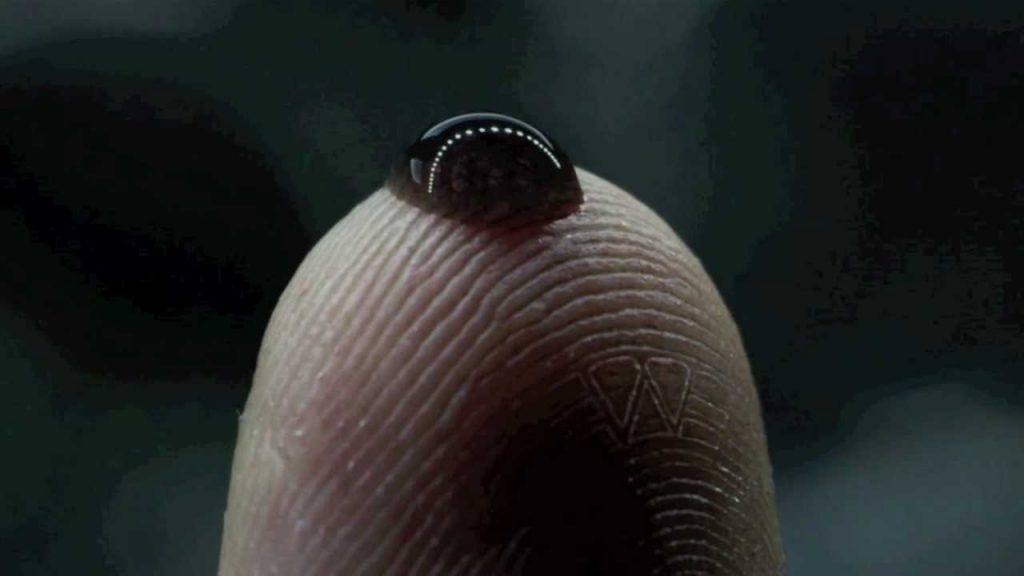 That my friends is a picture of the black goo from "Prometheus" – the fifth out of the "Alien" franchise, and the very same black goo that was the catalyst for the evolution of the human race in the movie.
Sometimes it's a little detail that is the key to understanding a hidden message, and in this case, the power reserve indicator is the one that unlocks the whole puzzle and begins to make every other part of the watch make sense.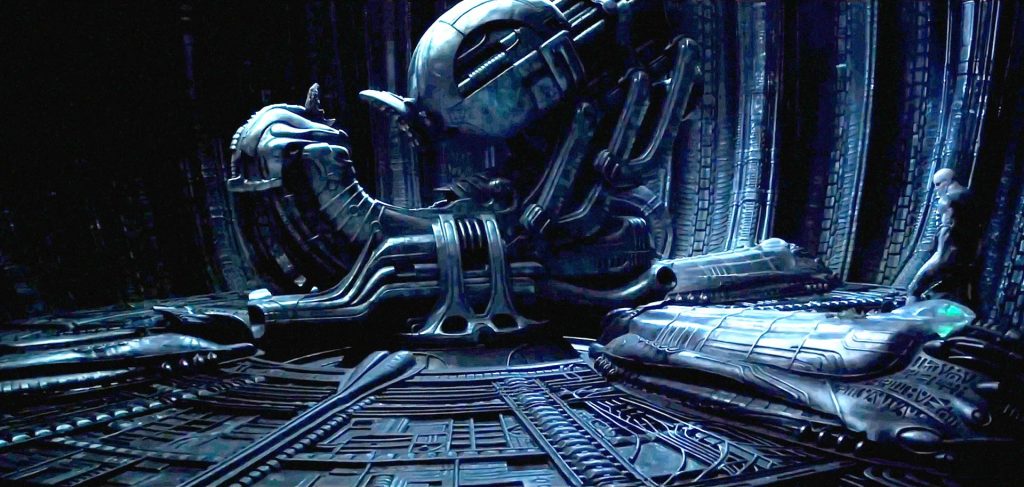 Now look at this watch again, and tell me that it wouldn't look out of place on the wrist of one of the Alien "Engineers" from the movie. It definitely matches the interior of the Alien ship we see in "Prometheus".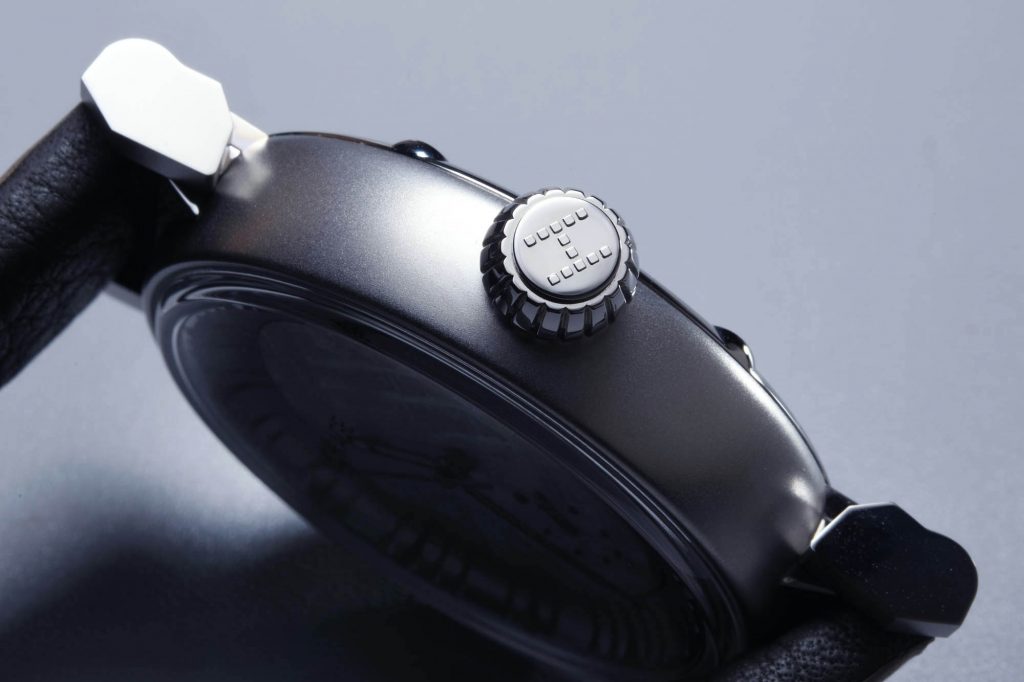 Am I crazy? Well consider the choice of meteorite for the dial, a material that has traveled through space to get to earth, then the polished crown with notches that look like some kind of engine turbine. Then we've got the smooth round case with lugs that angle down, sort of how a flying saucer might look like with its necessary landing gear when it touches down.
What about the notches on the dial side walls? Could those be some kind of coded message given their random pattern?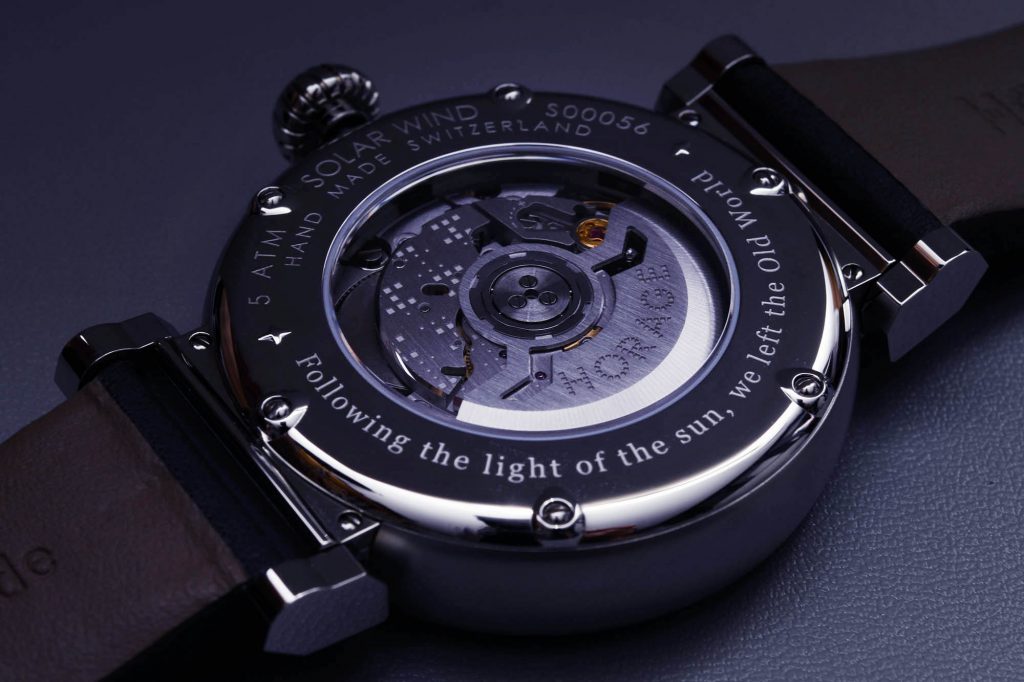 Then what about that quote by Christopher Columbus? Seen in the light of these realisations, the phrase "Following the light of the sun, we left the Old World", could very well apply to a space faring explorer as well.
Was this watch made by aliens?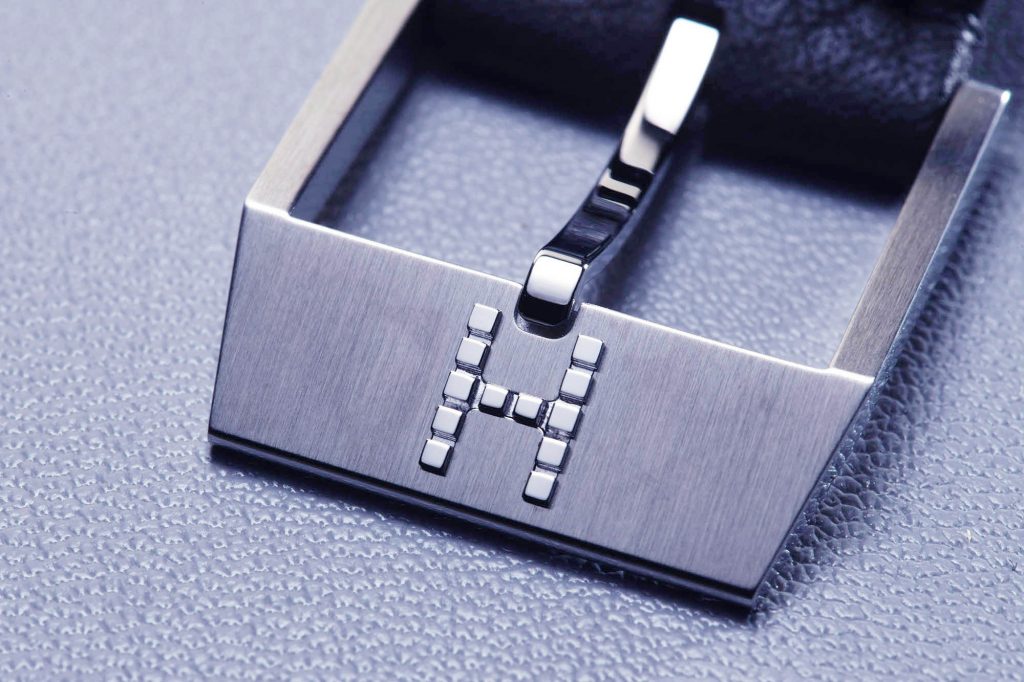 Here's my theory – consider what you know of Horage as a brand. What is the most alien thing to do if you've come from a different planet and are making Earth your home? You want to integrate into the human race and start making things with your advanced technology as part of your cover. You decide to make watches, and because you are from an advanced civilisation, you make an in-house movement from scratch, but you decide to take 7 years because you don't want to seem that advanced to the primitive humans around you.
After all, what small brand would hazard to create an inhouse movement all by themselves?
You make a bunch of other watches like the Autark and Tourbillon 1 that are more normal in appearance and function, so that you don't raise suspicions when integrating into human society. But then, to honour your roots, you make one special watch – Solar Wind, and that, perhaps, for a special reason.
Now, I came to my conclusion after looking at the webpage describing this watch (Linked here – Horage Solar Wind). Look at it yourself, the information is sparse, and there is really nothing on it beyond the specifications and a vague semblance of a reason and rationale to produce it. Even my contact at Horage (who doesn't know that he is working for advanced aliens) couldn't tell me much more than what was on that webpage.
Why? It's obvious isn't it – there isn't much information about Solar Wind because the watch itself is the message!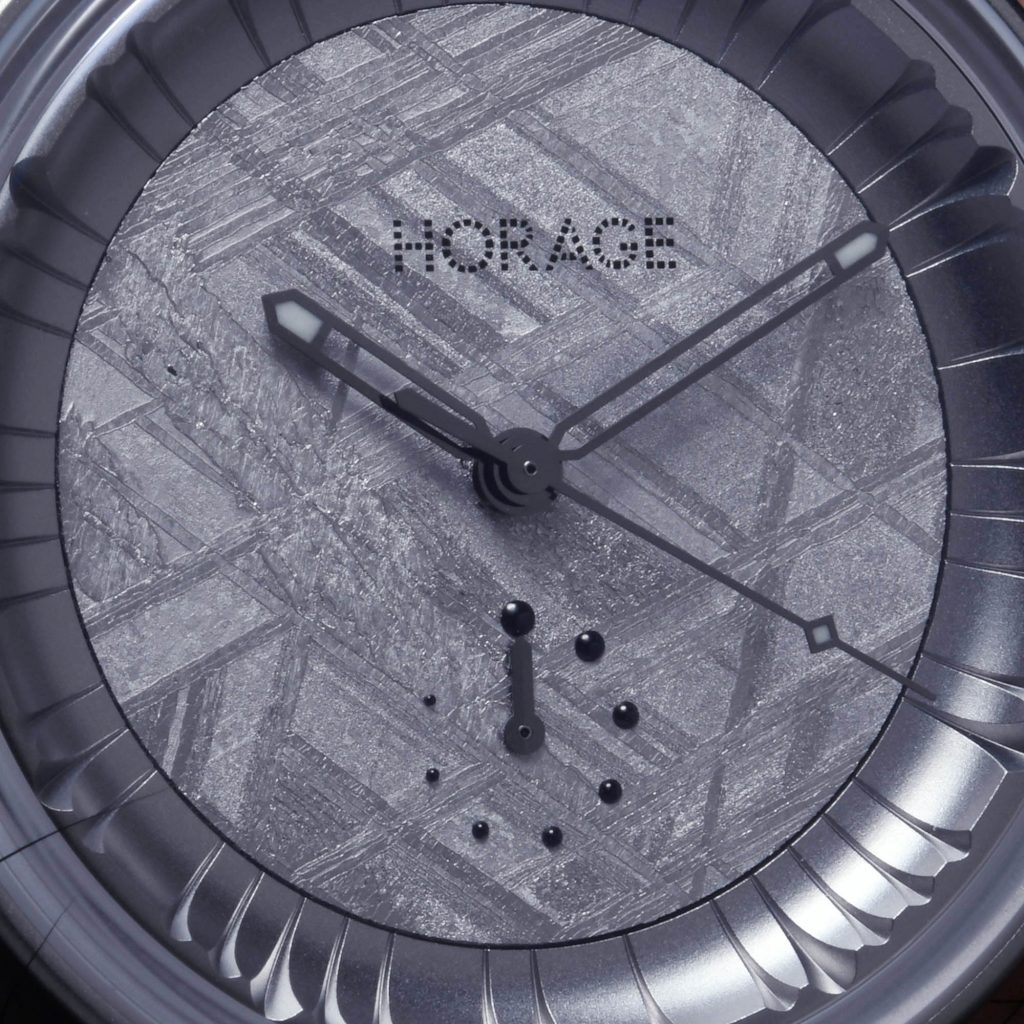 I mean, if you want to communicate with other aliens from the same galaxy that you are on earth, you would use a sophisticated code embedded in a normal object, with symbols from the "Old World", that only your fellow aliens would recognize. Think that those notches in the dial sidewalls are random? You just don't know how to read the code
What do you think? Am I right? Maybe the people from Horage are really aliens that have come to live among us. If that's the case – Welcome – and please trickle out some of your technology to advance watchmaking in a more meaningful way for the human race.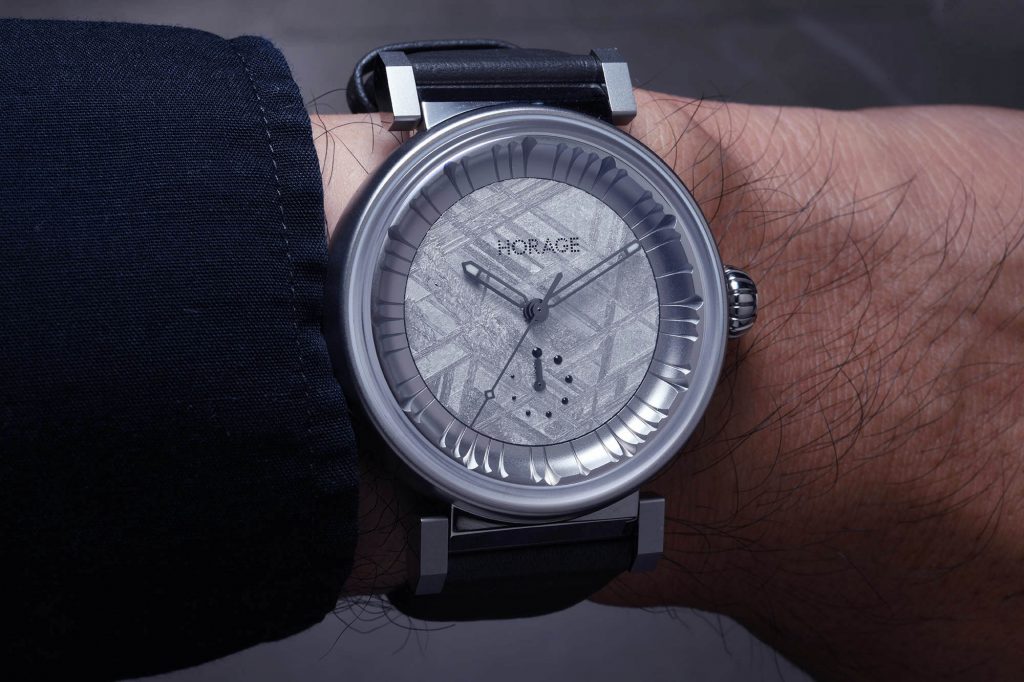 Two final things – One, the Solar Wind is available in two sizes, the 42mm shown here and a 33mm. From this we can surmise that the alien race might be composed of males and females.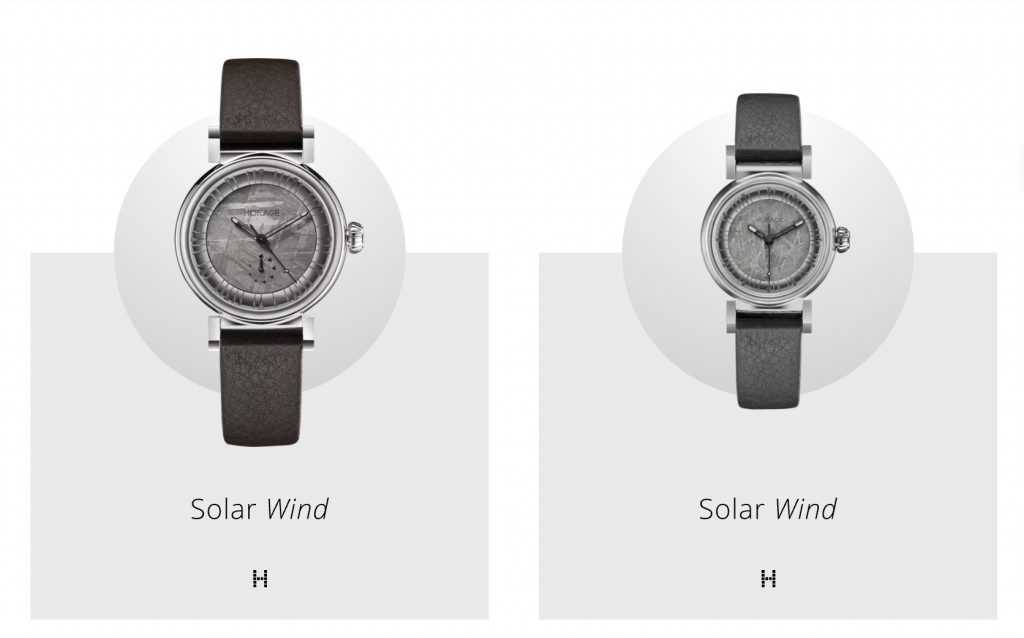 Second, here's a code I've made – H – Hydrogen + O – Oxygen + Ra – Radium + Ge – Germanium = Black Goo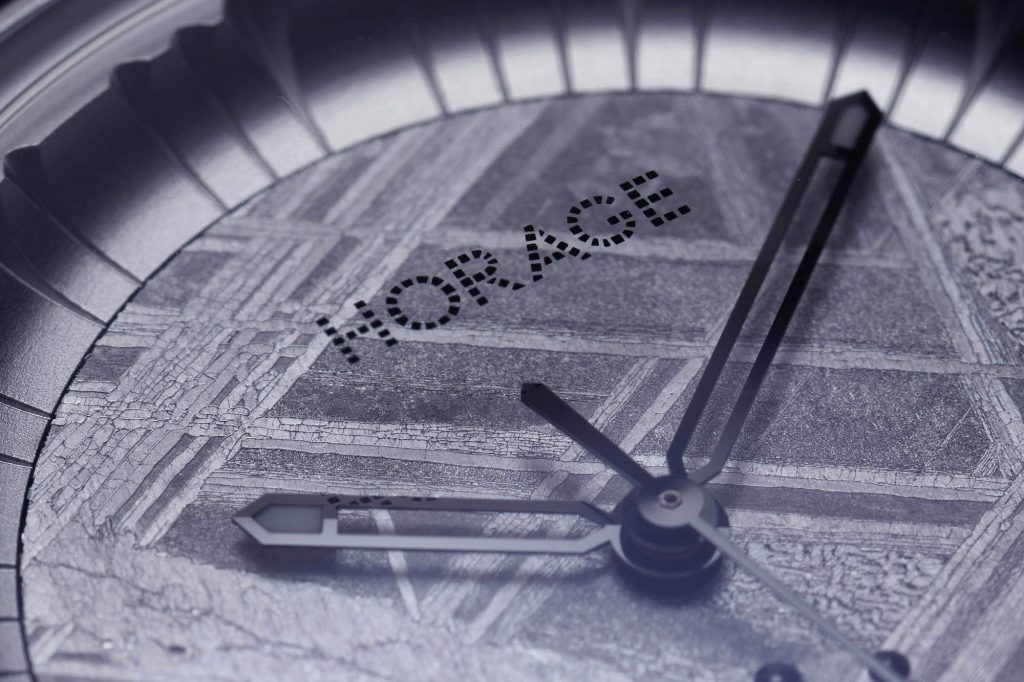 Special thanks to Watch Wonderland (LINK), Horage Authorized Dealer in Singapore, who might be risking the anger of the aliens now that I've decoded the Solar Wind.
Technical Specifications
Functions: Centre Hour, Minute & Second Hands (power reserve indicator on 42mm case only)
Dial: Natural Meteorite
Hands: Diamond cut with hour, minute and seconds hand. Swiss Super LumiNova® luminous filled tips
Case & Crown: 316L stainless steel in satin or polished finish, screw down crown
Crystal: 5 layer anti-reflective sapphire crystal
Case Back: Exhibition sapphire crystal, engraved case back ring with "Following the light of the sun we left the old world"
Strap: Swiss handmade calf leather in brown on polished case and grey on satin case finish
Buckle: Horage stainless steel pin buckle
Dimensions 42mm: Diameter 42mm, thickness 12.3mm, lug width 20mm, lug to lug 47.1mm
Dimensions 33mm: Diameter 33mm, thickness 11mm, lug width 16mm, lug to lug 38.3mm
Water resistance: 50M, 5 ATM
Movement: K1 automatic, 3.5 Hz / 25,200 VPH, Silicon escapement, 65 hour power reserve, 22 Jewels, tungsten rotor laser etched with Horage logo
Others: Unknown – Possible alien origin