It's fair to say that the bi-annually held Only Watch auction, has become an established event on the watchmaking calendar, having grown from strength to strength over the past eight editions. 
First established in order to raise funds for research into Duchenne Muscular Dystrophy via the auction of unique watches from participating brands. This goal has progressed steadily along since then, with the funds raised over the years contributing to the milestone of the first clinical trial of a new ASO-tricycle-DNA designed for Duchenne Muscular Dystrophy that will take place in 2022.
It hasn't only benefited medical search however, for watchmaking, the Only Watch auction has allowed brands to debut new concepts and ideas in watchmaking, also allowing collectors the opportunity to buy unique pieces from a wide variety of brands instead of just from the usual suspects, and this on a somewhat regular basis.
In fact, comparing my experience with the earlier editions of the Only Watch auction which were relatively low key affairs, I have seen a steady growth in its importance to watchmaking. There is now a palpable sense that this is an event as worthy as the "real" auctions, given how at the recent exhibition hosted by The Hour Glass, at the Singapore stop of the 2021 edition's tour around the world, more days and appointments slots had to be added to cope with the overwhelming interest.
The nice thing is, unlike a regular auction where you try to get a watch as cheaply as possible, participating in the Only Watch motivates you to bid higher because the proceeds go to a good cause.
Well, I won't be bidding at the auction that will be held tomorrow on the 6th of November 2021 in Geneva, but I, along with contributor Martin Goh (see part two), go though some of our selections that we would bid on, if our bank accounts could support it.
Bell & Ross BR-01 Cyber Skull Sapphire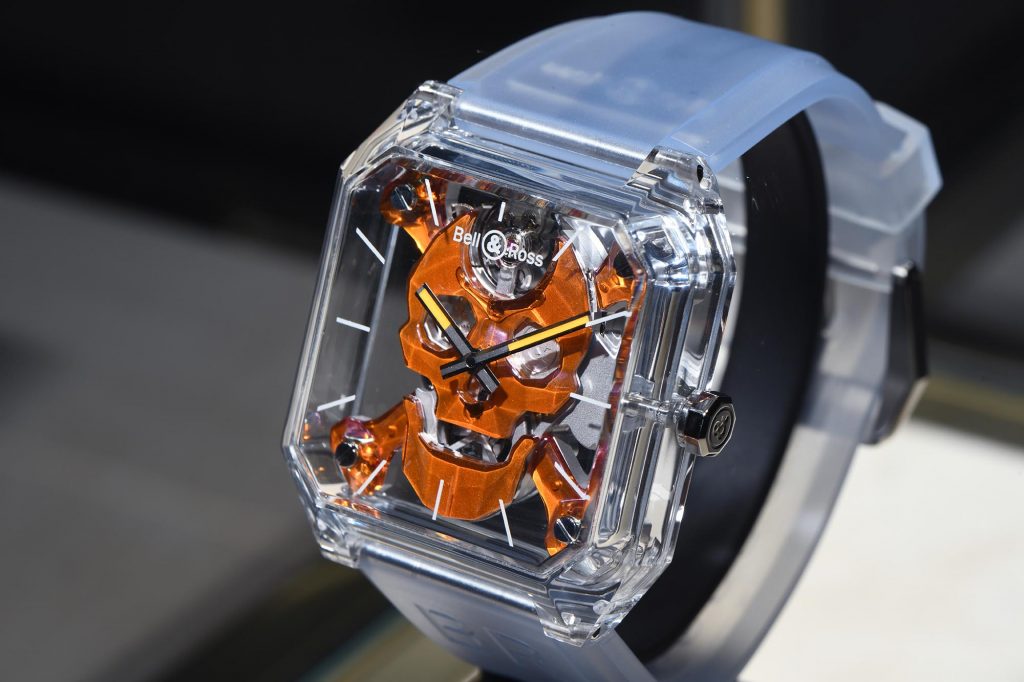 Bell & Ross has been making skull themed watches for some time, offering a wide variety of types over the years to the point that they are the only brand that seems devoted to the theme. Their contribution to Only Watch is a sapphire cased version of what I would consider their best Skull watch – the Laughing Skull – one that you can read about here.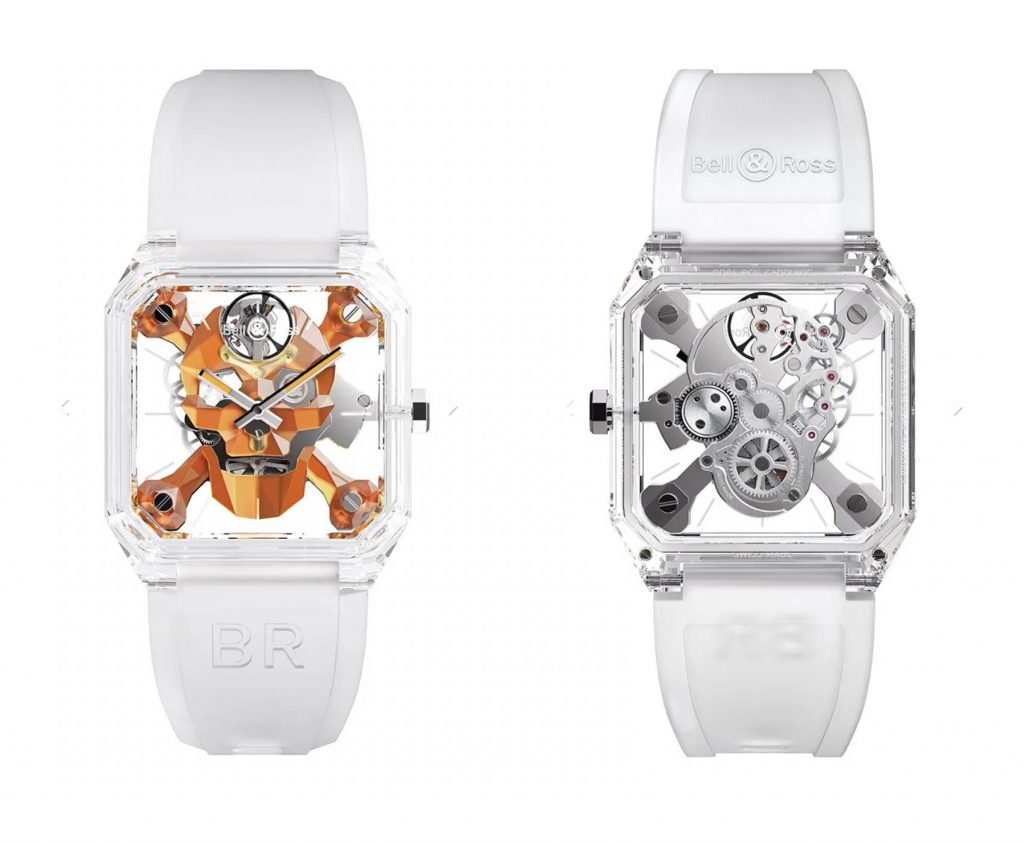 This time it's called the Cyber Skull, and the reason why is that it is made of faceted orange sapphire, and this against a striking transparent sapphire case. The custom movement – BR.CAL.309, designed in the shape of the skull is available to view in all its glory because of this.
As well, the owner of this watch can adjust the position of the mandible of the skull when winding, and then view it move up and down as the watch runs and the mainspring unwinds.
MISS AUDREY SWEET FAIRY ONLY WATCH by Bovet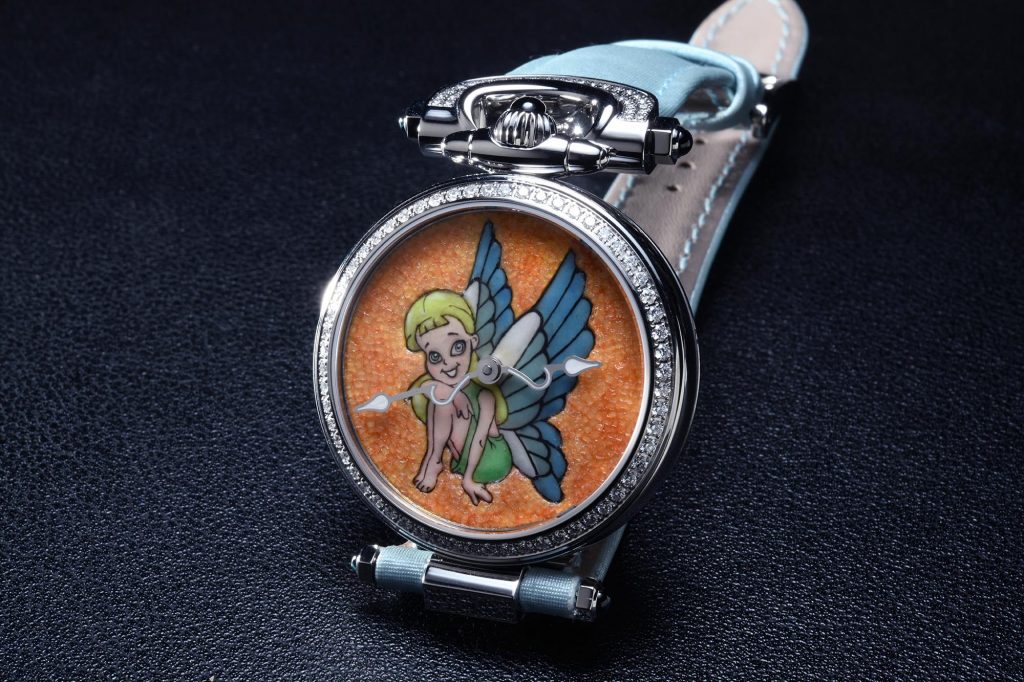 This is a cute ladies piece that seems simple on the surface, yet knowing that it's a Bovet, the essential question to ask is – what's so special about this?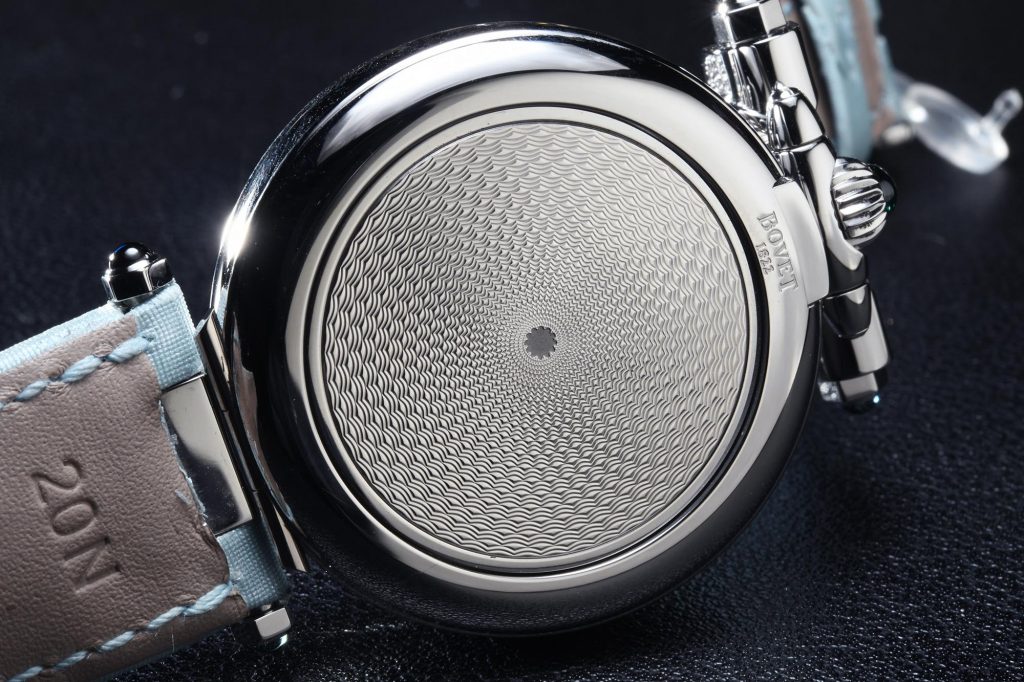 Well, it's all in the orange background of the miniature painting of "Miss Audrey Sweet Fairy". It is sweet not just in name, but literally, as the dial is made out of pure sugar. It's a new and patented technique by Bovet, and the sugar crystals coloured orange, are visible when you peer closely at the surface. 
It is definitely a surprising realization, a bit out of left field perhaps, but overall a cohesive idea taken to a logical conclusion. "Miss Audrey Sweet Fairy" as well has some integrated Super Luminova so it might look interesting in the dark, although I haven't been able to see this in the press pictures. Would love to though.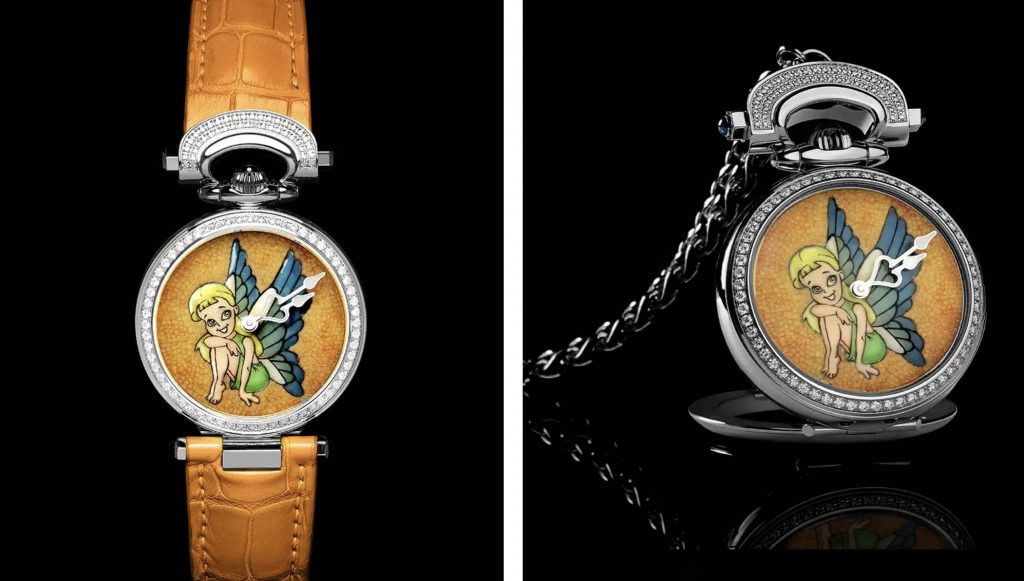 Lastly, thanks to the way that the case is constructed, this is a piece that can transition from being worn on the wrist to being worn as a pendant.
Highlife Monolithic Manufacture Only Watch 2021 by Frederique Constant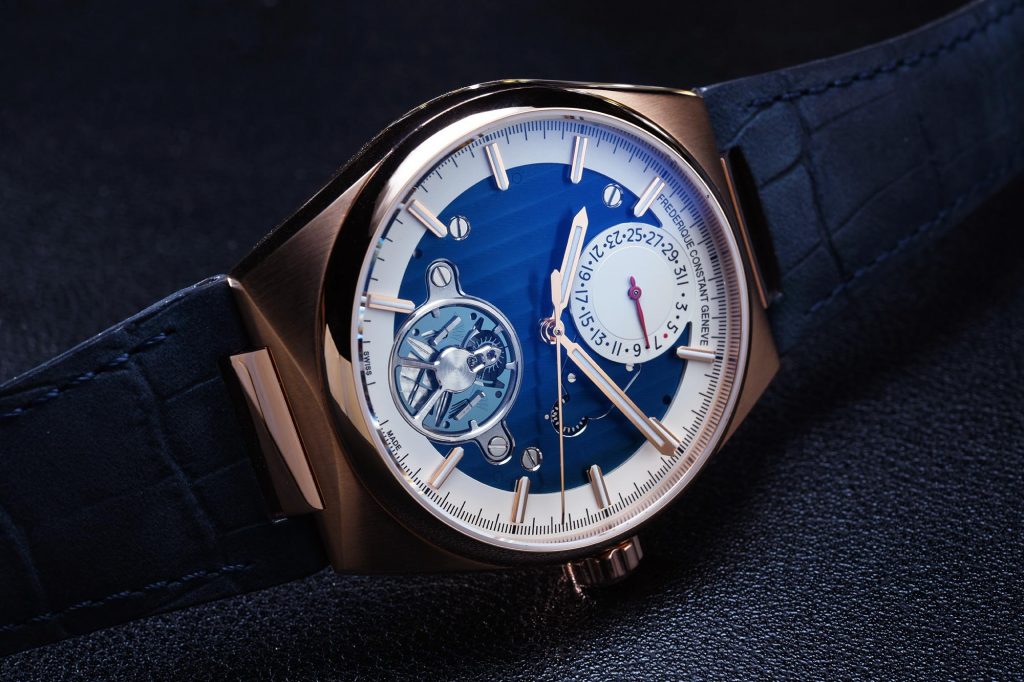 For a start, it's worth pointing out that Frederique Constant's new one piece silicon escapement that was launched early this year (Read our article here) is the fastest beating oscillator in a mechanical watch ever created. It is a technical marvel that uses the special qualities of silicon to run at an unprecedented speed of 40 Hz.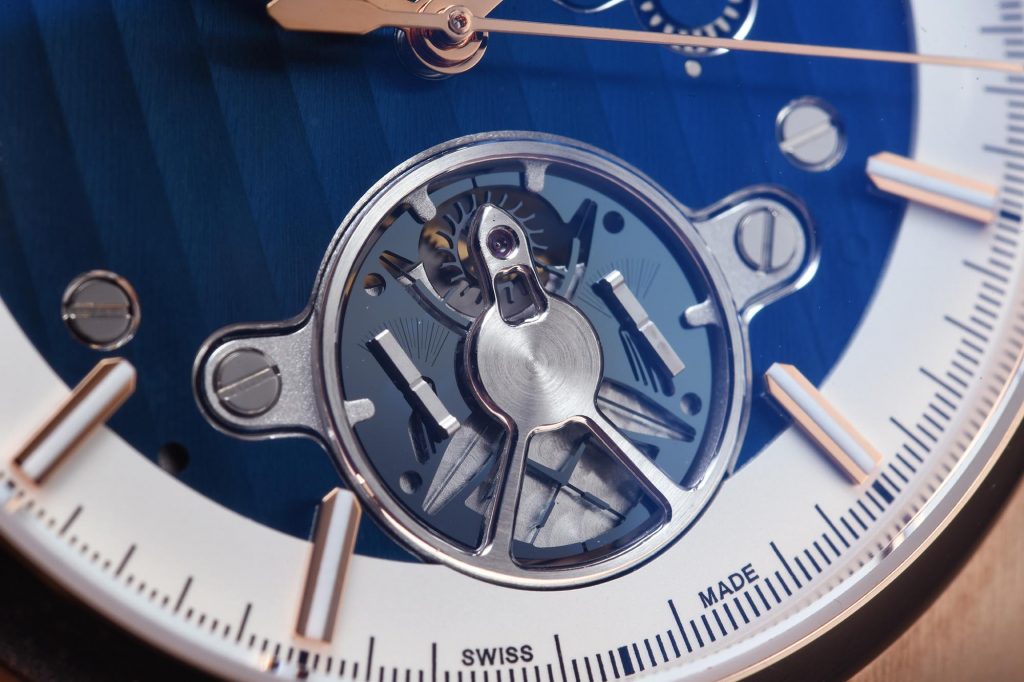 This Only Watch version of the Highlife Monolithic manufacture comes in an 18K rose gold case, an open dial decorated with blue Côtes de Genève and the Monolithic Oscillator taking pride of place at the 6 o'clock position.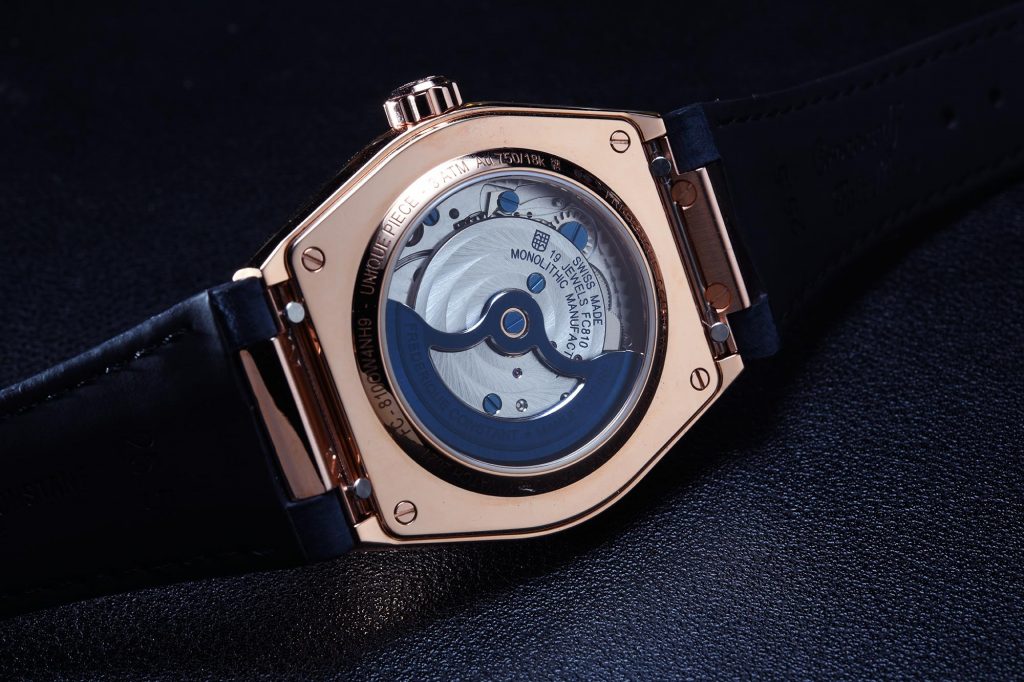 Personally, it was exciting to see this watch as I have not been able to see the Monolithic Oscillator in person due to it not being available yet in Singapore. For Frederique Constant, it's certainly a great way to get the technology in people's hands, and it's definitely one of the great ways that the Only Watch auction can be a platform to showcase the more nerdy side of watchmaking to the wider world.
Martian Tourbillon Only Watch by Konstantin Chaykin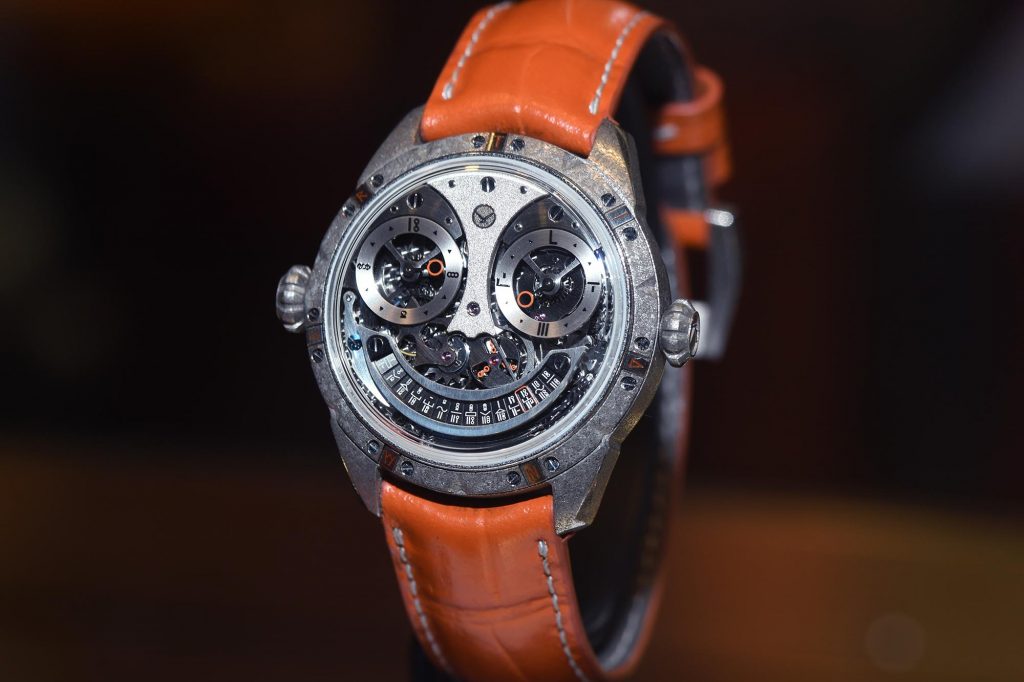 The Joker series of watches from Konstantin Chaykin, has grown to become a signature offering from the brand, and it's nice to see that the idiosyncratic design can evolve to take on slightly offbeat ideas.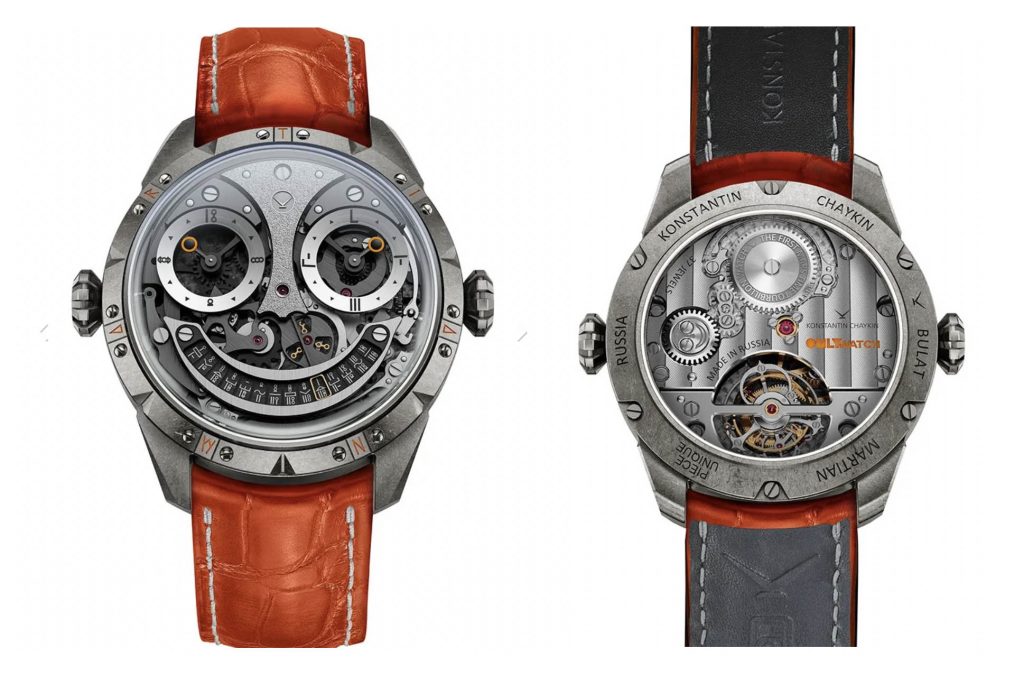 The Martian Tourbillon Only Watch therefore is billed the first first Martian tourbillon, as it runs based on the Martian minute, making a revolution every 61.65 seconds. This makes the watch not very useful here on earth, since the time shown will be a little bit out of sync at first, and more as the days go on. The main advantage however is that you'll be ready with a watch to wear when the selection process happens for human beings to go to Mars. Or, if it takes longer than your natural lifetime for this to occur, you can use this watch to keep track of Martian time while viewing the inevitable broadcasts that come from the drones and rovers that will be sent first to conduct reconnaissance.
Aikon Master Grand Date Only Watch 2021 by Maurice Lacroix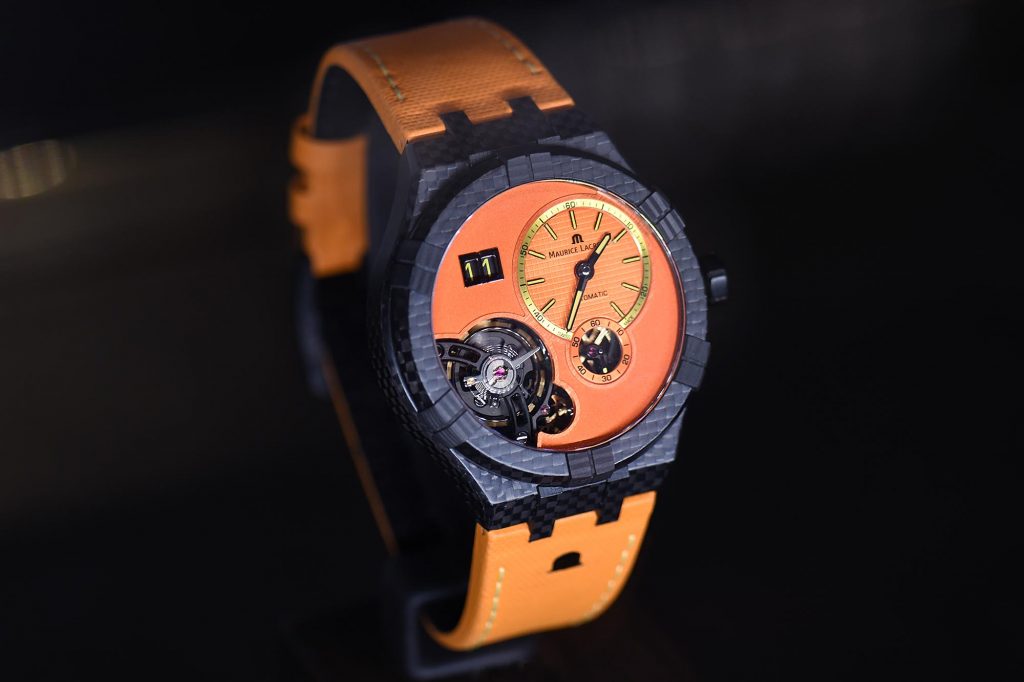 I have a particular affinity for the Maurice Lacroix Aikon Master Grand Date that was launched at Watches and Wonders 2021, since it was based on one of my favourite watches from the brand, the Gravity. (Read my love letter to the Gravity here). Now rendered in a sportier Aikon case, it continues to expand the offering of complicated watches for the Aikon line. 
As the current flagship model for Maurice Lacroix, it's nice to see the Aikon Master Grand Date rendered in an unexpected manner for Only Watch 2021 since it does show the potential of this model being extremely sporty.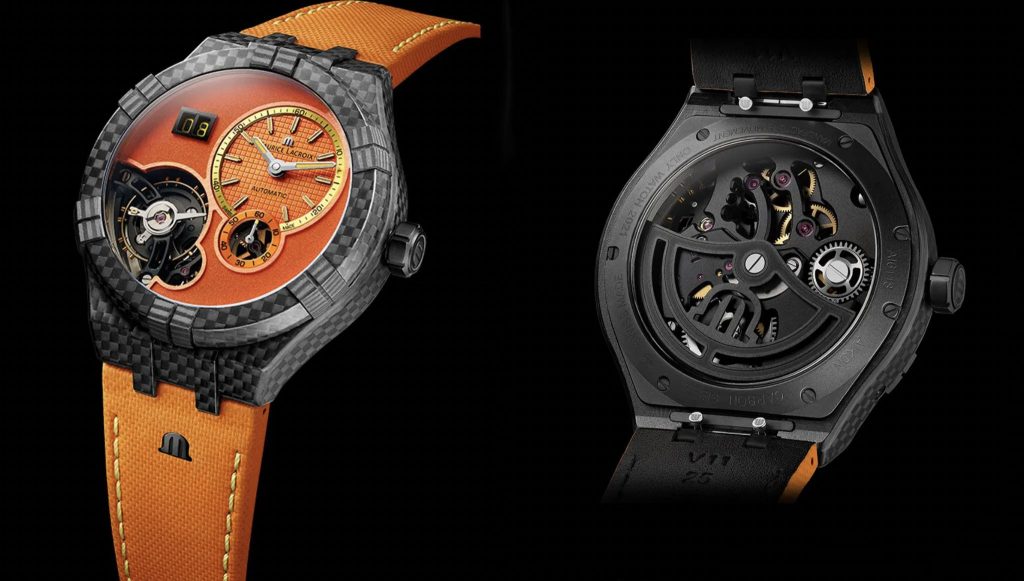 The carbon fibre case is the main draw here, and the motivation for this is the brand's involvement as the Official TImekeeper of Mahindra Racing, in the ABB FIA Formula E World Championship. The carbon fibre of the case and bezel comes from an actual Mahindra Racing car, which does make the collaboration much more meaningful.
It would have been nice to have the colours (red, blue and white) from the racing team on this watch, but I can understand why Mautice Lacroix went with orange, as it is this year's colour for Only Watch 2021.
This watch does show the tantalizing possibility of Maurice Lacroix introducing carbon into a standard production Aikon Master Grand Date, which I would look forward to. If not, the new owner of this watch will be able to enjoy a full VIP hospitality package at any 2022 round of the ABB FIA FOrmula E World Championship with the only carbon AIkon Master Grand Date to exist.
Tudor Black Bay GMT One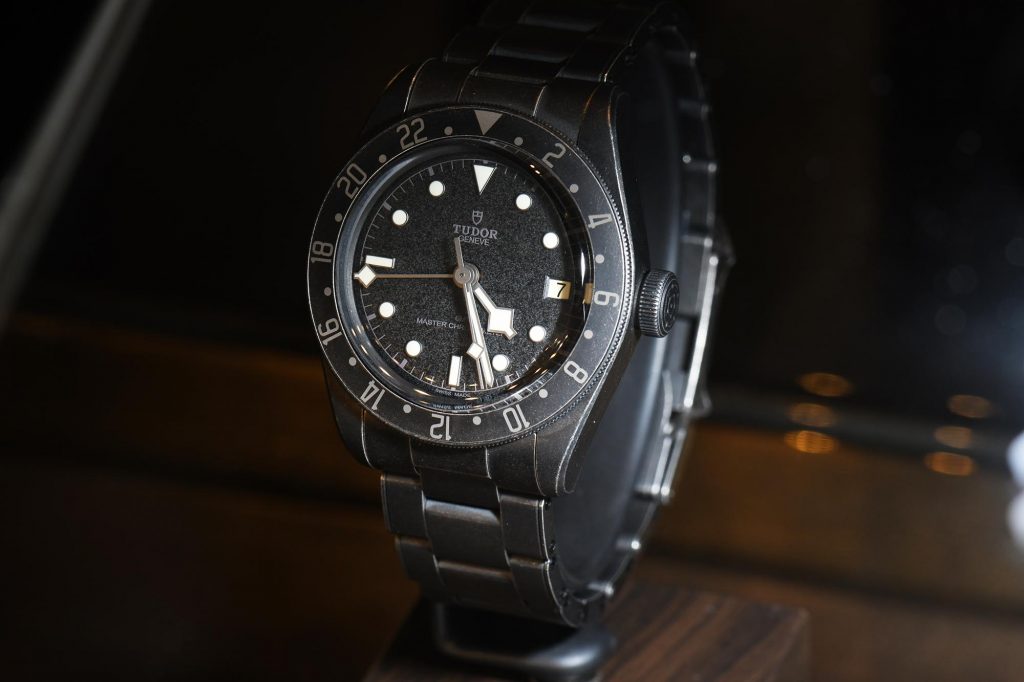 This version of the Tudor GMT is interesting as it marks the second release of a Master Chronometer watch from the brand, following the one in the Tudor Black Bay Ceramic that was launched earlier this year. 
It was a surprise move when the Black Bay Ceramic was launched, making use of the extremely stringent certification that until that point had only been used by Omega.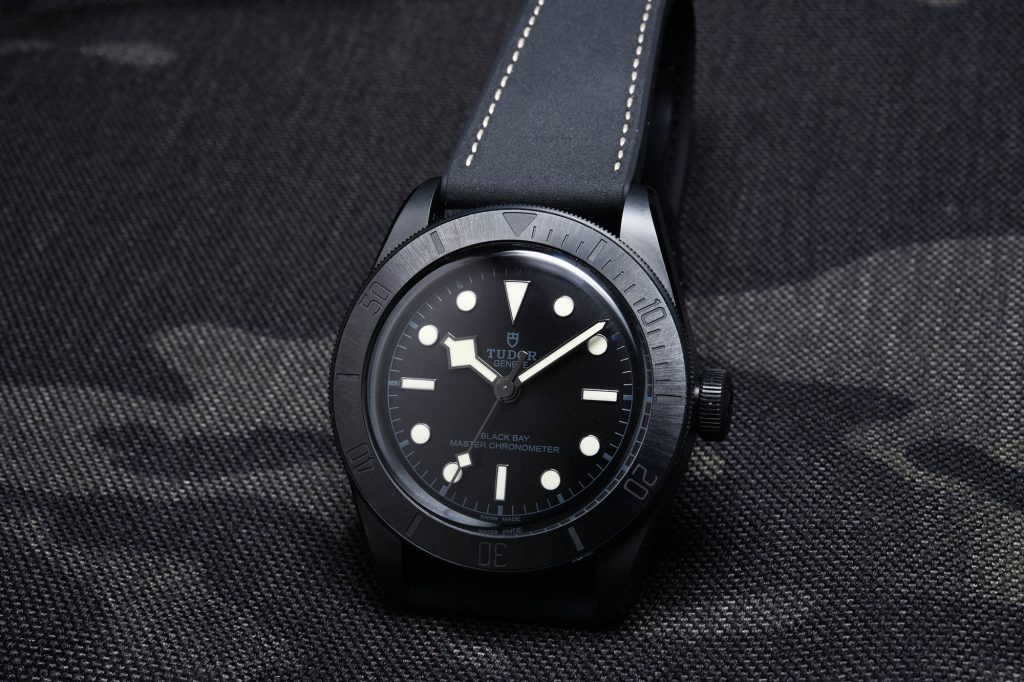 It's great that this Black Bay GMT, a very popular piece in the Tudor line up, (read about it here) receives this technically forward certification, which might point to future production versions also having it as well. Though that is not the only interesting thing about this watch. The grey coated steel case and bracelet have been processed with a secret ageing technique that makes this Black Bay GMT One very cool.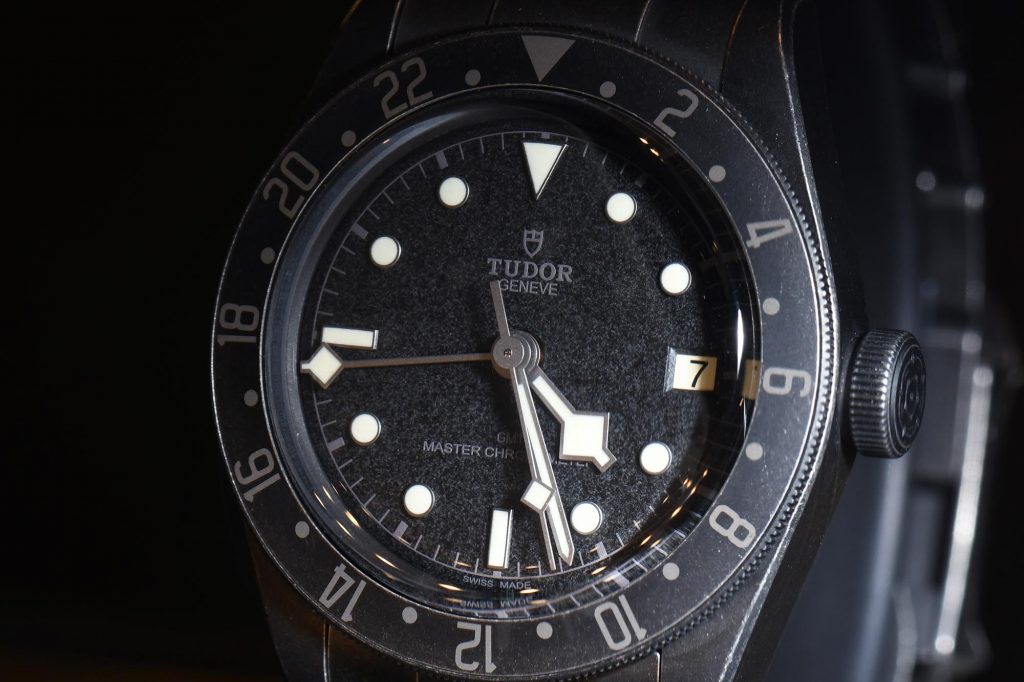 Will we see a new Black Bay GMT updated to Master Chronometer spec, or maybe other Black Bay watches with this new aged aesthetic? If one of both of these things happens, sign me up.