The Maurice Lacroix Gravity was a watch that I loved from the moment I held it in my hands. Mesmerising in its design, with its dial mounted balance wheel providing a counterpoint to its hour/ minute and seconds sub-dials and covered over with a large bulbous box crystal.
I see many watches in my time, and only a few make the cut enough for me to keep thinking about them again and again. The fourth time I encountered the watch, I could take it no longer, and decided that I had to buy it.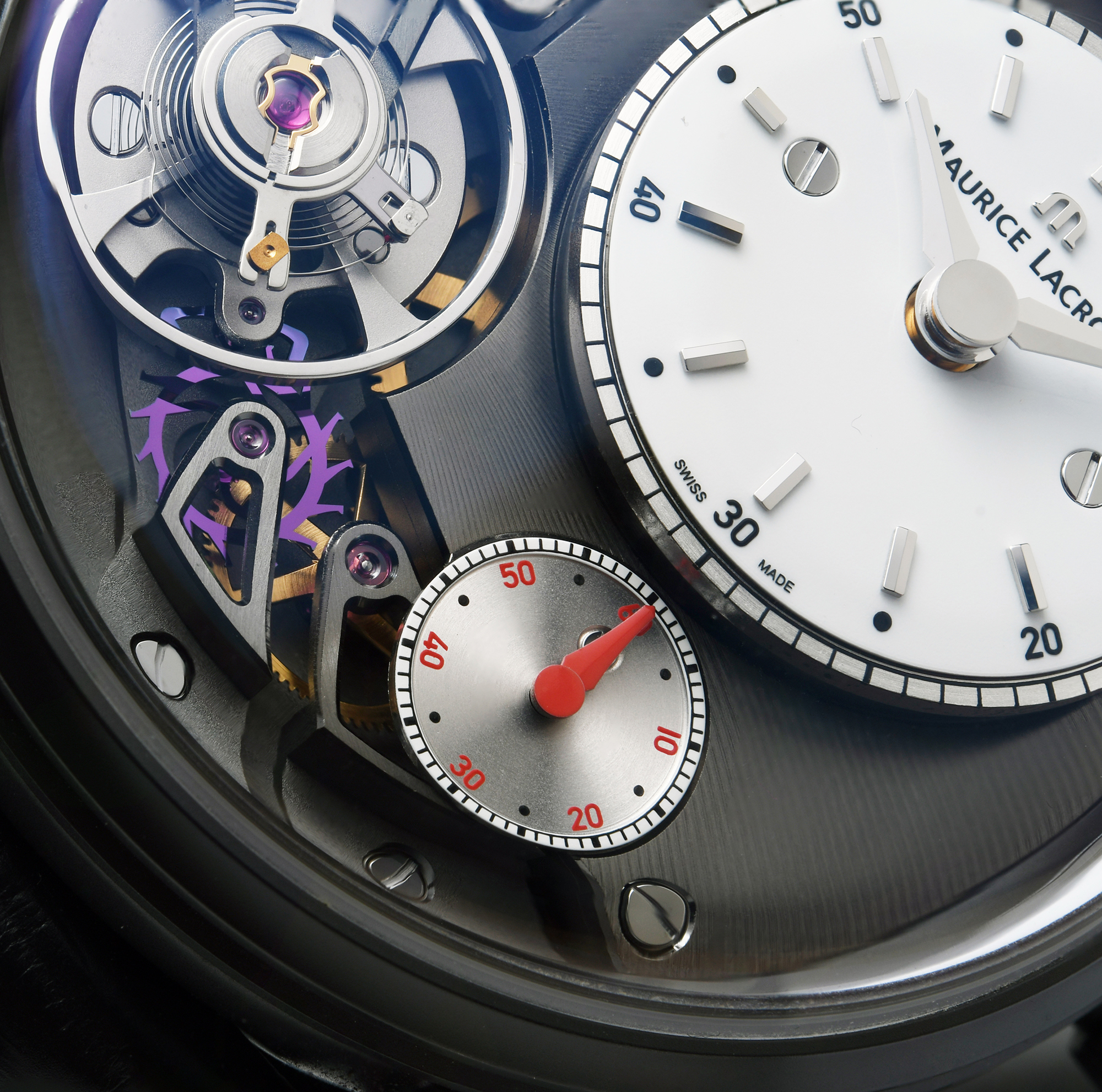 And so I've lived with my Gravity for about three years now, and even though I wear it once in awhile in my rotation, it is a watch that always makes me smile whenever I put it on. It is, without embellishing my words, just "beautiful".
In fact, this is the only watch that I have owned that always gets a reaction from people who see it. They ask me if it's a Breguet, and to that I joke that it is a Signature 1 from Greubel Forsey. Front facing balance wheels and some slight similarity in the arrangement of the dial elements aside, the Maurice Lacroix Gravity is singularly unique in the way that the design elements have come together to create an almost sensual object, curved in all the right places, and with a movement that seems to float under its glass crystal – the impetus to the name "Gravity" on which it was bestowed.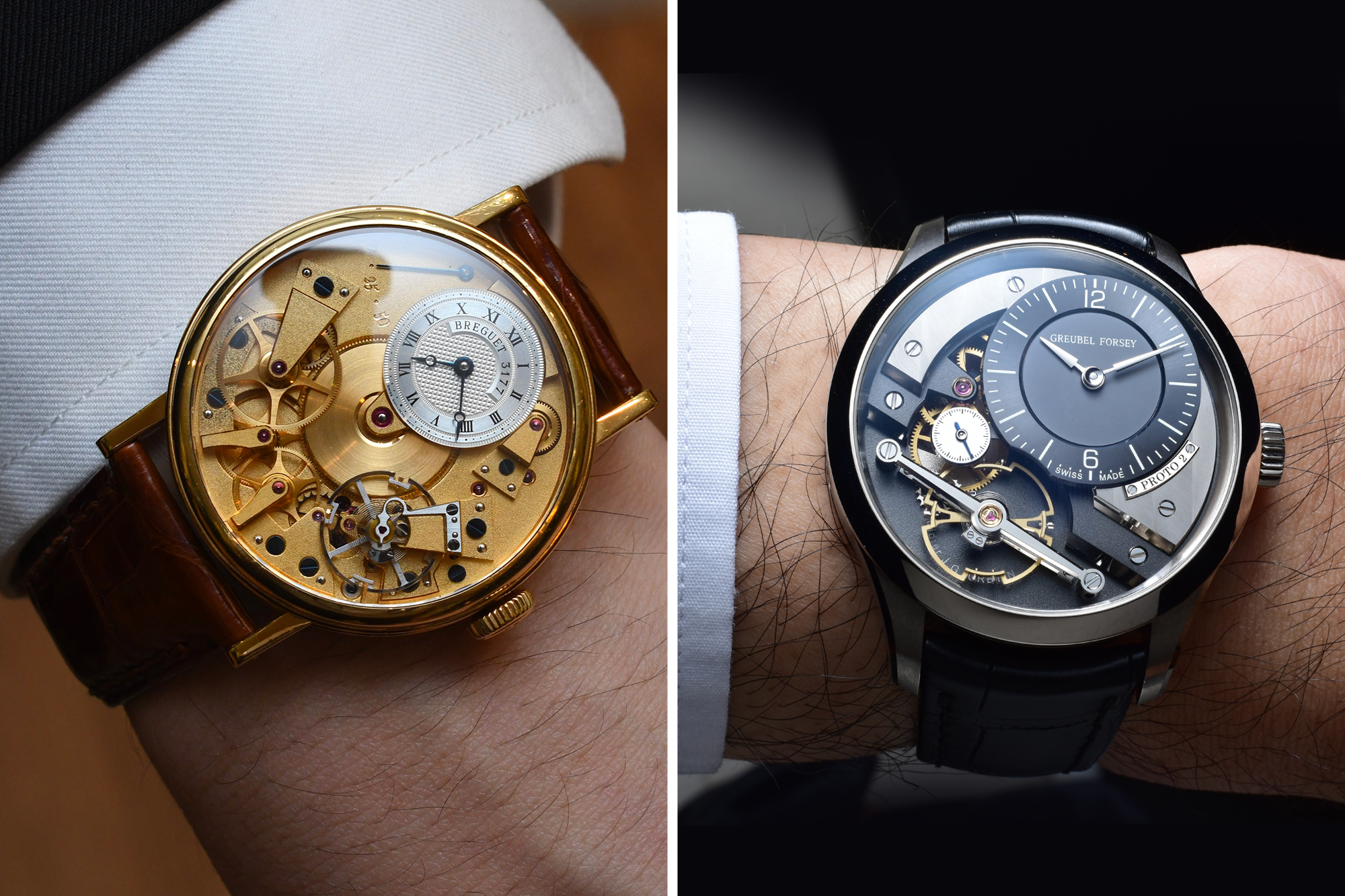 When I attended Baselworld one year and had it on my wrist, I was asked by the people from 80% of the brands I visited if they could have a look at it. I had to take it off and tell them what it was, and the common response – whether they knew about Maurice Lacroix as a brand or not, was that it was very beautiful. No other watch that I've worn, whether my own or on loan for review, no matter the price, has garnered such a universal reaction of praise before in my experience.
In fact, I would agree with what my friend, respected Australian watch writer Bani McSpedden, another fellow owner of this watch, has said of it, that it represents Maurice Lacroix at its peak.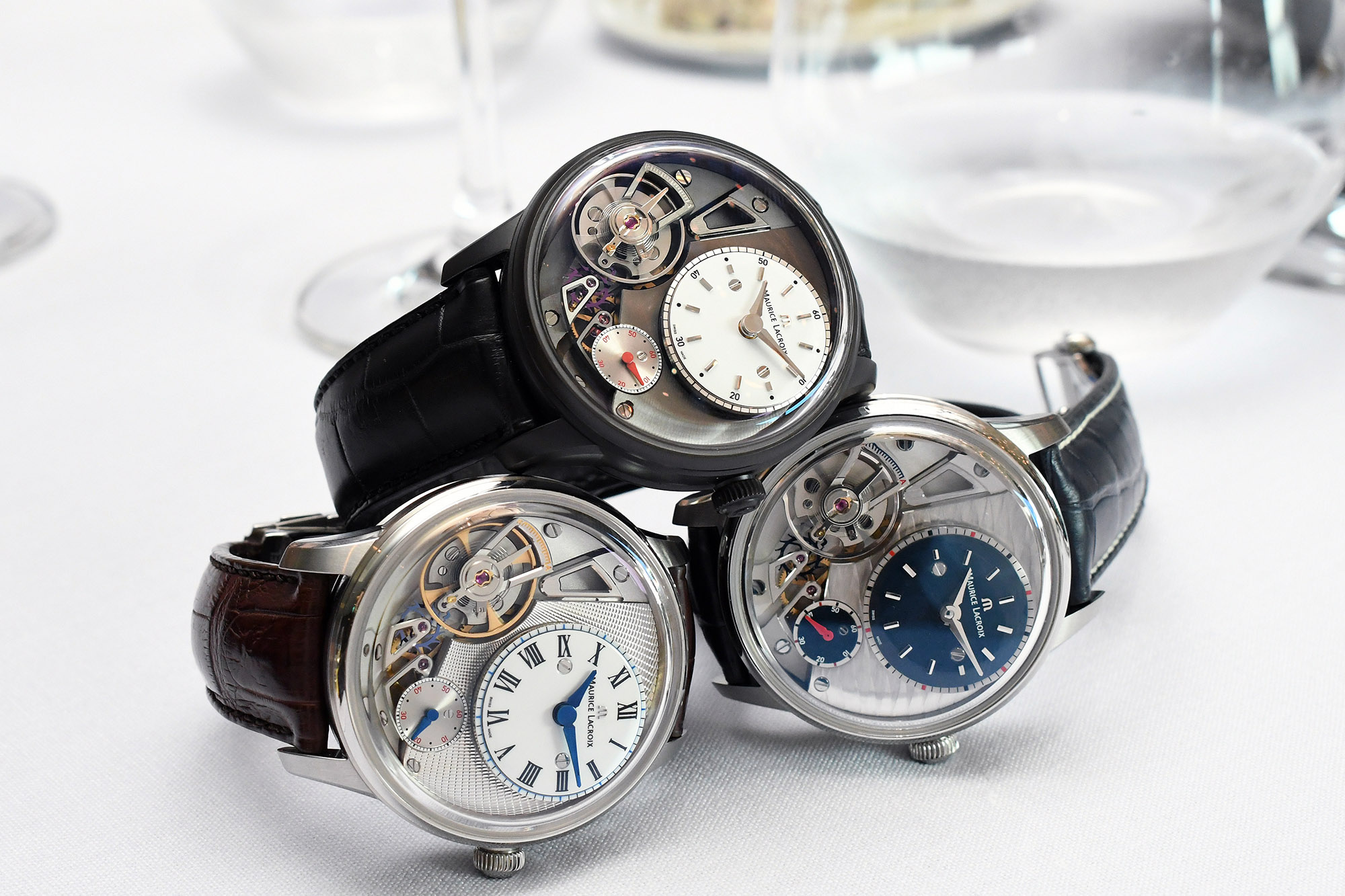 The version that I own was part of the first pair of releases that came at its initial launch, with the first being more classically oriented in nature, with roman numerals, brown leather strap and a main plate with colimaçon or a snailing finish. The one I chose is without doubt more modern in its outlook, with an anthracite PVD case that is just purer in showcasing the forms of the watch.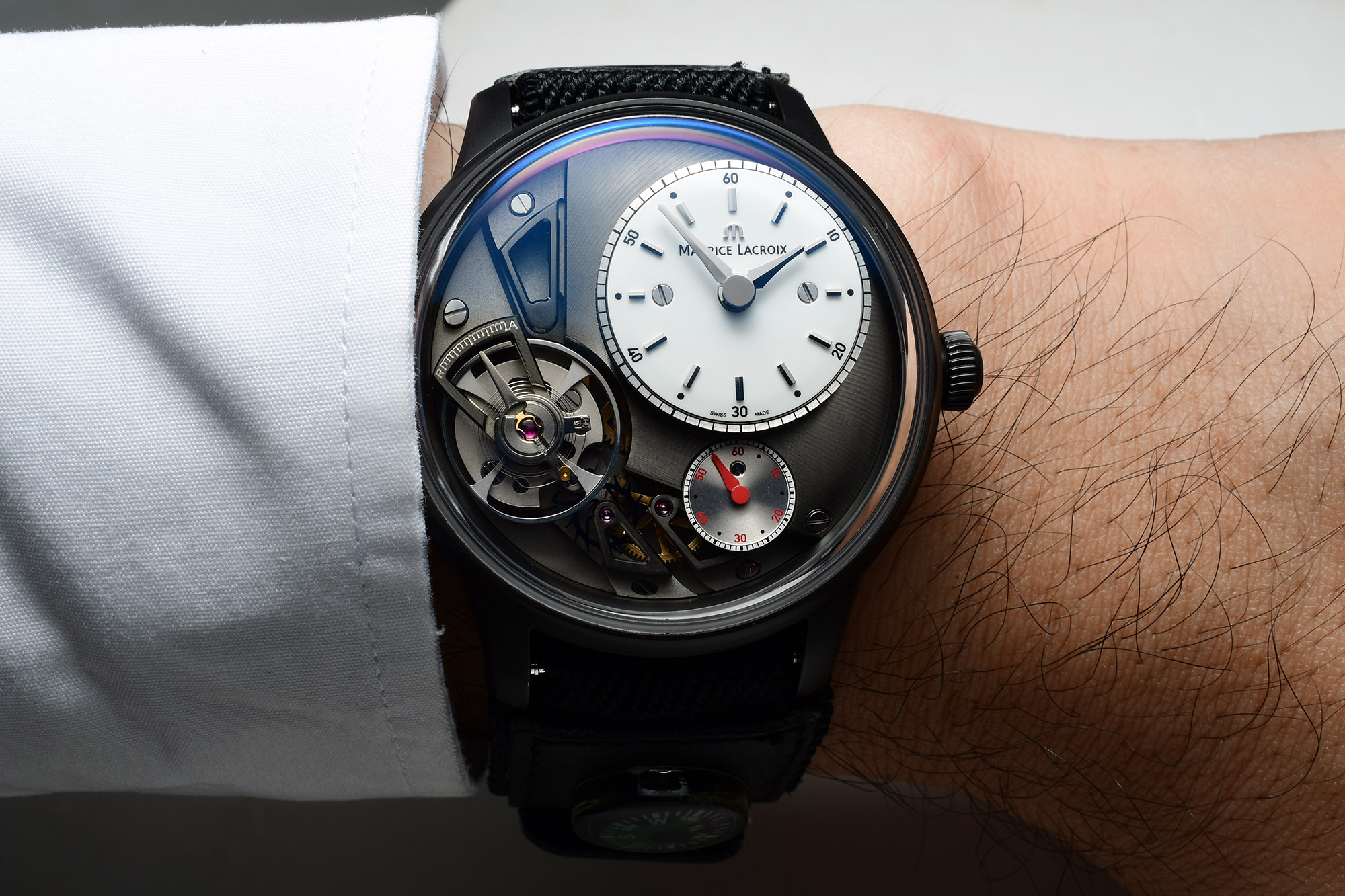 On the wrist, the 43mm case sits relatively tall due to the height of the box crystal, yet it is not overbearing due to the strongly tapered lugs that hug the wrist as it extrudes from the case. Yes, there are no complications – it only tells the time – but I am willing to forgive this due to the entertaining sight of its balance wheel moving, which is relatively large in diameter and that beats at a leisurely rate of 18,000 bph – all the better to have something to stare at while admiring the dial.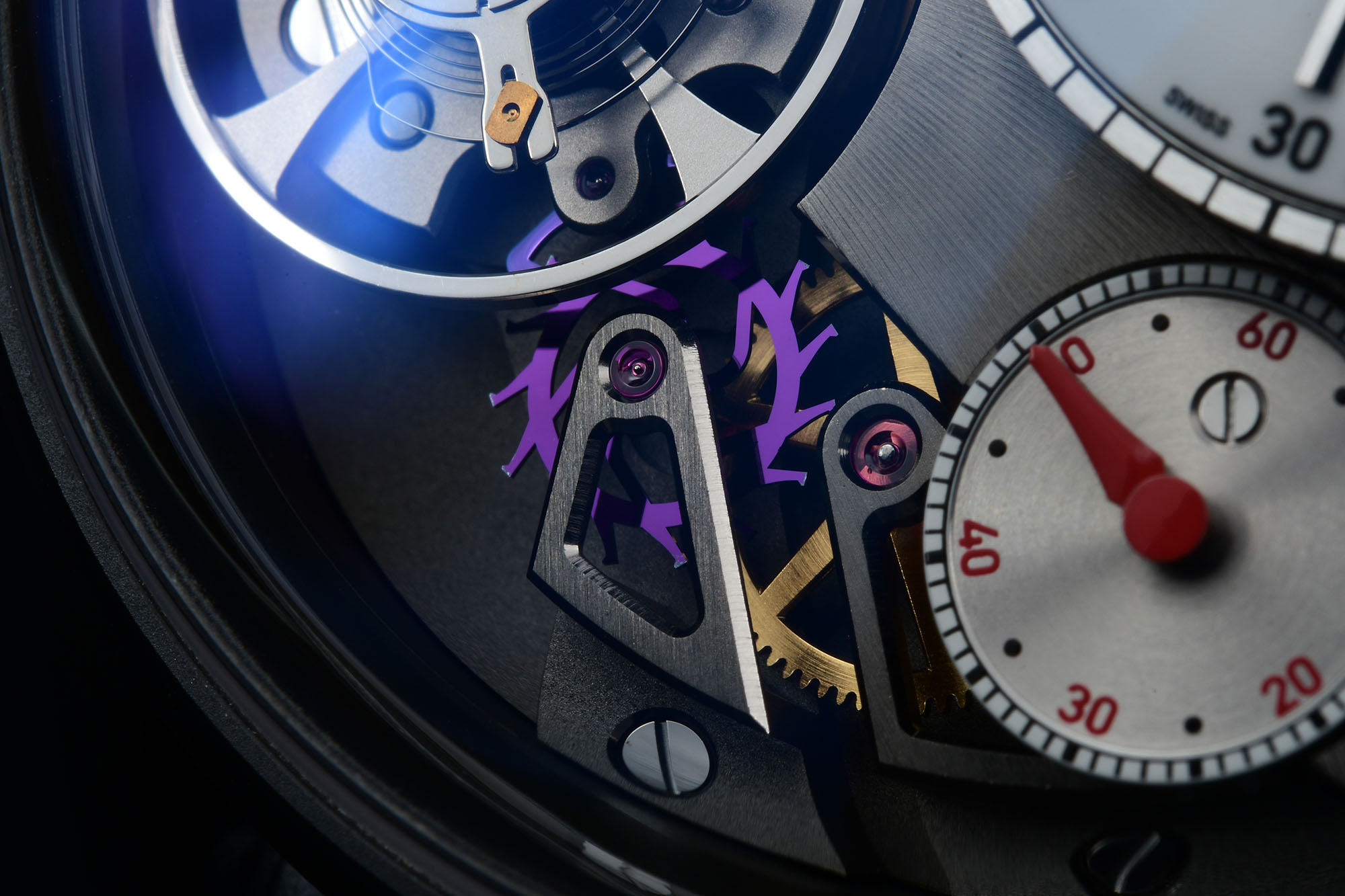 What's even better, is the view of the silicon assortment and oscillator just next to and under the balance wheel, that gives the watch that special technical touch that elevates it to another level. It is apparently coloured differently in every watch on purpose, in various shades of blue to purple which is a nice little detail to know that the watch is yours and yours alone.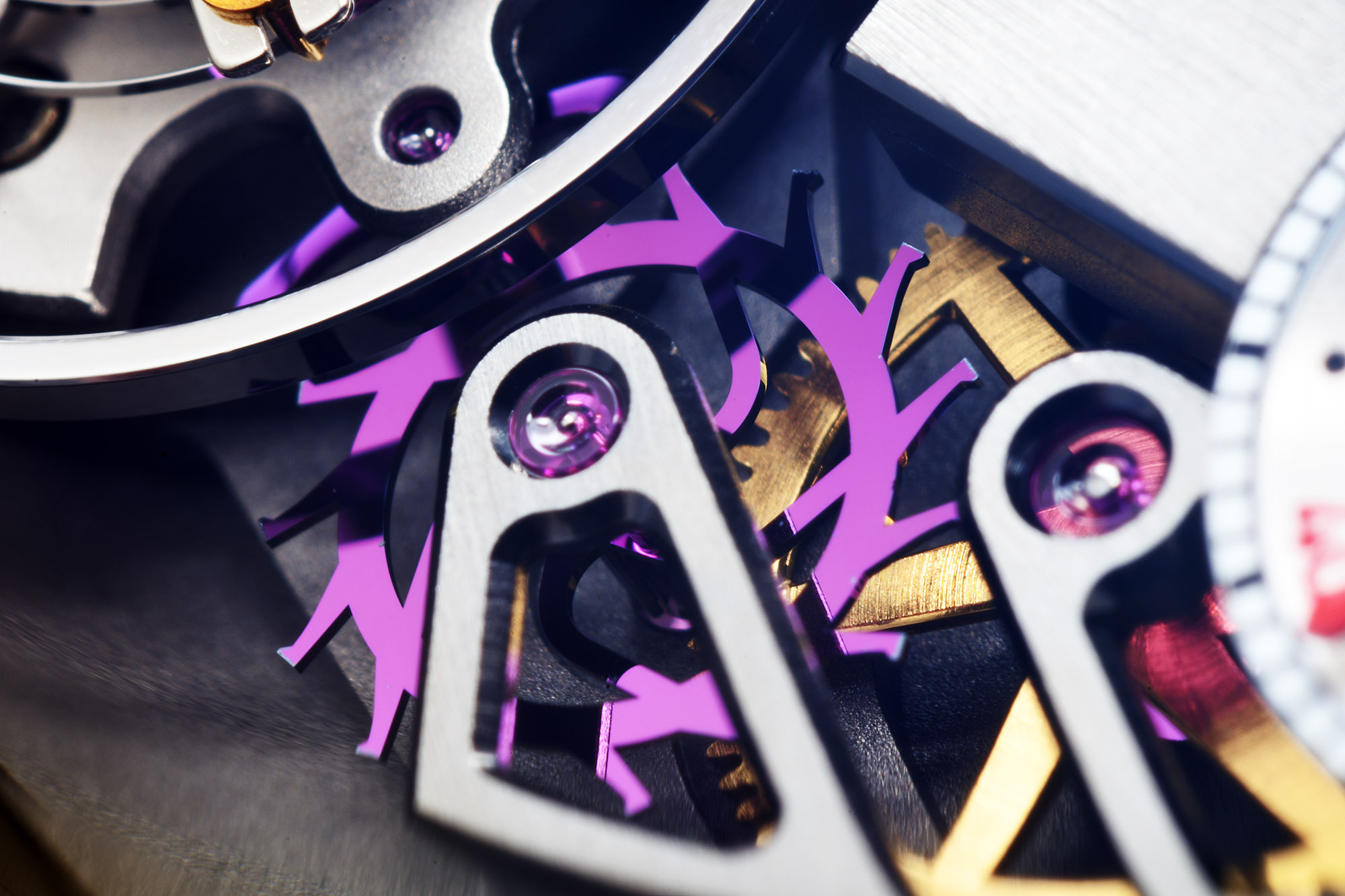 Due to the balance wheel on the front of the watch, the view round the back is sparse, and is mainly covered with an impressive grand colimaçon and an automatic winding rotor. Yes this is an automatic watch, something which is quite rare in this type of high-horology piece, yet it does make sense, since all the goodies are up front, just like the Glashütte Original Panomatic Inverse, which is also sparse in its caseback view.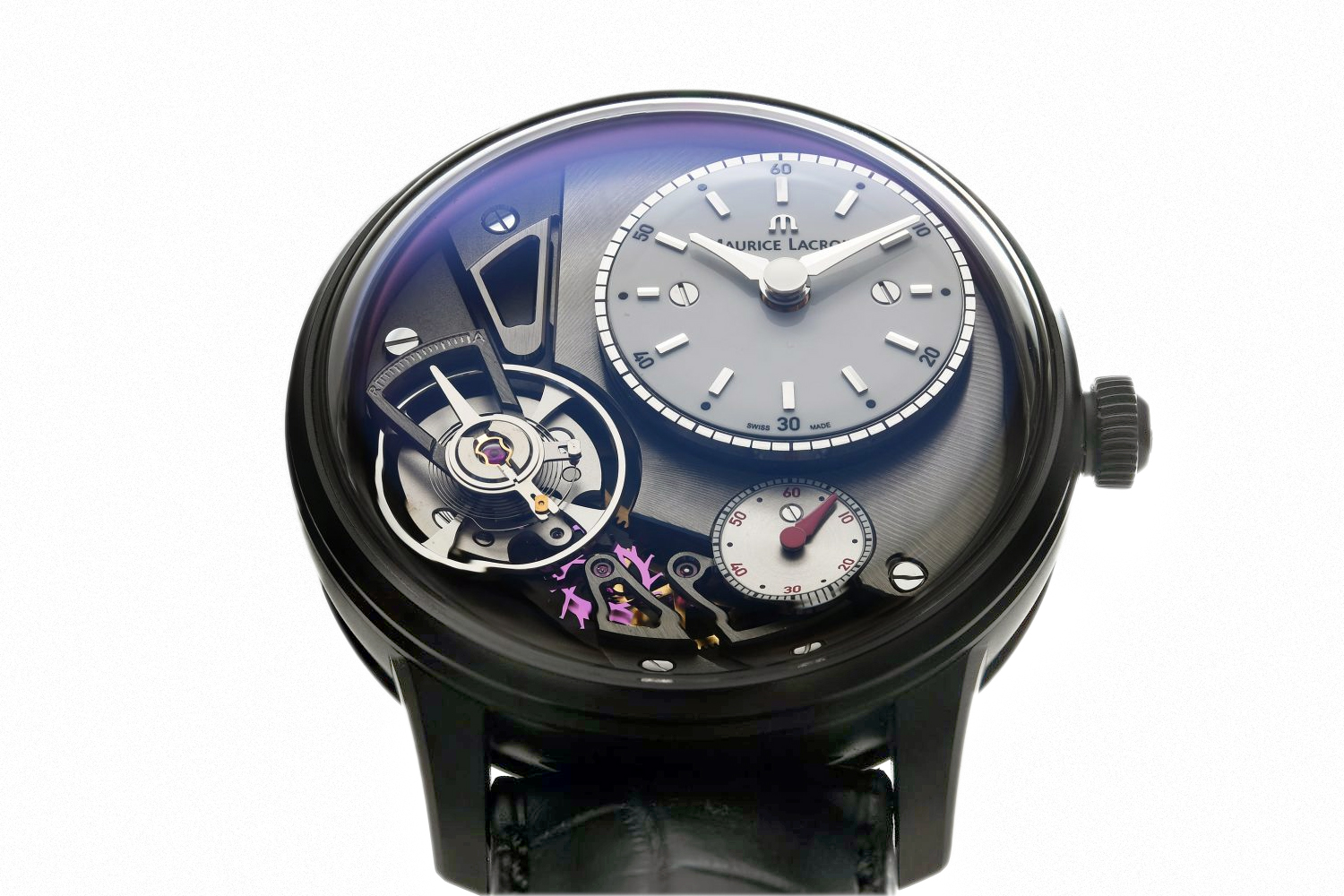 The automatic winding makes the Gravity useful as a daily watch, helped by the 50 hour power reserve. My version, with the anthracite PVD coating has held up well, with nary a mark of wear on the case, something that the executives of Maurice Lacroix were very pleased with when I showed the watch to them.
Certainly this is a calibre that is so unique that it is not an off the shelf one that has been modified to look this way. A lesser known fact that might surprise many is that Maurice Lacroix is a movement manufacturer, with the ML230 that beats within the Gravity being the 13th in-house movement from the company.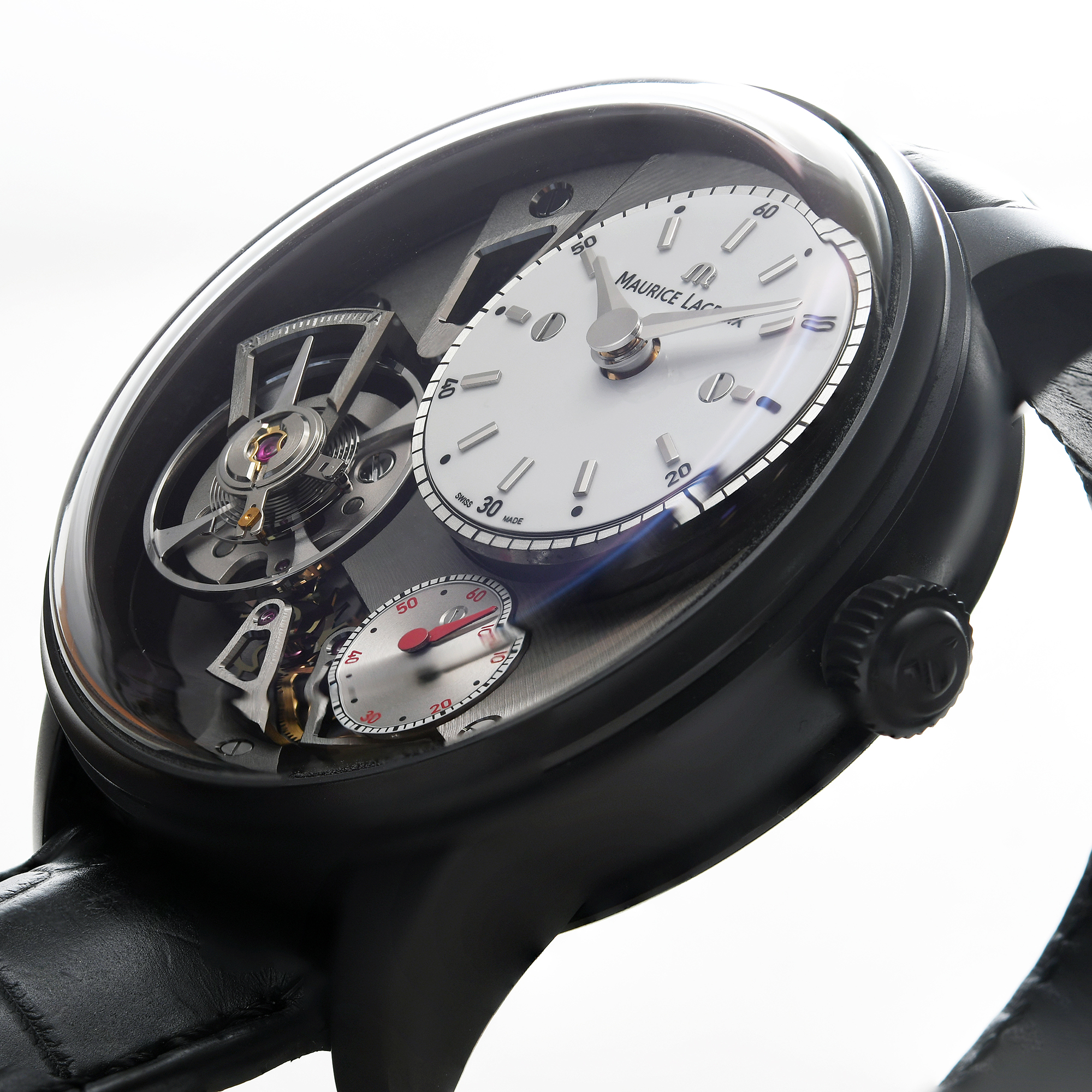 How much do I love the Maurice Lacroix Gravity? Well, I did two things that might qualify me as the world's biggest fan of this watch.
The first, in anticipation of wanting to wear this watch more, I got a stainless steel deployant buckle and had it PVD coated independently. I also ordered a similar black strap that would take my now PVD coated deployant buckle and converted my watch from the standard pin buckle. So if you turn up at a boutique asking for this watch with a deployant buckle, you will be out of luck, and might have to go through the steps I did to get one.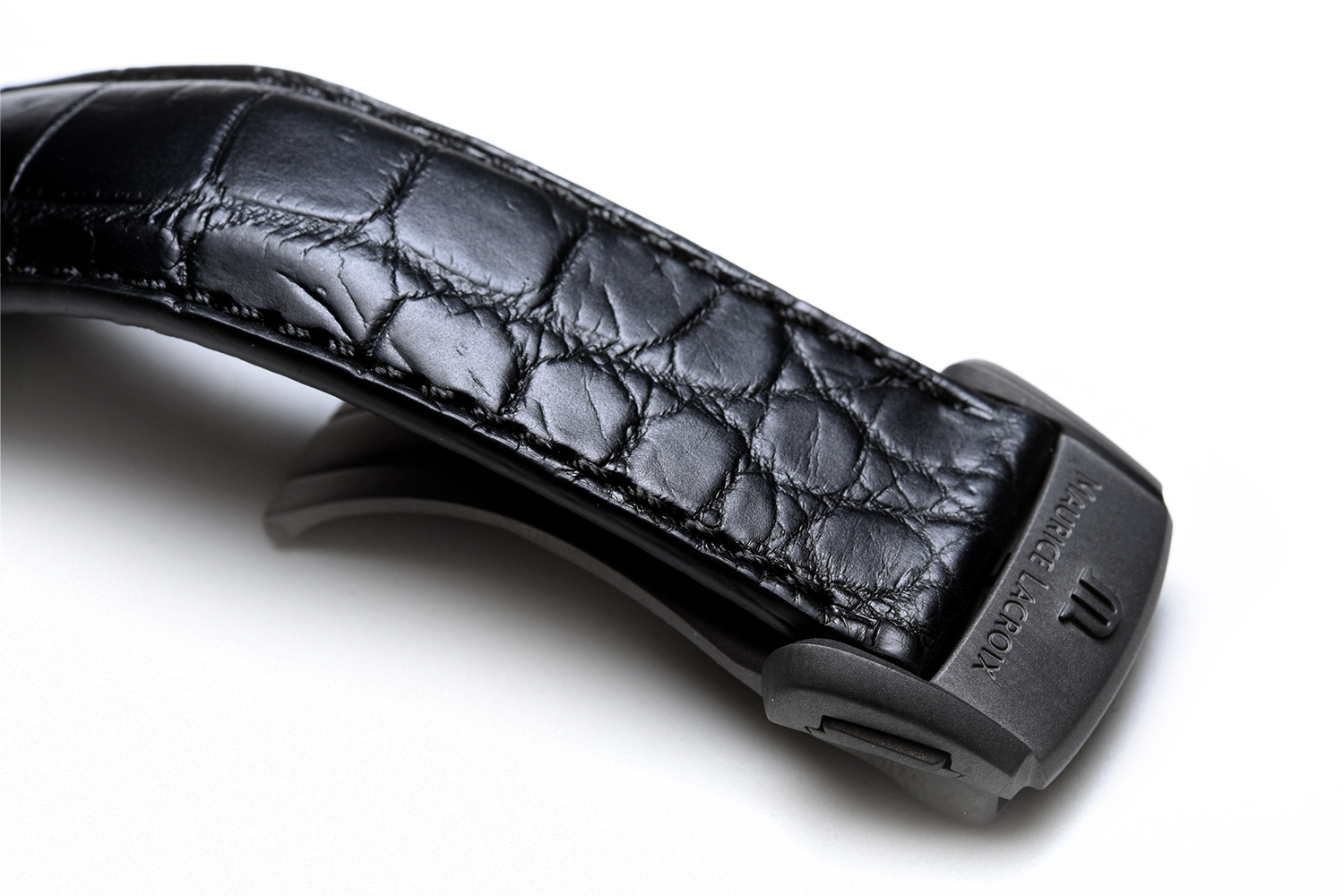 The second thing I did, was that I dreamed up different versions of future Gravity watches that could be made and gave them a bunch of cool names – see below.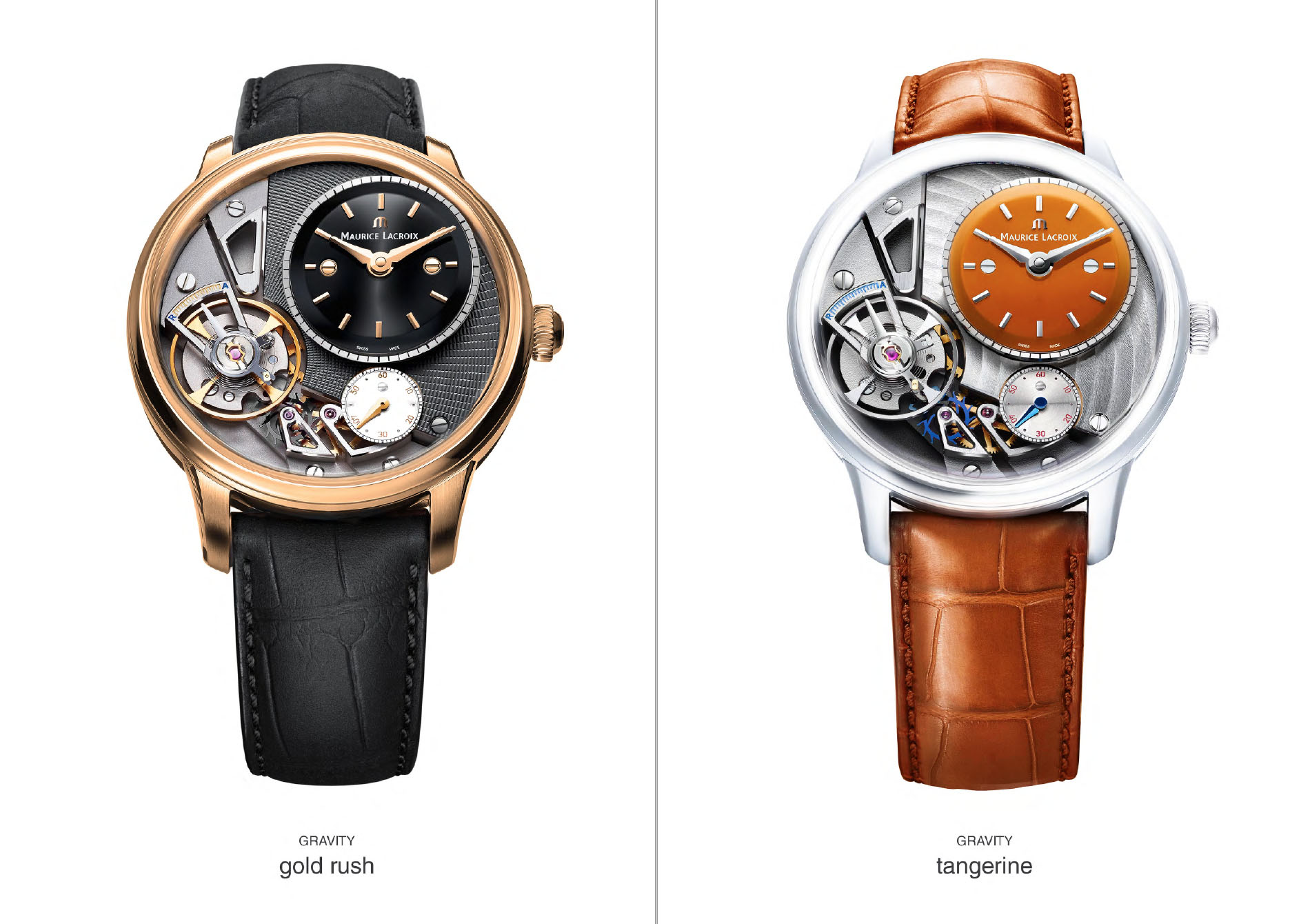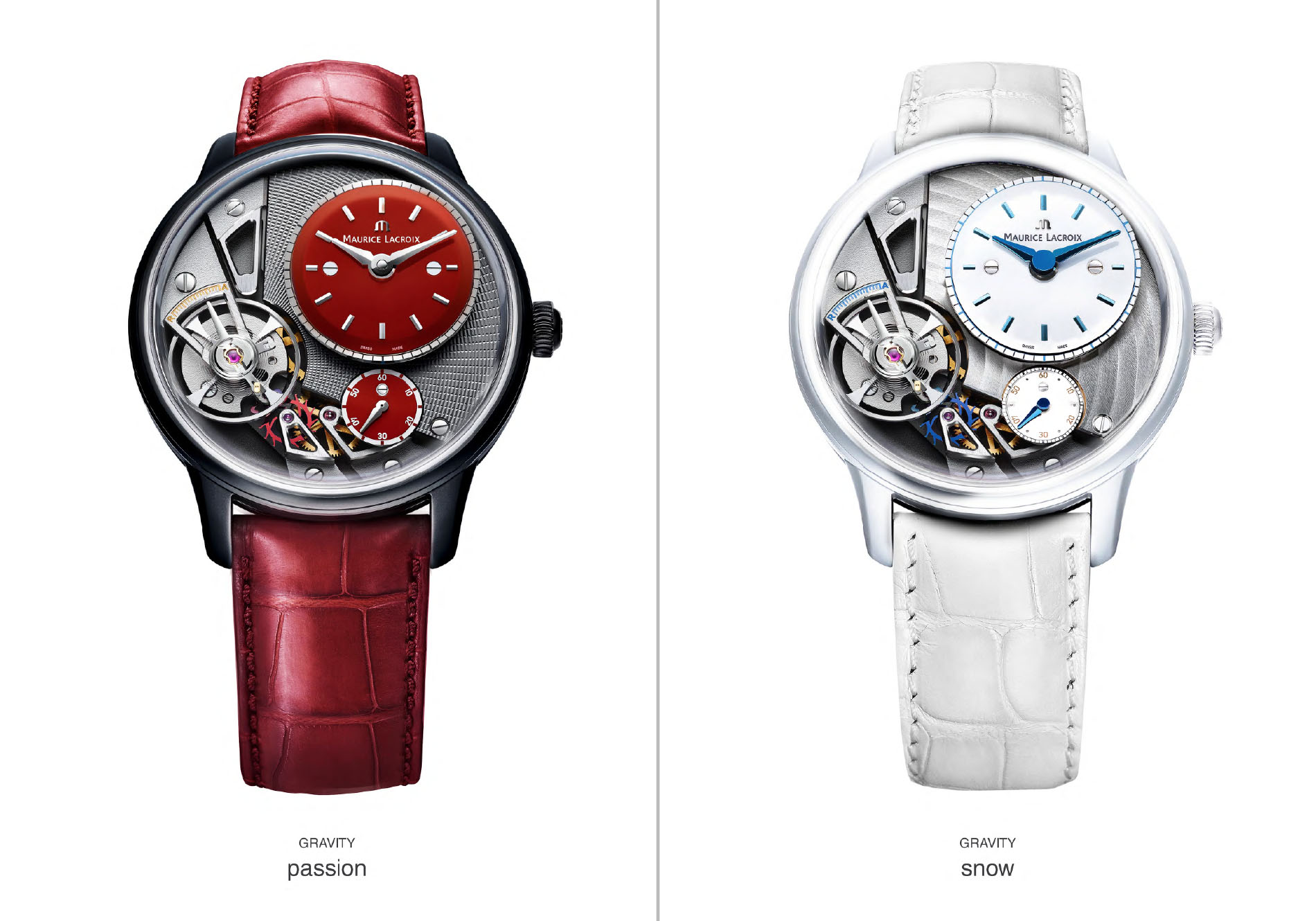 There are currently six variations of the Gravity available now that have obviously not had my design involvement in them, but you can see that they are also cool, all the same. With a strong fundamental design, it seems that the Gravity can look good in all its variations.
This is why, as much of a fan of this watch that I am, I am sad that it's not more widely known as one of the peak achievements of Maurice Lacroix and acquired by more collectors. Being a part of the Masterpiece line, the crazy, more experimental side of the brand, might be a reason, given that there are many watches in the collection that enthusiasts love and know well, such as the Double Retrograde and Mysterious Seconds.
Brand positioning and equity might be one issue, with the watches of Maurice Lacroix occupying too wide a price segment. Even though the Gravity, on balance, with its unique design, and features, is not absurdly crazy in price – 10,500 CHF, it might still be perceived as high for a Maurice Lacroix, that also occupies the low-end quartz segment.
Perhaps they can take a leaf out of Seiko's book, in how they positioned Grand Seiko as a separate line with more premium features.
Yet this might be a task for a future time. The success of the Aikon collection within the past few years has no doubt become the brand's focus, with many interesting watches that will be coming to make it a robust and full-bodied collection.
While that is happening, on the Gravity, I encourage you to give it a chance. Have a look at your local Maurice Lacroix dealer if they have one in stock and see if it grabs you in person.
You might be surprised…
[ninja_tables id="3734″]